A common misconception about Universal Orlando Resort is that the attractions at Universal Studios Florida and Islands of Adventure are designed mainly with teens and adults in mind. Quite to the contrary, your younger kids will have lots to do – but at Universal Studios Florida, more than at either of the other two parks, you may find yourself pondering whether a ride might be suitable for your not-quite-tween. While some kids will get a kick out of Fast & Furious – Supercharged's explosive action (not to mention the car show in the queue), or be perfectly happy shooting aliens with the Men in Black, others might be more comfortable hanging with E.T. and friends in Woody Woodpecker's KidZone.
Feel free to use this guide as a primer to learn a little bit more about the attractions that may appeal to kids ages six to 10 and discuss them with your family as you plan your trip.
(For similar info on Islands of Adventure and Volcano Bay, head over to our guides for those parks, which can be found here and here, respectively.)
What height do my kids have to be to enjoy the rides at Universal Studios Florida?
Before you make a plan, measure your kids in the shoes that they'll be wearing in the park. Some of the rides, even those specifically designed for young children, have minimum-height requirements, so if you know the magic number for your child, you'll know what you can attempt to ride and where you should steer clear – for the next few years, at least.
One last tip: we all shrink a small amount as we go about our day, so if there's a ride that will be a close call height-wise, try to hit it in the morning, before that normal daily spine compression kicks in.
Skip to: Woody Woodpecker's KidZone | Springfield: Home of the Simpsons | World Expo | Diagon Alley | San Francisco | New York | Production Central | Hollywood
Woody Woodpecker's KidZone
An entire section of the park that is dedicated to youngsters, Woody Woodpecker's KidZone is located between Hollywood and Springfield: Home of the Simpsons, and you'll find that all the rides, shows, attractions, and, even, restrooms are designed to appeal to little guests. (Before you head straight here, consult the opening times on your map, as KidZone may open an hour later than the rest of the park.)
There are numerous kiosks that sell souvenirs, snacks, and drinks throughout the land. You can also purchase souvenirs at the store next to E.T. Adventure.
Animal Actors on Location!
As you enter the Woody Woodpecker's KidZone area, you will encounter the large open-air theater that hosts Animal Actors on Location!, a live show featuring Hollywood's famous animal performers. Sit towards the front of the covered amphitheater for a good view and a chance to volunteer to be in the production. Pigs, birds, chickens, roosters, dogs, cats, and, even, a skunk perform for their trainers and the audience; stick around for a short photo opportunity with some of the trainers and animals after the show.
SpongeBob SquarePants meet-and-greet
One of the cutest meet-'n-greets at Universal Studios Florida, SpongeBob, Patrick, and Squidward meet throughout the day inside of the SpongeBob StorePants shop. The characters do vary, though, so check your map for times.
E.T. Adventure
Based on Steven Spielberg's beloved 1982 film, E.T. Adventure is an indoor dark ride with a minimum height requirement of 34 inches. As you enter the attraction, you will watch a short film about the legacy of E.T., give your name to a team member, and then wander through the forest queue, keeping an eye out for the cute extraterrestrial's homemade communicator. All this culminates in your climbing aboard a (stationary) bike that makes you feel like you are riding through the night sky, just like the characters in the movie. There is alternative seating for those who require it, but if you sit in one of the two left bikes in your row, you will have a grand view as you fly over town (and be sure to look for E.T. popping out of the milk crate in front of your bikes as you fly). Listen carefully at the end of the ride, when E.T. waves each visitor a personal "goodbye."
Springfield: Home of the Simpsons
Full of references to America's longest-running sitcom, this land brings the small town of Springfield, USA to life, where guests can visit iconic Simpsons locations, such as Krustyland and the Kwik-E-Mart, drink a (non-alcoholic) Flaming Moe at Moe's Tavern, or take a spin on Kang & Kodos's Twirl 'n' Hurl.
The Simpsons Ride
The Simpsons Ride has a minimum height requirement of 40 inches, so even some five- or six-year-olds may be tall enough for this attraction – but if you are prone to motion sickness, it may not be for you. Clips from The Simpsons play in the queue before guests are loaded into an eight-person ride vehicle for a fantastic, non-stop simulator featuring the characters from the TV series. The 80-foot domed screen makes you feel like you are really part of the excitement, action, and peril of the Krustyland amusement park for the experience's eight-minute duration.
Kang & Kodos's Twirl 'n' Hurl
Kang & Kodos's Twirl 'n' Hurl is a basic "spinner" ride that has no height requirement, nor does it ever have much of a line. Each flying saucer will fit an average adult with one or two kids, with a seatbelt that goes all the way across; use the lever to make your saucer rise and lower. Even kids not familiar with The Simpsons will enjoy the wacky nature of the ride's commentary and the great views guests enjoy while they "attack" Springfield.
Moe's Tavern and the Kwik-E-Mart
While we would not normally recommend a bar for young children, the facade of Moe's Tavern leads into a replica of Moe Szyslak's eponymous watering hole and then opens up to Fast Food Boulevard (with an alternate entrance via Cletus's Chicken Shack). It's worth a look if you are familiar with the characters – you can snap a picture with Barney or even order a Flaming Moe (a non-alcoholic orange-soda concoction that both kids and grown-ups can enjoy).
At the Kwik-E-Mart gift shop, you'll find Milton out front enjoying a Buzz Cola, and inside you'll find all the Simpsons merchandise you could dream of, along with plenty of Squishees (a.k.a. Slurpees) for sale.
World Expo
Originally designed to capture a broad range of attractions and intellectual properties, the World Expo area used to include what is now Woody Woodpecker's KidZone and Springfield: Home of the Simpsons. Today, it's been truncated to just Men in Black: Alien Attack and Fear Factor Live, so, depending on your child's interests, you might consider a stop here or move on to the London waterfront.
Men in Black: Alien Attack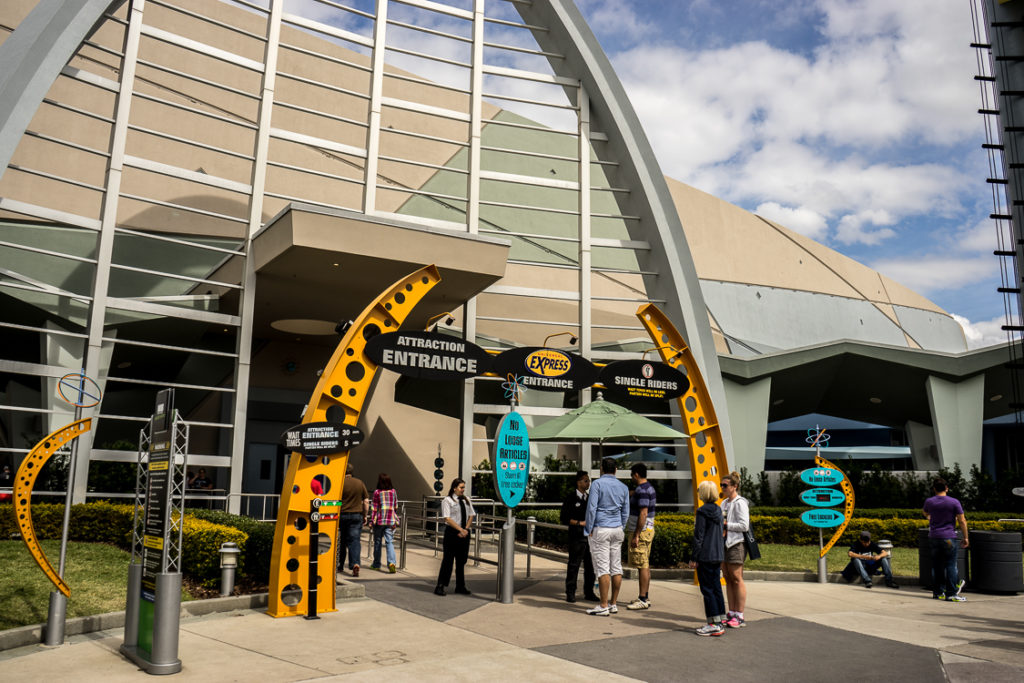 Enlist in the MIB in the fun preshow before taking a spin on this dark ride-with-a-shooter-element to defeat the evil aliens intent on invading New York. Kids must be 42 inches to ride Men in Black: Alien Attack, and all bags must be stowed in the adjacent lockers before hopping on. The attraction speeds up, slows down, spins, and jerks you around, so you might want to have a hand on your littler-ones. The ride vehicles seat six passengers in two rows of three, making the single-rider line very efficient, but keep in mind that kids under 48 inches must have a supervising companion and would not be allowed to go alone. (Impress your kids by studying OI's high-score guide!)
The Wizarding World of Harry Potter – Diagon Alley
Set on the London waterfront, The Wizarding World of Harry Potter – Diagon Alley is hidden behind a brick wall facade – tap the bricks with your wand (in your imagination, that is) and stroll into the most famous magical high street of the wizarding community. In one of the most detailed theme-park lands ever created, you and your kiddos will be immersed in the world of Harry et al., where you can buy all your wizarding-school supplies, grab a bite to eat at The Leaky Cauldron, skulk around in Knockturn Alley, escape from Gringotts Bank, and even catch a show or two.
The Knight Bus meet-and-greet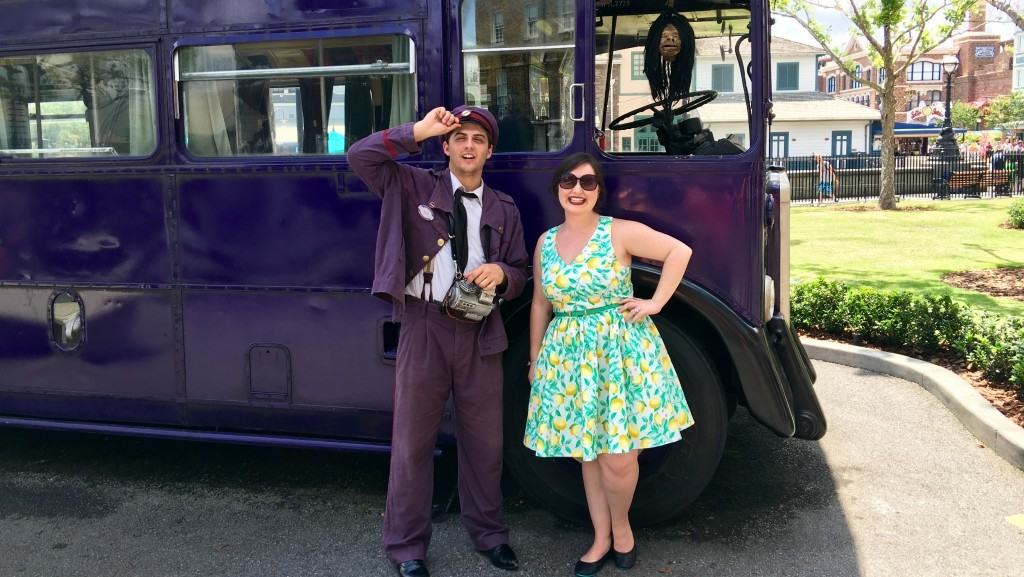 Before you enter Diagon Alley, head over to the giant purple Knight Bus for a photo-op with the bus conductor and his shrunken-head companion. Take a moment to enjoy the pun-filled banter between these two characters and walk all the way around the bus, peering in the windows to see the comfy beds and, even, a chandelier (small comforts for traveling witches and wizards).
Harry Potter and the Escape from Gringotts
Harry Potter and the Escape from Gringotts has a height requirement of 42 inches, meaning children ages seven to nine are typically tall enough to ride this attraction. Something of a legitimate coaster in its own right, the "multi-sensory" nature of this ride can be either very exciting or very overwhelming, depending on the age and personality of your child. Expect big screens, fast coaster sections, smoke and fire effects, and encounters with Harry Potter's strongest enemies.
The Hogwarts Express
The Hogwarts Express has no height requirement and is a pleasant, leisurely train ride from Kings Cross London through the Scottish countryside, though you must have a park-to-park ticket to embark on this journey. Several characters from the Harry Potter films and books make an appearance, but the very brief Dementor encounter could be frightening to younger children. Once the ride is over, you will disembark at Hogsmeade – the other Wizarding World of Harry Potter, in Islands of Adventure – making this the most entertaining way to park-hop! Take the return trip, with different characters and scenes, to get back to Universal Studios Florida, or stay and explore the other theme park. (If you have rented a stroller from Universal, you will leave it at Kings Cross Station and pick up another one at Hogsmeade Station at the end of your ride.)
The Tales of Beedle the Bard/Celestina Warbeck and the Banshees
Children of all ages should enjoy the Tales of Beedle the Bard and Celestina Warbeck shows. Celestina and her backup singers perform hits from the wizarding world, with some audience participation; The Tales of Beedle the Bard is a larger-than-life puppetry show presented by the "Wizard Academy of Dramatic Arts," alternating between reenactments of two of the Bard's most popular stories: The Fountain of Fair Fortune and The Tale of the Three Brothers (as featured in Harry Potter and the Deathly Hallows). Consult team members on-site in Diagon Alley for times or check the Universal Orlando app.
Ollivanders Wand Shop and interactive wands
A very popular attraction in both Hogsmeade and Diagon Alley, Ollivanders Wand Shop admits groups of approximately 20 people into the store, where a guest is chosen to experience a wand selection with Mr. Ollivander's assistant. This experience brings to life scenes from Harry Potter and the Sorcerer's Stone, when Harry was first "chosen" by his own wand. If you have a young Potterhead, Ollivanders is not to be missed.
To make your own magic, purchase an interactive wand from the shop and use the included map to seek out the interactive spellcasting locations spread throughout Diagon Alley. Please note that special interactive wands ($55 and up) are required, and that some of the wand movements need to be rather exact – younger children may need assistance, so prepare by reading our complete guide.
Knockturn Alley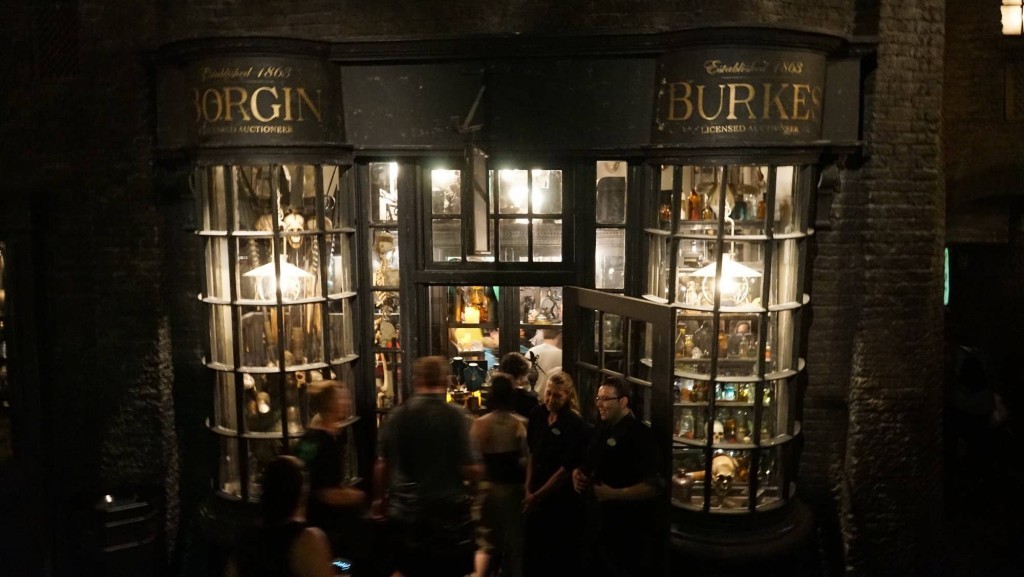 If your precious witch or wizard has perhaps been sorted into Slytherin, then grab your interactive wand and meander through the perpetual night of Knockturn Alley. Here, you'll find the (evil) Borgin and Burkes store and a few interactive features to shock and amaze.
San Francisco
Another abbreviated land, San Francisco used to feature the Jaws boat ride before it was filled in and replaced by The Wizarding World of Harry Potter – Diagon Alley (and it also used to include Fear Factor Live before it got reassigned to World Expo). Now, San Fran is home to Fast & Furious – Supercharged, the San Francisco Candy Factory shop, Lombard's Seafood Grille (a full-service restaurant), and several quick-service eateries.
Fast & Furious – Supercharged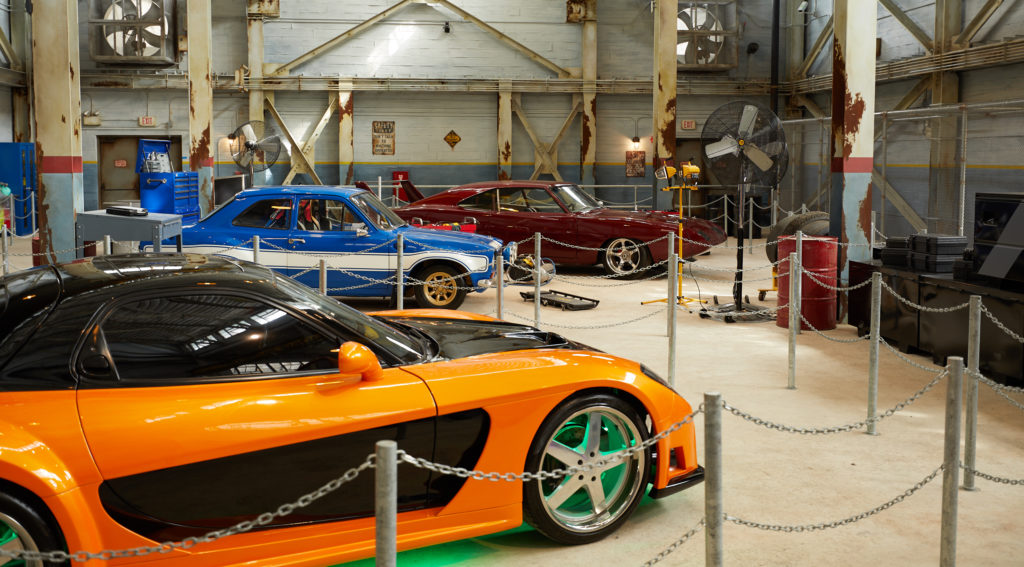 As sequels to and spinoffs of the Fast & Furious franchise march ever onward, a ride was almost inevitable. Kids (and adults) who appreciate cars but aren't enamored with the "Fast family" will still love the mechanic's-garage queue, with its showcase of tricked-out vehicles. After two preshow rooms, you will board a "party bus" and navigate through some thin plot twists before ending up in the ride's finale: an intense chase scene on a San Francisco highway. The large ride vehicle seats seven rows of six people, and most of the effects are performed around you on screens, with only a light jostling of your bus – expect practical wind and fire effects, and lots of on-screen shouting, car crashes, and explosions.
New York
The San Francisco waterfront blends into scenes from New York City, where the sights and sounds of 1930s and '40s New York invite guests to peer into storefront windows and explore hidden alleyways. While Revenge of the Mummy may be too scary for young kids, they may enjoy Race through New York Starring Jimmy Fallon or some of the different shows that happen throughout the day. Grab a scoop of ice cream from Ben & Jerry's or a slice of pizza from Louie's Italian Restaurant, and keep an eye out for Marilyn Monroe!
Race through New York Starring Jimmy Fallon
Race through New York Starring Jimmy Fallon has a unique waiting process: you will queue in waiting areas that will entertain you with clips of The Tonight Show, a live performance from the Ragtime Gals, and appearances by Hashtag the Panda. When you are ready to ride, line up to get on the ride (which has one of the best safety videos ever created), where you'll be seated in a 3D theater for a wild ride with Jimmy and his pals. The height requirement for this one is 40 inches, and it doesn't seem to shake up guests as much as other simulator attractions, such as Despicable Me Minion Mayhem or The Simpsons Ride.
The Blues Brothers Show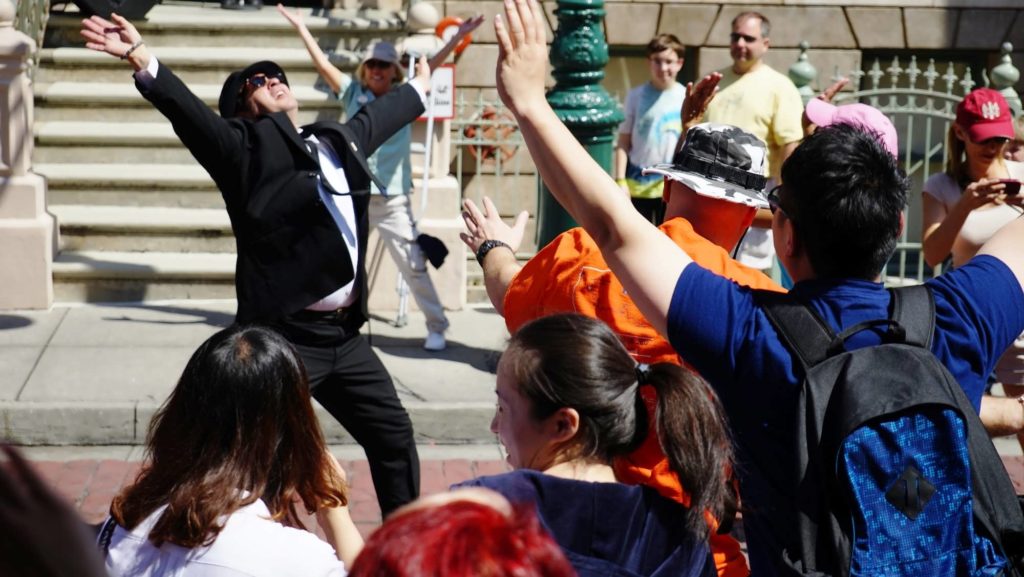 The Blues Brothers Show is a live street show featuring Jake and Elwood, who arrive in their iconic police car. This production is fun for the whole family, no matter what age. Grab a seat on the steps of the shop facades or on the sidewalk along the street, eat a snack, and enjoy the great music; you can also join Jake and Elwood in the street as they dance during the final song of the performance.
Sing It!
If your kids are on the a capella bandwagon of recent years (see: Pitch Perfect, High School Musical, Glee, etc.), they might enjoy a stop to see Sing It!'s group perform a medley of pop hits by the Macy's storefront.
¡Vamos! – Báilalo
A high-energy, interactive experience for little ones to enjoy and dance to the beat is ¡Vamos! – Báilalo. Performers fill the streets at various times throughout the day to display choreographed dance numbers full of Latin flavor as well as invite guests to join along in the fun.
Beat Builders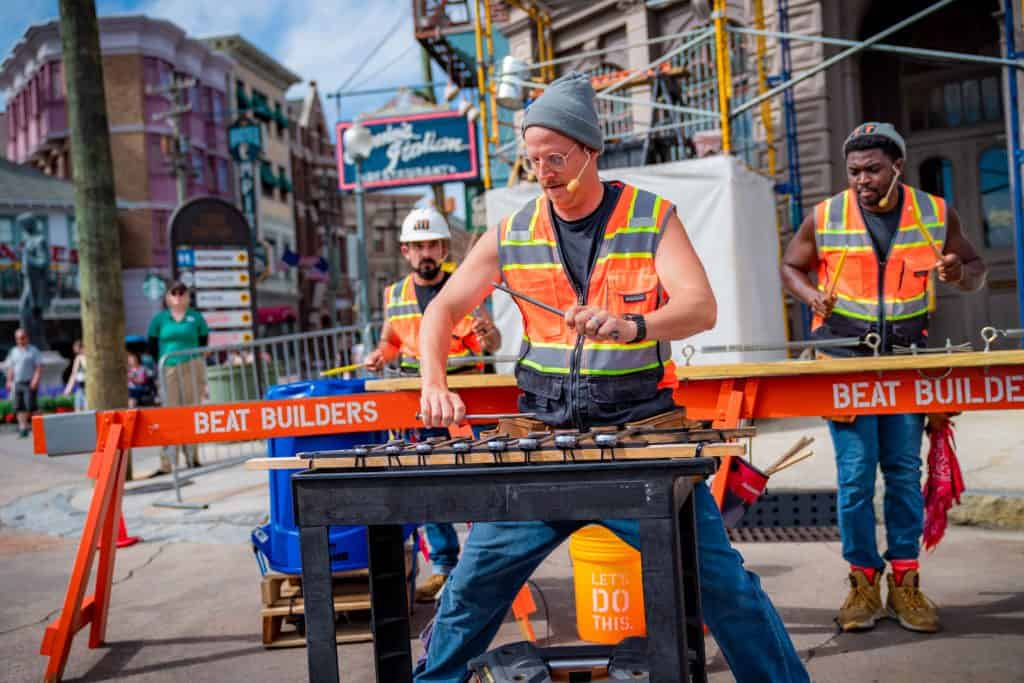 Look out for scaffolding outside the building facades as San Francisco morphs into New York, and you'll see the location for a fun percussion show where construction workers known as the Beat Builders turn buckets, wrenches, garbage bins, and the scaffolding itself into an entertaining musical interlude.
Production Central
Production Central is the first area you'll encounter when you enter Universal Studios Florida, where you'll find yourself walking between huge working soundstages which is where you will find Despicable Me Minion Mayhem. The screams from the open-air coaster Hollywood Rip Ride Rockit draw you into the park, but keep in mind that the ride height requirement is 56 inches. There is plenty to do in this area, even if you're not interested in Rip Ride Rockit's 17-story vertical lift hill.
Despicable Me Minion Mayhem
Despicable Me Minion Mayhem is another moving-theater show with a minimum height requirement of 40 inches, although stationary seats are also available. Each seating section has two rows of four seats, with a shared lap bar. Check out some of the hilarious decorations inside Gru's house before joining in on the Minions' madcap antics. Be sure to stop and meet – or dance with – a Minion as you exit through the gift shop. Because it is one of the most popular kids' rides at Universal (and is located at the very front of the park), the lines for Minion Mayhem can get quite long, so try to queue up for this one in the first hour that Universal Studios is open.
Transformers: The Ride – 3D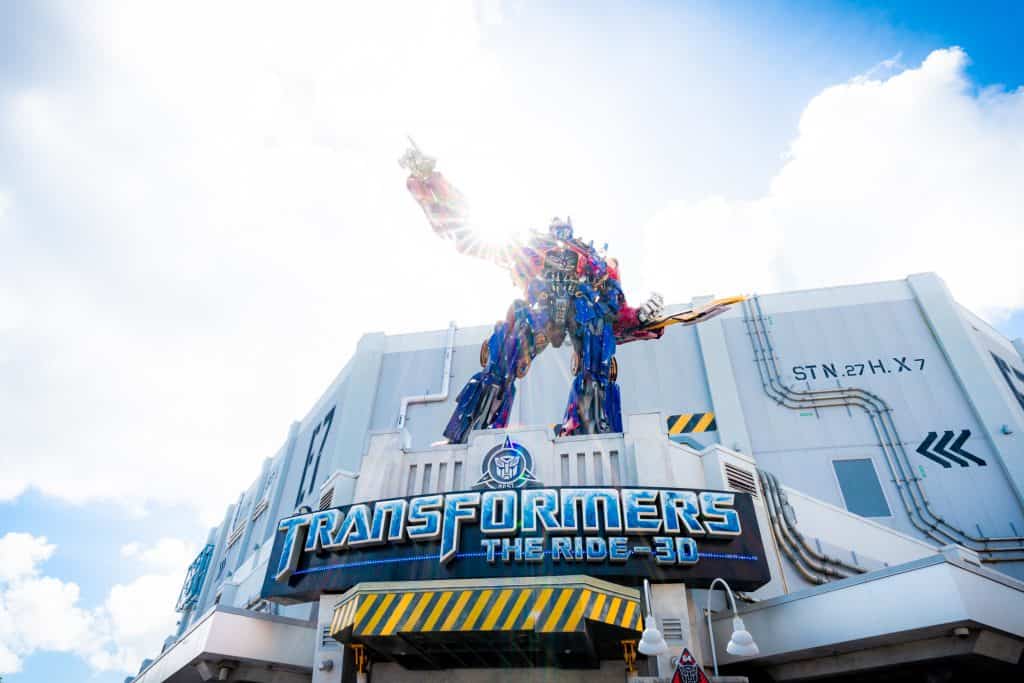 Although Transformers: The Ride – 3D is essentially the same ride system as The Amazing Adventures of Spider-Man over at Islands of Adventure, the killer-robot action is much more frenetic and in-your-face. The height requirement to ride is 40 inches, but make sure your child is prepared for some intense fighting scenes and intense moments. The ride vehicle has three rows of four seats with a lap bar for security, so put on your 3D glasses and help the Autobots protect the AllSpark from the evil Decepticons at all costs!
Hollywood
Although there are no rides in the Hollywood section, you'll find several meet-and-greets and the Horror Make-Up Show, set amongst the decor of old-timey Hollywood.
The Horror Make-Up Show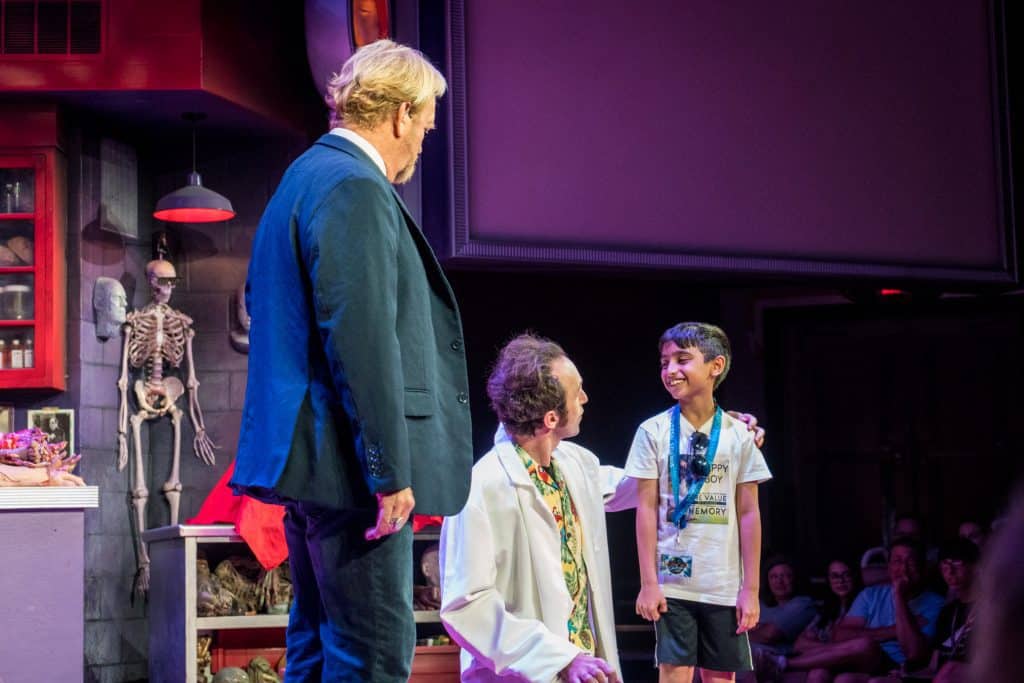 The Horror Make-Up Show has no minimum height requirement, but this show involves severed limbs, scary monsters, and a goodly amount of fake blood, so it's probably not appropriate for young children. However, if you're considering taking your older child or tween to Halloween Horror Nights, this show might be a good litmus test.
Hollywood character zone
Your child can meet various characters in the Hollywood character zone, including Lucille Ball, Curious George, Marilyn Monroe, Betty Boop, Woody Woodpecker, and Doc Brown, though times and characters vary. Bart and Homer may drive their RV through Hollywood on the way to Springfield, and Scooby-Doo and the gang often show up in the Mystery Mobile. Right on the border of Hollywood and Production Central, you'll find the Hello Kitty store, where Kitty White makes regular appearances. Check out our Characters at Universal Orlando page for more information.
If you've made it this far, I hope you'll conclude that Universal Studios Florida has plenty to offer its younger guests, with even more over at Islands of Adventure and Volcano Bay.
Do you have a question about the information on this page or would you like to provide feedback? Please let us know by posting in our
Orlando Informer Community
on Facebook.