Skip to: Overview | Location | Restrictions | Fear factor | Borgin and Burkes | Fun fact | Guest reviews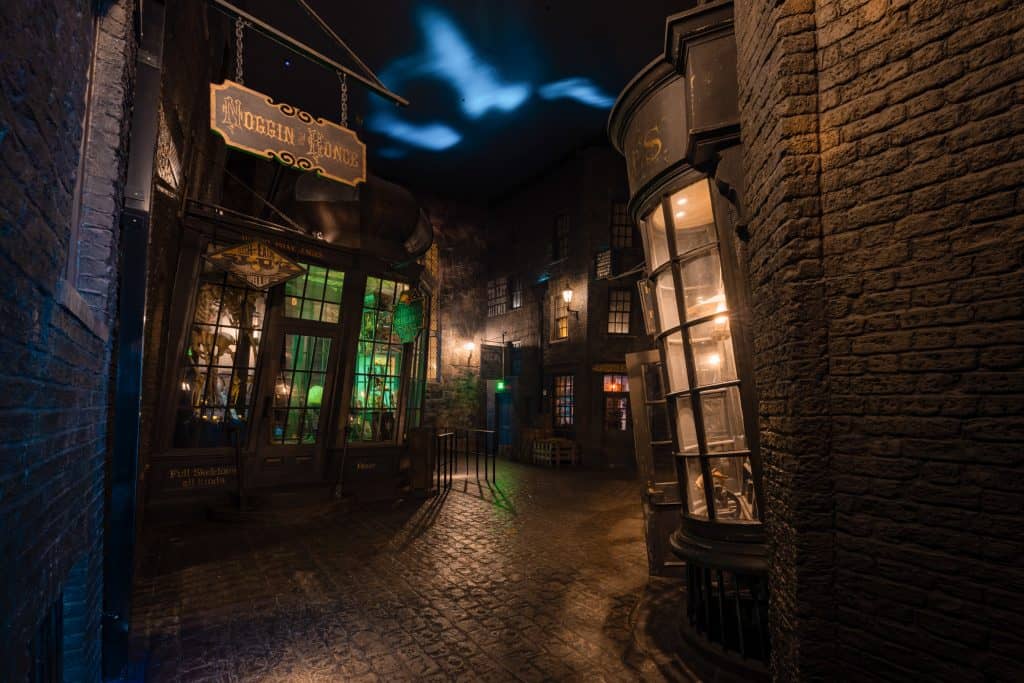 What is Knockturn Alley?
As the seedy corner of the wizarding world, Knockturn Alley at Universal Studios Florida functions less as a shopping center and more as a walk-through attraction. It's not to be missed, though – from the (comparatively) expansive Borgin and Burkes shop to the myriad interactive wand locations to the area's ceiling, which ensures it's perpetually dark and foreboding, Knockturn is one of the most popular sections of The Wizarding World of Harry Potter – Diagon Alley. (It can also be one of the most crowded, especially during the hot summer months.)
Where is Knockturn Alley located?
In The Wizarding World of Harry Potter – Diagon Alley, which is in Universal Studios Florida.
Knockturn Alley – height restrictions and other factors
Since this is just a walk-through area of the park, and not an actual attraction, there are absolutely no restrictions of any kind.
Knockturn Alley – what you wish you knew before you experienced it
There are a number of Easter eggs hidden away in this dark corner of Diagon Alley, including a spellcasting spot that's not on the map.
While we don't want to ruin all of the fun, we will say our favorite secret is the window of shrunken heads and their musical homage to Jaws, the attraction that used to be housed where Diagon Alley currently sits.
How scary is Knockturn Alley?
We rate Knockturn Alley two out of five Dementors in terms of fear factor. However, please keep this in mind: the area's darkness, combined with the effects of moving severed hands, dancing skeletons, and giant spiders, might make this spooky enough to creep out any youngsters in your party.
Second in design and dramatic flourishes only to Weasleys' Wizard Wheezes, Borgin and Burkes is not only the anchor of Knockturn Alley, but it is also the section's flagship experience (and only store). Here, guests can peruse fascinating and eclectic Dark Arts artifacts, including Death Eater masks, skulls, and other ghastly devices. Be sure to give yourself plenty of time to thoroughly explore both the shop and its surrounding area, as it is immaculately themed, riddled with hidden touches, and, perhaps best of all, shielded from the unforgiving Florida sun.
What was Knockturn Alley's opening date?
July 8, 2014
Knockturn Alley – OI fun fact
Knockturn Alley's ceiling features several different projections of the sky, making it seem as though you're really out in the open instead of being inside. Be sure to keep your eyes peeled above you!
Knockturn Alley – photo gallery
Knockturn Alley – real guest reviews
Orlando Informer
Average rating:
0 reviews
Do you have a question about the information on this page or would you like to provide feedback? Please let us know by posting in our
Orlando Informer Community
on Facebook.