Skip to: Overview | Location | Attractions | Entertainment | Dining | Shopping | Fun facts | Additional services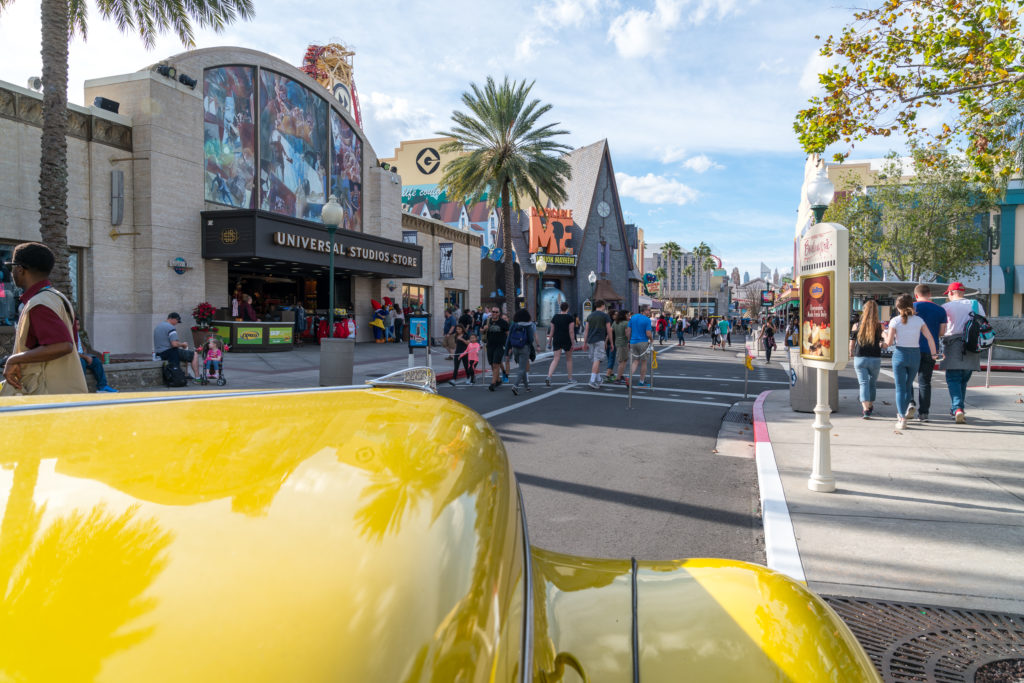 What is Production Central?
Just through the main entrance of Universal Studios Florida, Production Central sets the stage for the movie-making theme that is echoed throughout the park. Giant soundstages loom over streets named for iconic locations in this bustling backlot, and because of its front-gate location, Production Central has all the services and amenities you'll need to start your day, including Guest Services, My Universal Photos, a dining reservations kiosk, and more.
In terms of attractions and entertainment, guests can enjoy big-screen entertainment in Production Central with favorite characters at Despicable Me Minion Mayhem. Looking for some thrills? Join the Autobots to save the AllSpark on Transformers: The Ride – 3D, rock out to the onboard audio of the steel coaster Rip Ride Rockit, and dine amid classic horror memorabilia at Universal Studios' Classic Monsters Cafe.
Where is Production Central located?
Production Central – Attractions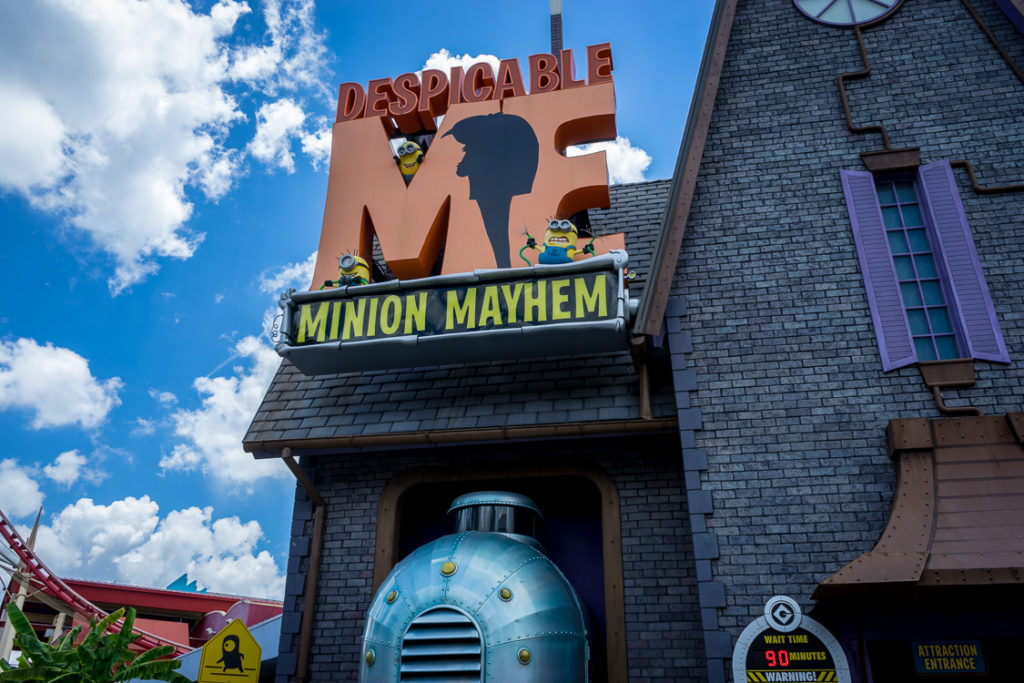 Visible (and audible!) throughout Production Central, riders can jam to their song of choice on this steel coaster that features a 167-foot vertical lift, a non-inverting loop, speeds of up to 65 mph, and on-board video of each rider, which can, of course, be purchased at the exit. As you slowly rise to the top of the coaster track, a digital menu at each seat lets you select your genre and tune for a personalized ride soundtrack.
Enter through the front door at Gru's house, and take in all the bizarre décor and souvenirs that he and the girls have collected on their adventures. Next you'll take part in the minions' special experiment and become a minion yourself! Things (inevitably) go horribly awry and you'll have to rescue Margo, Edith, and Agnes before joining a minion-party on this motion-simulator show/ride hybrid.
The AllSpark must be protected at any cost, so enlist in the battle between the Autobots and Decepticons in a 3D motion-simulator ride. Board your ride vehicle (which is itself a transformer named Evac), for a thrilling adventure through the city, where you'll encounter 16 different Transformers.
Production Central – Entertainment
In the shadow of Rip Ride Rockit, the Music Plaza Stage is used for special events and shows, including concerts during Universal's Mardi Gras celebrations. When the sun goes down, this is a great spot to grab a drink and chill out before any evening entertainment begins.
Character meet and greets
Just around the corner from the previous location of Shrek 4-D, Shrek and Donkey have their own meet and greet location outside Shrek's swampy home, with Princess Fiona making the occasional appearance, too.
Over by Transformers: The Ride – 3D, the roller doors open at N.E.S.T. headquarters to reveal larger-than-life Transformers ready for a really cool photo op. Depending on the time of day, you might see Optimus Prime, Bumblebee, or Megatron.
Production Central – Dining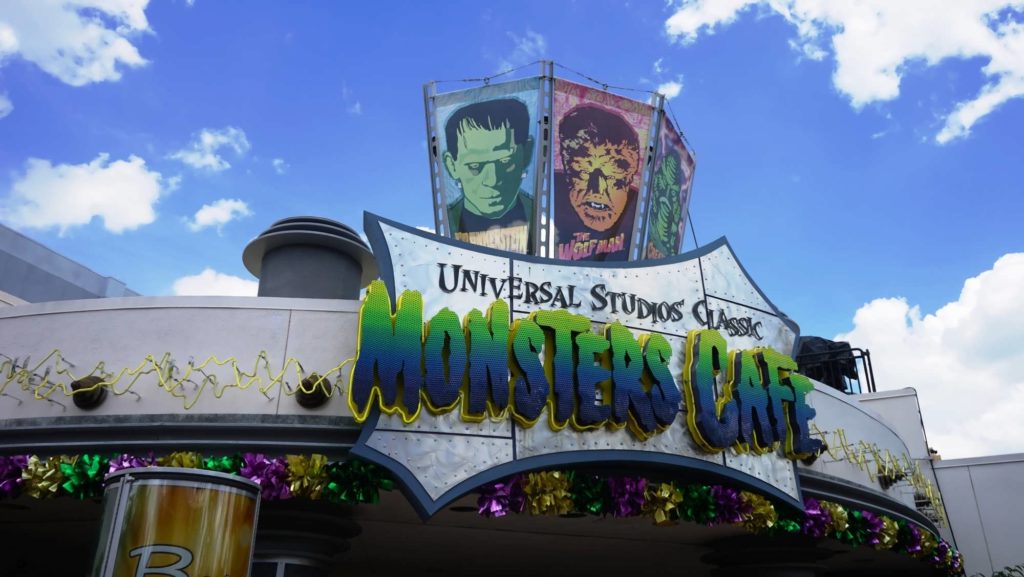 With a revamped menu featuring generous barbecue platters and monster-themed drinks, this atmospheric restaurant is a good choice for meat-lovers and anyone on a Universal Dining Plan. Take a peek in the various rooms to discover vintage horror posters and memorabilia, then sit down to enjoy a Mummy Platter or Black Lagoon Salad Combo.
If you're looking for something to quench your thirst, stop by Bone Chillin' – you can't miss the menacing monsters (Wolfman, Gill-Man, and Frankenstein's monster, to be exact) who rotate atop this kiosk. Menu options include soda, beer, and frozen slushies, along with a few salty snacks.
Production Central – Shopping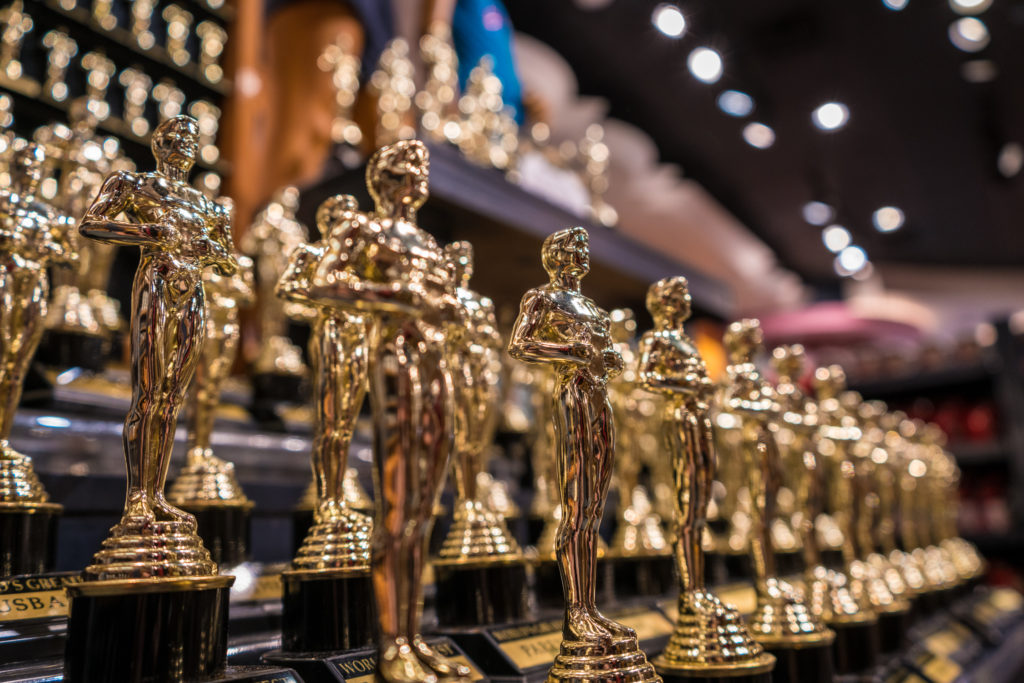 Universal Studios Store
The main shop of Universal Studios Florida, the Studios Store has a huge assortment of items from every property featured in the parks, as well as Universal Orlando Resort-branded souvenirs. The mural on the storefront evokes the 1930s Art Deco style of WPA murals and depicts the various aspects of film production – art and cinema aficionados will recognize the icons of comedy and tragedy, a golden "Oscar," Marlene Dietrich, Lon Chaney, and even King Kong.
On Location
This baby-blue Art Deco building houses the My Universal Photos service counter, as well as various vacation sundries, such as hats, sunglasses, backpacks, and sunscreen.
Nestled in the corner of the Universal Studios Store, this candy shop and bakery is the perfect place to grab a treat on your way in or out of the park. Studio Sweets offers packaged candies, pick-'n-mix confectionery, and freshly baked items, such as themed cupcakes, fancy caramel apples, cake pops, and more.
Betty Boop Store
Though she's nearly 90-years-old, Betty Boop is hanging on to her own store in Production Central. Located between the Hello Kitty Store and Shrek 4D, this shop has every Betty Boop item you never knew you always wanted.
Super Silly Stuff
The number one stop for Minion-lovers, Super Silly Stuff is where you'll find tons of Minions merch and other Despicable Me-themed souvenirs. Venture to the back of the store, where the ride exits, to find a Minions meet and greet and dance party celebration.
Shrek's Ye Olde Souvenir Shoppe
Attached to Shrek 4D is Ye Olde Souvenir Shoppe, which has a fun fairytale-castle theme and, of course, loads of Shrek merchandise.
Supply Vault
Though not evident from the name, the Supply Vault is the gift shop at the exit to Transformers: The Ride – 3D and features a cool mix of car stuff and robot toys.
It's a Wrap
Your very last chance to spend more money as you exit the park, It's a Wrap offers a number of retro merchandise selections (like Jaws merch) and – usually – a sale rack!
Production Central – OI fun facts
The front portion of the land we now know as Production Central was originally called the Front Lot, and it's where all the relevant guest services facilities are located. When the park first opened, the soundstages of Production Central proper introduced visitors to the working-film-studio theming of the entire park, featuring such attractions as Alfred Hitchcock: The Art of Making Movies, MCA Recording Studio, and the "Murder, She Wrote" Mystery Theater. The spot that is now the Music Plaza Stage used to be a large outdoor area called The Boneyard, where authentic movie props from Jaws, Back to the Future, Jurassic Park, The Flintstones, and, even, Gone with the Wind were displayed for guests' viewing pleasure, and what is currently Despicable Me Minion Mayhem was originally The Funtastic World of Hanna-Barbera, whose cut-out characters and comic-style speech bubbles have since been moved to Toon Lagoon over at Islands of Adventure.
For many years, the Nickelodeon Studios building was a main feature of Production Central, with a giant "slime geyser" fountain out front and full production studios inside; here, Universal guests could watch live tapings of Nick programs, including Double Dare, Clarissa Explains It All, and Legends of the Hidden Temple. When Nickelodeon moved its productions to New York and California, Soundstage 18 was repurposed for Blue Man Group and officially "rezoned" outside the park, becoming part of CityWalk, so that guests could access the show without theme-park admission.
Are there guest services available in Production Central?
Guest Services
The main Guest Services location can be found here at the front of the park. Stop by if you have any questions, concerns, or special needs during your time at the park.
Restrooms
Restrooms in Production Central are located near the park exit, beside the Music Plaza Stage (on the Race through New York Starring Jimmy Fallon side), and at the Studio Audience Center. Family restrooms are available at Music Plaza and Health Services/First Aid.
Lockers
There are two locations for locker rentals at the front entrance of the park: one on the far right of the entrance, by the Studio Audience Center, and another on the far left (near the exit). Small lockers, such as those next to Hollywood Rip Ride Rockit, are free for the duration of your ride.
Dining reservations
As you come down the main drag, keep an eye out for the Dining Reservations kiosk, where you can make reservations for any of the full-service restaurants throughout the resort.
First aid
One of two first aid stations in the park, Production Central's is located in the blue Art Deco buildings behind the On Location shop.
Rental services
Strollers, wheelchairs, and ECVs are all available to rent in this section of the park, next to the locker bank on the left-hand side of the area, near the Universal Studios Store. (The only other rental location is back in Diagon Alley, next to the Hogwarts Express, as this serves as the secondary entrance for people who ride the train over from Hogsmeade at Islands of Adventure.)
ATMs
An ATM can be found across from the first aid station, close to the Studio Audience Center.
Lost and Found
The only Lost and Found station for the park is located by the Studio Audience Center.
Related Posts
7 Lost Universal Attractions of Production Central
Let's tour 1990's Universal Studios Florida
Do you have a question about the information on this page, would like to provide feedback, or did you spot an inaccuracy? Please let us know by posting in our
Orlando Informer Community
on Facebook.