Although mobile ordering at Universal Orlando Resort has been around since 2018, it's become increasingly prevalent in the wake of the COVID-19 pandemic. Indeed, since reopening in early June 2020, Universal has implemented the service at a number of new locations at Universal Studios Florida, Islands of Adventure, Volcano Bay, and CityWalk.
Since it's more likely than ever that you'll need to make use of Universal's system during your visit to the parks, it's worth brushing up on the details ahead of time. We've compiled all of the info about mobile ordering here, so let's dive in!
Skip to: Mobile ordering overview | Which locations offer mobile ordering? | FAQ
What is mobile ordering?
Mobile ordering allows guests to use their mobile phones to order ahead at select Universal restaurants. In doing so, you can avoid waiting in the long lines that sometimes plague the most popular quick-service locations in the parks. The process is quick, easy, and all done through the official Universal Orlando Resort mobile app.
Placing a mobile order
The first thing you'll need if you want to place a mobile order is a Universal Orlando account. Once you've logged in on the app, you can set up a digital wallet and link a credit card, allowing you to easily and quickly pay for any orders you place. (Don't worry – there's no extra charge for placing a mobile order rather than doing so in person.)
Once you've set up your wallet, you can tap "Dining" on the home screen or "Mobile Food & Drink Ordering" in the side navigation menu. Here, you'll be able to browse the different available restaurants and their menus. Next, you can choose your entrees, drinks, and snacks, and then customize them with sides, toppings, and options. You can also modify the number of items (in other words, we encourage you to order as many doughnuts from Voodoo Doughnut as your heart desires!).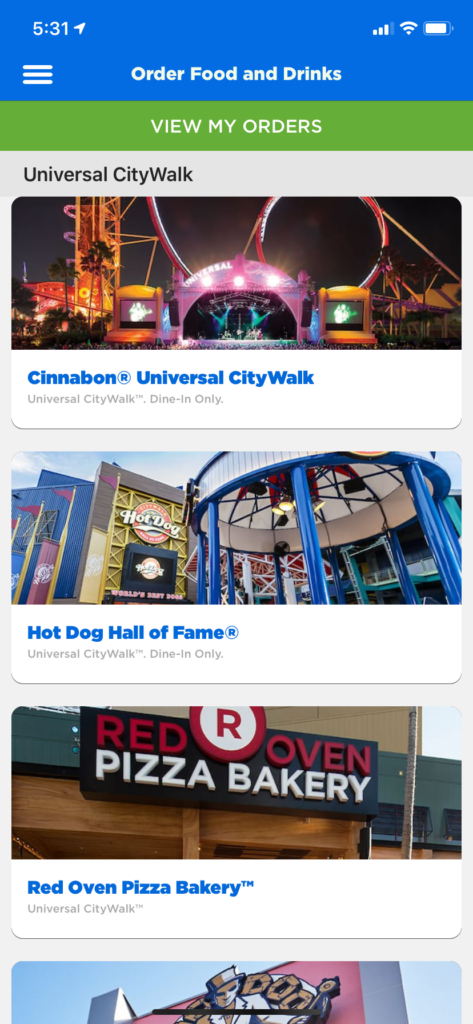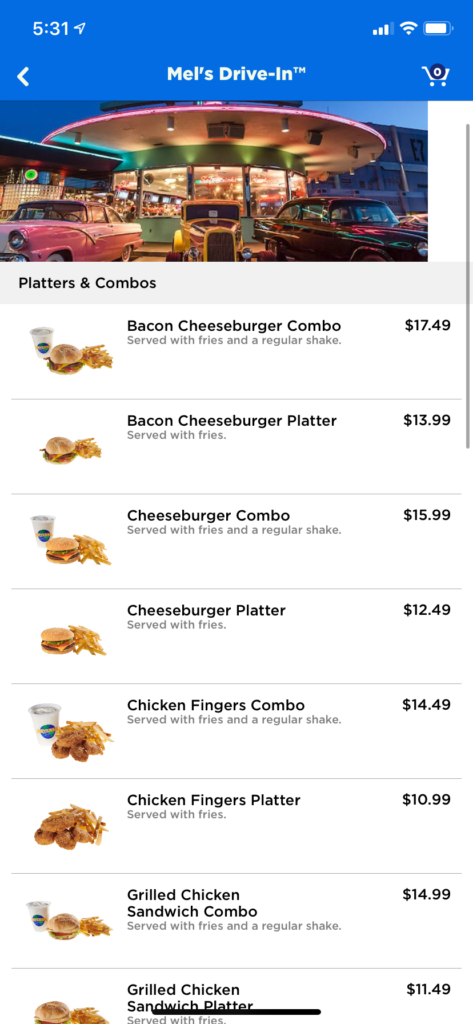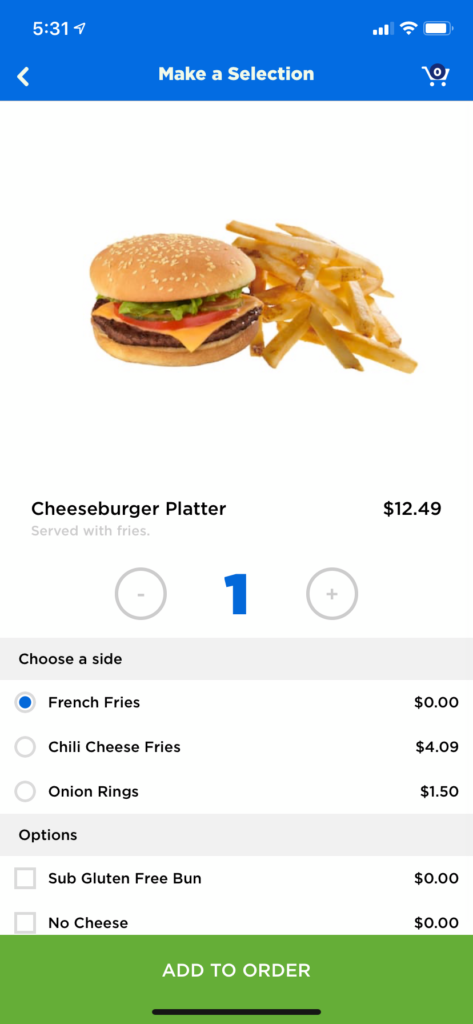 Once you've checked out, a confirmation will appear on your screen along with a button that reads "Prepare My Food." The restaurant will begin preparing your order as soon as you tap this, so be sure to wait until you're at – or, at least, near – the location to ensure your food isn't sitting out for too long. When you arrive, you can receive your order at the designated pick-up window or by sitting at the appropriately labeled tables, depending on the restaurant.
Which locations offer mobile ordering?
Currently, more than 30 restaurants all around Universal Orlando Resort offer mobile ordering.
Universal Studios Florida – locations with mobile ordering
Islands of Adventure – locations with mobile ordering
Volcano Bay – locations with mobile ordering
CityWalk – locations with mobile ordering
Mobile ordering at Universal Orlando – frequently asked questions
Does it cost more to place a mobile order?
No, there's no upcharge for ordering on your phone as opposed to doing so in person.
Do mobile orders have a pick-up time?
No, they do not. Instead, you simply tap "Prepare My Order" once you're ready to pick up your food. The turnaround time is usually fast, so we recommend waiting until you're at (or close to) the restaurant you ordered from. After you tap the "Prepare My Order" button, you'll receive a notification on your phone when your food's ready to go.
Can I place a mobile order from outside the park?
No, you must be inside the correct park (or inside CityWalk) to place an order; for example, you can't order from Mel's Drive-In if you're over at Volcano Bay.
Can I use my annual pass discount, Universal Dining Plan, or Universal Orlando gift card on a mobile order?
Yes, you can use your annual pass discount while mobile ordering. The process is exactly the same, except right before you check out, you tap the "Apply Passholder Discount" button. The app will allow you to scan the barcode on your pass, or you can manually enter your passholder ID instead. Once you've done so, the discount will be reflected in your order.
Check out our video tutorial for a step-by-step guide:
Unfortunately, mobile ordering does not currently support the Universal Dining Plan or Universal Orlando gift cards. These are the only ways you might lose out on some money by not going the traditional route.
Will the Universal Orlando Resort app work with my phone?
That depends on the type of smartphone you have and how recently it was released. The app is compatible with iPhone, iPad, and iPod touch for Apple users – so if you have one of those devices, you're probably in good shape. However, it requires iOS 14.1 or later in order to run; this operating system is compatible with iPhone 6S and later, all iPad Air and iPad Pro models, iPad 5th and 6th generation, iPad mini 2 and later, and iPod touch 7th generation models. For Android users, you'll need a phone that can run Lollipop (also known as Android 5.0) or any more recent operating system.
In general, if your phone was released in 2015 or later, you should be able to run the app – but this can vary depending on the type of Android you own.
Do you have a question about the information on this page or would you like to provide feedback? Please let us know by posting in our
Orlando Informer Community
on Facebook.