Skip to: Overview | Location | Restrictions | Showtimes | Fear factor | Fun fact | Guest reviews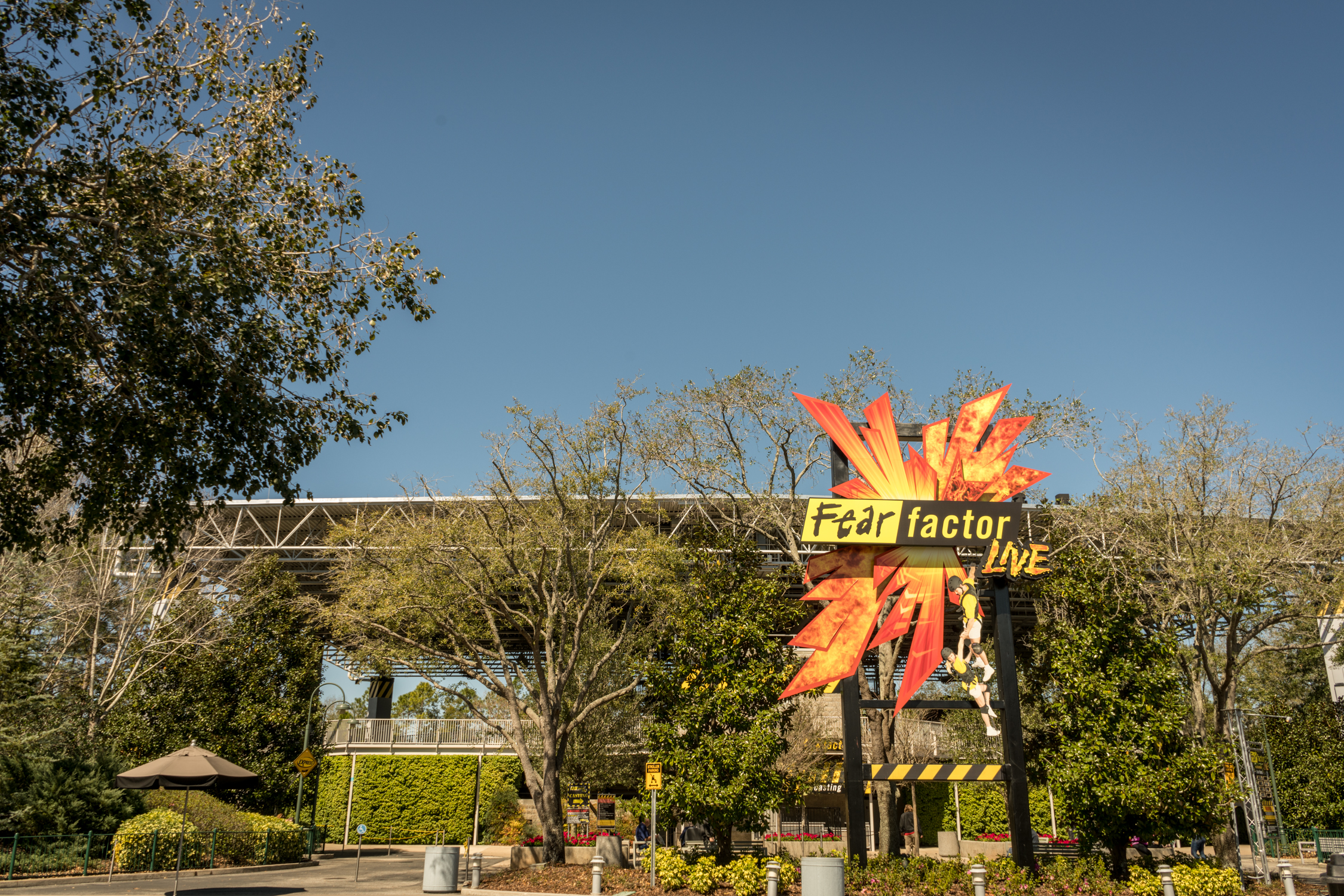 What was Fear Factor Live?
Fear Factor Live was a true-to-television, live version of the show, where Universal Studios Florida guests volunteered to compete in tasks that pushed their minds — and their stomachs — to the limit. With several different events to volunteer for, including some "special effects" roles just for the kids, this attraction entertained the whole family.
Where was Fear Factor Live located?
In World Expo, which is in Universal Studios Florida.
Fear Factor Live – height restrictions and other factors
There were no restrictions, but guests with Express Pass could wait in a separate queue for the first choice of seating.
What were the showtimes for Fear Factor Live?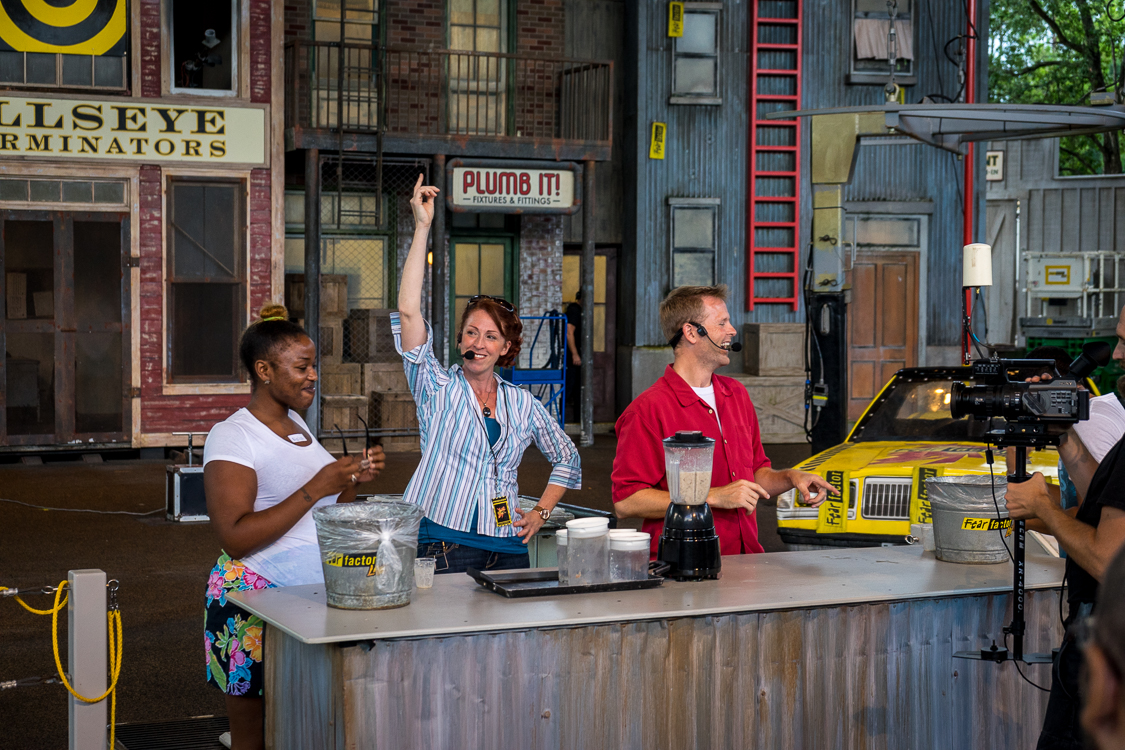 The first showtime was generally not until noon, and then Fear Factor Live would run about every 90 minutes after that.
Sample summer schedule
1:00 pm, 2:30 pm, 5:00 pm, 6:30 pm
Fear Factor Live was closed throughout the Halloween Horror Nights season to make way for the annual event's live show.
Fear Factor Live – what you wish you knew before you experienced it
Fear Factor accepted volunteers to be in the production. To participate in the primary stunts, you'd need to be at the theater 70 minutes before showtime; otherwise, the second opportunity would arise at the beginning of the performance once the audience was seated. The producers would also ask for kids to help out with operating water canons during the stunts and other supporting roles.
How scary was Fear Factor Live?
We rated Fear Factor Live three out of five rancid milkshakes in terms of fear factor. The physical stunts were performed in a safe and controlled environment, but some were tense for young guests to watch. In addition, the mini-stunts included creepy-crawly insects and/or contestants consuming a disgusting milkshake concoction. It wasn't for the weak of stomach, that's to be sure.
What was Fear Factor Live's opening date?
June 3, 2005
Fear Factor Live – OI fun facts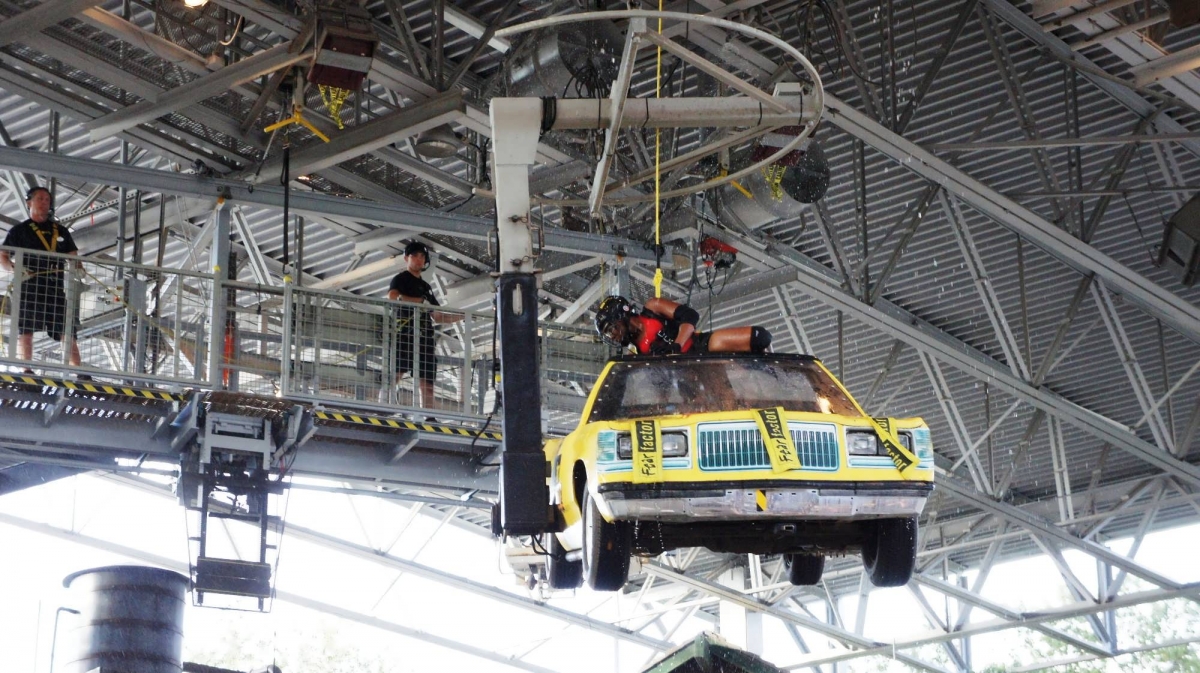 Fear Factor Live was based on the Fear Factor television show that ran on NBC from 2001 through 2006 and was hosted by UFC commentator Joe Rogan. The series was immensely popular for the first three seasons, leading to the development of the live attraction at both Universal Orlando Resort and Universal Studios Hollywood. (The West Coast version of Fear Factor Live closed in 2008.)
Although the original TV show was canceled in '06, it has since been revived (and canceled) twice more, with the final revival showcasing the hosting skills of rapper Ludacris and airing on MTV. At the peak of its popularity, guests could purchase Fear Factor candy, which included chocolates and gummies shaped like cockroaches or eyeballs, as well as cheddar cheese-flavored freeze-dried larvae.
Fear Factor Live – photo gallery
Fear Factor Live – real guest reviews
Fear Factor Live
Average rating:
11 reviews
Apr 3, 2018
Fear Factor Live
Date Of Last Visit:
2/17/2018
This was a very well put together show that me and my wife enjoyed very much! I hope to volunteer to be in the show on our next trip!
Aug 20, 2014
Replay Value
Date Of Last Visit:
8/18/14
I wish that anything changed about this show ever changed, especially since it's about a show where the stunts are different every single episode. NOPE, the show is exactly the same as when it opened, and so is the dialogue and the suprisingly slow pacing. Fun once, but Horror Make-Up and Animal Actors are both way better.
May 26, 2014
Funny and Interactive
Date Of Last Visit:
02/22/2014
I found this to be entertaining, just make sure to look away when they eat the gross stuff... unless you're stomach can handle it.
May 26, 2014
Surprisingly Quite Good
Date Of Last Visit:
August 2013
I was surprised how much I liked the show as I hate the Fear Factor TV Show.



I didn't think it was a good start when the presenter started and if I'm honest I thought it was going to be rubbish. But once the tasks started with just normal park goers, I thought it was really good.



The tasks where brilliant and some of them towards the end had some great special effects and the presenter gets the crowd going and it was an enjoyable show.



The only reason I gave this only 3 stars was that the show was exactly the same at Universal when I went around 6-7 years ago and it is getting slightly dated and needs rejuvenated.
May 26, 2014
Pleasantly Surprised
Date Of Last Visit:
June 2013
I avoided Fear Factor like the plague when it was on the air because I can't stomach watching people eat gross things or handle creepy, crawly creatures. So I was definitely a little squeemish when my girlfriend suggested we take in this show. Luckily, for anyone with a weak stomach...they kept those portions of the show to a bare minimum. As I remember, they took a few volunteers and had one eat some random mix of junk type shake, but aside from that, most the challenges were physical. The one thing I left thinking was..."God, I need to join a gym!" No way could I have made it through those games, but it was fun watching others and cheering them on. An enjoyable, shaded break from the sun. Def. worth checking out once.
Do you have a question about the information on this page or would you like to provide feedback? Please let us know by posting in our
Orlando Informer Community
on Facebook.