Skip to: Overview | Location | Attractions | Entertainment | Dining | Shopping | Additional services
What is Woody Woodpecker's KidZone?
Although Universal Orlando Resort is more known for its thrill rides, there is plenty for young ones to do at the parks. Woody Woodpecker's KidZone is a veritable bonanza of rides, entertainment, and play areas that will give your kids a thrill – all without having to be 42 inches or taller. While many of the cartoons featured in this area have fallen out of popular memory, others – such as Curious George (who has been around since 1940 – incidentally, the same year that Woody Woodpecker was created) – are still favorites today.
Kids of all ages will enjoy the timeless weirdness of E.T. Adventure and the amazing antics of Animal Actors on Location! Catering to the smaller guests, specifically, is Woody Woodpecker's Nuthouse Coaster. And rounding out the area is a series of meet-and-greets for SpongeBob SquarePants and other cartoon friends, including a special, first-of-its-kind interactive character experience called DreamWorks Destination.
Where is Woody Woodpecker's KidZone located?
Woody Woodpecker's KidZone – attractions
The personal pet project of Steven Spielberg himself, E.T. Adventure is a bizarre excursion with everyone's favorite extra-terrestrial. Give your name to the team member at the entrance and walk through the forest, board your bicycle to evade capture, take to the skies to rescue E.T., and meet all the unusual pals on his home planet. Listen carefully as E.T. gives you a personalized "goodbye" at the end of the ride.
If you're looking for pint-sized thrills, this mini-coaster is the perfect starter roller coaster. Woody takes you on a ride up a small lift hill and down a winding track with fun decorations without being too intimidating to roller coaster initiates.
Experience this playground from the perspective of Fievel the mouse (from the animated classics An American Tale and Fievel Goes West) as your kiddos run, jump, climb, and play among the various props, which include sardine cans, bottles, buckets, and boxes, all super-sized to make you feel as if you've shrunk to a tiny stature. In addition to the large climbing nets and rope bridges, there is also a water play area, complete with a 200-foot water slide.
Discover the hilarious antics of Curious George in a play area themed to the beloved monkey's book series. Explore the cartoon town and splash around in the water play section. The Animal Show tent is designed specifically for toddlers, and everyone will love The Man with the Yellow Hat's Ball Factory.
Woody Woodpecker's KidZone – entertainment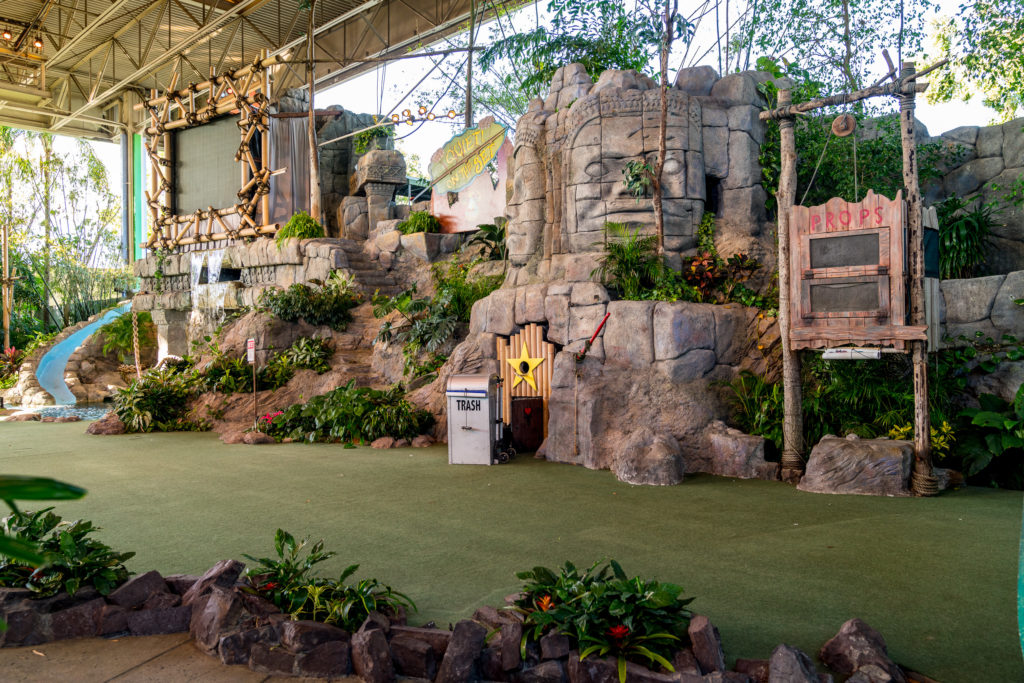 If you've ever wondered how directors get such excellent performances out of their animal movie stars (well, before CGI became omnipresent), you won't want to miss Animal Actors on Location!, where a variety of furry friends and their trainers will take you behind the scenes to show off some tricks and training techniques in a mix of skits, demonstrations, audience participation, and film clips.
This interactive character encounter has guests of all ages taking photos and having dance parties with an assortment of DreamWorks Animation characters, including from Trolls, Kung Fu Panda, Madagascar, and Shrek.
Meet SpongeBob SquarePants
Inside SpongeBob StorePants, SpongeBob has his very own dedicated meet-and-greet spot, and, if you're lucky, you may encounter fellow citizens of Bikini Bottom, such as Squidward or Patrick the Starfish.
E.T. photo spot
Located inside E.T.'s Toy Closet as you exit E.T. Adventure, a mini-photo studio has two photo-ops that you can take with the little alien. In the first, you sit on the famous flying bike, and green-screen effects make it look as if you are truly soaring; for the second picture, join E.T. in the toy closet. These photos are included with a My Universal photo package, or they can be purchased at the shop.
Woody Woodpecker's KidZone – dining
Often overlooked, KidZone Pizza Company is a family-friendly quick-service counter, with familiar favorites like pizza and milkshakes, served alongside a few surprising options, such as sweet potato fries and funnel cakes.
Woody Woodpecker's KidZone – shopping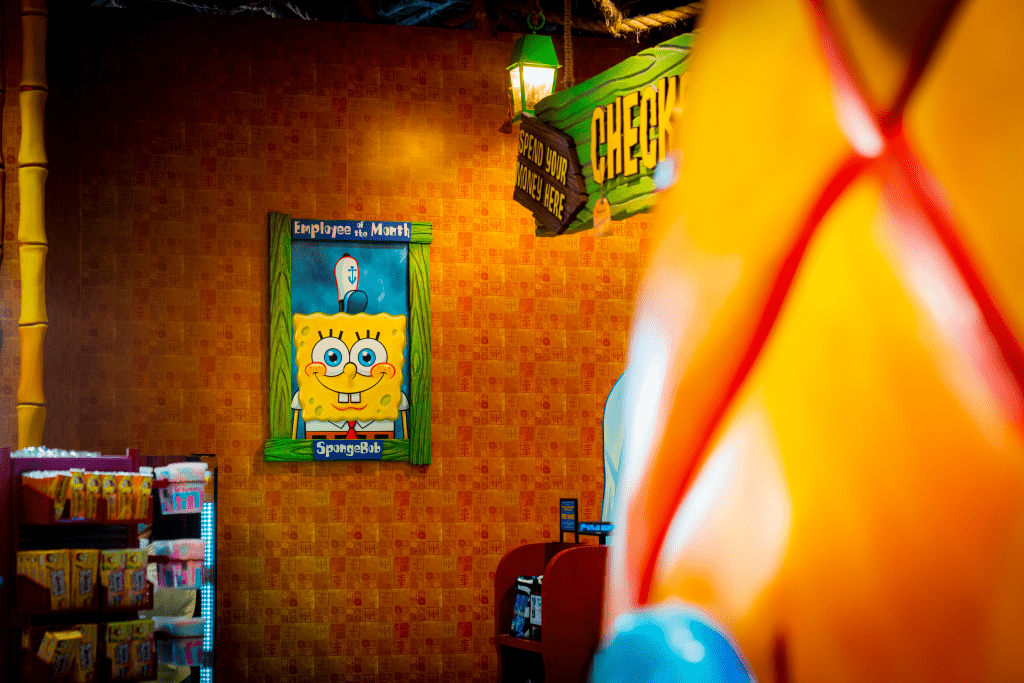 SpongeBob StorePants
SpongeBob SquarePants fans will be in SpongeBob-heaven at SpongeBob StorePants, one of the best themed stores in all of Universal Orlando. Make your way under the floating jellyfish and into a pineapple under the sea, while picking up mugs, t-shirts, backpacks, keychains, snacks, hats, sandals, plushes, and toys, all themed to our favorite absorbent yellow porous sponge.
E.T.'s Toy Closet
All guests exiting E.T. Adventure will walk through this small shop, where you can get E.T. the Extra-Terrestrial-themed gifts and souvenirs. The Toy Closet is also the place to have your picture taken with E.T. himself, in two green-screen photo ops.
Are there guest services available in Woody Woodpecker's KidZone?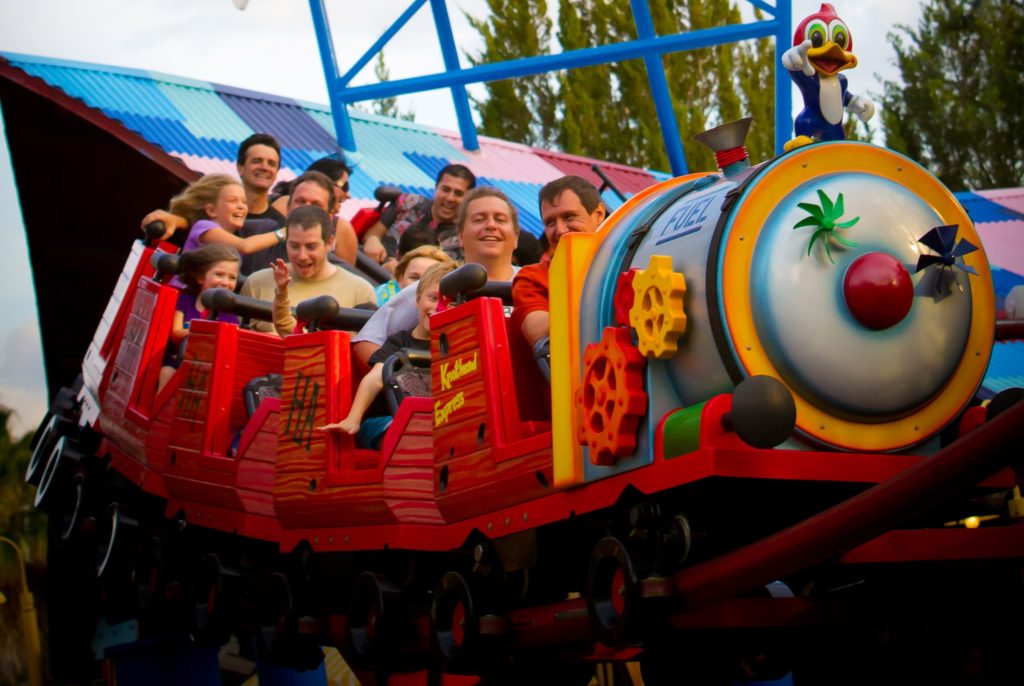 Restrooms
There are two restroom areas inside KidZone – one is near the KidZone Pizza Company, and the other is in the back of the land by DreamWorks Destination.
Lockers
There are no lockers available to guests in Woody Woodpecker's KidZone.
First aid
The nearest first aid is back in Production Central.
ATMs
To find the nearest ATM, guests will need to head out of KidZone and either back towards Production Central or turn right and walk through Springfield: Home of the Simpsons and World Expo, to get to the ATM near the London waterfront restrooms.
Woody Woodpecker's KidZone – photo gallery
Do you have a question about the information on this page or would like to provide feedback? Please let us know by posting in our
Orlando Informer Community
on Facebook.