Skip to: Overview | Location | Attractions | Entertainment | Dining | Shopping | Fun facts | Additional services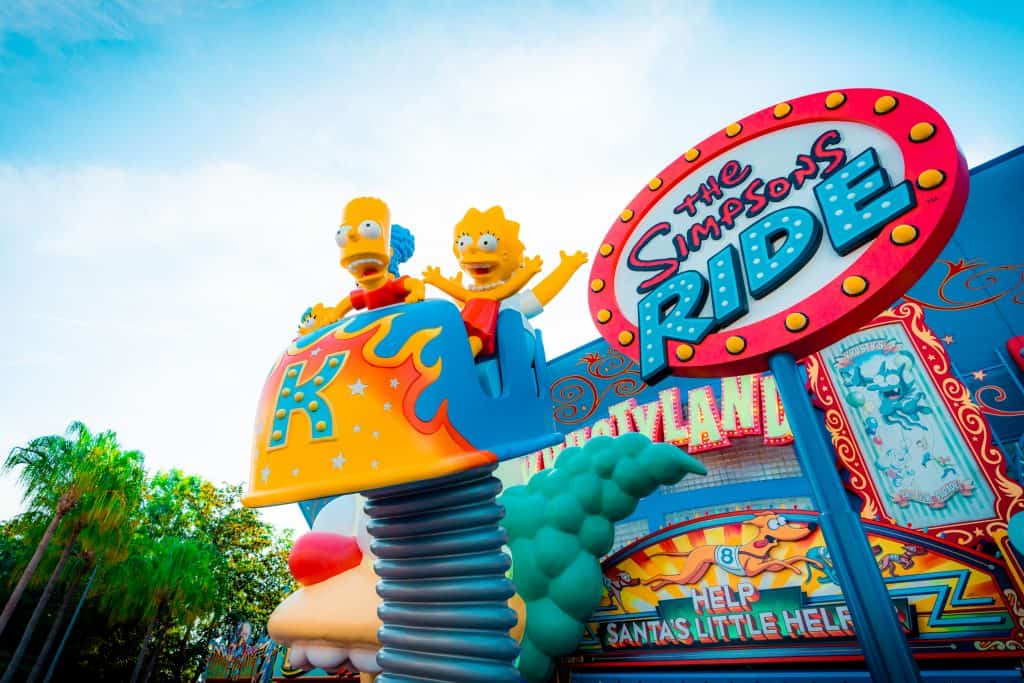 What is Springfield: Home of the Simpsons?
The bright colors and larger-than-life details of Springfield: Home of the Simpsons will make guests feel as though they've stepped into the world of The Simpsons, the longest-running animated television series in history. Located between Hollywood and World Expo in Universal Studios Florida, there's no shortage of entertainment to be found in this area of the theme park.
Springfield features two rides: its signature attraction is The Simpsons Ride, a motion simulator, while little ones can hop on Kang & Kodos' Twirl 'n' Hurl, a low-thrill aerial carousel. You can also enjoy signature treats and beverages from the show, such as the Flaming Moe (non-alcoholic) and Duff Beer. And if that weren't enough, there are plenty of photo opportunities with characters from The Simpsons, as well.
Where is Springfield: Home of the Simpsons located?
Springfield: Home of the Simpsons – attractions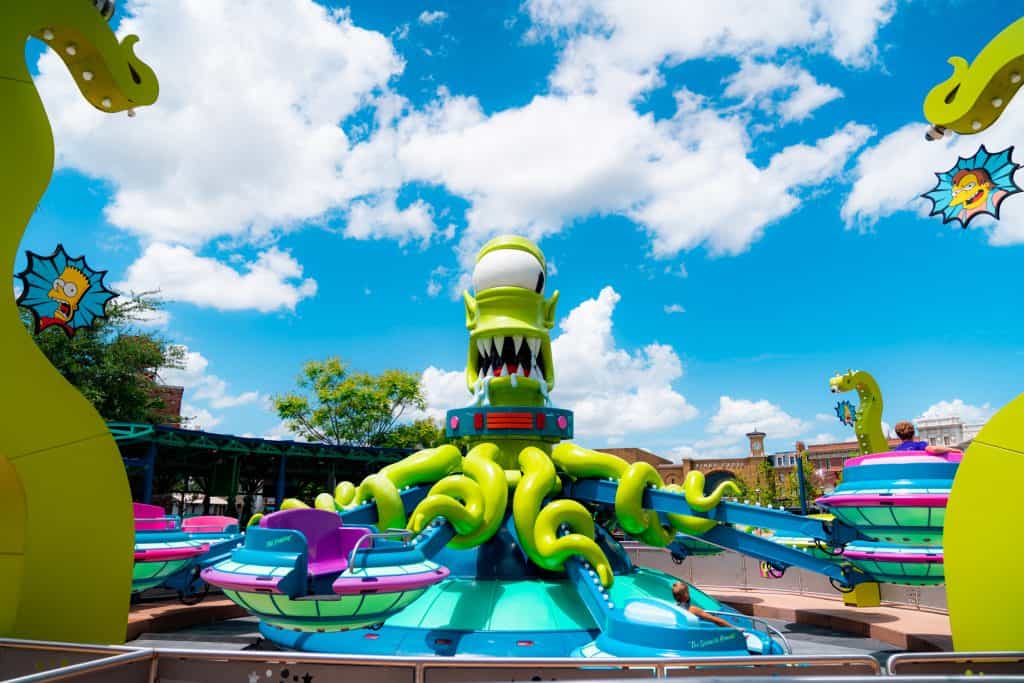 If you're visiting Springfield with children, this ride is a great option for them to enjoy. Humans are "captured" by the titular aliens and forced to "attack" other Earthlings by using the flight path of their flying saucer to pass by and activate targets bearing the faces of different citizens of Springfield. Like most aerial carousels, riders control how low or high they want to fly.
This motion-simulator attraction invites you to join the Simpsons as they go on a theme-park adventure to Krustyland. When Sideshow Bob arrives, bent on revenge against Bart Simpson and the rest of the family, you all embark on a zany adventure through Krustyland and the rest of Springfield to escape. This is a must-do experience for fans of the show, featuring all the familiar sights and sounds of Springfield, more than 24 of the series's regular characters, and, of course, that classic theme song.
Springfield: Home of the Simpsons – entertainment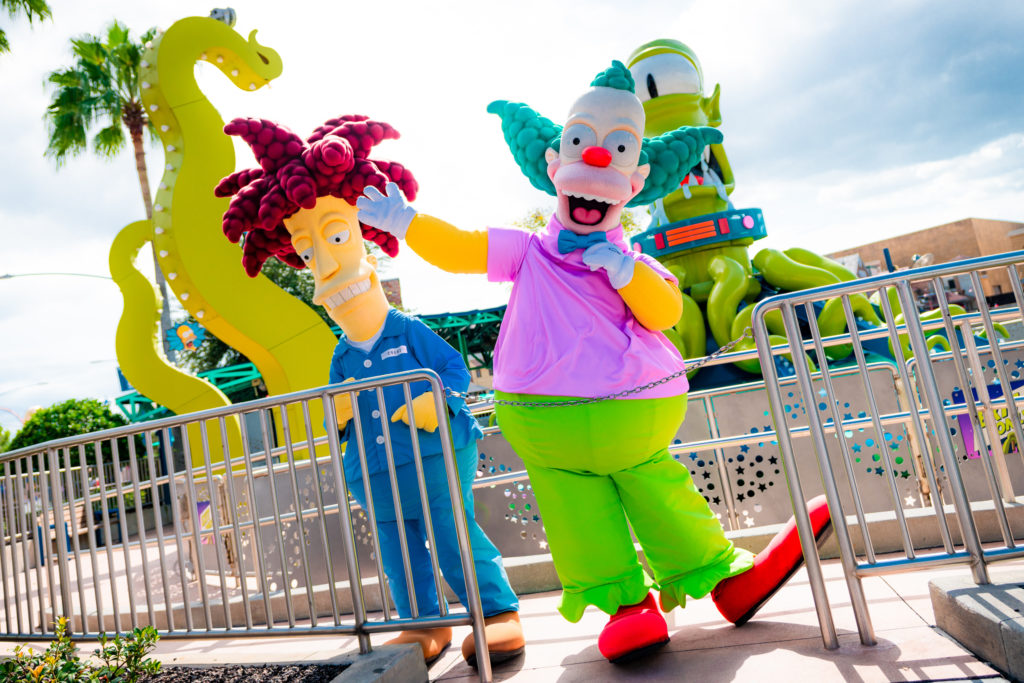 Midway games
If you're feeling lucky, why not give one of the many themed midway games located in Springfield a try? You can earn a variety of prizes, such as a giant plush can of Duff Beer or a superhero-dressed Homer Simpson doll. (And if you lose, hey – it was still fun!)
Character meet-and-greets
As you enjoy your time in the home of the Simpsons, keep an eye out for character meet-and-greets. You can usually find personalities from The Simpsons at the corner of Fast Food Boulevard and Evergreen Terrace (the street on which the Simpson home sits in the television show), including the Simpsons family, Krusty the Clown, and Sideshow Bob.
Springfield: Home of the Simpsons – dining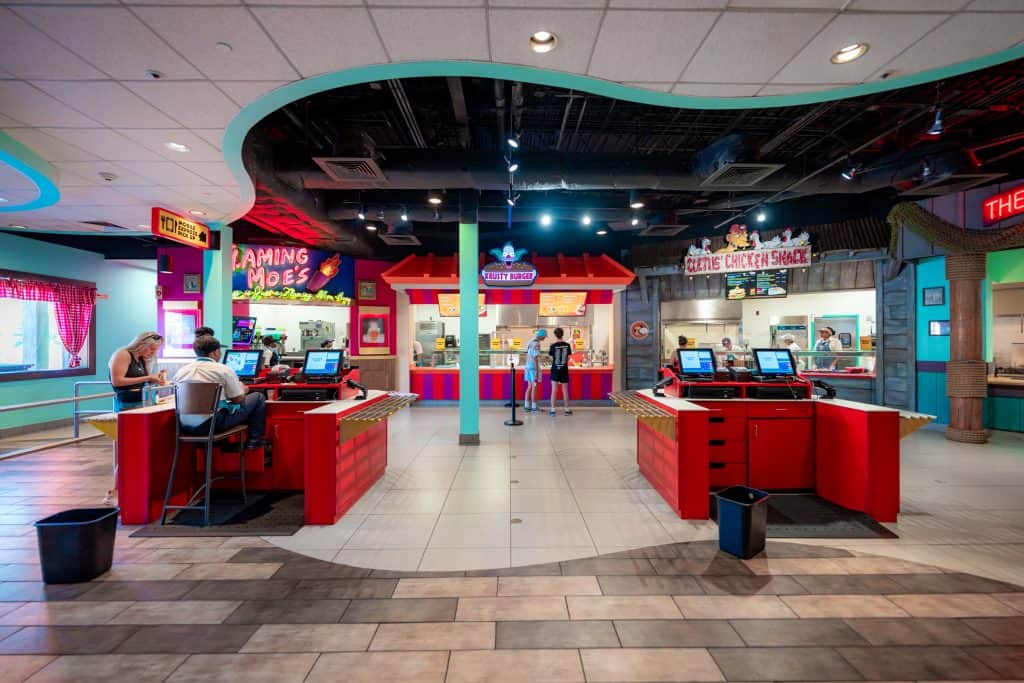 This counter-service food truck parked at the entrance to Springfield is an underrated – and fairly-priced – gem. Here, you can choose from three different varieties of tacos: carne asada, chicken, or Korean beef. All orders come with two tacos and a side of chips. And beverage options include Buzz Cola, a drink seen in the show that tastes similar to Cherry Dr. Pepper.
At Duff Brewery, you'll find a casual outdoor bar serving Duff Beer – Homer Simpson's beverage of choice. You can also order from a menu of other specialty drinks, such as the famous Squishee from the Kwik-E-Mart, along with a limited food selection. Flatscreen TVs show a 30-minute loop of clips from The Simpsons for your viewing enjoyment.
Although technically a part of Fast Food Boulevard, Moe's Tavern also boasts an exterior façade, which is why we consider it a unique location. Here, you can quench your thirst with a famous Duff Beer (if you're 21+) or enjoy a non-alcoholic Flaming Moe (orange soda made with dry ice in a special cup for a "flaming" effect).
At this quick-service dessert stop, you can channel your inner Homer Simpson and enjoy a classic pink doughnut. (Keep in mind that these are more than big enough to share!) You can also pick up a variety of other sweet treats, including the Brain Freezin' D'oh-Nut Sundae, which features soft-serve ice cream sandwiched between a frosted pink doughnut, with your choice of one topping.
Fast Food Boulevard consists of six venues in total, each of which boasts a unique sampling of drinks and treats made famous on The Simpsons:
Lisa's Teahouse of Horror
Sample menu: Veggie Sandwich, Mediterranean Salad, Turkey Wrap

Luigi's Pizza
Sample menu: Meat Liker's Pizza, Cheese Pizza, Vegetarian (Meat Hater's) Pizza

The Frying Dutchman
Sample menu: Battered and Plattered Fish, Basket o' Shrimp, Clam Chowd-Arr

Cletus' Chicken Shack
Sample menu: Chicken & Waffle Sandwich, Chicken Arms, Chicken Thumbs

Krusty Burger
Sample menu: Krusty Burger, Mother Nature Burger, Heat Lamp Dog

Flaming Moe's
Sample menu: Flaming Moe, Duff Beer, Groovy Grove Juice
Springfield: Home of the Simpsons – shopping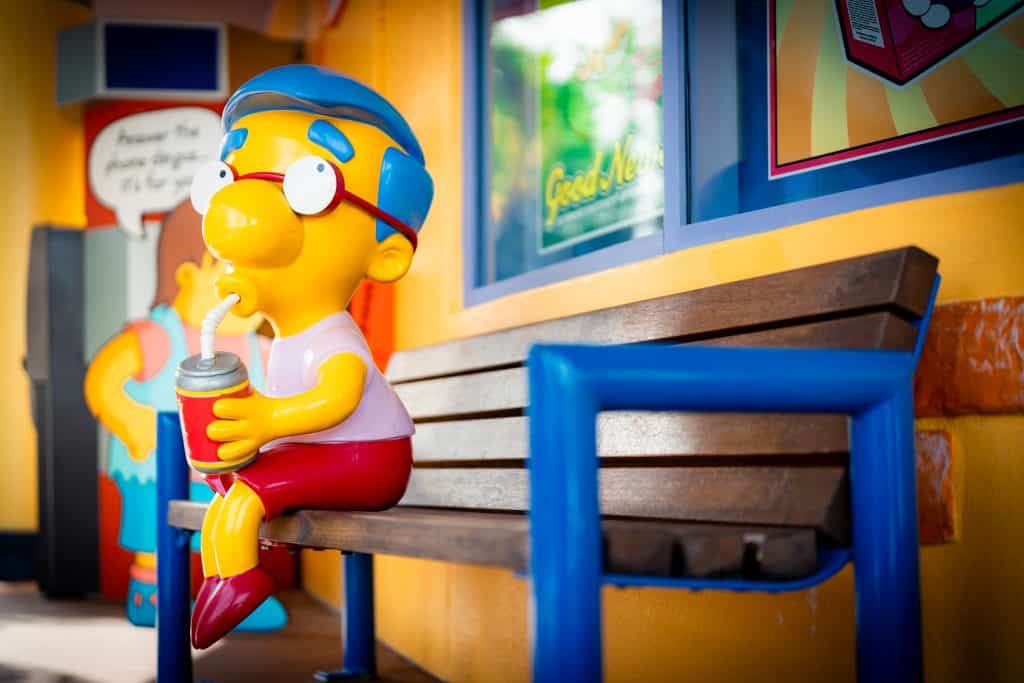 Kwik-E-Mart
As the main merchandise shop in Springfield, the Kwik-E-Mart is where fans of The Simpsons will want to go for wacky and whimsical souvenirs. (Although this stop is themed after the convenience store from the show, it's important to note that you'll have to head to Duff Brewery if you want to try a Squishee.) After you've finished shopping, be sure to snap a picture with the photo-op of Milhouse van Houten right by the store's entrance!
Duff kiosk
Load up on all your Duff-themed merchandise at this small, open-air kiosk next to Duff Brewery. With clever t-shirts, hats, keychains, souvenir mugs, ice buckets, and decor, you can proudly display your love of the fictitious beer company with tons of wonderful Duff stuff.
Springfield: Home of the Simpsons – OI fun facts
Although The Simpsons Ride opened on May 15, 2008, the land of Springfield as we know it today went through several steps to get to this final state of affairs. Fast Food Boulevard was added to the Simpsons mix in June 2013; the other eateries followed early in August 2013; and Kang & Kodos' Twirl 'n' Hurl finally arrived a week after that.
Furthermore, it would take three more years before Universal would spin the Springfield area off from the greater World Expo land (which it was originally part of) – and, even then, it went through one last name change, going from Springfield, USA to Springfield: Home of the Simpsons. Phew!
Are there guest services available in Springfield: Home of the Simpsons?
Restrooms
There is a family restroom available at Fast Food Boulevard.
Lockers
There are no guest lockers present in Springfield.
First aid
The closest first aid station is around the back of the lagoon, by Fast and Furious – Supercharged in the San Francisco area, on the side nearest to the New York backlot.
ATMs
To find the nearest ATM, head towards the London waterfront by the restrooms, just past the Fear Factor Live stadium.
Springfield: Home of the Simpsons – photo gallery
Do you have a question about the information on this page or would you like to provide feedback? Please let us know by posting in our
Orlando Informer Community
on Facebook.