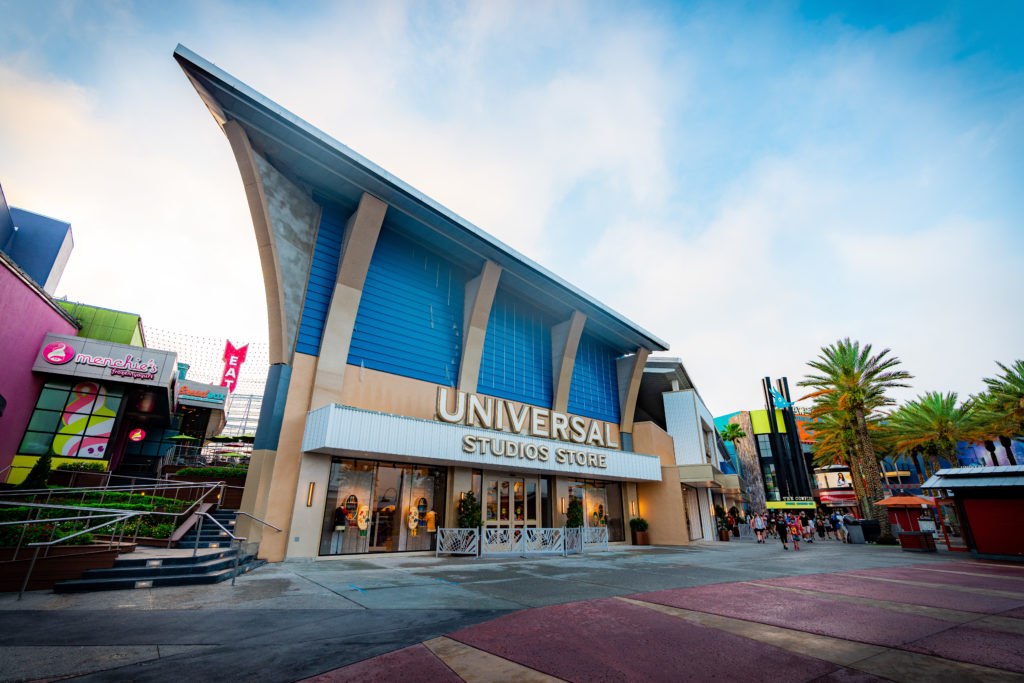 When planning a vacation at Universal Orlando Resort, one of the major considerations for your vacation budget will be how much to set aside for souvenirs and other merchandise. In order to help you prepare, this page provides an overview on what type of merchandise is available, where it can be found at the resort, and what you can expect to pay.
Skip to: Types of merchandise | Where to purchase | Package delivery | Shopping tips
What kind of merchandise is available at Universal Orlando Resort?
Merchandise available for purchase at Universal Orlando includes everything you might expect at a theme park resort, including toys, decorations, collectibles, cups, pins, magnets, trophies, plush animals, books, artwork, candy, key chains, mugs, backpacks, gems, jewelry, stationery, ornaments, towels, playing cards, and more. Prices for these items may range from a few dollars to $50 or more. For example, a Despicable Me lanyard is $13, a medium-sized minion plush toy is $24.95, and a Hogwarts Houses Quidditch chess set is $300. The price of a keychain ranges anywhere from $6.95 to $26, and mugs range from $9.99 for an Earl the Squirrel mug up to $27 for a sculpted Bumblebee mug. Available apparel includes infant, youth, and adult clothing such as t-shirts, tank tops, socks, sweatshirts, jackets, hats, flip-flops, and sunglasses. All types of t-shirts cost between $6.99 and $75, and sweatshirts start around $37.
Where can I purchase Universal merchandise?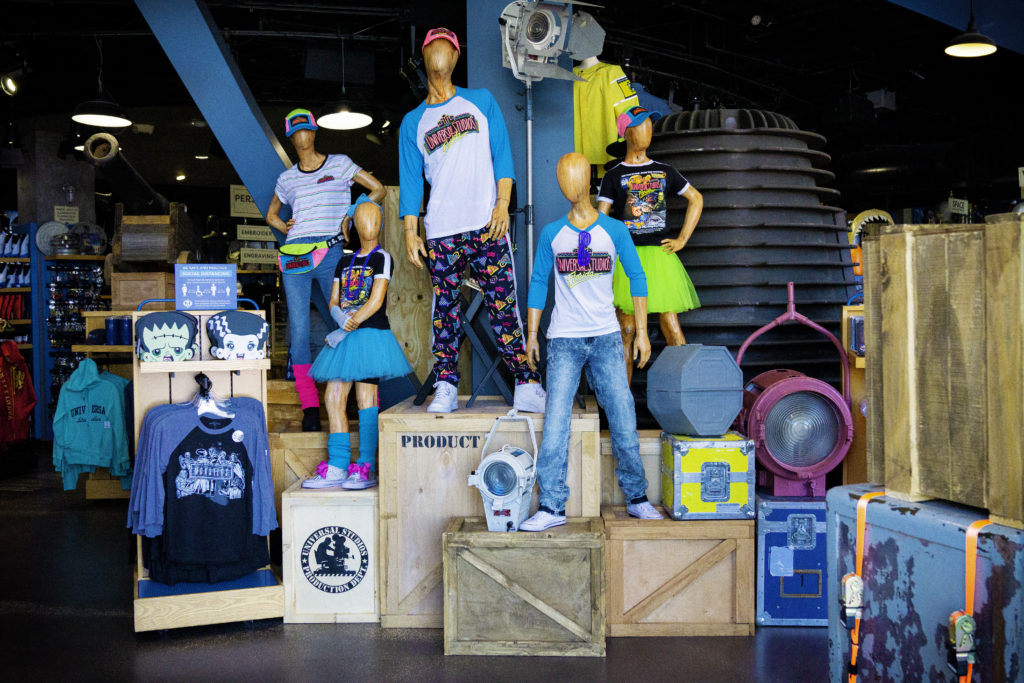 From the moment you step (or drive) onto Universal Resort property, you won't lack opportunities to purchase your gifts and souvenirs. Here is our breakdown of places to shop in each section of the resort.
Universal Merchandise at CityWalk
The main CityWalk store for Universal merchandise is the new Universal Studios Store, offering a sizable selection of items related to the theme park characters, including Spider-Man, SpongeBob SquarePants, The Simpsons, Despicable Me, Dora the Explorer, E.T., and the Wizarding World of Harry Potter. Across the way from this glittering storefront is the Universal Legacy Store, a unique take on the classic gift shop. Here, guests can shop for retro-style merchandise and view original props and decorations from popular Universal Studios attractions (past and present). CityWalk also has specialty stores that offer a variety of merchandise and gifts not directly related to the theme parks, including cigars, clothing, skateboards, watches, and sunglasses – and even a tattoo parlor if you're looking for a permanent souvenir.
While you're dining, don't forget that many of the restaurants have their own gift shops – standouts include the shops at Toothsome Chocolate Emporium, Jimmy Buffett's Margaritaville, and the Hard Rock Cafe.
Finally, several kiosks line the paths from CityWalk to the theme parks, where you may find rotating selections of merchandise with varying themes that have previously included Saturday Night Live memorabilia, Big Bang Theory merchandise, and more.
Universal Merchandise at the Theme Parks
Both Universal Studios Florida and Islands of Adventure have one large merchandise store on the left-hand side as you enter each park (the Universal Studios Store and Islands Trading Company, respectively). These stores are stocked with an abundance of themed items from the attractions and characters found in that particular park. We suggest holding off on purchasing merchandise throughout the day and instead make a stop at these large stores on your way out, as they have all of the most popular items from the smaller gift shops positioned elsewhere. In addition, it's a great place to cool off!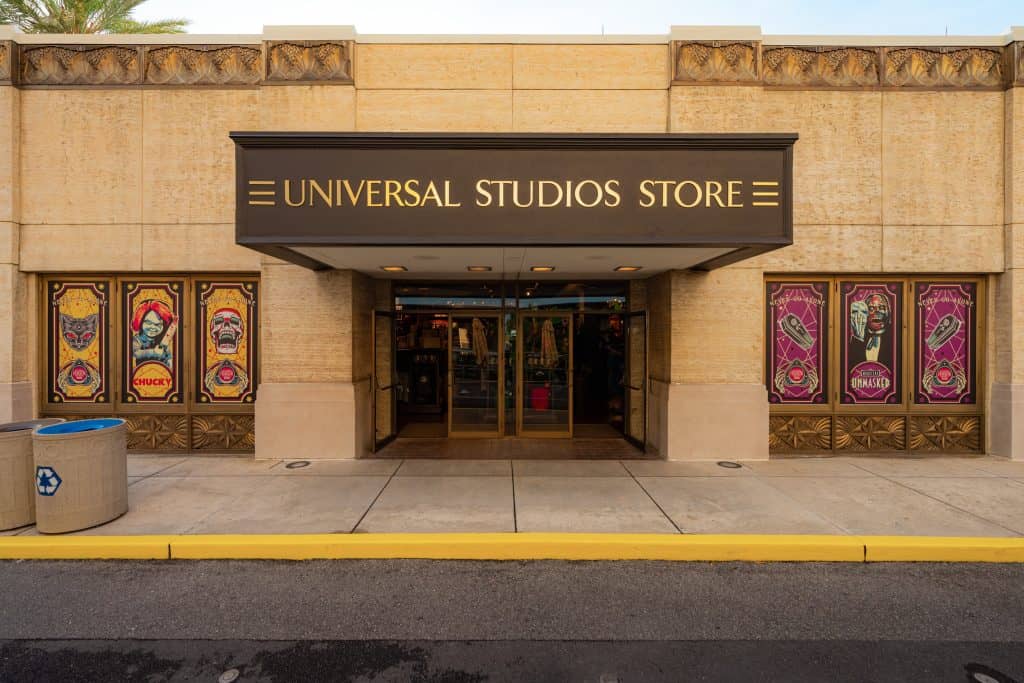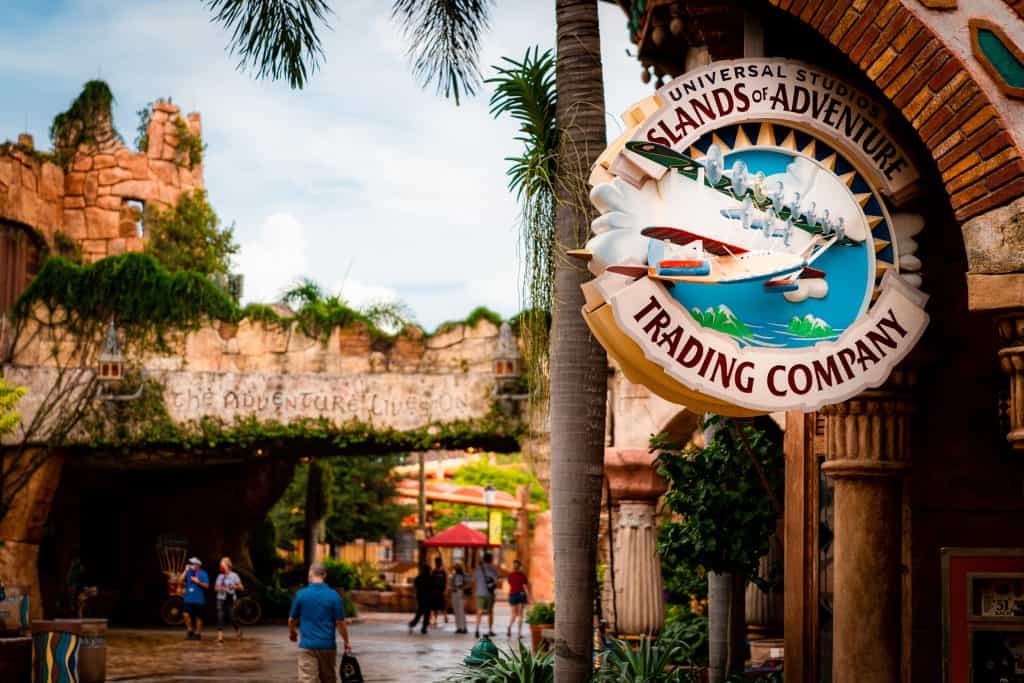 As you might imagine, merchandise shops are also located at almost every major ride or attraction exit with items related to that specific attraction. If you are still in the mood for more shopping, specialty shops not attached to attractions can be found in each park. For unique shops at Universal Studios Florida, check out the Brown Derby Hat Shop located in the Hollywood section, and the Kwik-E-Mart by The Simpsons Ride. Can't-miss stores over at Islands of Adventure include the Port of Entry Christmas Shop, the comic book shop inside Marvel Super Hero Island (huge selection – it's near the entrance to Spider-Man), and All the Books You Can Read at Seuss Landing, which features every Dr. Seuss book in print.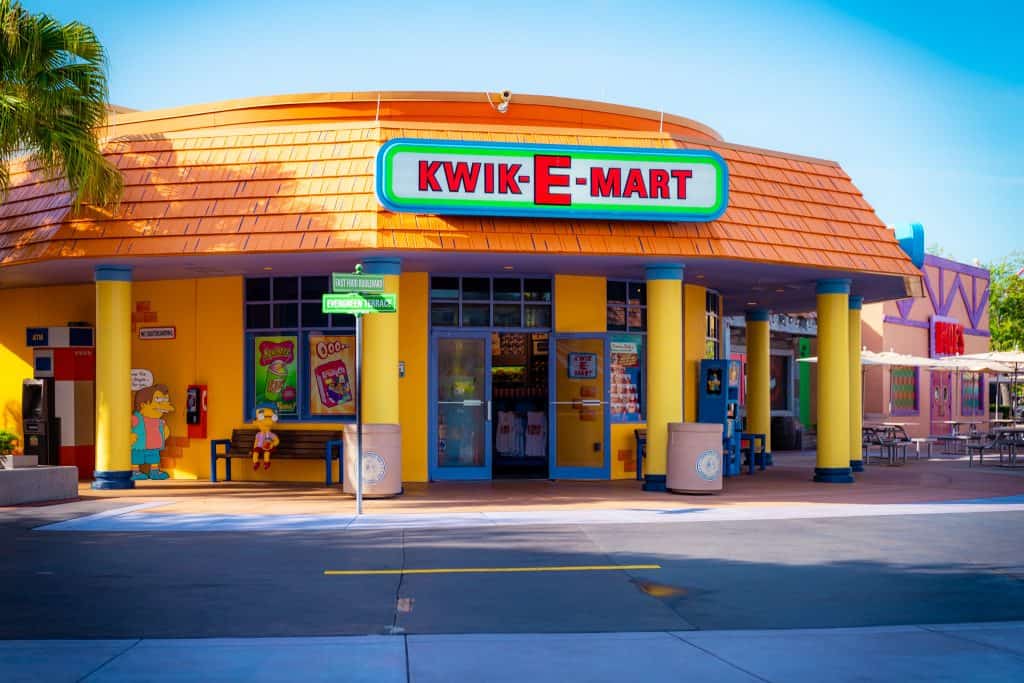 Need a new memory card or battery for your camera? Visit On Location camera shop on your right-hand side as you enter Universal Studios Florida, or DeFoto's Expedition Photography shop on your right-hand side as you enter Islands of Adventure. If you are looking for Advil or Tylenol, small packets can be purchased at the main merchandise stores near the front of each park – or visit First Aid, also at the front of each park (near Guest Services).
Universal Merchandise at Volcano Bay
If you want to bring the tiki spirit home with you, plenty of merch is available from Volcano Bay at both the Waturi Marketplace and Krakatoa Katy's, located in Wave Village.
The Wizarding World of Harry Potter Merchandise
When the Wizarding World first opened, Harry Potter-themed merchandise was only available in Hogsmeade. Fortunately, Universal has changed its stocking policies, and the most popular souvenirs, such as wands and chocolate frogs, can now be found in the main gift shops, and even at the airport. However, there are still plenty of unique finds that are only available in either Hogsmeade or Diagon Alley. In fact, there is so much wizarding merchandise to talk about that we decided to give the topic its own set of pages as part of our Insider's Guide to the Wizarding World. Check out these links to discover all the incredible souvenirs at both Diagon Alley and Hogsmeade.
Universal Merchandise at Resort Hotels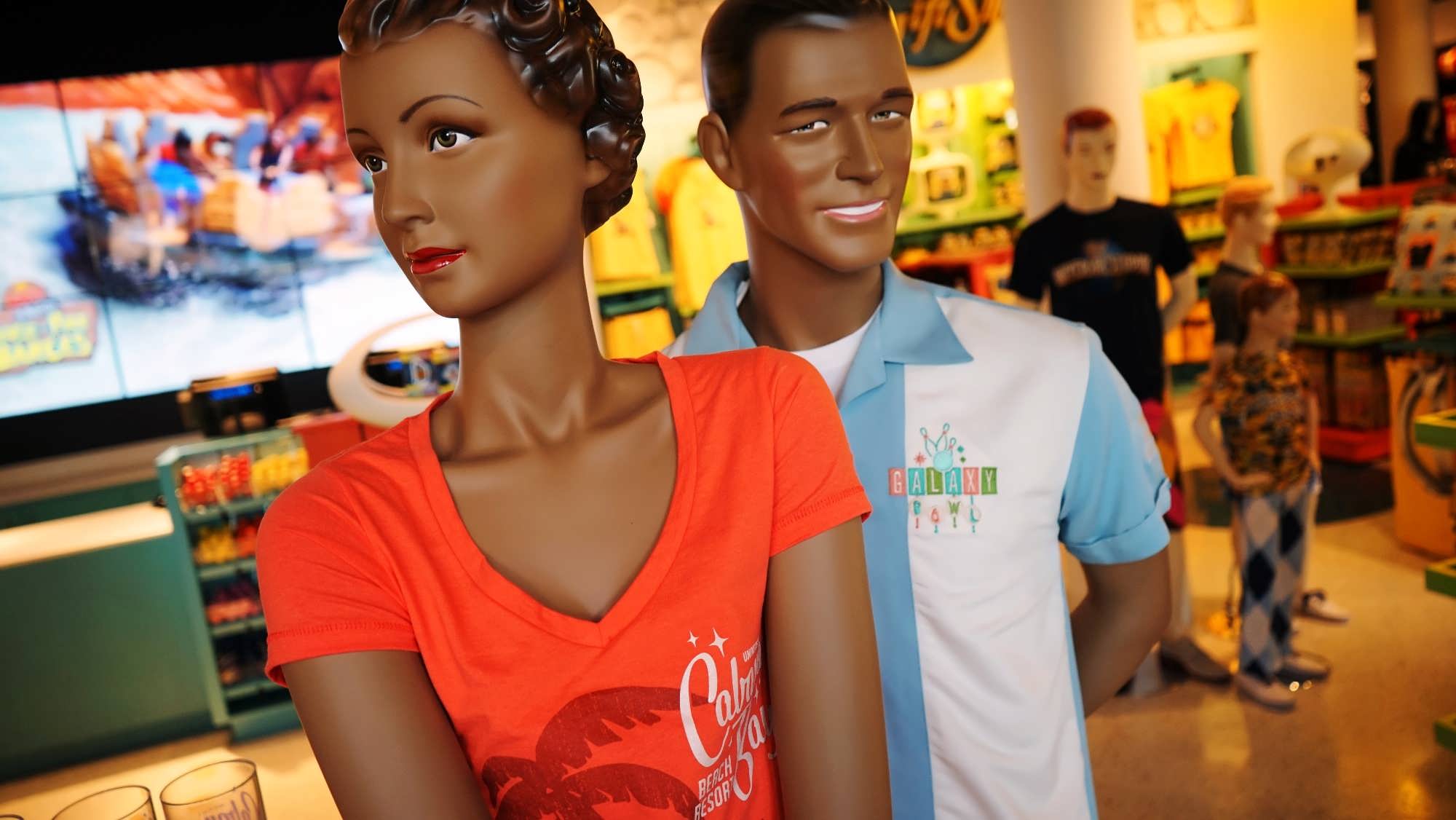 Resort guests can continue browsing through all the merchandise at their hotels, where you can often find Universal Resort merch themed to that specific resort. These shops offer a sampling of the popular items from the parks, and they also feature a variety of sundries, resort apparel, swimwear, and swimming accessories, some food items, and a few other odds and ends vacationers might forget at home.
Guests at Portofino Bay Resort have the largest selection of shopping, with several boutiques lining the Harbor Piazza area. The main shop for resort apparel and sundries is next to the Thirsty Fish, whereas the main shop for Universal merchandise is on the other side, near Sal's Market Deli. The Harbor Piazza also features a portrait studio and fine art gallery. Finally, near the main lobby area, you will find one more store with Portofino merchandise, gifts, and everyday items.
If you are staying at Hard Rock Hotel, you'll find their merchandise selections at the Rock Shop, located just off the main hotel lobby area. The front of the shop features a rather impressive selection of high-end apparel and gifts, but you will find the more everyday stuff in the back.
For those staying at Royal Pacific Resort, look for a small shop in the lobby of the hotel and one additional, larger shop near the pool area.
Finally, for those checking into Cabana Bay Beach Resort, Aventura Hotel, Surfside Inn, or Dockside Inn you'll find a large Universal gift shop right in the lobby of your hotel.
Online shopping
If you have a difficult time deciding what you want during your vacation, or if you realized after you got home that you really did want that minion plush toy, many of the popular items found at Universal Orlando, including Wizarding World selections, are available at Universal's online merchandise store. If you are planning well in advance, you might consider ordering some themed lanyards as a pre-vacation treat – they are perfect for carrying your park tickets and room keys during your trip.
Package Pickup & Delivery at Universal Orlando Resort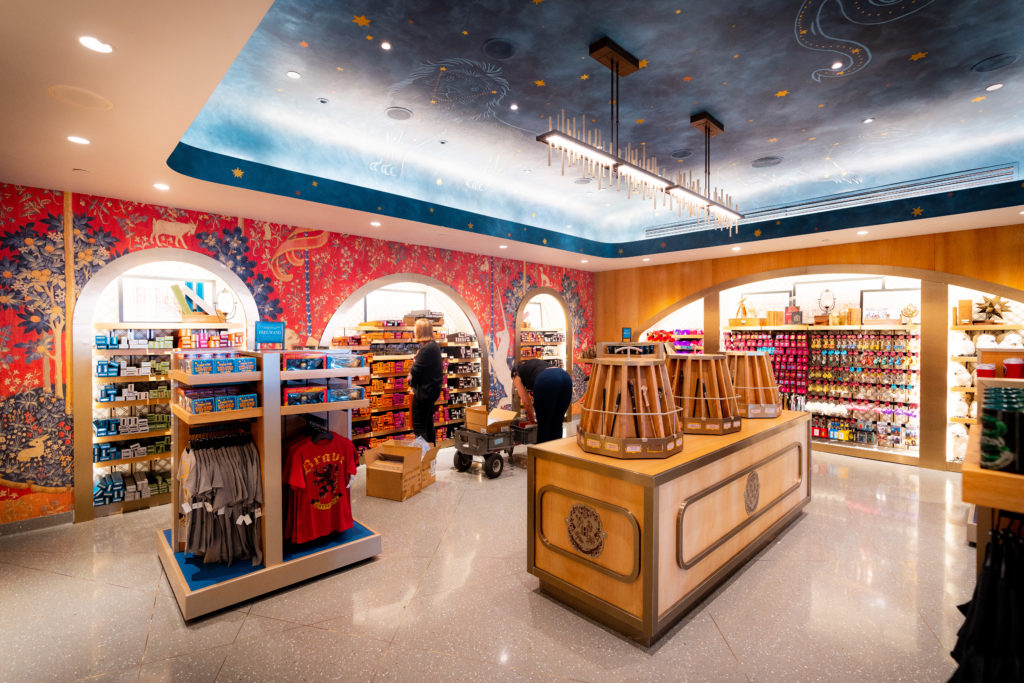 All guests visiting Universal Orlando can have their purchases sent to the front of the park for pick up later in the day. Package pick-up for IOA and USF is located in the Universal Studios Store located in CityWalk at least 3 hours after purchasing during regular store hours, from 11 am to midnight. If you're visiting Volcano Bay, pick-up is located by the turnstiles (Waturi Marketplace).
Guests staying at one of Universal's resort hotels get the additional benefit of having their purchases sent directly from the shop to their hotel room. If you do this, your package will arrive in your room between 9:00 am and 4:00 pm the next day. Because in-room package delivery occurs the next day, this service is not available the day before or the day of your check-out. However, you can still have purchases sent to the front of the parks on those days, to be collected on your way out.
Home delivery is also available via FedEx for a fee. Please inquire with the merchandise Team Member when checking out for additional information regarding this service.
How can I save money when shopping at Universal Orlando Resort?
The number one tip for getting the best value is simply this: don't buy everyday or generic items at the resort. If you have a car or other transportation, or if you are not staying at the resort, you will find a huge variety of bargain gift shops up and down International Drive. In addition, there is a Publix, Walmart, Walgreens, CVS, and Super Target all within a few minutes drive of Universal Orlando.
The next biggest tip we can offer is to pack appropriately for the weather. Some of the most expensive stuff at Universal is apparel, so if you get wet or cold, and you need more clothing, having an extra sweatshirt or some Walmart ponchos will save you $20 to $100, or more, depending on how big your party is. Want more tips for packing? We've got a dedicated page for that topic, too.
If you are trying to save money specifically on merchandise, try looking for the classic Universal merchandise. Some of these items can be as much fun as the newest merchandise, but they also have history. Best of all, because they are not as popular, the prices tend to be more reasonable.
Our final tip is to set a reasonable budget so that each member of your party can take home a preferred souvenir. Universal now provides an easy way for families to do this with Universal gift cards. If, for example, you want your kids to have $100 to spend during their visit to the theme parks, you can purchase each one a Universal gift card online in advance, and when they spend it all, they're done. Getting a card ahead of time is a great way to build enthusiasm for the trip (with the added bonus of a lesson on planning and budgeting), and the credit on the cards never expires.

Merchandise shops at Universal Orlando – photo gallery