Welcome to Universal Studios Florida, the world's premier movie and TV based theme park, where you will go behind the scenes, beyond the screen, and jump right into the action of your favorite movies.
This page in our OI Universal Center includes vacation-planning information on Universal Studios Florida, its location at Universal Orlando Resort, an overview of its park areas and attractions, and an in-depth look at the history of the park.
Skip to: Vacation planning tips & FAQ | Location | Map | History
Universal Studios Florida – vacation planning tips & FAQ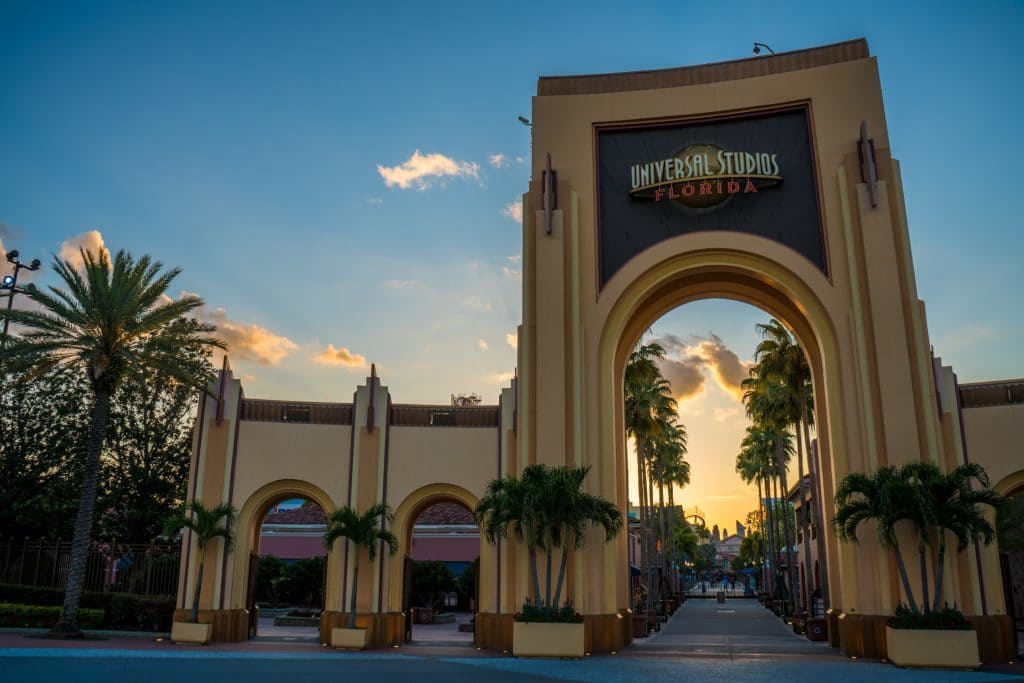 How much is a ticket to Universal Studios Florida?
While there are many ticket permutations, packages, and options, to keep things as simple as possible, Universal advertises tickets to Universal Studios starting at $119 per day, plus tax. What you end up paying will vary, depending on the time of year you visit and any package options or special deals. We strongly recommend purchasing tickets before you arrive at the park, as this will eliminate one more line to stand in. Tickets can be purchased online directly from Universal, by using a Universal travel agent, or through authorized online ticket sellers.
What are the park's opening hours?
As with ticket prices, the opening hours fluctuate throughout the year, depending on how busy Universal will be in any given period of time. The typical opening hours are 9:00 am to 7:00 pm, but the park may open earlier or close later – our best advice is to consult our FREE 12-month crowd calendar, which lists the opening hours for the parks as well as the anticipated crowd levels for your vacation days.
Can I get Early Park Admission to USF?
Except at the busiest times, Universal alternates Early Park Admission between USF and Islands of Adventure, but the designated period for each park can last for several weeks, so you might find that only one park has EPA for the duration of your stay. In order to access the park during Early Park Admission, you will need to be a guest of one of the Universal Resort hotels, or have an annual pass that lists EPA as an included benefit. More information can be found in our comprehensive guide to Early Park Admission across Universal Orlando Resort.
Where can I park at Universal Studios Florida?
All visitors to Universal arriving by car will be directed to the main parking and transportation hub, where you can easily access the walkway that leads to CityWalk and the two theme parks. To read more about parking options and getting around Universal, hop over to our complete guide to Universal's parking complex.
Does USF use Express Pass?
Most rides and attractions at Universal Orlando Florida accept Express Passes, which can significantly reduce your time waiting in lines, especially on a busy park day. To find out more, consult our individual ride pages, or the Express Pass information page.
Can I bring food, drinks, or snacks into the park?
While you'll find a myriad of choices available for purchase throughout the park (in fact, for some travelers the food is the attraction!), Universal does allow small snacks and water to be brought in, but not a huge picnic lunch or anything that would need to be re-heated. There are some exceptions for special dietary or medical restrictions, but there are also rules prohibiting large and hard-sided coolers, which can be found directly on Universal's page for security and restrictions.
How many days should I spend at Universal Studios Florida?
With thirteen rides and attractions, plenty of shows and street entertainment, a daily parade, character meet and greets, and an evening show, we recommend at least one full day, if not two, at Universal Studios Florida – at a minimum. When combined with a park-to-park ticket that lets guests hop between Islands of Adventure and USF (which is also required to ride the Hogwarts Express), plenty of families find enough to spend their whole vacation week exploring the resort.
Is Universal in Orlando the same as Universal Studios Hollywood?
Despite being a legitimate contender in its own right, and consistently in the 10 top-rated theme parks around the world, Universal Studios Florida is inevitably compared to its production-studio-themed competitors, namely Universal Studios Hollywood in California, and Disney's Hollywood Studios, just down the street. While Orlando and Hollywood have some of the same experiences, Universal Studios Hollywood is a major film production studio that has a few big rides on the side, and the park's largest draw is the backlot tour and the experience of being on-set. Universal Studios Florida is just the opposite: the Orlando park features a wide variety of rides, attractions, and shows like the Disney theme parks, and on the side it may have a film or TV show in production.
Will my whole family find things to do at USF?
Another misconception that dogs the Studios is that there is nothing for kids to do — guests assume the park is all thrill rides. While both Universal parks certainly are geared towards tweens and older, there is plenty for younger children to enjoy, as you will read in our comprehensive guide to visiting Universal Studios Florida with kids.
Does USF have seasonal entertainment or special events?
Universal hosts a number of events throughout the year, which may include seasonal programming during the regular park day, such as Christmas decor and shows, the Holiday Parade Featuring Macy's, and Mardi Gras. Other events, like Halloween Horror Nights or Rock the Universe require separate admission.
 
Universal Studios Florida – location
The original beating heart of the Universal Orlando Resort, USF is right in the middle of the action, located at the end of CityWalk, and across from Islands of Adventure. Hotel guests at Portofino Bay, Hard Rock Hotel, Royal Pacific Resort, and Sapphire Falls can travel to USF by water taxi or scenic footpath. Buses are available to bring guests from the other resort hotels to the parking and transportation hub drop-off, where they may enter CityWalk and make their way to the parks. Finally, any guests arriving at Universal Orlando Resort by car or rideshare will be directed to the parking complex that serves all of the theme park areas.
Universal Studios Florida – map and park layout
USF is made up of seven lands surrounding a lagoon, making it easy for guests to wayfare based on this central landmark (this would be a good time to get your maps out). As you enter the park, you'll walk straight into Production Central, where the main guest services and large Universal Studios Store can be found. A clockwise stroll around the park will take you from Production Central into the New York section, followed by San Francisco. Next up is the London Waterfront, where The Wizarding World of Harry Potter – Diagon Alley lies hidden behind the London facade. Swinging around to the far end of the lagoon, you'll come to the World Expo, which quickly merges with Springfield: Home of the Simpsons. In Woody Woodpecker's KidZone, you'll find plenty to entertain the littlest vacationers, and finally the Hollywood backlot leads back to Production Central and to the park's entrance and exit. There is no right or wrong way to go around the lagoon, but most people do in fact go straight into Production Central to check out Despicable Me: Minion Mayhem, Hollywood Rip Ride Rockit, and Transformers The Ride 3D.
Universal Studios Florida – a history
The Concept
In December 1986, MCA, Inc. and Cineplex Odeon Corp., two movie industry masters of the time, announced a joint venture to open a studio and entertainment complex in Orlando, Florida. Going by the name of Universal Studios Florida, it was scheduled to open in 1989 and was expected to be styled in a method similar to MCA's Universal Studios Tour in California. The complex would be built on a 414-acre plot previously owned by MCA, would cost an estimated $500 million, and would feature live shows, filmed demonstrations, exhibits, and a number of famous movie sets and streets for guests to tour. Additionally, it would also have studios and soundstages for filming motion pictures and television shows.
This development marked MCA's second attempt at undertaking such an endeavor – five years previously, in 1981, the company had announced initial plans to bring the studio tour to Florida, but these later fell through due to funding issues. This time, however, it caught the attention of Disney, whose Walt Disney World Resort had been operational in Orlando since 1972. Not long after MCA's latest announcement, Disney World's third theme park was unveiled: a movie backlot initially called Disney-MGM Studios (which was subsequently renamed Disney's Hollywood Studios). For this reason, Universal Studios Florida's new press release was very vague, revealing little-to-no details about its size, estimated cost, or slate of attractions. "There's a lot we're not telling you," Sid Sheinberg, President of MCA, said. "We don't intend to knowingly help the competition" (Vaughan, 1986).
Sheinberg went on to defiantly state that USF would "successfully compete with any other theme parks that might seek to mimic or capitalize on the highly successful experience we have developed at our Universal Studios Tour in Los Angeles" (Cieply, 1986). Disney, of course, responded gracefully to the challenge, stating that it looks "to every new attraction that draws vacation and convention visitors to Central Florida as an ally in bringing more people to greater Orlando, in general, and to Walt Disney World, in particular. We therefore welcome anything MCA does to benefit Orlando as a benefit to Disney" (Cieply, 1986).
So began what many entertainment and amusement industry experts referred to as the "battle of the titans." Surprisingly, the opening of the backlots by both companies drew more attention than the coming battle for tourism dollars: Orlando residents began referring to the city as "Hollywood East," and local media started reporting that the region would become a major player in the motion picture industry.
As Universal Studios Florida prepared to open on its new release date of 1990, word of its soon-to-come attractions began to spread throughout the industry. Guests at the new movie theme park would experience screeching birds from the mind of Alfred Hitchcock, be shaken by King Kong, attacked by JAWS, survive an earthquake, and fly on bicycles to E.T.'s planet. These experiences and thrills would skillfully immerse visitors into their favorite films, truly making it a "movie-themed entertainment complex" where its guests could "ride the movies."
Opening day
Days before Universal Studios Florida opened to the public, Steven Spielberg, who served as the facility's creative consultant, discussed the concept with a correspondent from NBC's Today: "This is an actual working studio. […] This isn't just an amusement park, you know. First and foremost, this began with soundstages, post-production facilities, television facilities… It's a combination of a park and an amusement park and a working motion picture studio" (Gumbel, 1990).
On May 21, Universal Studios Florida soft-opened to tourists and local residents, who were able to purchase nearly half-price tickets – just $15.95 – due to the fact most of the rides and a few of the park's shows wouldn't be open to guests right away. According to reports, even the shows that were working would likely be rough versions of the hopefully-polished final versions, as they would be altered and rearranged based on the reactions of guests who attended the soft opening.
Two weeks later, the park's grand opening took place at 8:00 am on June 7, 1990. Steven Spielberg, James Stewart, Michael J. Fox, Bill Cosby, Sylvester Stallone, Robert Wagner, Morgan Fairchild, Anthony Perkins, Sissy Spacek, and Beau Bridges all joined MCA executives for the ribbon cutting of the $630 million complex, and they were also present at various locations in Universal Studios Florida throughout the day. A time capsule that included the knife and shower curtain from Alfred Hitchcock's Psycho, along with a number of other objects, was buried with the intent of being dug up and opened in 2015, on the park's 25th anniversary.
Despite the fanfare, opening day at Universal Studios Florida was not one for the record books. In the words of the Orlando Sentinel, "[t]hey came, they stood, they left mad" (Meehan, 1990). Visitors found that three of the park's main attractions – Earthquake: The Big One, Kongfrontation, and Jaws – were not operational at all. And though the technical issues with Earthquake and Kongfrontation were settled by the end of June 1990, the Jaws attraction suffered from persistent technical problems. In late September, the ride was closed for a nearly complete overhaul and did not reopen until three years later.
See a pictorial history of Universal Studios Florida.
The 1990s
While Jaws was being rebuilt, other changes were happening throughout the park. In May of 1991, Back to the Future: The Ride, a $40 million motion simulator, opened. Though the ride had been in operation since February of that year, an official opening date was not announced until it was consistently running smoothly. Five months later, Fright Nights – which would be re-branded as Halloween Horror Nights in 1992 – had its grand kickoff, for a whopping total of three nights only.
By 1995, after only a few years of operation, Universal Studios Florida started to transition away from its role a working backlot; during that fall, the Production Studio Tour, a tram tour that led guests throughout the production facilities, closed due to filmmaking inactivity. Instead, the resort opted to more fully embrace its theme park elements, toiling to acquire more appealing new experiences to replace the already-aging older ones. This rollout happened in quick succession: Terminator 2 3D: Battle across Time, an all-new attraction in an all-new show building, opened in 1996; in 1998, Twister: Ride It Out displaced the Ghostbusters Spooktacular, and Woody Woodpecker's KidZone took over much of World Expo's land, introducing the likes of Fievel's Playland and Curious George Goes to Town, while retaining E.T. Adventure; and, finally Woody Woodpecker's Nuthouse Coaster debuted in 1999.
The Early 2000s
This decade saw a number of more fundamental changes, shaking up the array of attractions and further relegating the movie-making focus to the background. MEN IN BLACK: Alien Attack debuted in 2000 (as an attempt to keep guests interested in the aging Universal Studios Florida after the brand-new Islands of Adventure theme park had opened next door the previous year), while Jimmy Neutron's Nicktoon Blast, which replaced the Funtastic World of Hanna-Barbera, and Shrek 4D, which took over Alfred Hitchcock: The Art of Making Movie's former digs, both followed in 2003.
But the biggest development of that decade was the closure of three opening-day (and hugely beloved) rides: Kongfrontation, Back to the Future, and Earthquake: The Big One, which were replaced by Revenge of the Mummy (2004), The Simpsons Ride (2008), and Disaster: A Major Motion Picture Ride… Starring You! (2008), respectively. Older, slower dark rides making way for a new breed of thrill rides was a key part of Universal's decision-making process, but the change was also largely accounted for by the company's vow to keep its roster ever-changing – in direct contrast to Disney's desire to have its classic attractions be open permanently.
Universal Studios Florida – 2.0
The next decade would see unprecedented success for Universal's as a theme park operator, thanks to the unmitigated triumph of the 2010 Harry Potter addition to neighboring Islands of Adventure. With a huge influx of capital and media attention the world over, NBCUniversal and its brand-new owner, Comcast, quickly decided to essentially rebuild all of Universal Studios Florida, addressing the one persistent complaint guests had with the park since day one: Universal Studios Florida would go from being a half-day experience to a multi-day adventure.
Leading the charge were Despicable Me: Minion Mayhem, which replaced Jimmy Neutron's Nicktoon Blast, and the company's first-ever daily parade, the Superstar Parade, in 2012. Transformers: The Ride 3D followed in 2013, after the shortest build time ever for a major theme park attraction (just 12 months). But that year's far more interesting development was the creation of the park's very first land based on an intellectual property. The Simpsons' town of Springfield, USA featured a brand-new ride (Kang and Kodos's Twirl-n-Hurl), new themed food options (Duff Gardens and Lard Lad's Donuts), the rehabilitation of an older venue (the International Food and Film Festival was transformed into Fast Food Boulevard, featuring the likes of Krusty Burger and Moe's Tavern), and, of course, new shops. Springfield would be the working model for all Universal parks for the remainder of this decade and on into the next – indicating that Universal had finally, completely given up on the filmmaking angle of its experiences.
The epitome of this new fully-themed approach is, of course, the 2014 opening of Universal's new Wizarding World of Harry Potter – Diagon Alley, which replaced former Amity Island/JAWS area. On the one hand, this is a far bigger and much more realized version of the Springfield template, sporting new eateries (the Leaky Cauldron, Florean Fortescue's Ice Cream Parlor), shops (Weasleys' Wizard Wheezes, Wiseacre's Wizarding Equipment), and, of course, rides (Escape from Gringotts). On the other hand, this expansion pushes the theme park model to the very next level: The Hogwarts Express train connects both areas of the Wizarding World, Diagon Alley in Universal Studios Florida and Hogsmeade in Islands of Adventure, linking two different lands in two different parks via a unifying themed experience.
Not even halfway through the decade, Universal had just begun its string of enhancements to the park. After celebrating its 25th anniversary in 2015, USF saw the addition of Race Through New York Starring Jimmy Fallon in 2017, followed by Fast & Furious: Supercharged in 2018, replacing both Twister and Disaster!. Cinematic Celebration also debuted in July of 2018 as an evening show to highlight the films and characters of Universal, complete with 120 water fountains, fireworks, and projection-mapping for an immersive experience.
Though many changes have transformed Universal Studios Florida throughout the years – ranging from the dismantling of its film and TV production to the inclusion of fully-themed lands – the park has consistently remained true to its tagline of allowing visitors to "ride the movies."