Preview this Page
Overview
While visiting a theme park is always an expensive proposition, there is definitely one way that Universal helps take the pressure off of your wallet – its refillable cup, popcorn bucket, and Coca-Cola Freestyle programs.
Even though these are popular and heavily used deals, guests consistently have questions about them due to some significant changes over the last few years (and just some general misinformation that's still floating around out there). The purpose of this page is to explain each program in full and let you know how to best take advantage of it!
While you learn about saving on snacks, it is also important to know that you can save big by purchasing discounted Universal Orlando Resort tickets through Orlando Informer!
Continue reading to learn all about the multiple refill programs that Universal Orlando Resort has to offer!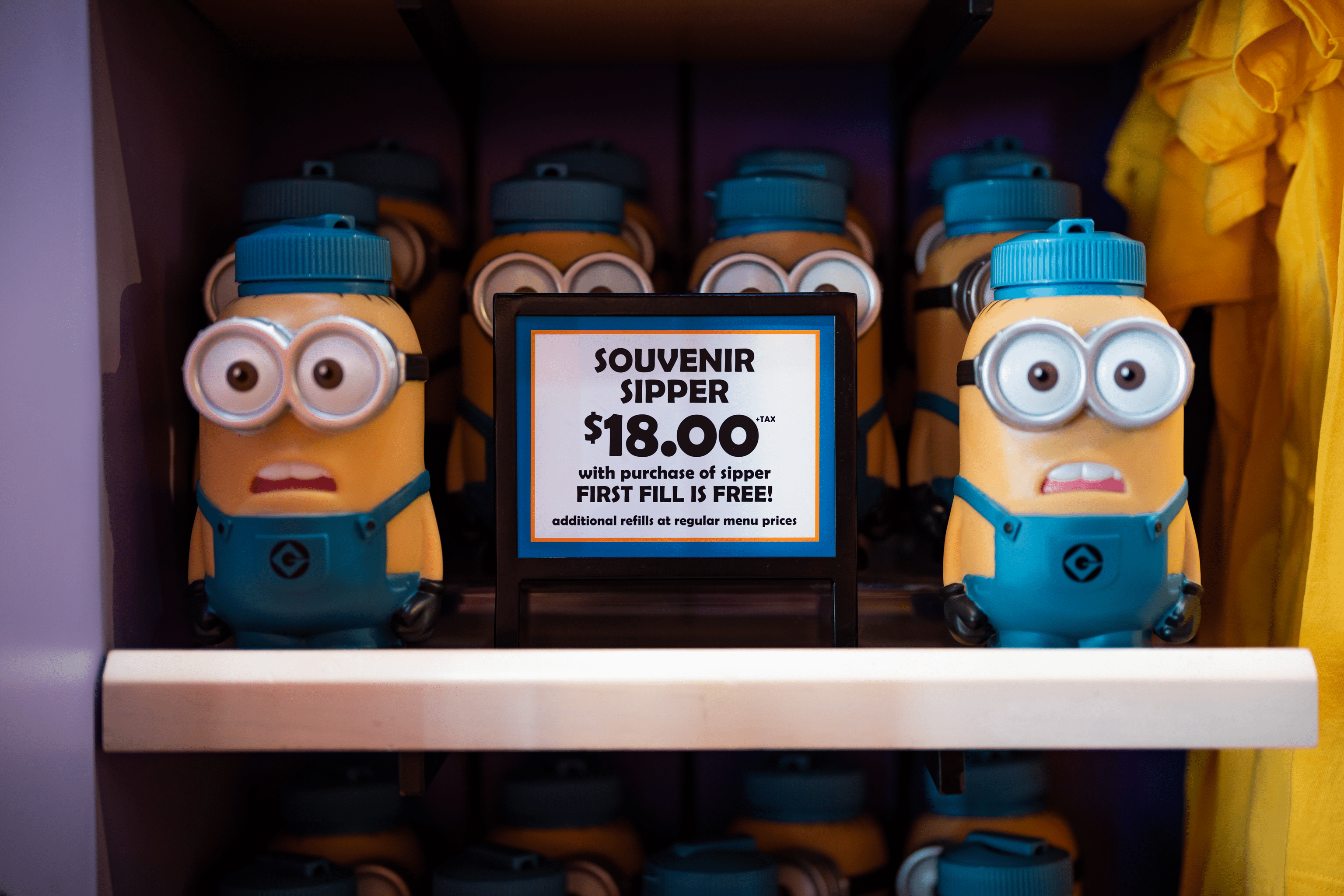 How Universal Orlando's discount refill programs work
Universal Orlando Resort's three refill options are as follows: a souvenir popcorn bucket, a souvenir cup (that is a Tervis-esque tumbler), and souvenir sippers (which are themed to one particular character or another). You can purchase them all at many locations throughout Universal's theme parks. The popcorn buckets will run you around $12, with $2.19 per refill – a great deal if you have a popcorn lover in your group and plan on being there for multiple days (or returning for multiple trips).
Refill locations
The souvenir soda cups can be refilled at virtually any permanent beverage counter or quick- or full-service restaurant inside the parks. That is to say, really the only places that can't fill them up are the beverage carts – but you can't get fountain drinks at these, anyway. A good general rule of thumb for finding a participating refill location is to look for the refillable symbol displayed on their menus: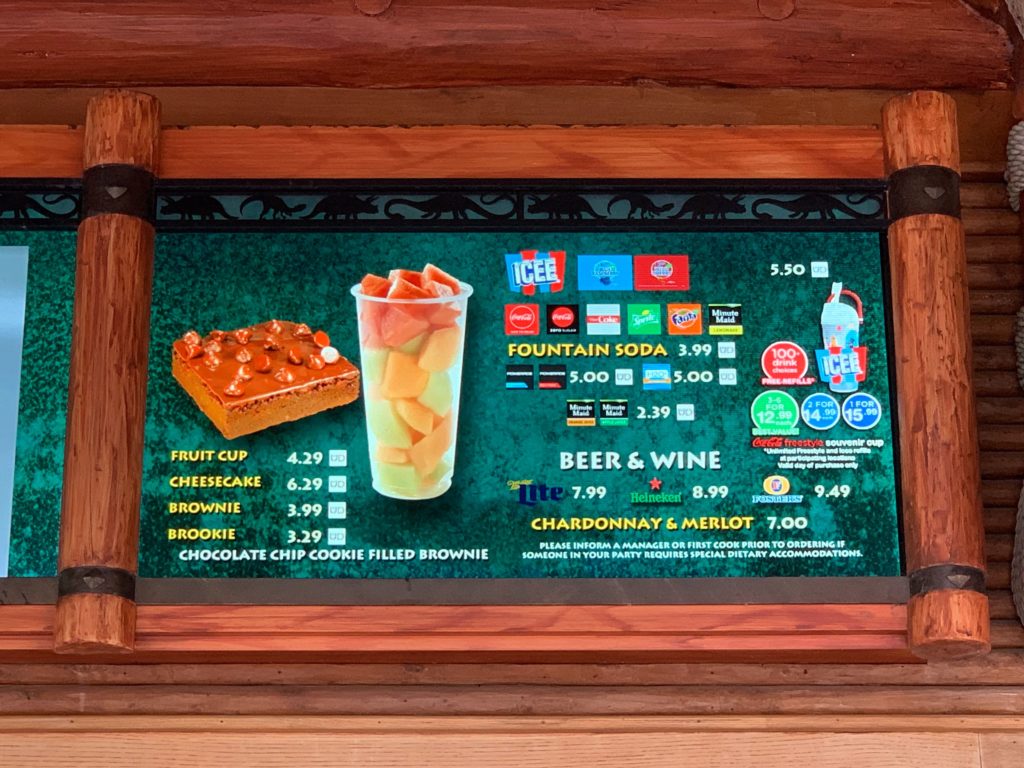 We say a "general" rule because, of course, there are a few exceptions – some counters that don't have the red sign will still give you discounted soda refills. The bottom line is this: if the venue is inside the theme parks and it sells fountain drinks, you should be able to get a discounted refill – just ask!
For popcorn, meanwhile, there are four locations at each theme park where you can get discounted refills. To find these spots, just look for the big popcorn machines: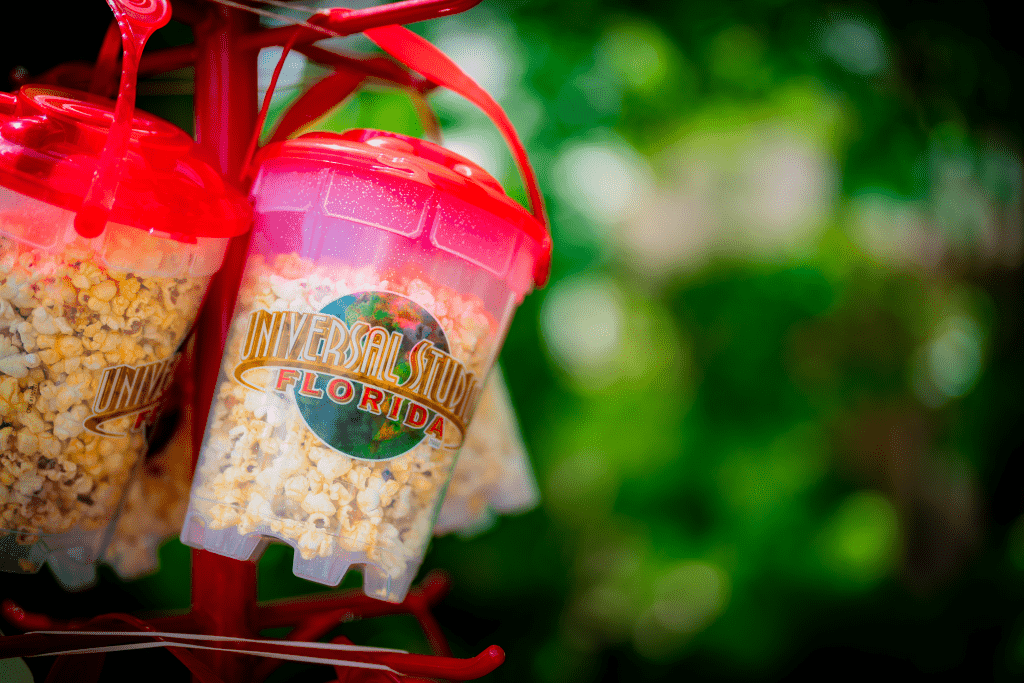 Popcorn Refills at Universal Studios Florida
Standard popcorn buckets will run you around $12.29, with $2.19 per refill – a great deal if you have a popcorn lover in your group and plan on being there for multiple days (or returning for multiple trips).
If you are a Minions fan or enjoy the Jurassic World films, you can snag a specialty character bucket to represent your fandom. These come at a higher price point but typically include a coupon for your first fill. Refills for these special buckets are also $2.19.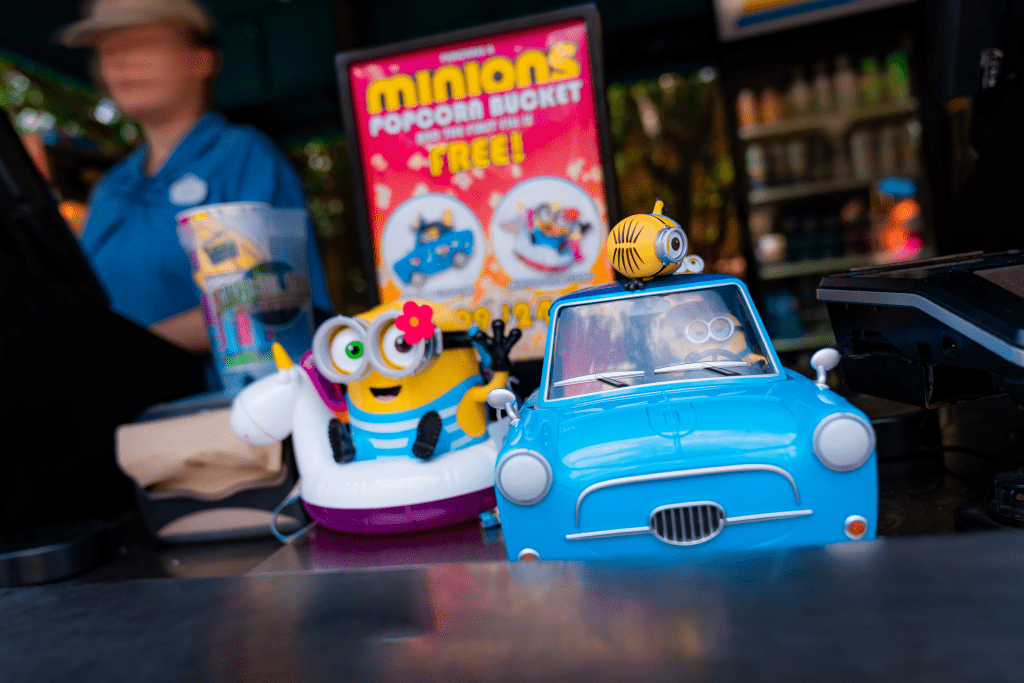 FAQs about Universal Orlando's discount refill programs
The program for popcorn buckets and souvenir cups is pretty clean and simple, at least on the outset – but it does get complicated once you start to dig a little more deeply. That's why we've compiled this pretty exhaustive list of frequently asked questions:
Does my Butterbeer mug count?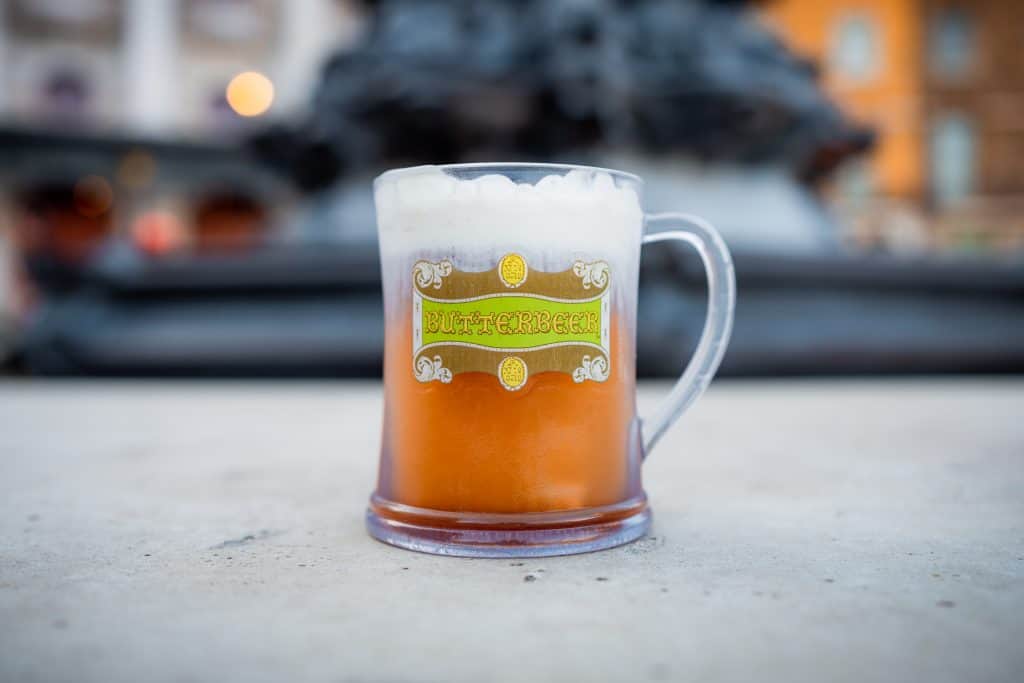 Yes! If you purchase a souvenir Butterbeer mug, it can be used for discounted soda refills at all the same locations as the refillable cups.
Can I use my souvenir cup for discounted Butterbeer refills?
This is a question many muggles want to know, and, unfortunately, the answer is no – there is no such thing as discounted Butterbeer refills. It doesn't matter what kind of cup you have; if you want Butterbeer, you are paying full price. (We should note that Preferred and Premier passholders can get their standard beverage discount on the signature drink if they purchase it inside The Three Broomsticks, Hog's Head, or anywhere in Diagon Alley and Hogsmeade.)
Now, this answer confuses some guests, because Universal sells Butterbeer in three different styles of cups: the plastic souvenir mug pictured above, the metal souvenir mug pictured below, and a disposable plastic cup. If you purchase Frozen Butterbeer in the plastic souvenir cup, you will pay $13.49, and if you purchase Frozen Butterbeer in the metal souvenir mug, it will cost $37.99 – both prices before taxes. After you slam your drink and bring it back for a refill, you will be charged $8.49, plus tax. But this is not a discounted refill price – $8.49 is the price you pay for Frozen Butterbeer in the plastic disposable cup. So, while you are, indeed, paying less than you did for your original Butterbeer in a souvenir cup, you are not getting a refill discount – you're just paying the disposable-cup price that everyone else pays who doesn't want a souvenir cup. (If you want to save a little more money, it's worth noting that the plastic souvenir Butterbeer mug can be purchased without Butterbeer for $10.65, plus tax.)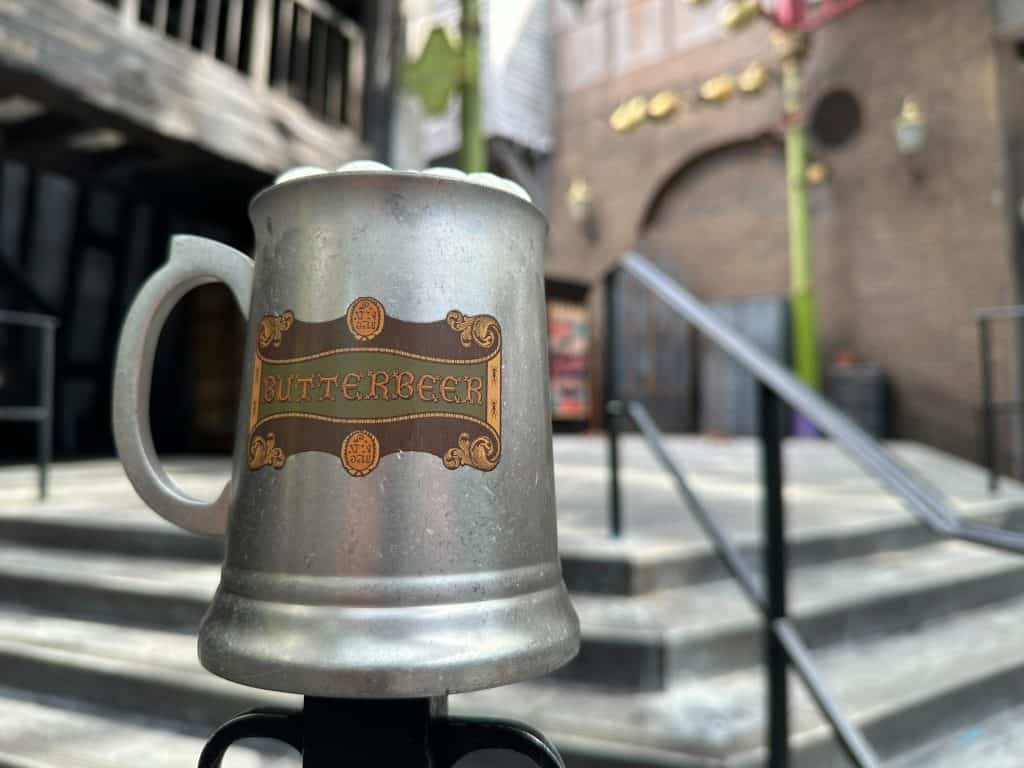 Can I use my souvenir cup for discounted refills of Pumpkin Juice, Pumpkin Fizz, Fishy Green Ale, etc.?
We're sorry to say it, but you cannot. Pumpkin Juice, Pumpkin Fizz, and the other "branded" Harry Potter drinks are always full price, just like we described above with Butterbeer – so, even if you have a souvenir cup, you pay what everyone else pays.
However, you can use your souvenir Butterbeer cup or any other souvenir mug for discounted refills on the generic beverages sold inside the Wizarding World, which include tea, lemonade, and cider.
What can you tell me about the Hog's Head mug? Can I use it for discounted refills?
In addition to the Butterbeer souvenir mug, guests can also purchase a souvenir Hog's Head mug: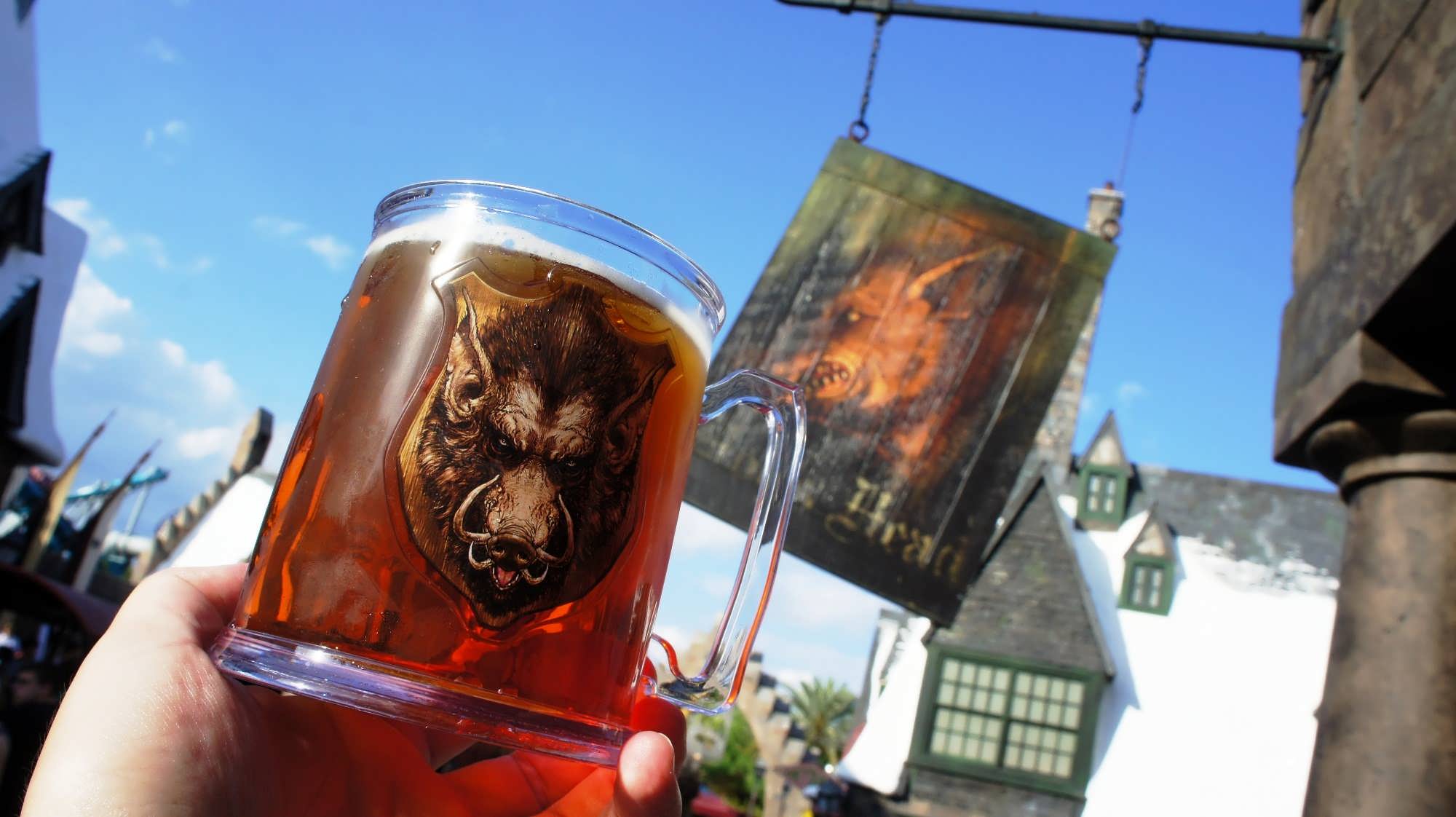 This $15.44 mug (with tax) is slightly larger than the Butterbeer mug and features the Wizarding World of Harry Potter insignia, whereas the Butterbeer mug does not.
Unfortunately, this mug is not eligible for any draft beer or soda refill discounts. Please note that butterbeer cannot be served in this mug either.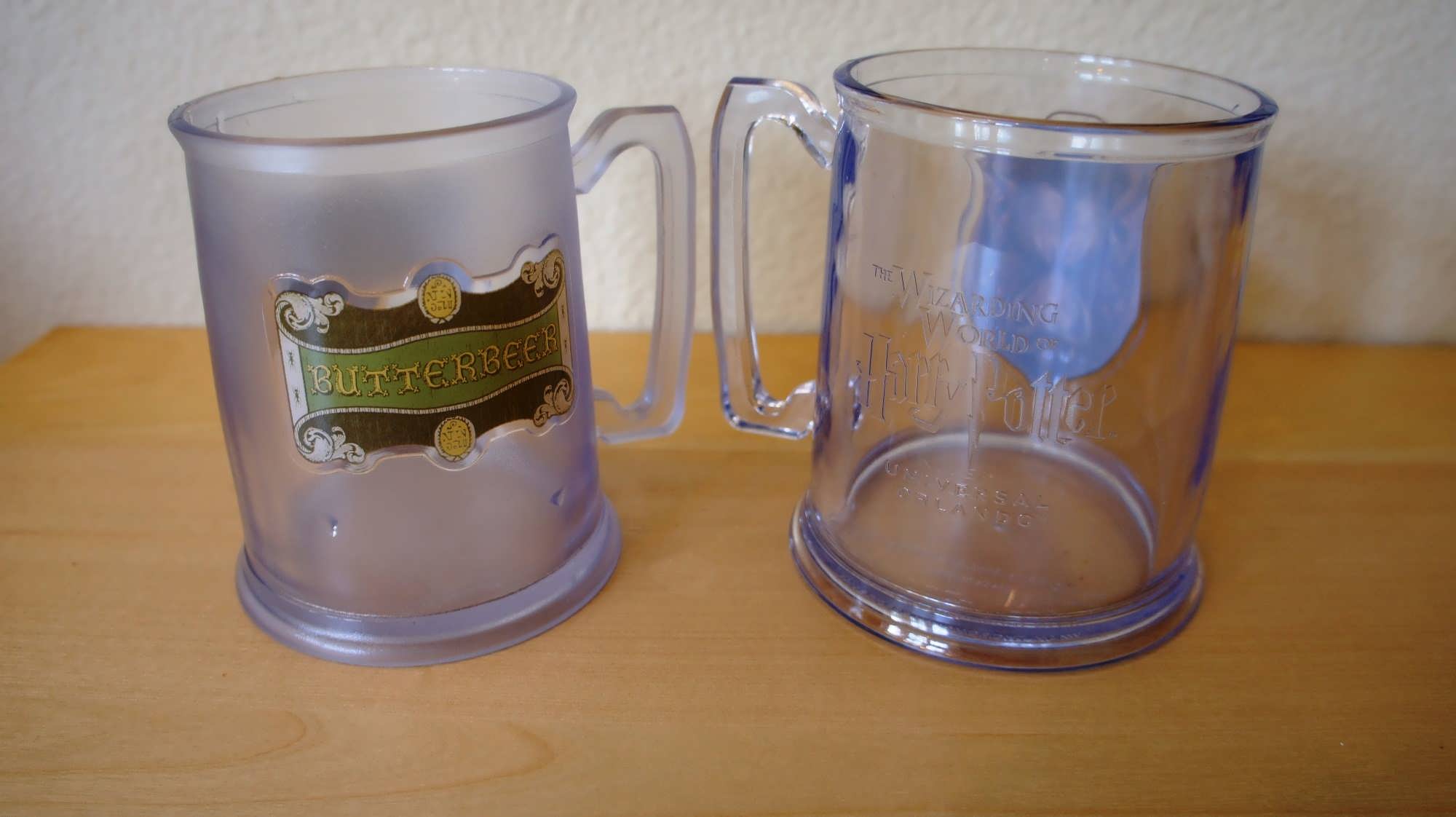 Can I get discounted refills on the Simpsons specialty drinks?
At The Simpsons's Fast Food Boulevard, you'll find a slew of specialty drinks, including Buzz Cola and Flaming Moes. However, like you've seen with the Wizarding World of Harry Potter, the "branded" Simpsons drinks are not available as part of the discount refill program.
But do keep in mind that Coke soda fountain drinks are served at Moe's Tavern and all the Fast Food Blvd venues, so you still have a chance to get a discount soda refill.
What else can I get discounted refills on with the souvenir cups?
Soda is what you need if you only want to pay $1.49 plus tax for a refill. However, with a souvenir cup, you can get a percentage discount on a few other beverages around the park. As we mentioned above, inside the Wizarding World you can get discounted refills of tea, lemonade, and cider. Outside of the Wizarding World, discounts are also available for slushies and Icees.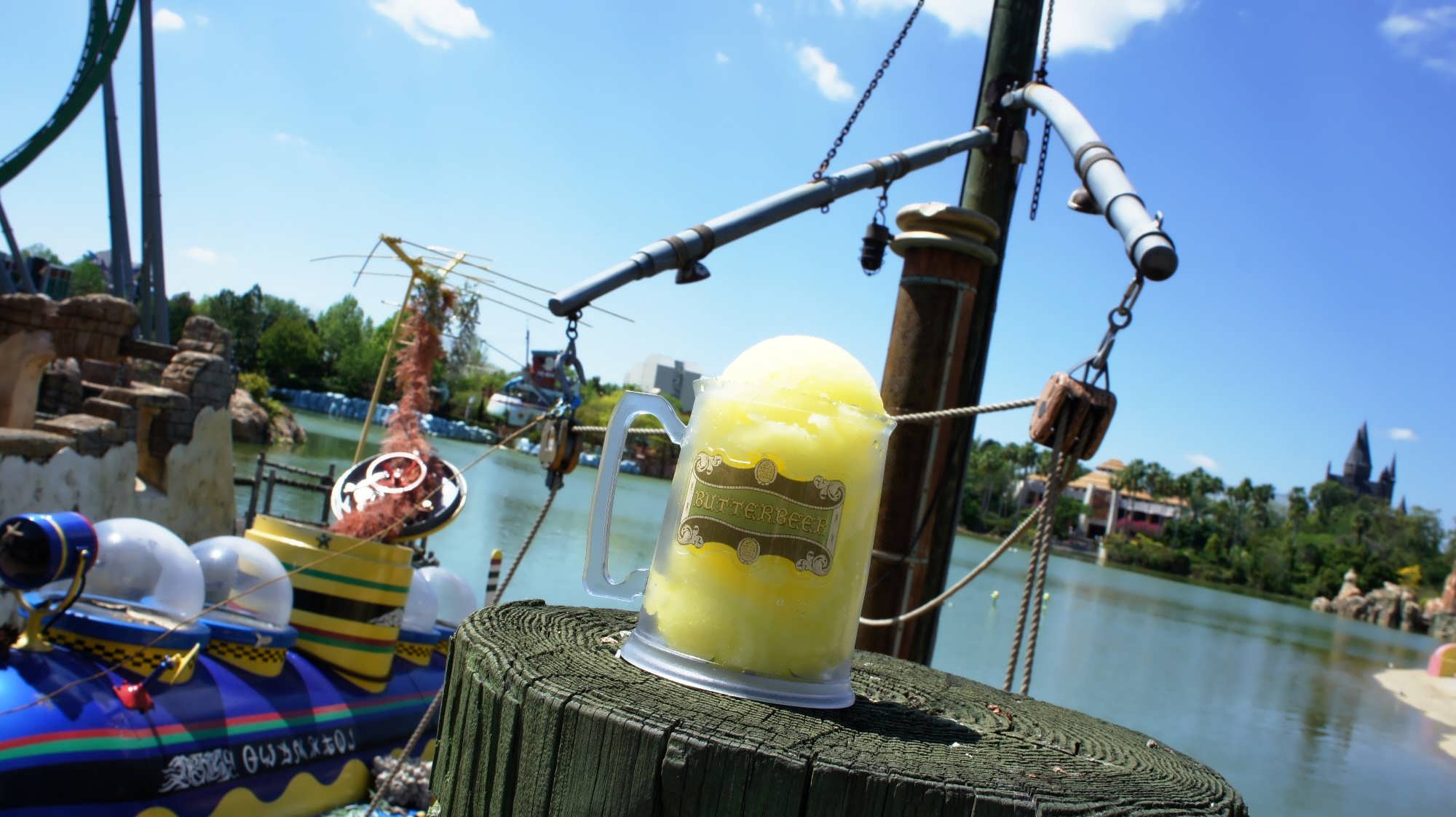 So, now we bet you are wondering: "Well, can I get the same slushy discount using one of the souvenir cups?" Yes, you can. You'll get five scoops of lemon slushy goodness, and you'll be charged the same as with the Butterbeer mug.
If you are looking for a deluxe iced beverage, then head to a stand selling Icees. You can get your entire cup refilled with a blue or red Icee for a dollar off the regular price.
Do I have to pay for water?
Nope – you don't have to pay anything for water refills, so this is a great way to save money and actually get some hydration for your body. You can get free water refills at most beverage carts and kiosks, all restaurants, and any of a dozen water fountains around the park – plus, you even get free water refills using any cup at the Coke Freestyle machines.
Keep in mind that you're getting what may be referred to as "tap water," not bottled water, but, on a hot day, it'll taste just fine.
Can I use my Coke Freestyle cup for $1.49 refills?
You may be wondering if you can use a Coke Freestyle cup for $1.49 refills; after all, we did say that a good rule of thumb is, if you paid more than $8.99 for your non-alcoholic beverage cup, you will be able to use it for discounted refills.
The answer is yes, you can. (For those who have studied this topic in the past, please note that this is a more recent change.)
Can I get "flavored" popcorn at a discounted rate?
Universal also sells flavored popcorn, like caramel and cheddar, at a few spots around the parks, but if you want to splurge on flavor, you'll need to pay full price.
Can I use the souvenir popcorn buckets and cups I buy at one theme park over at the other?
Absolutely.
Does Volcano Bay offer refills?
Universal's water theme park does offer its own refillable cup and also has locations to refill your popcorn. It should be noted, however, that a Universal Studios Florida or Islands of Adventure refillable cup can work at Volcano Bay, or vice versa.
Can I get refills at CityWalk or the on-site hotels?
For soda refills, yes, you can get the discount at any walk-up concession stand in CityWalk and a few other locations, like Cinnabon and Red Oven Pizza Bakery.
However, there are no discounted popcorn refills at CityWalk, nor are there discounted refills of soda or popcorn at Universal's hotels. We should note that some of the more recent properties have their own soda refill programs, but their cups are only valid for use at the hotel it is purchased at and do not work for discounts anywhere at Universal's parks or CityWalk.
What if I need a new straw or lid?
Universal will replace straws and lids at no charge. Just ask at a participating concession stand.
Are the cups and buckets dishwasher-safe?
It depends. The tumbler souvenir cups certainly are dishwasher-safe (top-rack only), but all the other cups seem to be hit and miss; we've washed, for example, the Butterbeer mug and popcorn bucket in our dishwasher multiple times, but other fans have had melty experiences. So, if you want to be safe, hand-wash these items.
Coke Freestyle at Universal Orlando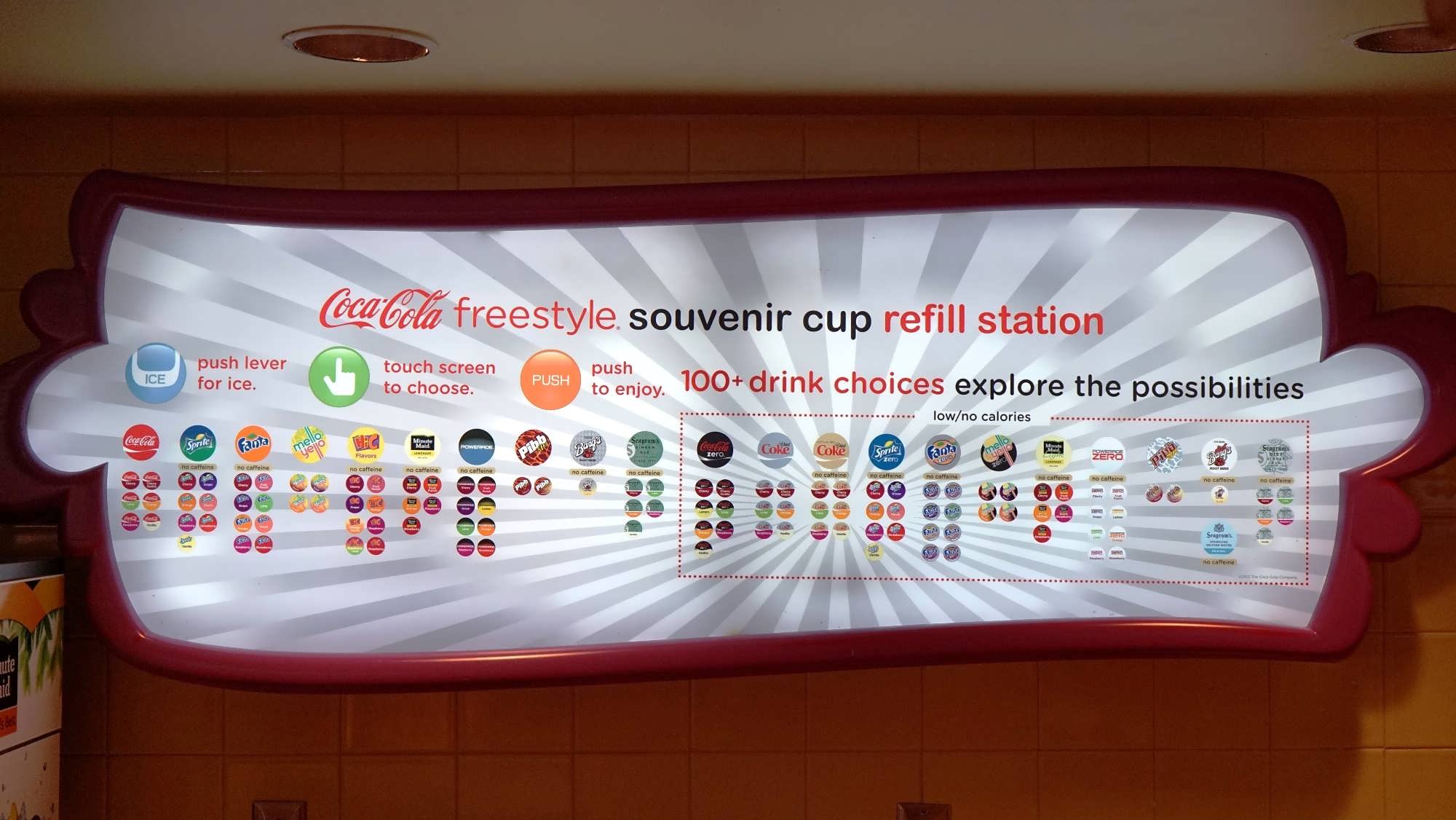 The Coke Freestyle program, like the classic souvenir soda cup program described above, is quite simple at the outset – but, again, once we start digging into the details, it gets a little sticky. So let's talk about what, exactly, Coke Freestyle is, how Universal's refill program works, and how it compares to the classic souvenir cup program.
The basics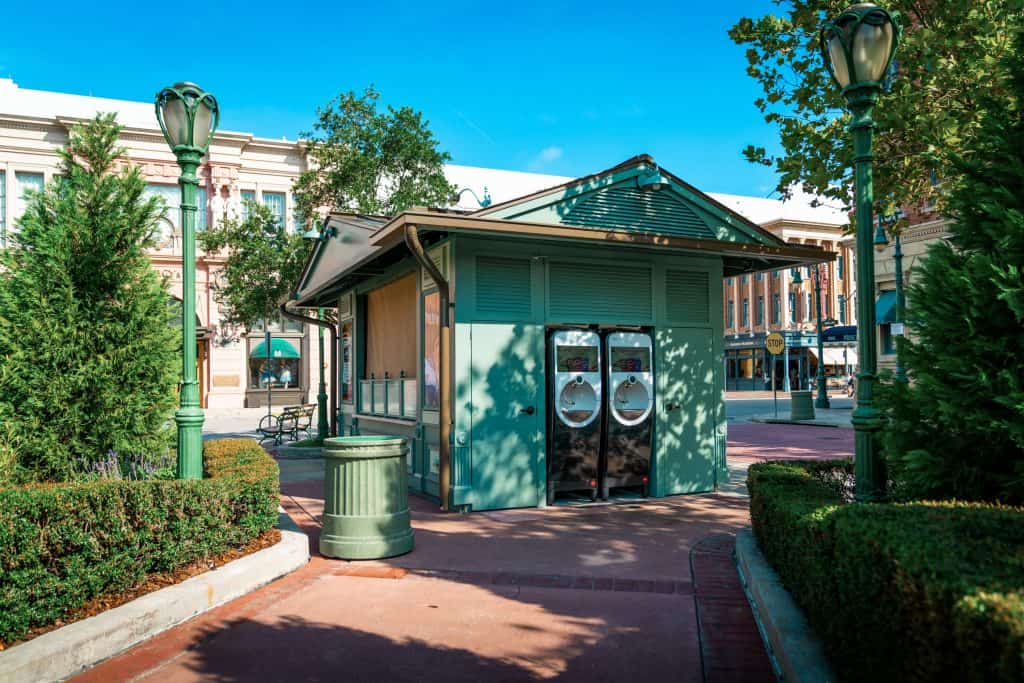 First, what is Coke Freestyle? Basically, what Coke has done is create a super soda fountain machine, stocked it full of dozens of drink products, reduced the nozzles down to a single dispenser, and given you full control to fill up your cup as you please.
The machines are a breeze to use: put your cup in place, push back if you want ice, then make your drink selections using the touchscreen and work your magic devising the perfect drink combination. Here's a short video:
The Coke Freestyle refill program features different pricing points. If you want to purchase one, it will cost you $17.99, plus tax. If you purchase two, it will cost you $15.99 each, plus tax. Finally, if you want to purchase three to six, it will cost you $13.99 each, plus tax. All of the cups must be purchased at once to receive the discount. No matter how many cups you choose to purchase, the cup(s) entitles you to unlimited free refills at any Coke Freestyle station at any of the three parks for the day. If you already have a cup, extra days are $10.99, plus tax.
We're sure you're wondering exactly what you can dispense from one of these Coke Freestyle machines. Well, believe it or not, there are simply too many options to list here, but you can learn about it all on the Coke Freestyle website.
Now, it's time to circle back 'round to those Tervis-esque souvenir cups from before. Remember how we said those could be used as Coke Freestyle cups, too? Well, they can, but with one important caveat – it'll cost $10.99 to activate the refill option not only on each subsequent day, but also on the first one, as well.
(Note: Coke Freestyle has been available during Halloween Horror Nights since 2015.)
Refill locations
There are Coke Freestyle stations at many locations across Universal Studios Florida (USF), Islands of Adventure (IOA), Volcano Bay (VB), and, most recently, CityWalk (CW):
In addition to the restaurants, Universal has expanded its Coke Freestyle locations considerably since the beginning of the program in 2012, and you can now find freestanding stations around the parks, such as these in Universal Studios Florida and Islands of Adventure: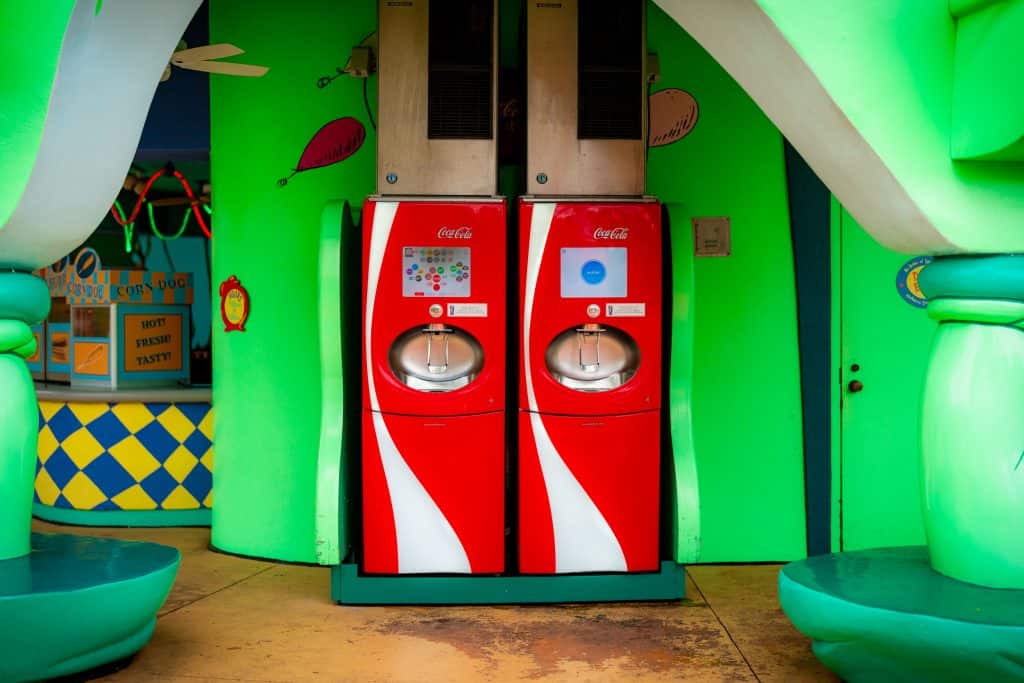 In Universal Studios Florida, there is one near Men in Black: Alien Attack and just before both sides of London. In Islands of Adventure, there is also one at the end of Port of Entry at the dining reservation cart and Cool Bones in Jurassic Park.
It's worth noting that there are no Coke Freestyle stations inside The Wizarding World of Harry Potter (Hogsmeade or Diagon Alley), The Simpsons's Fast Food Blvd, or any of Universal's full-service restaurants. In addition, there are no Coke Freestyle machines associated with the in-park refill program at any of Universal's hotels. But, aside from these areas, you will never be too many paces away from the next Coke Freestyle station as you're walking around the parks.
FAQs about the Coke Freestyle program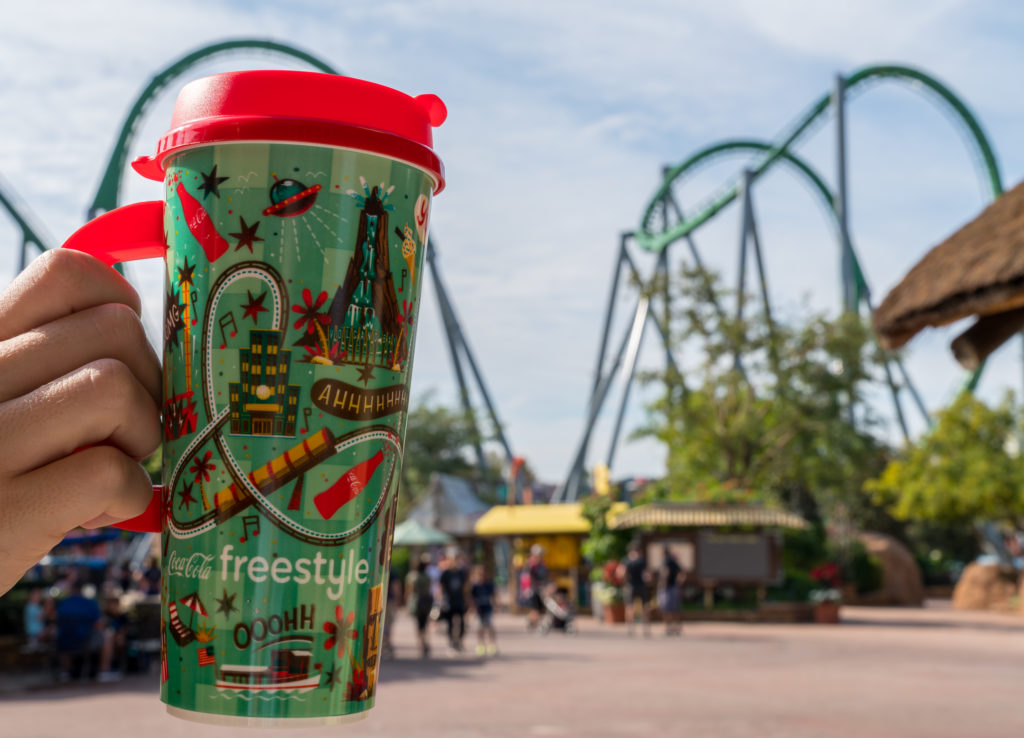 Now that you know the basics for the Coke Freestyle program at Universal Orlando, you may already have identified some differences between it and the classic souvenir cup refillable program. Let's get to the questions…
I can really only use the Coke Freestyle cup for the day?
Yes and no.
We say "yes" because the Coke Freestyle cups can only be used the day you purchase them for free refills at the Coke Freestyle stations. Universal is able to track this because each cup has an RFID chip inside it (RFID stands for Radio Frequency Identification). The first time you use your cup, the Coke Freestyle station registers it using the RFID chip for use that day. If you return days later with the same cup, the station will read the chip, see that it's expired, and it will not dispense what you desire.
We say "no" because you have the option of purchasing additional days of Coke Freestyle access for the discounted price of $10.99, plus tax. (Note: the days do not have to be consecutive.)
Are refills really free?
When using the Coke Freestyle stations, yes, they are. Unlike the classic souvenir soda cup program, in which you pay $1.49 for a refill, with the Coke Freestyle cups you get unlimited refills at no additional charge. Better yet, you don't have to wait for a Universal team member to fill the cup – you can just walk up to any Coke Freestyle station and do it yourself!
Do Coke Freestyle lines get long?
It can be sometimes. Interestingly enough, given the benefits of this program and the freedom of the Coke Freestyle concept, these cups weren't immensely popular at first – but you better believe that, over the years, guests have been noticing the Freestyle refills, and they've been taking advantage of it more and more.
Our best piece of advice is to try avoid refills around the lunch of dinner rush, which will absolutely see lines at most, if not all, of the various stations.
I don't care about the "freestyle" part – I just want my Diet Coke straight. Should I skip Coke Freestyle?
Just because you have a Coke Freestyle cup doesn't mean you need to get all crazy with your drinks – you can use the machine however you'd like. So, if that means you just want to drink one product, not mixed with any others, you are "free" to do so. The advantages explained above remain the same.
Since I refill my Coke Freestyle cup myself, can I just buy one and fill my friends' plastic cups all day long?
The machines track when you fill your cup, and once your refill is done, you have to wait 10 minutes before you can use any of the machines again.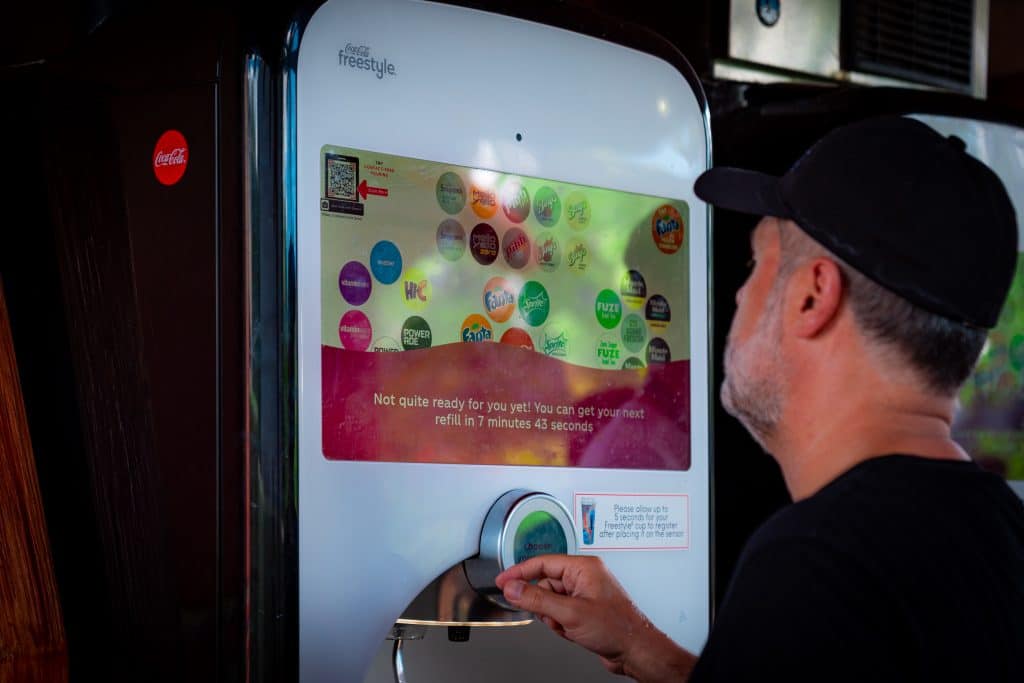 Once the 10 minutes is up, you can get another free refill – so, if your group is willing to wait 10 minutes a time for refills, then we suppose you could share. But we don't know how long you'll really want to be hanging out in the restaurants.
If refills are free, why would I ever want to purchase the classic souvenir soda cup?
There are two major trade-offs with the Coke Freestyle program:
To use the cup for multiple days, you must purchase access again each additional day for $10.99
You can only get refills at the Coke Freestyle machines (several stations per park, but none at hotels that can be used with the in-park program)
If you purchase the classic souvenir soda cup, you may have to pay $1.49 per refill, but…
You can use your cup for multiple days (or years, until Universal changes the policy)
You can use it at 50+ locations throughout both parks and CityWalk, including the full-service restaurants
It can be used for discounts on multiple beverage options – soda, ice tea, slushies, Icees, cider, etc – just not at the Coke Freestyle machines
And that, our friends, describes the major decision you must make between the programs. With Coke Freestyle, you don't have to pay for refills and you get to use their groovy machines to blend the perfect drink. But your refill locations are not overly abundant, and you only get one day of refills with your initial purchase. With the classic souvenir cup program, you do need to pay for individual refills, but you can get those discounted refills virtually anywhere inside the parks and CityWalk, and you can use the cups forever (again, until Universal changes the policy).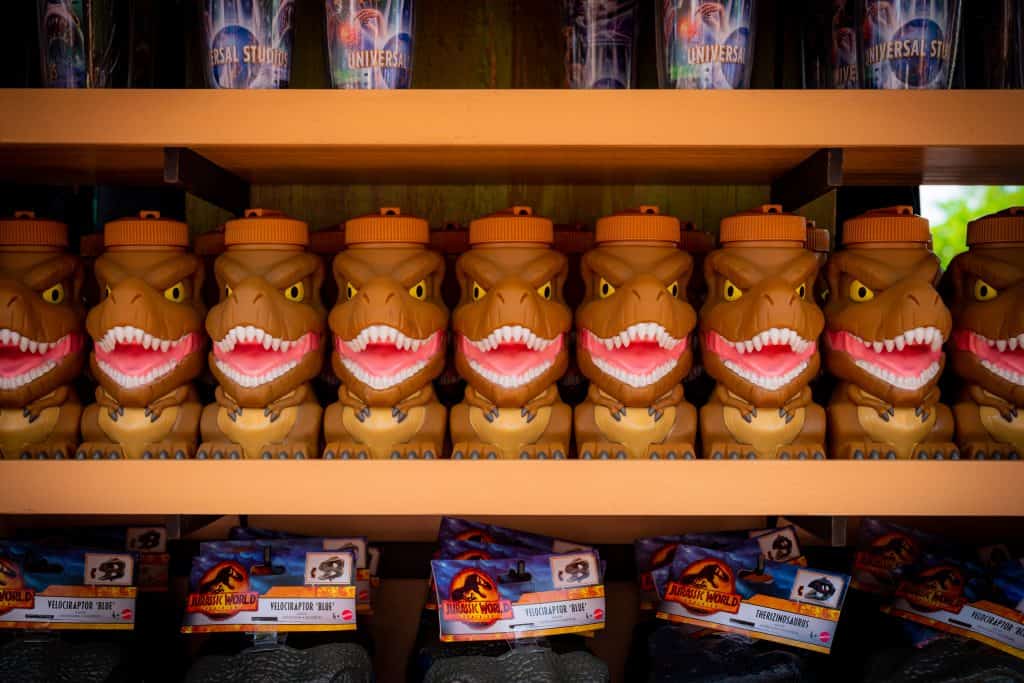 Refillable programs at Universal Orlando – conclusion
Whether you are visiting Universal Orlando's theme parks once or for multiple times year after year, the refillable programs can work out to be a great deal. Now, should you really be drinking all that soda and eating all that popcorn? Well, that's a discussion to have after you get home from vacation!
Refillable cups and popcorn buckets at Universal – photo gallery
Click any image to view it full-screen. When the full-screen image is open, click to the right to advance through the gallery.
Do you have a question about the information on this page or would you like to provide feedback? Please let us know by posting in our
Orlando Informer Community
on Facebook.