Take an unforgettable journey through the uniquely themed islands of Universal's Islands of Adventure, where the world's most cutting edge rides, shows, and interactive attractions bring your favorite stories, myths, cartoons, comic book heroes, and children's tales to life.
This page in our OI Universal Center includes vacation-planning information on Islands of Adventure, its location at Universal Orlando Resort, an overview of its park areas and attractions, and an in-depth look at the history of the park.
Skip to: Vacation planning tips & FAQ | Location | Map | History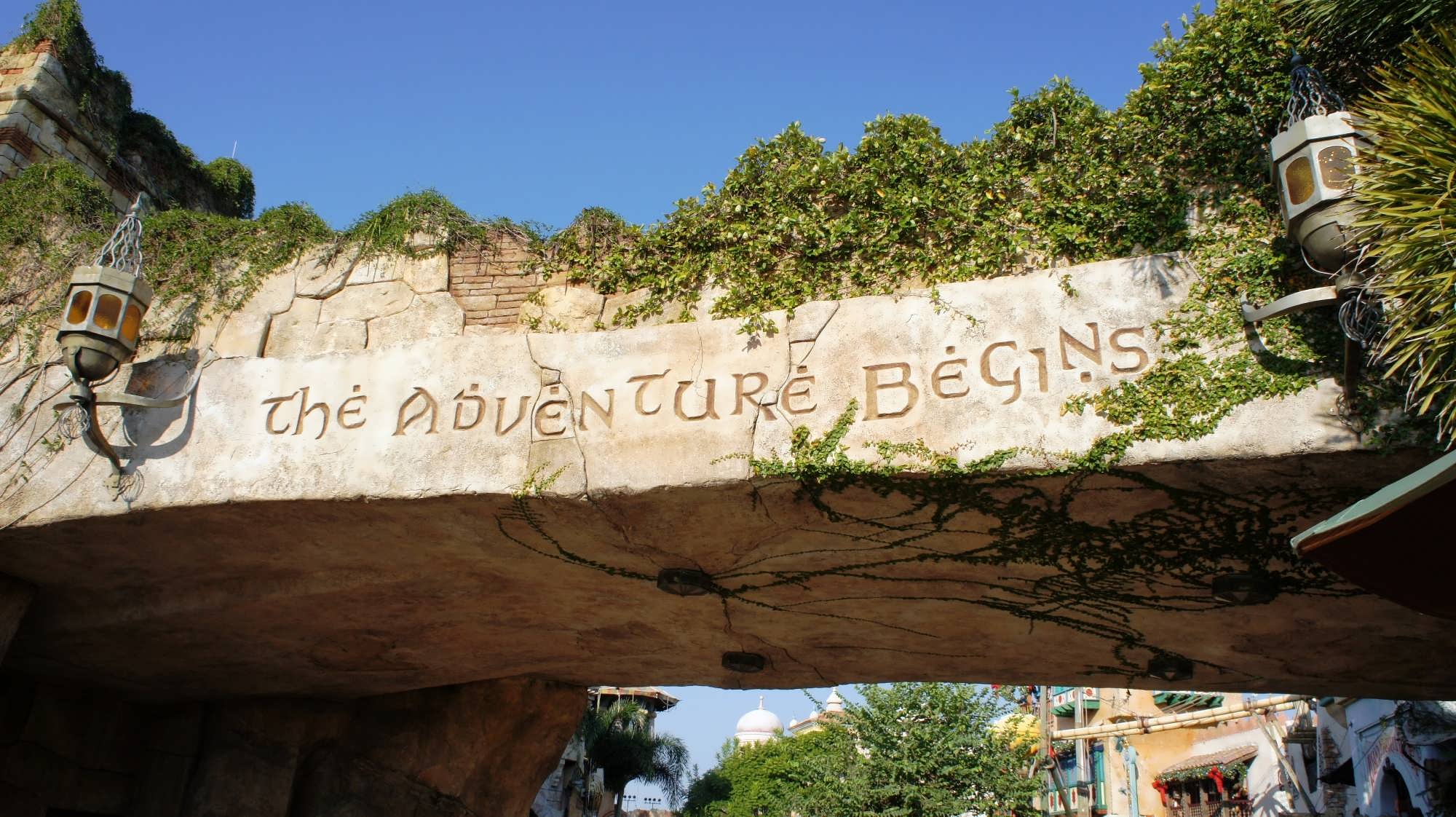 Islands of Adventure – vacation planning tips & FAQ
How much is a ticket to Islands of Adventure?
While there are many ticket permutations, packages, and options, to keep things as simple as possible, Universal advertises tickets to Islands of Adventure starting at $119 per day, plus tax. What you end up paying will vary, depending on the time of year you visit and any package options or special deals. We strongly recommend purchasing tickets before you arrive at the park, as this will eliminate one more line to stand in. Tickets can be purchased online directly from Universal, by using a Universal travel agent, or through authorized online ticket sellers.
What are the park's opening hours?
As with ticket prices, the opening hours fluctuate throughout the year, depending on how busy Universal will be in any given period of time. The typical opening hours are 9:00 am to 7:00 pm, but the park may open earlier or close later – our best advice is to consult our FREE 12-month crowd calendar, which lists the opening hours for the parks, as well as the anticipated crowd levels for your vacation days.
Can I get Early Park Admission to Islands of Adventure?
Except at the busiest times, Universal alternates Early Park Admission between Islands of Adventure and Universal Studios Florida, but the designated period for each park can last for several weeks, so you might find that only one park has EPA for the duration of your stay. In order to access the park during Early Park Admission, you will need to be a guest of one of the Universal Resort hotels, or have an annual pass that lists EPA as an included benefit. More information can be found in our comprehensive guide to Early Park Admission across Universal Orlando Resort.
Where can I park at Islands of Adventure?
All visitors to Universal arriving by car will be directed to the main parking and transportation hub, where you can easily access the walkway that leads to CityWalk and the two theme parks. To read more about parking options and getting around Universal, hop over to our complete guide to Universal's parking complex.
Does Islands of Adventure use Express Pass?
Most rides and attractions at Islands of Adventure, with the notable exception of Hagrid's Magical Creatures Motorbike Adventure, accept Express Passes, which can significantly reduce your time waiting in lines, especially on a busy park day. To find out more, consult our individual ride pages, or the Express Pass information page.
Can I bring food, drinks, or snacks into the park?
While you'll find a myriad of choices available for purchase throughout the park, Universal does allow small snacks and water to be brought in, but not a huge picnic lunch or anything that would need to be re-heated. There are some exceptions for special dietary or medical restrictions, but there are also rules prohibiting large and hard-sided coolers, which can be found directly on Universal's page for security and restrictions.
How many days should I spend at Islands of Adventure?
With sixteen rides and attractions, shows and street entertainment, character meet and greets, and an evening projection-mapping show, we recommend at least one full day, if not two, at Islands of Adventure – at a minimum. When combined with a park-to-park ticket that lets guests hop between Islands of Adventure and Universal Studios Florida (which is also required to ride the Hogwarts Express), plenty of families find enough to spend their whole vacation week exploring the resort.
Will my whole family find things to do at Islands of Adventure?
Another misconception found at both Universal theme parks is that there is nothing for kids to do — guests assume the park is all thrill rides. While both Universal parks certainly are geared towards tweens and older, there is plenty for younger children to enjoy, as you will read in our comprehensive guide to visiting Islands of Adventure with kids.
Does Islands of Adventure have seasonal entertainment or special events?
Universal hosts a number of events throughout the year, which may include seasonal programming during the regular park day, such as Christmas decor and shows, the Grinchmas Who-liday Spectacular, and Christmas at Hogsmeade. Most separately-ticketed events take place over at Universal Studios.
Islands of Adventure – location
The lighthouse at Islands of Adventure beckons guests to the entrance, located at the end of CityWalk, just across the way from Universal Studios Florida. Hotel guests at Portofino Bay, Hard Rock Hotel, Royal Pacific Resort, and Sapphire Falls can travel to IOA by water taxi or scenic footpath. Buses are available to bring guests from the other resort hotels to the parking and transportation hub drop-off, where they may enter CityWalk and make their way to the parks. Finally, any guests arriving at Universal Orlando Resort by car or rideshare will be directed to the parking complex that serves all of the theme park areas.
Islands of Adventure – map and park layout
Created by linking themed "islands" together around a large lagoon, each section of the park has its own distinct theming and atmosphere. Port of Entry is the first and smallest of the areas, and is more of a shopping district than one of the full-fledged islands. Having walked through Port of Entry, you'll find the lagoon in front of you, with the option to go left into Marvel Super Hero Island, then on to Toon Lagoon, followed by Skull Island (King Kong's mini-island), then Jurassic Park. Continuing clockwise, you'll reach the Wizarding World of Harry Potter – Hogsmeade, then the Lost Continent, before heading through Seuss Landing and hooking back to Port of Entry. There is no right or wrong way to tour Islands of adventure, though many guests head to the Wizarding World first, though some start with Marvel Super Hero Island and work their way around the lagoon.
Islands of Adventure – a history
Construction
In 1995, construction began on a $2.6 billion expansion to Universal Studios Florida that included a second theme park, an entertainment district called Universal CityWalk, and, ultimately, three deluxe resort hotels. When completed in 1999, the resort would be called Universal Studios Escape – though it would change to Universal Orlando Resort three short years later – and would employ more than 18,000 team members.
The most highly anticipated piece of this addition was the second theme park, Islands of Adventure, which would occupy 110 acres. Although Universal worked to keep the plans for the new park quiet, enthusiasts and reporters were able to glean information from plans filed with the city of Orlando's building department. In 1997, two years before its opening date, the Orlando Sentinel broke the news that Islands of Adventure would be divided into five "islands" placed around a lagoon. Each of these areas – including Isla Nublar, Toon Lagoon, Superhero Island, Seuss Landing, and the Lost Continent – would be home to at least one attraction, with Isla Nublar housing one rumored to be themed to Jurassic Park. Universal media relations refused to comment on the news leak, and Universal staff members began blacking out details on any blueprints that the company was required to submit to Orlando officials, in order to prevent further information from being leaked. Weeks later, however, the company conceded the battle for secrecy and held a media event with journalists from around the world to officially reveal details about the park.
At the grand unveiling of a preview center at Universal Studios Florida, park officials discussed the high-tech attractions and thrill rides planned for the new park. Tom Williams, the president of Universal Florida, stated that "[t]here's a tremendous amount of creativity and innovation wrapped up in the new park" (Shenot, Universal's New Adventure: Hang With Spidey and Pet A Dinosaur, 1997). With a price tag of $1 billion, the park would feature cutting-edge technology to bring guests new experiences including an Incredible Hulk launching coaster, Dudley Do-Right's Ripsaw Falls (the first flume ride designed to plunge guests below the water's surface) and a 3D Spider-Man ride utilizing motion-simulators and an immersive ride experience that would send guests on a journey through Spidey's New York.
At the news conference, Universal officials confirmed rumors that, while the park would offer a number of thrill rides, Islands of Adventure would be more focused on families with young children than was Universal Studios Florida. Officials also announced that the rumored Isla Nublar would actually be named Jurassic Park, and feature a play area for children, a river ride, and an animatronic triceratops.
Opening day
Beginning in March 1999, Islands of Adventure hosted a limited number of guests for soft testing before an official opening date was even announced; Universal did not want a repeat of the disastrous opening day of Universal Studios Florida in 1990, which had resulted in many guests requesting a refund due to attraction closures. This gave the company time to "tinker with rides and the other logistics involved with running a theme park" (Barker, Universal Says It's Time to Let Real Adventure Begin, 1999).
On May 28, 1999, Islands of Adventure officially opened its doors to the public. Though the park was scheduled to open at 9:00 am, it opened an hour early to accommodate the hundreds of guests who had lined up to enter the park in the early morning (Barker, 1999). The soft-test "tinkering" was successful; opening day had few attraction issues, with only temporary closings of the Eighth Voyage of Sindbad, Poseidon's Fury, and Dudley Do-Right's Ripsaw Falls causing glitches throughout the day (Barker, 1999). The most popular ride that day, with an average wait time of around 40 minutes, was the Amazing Adventures of Spider-Man, which was highly anticipated by theme park goers and comic book fans alike (Barker, 1999).
On opening day, ticket prices for the park were set at $46.64 for adults and $37.10 for children, with children younger than 3 permitted free entry. Guests hoping to visit Universal Studios Florida would need to buy a separate ticket, available at a similar cost. Universal officials had high hopes that the new resort would bring in more guests who would be willing to spend more time at the resort complex, as they aimed to create an environment where guests could enjoy themselves from early in the morning (at the theme parks) until late into the evening (at Universal CityWalk).
Islands of Adventure today
Despite the compelling lineup of attractions and the hiring of ex-Disney Imagineers to help design them, attendance at Universal's new park was sluggish — and the park itself remained virtually unchanged for a decade. It wasn't until June 2010, when Islands received its first expansion, the Wizarding World of Harry Potter (now formally called the Wizarding World of Harry Potter – Hogsmeade), that its popularity exploded and the star of the entire Universal Orlando Resort started to shine. The new island, which was comprised of most of the neighboring Lost Continent's land and some undeveloped acreage, actively incorporated quick-service restaurants, gift shops, and even restrooms into an overall highly-themed area, launching a theme park trend towards immersive experiences that would continue for at least the next decade. When combined with scores of unique – and high-profit-margin – merchandise and the ubiquitous Butterbeer, Universal officially entered the big leagues.
The influx of revenue and mainstream media attention created by "The Boy Who Lived" caused parent-company NBCUniversal and its owner Comcast to take note and invest in its theme parks in ways that it never had before. With the 2014 opening of Diagon Alley, a new Hogwarts Express attraction linked the two Wizarding Worlds together, marking the very first time that multiple geographic locations at separate theme parks connected in one seamless experience.
Not content to rest on its wizarding-laurels, Universal committed to spending somewhere around $500 million each and every year at both Universal Orlando Resort and Universal Studios Hollywood for the foreseeable future. In 2016 the The Incredible Hulk Coaster re-opened with a whole new track, fresh paint, additional theming in the queue, and a new soundtrack from Fall Out Boy's Patrick Stump. As if that weren't enough, a brand new Skull Island: Reign of Kong ride based on the 2005 movie, opened between Toon Lagoon and Jurassic Park that same year.
In 2017 Hogsmeade's Dragon Challenge coaster was closed to make way for a purpose-built Harry Potter family coaster, and the groundbreaking Hagrid's Magical Creatures Motorbike Adventure opened in 2019.
Islands of Adventure lagoon – HD video
https://www.youtube.com/watch?v=XPgQJr1HI6U