Skip to: Overview | Location | Attractions | Entertainment | Dining | Shopping | Additional services
What is Hollywood?
There's no place like Tinseltown, and guests visiting the Hollywood backlot at Universal Studios Florida will step right into the heart of the Entertainment Capital of the World. Featuring historic Hollywood landmarks, including Schwab's Drug Store and Mel's Drive-In, Universal's Hollywood brings the magic of the movie town to the heart of Central Florida.
Guests hoping to peek behind the curtain will enjoy Universal's Horror Make-Up Show, a stage show where special-effects artists demonstrate the methods they use to make monsters out of ordinary men (and women). Shopping locations in Hollywood include the Brown Derby Hat Shop and Williams of Hollywood Prop Shop, featuring park-used props for sale.
If hunger strikes during your 15 minutes of fame, there are a number of dining locations to try: Mel's Drive-In, a '50s drive-in serving burgers, chicken fingers, and root beer floats; TODAY Cafe, featuring breakfast croissants, sandwiches, salads, and pastries; and Schwab's Pharmacy, serving ice cream sundaes, milk shakes, and banana splits.
The Hollywood area is also home to several character meet-and-greet experiences.
Where is Hollywood located?
Hollywood – attractions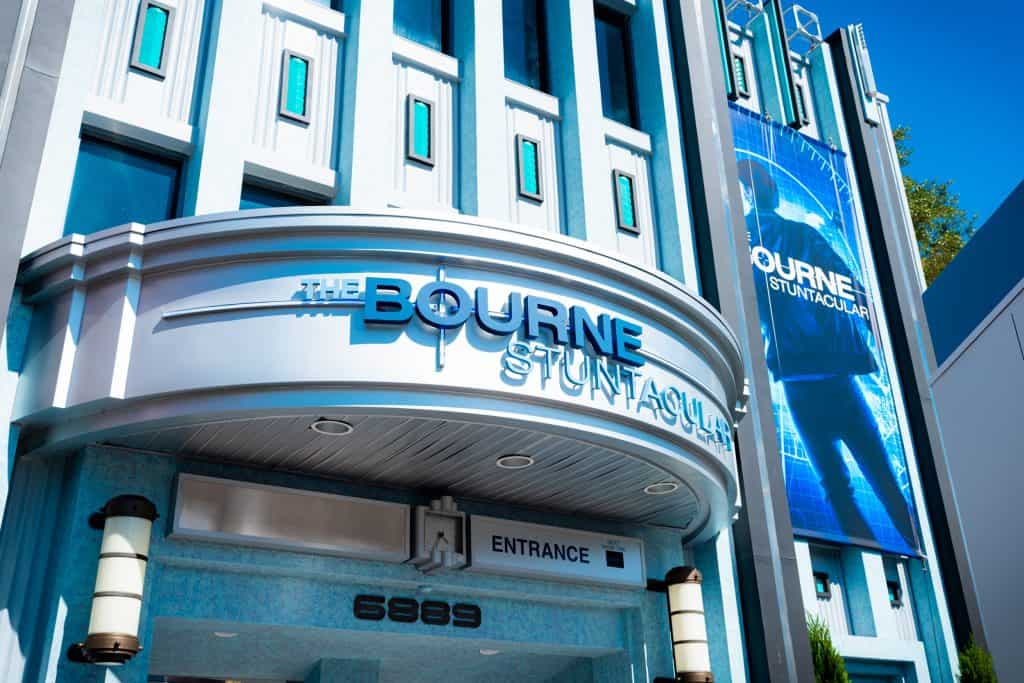 Meet Jason Bourne, a former top-secret special forces agent, as he fights and flees across three continents in a stunt show with both live actors and a huge LED screen. The show is chock-full of fire, smoke, and wind special effects and features professional stunt actors showing off their coolest tricks.
Hollywood – entertainment
The hosts of the Horror Make-up Show will have you rolling with laughter and, possibly, recoiling in horror from the cheesy jokes, but it's all in good fun as they demonstrate some of the practical make-up and special effects that have been used by filmmakers to create the terrifying effects that keep us on the edge of our seats.
Hollywood – dining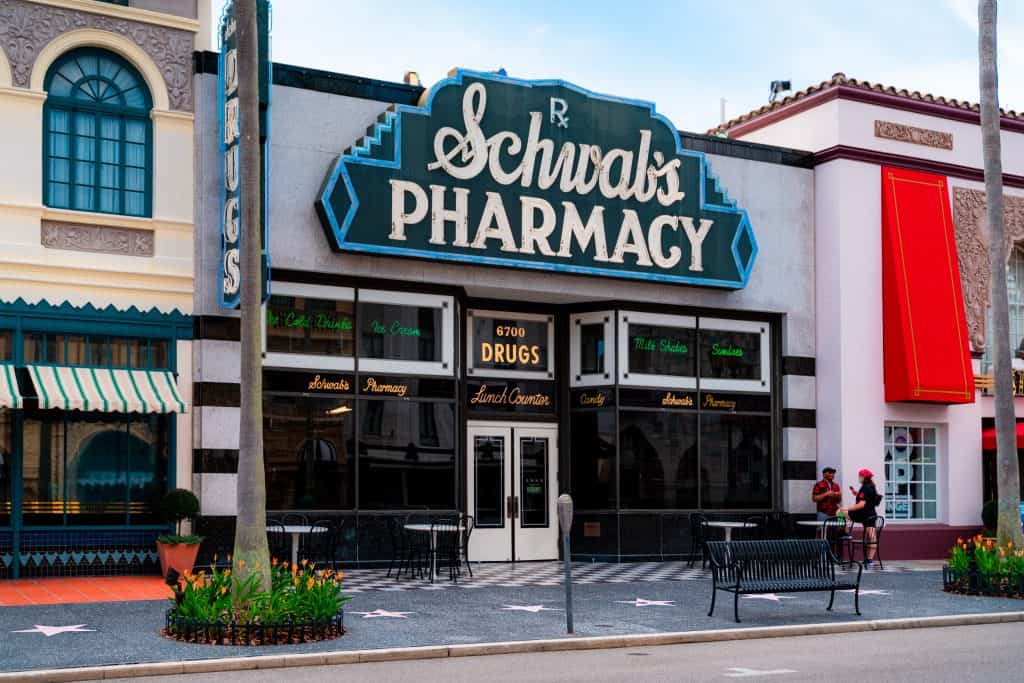 Catch up on the day's news and feel like you're right in the studio at TODAY Cafe. Serving salads, pastries, sandwiches, and more, TODAY is an ideal stop for breakfast or lunch (and be sure to check out Al Roker's seasonal selections!).
Cafe La Bamba currently serves primarily as a dining venue for VIP tours only and, as such, is not open to the public. If you're one of the lucky VIPs, you can expect a buffet spread with Southwestern flavors. The restaurant is also sometimes used during special events, such as Halloween Horror Nights; if so, expect to find spooky desserts like eyeball cupcakes or "worms and dirt."
Return to the halcyon days of the sock-hop and the drive-in diner at Mel's Drive-In, and admire the vintage cars parked outside. Inside, you'll find traditional diner favorites, like cheeseburgers, chicken fingers, and milkshakes.
Whether you're looking for a sweet or savory treat, the Central Park Crepes cart offers several intriguing flavor combinations, such as lemon blueberry or goat cheese and chicken. This charming Art Nouveau kiosk fits right into the leafy walkways of Central Park.
Schwab's Pharmacy (quick-service)
Grab a scoop of Ben & Jerry's ice cream in this retro soda shop, modeled after the real Schwab's Pharmacy, erstwhile hangout of the Hollywood elite from the 1930s until the '80s. The legend lives on in Universal Studios Florida, where guests can order decadent banana splits, hot fudge sundaes, milkshakes, and malts.
Hollywood – shopping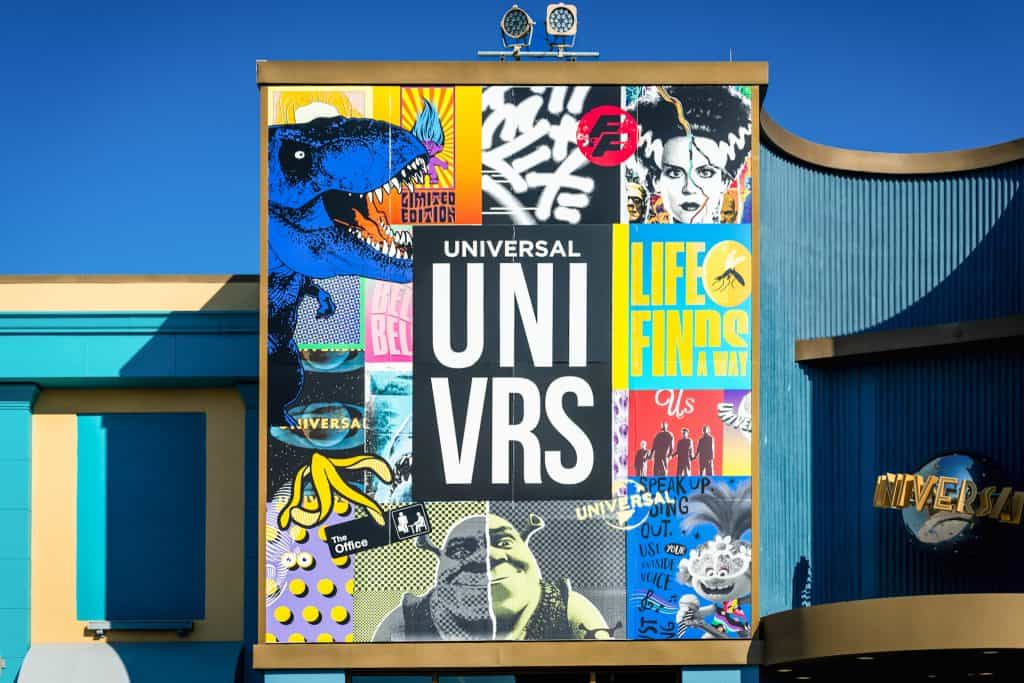 UNIVRS offers trendy, style-driven apparel and accessories inspired by an array of NBCUniversal brands. Merchandise is released seasonally and in limited quantities, so if something catches your eye, don't hesitate to snatch it up before it's gone
Hello Kitty
Sanrio fans will be in Hello Kitty-heaven at the Hello Kitty store, where you might even get a chance to meet the iconic Kitty White herself. Some of the best souvenirs are from the "Hello Kitty at the Movies" merchandise line, where the adorable cat is placed into classic films such as Jaws, King Kong, E.T., and Back to the Future. If that isn't enough to entice you to stop in, the Hello Kitty shop also features a bakery counter, where you can purchase cute Sanrio-themed treats and candy.
Brown Derby Hat Shop
All kinds of hats are available for purchase in the Brown Derby Hat Shop, a store that is itself shaped like (you guessed it!) a brown derby. When the Florida sun beats down, step inside to select a tasteful sunhat, fashionable fedora, or fun novelty hat featuring Universal characters.
The Dark Room
Behind the camera-shop façade, you'll discover a green-screen photo experience that will put you and your family into famous movie scenes. This feature is included with a My Universal Photos package, or you can pick up a free My Universal Photos card to try it out and purchase the images if you like what you see.
Hollywood – OI fun facts
Though some of the buildings in Hollywood are just stylized recreations of Tinseltown's Golden Age, many are, in fact, replicas of real Hollywood landmarks:
The Kress building in West Hollywood is a 1930s Art Deco landmark and was home to the famous Frederick's of Hollywood boutique from 1946 until 2006.
Eagle-eyed guests will also notice the storefront named Ralph's, after the original grocery store founded in Los Angeles in 1873 (which still exists today, albeit under corporate ownership).
The Brown Derby, which resides in Universal as a hat shop, is based on a restaurant chain that was started in the 1920s and which really did have that brown hat-shaped entrance.
Are there guest services available in Hollywood?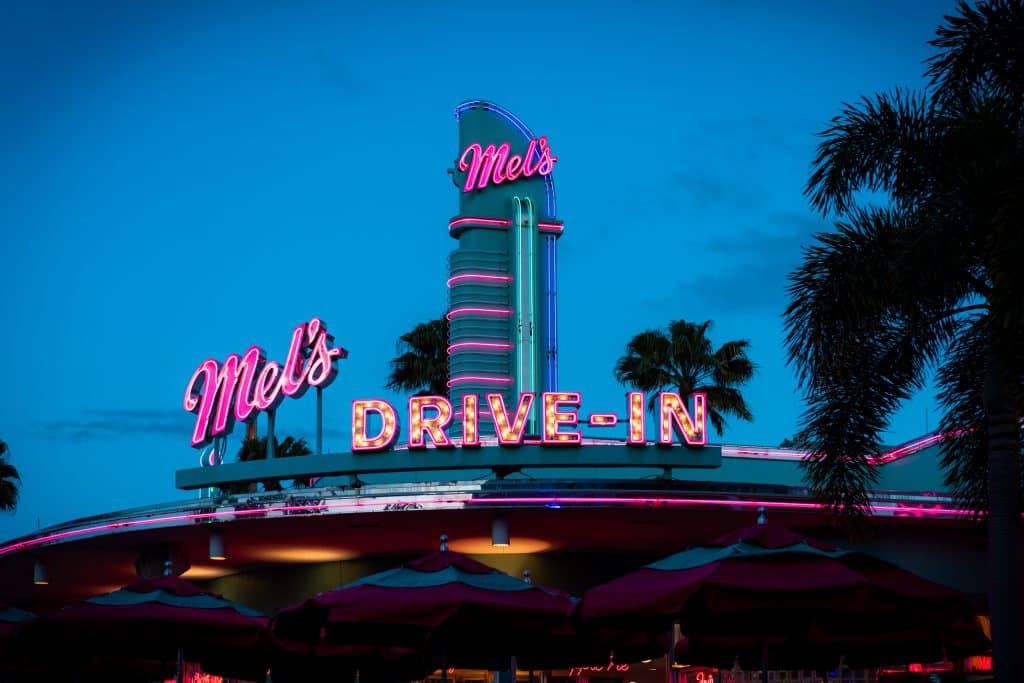 Restrooms
The lone restrooms in Hollywood are located inside Mel's Drive-In and include a family bathroom.
Lockers
There are no lockers available to guests in the Hollywood area.
First aid
The nearest first aid is back in Production Central.
ATMs
To find the nearest ATM, guests will need to go into Production Central.
Hollywood – photo gallery
Do you have a question about the information on this page or would you like to provide feedback? Please let us know by posting in our
Orlando Informer Community
on Facebook.