Skip to: Overview | Location | Restrictions | Fear factor | Fun fact | Guest reviews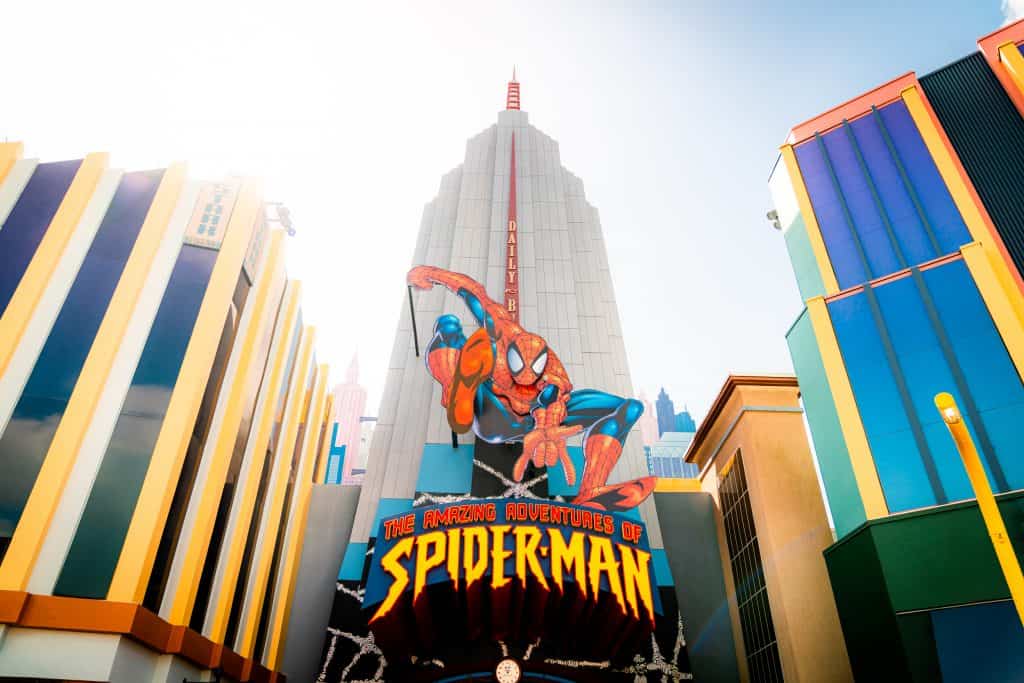 What is The Amazing Adventures of Spider-Man?
The Amazing Adventures of Spider-Man is an indoor, simulator dark ride that takes you alongside superhero Spider-Man as he challenges some of the most maniac villains Marvel has to offer across New York City. When it opened in 1999, the attraction was considered a huge technological achievement, as it combined 3D film, ride movement, plus practical and visual effects for the first time – an experience that only became more detailed and immersive after its 2012 HD upgrade (more info on which can be found below).
Where is The Amazing Adventures of Spider-Man located?
In Marvel Super Hero Island, which is in Islands of Adventure.
The Amazing Adventures of Spider-Man – height restrictions and other factors
Forty inches; has Express Pass access and a single-rider line; child swap is available.
The Amazing Adventures of Spider-Man – what you wish you knew before you experienced it
Even though this is a simulator-style ride somewhat like Harry Potter and the Forbidden Journey, its motions are much more traditional. This makes it very family-friendly, yet still very thrilling!
How scary is The Amazing Adventures of Spider-Man?
We would rate The Amazing Adventures of Spider-Man three out of five Hobgoblins – there is a lot of motion and many special effects, the scariest of which likely being the in-your-face villains wreaking havoc upon you. With that being said, though, the ride is much more entertaining than it is frightening.
What was The Amazing Adventures of Spider-Man's opening date?
May 28, 1999
The Amazing Adventures of Spider-Man – fun fact
You can catch quite a few cameos from famed comic book writer (and Spider-Man co-creator) Stan Lee throughout the ride!
What all was improved in The Amazing Adventures of Spider-Man's 2012 refurbishment?
In 2012, The Amazing Adventures of Spider-Man received a 4K high-definition overhaul of its ride film, along with brand-new animations, which allows guests to experience details like never before. With this technological advance, entirely new touches were added, making Spider-Man feel like a fresh experience.
The Amazing Adventures of Spider-Man – photo gallery
The Amazing Adventures of Spider-Man – real guest reviews
The Amazing Adventures of Spider-Man
Average rating:
29 reviews
Jan 24, 2015
Do not miss!
Date Of Last Visit:
1/3/15
We came go Universal all ready for our Harry Potter experience but were so pleasantly surprised with the other parts of the park-Spiderman was fantastic! Exciting and fun with a great story line and the graphics are not to be missed. We rode it at least 6 times in our 5 day stay (pony up for the express pass friends- there is nothing better than walking into a ride that has a 60 minute wait)
Jul 16, 2014
spider man
excellent ride, i think better than transformers, all ages will enjoy this attraction, it's a must see and do
Jul 13, 2014
Universal's Best
Date Of Last Visit:
7-12-14
This ride is easily the best experience the brilliant team at Universal has ever produced. The ride first opened with the park in 1999 and was well ahead of its time. The high definition upgrade it received a few years back really gave it new life to further enhance the experience. I've been on this ride numerous times since about 2003 and it has never gotten old. The ride is appealing to not only young children, but also to teenagers and adults. This is not only the best ride at Universal but probably the best ride made by anyone period.
May 26, 2014
Spidey Does It Again
Date Of Last Visit:
06/13
We are all big fans of Spiderman, both the new and old films will always be one of our favourites! We have been on both of the versions of the ride many times! The old ride was equally as entertaining however the new one seems to have more of a special and more innovate edge.



The queuing for us is one of our favourites, this is because you see inside the Daily Bugle! This is for sure a ride for all of the family! You will find yourself helping spiderman through the city! You feel like you are actually there and the ride is very interactive and fun to be on!!



We also love the gift shop after the ride, there are many spiderman and marvel related gifts and souvenirs to purchase. The que of the ride is often shorter than some of the big coasters, and most of the queuing is inside which is a massive bonus when it is warm!!
May 26, 2014
Spiderman
Date Of Last Visit:
03/09/2014
I love Spiderman! It has so many characters that comic book lovers will enjoy.



The only downside to this ride is that it is a bit bumpy for me. A lot goes on on this ride, and geesh sometimes it gets me woozy afterwards! Other than that, the plot is great! Makes you feel like you're actually there!
Do you have a question about the information on this page or would you like to provide feedback? Join us in our OI Community Facebook group, and let's talk about it!