Location
New York
Restrictions and access
40 inches; Universal Express is accepted.
Two-sentence insider summary
Race through New York Starring Jimmy Fallon is an indoor simulator that takes place in a "flying theater." The ride takes you through popular locations throughout New York City while highlighting characters from The Tonight Show.
Fear factor
2 out of 5. This is a tame motion simulator, comparable to Despicable Me: Minion Mayhem.
What you wish you knew before you experienced it
Instead of a traditional queue, Race through New York Starring Jimmy Fallon has two waiting rooms that you float about in prior to riding (a museum and a section filled with Tonight Show-themed games and shows). These two areas may be more impressive to you than the attraction itself.
OI fun fact
Jimmy Fallon was the one to initially propose the idea for a ride centered around himself.
Race through New York Starring Jimmy Fallon – queuing explained
At Race through New York Starring Jimmy Fallon, you will not wait in a physical line for more than a few minutes. This is because of the way the attraction is designed; on busier days, guests will need to nab a return time either on the Universal Orlando app or via kiosks stationed nearby – a process which Universal officially calls Virtual Line.
Once it's your time to return, you will enter into the first waiting area and receive a colored card. You are free to roam this room, which features memories from the history of The Tonight Show.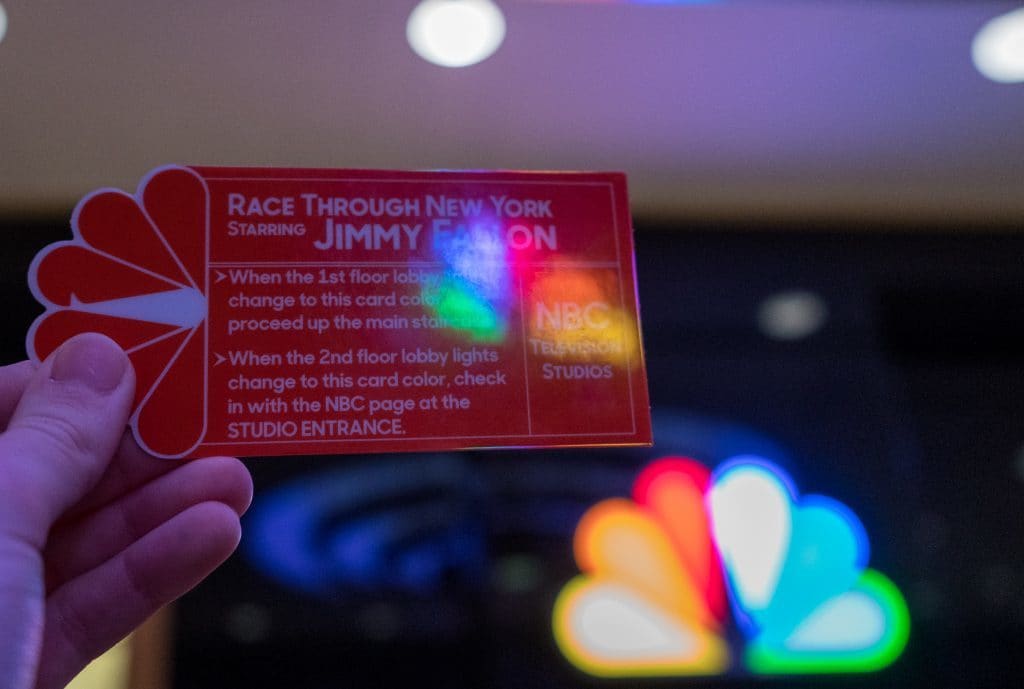 You are also free to roam around the second section, which has Tonight Show games, seating, and shows. Finally, when the second room lights up with your color, you move into the ride's only line to receive your 3D glasses. This wait shouldn't be more than five minutes.
Are you more interested in checking out the Ragtime Gals and meeting-and-greeting with Hashtag the Panda than in riding Race through New York itself? No problem – starting in February 2018, Universal now hands out Entertainment Passes, which allow you to slip into the "queue," see those precise elements, and then mosey out of the building.
Wait – how does Express work with Virtual Line?
Express Passes work in a very interesting way with Jimmy Fallon (and other Virtual Line attractions): rather than rerouting you to a separate, shorter queue, the ride's attendants will simply have you skip the return-time process, allowing you to walk right on whenever you'd like.
Race through New York Starring Jimmy Fallon – photo gallery
Race through New York Starring Jimmy Fallon construction – photo gallery
Race through New York Starring Jimmy Fallon – real guest reviews