Skip to: Overview | Location | Attractions | Entertainment | Dining | Shopping | Fun facts | Additional services
What is The Wizarding World of Harry Potter – Diagon Alley?
Based upon the unbridled success of Hogsmeade, the original Wizarding World of Harry Potter over in Islands of Adventure, Universal has upped the ante in every conceivable way with Diagon Alley. A nearly $450 million expansion on the site of the former Amity area (once home to the Jaws ride), this is one of the most immersive areas of any theme park in the country, if not the world.
Masking the land from the prying eyes of outside muggles is the London waterfront, which contains authentic recreations of a number of famous British landmarks, from Wyndham's Theater to Eros Fountain. But Universal's little slice of downtown London is more than just an elaborately themed facade – with street performers, numerous photo-ops, the Knight Bus, food stands, and exclusive merchandise, it's an attraction in and of itself.
Once through the brick-wall entrance to Diagon Alley proper, guests will find themselves immediately and totally immersed in Harry's wondrous world. There are plenty of shops to wander through (including the three-story extravaganza that is Weasleys' Wizard Wheezes and the expanded, properly located Ollivanders Wand Shop) and places to eat (the Leaky Cauldron serves traditional English pub fare, while Florean Fortescue's Ice-Cream Parlour offers up bizarre [but tasty!] ice cream flavors).
Back out in the daylight, Horizont Alley runs perpendicular to Diagon Alley and features some of the most impressive stops in all of the Wizarding World, including Magical Menagerie, whose wares include a plush version of every magical creature and fantastic beast imaginable, and The Fountain of Fair Fortune, a traditional bar that specializes in both Butter- and real beer. But towering above them all is none other than Gringotts Wizarding Bank, which houses the flagship ride of the area, Harry Potter and the Escape from Gringotts, and its gift shop, Wiseacre's Wizarding Equipment.
Just beyond Gringotts Bank is Carkitt Market, a covered arcade that features a plethora of drink stands, street vendors, and live entertainment, along with some striking architecture. Here, guests can stop to chat with a fully interactive audio-animatronic goblin who exchanges their boring old muggle money for Wizarding Bank Notes, or take in a live show, including puppet renditions of The Tales of Beedle the Bard and live "soul" performances of Celestina Warbeck and the Banshees.
Last, but not least, Knockturn Alley is the infamous hangout of all nefarious (or, maybe, just shady) wizards, and it features several interactive spell spots, as well as Borgin and Burkes – the go-to shop for all things needed to practice the Dark Arts.
Where is the Wizarding World of Harry Potter – Diagon Alley located?
Diagon Alley – attractions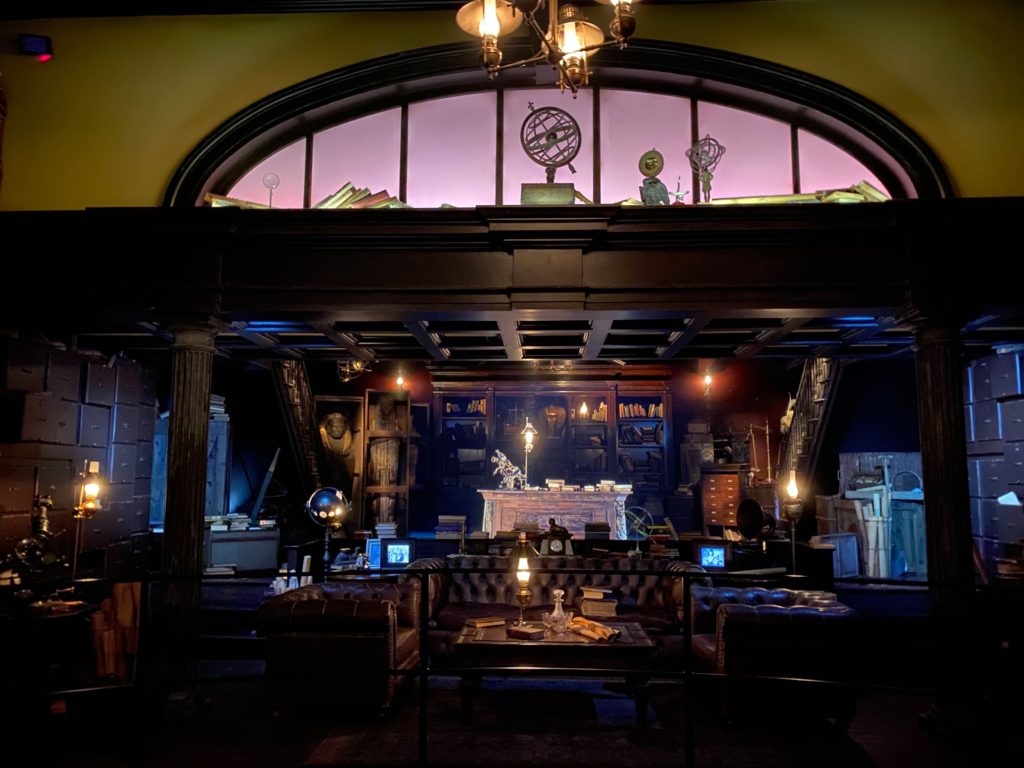 Part coaster and part 3D experience, Escape from Gringotts is a "multi-sensory, multi-dimensional" thrill ride that allows guests to live out a key scene from Harry Potter and the Deathly Hallows, Part 2: when Harry, Ron, Hermione, and Griphook break into Gringotts – and when they make their dramatic escape out on the back of a dragon.
From an entrance on the London waterfront, guests make their way through King's Cross Station, onto the famous Platform 9¾, and then board the Hogwarts Express, where a journey of magic and surprises follows. Once passengers disembark, they'll find themselves inside Hogsmeade Village at Islands of Adventure.
Diagon Alley – entertainment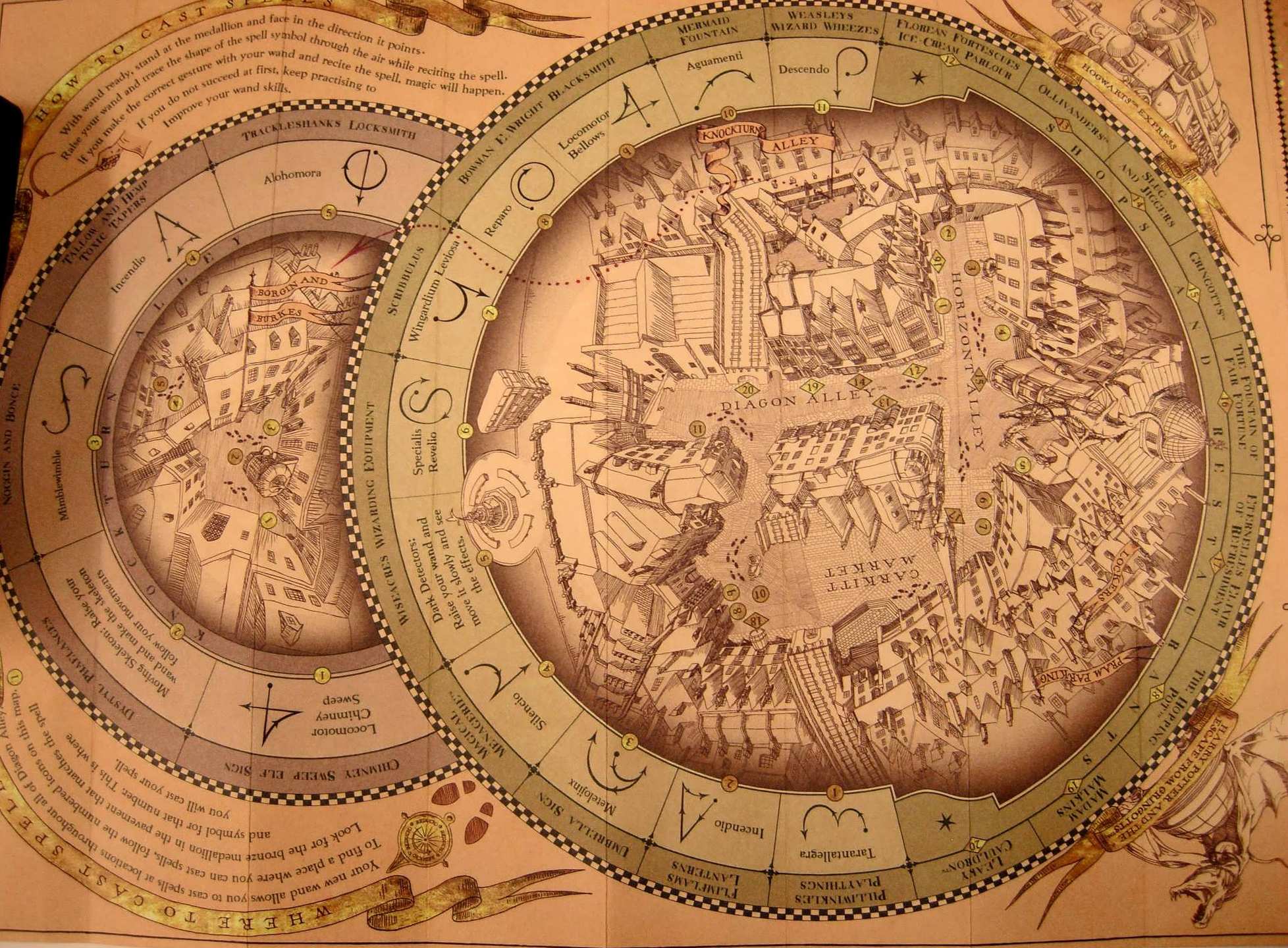 The Knight Bus
Near the fountain modeled after Picadilly Circus on the London waterfront, the driver of the Knight Bus happily meets visitors and answers any questions they might have about this magical mode of travel. Stop to take a picture and say hi to the shrunken head hanging in the window.
Part attraction, part entertainment, and part wand shop, Ollivander was finally, with the addition of Diagon Alley, able to open his doors within his canonical location, effectively rendering Ollivanders in Hogsmeade a "satellite" shop. Although the average guest would never know, this location features two show rooms that can run simultaneously; here, aspiring witches and wizards can view the short presentation where a wand "chooses" a wizard from the group.
Once your interactive wand has chosen you, use the included map to explore the various spell-casting spots around Diagon Alley to make a little magic of your own. If you happen to have left your map at home, check out our full guide to interactive wands and spells, complete with the location of several secret spell spots.
More than a puppet show, this presentation from the Wizarding Academy of Dramatic Arts tells the stories of Beedle the Bard, including The Fountain of Fair Fortune and The Tale of the Three Brothers (as featured in Harry Potter and the Deathly Hallows).
On the same stage at alternating showtimes, Celestina and her Banshees (who are famous throughout the wizarding world) perform top hits such as "You Charmed the Heart Right out of Me" and "A Cauldron Full of Hot Steaming Love." And if you visit during the holiday season, you'll be able to enjoy some Christmas tunes with a decidedly wizarding twist.
Diagon Alley – dining
The main restaurant for the Diagon Alley area, The Leaky Cauldron serves traditional English victuals, such as cottage pie and toad in the hole, as well as wizarding favorites like Butterbeer and Pumpkin Juice.
For a refreshing sweet treat, head to Florean Fortescue's Ice-Cream Parlour, where you can find both soft-serve and hand-dipped ice cream, toppings, and more – including the perennial favorite flavor, Butterbeer.
Tucked away at the bottom of Carkitt Market is The Hopping Pot, a small bar with outdoor seating that sells beer on tap and other specialty Wizarding World drinks. If you're looking for a snack, try the beef pasties or grab a bag of crisps.
Another spot for drinks is The Fountain of Fair Fortune, named for one of the tales of Beedle the Bard. Reminiscent of an old British pub, complete with mirrored walls and warm wood accents, The Fountain of Fair Fortune sells Butterbeer, the draught beers of Wizard's Brew and Dragon Scale, and more.
An unusually themed drink stand in the middle of Carkitt Market, Eternelle's sells Potter's brand of bottled water (Gillywater), which can be flavored with different-colored syrups, each associated with a specific "elixir." Look up to view the unique gargoyles that decorate this stall, which include a stone unicorn and a Dementor.
Muggles have to eat, too, and the knowledgeable taxi drivers of London get their hot meals and jacket potatoes outside of Diagon Alley, on the London waterfront, at the hunter-green taxi hut.
King's Cross Station snacks (quick-service)
If you're on your way to Hogsmeade via the Hogwarts Express, you can stop and grab a snack or sandwich at the small shop within King's Cross Station and take your crisps and choccy with you for the ride.
Diagon Alley – shopping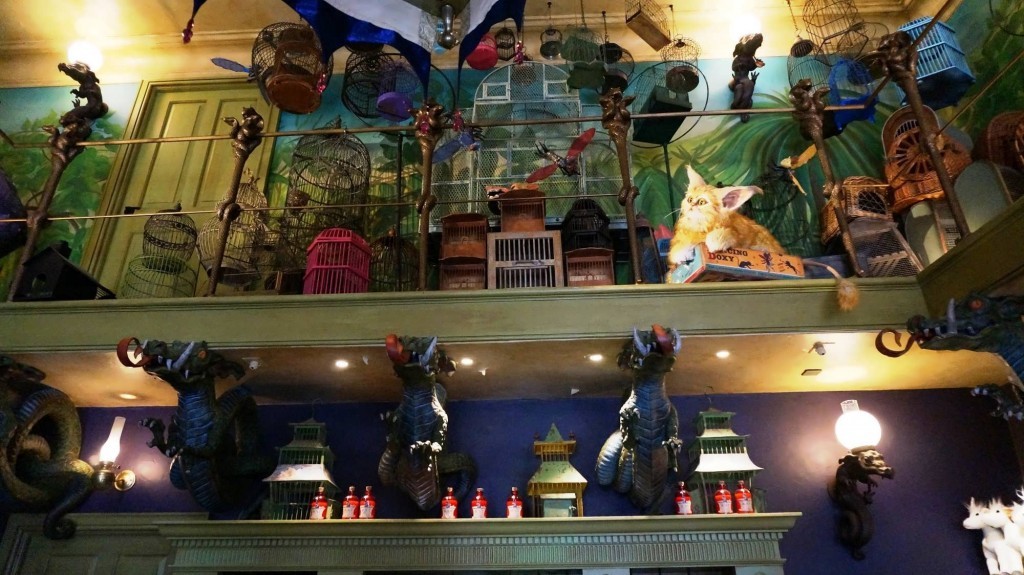 If you need to find a familiar, or are just a fan of furried friends, stop into Magical Menagerie, where you'll find toy versions of all your favorite animal characters from the Harry Potter books and movies. Don't forget to stop and check out the pets in the window, as well as look up to the theming on the mezzanine.
Upon entering Diagon Alley, guests will find Quality Quidditch Supplies – the perfect place to declare your team (and house) loyalties and purchase not only scarves and sweaters, but brooms and other Quidditch-related memorabilia.
One of the Wizarding World retail highlights, truly brought to life in the spirit of the books, is the enterprising venture of those mischievous Weasley twins: Weasleys' Wizard Wheezes. Here, you'll find toys and treats that may – or may not – cause magical mischief for unsuspecting parents and professors.
If you want to blend in with the magical crowd, be sure to purchase your wizarding robes at Madam Malkin's, where you'll also find the dress robes of the main characters from the films on display.
Just over a year after Diagon Alley opened, Shutterbutton's Photography Studio moved out of Carkitt Market to be located on the main Diagon Alley street. The studio allows you to get your picture taken on a flying broomstick, and you can even get a moving photograph right out of the books and movies – for a price.
Looking for your very own wand? Ollivanders (wand makers since 382 B.C.) is the place for your wand to choose you. Even if you're not selected for the wand show, the shop offers all the original and interactive wand types for sale, with very knowledgeable shop-keepers who are more than happy to answer your questions and help you find the right wand for you.
The longtime rival of Ollivander, Gregorovitch's stall is located in Carkitt Market and is an excellent place to look for wands if Ollivanders is too crowded – all the same wands are available at both spots.
Wisacre's Wizarding Equipment
Another shop with exquisite design and theming, Wisacre's has everything you might need for your magical experiments, and one of the best selections of souvenirs for each Hogwarts house (Gryffindor, Slytherin, Hufflepuff, and Ravenclaw).
Scribbulus
Erudite logophiles must make a stop at Scribbulus to stock up on quill pens, ink, parchment rolls, notebooks, and other stationery accouterments.
Gringotts Money Exchange, not to be confused with Gringotts Wizarding Bank (which houses the Harry Potter and the Escape from Gringotts ride), is a unique shop experience. Even if you're not planning to change your muggle money for Gringotts bank notes (which can be used throughout the Wizarding World), it's worth stopping to say "hi" to the goblin in charge, who will speak to you – and may even answer a few questions, if you ask politely.
With the huge popularity of Honeydukes over at Hogsmeade (to the point of that store meriting its own expansion), Diagon Alley needed its own candy shop and bakery – enter Sugarplum's, where the wizard with a sweet tooth can purchase Chocolate Frogs, Fizzing Whizzbees, Pepper Imps, Exploding Bonbons, Peppermint Toads, and more.
A late addition to the shops of Diagon Alley, Globus Mundi is the travel agency of choice for witches on the go. Inside, you'll find Globus Mundi-branded merchandise and a selection of travel-themed souvenirs, including many for the Hogwarts Express.
Just a small window beneath the owlery, the Owl Post is the place to have your gifts professionally wrapped and shipped within the US or to just pick up and mail some postcards.
Borgin and Burkes
Snaking off to the side of the main thoroughfare is Knockturn Alley, the shopping destination for Dark Arts devotees. Under the cover of darkness, visitors will make their way past various creepy (and interactive) storefronts and displays before coming to Borgin and Burkes, where Death Eater masks, human skulls, and other forbidden items can be purchased.
Not to be outdone by all the wizarding finery, muggles on the London waterfront can purchase Union Jack-themed souvenirs, including hats, t-shirts, and mugs.
Diagon Alley – OI fun facts
With the success of The Wizarding World of Harry Potter – Hogsmeade, an expansion of the property was almost inevitable – and, indeed, as soon as Hogsmeade was open, the rumors began to circulate. Many assumed that any new addition would continue to creep into the Lost Continent area at Islands of Adventure; however, it wasn't until December 6, 2011 that Universal officially announced that the planned expansion would actually come (mostly) to Universal Studios Florida, just days after the permanent closure of the popular (but expensive to run) Jaws ride was announced. Progress on this parcel of land was painstakingly slow, as the demolition and infill of the Jaws lagoon took several months, complicated by both weather and the fickle nature of Central Florida's permeable soils, before construction could even begin.
In May of 2013, almost everything was made official: Diagon Alley was, indeed, the theme for the new land, and it would come replete with the Hogwarts Express attraction, which would transport guests between parks to visit both sides of the Wizarding World. An opening year of 2014 was even dropped as part of the announcement.
When 2014 came around, another revelation on January 23rd confirmed the main attraction for the land would be the Harry Potter and the Escape from Gringotts coaster ride. But rumored construction troubles continued to dog the project, stretching out the timeline for the various components of the land. Never one to give too much advance notice, Universal did not confirm the exact opening date of July 8, 2014 until June 17th of that year, with a red carpet premiere on June 18th, featuring many of the stars from the Harry Potter films. Despite the announced July 8th opening date, Universal held "soft openings" for several of the attractions from July 1st onward.
Are there guest services available in Diagon Alley?
Restrooms
Restrooms are located outside of Diagon Alley, on the London waterfront, at the end of the row houses of Grimmauld Place. Once inside Diagon Alley, you'll find restrooms (along with the land's only family restroom) located on Horizont Alley, across from The Fountain of Fair Fortune.
Lockers
Harry Potter and the Escape from Gringotts requires all riders to put most bags and items in lockers, which are located just outside the attraction's entrance. The standard-sized lockers are free during your ride, with an additional charge thereafter. Large lockers are also available for a charge, both during your ride and after.
Stroller and wheelchair rental
Because the Hogwarts Express takes passengers from one park to another, Universal has positioned a rental location right inside King's Cross Station. (Yes, they can be taken on the ride with you.)
ATMs
ATMs can be found along the London waterfront, near the London restrooms.
Related posts
Why Diagon Alley can never be repeated (editor's note: or can it?)
Red carpet opening of Diagon Alley
Do you have a question about the information on this page, would like to provide feedback, or did you spot an inaccuracy? Please let us know by posting in our
Universal Community Facebook group
.