Universal has offered Virtual Lines for a number of attractions since 2017, such as Race Through New York Starring Jimmy Fallon and Fast & Furious – Supercharged. In fact, at Volcano Bay, the TapuTapu system has worked to keep all lines virtual right from the water park's very first day.
Since Universal Orlando Resort has reopened in the wake of the COVID-19 pandemic, Virtual Lines can now be found at more attractions than ever before – and if you're hoping to experience any of the most popular rides in the parks, it's could be that you'll need to use this system (especially for Hagrid's Magical Creatures Motorbike Adventure!). Not to worry, though – we've compiled all of the details you need to know below, and just for clarity – the virtual line system has mostly become a thing of the past (mostly).
Let's jump in!
Skip to: Virtual Line overview | Which attractions offer Virtual Lines? | FAQ
What is Virtual Line?
Universal's Virtual Line system allows guests to reserve a ride time for their traveling party. Reservations can't be made in advance; rather, you must nab a return time and ride the same day. Each time an existing reservation window for an attraction passes, you can add a new ride time.
This system allows Universal to put a greater emphasis on social distancing and to control the number of guests who are in the queues of the most popular attractions (again, we have to point out that Hagrid's Motorbike Adventure seems to be the biggest focus/beneficiary of this recent virtual push). Similar to mobile ordering, the process is entirely done through the official Universal Orlando Resort mobile app.
Making a Virtual Line reservation
First things first: you'll need to log in to your Universal Orlando account on the mobile app. Next, tap "Virtual Line" in the side navigation menu, followed by "Virtual Line Venues." This will bring you to a list of attractions with Virtual Line reservations available. Select the attraction you'd like to ride and tap "Virtual Line Pass – Reserve."
Next up, you'll need to select how many people are in your travel party and choose your preferred return time. If there are multiple times available, the app will list a number of options so you can use the one that best works with your plan for the day. Once you've picked a time, simply tap "Reserve Virtual Line Pass."
And it's as easy as that! Once you've selected your time, your mobile app will show you a screen with your reservation details and a QR code. (We recommend you take a screenshot, although you'll always be able to access this screen in the app later on if you need to!) Your next job is simple: have fun until your return time arrives.
Once it is time to ride, head to the attraction entrance with your QR code ready. A team member will scan it and grant you entry to the regular queue, which will generally be much shorter than usual.
OI pro tip: are all of the Virtual Line slots – like, say, for that pesky Hagrid – gone for the day? Fear not! Keep trying to refresh the app all throughout your time in the parks; it's been our experience that, on busy days, this is necessary in order to secure a spot (and zip through the Forbidden Forest with Harry Potter's good friend and sometimes-teacher).
Which attractions offer Virtual Line reservations?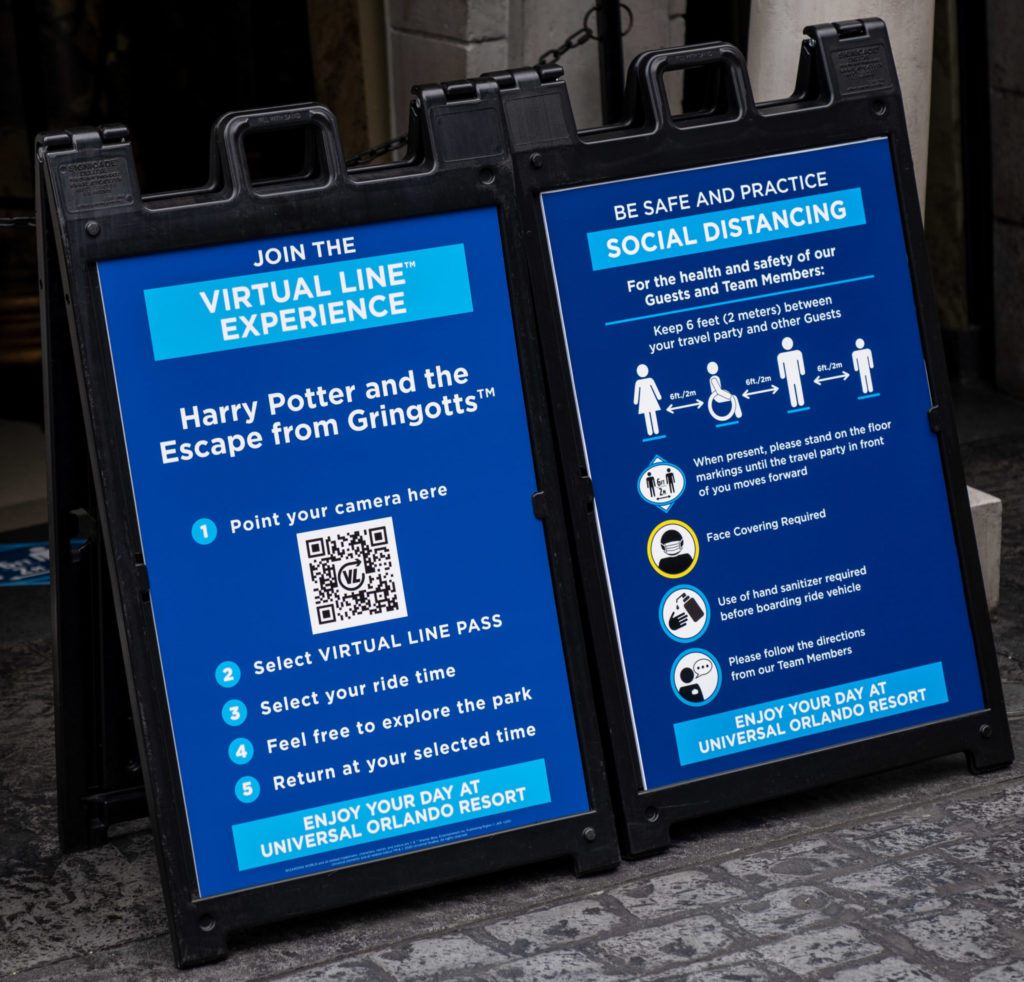 In the height of the pandemic, up to nine rides in Universal Studios Florida and Islands of Adventure offered Virtual Lines, but this exact lineup has changed drastically – currently, it would be extremely unlikely for the Virtual Line system to be utilized for more than one or two attractions. Furthermore, some of these attractions may exclusively use the Virtual Line system, while others might combine it with regular lines.
It's worth noting here that Hagrid's Motorbike Adventure is currently testing a new Virtual Line system. The biggest change is that this will require you to sign on through an external site, as opposed to using the Virtual Line options within the app. But after that, the process is still the same. Identify your party size and select a time slot (they call this a "reservation"). The app will then provide a QR code for you to show a Team Member when it is time to ride.
Universal Studios Florida – attractions with Virtual Line Options
Production Central
New York
San Francisco
The Wizarding World of Harry Potter – Diagon Alley
Islands of Adventure – attractions with Virtual Line Options
Skull Island
Jurassic Park
The Wizarding World of Harry Potter – Hogsmeade
Volcano Bay – attractions with Virtual Lines
All attractions in Volcano Bay use the TapuTapu ride reservation system.
Virtual Line at Universal Orlando – frequently asked questions
How much does a Virtual Line reservation cost?
There is no charge to make a reservation.
How many people can you include in a Virtual Line reservation?
Eight to 10 guests, depending on the attraction.
How many Virtual Line reservations can you make?
You can make two Virtual Line reservations for two attractions at the same time, as long as their return times do not overlap. You cannot have two reservations for the same attraction at the same time, but once your first return time passes, you can register a second.
In addition, if you're traveling with a group, each of you can make Virtual Line reservations for your party at the same time. For example, if you and a friend are in the parks together, you can both make a reservation for the two of you – which is essentially like having two reservations at the same time.
What happens if Virtual Line reservations run out for the day?
For some rides, such as Hagrid's Magical Creatures Motorbike Adventure, they're so popular, they tend to run out of return times early on in the day. But, like we mentioned above, it's been our experience – especially with this one sought-after attraction – that Universal tends to add on more slots throughout the day, based on how everything is progressing in the parks.
Can I make a Virtual Line reservation from outside the parks?
Yes and no – you must be on Universal property to use Virtual Line, but you don't necessarily need to be in the parks. You can, for instance, make a virtual line reservation for Harry Potter and the Forbidden Journey even if you're in Universal Studios Florida or CityWalk.
Do I need a Virtual Line reservation if I have an Express Pass?
No, you don't need to make a Virtual Line reservation if you have an Express Pass – but keep in mind that not all rides offer Express access. For example, Hagrid's Magical Creatures Motorbike Adventure does not currently support Express, so Virtual Line is the only way to ride. (Also, guests with Attraction Assistance Passes don't need to make Virtual Line reservations.)
Will the Universal Orlando Resort app work with my phone?
That depends on the type of smart phone you have and how recently it was released. For Apple users, the app is compatible with iPhone, iPad, and iPod touch – so if you have one of those devices, you're probably in good shape. However, it requires iOS 12.0 or later in order to run; this operating system is compatible with iPhone 5s and later, all iPad Air and iPad Pro models, iPad 5th and 6th generation, iPad mini 2 and later, and iPod touch 6th generation models. For Android users, you'll need a phone that can run Lollipop (also known as Android 5.0) or any more recent operating system.
In general, if your phone was released in 2014 or later, you should be able to run the app – but this can vary depending on the type of Android you own.
Do you have a question about the information on this page, would like to provide feedback, or did you spot an inaccuracy? Please let us know by posting in our
Orlando Informer Community
on Facebook.