In this day and age, theme-park guests of all types want to be online and ready to share photos, videos, and the thrills of their vacation. We don't blame you – after all, Orlando Informer is on many social networks ourselves, including Twitter, Facebook, and Instagram.
On this page, we'll discuss everything you need to know about free internet access throughout Universal Orlando Resort's parks and hotels. We also provide a primer of the official Universal Orlando mobile app.
Skip to: Free wifi – parks/CityWalk | Free wifi – hotels | Universal app
Is there free wifi at Universal Orlando Resort?
Universal has expanded its complimentary wifi network to include Universal Studios Florida, Islands of Adventure, and Volcano Bay, as well as (almost all of) Universal CityWalk. The wifi is sponsored by Xfinity Internet.
The sign-on process is simple: just search for the wifi network "Universal." Once the network is found, you will be asked if you are an Xfinity customer. If so, log in using your existing Xfinity account information. If you are not an Xfinity customer, you will need to provide your email address and zip code. In order to join the network, you must agree to the terms and conditions (including that, by using the network, you agree to receive promotional emails from Universal) and agree that you are 18 years of age or older.
Overall, speeds are good for basic use, and access is strong throughout the parks and most of CityWalk.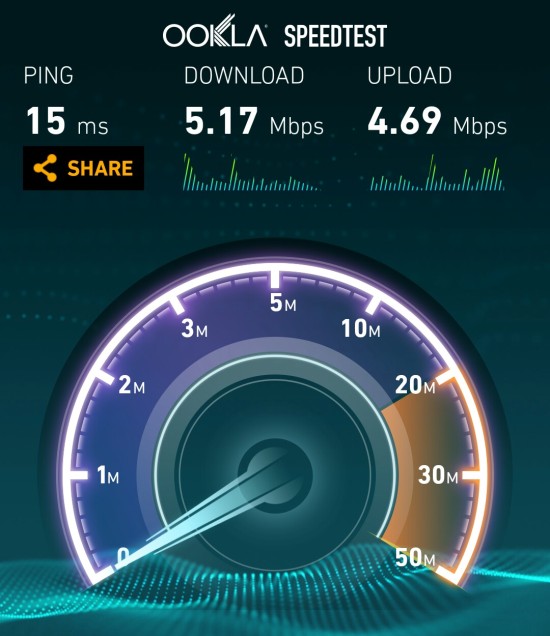 Comparing the two theme parks, the signal tends to be slightly stronger in Universal Studios Florida as compared to Islands of Adventure. Usually, you can connect to the Xfinity wifi network the moment you get past the security checkpoint and moving walkways of Universal's parking structure. Volcano Bay, meanwhile, is fairly comparable to Islands of Adventure.
The connection may log-off due to inactivity. If this happens, simply open up your wifi settings and look for the "Universal" network again. If you have already logged in once during the same day, you should not have to re-enter your log-in information.
Other internet access options
Besides the free Xfinity-sponsored wifi, there is free internet available at the Starbucks locations at CityWalk and inside Universal Studios Florida and Islands of Adventure.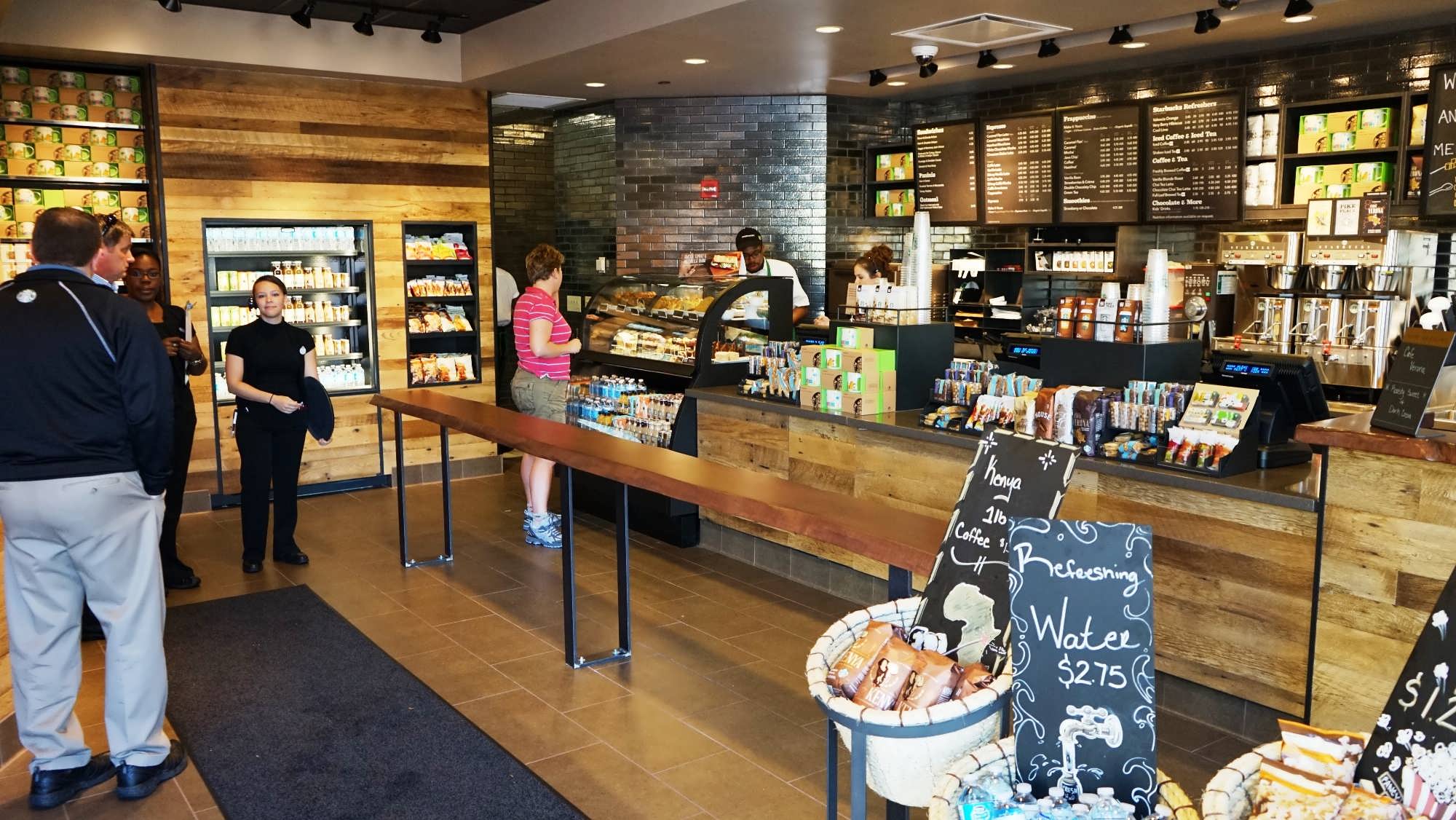 Inside Starbucks at Islands of Adventure
This is a good option if, for any reason, you have difficulty with the Xfinity service. Additionally, some CityWalk restaurants also offer free wifi to their patrons, such as Hard Rock Cafe – just ask your server for the password.
How do I connect to wifi at Universal hotels?
The on-site hotels at Universal now feature free wifi access for registered guests (for a long time, they didn't). In the rooms and inside the concierge lounge, "standard" wifi is complimentary, meaning that, if you're staying at the hotel, you can do basic things like check your email and tweet without having to pay extra. If you want faster speeds so you can upload all your high-res photos and HD videos, you'll likely want to pay for the "premium" service, as you see here: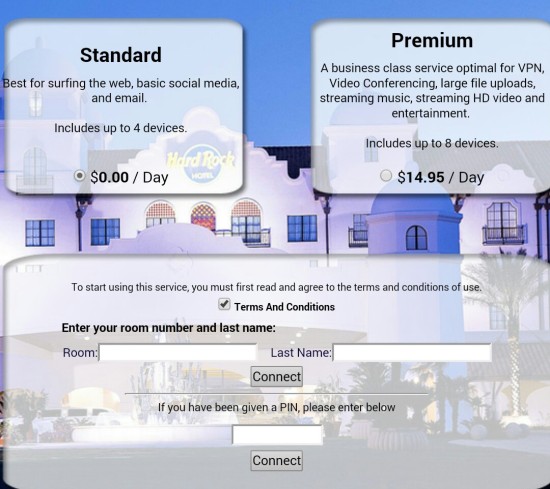 Premium wireless access is complimentary for up to four devices per room, and Premium Plus wireless access is $14.95 for up to eight devices per room. Both access options are valid for a 24-hour period between 1:00 pm and 1:00 pm.
If you're not a registered guest but still want to get online, you're in luck – Universal Orlando's hotels offer free wifi access to everyone in their lobbies and pool areas (just don't expect too much performance).
How to use the Universal Orlando mobile app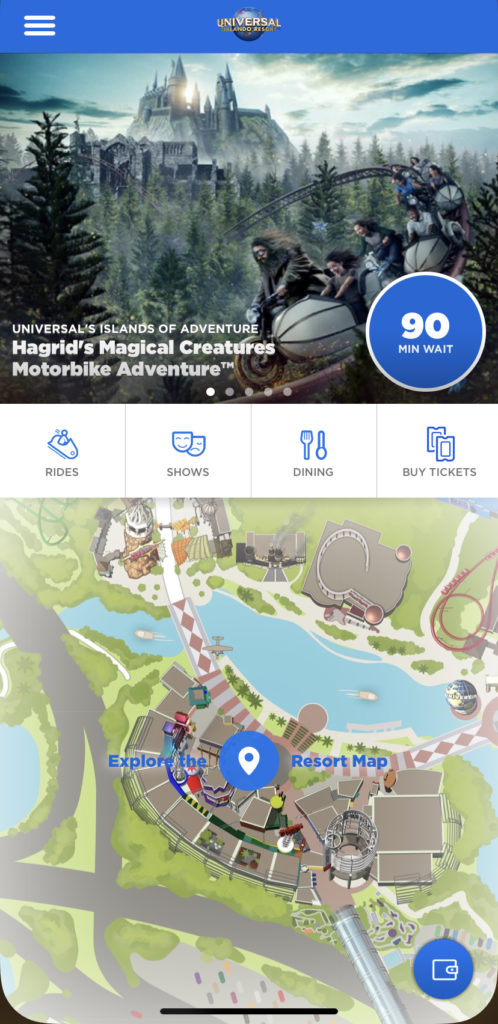 Here are the links to the official Universal Orlando app: Android or iOS.
The mobile app can help with planning your vacation before you arrive, but most of its functions are best used when you are actually in the parks. For example, once you are inside the resort, you can select the "Guide Me" function when you are viewing a ride, and it will give you walking directions from your current location.
Along the middle of the screen, you will find three simple options: "rides," "shows," and "dining." Then, along the side, there is a menu that can be expanded that contains a lot more choices.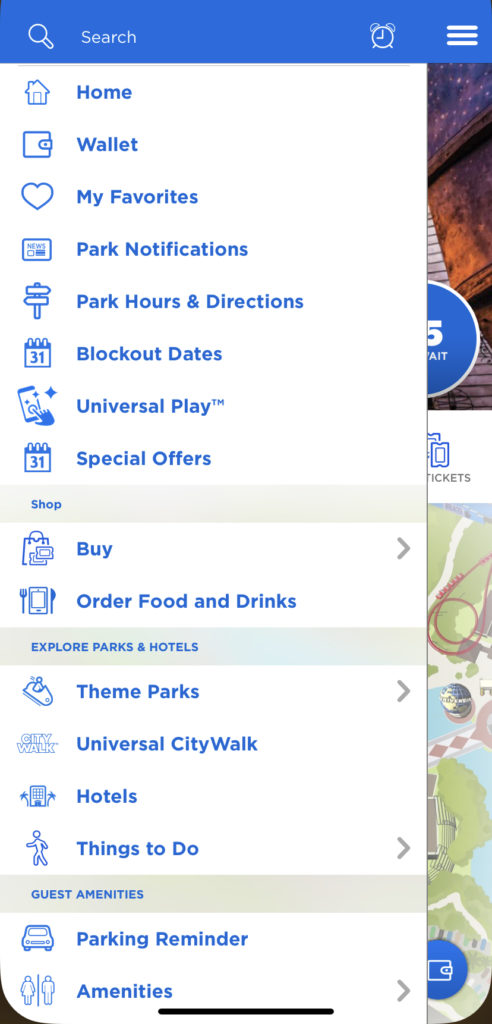 Let's run down the list of what each of these does.
Universal Orlando mobile app – main menu
Home
This is pretty self-explanatory: this will bring you back to the home page, where you can access the resort map and the three main options of rides, shows, and dining.
My Wallet
The "My Wallet" feature of the app allows you to store a default payment method for any in-app purchases, as well as stores all relevant tickets and passes. Some tickets can be scanned straight from the app, while annual passes always must be shown physically.
My Favorites
Anytime you view a specific ride, show, or dining location, you can touch the heart in the corner of the screen and mark it as a favorite.
This function is helpful when you are planning your trip and want to perhaps make your "My Favorites" a collection of rides, shows, and restaurants that you know you definitely want to experience. For frequent visitors, this function helps mark your own individual collection of past favorites. And when checking wait times, having a list of favorites will make it easy to quickly know the wait times of your preferred rides.
Park Notifications
Occasionally, Universal will deploy relevant messages (such as about in-park concerts) and more to your device.
Park Hours & Directions
You can not only view today's hours of operations for the three parks and CityWalk, but also call up a calendar for the whole month (and year).
The "Directions" function gives the address and GPS coordinates of Universal Orlando. You can also select to use Apple or Google Maps straight from the app.
Blockout Dates
Just as it sounds, this section allows you to quickly review your park access based on day and pass type.
Universal Play
Universal Play features multimedia content, trivia challenges, and mini-games that allow you to interact with your favorite characters and attractions.
Special Offers
Here, you can find any special ticket deals or offers currently taking place at the resort.
Universal Orlando mobile app – shop
Buy
Remember that "My Wallet" feature? Here's where it comes in handy – you can buy tickets, Express Passes, and more within the app.
Order Food & Drinks
Mobile ordering is now available at select locations through Universal Studios, Islands of Adventure, and CityWalk – all through the app!
Universal Orlando mobile app – explore parks and hotels
Theme Parks
Under the "Theme Parks" tab, you'll find Universal Studios Florida, Islands of Adventure, and Volcano Bay. Upon selecting each park, a map will open up which will initially display icons that show the location of rides, but you can also select "shows, "dine," and "shop" along the top. These options can be displayed all at once (by selecting multiple categories) or one at a time, which can be accomplished by deselecting the other categories at the top.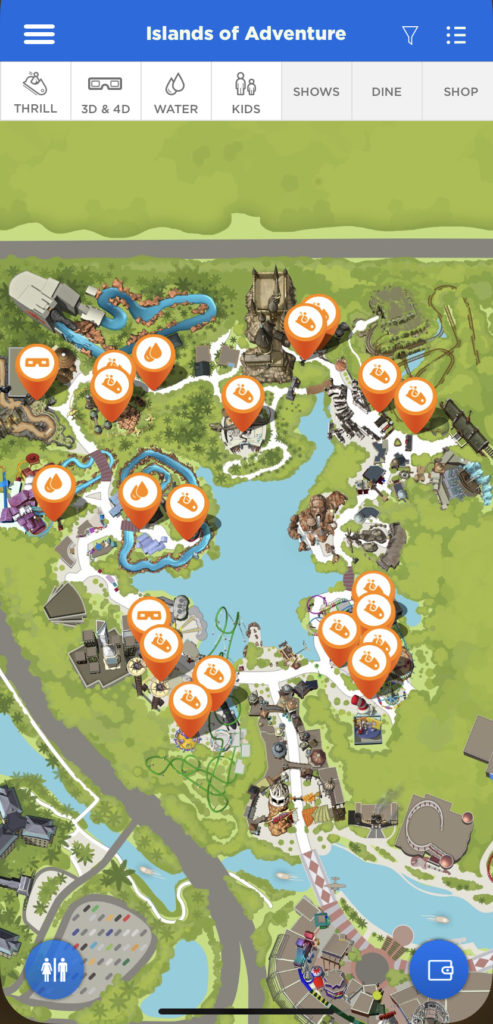 You can filter experiences by thrill, 3D and 4D, water, and kids. There is also a restroom icon at the bottom of the map – there is one icon for regular bathrooms and another which shows three people, indicating a companion restroom. This is just like the categories at the top and will display in addition to any other subsets you have already selected.
You can also zoom in on the map, which will be necessary to get a better sense of the exact location of the item in which you are interested. The details on the maps, once you zoom in, are fun to look at, as well.
The functionality for Volcano Bay is largely the same as its theme-park brethren, with one key difference: no wait times display for the rides, since the entire water park utilizes only Virtual Lines. (For more on how Volcano Bay and its attractions operate, please see our complete guide to TapuTapu.)
Universal CityWalk
This section opens up a similar map. The categories here are "entertainment," "shows," "dine," and "shop," and the bathroom function makes a return appearance, as well. These categories work in exactly the same way as those on the park maps – the more you select, the more icons will show, and in order to remove a certain category, you must touch it to deselect it.
(Note: when you are viewing the parks or CityWalk and you would prefer to view a list of available rides, shows, restaurants, and shops, select "List" at the top right corner. This will display each category you've selected in alphabetical order as a list without an accompanying map. If you have picked more than one category, then the first one you chose will be displayed at the top, with the others following afterwards.)
Hotels
You can easily access details for any of the eight Universal Orlando hotels straight from the app. This allows you to easily reach contact information, dining options, and what all is included with your stay, such as Express access.
Things to Do
One of the more stacked areas of the app, "things to do" encompasses rides, shows, dining, events, and shopping throughout the entirety of Universal Orlando Resort.
Rides – quickly access a map of the resort, where you can filter rides by thrill, 3D a nd 4D, water, and kids. Looking for specific accessibility options? Simply tap the filter icon in the top right-hand corner.
Shows – divided into action, comedy, music, parade, and character, you can find all of the entertainment there is to explore on-property.
Dining – the "dining" option functions the exact same way: on a map, the different types of restaurants will be displayed. There are three categories here: fine, casual, and quick serve.
Events – any current special events (such as character dinners) will appear here, with all relevant details.
Shopping – while there are no defined categories on the main page, you can use the filter feature to easily sort through shopping options. Use this to find where package pick-up, AmEx merchandise savings, Express Passes, and more are available.
Universal Orlando mobile app – guest amenities
Parking Reminder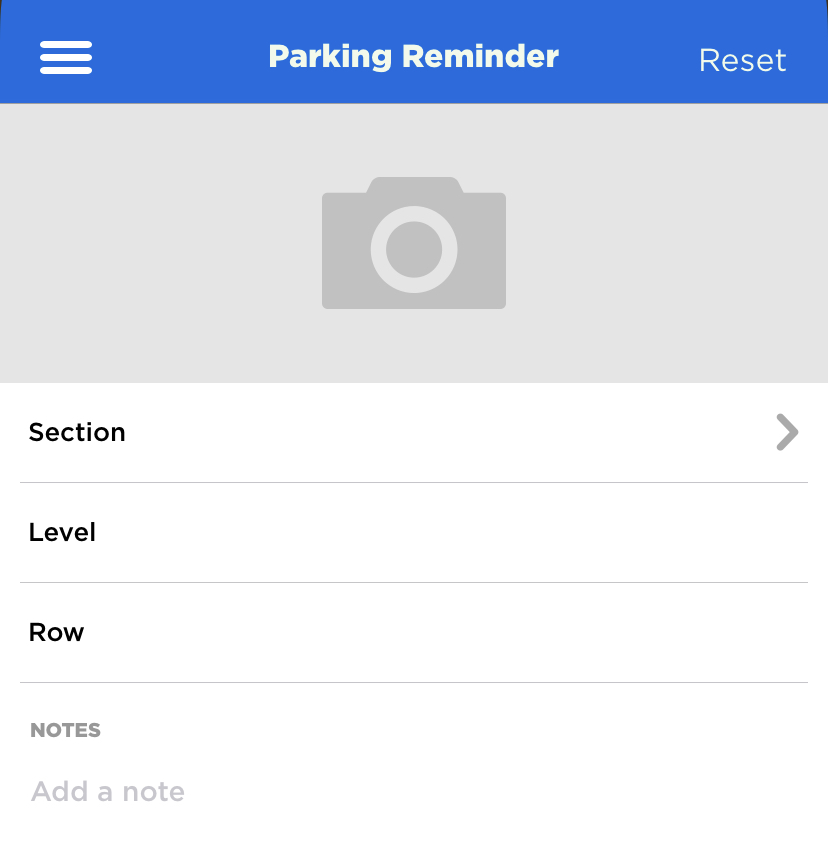 Universal's parking structure is huge. You can use this function to take a picture of the sign that labels the section and row where you parked. There's even a space to jot down your parking section, level, and row, to help you remember – as well as a place to add further notes.
Amenities
Restrooms (both standard and family), ride and rental lockers, and other services can quickly be referred to in this tab – a lifesaver for a large family!
Guest Services
Opening up into a submenu, the guest services category easily points you in the direction of Guest Services locations, ATMs, lost and found, service animal rest areas, first aid, and smoking-permitted areas. You can also contact Guest Services straight through the app.
AmEx Special Offers
If you're an American Express cardholder, you won't want to miss this part of Universal Orlando's mobile app. Here, you'll find a list of all available discounts for you across the property.
Help
"Help" leads you to ticket assistance (such as a phone number), complete account setup (t0 maximize the usefulness of the app), and food allergies (where you can get all the information you need on accommodating dietary needs).
Tucked away under the help section, Universal's FAQ is a huge boost in navigating your day through the resort. If you have a question or feel confused, this is a great place to check before having to track down a team member or go into theme-park panic mode. You can find answers on the following:
Free in-park wifi
Universal Express
Coca-Cola Freestyle
Universal Dining Plans
Child swap
Single rider
Package pickup
Vacation packages
Settings
From here, you can turn on or off the "Guide Me" function as well as park notifications.
All that's left beyond that is the typical "Privacy & Legal" and the option to sign out.
–
All in all, the official Universal Orlando app is an excellent tool for both first-timers and frequent visitors, and the free (and expanded) resort-wide wifi is certainly a worthy companion.
Do you have a question about the information on this page, would like to provide feedback, or did you spot an inaccuracy? Please let us know by posting in our
OI Community
Facebook group.