Welcome to Universal's Volcano Bay, where the typical frustrations of water parks (such as standing in long lines and wrestling with tubes) drift away and are replaced by a paradise full of thrills and relaxation.
This page in our OI Universal Center includes vacation-planning information on Volcano Bay, its location at Universal Orlando Resort, an overview of its map and rides, an account of its history, a summary of its (rather elaborate) backstory, and a tantalizing glimpse at its future expansion.
Skip to: Vacation planning | Location | Map | History | Backstory | Opening ceremony | Discount tickets | Expansion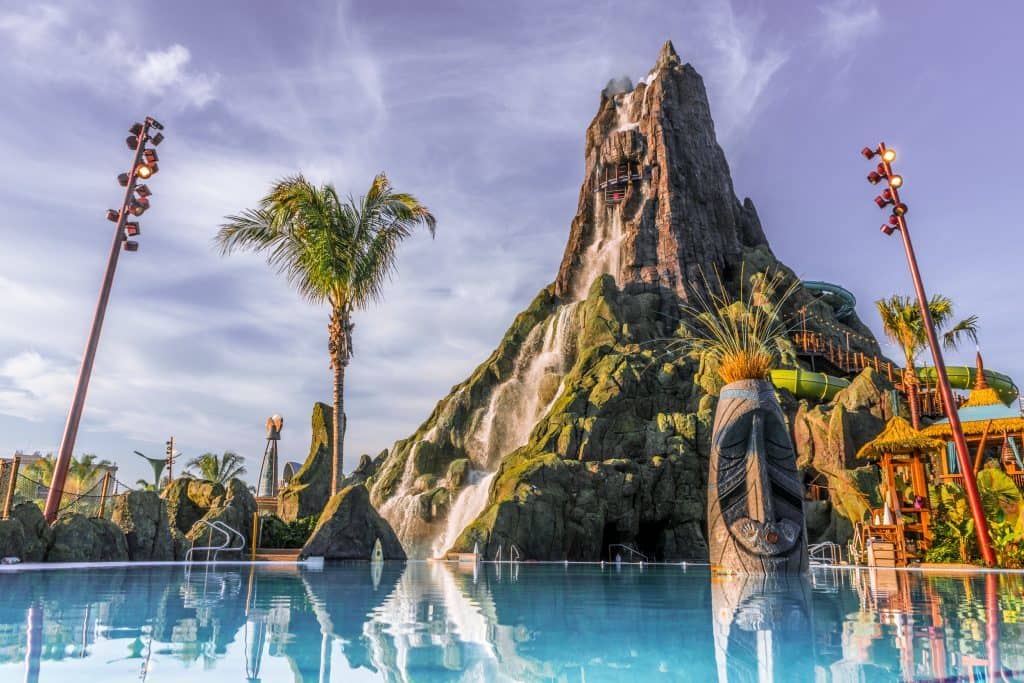 Universal's Volcano Bay – vacation planning
Unsurprisingly, adding a third park to Universal Orlando has added a lot of permutations to nearly every facet of a Universal vacation, from purchasing tickets to resort transportation to the number of days needed to see and do everything. We're going to tackle a few of these really big questions first, and then move on to explore some of the others in more depth.
How much is a ticket to Volcano Bay?
We'll try to make this one as simple and straightforward as possible, as Volcano Bay's prices can be a little tricky to unpack. A one-day, standalone ticket to Universal's new water park has a flat fee of $80 (for adults); multiday tickets, of course, range in price, depending on the length of stay. (You can find more info here.) If you're an annual passholder to Universal Studios and Islands of Adventure, you can look at upgrading your 2-park pass to a 3-park pass (therefore including Volcano Bay) at Guest Services or at the Annual Passholder Lounge in Universal Studios.
There are actually a few other points of consideration when it comes to purchasing your Volcano Bay admission – including whether or not you should pick up Express Passes – which we walk you through every step of the way in our complete guide to tickets.
What are Volcano Bay's hours?
Unlike Universal Orlando's two theme parks, Universal Studios Florida and Universal's Islands of Adventure, Volcano Bay has a pretty flexible set of operating hours, depending – of course – on the season. During the height of summer, for example, you can expect to see Volcano Bay open at, typically, 9:00 am and close at 9:00 that night; the darker, colder winter days, on the other hand, will generally see hours of 10:00 am to 5:00 pm (and, yes, if it gets too cold, the park closes altogether).
Don't worry – we keep track of this information for you every day of the week. Be sure to see our FREE 12-month crowd calendar, or follow us on Twitter, where we start off each day by posting the operating hours of all three parks.
Is Volcano Bay open year-round?
Just to reiterate, even though we just answered this one for you: yes, the water park stays open 12 months a year, although it will close on particularly frigid days.
During the 2021 winter season, Universal's Volcano Bay will be closed on select dates. Visit the Universal Orlando App for park hours and updates.
Which leads us to the corollary:
Is the water heated at Volcano Bay?
Yes, of course! Almost every water slide, pool, and lazy (or not-so-lazy) river is fully heated to at least 80 degrees, which is what allows the water park to remain open almost every day of the year.
Can I get Early Park Admission to Volcano Bay?
Yes, you can, but the early-access guidelines for Volcano Bay are a bit different than what you see over at the two theme parks – essentially, if you're staying at an on-site hotel, you can enter an hour early, but your annual pass won't do anything for you here.
Please see our complete guide to Early Park Admission for everything that you need to know (and then some!).
Can you park at Volcano Bay?
Just like with tickets, Volcano Bay parking isn't the obvious question it sounds like. Given the park's location – it's tucked away at the very edge of Universal Orlando Resort, nestled in between three hotels – the company didn't have room to squeeze a sizable parking lot next to the watery oasis. Then again, doing so would've violated Universal's overriding ethos of having only one, centrally-located parking area (back near the theme parks and CityWalk, the dining/shopping/entertainment district), so there's that, too.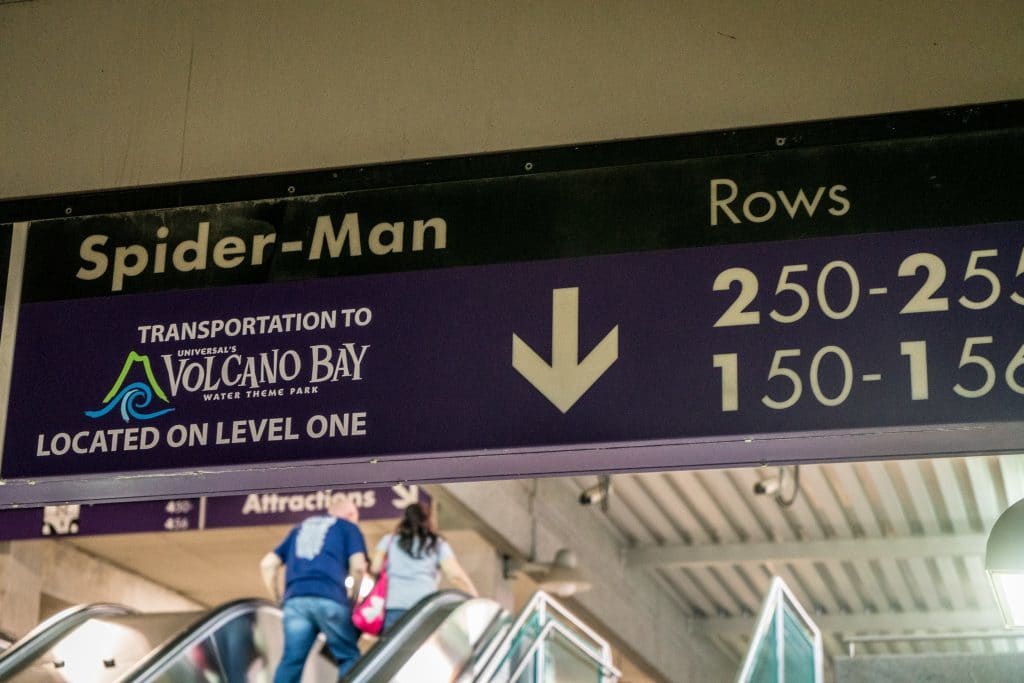 Here's the deal with parking: you'll need to stow your car at one of the two massive side-by-side parking garages, and then hop on a shuttle at the first floor of the transportation hub. If you're staying at one of the six on-site hotels, meanwhile, you'll have two different options of getting to the water park, and neither involves having to get back into your car: the two closest venues of Cabana Bay Beach Resort and Aventura Hotel offer direct walkways (which are huge time-savers!), while the four other hotels offer dedicated bus service.
While you can also access each of the resorts' own dedicated parking lots and/or garages even if you're not a guest there, you'll (a) have to pay a large fee to do so and (b) won't get access to the special, speedier walkways that connect two of the properties directly to the water park.
What's Volcano Bay's TapuTapu?
Universal's newest park revolves almost exclusively around a wristband that's been given the fancy name of TapuTapu – this little gadget will act as your wallet, locker key, return-time ticket for all of the rides, and, even, the activator of many a secret located around Volcano Bay. You'll receive your very own copy of the wearable device (for free!) when you first set foot in the water park, and handing it back over to Universal employees will be the last thing you do before you head back to your hotel.
You can learn even more in our complete guide to TapuTapu, but we do want to stress one facet of this experience right now: Virtual Lines.
What are Volcano Bay's Virtual Lines?
Universal's newest initiative at all three of its parks is Virtual Line, which has guests obtain a return time – via either the Universal Orlando app or old-fashioned kiosks stationed outside of the rides in question – and waiting in a, well, virtual line instead of spending a large amount of time standing in a physical queue (which thereby allows visitors to do such things as hit up food-and-beverage stands or buy merchandise). While just a handful of attractions use this over at the theme parks, such as Race through New York Starring Jimmy Fallon and Fast & Furious – Supercharged, every ride at Volcano Bay utilizes the new concept, with TapuTapu acting as the main mechanism of registering one's place in the Virtual Line.
As you might expect, there are a few pointers and strategies to keep in mind. You can find all these also over at our complete guide to TapuTapu.
Can you rent towels at Volcano Bay?
You can, at a cost of $6 per day. If you want to save a few bucks, you are allowed to bring in your own towels from home or from your on-site hotel.
Can you wear shoes on the water slides?
On some of the attractions, you're welcome to keep your water shoes on; on others, however, you'll be asked to take them off. (Don't worry – those rides have a place to store them before you hop on.)
If you're concerned about this uncertainty, we should probably point out that Universal very deliberately designed Volcano Bay to address the problem of needing to wear flip-flops or other types of aquatic footwear in the first place – the lazy river can be used to transport yourself to a number of the different attractions, for example, and a number of the paved areas have sprinklers on to keep them nice and cool.
How much is a cabana at Volcano Bay?
While half of Volcano Bay's allure is its high-octane aquatic attractions, the other half comes in the form of relaxation. To best take advantage of the latter – and provide a base of operations for the former – Universal offers a few different premium products (hey – this is a [water] theme park, after all), with the headlining add-on being its assortment of various cabanas that are spread all throughout Volcano. Naturally, what you end up paying depends on the size and type of cabana you want, along with the demand they're in for that particular day, with prices ranging anywhere from $159.99 to $599.99.
You can get the full rundown on all of Volcano Bay's upgrades, including how to potentially get a special discount on cabanas, in our complete guide to cabana rentals.
Can you bring a cooler into Volcano Bay?
Yes – Volcano Bay follows the same "conditions of entry" policy as its two theme-park brethren. There are restrictions to keep in mind here, however: coolers can't be hard-sided (this includes styrofoam), and they can't be any larger than 8.5″ wide x 6″ tall x 6″ deep. Additionally, the food that's transported inside them must consist of small snacks, can't require heating, and can't be part of a "picnic lunch" (although exemptions are made for medical reasons, of course).
You can find a full accounting of what Universal does and doesn't allow in the policies and restrictions section of its site.
Is there a Volcano Bay hotel?
Strictly speaking, no. More generally, however, there is the next-door Cabana Bay Beach Resort, which had an expansion built the very same year that Volcano Bay opened – two 200-room towers that include sections that look directly over the water park, providing some of the most beautiful views that are available anywhere in the resort (or, we'd argue, in all of Orlando).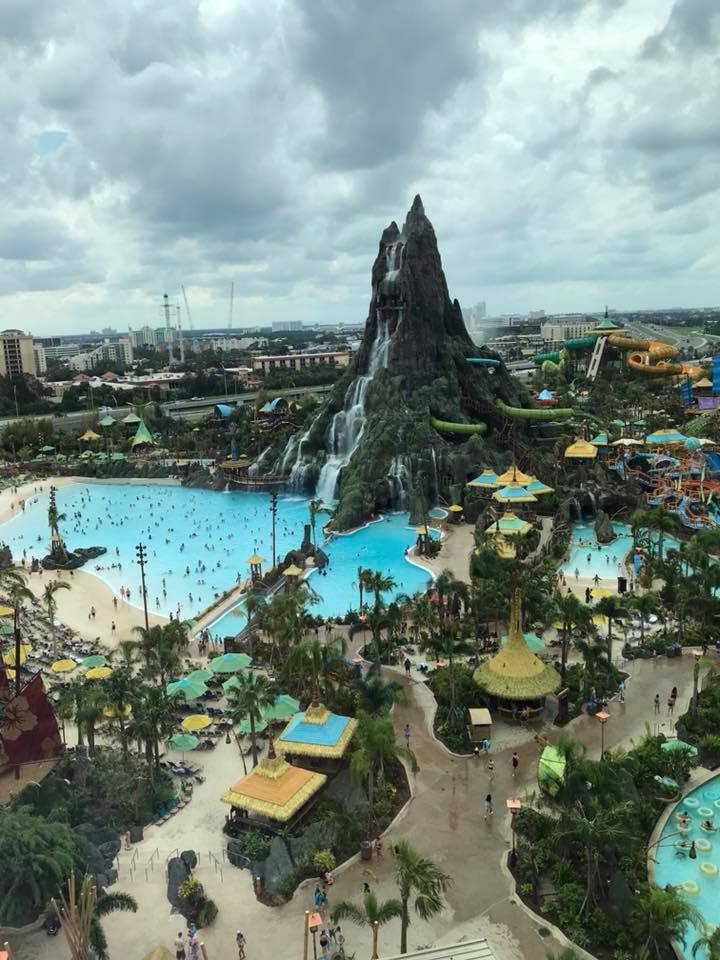 How many days do I need to spend at Volcano Bay?
There are actually a few different ways to answer this, depending upon whether you're able to devote full or half days to the endeavor – the latter of which, it turns out, just may be the best way to tackle all the watery thrills that Volcano Bay has to offer (not unlike the ideal way to experience The Wizarding World of Harry Potter, at least during the peak seasons).
But we should back up for a moment and explain why Universal's newest addition is worth spending an entire day at (or more), no matter how you may slice that chunk of time up. If you were to look at a map of Universal Orlando – which we highly recommend you do before arriving, and, even, plenty of times afterwards – you would notice that Volcano Bay is only, essentially, one-fourth the size of either Universal Studios Florida or Islands of Adventure. This, in turn, might make you conclude that it's insufficiently large or doesn't provide a full-day experience, but you couldn't be further from the truth – Volcano's 28 acres is actually very comparable to Walt Disney World Resort's two water parks, Typhoon Lagoon and Blizzard Beach (once you strip away their parking lots, that is, which Universal's park doesn't need). And Volcano Bay at nighttime is a sight worth seeing, given that various lighting effects make the aquatic eruptions and waterfall running down the central volcano of Krakatau look like lava.
We fully address this length-of-stay topic – and provide some different touring strategies – in our How many days to spend at Universal Orlando? guide.
What else can you tell me about Volcano Bay?
A lot, actually! There is the water park's full history, which is actually more interesting than you may think (it involves not only Universal's first failed efforts at expanding its resort years ago, but also such external properties as Wet 'n Wild and, even, Disneyland Paris Resort); its fully-fleshed-out backstory, which touches upon the mythology of the entire Oceania region; Volcano's already-confirmed expansion; and more.
You can find all this coming up next.
Volcano Bay – location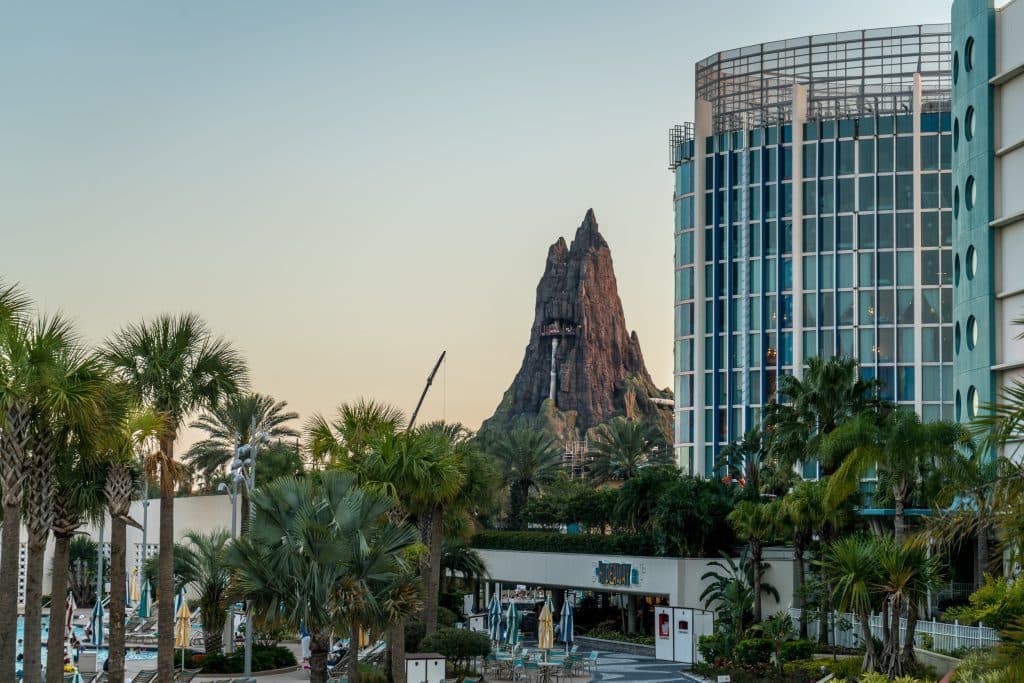 Not much land remains in Universal Orlando Resort's main parcel of roughly 725 acres, but the company has more than enough experience with conserving space and tucking brand-new experiences within its pre-existing infrastructure.
Volcano Bay is no different. You can find it on the very edge of Universal property, right next-door to the ultra-popular Cabana Bay Beach Resort, the biggest on-site hotel, and across the street from Aventura Hotel, the other prime value hotel and the only one to have rooftop views of Volcano. This location wasn't simply a matter of finding a big enough chunk of real estate to build upon – Cabana Bay and Aventura may offer the cheapest rates, but they lack the convenient water-taxi transportation to CityWalk and the theme parks (along with complimentary Express Passes, to boot). To compensate for this, however, and to offer another incentive for guests to stay at these two venues, Universal can now offer instant and easy access to Volcano Bay, allowing Cabana and Aventura patrons the ability to not worry about parking or catching buses.
As previously mentioned, all other on-site guests will have to grab a bus from their hotels to the water park, while those visitors who aren't staying on property will need to hop on the dedicated shuttle from the first floor of CityWalk's transportation hub.
Volcano Bay – map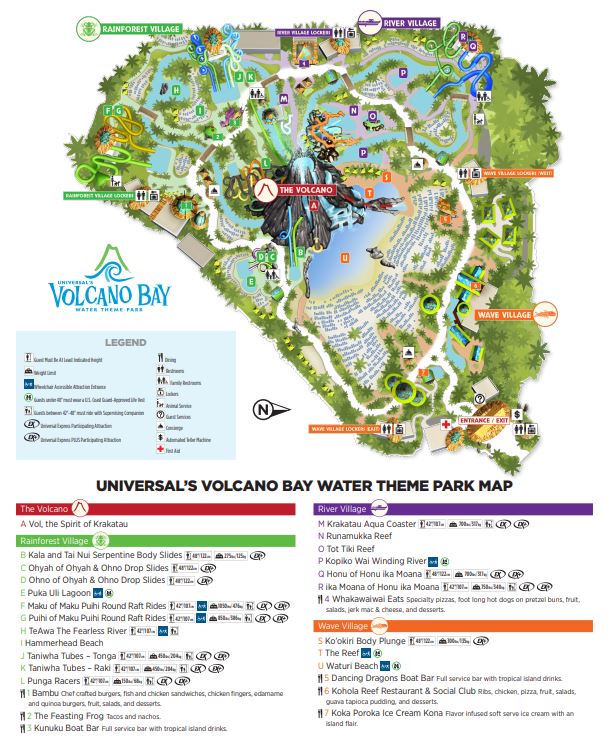 Unlike Universal's two theme parks, Volcano Bay doesn't have a central lagoon that acts as the primary organizational principle of the entire park. Instead, the man-made volcano of Krakatau serves as the central icon, with the three areas all radiating out from it.
Krakatau is the volcano, home to an interactive meet-'n-great experience (for the first three or so years of Volcano Bay's existence, Krakatau also housed four of Volcano Bay's most thrilling attractions, but Universal subsequently decided to split them off into each of the other three lands, leaving the volcano to stand by its lonesome). The first section you'll encounter, though, is Wave Village, which is located at Krakatau's base and which is home to the water park's main beach, Premium Seating, and huge pool. Off to the right of Krakatau is River Village, the something-for-everyone area (including a lazy river, kiddie areas, and unique aqua coaster), and stretching all around the back of the park is Rainforest Village, the home of even more "pulse pounding" water slides and a relaxation pool.
Volcano Bay – a history
Universal Orlando's love affair with water parks started even before it was a full-fledged resort: as Islands of Adventure was busy being built and CityWalk was just opening up in 1998, Universal purchased Wet 'n Wild Orlando, a property that was hailed as the country's first modern water park when it originally bowed in 1977. This was intended to be the very first move to an expanded, geographically-displaced themed empire that would be large and robust enough to directly compete with Walt Disney World Resort, which would have included the construction of a third and fourth theme park and the addition of a series of sporting complexes, among other features and amenities.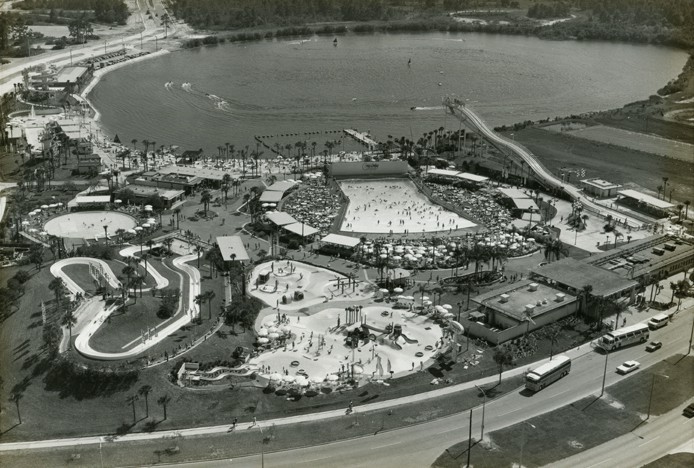 Unfortunately, the project fizzled out, and the company was forced to sell off the extra 1,000 acres of land that it had earmarked for future expansion. Wet 'n Wild remained under the Universal umbrella, but it lingered as an afterthought, partially because what money was available went to maintaining and (just barely) upgrading the two theme parks and partially because the water park was located five minutes down the street from the resort proper.
Once The Wizarding World of Harry Potter hit the scene over a decade later, however, and once brand-new parent company Comcast saw the massive flood of money that was starting to pour in, thought immediately turned to doing away with the rather standard water park and creating, from the ground up, a new and next-generation experience. Wet 'n Wild Orlando closed its doors permanently on December 31, 2016, sending many of its employees up the street to its replacement. (The 64 acres of land that it once sat on, which Universal only bought in 2013 for $30.9 million [the company had leased the real estate for the 15 years previous to that], will soon be home to a new hotel that, rumors indicate, will be massive – probably some 4,000 rooms in total.)
That next-level water park is, of course, Volcano Bay, a location so detailed in its theming and so involved in the breadth and depth of its attractions that Universal officially refers to it as a "water theme park" and as the resort's third gate. After years of being rumored (which included reports of its original name being WonderSea Island), it was officially announced on May 28, 2015, nearly two years to the day before it would open – and long after construction had already begun.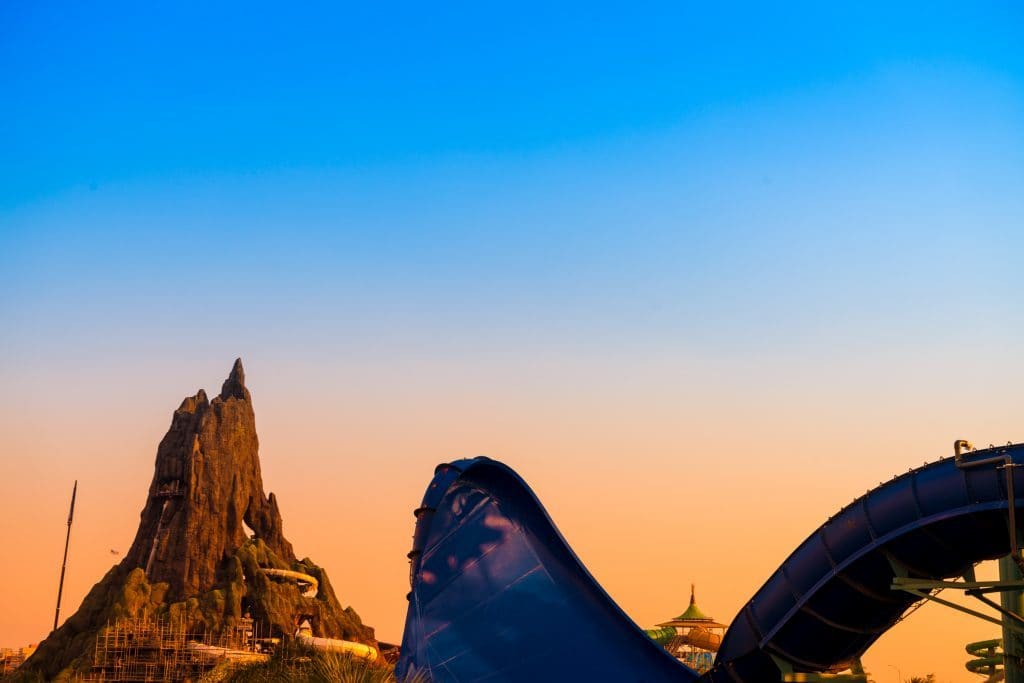 Volcano Bay's conceptual history, however, dates even further back – all the way to the early 1990s, when Disney was busy sketching out future expansions for its Disneyland Paris Resort. Lava Lagoon, a proposed water park, was expected to be the property's third gate, ironically enough, and would have featured a massive, man-made volcano as its central icon, along with distinctive visual features, such as lush foliage, Tiki theming, and a series of water slides, lazy rivers, and wave pools that would have crisscrossed the volcano's slopes and encircled its base. Though the project would never see the light of day, thanks to the European Disneyland's constant financial struggles, many of its concepts live on in Universal's newest park; one of Lava Lagoon's lead Imagineers, Thierry Coup, now serves as a senior vice president of Universal Creative, one of the main divisions responsible for bringing Volcano Bay to life.
And no recounting of the water theme park's history would be complete without a brief comment on its opening date: the new gate is not only meant to be Universal Orlando Resort's biggest expansion since the advent of CityWalk and Islands of Adventure, it is also meant to be the company's counter punch to Pandora: The World of Avatar, which is, in turn, Disney World's own answer to Universal's Harry Potter areas. Animal Kingdom's newest land opened on May 27, 2017, just two days after Volcano Bay, and insider reports indicated that both companies were in something of a race to debut their newest additions first.
What is Volcano Bay's backstory?
Nothing themed can truly be "next generation" without a narrative, right? Universal has gone all-out on Volcano Bay's backstory, providing a compelling reason for the park's pan-Pacifica theming and, more intriguingly, its various interactive experiences that will be sprinkled throughout its four lands.
The water park's creation story starts with the Waturi, who, for some unknown reason, set out on their outrigger canoes for a new home. According to their legend, a mystical, many-golden-finned fish named Kunuku was destined to guide them to their new home, but the Waturi searched all across Pacifica, visiting many islands – Bali, Tahiti, and Easter Island among them – and never once encountered her.
Finally, just as they were approaching the very edge of the world, they found Kunuku playing in the waves. "You are ready," she said to the people, and then turned and swam away. The voyagers followed her, and, within a day, they caught sight of a smoking mountain on the horizon – Volcano Bay.
This island was pristine, beautiful, lush – everything they would want in a new home. The Waturi settled there, taking with them all the customs, music, and art of the various cultures they had encountered along their journey. It is the closest place to being paradise on Earth.
But, it turns out, the island wasn't always so peaceful:
It all began with the fiery god Krakatau. Though his wrath and fury dominated the land, he couldn't contain the adventurous spirit of his daughter, Tai Nui. She fell in love with a native youth named Kala, and when her fiercely protective father learned of the romance, he flew into a rage. He banished Kala forever to the sky, where he became the Moon.
Overcome with grief, Tai Nui's tears became the Sea. Krakatau then realized he had only succeeded in destroying what mattered most to him: his daughter's happiness. Determined to reunite the young lovers, he reached into the earth and pulled it to the sky – creating the volcano of Volcano Bay. Krakatau trapped the remains of his anger and jealousy in the form of the fire spirit Vol, whom he imprisoned deep within the volcano.
This is how the Sky, Sea, and Earth united to form the paradise of Volcano Bay.
Volcano Bay – opening ceremony
On Thursday, May 25, 2017, Universal held a grand opening ceremony to officially welcome guests to its new water theme park. Taking inspiration from Volcano Bay's elaborate backstory, the festivities were distinctly South Seas in flavor, with a number of Maori practices specifically being invoked, from tribal singers, dancers, and drummers performing on the sands of Waturi Beach to outrigger canoes floating behind them in the huge, multi-directional wave pool.
The capstone of the event – no pun intended – was the presentation of a special stone, which was transported from the bottom of the ocean near New Zealand to Orlando. This ancient tradition is meant to bring good fortune to future generations, and it was passed from a tribal chief to Bill Davis, the President and COO of Universal Orlando Resort.
The watery finale was the plunging of a couple hundred annual passholders into the wave pool, marking them as the first official guests to enjoy Volcano Bay.
Volcano Bay – tickets
Are you ready to plunge into the wonderful waters of Volcano Bay? We've got you covered. We walk you through the ins and outs of the water park's tickets here, and we can help you purchase your discounted admission here.
Volcano Bay – expansion
Even before Universal's new water theme park opened, the company was already teasing that it had reserved a five-acre parcel of land for a future expansion – and that, furthermore, construction could start within the first 12 months of the park's operation, depending upon its popularity. While that hasn't come to pass, the development still hovers in the very near future.
While we have no idea what would go into this expansion pad, we certainly have some ideas: even more cabanas, should the demand for their rentals prove high enough, and, of course, even more slides. Our biggest hope is for a sister attraction to Krakatau Aqua Coaster, one that includes all the rumored bells and whistles that never came to fruition with the original (such as in-door dark-ride elements, like audio-animatronic figures and projection screens, to tell a story).