Skip to: Overview | Location | Restrictions | Fear factor | Fun fact | Guest reviews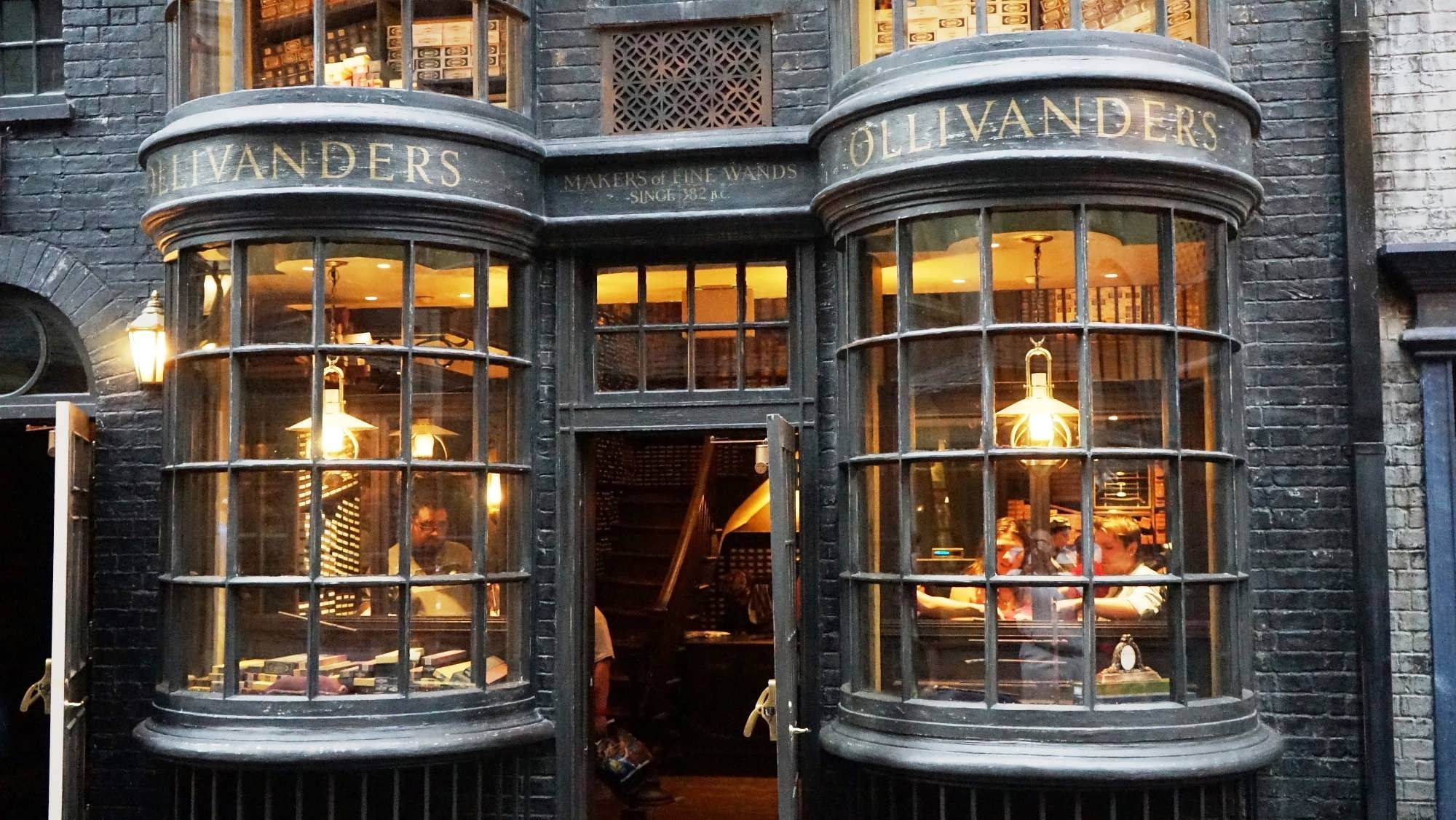 What is Ollivanders Wand Shop?
Much like its sister store in The Wizarding World of Harry Potter – Hogsmeade, the main branch of Ollivanders in Diagon Alley features a "wand chooses the wizard" show that lets one guest (out of a group of up to 25) receive a Harry Potter experience that is second-to-none. Although the proceedings are nearly identical to those in Hogsmeade, this Ollivanders has two showrooms that run simultaneously, and it features a far bigger – and much more detailed – store in which to do your shopping afterward.
Where is Ollivanders Wand Shop located?
In The Wizarding World of Harry Potter – Diagon Alley, which is in Universal Studios Florida.
Ollivanders Wand Shop – height restrictions and other factors
No restrictions; does not accept Express Passes.
Ollivanders Wand Shop – what you wish you knew before you experienced it
For the die-hard Harry Potter fan, the chance to have a wand "choose" you is truly magical, but it's important to note that only one person from each group of approximately 25 guests will be selected to participate in the show (the rest of the group simply observes). If chosen, you will still need to purchase your wand in the shop immediately afterwards if you want to take it home with you.
How scary is Ollivanders Wand Shop?
We rate Ollivanders zero out of five Dementors in terms of fear factor – the wand show takes place in a darkened room with some atmospheric practical effects, and that's it.
Ollivanders Wand Shop – wait times
Now that Ollivanders Wand Shop has locations in both Universal Studios Florida and Islands of Adventure, wait times to see the show (and, if you're very lucky, to have a wand choose you) have decreased dramatically. You shouldn't have to wait much longer than 10 to 15 minutes, even on busy days.
What was Ollivanders Wand Shop's opening date?
July 8, 2014
Ollivanders Wand Shop – OI fun facts
Ollivanders sells both original and interactive wands; the latter can be used at interactive spell spots throughout both Diagon Alley and Hogsmeade. If the shop is too crowded, look for Wands by Gregorovitch in Carkitt Market – most of the same wands are available for purchase here, too.
And if you need help picking out a wand, our wand guide has the secret that author JK Rowling used to help her choose which magical instrument went with which wizard. Give it a try!
Ollivanders Wand Shop – photo gallery
Ollivanders Wand Shop – real guest reviews
Diagon Alley Ollivanders Wand Shop
Average rating:
4 reviews
Jan 4, 2017
choosen
Date Of Last Visit:
9dec2016-17dec2016
my adult daughter has been in love with harry potter since elementry school. i booked a trip for us. she pushed my wheelchair willingly each and every day. own chair, have to keep foot elevated. she wanted to be choosen for a wand so three times, different wand rooms different wand keepers. second time i was asked to stay behind when beginning to leave.. those in chariots are first in and first out of wand ceremonies.
thought daughter was choosen, it was I, daughter videoed.
third time, with several children present, my daughter and i were both choosen toghether, she was so excited. we purchased all three of the wands when choosen. both my choosen wands were ivy wirh dragon heartstring. daughter also had dragon, but her wand was walnut
everytime different wand room, different wand keeper
an experience she will never forget. she teared up several times just being in harry potter world,
Jun 5, 2016
Brought me to tears rwice
Date Of Last Visit:
May 16, 2016
We went to ollivanders 3 times in 2 days. My son wasn't lucky enough to be chosen but as we were leaving the wand master asked him to wait for a moment and then gave him his very own matching experience. He was so sweet and caring amd thoughtful that it brought a tear to my eye. It was definitely the highlight of the trip for my son and he wanted to go back. Front door staff encouraged a re-visit and the 3rd time he was picked first. When he said he already had his wand the wandmaster picked another participant (who was quite grateful). On our way out the wandmaster (a different one each time - all exceptional) asked to see his wand and then proceeded to tell him about the dragon that the heartstring core came from. Again a very thoughtful gesture at the end of what must have been a very long day. I'm sure we'll be back again next year.
Jul 24, 2014
Amazing!
Date Of Last Visit:
July 14-19th, 2014
I have to say they did a great job with this! Many like to say that the "Wand Master" chooses only children but this is not true! I am 21 and happened to be selected for the experience. I will note that I was "dressed for the occasion" I wore my harry potter socks, shirts, and scarf as a belt. Past this I also wanted to point out something that my fiance and I quite enjoyed. As extreme HP fans and an active Pottermore user I was thrilled to know that I was doing the "Ollivander Experience" BUT that the actor stated he was a Wand Master, not Ollivander. This was great because he didn't look anything like the real character except for his dress attire. Needless to say this is a MUST DO!! I used this website to help guide me and Ollivander's was the FIRST thing we did! EFG was a different day where we went early and did it first. They are the two things I would suggest doing on different days so you can do them immediately before it gets crazy.
Jul 10, 2014
A better choice than Hogsmeade
Date Of Last Visit:
July 6, 2014
When I went before the grand opening, there was no line at all. That being said, the inside waiting area was really nice and much better decorated. The show space was pretty much the same as in Hogsmeade, however, the actor who played the wand maker was better than the one I've seen in IOA. I still have one complaint. Although I definitely don't want them to use microphones, I do think the actors need to project their voices more. It is an intimate space, but sometimes they are more focused on the one person chosen, than making sure the entire audience can hear their performance.
Do you have a question about the information on this page, would like to provide feedback, or did you spot an inaccuracy? Please let us know by posting in our
Orlando Informer Community
on Facebook.
OI Universal Center » Wizarding World of Harry Potter – Diagon Alley