One of the great things about Universal Orlando Resort is that there is SO much to do for all ages. But sometimes it is nice to take a break from the family-friendly routine and enjoy the resort as adults! Think of this guide as a "Greatest Hits" for what to do while on property.
Skip to: where to stay | adult dining | adult drinks | adult rides | adult nightlife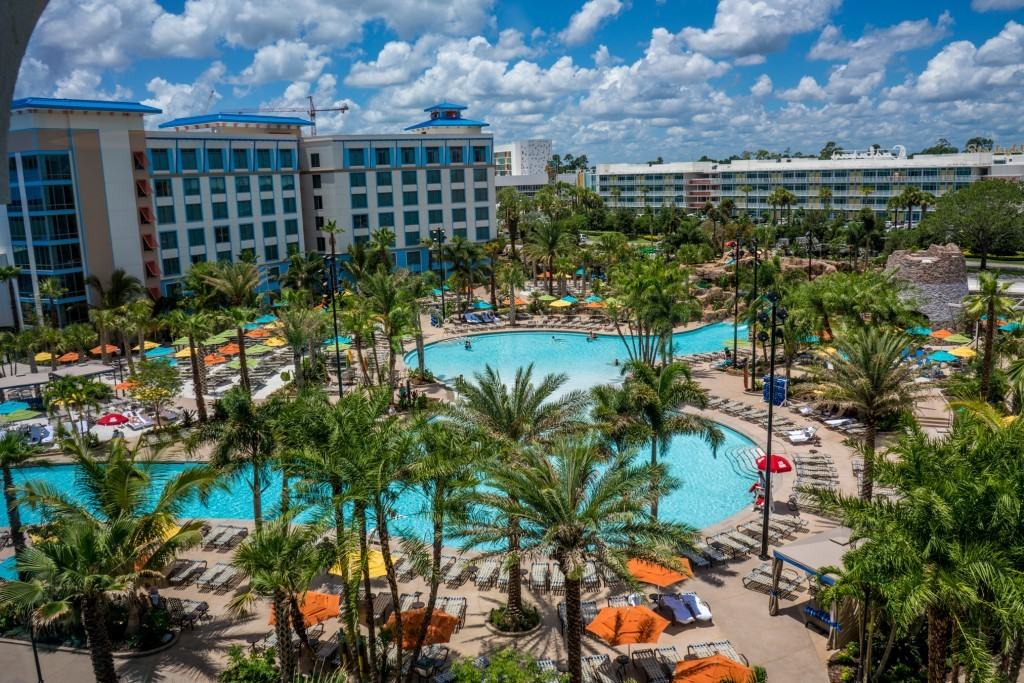 Where should adults stay at Universal Orlando Resort?
Here are the top three advantages to staying at a Universal Orlando Resort hotel:
Keep in mind that Florida Residents are also sometimes granted a discount on their stay. The following hotels are best for trips on a budget. Stays here include Early Park Admission to the Wizarding World, free transportation to and from the parks, and complimentary merchandise delivery to your hotel, but unfortunately don't include Express Passes:
Loews Sapphire Falls Resort: If you're caught between wanting the luxuries of the premier resort options and being drawn by the more budget-friendly choices, Sapphire Falls is for you. Covered in vibrant Caribbean theming, this resort transitions seamlessly into the garden walkway that leads you to CityWalk. It also is directly connected to Loews Royal Pacific Resort, allowing guests to easily take advantage of the amenities at that location.
Universal's Cabana Bay Beach Resort: This blast of retro style will transport you back in time and is tons of fun for the whole family. Featuring an extensive on-site gym, a full arcade, two pools, and a bowling alley, this hotel is the option for those looking to have some fun and stay close to the action — while being mindful of a budget.
Universal's Aventura Hotel: Aventura boasts the best view of Universal Orlando Resort through their rooftop bar, Bar 17 Bistro. The hotel is themed in sleek and elegant modernity and provides everything you need for your kid-free vacation. Its convenient location also makes it a favorite for those going to Volcano Bay.
Universal's Endless Summer Resort – Surfside Inn & Suites: If you're looking for a quieter, smaller, more laid-back place to kick up your feet at the end of the day, Surfside Inn & Suites is for you. As the name may suggest, this beach-y resort will keep you in the wistfulness of Florida's "Endless Summer." Rad.
Universal's Endless Summer Resorts – Dockside Inn & Suites: The sister hotel to Surfside, Dockside Inn & Suites is everything that Surfside has to offer, but on a larger scale. Two sections of the hotel share a beautiful and commanding lobby. Go across the hotel to explore both pools, and if you are truly spent at the end of the day, you can call up pizza delivery straight to your room.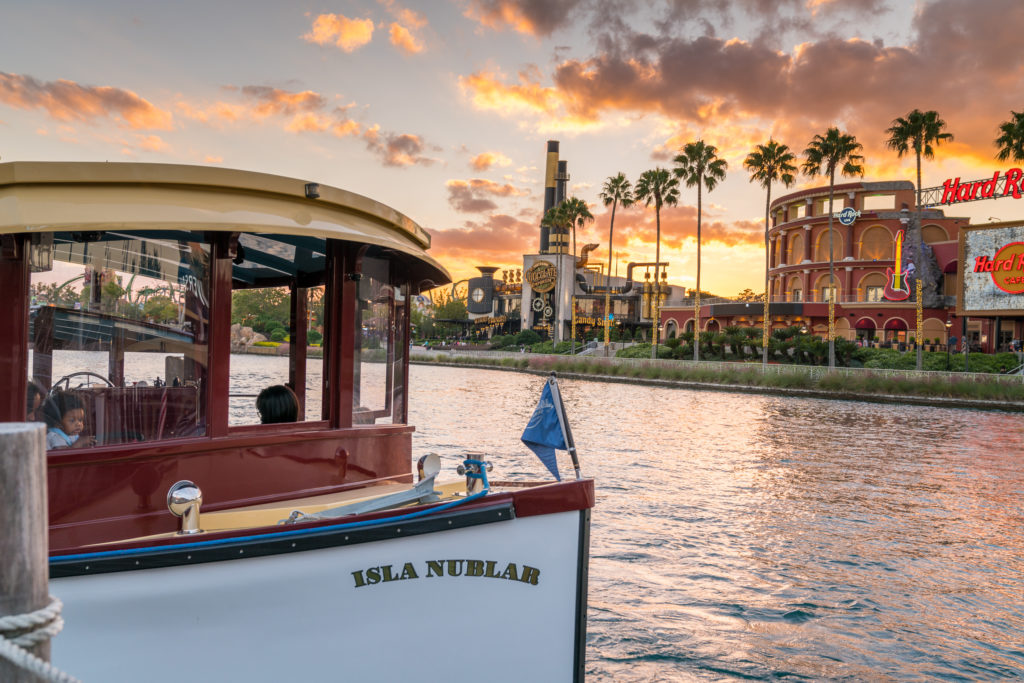 These next hotels are best for a complete and immersive stay. A stay here will earn you complimentary Express Passes to Universal Studios and Islands of Adventure, Early Park Admission to The Wizarding World, free transportation to and from the parks, and merchandise delivery so you aren't stuck carrying souvenirs around all day:
Loews Portofino Bay Hotel: If you've seen pictures of Universal resorts on Instagram, there's a good chance you've already seen images of this hotel. Inspired by the village of Portofino, this award-winning resort is a massive, expansive, and all-encompassing testament to its Italian inspiration. There are three unique pools to choose from, and with so many rooms facing the harbor you travel on (via water taxi) to get to CityWalk, it's hard to get a bad view if you have a room here.
Hard Rock Hotel: Hard Rock is a name that hardly requires an introduction. This hotel is, definitively, the closest stay to Universal Studios and Islands of Adventure. With authentic rock memorabilia scattered throughout the entire hotel, guests will find something new to seek out each time they stay here! And the coolest feature on site? The underwater music at the pool.
Loews Royal Pacific Resort: Another award-winning adult vacation destination is Royal Pacific Resort. Themed in lush tropic motifs, Royal Pacific keeps guests relaxed and entranced in equal measure. The walkway up to the lobby is enough to make you forget that you are just a few yards from an extensive theme park, transporting you instead to islands long ago forgotten.
Remember – with the exception of Surfside Inn & Suites and Dockside Inn & Suites, all of the hotels are connected with a convenient and beautiful walking path that leads you straight into Universal CityWalk. Of course, they all also provide transportation services (via bus or water taxi) if you would rather – but we have found that a nice stroll on the shaded, waterfront walking path takes about the same time as enjoying a drink! Might be a coincidence, but we'll take it.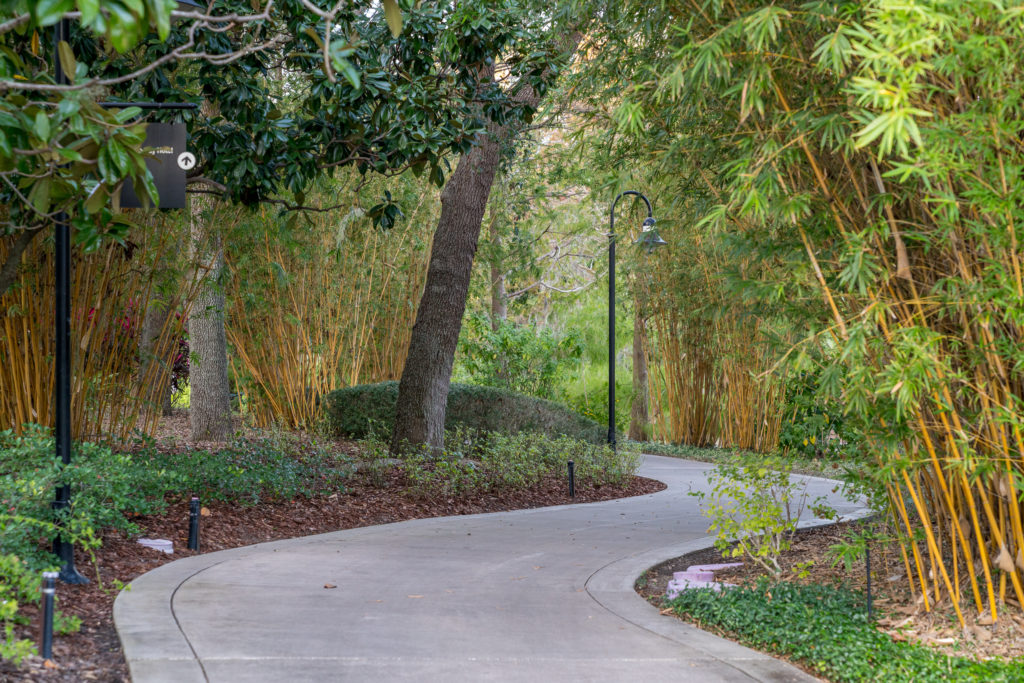 If you are heading out to enjoy Universal's Volcano Bay, your hotel will provide a complimentary shuttle service to make sure you get there easily. If you'd rather, you can also walk there from Cabana Bay, Sapphire Falls, or Aventura! You can also check out our guide page here if you want a comprehensive guide to picking the perfect hotel!
Best adult dining at Universal Orlando Resort
One of the advantages to staying at a Universal hotel is that you have early access to the parks and can enjoy Diagon Alley with super low crowds, out of the heat. A great way to start your day is to enjoy breakfast at the Leaky Cauldron. Check ahead of time to verify that walk-ups for breakfast are allowed, as this policy changes during busy times of the year. (Pro tip: no matter where you're enjoying breakfast, check wait times and see what virtual queue options are available across the resort.)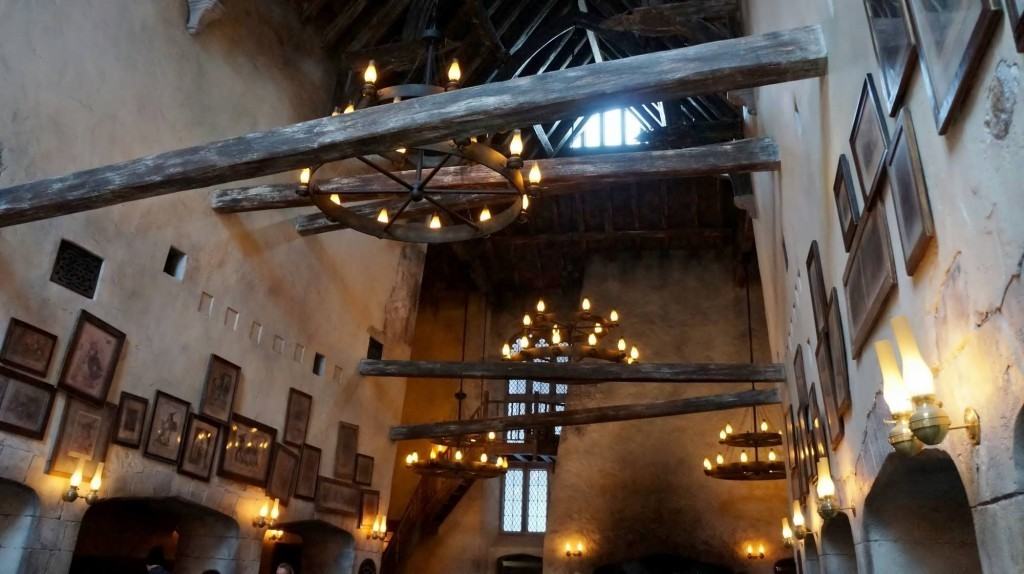 At 11:00, the parks really open up and a variety of food and drink options become available. Eating at Finnegan's Bar & Grill is a pilgrimage for many Universal Studios visitors, but you can also opt for a burger at Moe's Tavern in Springfield: Home of The Simpsons, or even a quick-service sweet or savory crepe from Central Park Crepes. If you find yourself meandering from park to park, you can pop into one of the many options at CityWalk on your way. Bend the Bao is a popular and delicious mid-day treat. If you like Pina Coladas and getting caught people watching, we recommend eating at Jimmy Buffett's Margaritaville and sitting on The Porch of Indecision doing just those things. At Islands of Adventure, Confisco Grille is one of the last storefronts in Port of Entry, and has a variety of dishes from around the world for you to sit down and enjoy. Alternately, you can grab a plate of loaded tater tots from Green Eggs and Ham Café in Seuss Landing, or a vegan jackfruit plate (with a side of plantains) from Thunder Falls Terrace in Jurassic Park. No matter what – don't forget to stop somewhere and get a churro to complete your dining experience.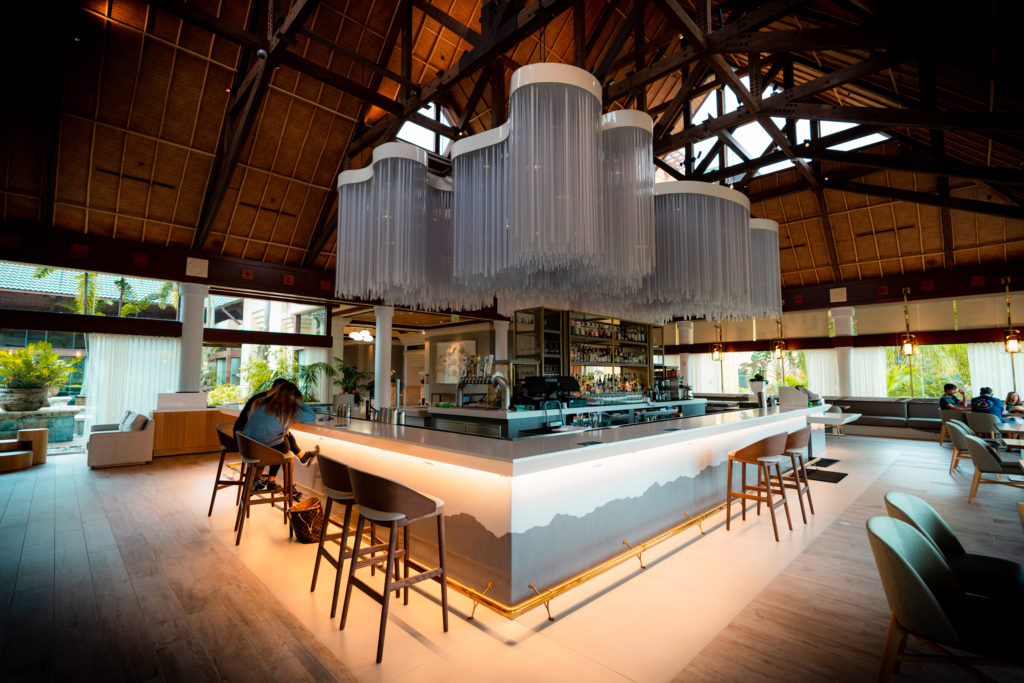 It's always nice to sit in the AC after a full day at the parks and recap the day's events over a few beautiful plates of food and refreshing cocktails. The flagship dining experience at Islands of Adventure is Mythos Restaurant, located in The Lost Continent. You definitely want to go online and make a reservation to make sure you get to enjoy this experience! CityWalk also has a number of great choices for adults to go for a kid-free date, including Antojitos Authentic Mexican Food (which features an entertainment stage and a prominent wrap-around bar). If a quieter venue is more your thing, one of our favorite little spots is actually located in Loews Royal Pacific Resort. Situated in the lobby, with floor-to-ceiling window views of a fountain, sits the Orchid Lounge. With a wall of TV's, casual couch seating or table-side service, and a giant wraparound bar, this is the perfect place to enjoy a plate of sushi and discuss what to do next.
If you are looking to celebrate a special occasion, we recommend The Palm, located at The Hard Rock Hotel. Reservations are recommended since this is the Hard Rock Hotel's fine dining experience. With a menu that carries scallops, salads, and steaks, there are options for everyone at this award-winning restaurant. Plus, with its close proximity to CityWalk, dining at The Palm makes for an easy transition into nightlife.
If you're enjoying the day at Volcano Bay, you can grab a quick bite from The Feasting Frog, or sit out of the shade and take your meals at Bambu or Kohola Reef Restaurant & Social Club. All of these dining options keep guests in the tropical island environment they enjoy throughout the park.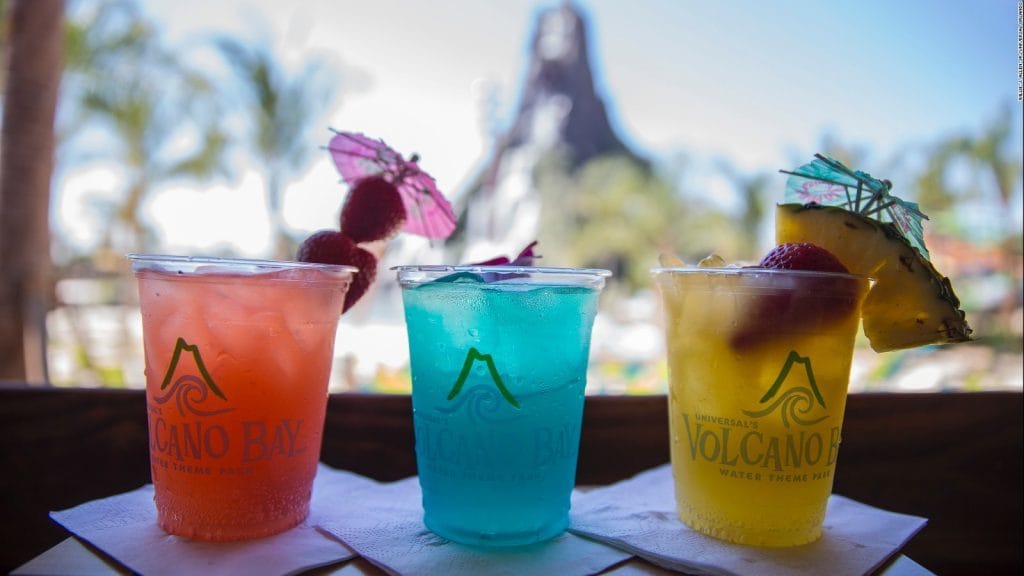 Best adult drinks at Universal Orlando Resort
Let's be honest, this is the section you came here for. Enjoying an adult beverage during the day while exploring some of your favorite spaces at the parks is just about as good as it gets. So, how to do it? Where to even start?
As they say, you can't drink all day if you don't start in the morning. Diagon Alley is one of the only places in Universal Studios that sells alcohol before 11:00. You want to go to The Fountain of Fair Fortune (by the bathrooms across from Knockturn Alley) or The Hopping Pot (around the corner from Weasleys' Wizard Wheezes). We'd recommend the Wizard's Brew (stout) or Dragon Scale (lager), but you can also enjoy a crisp Yuengling on draft if you'd prefer, or a non-alcoholic Butterbeer if you want a sweeter start to your day.
Here's a pro tip that deserves its own paragraph: you can take drinks with you while you wait in the queues. Yes, you read that correctly. We love grabbing a pint from Fortune and then hopping in the line at Harry Potter and the Escape from Gringotts. Team members will kindly remind you when you can no longer bring your beverage with you, but for many of the rides at Universal Studios and Islands of Adventure, you can enjoy your drink for almost the entirety of the wait. While there are clear advantages to this, beware of tiny bladders!
Other places of note in Universal Studios are Finnegan's (which also offers a to-go walk up to a full bar) and Chez Alcatraz, a spot located in San Francisco famous for its "ocean attack" cocktail, but which also has wine, beer, and other spirits on the menu. Of course, don't forget Duff Brewing on the other side of the lagoon!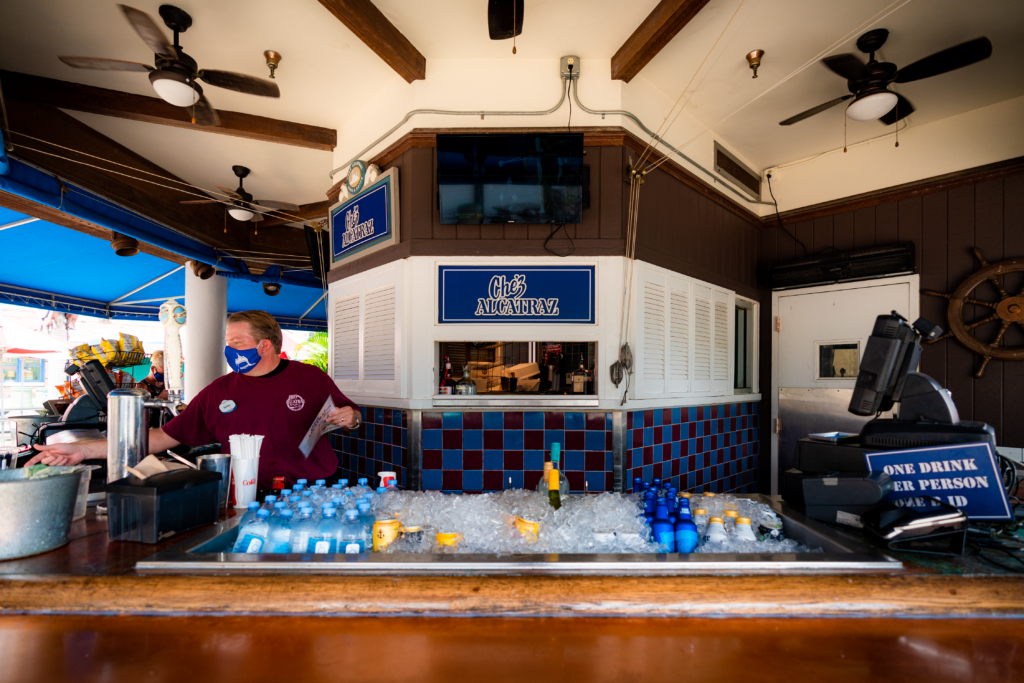 If you're in Islands of Adventure, Backwater Bar is the place to be. Although it is the same bar that services Confisco Grille, it has its own entrance (around the corner from the main Confisco entrance) and specialty cocktails of island fare that you can enjoy on their shaded patio. Just a reminder – many of the places we've mentioned (and many kiosks in both parks and CityWalk) usually don't open until 11:00.
A special hidden gem in Islands of Adventure is in Hogsmeade. Directly across from Hagrid's Magical Creatures Motorbike Adventure is the iconic Hog's Head bar. (Pro tip: don't wait in line at the restaurant – go through the passageway between Hog's Head and the bathrooms and use the back doors to get to the bar – don't worry, you aren't cutting the line.) Once you're in, order the Hog's Tea. It's a raspberry long island, which is the perfect refreshment in the middle of the day, and a treat to take in line with you as you take in the details of Hagrid's queue. The Hog's Head also usually opens before 11, so if you start your day at Islands of Adventure, this is a great place to go!
Sprinkled throughout both parks and CityWalk are a number of kiosks and drink stations for you to grab something quickly. While the drinks on these carts vary, you can generally find domestic beer, Foster's Lager, White Claw hard seltzers, and water (if you're into that).
Back at Volcano Bay, guests get drinks and refreshments from Dancing Dragons Boat Bar and Kunuku Boat Bar. Both locations feature beer and wine options, as well as an assortment of fruity and festive island cocktails.
Best rides for adults at Universal Orlando Resort
A clear advantage of an adults-only day at the parks is that you are free to ride some of the bigger rollercoasters! The exciting new thrill coaster on property is the Jurassic World VelociCoaster, located in the Jurassic Park section of IOA. With lifelike Velociraptors in the queue and a drop of more than 150 ft, it's a must-do. While you're in that section of the park, the Jurassic Park River Adventure is also a can't-miss water ride where you come face to face with an animatronic T-Rex. Towards the entrance of Islands is The Incredible Hulk Coaster, which boasts seven inversions and reaches speeds of nearly 70 mph.
Back at Universal, Hollywood Rip Ride Rockit is a classic favorite. (Pro tip: ride this at night for a spectacular view of the parks.) Lock in, pick your favorite tune, and prepare for an immediate 90-degree ascension to bring you to the first drop!
One of the top photo spots in any of the parks is at the primary intersection in Diagon Alley, right in front of the dragon that sits atop Gringotts Bank. After snapping your pic, be sure to ride Harry Potter and the Escape from Gringotts. (Pro tip: get the back row if you can!) As one of the few attractions in Universal that places audiences in a film-familiar storyline, you have the chance to be fully immersed in one of the most exciting moments of the Harry Potter franchise.
Again, these are just some highlights to take advantage of when traveling without kids. Here is a comprehensive list of thrill rides at the parks:
Best Rides for Adults at Universal Studios Florida
Hollywood Rip Ride Rockit Think jukebox-meets-rollercoaster. As host to the highest point in Universal Studios, this classic 'coaster is a must-do for thrill seekers. After you get settled into your seat, you have about 10 seconds to pick what song you want to rock out to! Beastie Boys? ZZ Top? Up to you!
Harry Potter and the Escape from Gringotts Did you ever say to yourself, "I wish that was real," as you watched the Harry Potter films? If you're like the rest of us and answered yes, then Gringotts is a can't-miss experience. As I mentioned before, this is the only ride at Universal Orlando that places you in a storyline from the Harry Potter films. Although technically a roller coaster, this is easily one of the more mild coaster experiences available, but it doesn't sacrifice any fun!
Revenge of the Mummy An endless debate among die-hard Universal fans: which Mummy is better? Universal Studios Florida, or Universal Studios Hollywood? We have our opinions, but ride both and let us know what you think! This indoor ride is full of surprises, but we ultimately categorize it as a moderate roller coaster. With no inversions and a top speed of 45mph, it is more pure fun than thrill.
Best Rides for Adults at Universal's Islands of Adventure
The Incredible Hulk Hulk smashes in this seven-inversion, 110-ft cobra roll, nearly-70mph coaster. It is impossible to go through Port of Entry to Marvel Super Hero Island without noticing this behemoth of a ride. Although those stats may be impressive, don't be too scared – the track itself provides a smooth and exhilarating experience that will have you coming back for more.
Doctor Doom's Fearfall You might accidentally walk past Doctor Doom's Fearfall since it's tucked away in Marvel Super Hero Island, but keep an eye out for it if you want the best view of the parks. What will give you that great view? The highest point in Universal Studios or Islands of Adventure. That is, until you drop 185 feet back down to earth!
Dudley Do-Right's Ripsaw Falls This is a favorite on a hot Florida day (i.e., all of them). In this classic log flume ride, guests will spend nearly 6 minutes relaxing in its splashy, cartoon-themed experience. You'll get to see familiar characters (think Rocky and Bullwinkle) and have some good views of the parks, but beware! Forecast predicts 100% chance of getting wet.
Jurassic World VelociCoaster You can see the track for VelociCoaster from any of the beautiful viewing points around Islands of Adventure's central lagoon. Like the animals the ride is based on, VelociCoaster promises raw kinetic energy in this super launch-y roller coaster. Are you racing alongside the hunters, or are you being hunted?
Jurassic Park River Adventure Hold onto your butts! Jurassic Park River Adventure starts off by taking guests on a tranquil tour of Jurassic Park, and then…things go wrong. We won't give away any more spoilers, but prepare to get wet at the end of an 85-ft drop!
Hagrid's Magical Creatures Motorbike Adventure Jump into a "Care of Magical Creatures" lesson with Hagrid. You'll see a variety of magical creatures throughout the queue and ride itself. Among the more notable beasts are Blast-Ended Skrewts, Centaurs, and Unicorns. Brought to you by the same group that did VelociCoaster, Hagrid's has the longest roller coaster track in Florida, and boasts seven launches. Just wait 'til your father hears about this!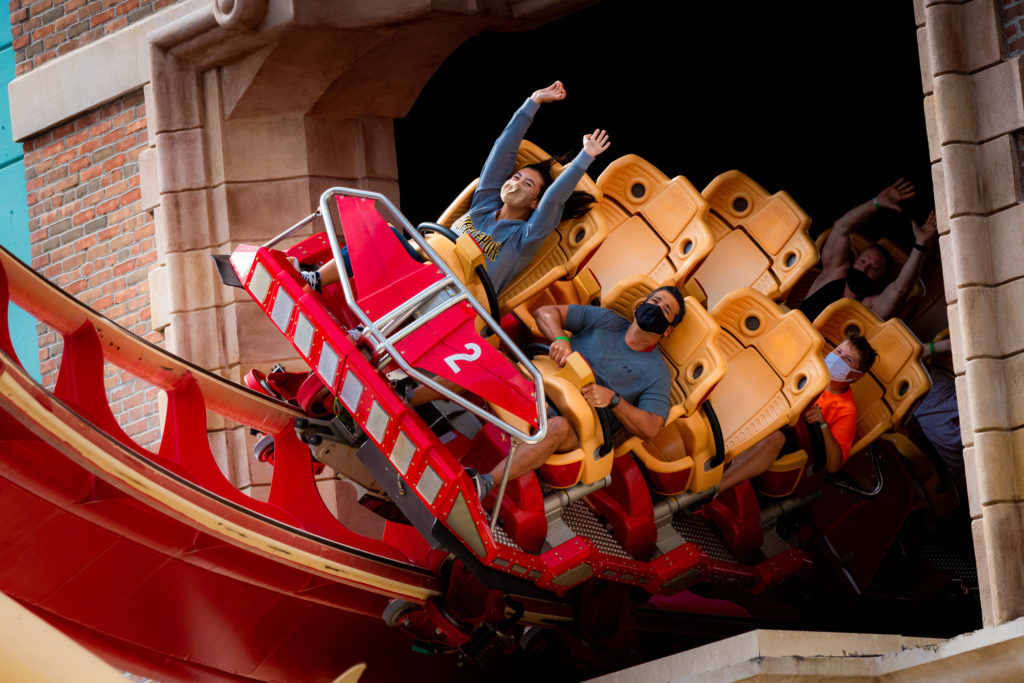 Best Rides for Adults at Universal's Volcano Bay
Krakatau Aqua Coaster This is the flagship experience at Volcano Bay. Guests will ride through a series of tunnels open-top slides in a four-person canoe. This adventure will take you through the Volcano itself!
Ko'okiri Body Plunge This "ride" is exactly what it sounds like. You will stand at the top of Krakatau volcano (on a drop-door) and await your fate! Once the ride operator decides it's your turn, your body will plunge 125 feet to the bottom of the volcano. All in all, not for the faint of heart.
Ohyah & Ohno Drop Slides Ohyah & Ohno Drop Slides provide guests with two options: oh yeah, or oh no! These two slides are almost twins, with Ohno being the more intense of the two. Lifeguards will require verbal confirmation that you can swim before embarking on either slide, as they both launch you into a 10-ft pool at the conclusion of your ride.
Honu ika Moana Like Ohyah & Ohno, Honu ika Moana are actually two slides that run alongside one another. Honu mimics the intense experience of riding the undercurrents like a sea turtle, while ika Moana takes you to the surface to ride waves gently, like a whale.
Kala & Tai Nui Serpentine Body Slides In the final slide pairing on this list, Kala & Tai Nui are more intense – yes, you read that correctly – versions of Ko'okiri Body Plunge. Each slide will drop a guest (sometimes simultaneously), and the two slides intertwine with one another to tell the backstory between Tai Nui (daughter of god Krakatau), and Kala (the man she ran away with). Tai Nui ranks as the most intense experience at Volcano Bay.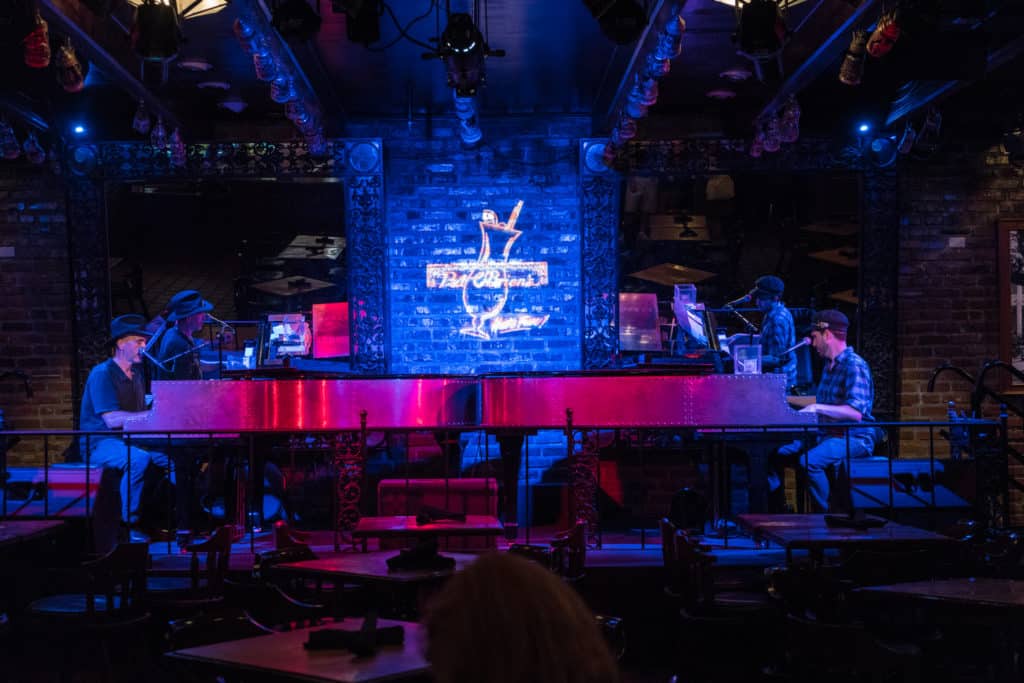 Best adult nightlife at Universal Orlando Resort
If you decide at the end of your busy day that you still want more, going out to CityWalk is a guaranteed place for festivities. You can go for a late-night treat at Voodoo Doughnut, catch the piano bar and a hurricane at Pat O'Brien's (eerily similar to the one on Bourbon Street in New Orleans, for those of you who like to party across the U.S.A) or show off at the karaoke bar in Rising Star. If you still need to satisfy your indulgences, stop by The Toothsome Chocolate Emporium for a dessert cocktail. Of course, another option for evening enjoyment is to go back to your resort and enjoy the hot tub or poolside bars (although covid restrictions have put a damper on these for the time being). Don't forget that the walking path connects many of the resorts and you can take advantage of amenities across the resort — including the Aventura rooftop bar, Bar 17 Bistro.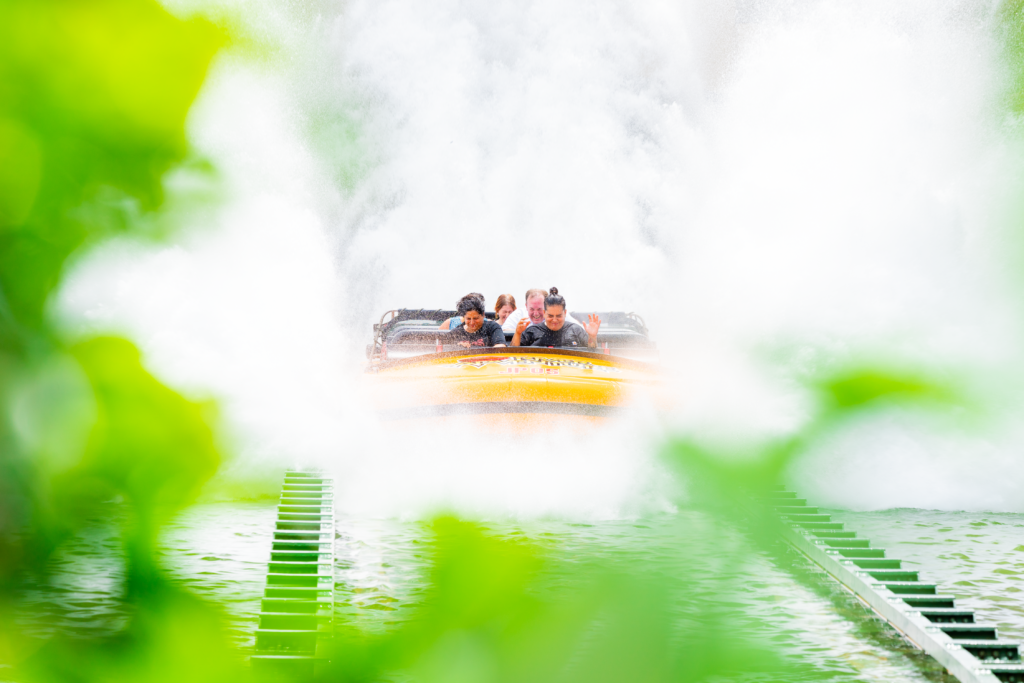 Our top tips for adults visiting Universal Orlando Resort
Don't bring a big bag. One of the advantages of going to the parks without kids is that you can be low maintenance. Three-prong fanny packs are allowed on specific rides, but they'll still need to be removed for select rides. Still, this will save you lots of time!
Be prepared to drop some dough. Drinking at the parks is a lot of fun, but domestic beer starts at around $10 for a 16oz pint, and mixed drinks can range from $14 – $20 depending on what size pour you ask for.
Stay at the resorts to sit the hot part of the day poolside and to take advantage of Early Park Admission and Express Passes (if applicable).
Keep in mind that, particularly in the summertime, rain often passes through quickly in Central Florida. Check the radar of course, but don't immediately bail on your adventures if you see a storm cloud.
Although this has been an outline for an adult day at Universal parks, we would be remiss to highlight a huge advantage of going to the parks with small children: Child Swap. If you're in a group, this is a great way for some members to enjoy rides twice (with the second time being with a very low or no wait). In a kind of "adult swap," Pteranodon Flyers (located in Jurassic Park in IOA) is an attraction available only to children (with an adult rider, of course).
Another benefit in a trip to the parks without little ones in tow is that you can enjoy the changes after dark. Crowds die down, the weather cools, and the areas you thought you were familiar with transform. Diagon Alley and Seuss Landing are really something to see — especially during the holiday season!
Another great way to visit the parks as adults is through separately-ticketed seasonal events that start after dark and go into the wee hours. A perennial (and very adult) favorite is Halloween Horror Nights, which takes you to the limits of your fear! With 30 years of experience, Universal Studios creates scare zones and haunted houses crafted to an impeccable degree. You'll need a drink or two to pluck up the courage and go for more. If that isn't your thing, (or if it is, and you just want more Universal in your life anyway) there are other events throughout the year to explore!
---