Skip to: Overview | Location | Hours | Menu | Guest reviews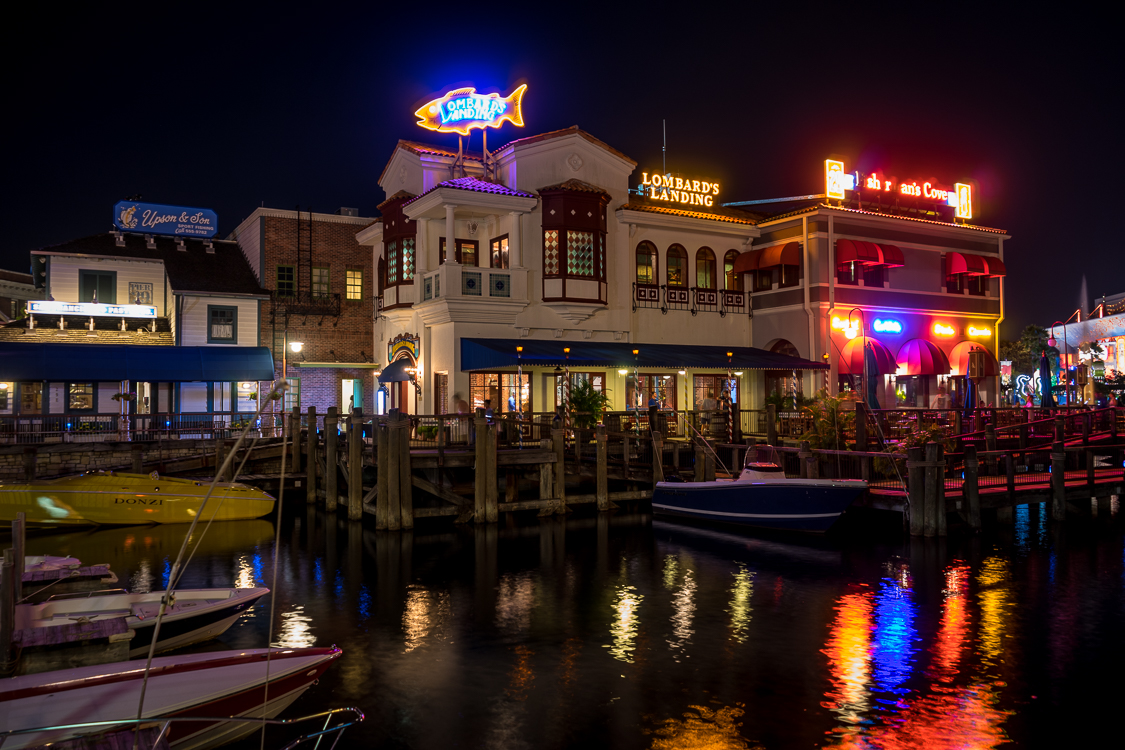 What is Lombard's Seafood Grille?
Lombard's Seafood Grille is really quite casual, given that it's considered Universal Studios Florida's "fine dining" restaurant. Besides the fresh seafood gracing its menu, the centerpiece of the venue is a huge saltwater aquarium in the middle of the dining room – if you have children in your party, ask for a table close by.
The Fisherman's Wharf area is also home to Lombard's separate, nearby Wharf Bar, which serves up nautical-themed cocktails (and is practically a full bar), with no reservations needed.
Where is Lombard's Seafood Grille located?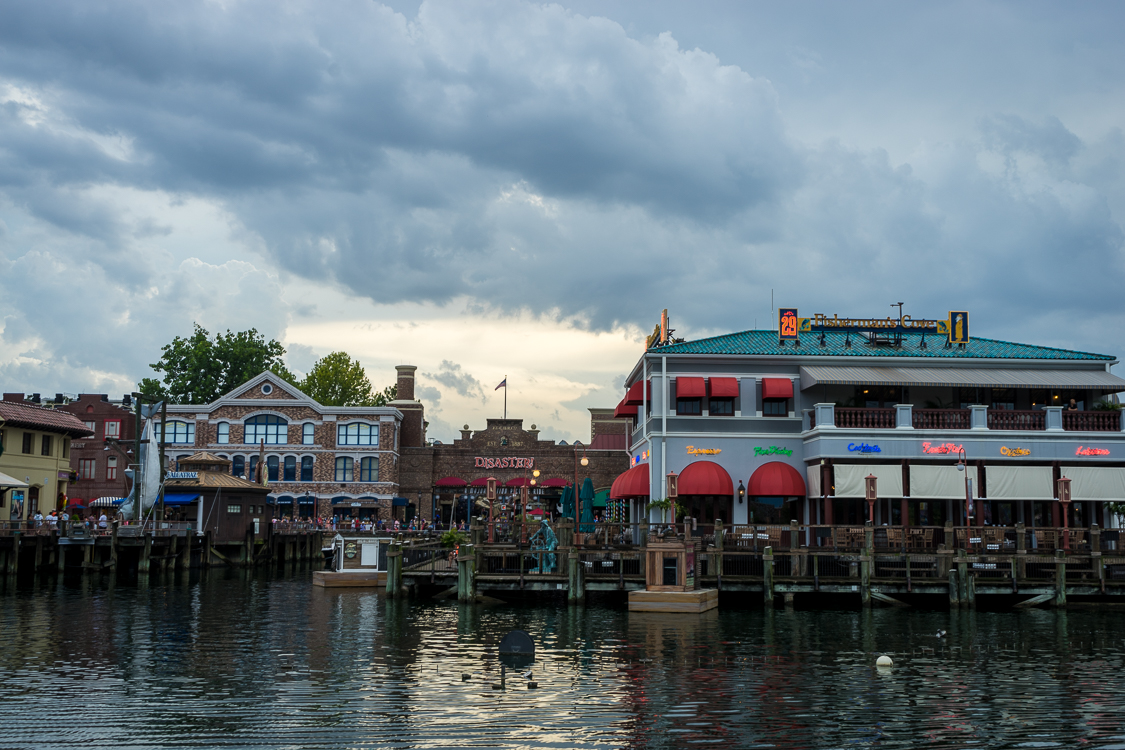 In San Francisco's Fisherman's Wharf, which is located at Universal Studios Florida.
Lombard's Seafood Grille – hours and reservations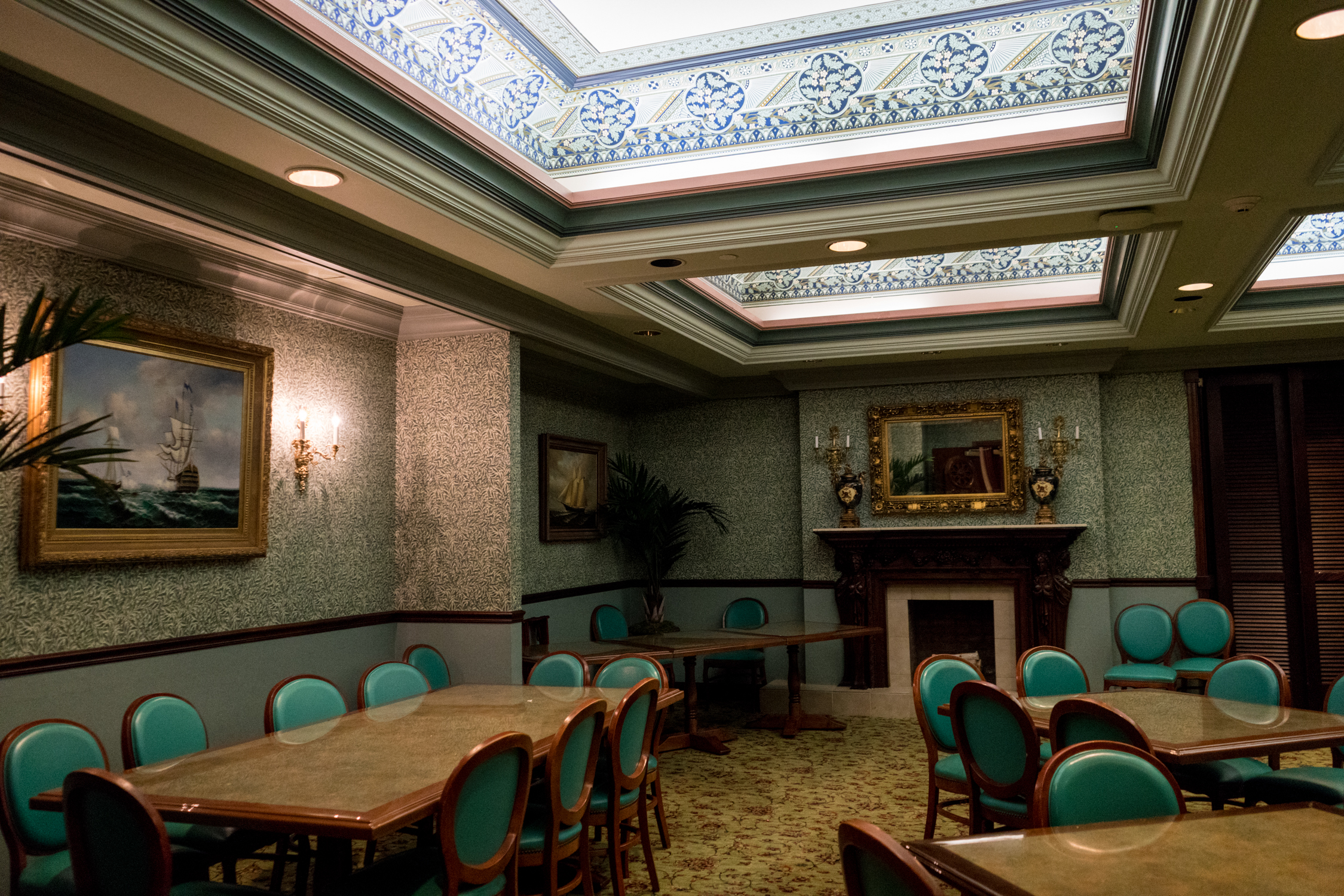 Lombard's is open from 11:30 am until park close. Wharf Bar is open from 11:00 am to 6:00 pm (weather permitting).
For reservations, book online. Guests staying at Universal's preferred or premier hotels receive priority seating.
Lombard's Seafood Grille – OI fun facts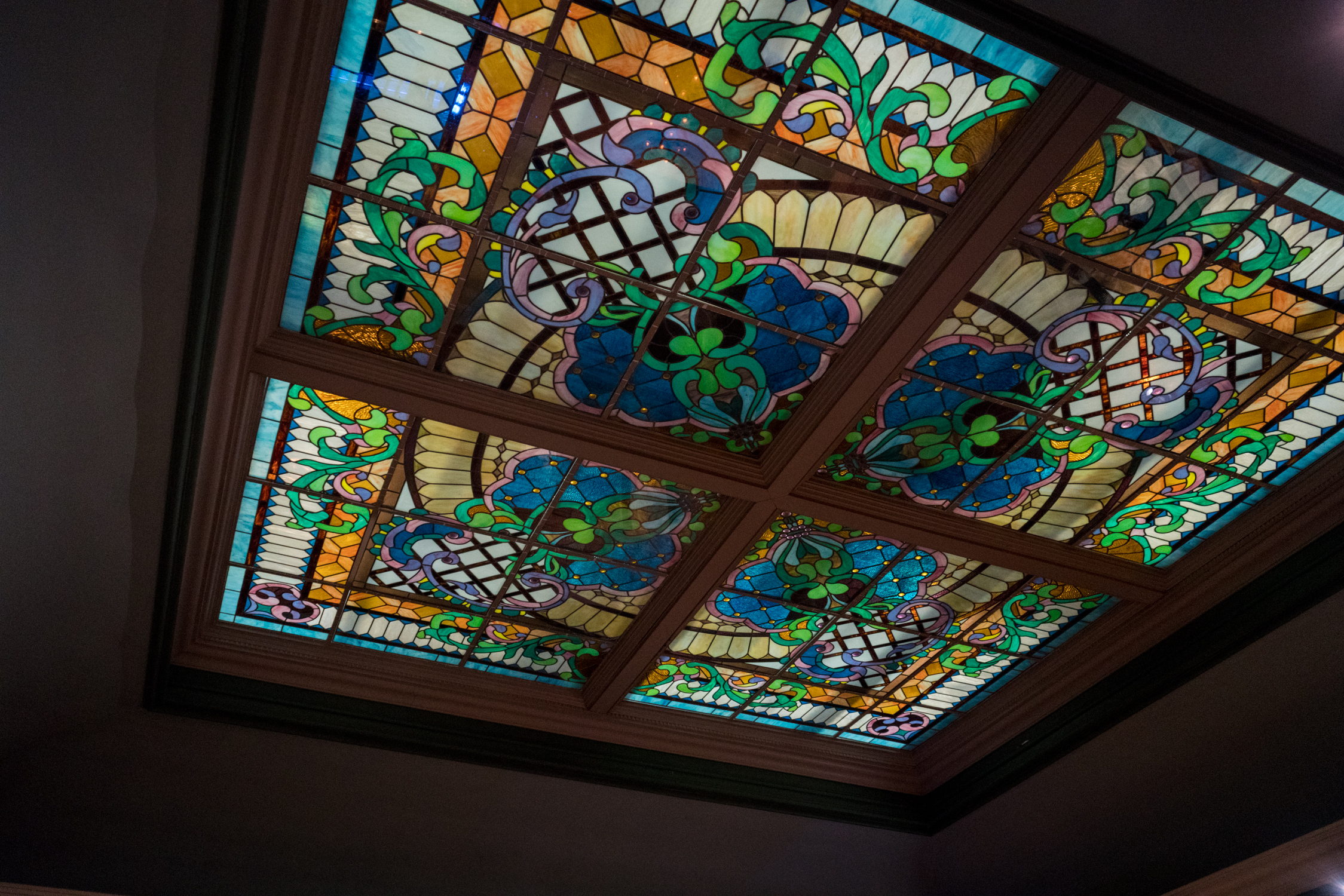 Lombard's Seafood Grille was originally named Lombard's Landing. Its exterior replicates the buildings of real-life San Francisco's famous Fisherman's Wharf. The interior is designed to have the look of an 1880s laboratory inhabited by a fictitious San Fran-based marine biologist, Louis Lombard. (The name Lombard most likely comes from Lombard Street, another iconic SF landmark.)
What's on the Menu at Lombard's Seafood Grille?
Appetizers
Mission Street Shrimp Cocktail – $14.00
Ice-cold jumbo shrimp, cocktail sauce
Calamari – $14.00
Lightly battered and fried, house-made marinara sauce
San Pablo Spinach & Artichoke Dip – $12.00
Four cheeses blended with spinach and artichokes, garnished with diced tomatoes and Parmesan cheese. Served with savory warm tortilla chips for dipping
Tuna Poké – $15.00
Sushi-grade ahi tuna diced and marinated in a soy garlic sauce, over a bed of frisée lettuce with scallions, tomatoes, avocado, wasabi, red onion, cucumber, and crispy wonton chips
Roasted Garlic Edamame – $9.00
Steamed edamame tossed with roasted garlic sea salt, topped with black and white sesame seeds
Soups & Salads
San Francisco Cobb Salad– $17.00
Chopped mixed greens, tomato, cucumber, avocado, carrots, bacon, hardboiled egg, and blue cheese crumbles, served with a citrus vinaigrette on the side
With grilled chicken – $21.00
With shrimp – $27.00
With salmon – $25.00
Caesar – $15.00
A bed of romaine lettuce with our famous Caesar dressing, house-made croutons, topped with parmesan cheese and thin crispy fried onions
With grilled chicken – $19.00
With shrimp – $25.00
With salmon – $23.00
New England Clam Chowder – $9.00
Cream style and full of tender ocean clams and bacon
Classic French Onion Soup – $9.00
Sautéed onions in beef broth, baked with a parmesan crouton, and topped with Swiss Cheese
Entrées
Catch of the Day – MP
Our Chef's daily selection of the freshest sustainable fish, prepared to your liking (grilled or blackened), edamame, shiitake mushroom and green onion stir fried couscous, Yuzu-ginger beurre blanc, roasted snap peas and green pea tendrils
Wahoo 34 | Swordfish 31 | Mahi Mahi 29 | Salmon 29 
Filet Mignon – $35.00
6oz grilled Black Angus beef tenderloin, crushed parmesan fingerling potatoes, roasted rainbow carrots and sugar snap peas, bordelaise sauce
With Shrimp – $45.00
Cioppino Ocean Bowl – $29.00
Mussels, calamari, littleneck clams, Atlantic cod, jumbo shrimp, tomato fennel broth, rosemary focaccia toast
Shrimp Alfredo – $23.00
A classic Alfredo with shaved parmesan and sautéed black tiger shrimp
Fish And Chips – $22.00
Sustainable fresh wild Alaskan cod, lightly fried in seasoned batter, crispy French fries, and creamy tartar sauce
Fisherman's Basket – $27.00
Sustainable fresh wild Alaskan cod, shrimp, calamari and bay scallops lightly fried in a seasoned batter, french fries, creamy tartar sauce and cocktail sauce
Lombard's Lobster Roll – $29.00
North Atlantic lobster, dijon mayonnaise, shredded lettuce, toasted split soft roll, served with housemade seasoned potato chips
Golden Gate Noodle Bowl
Udon noodles, umami-laced tomato broth, baby bok choy, enoki mushrooms, and Thai basil 
Shrimp $28 | Mahi $27 | Chicken $26
Vegan alternative with tofu $21
Branzino – $37.00
Pan-seared crispy skin-on branzino with butternut purée, cardamom rice, charred broccolini, roasted tomato purée
Handhelds
The Wharf Burger – $20.00
(Gluten-free) Half-pound of Black Angus beef on a toasted challah bun, choice of cheese, bacon, lettuce, tomato, and pickle, served with French fries
Grilled Sausalito Chicken – $18.00
Grilled chicken breast layered with mozzarella cheese, balsamic bacon jam, tomato pesto, on a challah bun, served with French fries
Baja Mahi Tacos – $23.00
Pan-seared spiced Mahi, lime cabbage claw, flour tortilla, cilantro crema, avocado salsa, frisée and radish salad, lemon vinaigrette
Lombard's Seafood Grille – real guest reviews
Lombard's Seafood Grille
Average rating:
7 reviews
Nov 25, 2014
Don't do it
Date Of Last Visit:
November 24, 2014
We got the cinema spactacular package. Waste of money!! Our waitress was good and very kind, but the staff did not communicate to her that we had the package. When I checked in the hostess said she would note it and tell the server. That did not happen, so when the server brought our bill I showed our pkg tickets. Turns out we could have ordered a few more appetizers and other entrees but didn't because we didn't know.



Not that it mattered much because the food was bland and cold. I had the beef medallions, the veggies were bland and the meat was supposed to have a sauce but didn't. The fingerling potatoes were good though. We ordered calamari with no balsamic but it came with balsamic. Not a huge deal, but when nothing else was as good as expected, it needs to be mentioned. The ravioli came out cold too.



Then there was the cinematic pkg. you walk onto the porch of the restaurant and go to the dessert bar. The desserts were not really that good either. However, my biggest complaint was that I paid extra to have dessert and sit while I watch the show. When we got onto the balcony all the tables were full and when I asked about seating I was told I could sit in the chairs that were set out. How am I suppose to navigate a cup of hot coffee, a plate of dessert, and no table. I could have done that in the park.



We found a place to sit in the back of the porch and created our own table. Then when more people arrived, the staff had to bring out chairs from the restaurant and continue to add them in front of us. So now, we could not see the show. We ended up leaving.



I was lead to believe that we would have a table and a nice place to sit for the show. We had a better view outside the restaurant after we left.



Maybe I could have salvaged something good from the experience if the food at the restaurant had been good, but this was a Complete waste of money.
Aug 25, 2014
Crappy overall
Date Of Last Visit:
08-24-14
We got the cinema spactacular package for a birthday/anniversary dinner. Poor service and lackluster food. The lobster bisque was good but everything else was bland or undercooked. I had the beef medallions, the fingerling potatoes were still partially raw, the veggies were bland and the meat was supposed to have a sauce but didnt. My husband had the black n blue salad, he requested no tomatoes...it came with tomatoes.
Jul 16, 2014
lombard's seafood grille
probably the best sit down place to eat inside the universal studios park, great food, not cheap, but overall worth the price of a good meal,
May 27, 2014
beautiful, perfect break from the park
Date Of Last Visit:
October 2013
I had first come to Lombard's in June of 2013 and when I can back to Universal Studios in October, I said we had to eat here.



Both times my friends and I order the white sangria pitcher and it is to die for delicious. Fruity, but not overtly so, it is refreshing and compliments the meal. You may sit outside overlooking the waterfront, or inside is lovely air conditioned, both places are aesthetically pleasing.



I had the spinach artichoke dip appetizer both times and was not let down. Delicious and a nice start to a meal. I went for lunch both times, so did not order dinner entrees. What I have eaten are the following:Lombard's Burger, Lombard's Crab Cake Sandwich and the Grilled Asian Chicken Wrap. All delicious! Even better if you pay for the upgrade to sweet potato fries!



Will be going here again in June and hope to have same wait staff and amazing food again!
Sep 1, 2013
Fantastic
Date Of Last Visit:
7/28/13
I have eaten there a couple of times and each time was fantastic. We ate outside on the patio overlooking the lagoon and it was beautiful. The waitress was terrific and pleasant. The drinks, appetizers, and main courses were tasty and good portions. The prices were very reasonable for a theme park restaurant. All was a very pleasant surprise and we go there almost every time we visit Universal.
Do you have a question about the information on this page or would you like to provide feedback? Please let us know by posting in our
Orlando Informer Community
on Facebook.