Location
Woody Woodpecker's KidZone.
Restrictions and access
34 inches; has Express Pass access.
Two sentence insider summary
Help E.T. save his dying planet! This attraction, designed for the whole family, is a gondola-style dark ride that is very similar to Peter Pan's Flight at Magic Kingdom (with a little alien spin on It's A Small World at the end).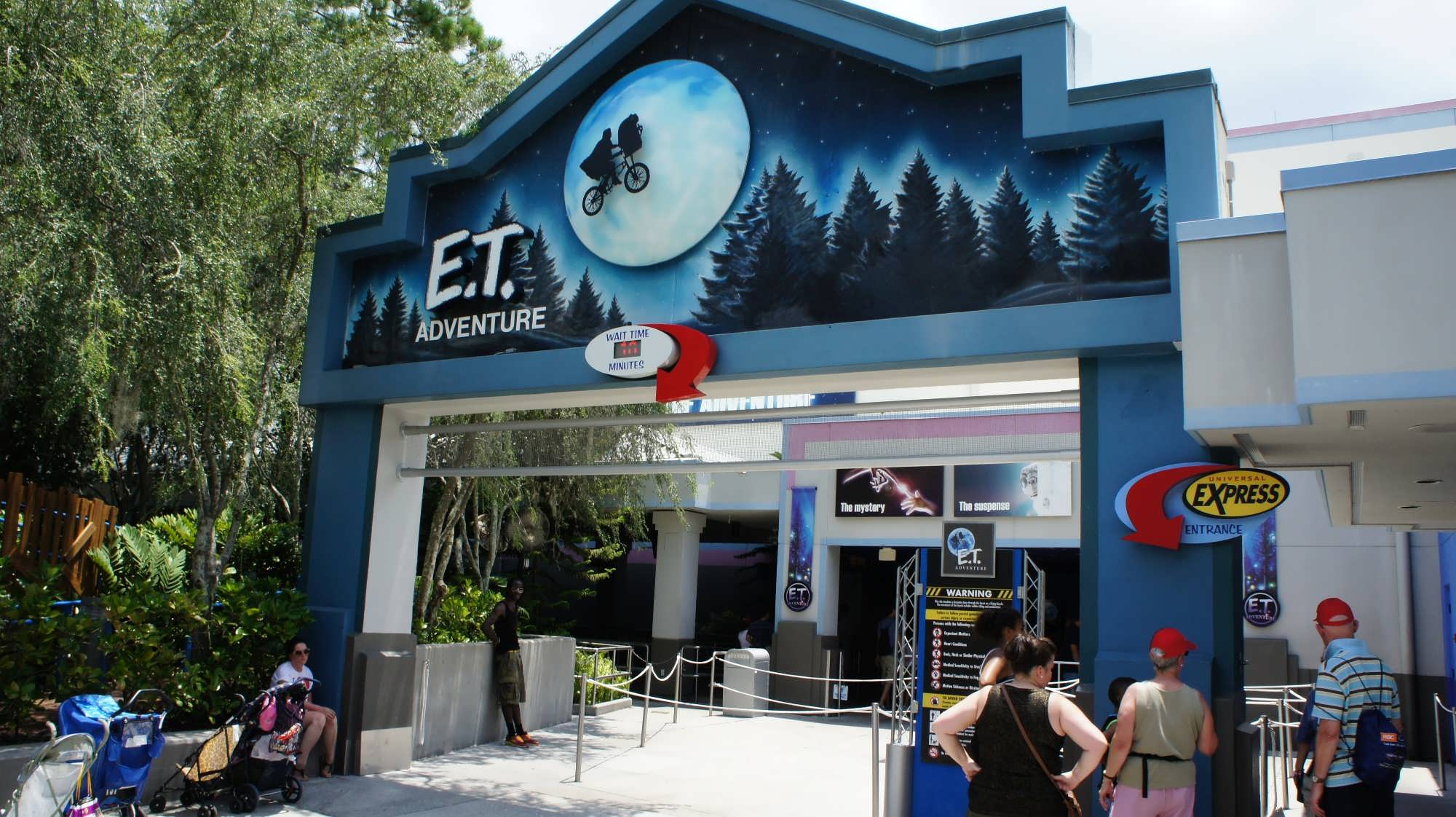 E.T. Adventure at Universal Studios Florida.
Fear factor
1 out of 5.
What you wish you knew before you experienced it
When asked, you should have given the ride attendant a funny nickname for yourself. Also, keep in mind that if you have small kids who haven't seen E.T. yet, his appearance and that of his friends may be a bit off-putting.
OI fun fact
During the ride, notice that E.T. only appears in your bike basket when you are about to fly!
Opening time reminder
When crowd levels are slow to moderate, the attractions inside Woody Woodpecker's KidZone, including E.T. Adventure, typically do not open until 10:00am. When crowd levels are busy to very busy, the attractions typically open when the park opens at 9:00am. Visit our Universal Orlando crowd calendar (the link will open in a new window) to determine the crowd levels for your travel dates.
The opening time for each of the KidZone attractions is listed in Universal Orlando's in-park map, which you can pick up at the front of the theme parks.
E.T. Adventure – photo gallery
E.T. Adventure – real guest reviews
Average rating:
60 reviews
Dec 30, 2014
E.T GO HOME !!!
Date Of Last Visit:
December 2014
Any chance of capturing the magic of this timeless film were lost once we went through the arrival doors at this ride !!!. If you hadnt seen the film before the ride you sure wouldnt after it..... We know it was a 1980's film but PLEASE bring it into the 2000's....
Aug 20, 2014
Welcome Home, You've Arrived
Date Of Last Visit:
8/18/14
Though it's old, full of creepy looking aliens, and generally weird, this ride is a classic at Universal. It functions on the same level that the classic Peter Pan Dark Ride does in Fantasyland at Magic Kingdom. I love it, but let's just say I never want to visit E.T's home planet for longer than 2 or 3 minutes.

Fun Tip: Wakabayashi is my favorite name in the E.T database, and he will say your name at the end of the ride in gloriously outdated fashion.
Jul 13, 2014
Still Holds Up
Date Of Last Visit:
7-12-14
While ET Adventure is old and the animatronics aren't on par with many newer dark rides, the ride still holds up as an exciting and heart-warming adventure from Steven Spielberg's classic movie. It was one of the first rides I ever rode at Universal, and, while not as exciting as it once was for me, still holds up as a classic and fun experience that the whole family can enjoy.
May 28, 2014
The Definition of Classic
Date Of Last Visit:
May 17, 2014
I agree with the other people on here- it's simply the best of feelings that one gets when experiencing this ride. That wonderful, not quite describable smell that they somehow achieve in there makes the forest seem even more realistic- I'd say it's my favorite, most enjoyable queue in all of the Universal Orlando Resort, and possibly in all of Florida. I wish the wait time would be longer so that I could enjoy it, because it's really that cool (or I'm just weird). Then, as soon as I get on the actual ride, I instantly become three years old again, the age I was when I first rode it (of course, most other rides have since been replaced). Sure, the animatronics are a little dated, but it doesn't take away from the ride. Universal has managed to preserve its last few drops of nostalgia in this ride, making it an asset, and the one thing that can stand the test of time.
May 26, 2014
Final Classic Universal Movie Ride
Date Of Last Visit:
August 2014
After Jaws was closed in my eyes ET is the final ride that is based on a real Universal classic. Even though the ride is not thrilling, neither does it need a 4D simiulator or to be a roller-coaster but it is a classic ride in its own right and is very popular.

Firstly, the queue again of this classic ride is done superbly and introduces you to the wood featured in the film and ETs family. The smell of the wood Universal have used is the strangest but most interesting smell I have ever witnessed in a ride queue. I have not got a clue what the use.

I love this ride, because getting on the bike ride vehicle and going through the story of ET is really quite magical. The ride brings out my inner child and brings me back to when I was a child and first watched the ET films.

Although the ride is dated and one of the last remaining Universl classic movie rides, I really really hope it is not replaced by Universal as I and I am sure many of those who visit Universal love the ride. It is different to anything else at Universal and no other ride can give that same child like feeling that this ride gives.
E.T. Adventure – map
Click any marker to display the attraction or venue name. To scroll or zoom, use the controls on the top-left of the map. You may also switch to different map views by using the buttons on the top-right of the map.
View OI's map to Universal Studios Florida.