Location
New York.
Restrictions and access
48 inches; must stow loose articles in free lockers adjacent to the attraction's entrance; has Express Pass access and a single rider line.
Two-sentence insider summary
Revenge of the Mummy is a not-to-be-missed high-speed, indoor roller coaster similar to Disney's Rock 'n Rollercoaster (except you do not go upside down on The Mummy). The attraction does a fantastic job of bringing the Mummy story to life with plenty of thrills and personality.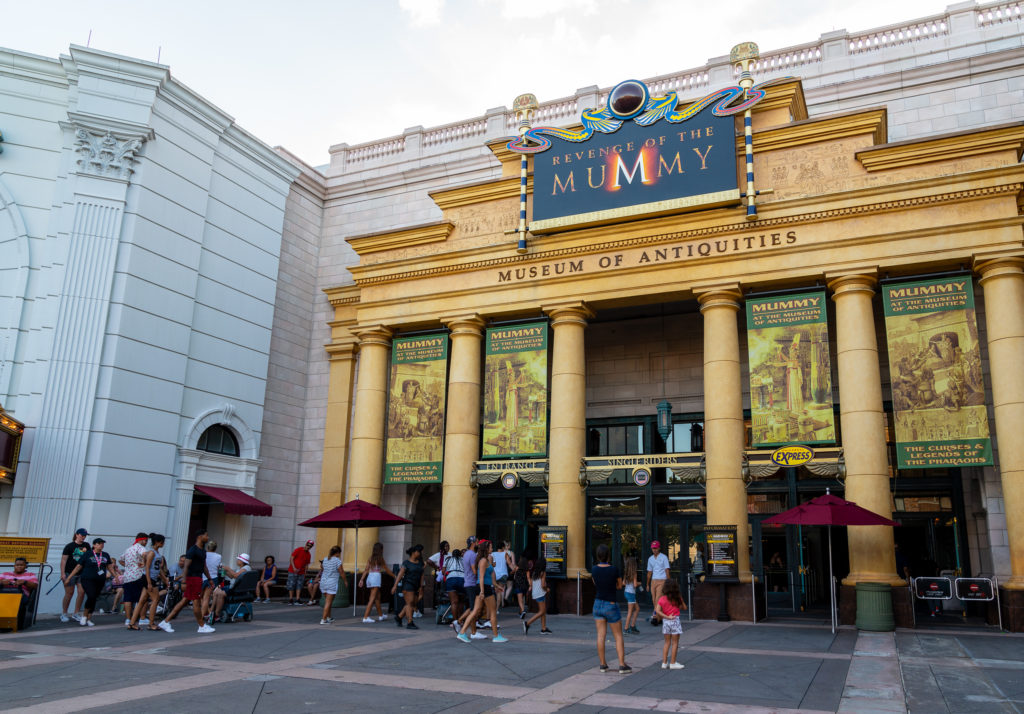 Fear factor
4 out of 5. It is a roller coaster in the dark.
What you wish you knew before you experienced it
Some of the queue elements may surprise you!
OI fun facts
Revenge of the Mummy replaced Kongfrontation. You can see an homage to the old attraction in the gold room; look in the back-left for a small statue.
In July 2018, just a little over 14 years after the ride first opened, Universal redid Revenge of the Mummy's lockers, moving them off to the room that is located just to the left of the main entrance. Although it did cause the queue's first room to be lost (guests originally entered where the lockers now are), it does make for a better and more efficient overall process – and the new room's design is an interesting complement to the pre-existing Mummy aesthetics.
Revenge of the Mummy – photo gallery
Revenge of the Mummy – locker room photo gallery
Revenge of the Mummy – real guest reviews
Revenge of the Mummy – map
Click any marker to display the attraction or venue name. To scroll or zoom, use the controls on the top-left of the map. You may also switch to different map views by using the buttons on the top-right of the map.
View OI's map to Universal Studios Florida.
OI Universal Center » Universal Studios Florida » New York Backlot