Skip to: Overview | Location | Hours | Menu | Guest reviews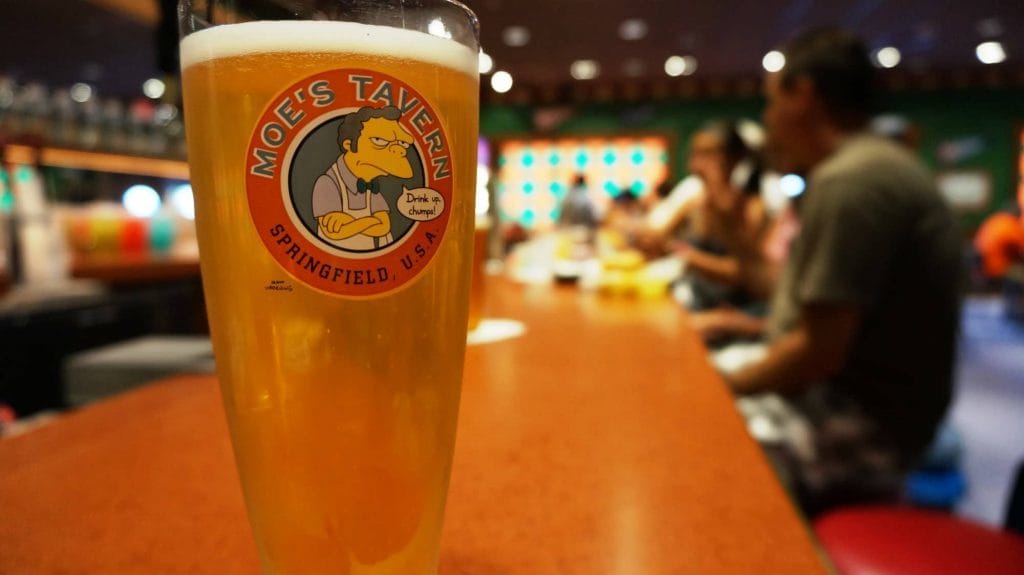 What is Moe's Tavern?
Homer Simpson's favorite neighborhood bar is faithfully recreated in Fast Food Boulevard. Moe's Tavern is filled to the brim with great photo ops and Easter eggs, like The Love Tester machine, bottles of "Sideshow Bob's Pruno" behind the bar, and an actual-sized Barney Gumble figure. Here, you can quench your thirst with the exclusive Duff Beer (if you're 21 or over) or watch in awe as the signature Flaming Moe drink is brought to life before your eyes.
Where is Moe's Tavern located?
In Springfield: Home of the Simpsons, which is in Universal Studios Florida.
Moe's Tavern – hours and reservations
Moe's Tavern is open from 11:00 am until park close.
Moe's Tavern – OI fun facts
The non-alcoholic Flaming Moe's "flaming" effect is created using dry ice and a special cup that has a bottom compartment to hold the ice, so that it won't freeze your tongue as it bubbles with smoke. While the drink itself is just orange soda, the surprisingly fun and effective "flaming" presentation lasts up to five minutes – making the Flaming Moe possibly the first signature drink in any park that can compete with Butterbeer in terms of overall appeal.
On The Simpsons, there is a running joke that Duff, Duff Lite, and Duff Dry are all the same beer. At Universal Studios Florida, they are, in fact, different beers – all brewed by the Florida Beer Company, based out of Melbourne, Florida. With regards to taste, regular Duff is a lager, most comparable to Heineken, while Duff Lite is a light pilsner beer, similar to Miller Lite. Finally, Duff Dry is a creamy stout, like Guinness. All three are exclusively sold at Universal Studios Florida, and in the fall, guests can find Dufftoberfest, a märzen-style beer that is typical of other Oktoberfest brews.
Moe's Tavern shares its seating area with the other restaurants in Fast Food Boulevard (even the pool table has cleverly been covered for use as an actual table, where large groups can enjoy a meal together while soaking up the atmosphere). After paying for your food at the Fast Food cash registers, ask team members to seat you in Moe's.
What's on the menu at Moe's Tavern?
Beer
Draft Beer – $11.00
Choose from Duff or Duff Lite
Souvenir Mug – $13.50
Choose from Duff or Duff Lite, served in a souvenir mug
Bottled Beer – $8.50
Choose from Duff, Duff Lite, or Duff Dry
Specialty drinks (non-alcoholic)
Flaming Moe – $8.99
The signature specialty drink of Springfield
Groovy Grove Juice – $4.19
Orange juice, lemonade, and blood orange syrup. Freshly prepared and served with a specialty garnish.
Mt. Swartzwelder Apple Drink – $4.19
Apple juice, Granny Smith apple syrup, lemonade, and fresh brewed tea. Freshly prepared and served with a specialty garnish.
Mr. Teeny – $4.19
Lemonade, pineapple juice, and Blue Curaçao syrup. Freshly prepared and served with a specialty garnish.
Buzz Cola – $4.59
Zero-calorie cherry flavored drink
Other Beverages
Fountain Soda
Coca-Cola, Coke Zero Sugar, Diet Coke, Sprite, Fanta Orange, Barq's Root Beer, Hi-C Lemonade, Gold Peak iced tea
H2O+ Premium – $5.00
Moe's Tavern – photo gallery
Moe's Tavern – real guest reviews
Moe's Tavern
Average rating:
11 reviews
Apr 3, 2018
BEEEER
Date Of Last Visit:
2/17/18
We spent 4 days at Universal and I visisted Moe's twice a day! This is an amazing stop for fans of the show. Purchase the souvenir cup and you will get a discount on refills at Moe's and Duff Gardens.
May 25, 2014
If Springfield Actually Exists
Date Of Last Visit:
January 22, 2014
If the Simpsons was an actual TV show, walking into Moe's Tavern would be the equivalent of walking onto the TV set.



The attention to detail is amazing. They have a love tester in the corner right next to the giant statue of Barney drinking a beer. Simpsons fans will absolutely love stopping by here, even if its just to get out of the sun, cool off and watch some Simpsons moments on TV.



The Duff beer was nice and cold and it reminded me of a Coors light. Nothing special, but it can hit the spot. We tried a Flaming Moe as well, and while they're a bit pricey, as a Simpsons fan, it was worth it just for the experience to watch smoke come pouring off your glass as you drink what is basically orange soda. You are paying more for the souvenir cup than the drink itself.



There are plenty of spots at the bar and tables along the edges and even the "pool table" is completly plexiglassed over, turning it into a usable seating area for guests.



Moe's also connects to the Simpsons fast food boulevard where you can sample everything from Salads to a Krusty Burger.



If you're fan of the show, this is not to be missed. Even if you're not a huge Simpsons fan, don't skip this - you'll love the attention to detail.



Fan Tip: - Don't miss the Kwik-E-Mart gift shop right next door. You can pick up your "Bort" key chain or shot glasses there before they run out like they do in the Duff Gardens episode.
May 25, 2014
Duff Beer is Good For You...Right?
Date Of Last Visit:
July 14, 2013
I love this place! It is an awesome atmosphere that feels totally real. My favorite part is the phone that rings with Bart on the other end prank calling whoever answers. It is such a wonderful touch to the bar!



The only issue I had is that I have very specific food allergies (food dyes in particular) which make ordering things at places like Universal - where they don't like to reveal their ingredients - difficult. Every time I go, I ask what is in the specific item (like a Flaming Moe) and the bartenders are reluctant to respond. After I explain why I want to know (not to replicate it at my very own, second rate Universal Studios CT where I live) they are usually happy to check if my particular allergen is in the item. This visit, the bartender refused to tell me if it was safe for me to drink. I asked to see a manager but they 'couldn't find one'.



Again, I understand their fear of the copy-cats out there but for safety reasons, I thought it was a strange response. I personally work at a restaurant with proprietary blends of items and if a guest needs to know something for an allergy reason, we do everything in our power to look it up without revealing the ingredients.



I guess I'll have to settle for Duff beer instead.



All that said, this place was totally fun and I still use my Duff Beer souvenir (plastic) glass regularly!
May 25, 2014
Tavern on the theme
Date Of Last Visit:
April 2014
When you are traveling through USF and your feet are tired and your throat is parched, out of the hazy Florida heat rises Moe's Tavern! We had been walking and walking and walking. It was 5 o'clock somewhere and the Duff beer was calling us. You walk in and sit at a real bar in a theme park! The Simpsons theming is right on! Whether you want the non alcoholic Flaming Moe which is so cool because it really does smoke or only a Duff beer will quench your thirst, this is the place to take a load off. If you are hungry, which we were not, you can bring your food in from the other fast food options and enjoy the colorful atmosphere. Maybe the pool "table" will be available or maybe take a stab at the "Love Tester," the flashy lights do attract attention!
May 24, 2014
Like the show!
Date Of Last Visit:
10/13
Moe's takes you inside of a television with its atmosphere! From the set up of the bar to the pool tables, everything is up to par. Even the windows give you that illustrated look. The service was pretty good too. My fiancé grabbed a Duff Beer and said it was pretty good. Tip: We hid out here during the hot day and took a break from HHN's long lines at night.
Do you have a question about the information on this page, would like to provide feedback, or did you spot an inaccuracy? Please let us know by posting in our
Orlando Informer Community
on Facebook.