Skip to: Overview | Location | Attractions | Entertainment | Dining | Shopping | Fun facts | Additional services
What is the New York backlot?
Step onto the streets of the Big Apple and see all the sights in this production-ready backlot. While you're on set, visit the Museum of Antiquities to play a role in Revenge of the Mummy or join Hashtag the Panda in a Race Through New York Starring Jimmy Fallon. If song and dance is more your style, you can boogie with the Blues Brothers at a live street performance or catch Marilyn Monroe crooning with the Diamond Bellas.
Just like the "City That Never Sleeps," Universal's New York offers a wide range of dining opportunities, including Louie's Italian Restaurant, Finnegan's Bar & Grill, and Ben & Jerry's. And, of course, what New York city street would be complete without a Starbucks?
Where is New York located?
New York – attractions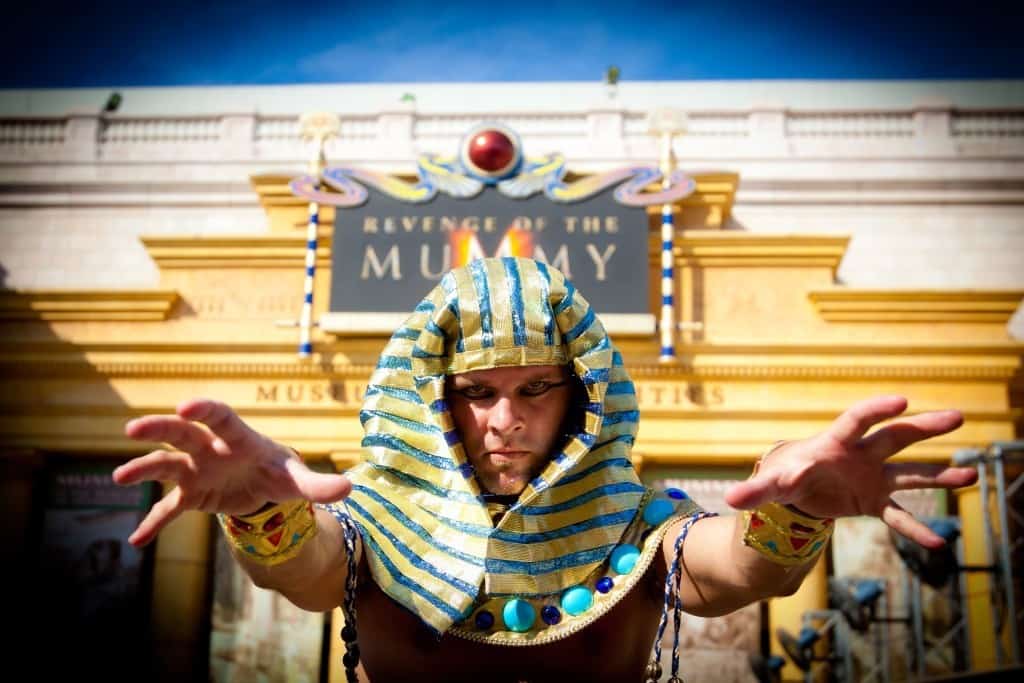 Based on the Brendan Fraser iteration of the Mummy franchise, Revenge of the Mummy tells the story of a cursed movie set overtaken by the titular Mummy on this thrilling coaster ride. Take your time wandering through the queue to appreciate the film-set-quality theming and design as you move deeper into the Mummy's tomb before boarding your ride vehicle to experience multiple show scenes and a wild ride that takes you to the afterlife – and back again.
Grab a Virtual Line ticket (or use your Express Pass) to enter the famous 30 Rock building, where you'll find a tribute to The Tonight Show's hosts and history. As you move through this unique queue experience, enjoy a tune from the Ragtime Gals or a high-five with Hashtag the Panda. When you finally reach the ride portion, you'll enter a 3D movie-theater experience and challenge Mr. Fallon himself on a race through New York that is out of this world!
New York – entertainment
Join Jake and Elwood as they rock the streets of New York with classic blues hits, accompanied by singer Mabel and their saxophone-playing friend, Jazz. The Blues Brothers have been jamming at Universal Studios Florida since 1991, and if you visit during the holidays, you might catch a swinging rendition of beloved Christmas tunes.
Enjoy this fun and upbeat song-and-dance performance as Marilyn Monroe and her backup dancers film scenes for their upcoming movie. This short musical interlude has Marilyn in her famous white dress, arriving in a vintage Cadillac with her Diamond Bellas, and performing modern covers of hits like "Diamonds Are a Girl's Best Friend."
It's an a capella battle on the streets of New York, as these performers face off and compete to out-sing each other in rounds of pop-music jams.
Found on the edge of the New York area, towards the San Francisco section, an under-construction site is periodically host to a group of construction workers who put on a percussion show using trash cans, buckets, tools, pipes, and wrench xylophones.
The streets of New York are filled with choreographed dance numbers during this high-energy Latin dance experience. Many are welcome to join in the fun to let loose to the beat!
Palace Theater Arcade
Duck into this arcade from its theater-façade entrance on 42nd Street, or via the back entrance from the Sahara Traders gift shop, to find a fun variety of new and classic arcade games, including claw machines, pinball, air hockey, racing simulators, and more.
New York – dining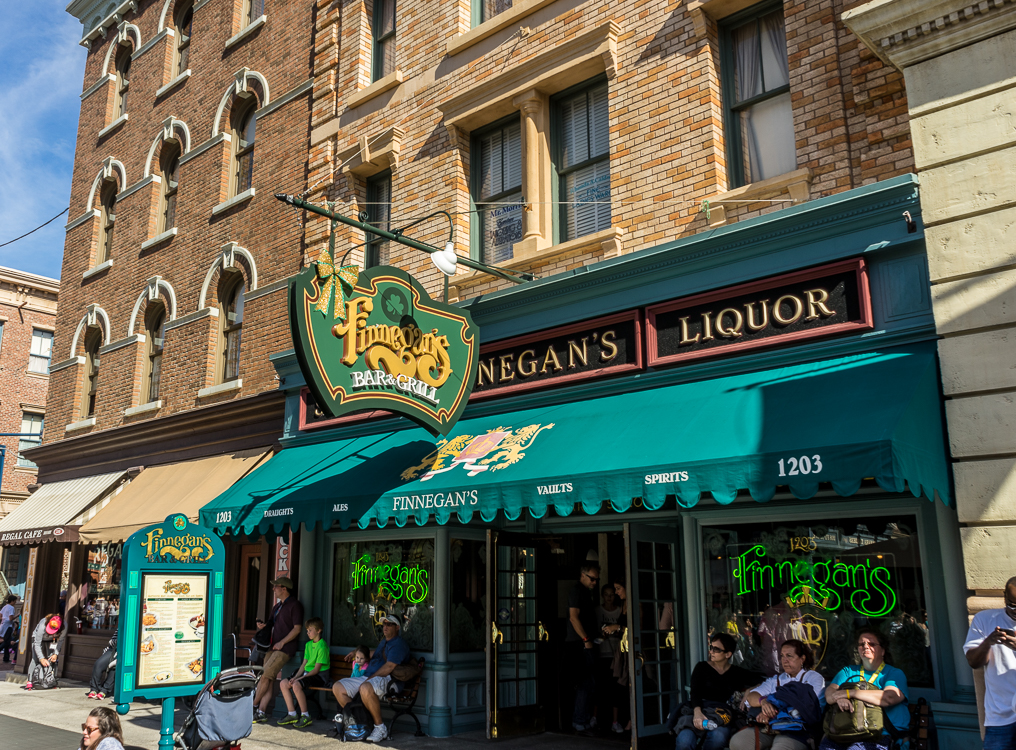 Grab a whiskey and some corned-beef and cabbage at Universal's full-service Irish bar and grill. A large menu with both Irish and American favorites will ensure everyone can get something they like, or grab a stool at the full bar for a few drinks.
If you're craving Italian favorites, Louie's is the place for pizza, pasta, salads, and, of course, freshly baked cheesecake and tiramisu. Stop by this quick-service restaurant for lunch or dinner or to fill up your Coca-Cola Freestyle mug.
Located inside of Louie's, this little kiosk serves up pizza slices and several different kinds of – you guessed it – gelato. (You can even order from a window outside!)
As we said, it wouldn't be a New York street without a Starbucks on the corner, and Universal's version of NYC holds true to the original – grab a coffee or specialty beverage as you wander the back alleys.
New York City is famous for its pretzel carts, so an Auntie Anne's pretzel window is not a huge stretch of the imagination. Here, you'll find all of Annie's pretzel favorites.
Häagen–Dazs (quick-service)
The company that was birthed in the Bronx has recently come to Universal's version of New York, too (previously, it was a Ben & Jerry's). Make your selection from a number of different flavors of ice cream, bars, sorbets, and more.
New York – shopping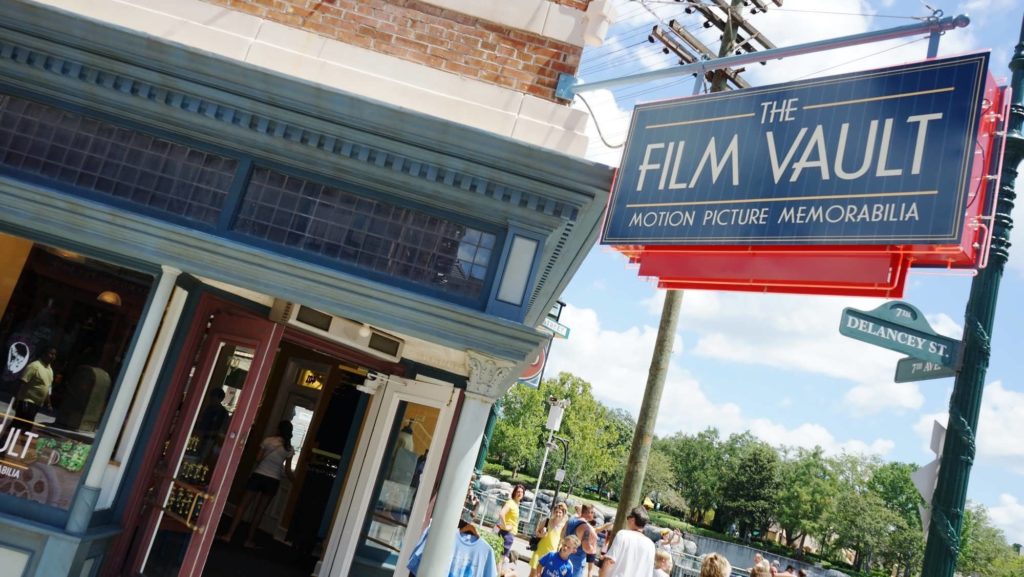 The Film Vault
On the corner of Delancy Street, cinema fans won't want to miss this trove of memorabilia from both current and classic Universal favorites, such as Ghostbusters, Jaws, Psycho, and Back to the Future.
The Tonight Shop
As you exit the Jimmy Fallon ride, take a moment to pick up some "thank-you note" stationery, a Race Through New York t-shirt, or a Hashtag the Panda plushie, along with other NBC-branded merchandise.
Park Plaza Holiday Shop
Celebrate Christmas all year long at the Park Plaza Holiday Shop as you browse hundreds of ornaments with Christmas versions of the Minions, the Simpsons, the Grinch, and many more.
Rosie's Irish Shop
Step into the Emerald Isle to choose from nearly every single Irish souvenir ever made and profess your love for all things Irish (or just get something perfect for St. Paddy's Day) with a myriad of hats, shirts, mugs, magnets, and keychains, all emblazoned with Irish flags and slogans.
Sahara Traders
Sahara Traders is the gift shop attached to Revenge of the Mummy and is a mishmash of exotic treasures displayed for sale next to a lineup of gifts celebrating the Universal Classic Monsters. This shop is worth a look for the lifesize models of Dracula, the Wolf Man, and more.
New York – OI fun facts
There are so many fun facts and so much history to this section of the park that we, in fact, wrote a whole article about it. Take a deep dive with us into New York's sights and secrets.
Are there guest services available in New York?
Restrooms
New York has a set of restrooms under the Gotham Ice Company façade, around the corner from the Palace Theater arcade. There is also a family restroom inside Health Services, just around the corner from Louie's, as you move towards San Francisco.
Lockers
Ride lockers are available at Revenge of the Mummy, as loose articles are not permitted on this attraction. Smaller lockers are free for the duration of your ride, while larger ones can be used for a fee.
First aid
The nearest first aid is between New York and San Francisco, before you get to Fast and Furious – Supercharged.
ATMs
You'll find an ATM conveniently located near Palace Theater Arcade.
New York – photo gallery
Do you have a question about the information on this page or would you like to provide feedback? Please let us know by posting in our
Orlando Informer Community
on Facebook.