Kia ora! And welcome to Universal Orlando Resort's newest park, Volcano Bay, which features 13 slides, two winding rivers, three lagoon pools, and two splash pads (in addition to the beautiful scenery, the island theming, and some delicious food options – kids will flip for the Waturi Fusion rainbow ice cream at Koka Poroka!). Children over 42 inches will be able to ride eight of the slides, but if your kiddo is not quite that tall, there are plenty of family-friendly leisure pools and play areas to keep your little ones entertained throughout the day. Here, we review the top attractions for your kids to enjoy, with some tips and tricks along the way.
Before you start your day at Volcano Bay, guests bringing children will want to note a few planning tips: for safety, four different sizes of life vests are available throughout the park and are free to use for children (or anyone who is not completely confident in his swimming skills), and kids over 42 inches but under 48 will need a supervising companion on most slides and attractions. Little ones who are not potty-trained must wear a swim diaper under a bathing suit, and it will be immensely helpful for adults to read up on how to use the TapuTapu wearable device. Each section of the park has its own locker bank, so grab a locker from a section that will be convenient for you (the price will depend on the size you need), but keep in mind that the lockers in Wave Village are often the busiest – don't hesitate to venture further into the park.
(For similar touring-with-kids info on Universal Studios Florida and Islands of Adventure, head over to our guides for those theme parks, which can be found here and here, respectively.)
What height do my kids have to be to enjoy the rides at Volcano Bay?
Before you make a plan, measure your kids in the water shoes that they'll be wearing (if any at all) in the park. Some of the rides, even those specifically designed for young children, have minimum-height requirements, so if you know the magic number for your child, you'll know what you can attempt to ride and where you should steer clear – for the next few years, at least.
One last tip: we all shrink a small amount as we go about our day, so if there's an attraction that will be a close call height-wise, try to hit it in the morning, before that normal daily spine compression kicks in.
Skip to: Wave Village | Krakatau | River Village | Rainforest Village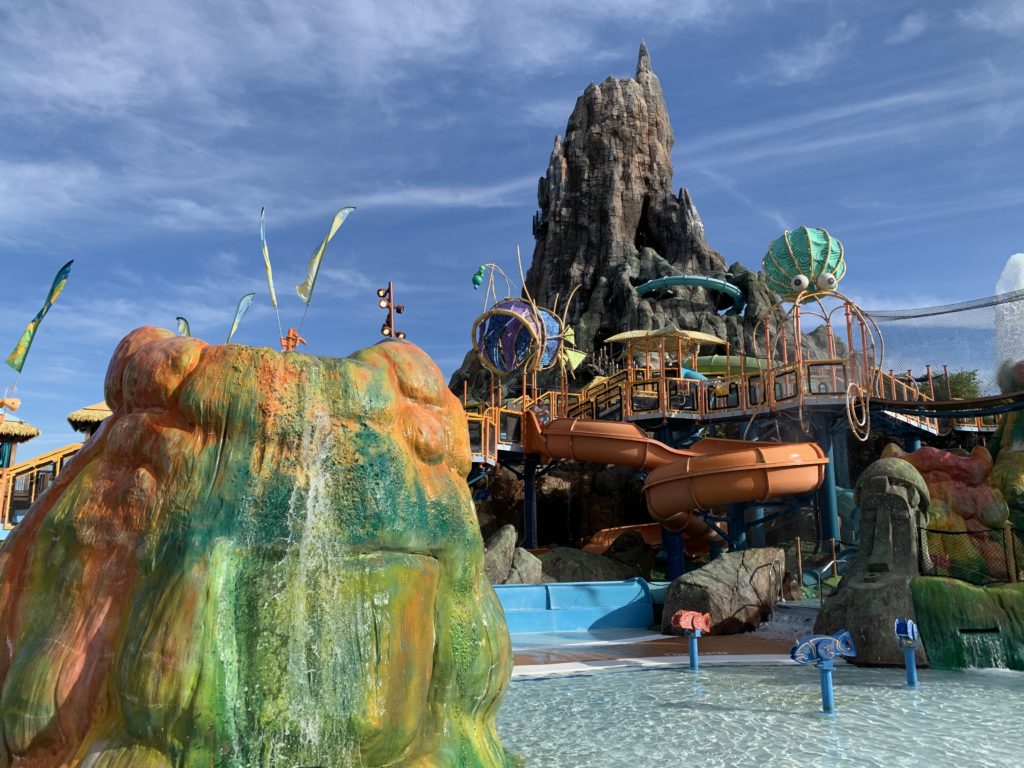 Wave Village
As you enter Volcano Bay, follow the verdant, winding path until the impressive sight of a smoking volcano comes into view. You are now in Wave Village, which features Guest Services, two quick-service eateries (Kohola Reef Restaurant and Social Club and Koka Poroka), a bar, and, of course, the main wave pool.
Waturi Beach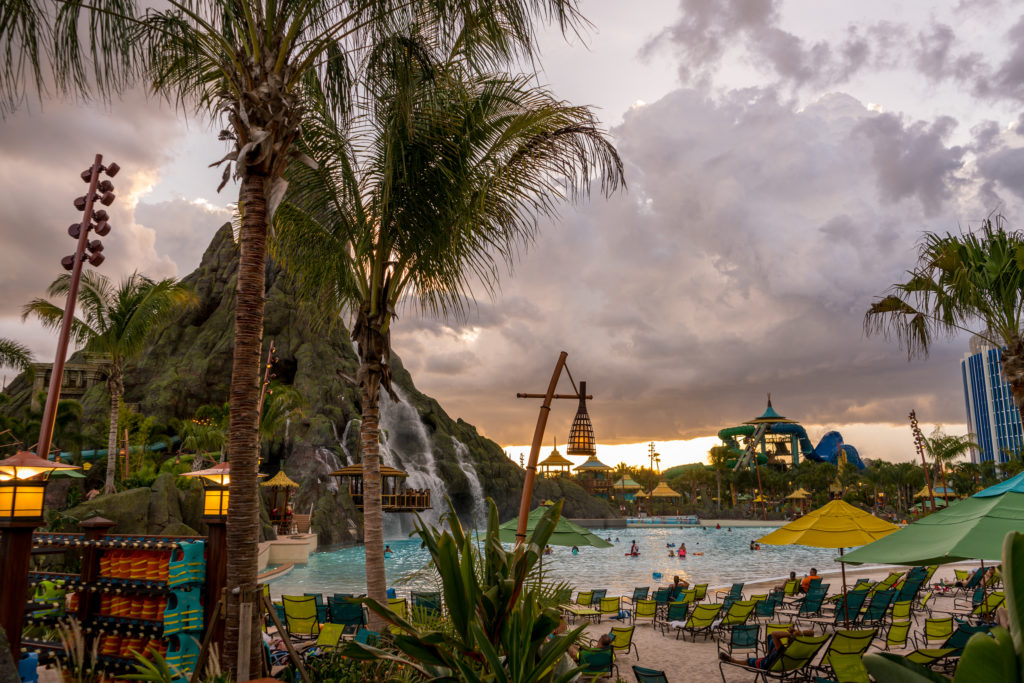 Located at the base of the volcano, all guests can enjoy the Waturi Beach wave pool, but children under 48 inches must wear a life vest. Parents will want to keep an ear out for the sounds of rhythmic drumming, a conch-shell horn, and a gong that signal when the waves are about to start.
The Reef
Around the corner from Waturi Beach, on the other side of Ko'okiri Body Plunge, is the Reef leisure pool. At its deepest, this pool is 5'6" deep, and it offers a great view of both the Krakatau waterfall and the riders coming off Ko'okiri. If you're looking for a place to swim and relax without the waves, this is the pool for you.
Because of its depth, kids under 48 inches will need to wear a life vest.
Krakatau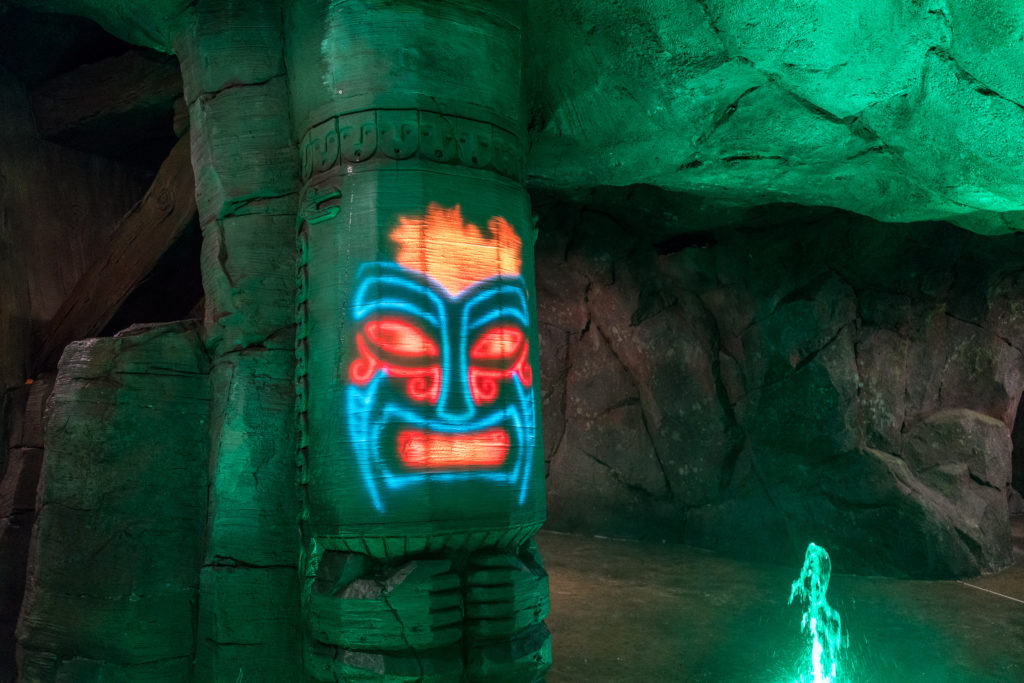 The 200-foot volcano named Krakatau is the focal point of the park and dominates the scenery, no matter where you are in Volcano Bay. Follow the bridge over the wave pool to explore the inside of the volcano, activating the TapTu Play points with your TapuTapu and enjoying water features along the way, before you meet and chat with Vol, the Spirit of Krakatau.
River Village
Continue around the volcano to the River Village section of the park, where you'll find two slides suitable for kids 42 inches or taller, as well as the main water play areas of the park. If you're hungry, stop by Whakawaiwai Eats for pizza, hot dogs, or some specialty mac and cheese.
Krakatau Aqua Coaster
The headline attraction that takes you on a thrilling ride right through the volcano, Krakatau Aqua Coaster can be enjoyed by children over 42 inches tall. Climb aboard a raft that seats four (with a two-person minimum) and experience this water roller coaster, which propels you both up and downhill. Life vests can be worn on this ride, and children must be able to sit up and hang on to the side handles. Because of its popularity, the (virtual) queue fills up quickly for Krakatau Aqua Coaster, so if you're interested in riding, make this your first stop.
Ika Moana
Part of a two-slide structure, ika Moana (the whale) is the green slide on the left side with a minimum height requirement of 42 inches, while its partner slide, Honu (the sea turtle), has a minimum height requirement of 48 inches. Able to seat five riders, the family rafts of ika Moana float you down a mostly-enclosed tube slide, with plenty of misters to give the feeling that you are inside the blowhole of a whale. Life vests are allowed on this slide.
Runamukka Reef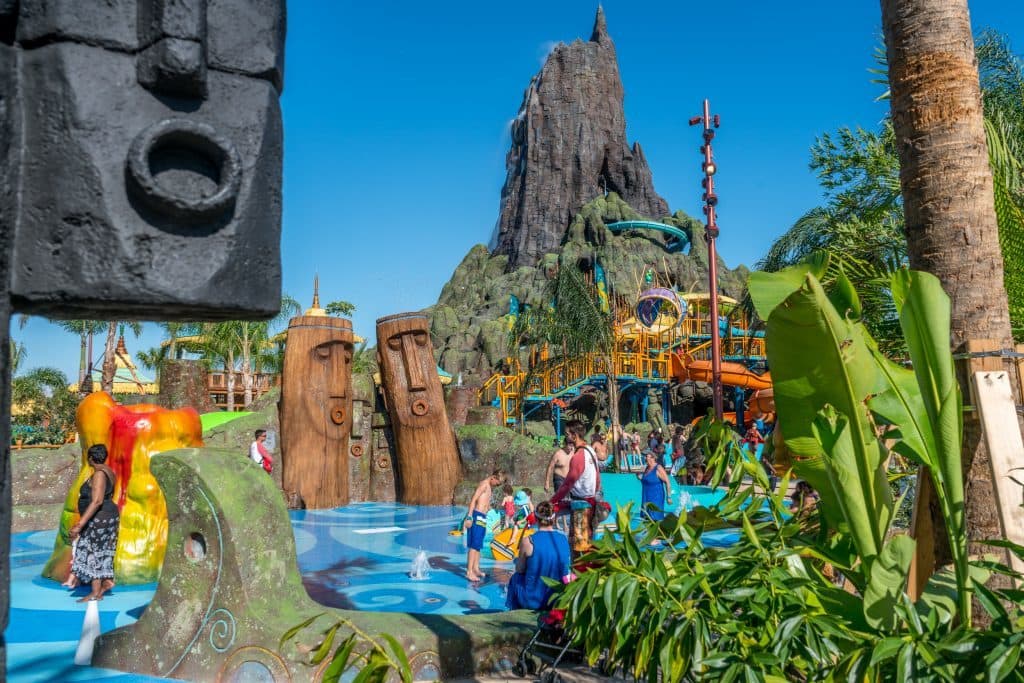 Runamukka Reef is the first of two play areas for children and is reserved for kids 54 inches and smaller. Kiddos will love the climbing structures, decently-sized slides, fish-shaped water guns, geysers, and dumping buckets. The two levels of Runamukka make it tough for parents to sit back and watch from one vantage point, but there are lifeguards stationed around the area and at the water slides.
Tot Tiki Reef
This section of Runamukka Reef is for the very little "tots." Tot Tiki Reef has a very small slide, as well as a splash pad with squirting whales and tiki-god fountains. Any water is just a few inches deep, and there are lifeguards stationed here, as well. If your sweet little one wants to go down the slide, he must be able to sit on his own, as parents are not allowed to take children in their laps.
Kopiko Wai Winding River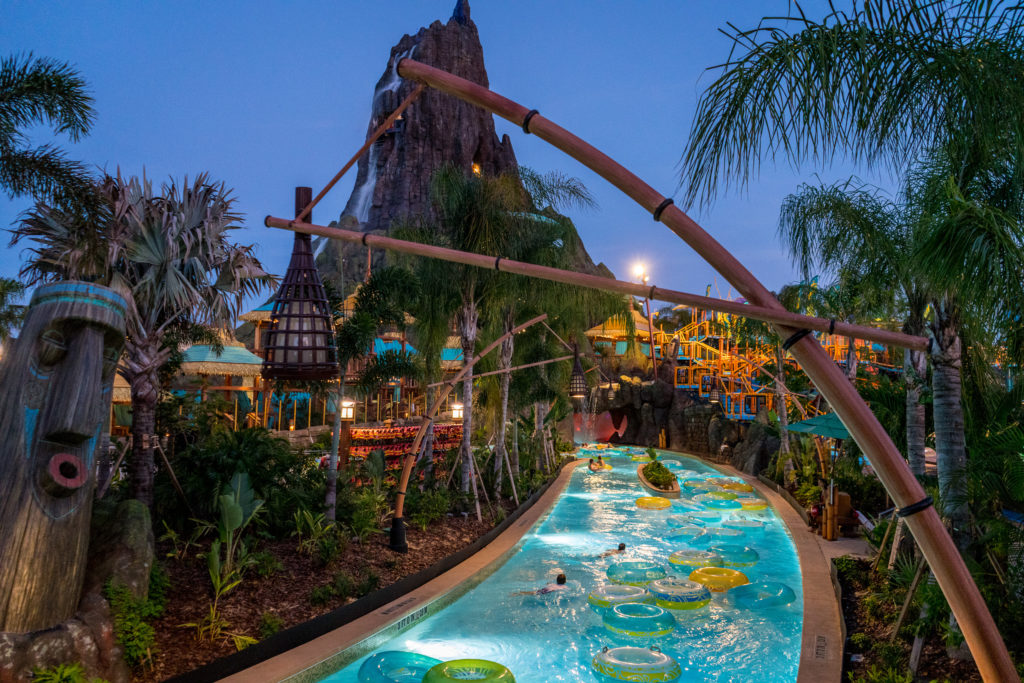 No water park is complete without a "lazy river" attraction, and Kopiko Wai is one of the best. Parents should be aware that, although there are tubes available, children under 48 inches must wear a life vest and have a supervising companion at all times. Wade in at one of the designated entrances to float under bridges and waterfalls, past water-spitting tiki gods, and through a sparkling cave.
Rainforest Village
Rainforest Village, the fourth section of Volcano Bay, features 10 different slides – four of which have minimum height requirements of 42 inches – along with TeAwa the Fearless River. Food and drink options in the village include Bambu, The Feasting Frog, and Kunuku Boat Bar.
Taniwha Tubes – Tonga and Raki
If you're moving through the park in a counterclockwise direction, the first attraction you'll come across in Rainforest Village is Taniwha Tubes. Tonga and Raki are actually four different slides, with two on the Tonga side and two on the Raki side, and while all four slides have a minimum height requirement of 42 inches, kids must be 48 inches tall to hop on alone. There are single and double tubes available, and life vests are permitted. Pick your slide (or try all four!) for a fast and fun ride with twists, turns, and steep drops. If your child is a little nervous, try the Tonga ones first, as Raki is slightly faster and more intense.
Punga Racers
Punga Racers is a head-first mat slide that lets four passengers compete in a wet and wild race to the finish. Guests must be over 42 inches to do this one. Children under 48 inches tall will require a supervising companion to ride on the slide next to them – double riders are not allowed.
Maku Puihi Round Raft Rides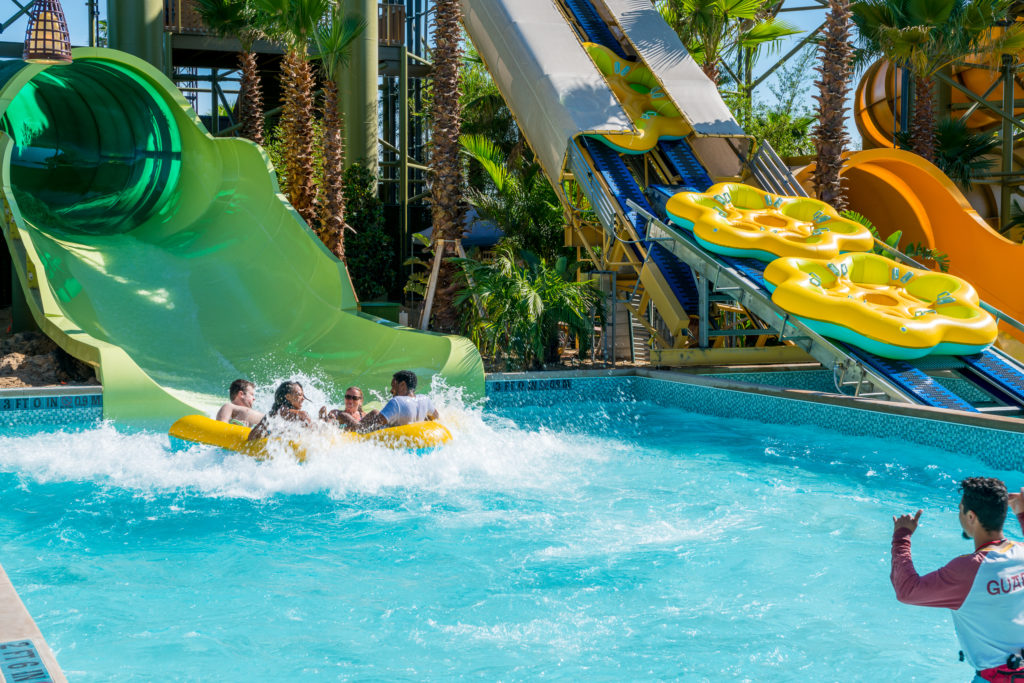 Both Maku and Puihi are six-person raft slides that take riders through a series of tunnel sections that open up into small funnels (in the case of Puihi), splashing your tube back and forth, before continuing on to the bottom. Instead of the funnels, Maku has a series of open u-bend curves and is a little gentler than Puihi – if you have little ones, you might try this one first. Both Maku and Puihi have a minimum height requirement of 42 inches, require supervising companions for those under 48 inches, and allow riders to wear life vests.
Puka Uli Lagoon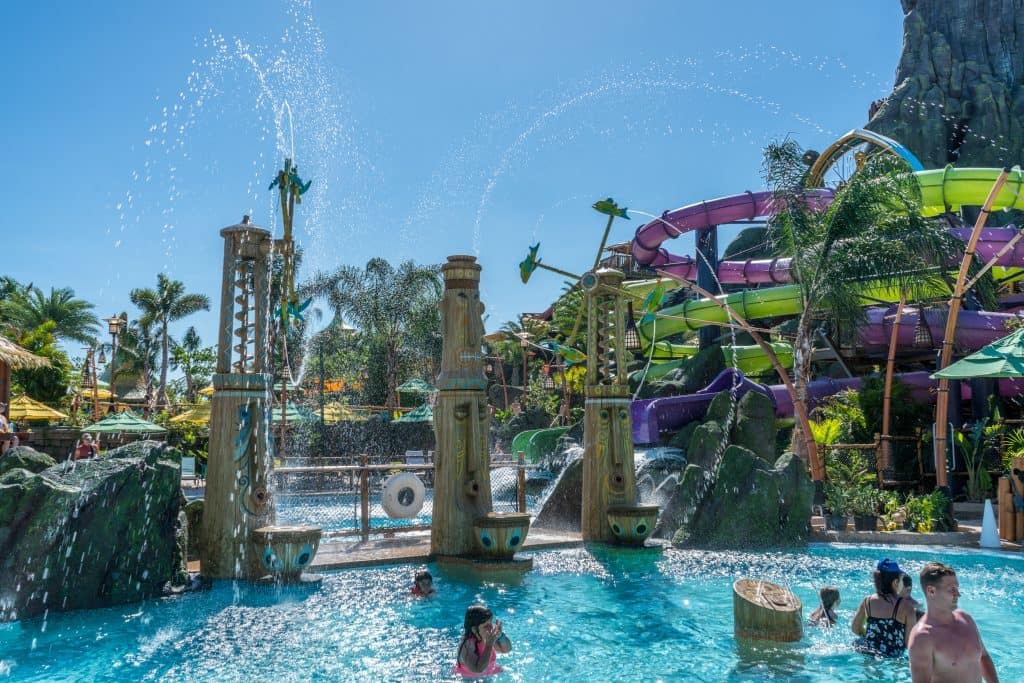 The second leisure pool at Volcano Bay, Puka Uli Lagoon is about four feet at its deepest, and children under 48" and any non-swimmers must wear life vests. This small pool is well-themed, with three tiki water fountains, bongo drums, and two TapTu Play points.
TeAwa the Fearless River
Different from your typical "lazy" river, the TeAwa action river moves swimmers quickly along at high speeds through the heart of the volcano and under Krakatau Aqua Coaster, with strong wave effects. The minimum height to experience this thrilling river is 42″ and those under 48″ require a supervising companion. Unlike Kopiko Wai Winding River, there are no tubes in TeAwa, and all guests must wear life vests.
---
If you're ready to start booking your day of family adventures at Volcano Bay, we can help you with your water-park admission.
And if you're looking for more kid-friendly activities across the resort, be sure to check out our guides on the best rides and attractions for your little ones at both Universal Studios Florida and Islands of Adventure.
Do you have a question about the information on this page or would you like to provide feedback? Please let us know by posting in our
Orlando Informer Community
on Facebook.