Skip to: Overview | Location | Restrictions | Fear factor | Song list | Secret song list | Guest reviews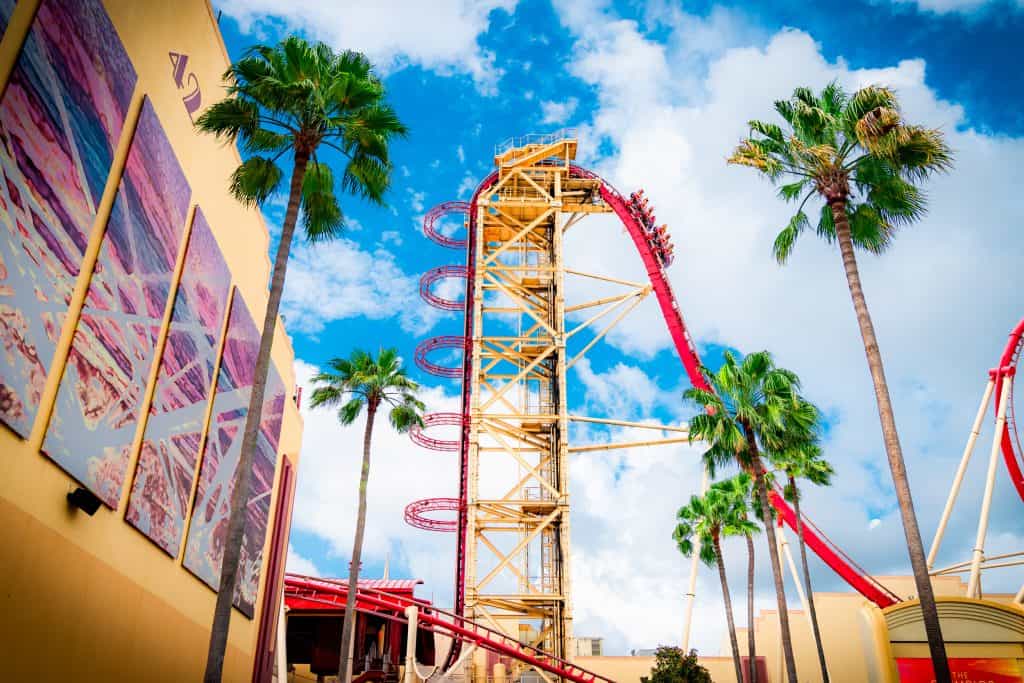 What is Hollywood Rip Ride Rockit?
Hollywood Rip Ride Rockit is an open-air roller coaster that features a 167-foot-tall vertical lift, reaches speeds of up to 65 mph, and – despite the loop and several corkscrews – does not actually invert (hence the lack of over-the-shoulder restraints). Each seat has an on-board stereo system that lets each passenger choose a ride soundtrack, along with cameras that record your ride (for purchase later, of course).
Where is Hollywood Rip Ride Rockit located?
In Production Central, which is in Universal Studios Florida.
Hollywood Rip Ride Rockit – height restrictions and other factors
Riders must be between 51 and 79 inches tall to ride, but before you get in line, make sure all your personal items (including wallets and cell phones) are stored in the free lockers outside the attraction – all guests are required to pass through metal detectors before riding. This attraction accepts Express Passes and usually has a single-rider line available. There is a test seat available for those who have concerns about the size of the restraints, while guests in a wheelchair must be able to transfer to the ride vehicle.
Hollywood Rip Ride Rockit – what you wish you knew before you experienced it
The single-rider line can be deceptively slow, and don't worry about getting a seat in the front row – the ride vehicles feature stadium seating, so you're guaranteed to get a good view. Finally, you'll only have about 30 seconds to pick the song for your ride, so study the song list and pick your faves before you go!
How scary is Hollywood Rip Ride Rockit?
5 out of 5. While the ride itself isn't that intense, its first hill is a major psych-out.
What was Hollywood Rip Ride Rockit's opening date?
August 19, 2009
Hollywood Rip Ride Rockit – song list
Classic Rock/Metal: "Welcome to the Black Parade" by My Chemical Romance (2006)
Pop/Disco: "Waterloo" by ABBA (1974)
Country: "Man! I Feel Like a Woman!" By Shania Twain (1997)
Rap/Hip-Hop: "Humble" by Kendrick Lamar (2017)
Club/Electronica: "Sandstorm" by Darude (2000)
Hollywood Rip Ride Rockit – Secret Playlist
In addition to the 5 songs available on the main screen, there's an additional list of more than 60 secret songs that can only be accessed if you're in the know. To select one of these songs, take your seat on the ride and, instead of going through the song selection menu, press your finger on the Rip Ride Rockit logo for a full 10 seconds. A numerical keypad will then pop up, and you'll be able to enter the three-digit code of your chosen jam. The tricky part here is that there is no list of songs, and you won't have your phone with you, so make sure you memorize a few options and their corresponding codes from the list below, before you queue up for the coaster. (Note: if you don't get it entered fast enough, a random track will be selected for your ride.)
One last note of caution – caveat auditor! Because these songs are from a secret list, they have separate licensing rights, which means that if you choose a secret song, you will not be able to purchase a video at the end of the ride. If it's your first spin on Hollywood Rip Ride Rockit, or if you are intent on buying the on-ride video, we recommend you go with one of the above-listed songs.
101 – Rush – "The Temples of Syrinx" (1976)
102 – The Smithereens – "Blues Before & After" (1990)
103 – The Doors – "Break On Through" (1967)
104 – Elton John – "Crocodile Rock" (1973)
105 – Steely Dan – "Do It Again" (1972)
106 – Candlebox – "Don't You" (1993)
107 – Gov't Mule – "Drivin' Rain" (2002)
108 – The Byrds – "Eight Miles High" (1966)
109 – Aldo Nova – "Fantasy" (1982)
110 – American Hi-Fi – "I'm A Fool" (2001)
112 – Lynyrd Skynyrd – "Freebird" (1973)
113 – Led Zeppelin – "Immigrant Song" (1970)
114 – Jane's Addiction – "Just Because" (2003)
115 – Lenny Kravitz – "Live" (1998)
116 – Queens of the Stone Age – "Mexicola" (1998)
121 – Tom Petty – "Runnin' down a Dream" (1989)
122 – The Rolling Stones – "Start Me Up" (1981)
123 – Muse – "Stockholm Syndrome" (2003)
124 – Breaking Benjamin – "The Diary of Jane" (2006)
127 – Foreigner – "Urgent" (1981)
128 – U2 – "Vertigo" (2004)
129 – Journey – "Wheel in the Sky" (1978)
130 – The Who – "Won't Get Fooled Again" (1979)
131 – Blue Man Group – "Klein Mandelbrot" (1999)
132 – Blue Man Group – "Drumbone" (1999)
301 – Modest Mouse – "Float On" (2004)
302 – Jackson Five – "I Want You Back" (1969)
303 – The Cat Empire – "In My Pocket" (2005)
304 – Billy Joel – "It's Still Rock and Roll to Me" (1980)
306 – Eminem – "Lose Yourself" (2002)
307 – Christopher Cross – "Ride Like the Wind" (1979)
308 – Bryan Adams – "Run to You" (1988)
309 – John Legend – "Save Room" (2006)
310 – Madonna – "Vogue" (1990)
311 – Fleetwood Mac – "You Make Loving Fun" (1977)
312 – Barry White – "My Everything" (1997)
504 – Robert Cray – "Smoking Gun" (2008)
506 – B.B. King – "The Thrill Is Gone" (1969)
507 – John Mayer Trio – "Who Did You Think I Was" (2005)
508 – Dry – "Pivot" (1998)
701 – Metallica – "Cyanide" (2008)
702 – Flaw – "Endangered Species" (2004)
703 – Metallica – "For Whom the Bell Tolls" (1984)
704 – Black Label Society – "Forever Down" (2005)
705 – The Sword – "How Heavy This Axe" (2008)
706 – Ministry – "Just One Fix" (1992)
707 – Rage against the Machine – "Know Your Enemy" (1991)
708 – Ministry – "Let's Go" (2007)
709 – Pantera – "Mouth for War" (1992)
710 – Judas Priest – "Painkiller" (1990)
711 – Black Sabbath – "Paranoid" (1980)
712 – Down – "Temptation's Wings" (1995)
713 – Iron Maiden – "Wicker Man" (1975)
714 – Ill Nino – "Unreal" (2001)
715 – Megadeth – "Wake Up Dead" (1986)
716 – Suicidal Tendencies – "We Call This Mutha Revenge" (1992)
718 – Judas Priest – "You've Got Another Thing Comin'" (1982)
782 – Skillet – "Monster" (2009)
901 – The Muppets – "Movin' Right Along" (1979)
902 – The Muppets – "Rainbow Connection" (1979)
903 – Paper Moon – "Your Attitude Towards Cuttlefish" (2002)
904 – Modest Mussorgsky – "Night on Bald Mountain" (1867)
Hollywood Rip Ride Rockit – photo gallery
Hollywood Rip Ride Rockit – real guest reviews
Hollywood Rip Ride Rockit
Average rating:
69 reviews
Jun 19, 2017
Go On This
Date Of Last Visit:
December 9th, 2016
So I just went with my dad. He was very, truly scared, but I don't know why. The ride was the best one in the state! I had a delay on the summit of the 167 foot drop for 1 minute. At least I got an awesome view!
Jun 12, 2016
Rip Ride Rockit
Date Of Last Visit:
6/11/16
I never write reviews but I must say I have rode many roller coasters and I love them , but I was very disappointed in the Rip Ride! I was on the very last seat of the coaster and it was extremely rough . As I read other reviews , it made me feel better to know others felt the same. Maybe the front is better, all I know is I had a terrible headache when I got off . Yes , it slung me around like a rag doll. My recommendation is to ask if you can wear a football helmet and a BC powder before riding , especially if they put you in the back! I couldn't wait for that ride to end .#dontsitinthelastseat
Dec 22, 2014
Depends on the car you're in
Date Of Last Visit:
12-16-14
I rode this four times in a row on the evening of DEC 16th. The first time I was in the last row and it was super smooth, making this the most amazing ride ever on this coaster. The other three times were not at all as smooth--one time also in the last row, other two times a bit further up. If they can adjust all the train cars like that first one, everyone will always love this ride. I'm guessing that with age, the cars are a bit looser on the rails resulting in a bumpy ride--which is not good.
Sep 30, 2014
Something's changed
Date Of Last Visit:
09/25/14
We've ridden this coaster 4 or 5 times previously in the last year and it was definitely our favorite. Every other time, however, we sat in the first or 2nd row. We loved how smooth a ride it was.



This time - we were in the last row and as some have noted, it's an entirely different experience - quite rough and hard to tell whether to press one's head against the head rest or try and hold it away. Both left with slight headaches. But that wasn't the worse 'change'.



It's one thing to have everyone put loose items in the lockers - but they challenged zipped pockets, wallets and keys in pockets. We had to go back to the locker a 2nd time. And then they challenged paper towel in my husbands jeans and there were at least 4 'checkpoints' all the way to the top of the ride. No other ride was enforced this rigorously and it turned us off to our favorite coaster.
Sep 1, 2014
Brain Scrambler
Date Of Last Visit:
8/31/14
I am a huge coaster fan so I was super excited to ride this one. If I could do 2.5 stars, that's probably what I would give it. Having ridden a few other coasters with only lap restraints, I expected this ride to be smooth, but it was not. The thrill of going straight up and the huge drop in the beginning was great, but much of the middle of the ride was too rough. The second half of the ride was much smoother and enjoyable enough for me to put my hands up. Some folks complain about the music, but I thought some classic MC Hammer was a perfect accompaniment to the ride. G forces are really strong on this one too so don't do it if that is not something you like.
Do you have a question about the information on this page or would you like to provide feedback? Join us in our OI Community Facebook group, and let's talk about it!