Skip to: Overview | Location | Hours | Menu | Guest reviews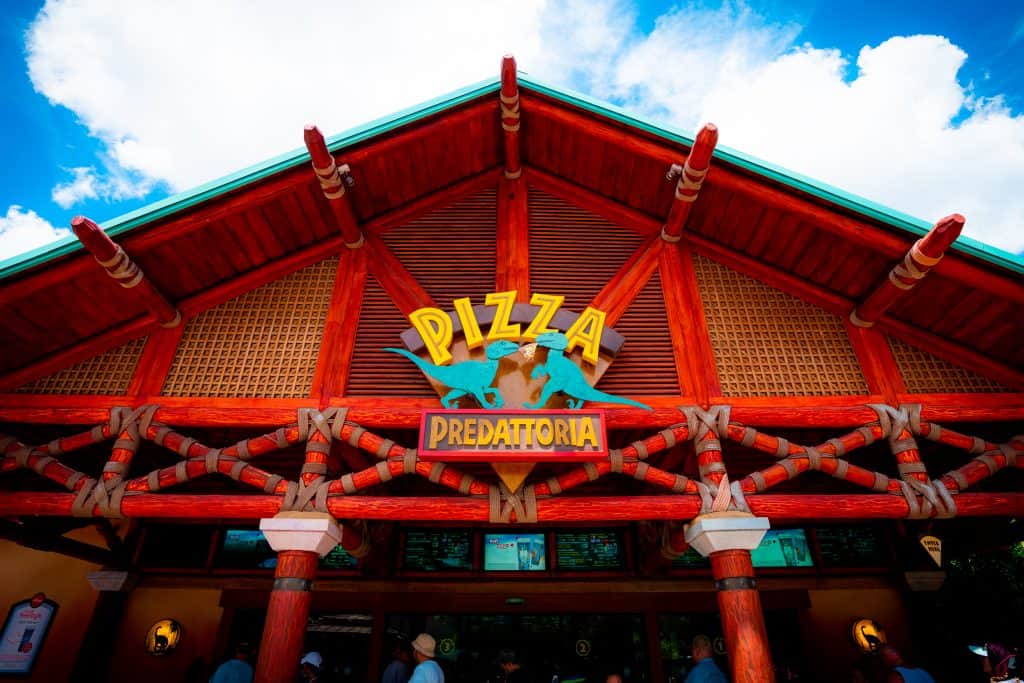 What is Pizza Predattoria?
If you're looking for a pit stop between getting soaked on Jurassic Park River Adventure and soaring through the sky on Pteranodon Flyers, Pizza Predattoria checks all the boxes. Located near Jurassic Park's midway games in Islands of Adventure, this quick-service destination serves a variety of pizzas and salads, along with beverages and ICEEs.
Where is Pizza Predattoria located?
In Jurassic Park, which is in Islands of Adventure.
Pizza Predattoria – hours and reservations
Pizza Predattoria is typically open during park hours, but this is, of course, subject to change. Reservations are not required.
What's on the menu at Pizza Predattoria?
Pizza
Combo are served with a side Caesar salad
Meat Lover's Pizza Combo – $18.59
Meat Lover's Pizza – $14.49
Pepperoni Pizza Combo – $18.59
Pepperoni Pizza – $13.49
Cheese Pizza Combo – $17.59
Cheese Pizza – $12.49
Salads
Combos are served with a breadstick
Grilled Chicken Caesar – $12.49
Sides
Breadsticks with Marinara – $3.99
Desserts
Seasonal Fresh Fruit Cup – $4.79
Brookie – $3.79
Novelty Ice cream – $4.69
Choose from a selection of ice cream bars.
Beverages
Coca-Cola Freesyle Souvenir Cup – $17.99
Extra day of refills for Freestyle Cup – $10.99
Fountain Soda – $4.19
ICEE – $6.00
Cherry, lemonade, raspberry
Powerade – $5.50
Fruit Punch, Mountain Berry Blast
Minute Maid Juice – $2.89
Apple, orange
H2O+ Premium Water – $5.50
Beer & Wine
Miller Lite – $9.50
Heineken, Pseudo Sue Pale Ale – $10.50
Foster's – $13.50
Wine – $9.00
Cabernet Sauvignon, Chardonnay
Pizza Predattoria – real guest reviews
Orlando Informer
Average rating:
0 reviews
Do you have a question about the information on this page or would you like to provide feedback? Please let us know by posting in our
Orlando Informer Community
on Facebook.