Skip to: Overview | Location | Hours | Menu | Guest reviews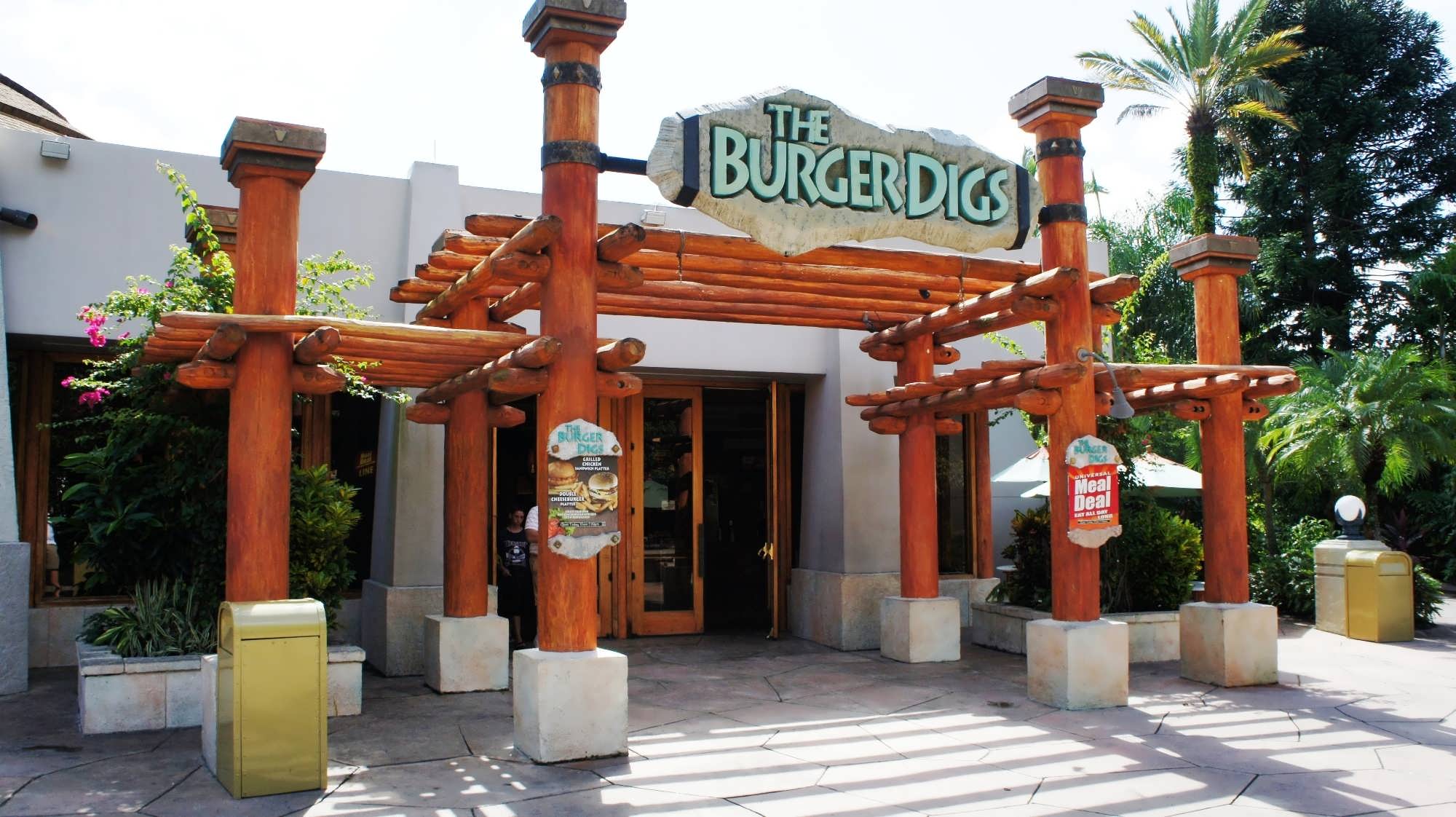 What is The Burger Digs?
This restaurant is located in the upper floor of the Jurassic Park Discovery Center. While the menu options can be rather mediocre, the venue usually has plenty of seating space (even over the lunch rush), and the outdoor seating area out back offers fabulous views of Islands of Adventure.
Where is The Burger Digs located?
In Jurassic Park, which is in Islands of Adventure.
The Burger Digs – hours and reservations
The Burger Digs is typically open during park hours, but this is, of course, subject to change. No reservations are necessary.
What was The Burger Digs's opening date?
May 28, 1999
What's on the menu at The Burger Digs?
Platters
Platters are served with fries
Bacon Cheeseburger Platter – $14.99
Premium black Angus beef patty, cheddar cheese, bacon, pickle, lettuce, and tomato.
Grilled Chicken Sandwich Platter – $11.49
Grilled chicken breast, lettuce, tomato, and pickle.
Casado Burger Platter – $17.49
Costa Rican inspired black angus patty, sweet plantains, avocado, pork belly, garlic mayonnaise on a raptor scored brioche bun.
Vegan Cheeseburger Platter – $12.49
Vegan-brown-rice-and-mushroom patty with vegan cheese
Spring Salad – $9.99
Fire-roasted corn, peppers, black beans, pineapple vinaigrette
Add fried or grilled chicken – $4.99
Sides
French Fries – $3.99
Onion Rings – $4.99
Cheese Sauce – $1.99
Chili Cheese Fries – $6.49
Beverages
Single-serve Coca-Cola Freestyle Cup – $4.19
Extra day of refills – $9.99
Powerade – $5.00
Fruit Punch, Mountain Berry Blast
Minute Maid Juices – $2.89
Apple, orange
Milk – $3.29
2%, chocolate
Hot Drinks – $3.29
Coffee, Hot Cocoa, Hot Tea
H20+ Premium Water – $5.00
Desserts
Milkshakes
Chocolate, vanilla, or swirled
Regular – $3.99
Large – $5.99
Brookie – $3.29
Apple Pie – $3.99
Beer
Draft Beer – $10.50
Souvenir Pilsner – $13.50
The Burger Digs – photo gallery
The Burger Digs – real guest reviews
Orlando Informer
Average rating:
5 reviews
May 26, 2014
Wonderful!
Date Of Last Visit:
03/09/2014
This is somewhere I would tell someone to eat if you're looking for somewhere to drop by for lunch! It has a great menu and the view outside is wonderful!! This place went way past my expectations! Has a lot of open space, too!
May 25, 2014
Spacious and nice
Date Of Last Visit:
October 2013
My family and I found this place on our way to Hogsmeade. We were looking for something to eat that had the Coca Cola Freestyle and Meal Deal program and this place was just perfect. We ordered some burgers and added some condiments from the bar that worked as a great side salad.

It's a great place to eat, it has plenty of seating space and has a really good view of the Hulk roller coaster.
May 24, 2014
Restaurant straight out of the movie
Date Of Last Visit:
October 2013
I had never seen Jurassic Park before visiting IOA in 2012. Let me just say that when I finally saw the movie, my mind went straight back to The Burger Digs and the Discovery Center. It's incredible how well they brought the magic to life. On top of that, the burgers were yummy and service was just as good.
Jul 19, 2013
Digging the Burger Digs
Date Of Last Visit:
11/1/2012
Ordering is quick and easy and the food is very good. Condiments bar galore but the #1 thing I love about this place is the VIEW! Amazing place to eat, unwind and revel that you are at ISLANDS OF ADVENTURE!.



Basic fast food eats....and the decorating is nice. Plenty of seating available...restrooms are very clean.. Staff is great.. One key thing to know about a lot of the eateries of the Islands is they all have different closing times....some even close at 4 or 5 in the afternoon.
Jul 15, 2013
Burger Digs - a real find
Date Of Last Visit:
Aug 2012
Myself and my family are BIG fans of this little eatery within IOA.



In our opinion there are many great things about choosing The Burger Digs for your lunch / afternoon snack.



OK, so its a normal fast food joint, in that the food on offer is similar to the others around the park, but you are on vacation 🙂 you deserve a little fast fried food once or twice a day!



The food is not why I have rated this 4 stars, but please do not confuse me in thinking the food is no good, its hot, tastes fresh and good value (even better if combined with the meal deal, check out the Orlando Informer pages on this if you need to know more - invaluable... https://orlandoinformer.com/universal/dining-plan) the menu is a range of burger, vegetarian burger, chicken tenders or a chicken sandwich (or was when we visited).



There are 4 main points that deserve a mention...



The dig your own toppings bar... This is good for two reasons, the fussy ones among you do not want your burger / chicken polluted with all that healthy stuff, and for those that way inclined you can mount lettuce, tomato, onion etc as high as can possibly fit. A great way of making my kids feel like they are involved in creating their own lunch.



"That" view... those that have been and chosen a seat outside will know what I mean, it has views across the lake which are quite fabulous especially early evening.



The air-con... those that have visited in August will know that this is a BIG bonus when it comes to lunchtime venues, the place is huge, it does not feel cramped (even when all tables are filled) and has a great atmosphere.



The theming is what makes this place, in my opinion, better than any other quick service venue in any of the Orlando parks. Where else can your kids pop downstairs and watch a dinosaur hatch, or play on the interactive games.



Just make sure that T-Rex doesn't steal a bit of your lunch while you are not looking.



A must visit every vacation. Can't wait to visit when we are back this year.
Do you have a question about the information on this page, would like to provide feedback, or did you spot an inaccuracy? Please let us know by posting in our
Orlando Informer Community
on Facebook.