Welcome to OI's complete guide to annual passes at Universal Orlando. Though not anywhere near as convoluted as purchasing year-round tickets for Walt Disney World Resort, Universal's annual offerings have gotten steadily more complicated over the past several years, as Universal Orlando Resort has added more and more to its lineup of attractions – most especially the Volcano Bay water theme park, which single-handedly doubled the number of annual pass options that were out there.
Let's just walk through this process bit by bit and take everything one step at a time, yes? By the end of our discussion, you'll be fully equipped to make the best decision between all eight AP permutations for you, your family, and your vacation budget.
View our Universal Orlando Resort tickets if you are looking for discounted tickets to Universal Orlando Resort.
Skip to: Tiers | Blockout dates | Perks | Cost | FlexPay | When to buy
What are the different annual pass tiers?
Before we can get into which option might be the best for you, we'll first need to go over what all those options are in the first place.
To begin with, Universal offers four basic tiers or categories for its annual passes. The Seasonal Pass allows you access to the resort only during certain times, or seasons, of the year – basically, you won't be eligible to go during spring, some of the summer, or Christmas break. The Power Pass cuts those blackout dates in half. The Preferred Pass has no blockouts for the theme parks, though it still does for the water park, while the Premier Pass does not have any blockout dates at all.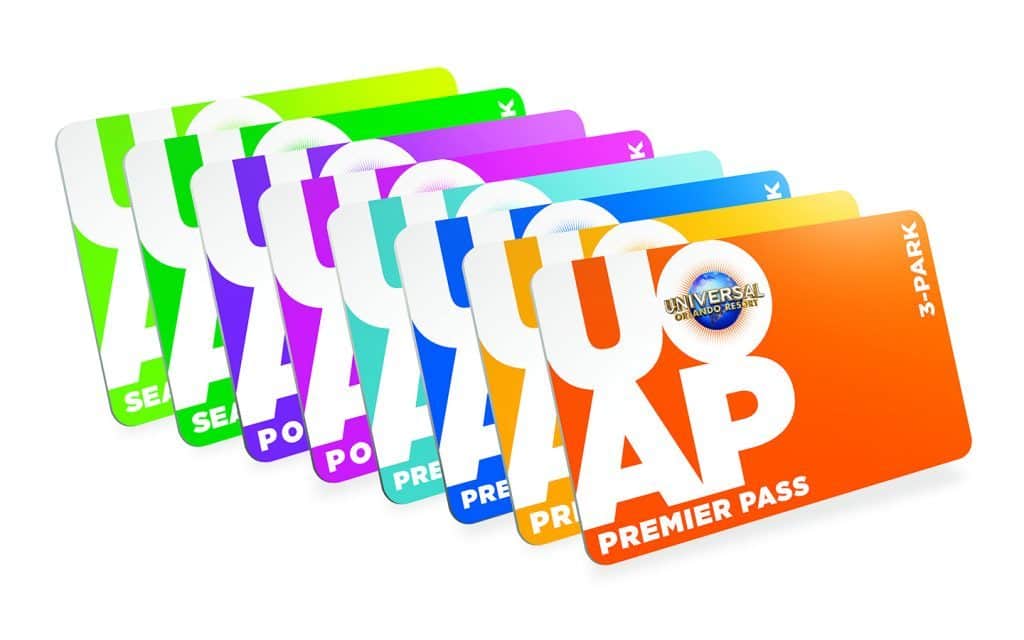 Beyond reducing the number of blackouts the higher up the annual-pass ladder you go, Universal also throws in more perks into the mix. Perks start in the form of discounts at gift shops, restaurants, and hotels and end with free tickets to Halloween Horror Nights (once again, we'll explore all these benefits a little more in-depth in just a bit).
Finally, it should be noted that all four AP echelons are offered in two different varieties: two-park and three-park. The former grants you entry only to the two theme parks (Universal Studios Florida and Islands of Adventure), while the latter makes you eligible for the Volcano Bay water theme park, as well. On the whole, the price difference between the two options is somewhere around $100 – save for the Premier Pass, that is, which costs a bit more to upgrade.
Before we go into more detail, it is important to note that Universal Orlando Resort uses different terminology between Seasonal and Annual Passes. Due to its block-out dates, they refer to the Seasonal Pass as "seasonal" rather than "annual." Despite their use in these terms, the Seasonal Pass offers admission for most of the year with some exclusions during the busiest seasons.
Universal Orlando Resort Annual Pass Blockout Dates
The first – and probably most important – factor to deciding which annual pass to pick up is.
The blockouts for the two theme parks are different from pass to pass, while the ones for the water park are far more consistent across the board.
UNIVERSAL STUDIOS FLORIDA AND ISLANDS OF ADVENTURE BLACKOUTS – 2023 & 2024
Seasonal Pass
July 1 – 31, 2023
Nov. 20 – 25, 2023
Dec. 23 – 31, 2023
January 1 – 2, 2024
March 18 – April 6, 2024
July 1 – 31, 2024
November 25 – 30, 2024
December 21 – 31, 2024
Power Pass
Dec. 23 – 31, 2023
January 1 – 2, 2024
March 18 – 30, 2024
December 21 – 30, 2024
Preferred and Premier Passes
VOLCANO BAY BLACKOUTS
Seasonal Pass
June 10 – August 13, 2023
March 18 – April 6, 2024
June 8 – August 11, 2024
Power Pass
June 10 – August 13, 2023
Blockouts apply before 4 p.m.
June 8 – August 11, 2024
Blockouts apply before 4 p.m.
Preferred Pass
July 1 – August 13, 2023
Blockouts apply before 4 p.m.
July 1 – August 11, 2024
Blockouts apply before 4 p.m.
Premier Pass
What about those additional perks?
The second consideration when perusing all the different annual-pass levels is what else Universal will be giving you; these discounts and freebies will make a far bigger difference to what the bottom line is than you may at first realize, especially if you're going to be visiting more than once a year. Your annual pass could end up paying for itself in all these attached savings.
As such, we suggest that you take a good, long look at your options and keep these perks in mind when you finally make the plunge into AP land.
DISCOUNTS
Seasonal and Power Pass
You won't find any savings inside the three parks, but you can get a few special offers inside CityWalk (such as on Universal Cinemark tickets) and the Universal hotels (including up to 30% off the rack rates and up to 15% off on select eateries).
Preferred Pass
In addition to keeping all the CityWalk and hotel benefits from the two lower-level APs, the Preferred Pass ups the discounted rate at certain locations and, on top of that, adds even more venues into the mix (for example, food at Hard Rock Cafe and concert tickets at the Hard Rock Live next-door).
But the real distinction here is a discount inside the theme and water theme parks. You can expect 10% off on all Universal-owned stores and restaurants, as well as on My Universal Photos. Please know that the food and beverage discounts are not eligible at non-Universal owned carts or on any alcoholic drinks.
Finally, there are a number of places inside the parks that will also reap you a discounted price, such as rock climbing, airbrushing, or psychic readings.
Premier Pass
It's much easier to describe the difference in discounts between the Preferred and Premier Passes: take pretty much every single location that offers a discount at the parks and at CityWalk and increase it from 10% to 15% with similar exclusions. Premier Passholders tend to get a bigger chunk of change off at the hotel restaurants, as well.
For a complete listing of all the current discounts across all of the theme parks, CityWalk venues, and hotels, please see Universal's main page.
PARKING
Unsurprisingly, the Seasonal Pass won't net you any savings here, but the Power Pass will grant you 50% off regular daytime self-parking after your first visit.
The real perks start to kick in at the Preferred level: after your first visit, you'll be granted free self-parking and discounted rates for normal and Red Carpet valet parking. Premier does it one step better by offering free Prime self-parking and normal valet parking, with an even bigger discount for Red Carpet valet parking.
EARLY PARK ADMISSION
If you end up going with the top two AP levels, you'll be offered free Early Park Admission (also known as EPA) to either Universal Studios Florida or Islands of Adventure without having to stay at a Universal hotel. Please be aware that Preferred Passholders have some restrictions here that their Premier counterparts don't (such as, for example, only getting early access to one theme park instead of both during the busier times of the year).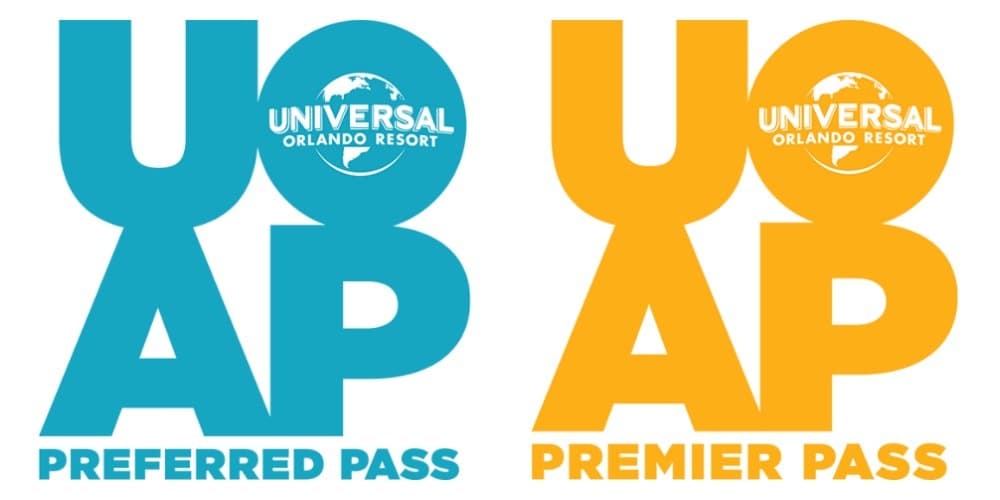 We should also note that no annual pass will grant you EPA to Volcano Bay, no matter whether you have the three-park version or not; the only way to secure early entry to the water park is by staying on property at one of the resorts.
PURCHASING ANNUAL EVENT TICKETS
For those events that require a separate ticket – Halloween Horror Nights, Rock the Universe, and EVE at CityWalk – every AP echelon will nab you a discount off the standard price (though you'll need to check with Universal directly to see what it is for the dates that you plan on attending). Even better, Premier holders get one free HHN ticket each and every year.
(And since we're talking about annual events, let's just take a moment to point out that the Seasonal Pass's blackout dates interfere with a few of the ones that don't require a special ticket – chiefly, Grinchmas and the Mardi Gras concerts that always prove to be so popular.)
FREE EXPRESS PASSES
For Premier Passes only.
Just in case all the discounts, parking perks, Early Park Admission, and bargain rates for general-admission/annual-event tickets weren't enough to sway you to go the Premier route, Universal has one final ace up its sleeve: free Express Passes after 4:00 pm at both Universal Studios Florida and Islands of Adventure. (Just note that this is for basic Express and not Unlimited, which means you can only use your complimentary EP once per participating attraction per day, and it's not valid at Volcano Bay. But, still – it's free!)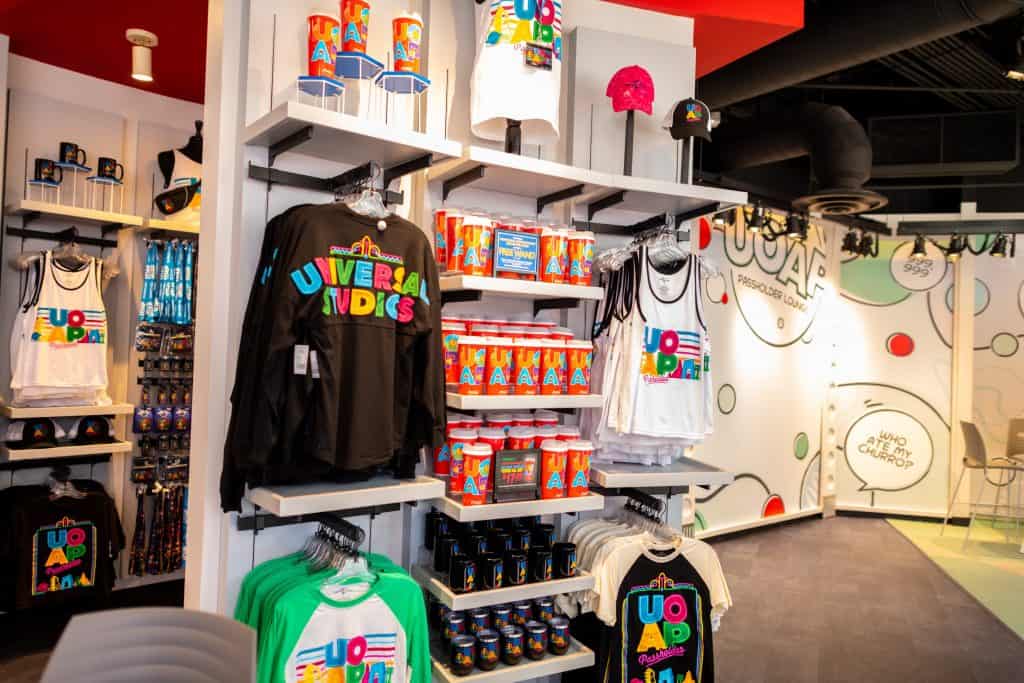 UOAP LOUNGE
Originally intended to be a limited affair, Universal has kept extending the life of its Universal Orlando Annual Passholders' Lounge Presented by Coca-Cola. Located in Toon Lagoon, near Comic Strip Cafe, and typically open from 11:00 am to 4:00 pm daily, APs can relax, recharge their phones, and purchase Coke products, including Arctic Coke Coolers, which crystallize beverages "for even cooler, crisper, ice-cold refreshment."
How much does all this cost?
Enough with all the explanations and fine print, right? Let's just get down to brass tacks – how much will an annual pass cost you?
Here are the current prices for 2023:
OUT-OF-STATE ANNUAL PASSES
| | Two-park option | Three-park option |
| --- | --- | --- |
| Seasonal Pass | $424.99 | $524.99 |
| Power Pass | $474.99 | $584.99 |
| Preferred Pass | $629.99 | $739.99 |
| Premier Pass | $904.99 | $1,094.99 |
FLORIDA RESIDENT ANNUAL PASSES
| | Two-park option | Three-park option |
| --- | --- | --- |
| Seasonal Pass | $324.99 | $424.99 |
| Power Pass | $374.99 | $484.99 |
| Preferred Pass | $529.99 | $639.99 |
| Premier Pass | $789.99 | $979.99 |
If you are unsure about purchasing Annual Passes prior to your visit, you are always welcome to upgrade your multi-day ticket to an Annual Pass at guest services (this includes tickets purchased from Orlando Informer as well). Just be sure to upgrade before the ticket expires (your last day).
All about FlexPay
For the three higher-level annual passes, you have the option to purchase your admission via a monthly installment plan called FlexPay. For the first month of FlexPay payments, you will put down half the cost of your chosen Annual Pass. In the months following, you will make installment payments until your pass is fully paid off. There's no interest charged for you doing this.
It sounds like a no-brainer – why pay more, all at once, when you don't have to? – but there's actually a lot of fine print involved with the whole process, and it kicks in once you've finished paying off the first 12 months of your AP. Once you enter month 13, you move from a year-long window of admission to a monthly window. If you pay the rate for that month, you have a valid ticket; if you don't, you don't.
It sounds rather easy, but there are a surprising number of complications involved. For example, you are from out-of state and you purchased your annual pass in January before the rates were raised for the coming year and you didn't actually visit Universal Orlando until May. Ordinarily, your one-year block of admission would kick off in May 2022 and last until May 2023, but because you've opted to pay using FlexPay, once June 2022 comes around you move from a yearly basis to a monthly one – you now need to keep making those monthly payments in order to keep your AP valid and active. In other words, instead of getting a full year of entry to Universal, you only ended up getting eight months' worth before having to pay again.
Yes, there is a solution to this scenario: make sure to cancel the automatic renewal option that FlexPay defaults to before January 2023 comes to a close. However, for most people, who are busy with work and family during their non-vacationing periods, it's easy to let the date slip, and then they'll end up paying quite a bit more for their AP than they at first thought they were going to.
There are several other similar situations out there that we've heard of over the years from readers and listeners, and all of these make us jump to one simple conclusion: if at all possible, we advise you to pay for your annual pass all at once and to not use FlexPay. You may thank yourself for the decision later on.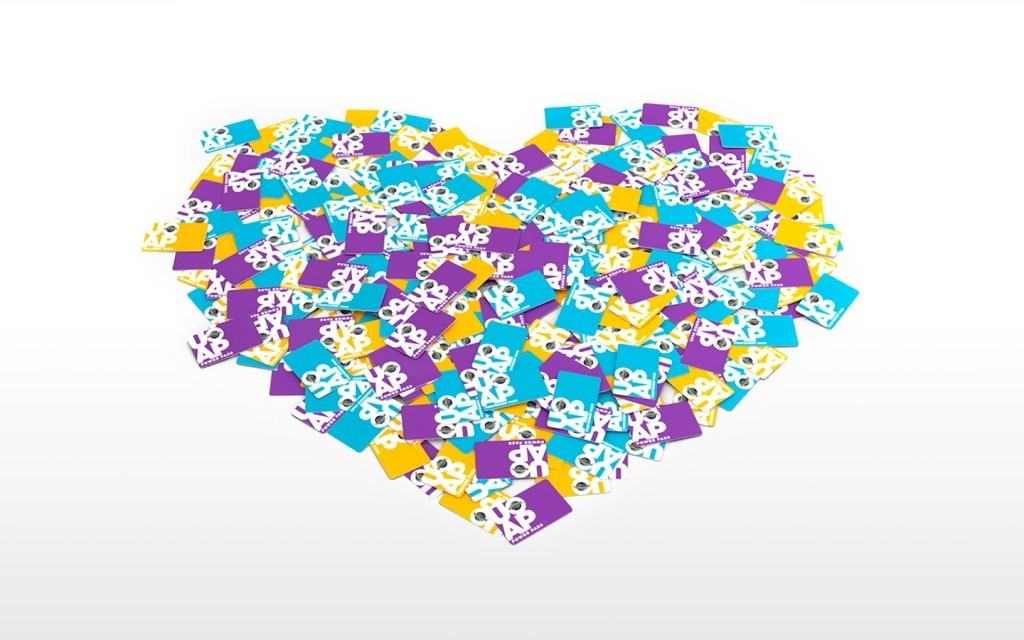 Do you have a question about the information on this page or would you like to provide feedback? Please let us know by posting in our
Orlando Informer Community
on Facebook.