It's never too early to start panicking for the nation's premier Halloween event: Halloween Horror Nights 2023. On these pages, you will find all the information and insider secrets you need to survive the terror – as well as our very best expert advice on how to save time and money as you face your worst fears.
Orlando Informer is proud to provide our readers with the world's most popular guide to this year's Halloween Horror Nights event. Just like the entire OI Universal Center, our information is comprehensive, obsessively updated, and completely free. We hope you will use all the wisdom we've gained over the years to make sure your family's HHN trip is one night you will never want to forget!
Once you've read through our complete overview of Horror Nights, use the navigation links at the top or bottom of the page to learn so, so much more.
Skip to: Overview | Haunted houses | Scare zones | Shows | Hotel experiences | Rides | Tribute Store | Merch | FAQ
Halloween Horror Nights 2023 – overview and explanation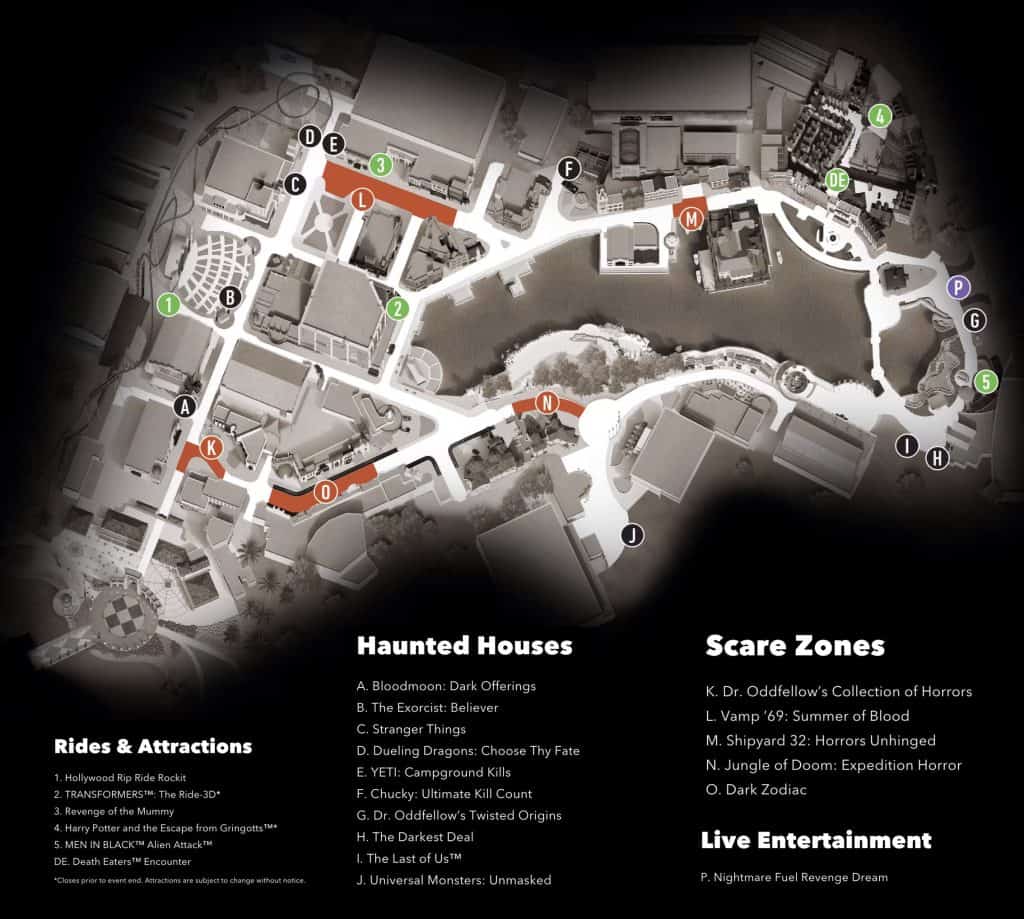 Think you have what it takes to survive the biggest names in horror and venture through original, twisted nightmares?
Now in its 32nd terrifying event year, Universal Orlando Resort's Halloween Horror Nights puts you right into some of the most pulse-pounding moments in horror history. During the day, you can experience the fun and excitement of Universal Orlando's two amazing theme parks (and water park!). But on select nights from September 1 through November 4, 2023, the streets of Universal Studios Florida come alive with hordes of horrifying mutants, monsters, and maniacs. That's right – all throughout the night, you'll be completely immersed in the worlds of Stranger Things, The Last of Us, The Exorcist, Chucky, and more.
With 31 years of experience to draw from, nobody creates a more nightmarish Halloween event than Universal, filled with truly original scares and authentic horror-movie moments. You can explore frightening haunted houses, each remarkably themed and detailed by Universal's designers and special-effects wizards. You'll make your way through multiple scare zones, where gory and grotesque creatures lurk around every turn. If you need a break from the scares, enjoy spectacular live shows. And you can experience many of the park's most exciting rides and attractions.
Halloween Horror Nights is an 11-time winner of Amusement Today's "Best Halloween Event" Golden Ticket award. Tony Timpone, editor of Fangoria magazine, said, "After visiting scream parks all across the US for the last 20 years, I can easily say that Universal's is the best in the business… Halloween Horror Nights is the ultimate Halloween experience." And the 32nd edition of this must-see event promises to bring to life the ultimate in scares past, present, and future.
What are this year's Halloween Horror Nights dates?
Halloween Horror Nights 2023 runs from Friday, September 1 through Saturday, November 4. That's a grand total of 48 event nights, making it the most ever – and there's always the possibility that Universal tacks on even more dates, which they have done in both 2018 and 2019. Remember, you can secure discounted single-night tickets from us!
Here's what the full breakdown of 2023 Halloween Horror Nights dates looks like:
Sept. 1, 2, 3, 6, 7, 8, 9, 10, 13, 14, 15, 16, 17, 20, 21, 22, 23, 24, 27, 28, 29, 30
Oct. 1, 4, 5, 6, 7, 8, 11, 12, 13, 14, 15, 18, 19, 20, 21, 22, 25, 26, 27, 28, 29, 31
Nov. 1, 2, 3, 4
Halloween Horror Nights 2023 event nights begin at 6:30 PM and close at 2:00 AM.
Do I need a separate ticket for Halloween Horror Nights?
Yes! Halloween Horror Nights is a separately-ticketed event, which means, one way or another, you need to pay for admission. Please know that purchasing a ticket to visit Universal Studios Florida or Islands of Adventure during the day does not get you into Horror Nights automatically – the opposite of other popular Universal annual events, such as Mardi Gras.
Conversely, keep in mind that purchasing admission for HHN does not get you into the parks during the day.
If you plan on attending this event, we highly recommend purchasing your tickets in advance. It would be heartbreaking to arrive at Universal Orlando while getting psyched for the night to start, but then tickets are sold out. Tickets purchased online can be printed at home, so you'll be able to walk directly to the turnstiles.
How busy will Halloween Horror Nights 2023 be on ____ night?
Since this is the most common question we receive, we wanted to answer it right away. Here are what we think will be some of the best nights to visit Halloween Horror Nights:
Sept. 6, 7, 13, 14, 20, 21, 27, 28
Oct. 4, 11, 18, 31
Here are what we think will be some of the busiest nights to visit Halloween Horror Nights:
Sept. 15, 22, 29, 30
Oct. 1, 6, 7, 8, 13, 14, 15, 20, 21, 22, 27, 28, 29
To put it more generally, like any theme-park event, Saturdays are the busiest. That means, on the other hand, Wednesdays and the first two weeks tend to be some of the least-crowded nights.
Will there be early access to Halloween Horror Nights?
If you have the opportunity, be certain to take advantage of early access to Halloween Horror Nights when offered. Throughout the entire event, it is typically available to any guest who has daytime admission to Universal Studios Florida and can get inside the turnstiles before 5:00 pm. See our full guide to early access for everything you need to know on this front.
What if you can't get early access? We suggest getting to the event early – line up at the front gates at least an hour before opening (especially on a weekend night). It may still be light out and the atmosphere may not have fully kicked in, but if you want to see the houses with the shortest possible wait, getting there early is your best option.
If you arrive to the event later than expected, there is still some hope for short lines. Many of those early birds start getting tired and leave the park well before the event ends, so you'll start to see the wait times drop down the later it gets (keep in mind that, on many dates in the past, Halloween Horror Nights may be open until 2:00 am). While this option may not be as ideal as using HHN early access, it's better than planning on arriving at 8:00 pm and leaving by 11:00 pm.
Will Diagon Alley be open during Halloween Horror Nights 2023 event nights?
We think it will, yes, although we always need to wait on official confirmation from Universal, of course. But for the past six events, The Wizarding World of Harry Potter – Diagon Alley has been accessible to guests during the scare fest, allowing visitors to ride Harry Potter and the Escape from Gringotts and check out all of the various wizarding shops. Just don't expect the area to have any decorations – or seasonal alterations of any kind – up, whether it's open or not. Also, note that Gringotts does close early.
What is the Halloween Horror Nights 2023 theme?
A theme for this year's event has not yet been announced. Previous themes have revolved around longtime HHN icons Jack the Clown and The Pumpkin Lord.
How many haunted houses and scare zones will there be?
While we haven't received any announcements regarding the number of houses there will be for 2023, there have been an absolutely mammoth 10 haunted houses for the last four years of this haunted affair.
What are Halloween Horror Nights 2023's haunted houses?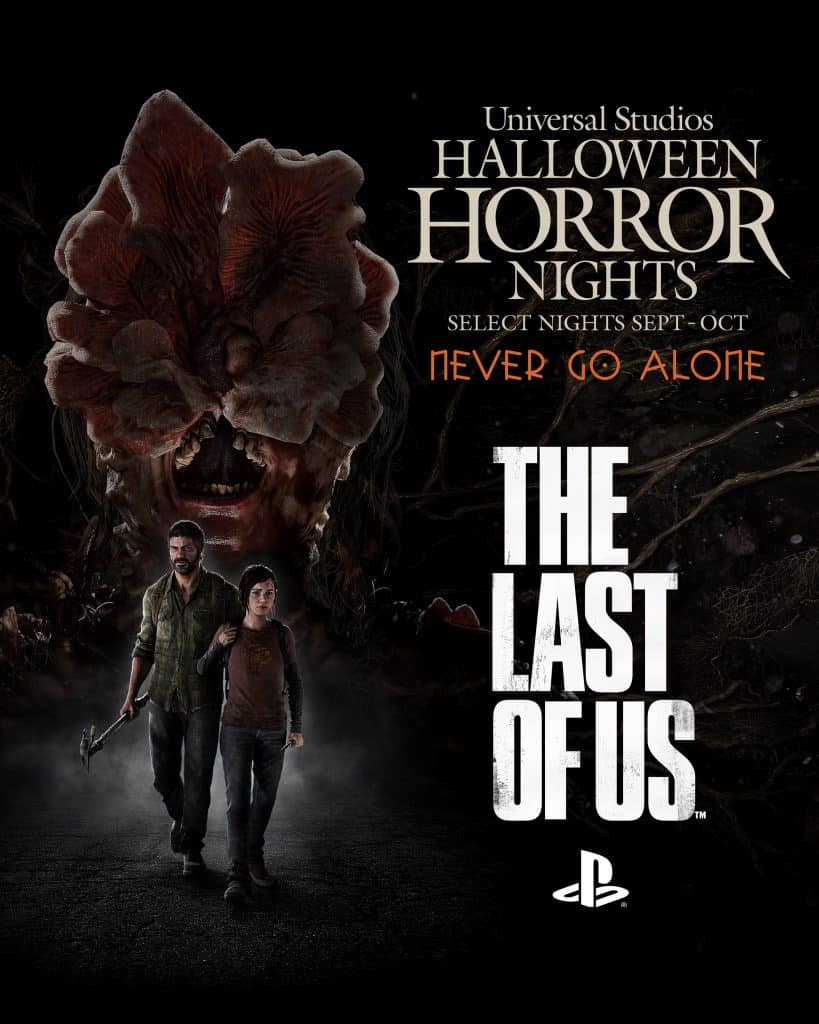 Although there are shows, scare zones, and plenty of terrifying activities as part of Halloween Horror Nights, the haunted houses are the primary attractions for the event.
HHN haunts are best described as "movie-set quality" recreations of fantastic and fearsome locations. Sometimes referred to as mazes, each house is indoors, often set up in the unused queue area of a daytime attraction or one of the Universal soundstages. These haunts rely on every effect you can imagine to scare you, including hideous creatures, blood-curdling sound effects, loud music, tight passages, strobe lights, air bursts, mirror effects, and, of course, very elaborate – and, in many cases, very gruesome – props and set decoration. In general, guests are sent through the houses in a steady flow (sort of like a conga line, versus being "pulsed" through in small groups), and, once inside, each maze is typically a three-to-four-minute experience.
Throughout much of the event's history, the haunted houses' themes have been original creations. However, in more recent years, Universal has started basing more and more of its Halloween mazes on third-party licenses (often referred to by fans as intellectual properties, or IPs), such as AMC's The Walking Dead or, more recently, Netflix's Stranger Things. So far, this year's lineup sports three IPs.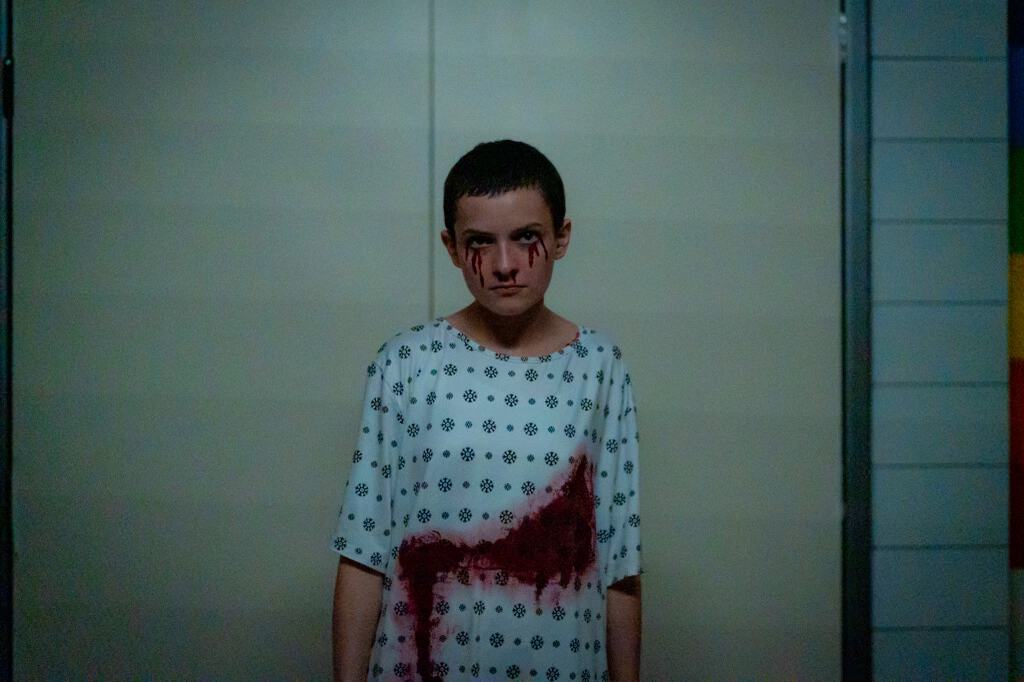 Stranger Things
Stranger Things returns to Halloween Horror Nights in its third appearance at the premier fright fest of the season. Follow the beloved characters from Hawkins, Indiana as they continue their battle against the supernatural. Favorite scenes and bone-chilling moments will be recreated in this maze that depicts the events of Season Four.
Read the announcement here.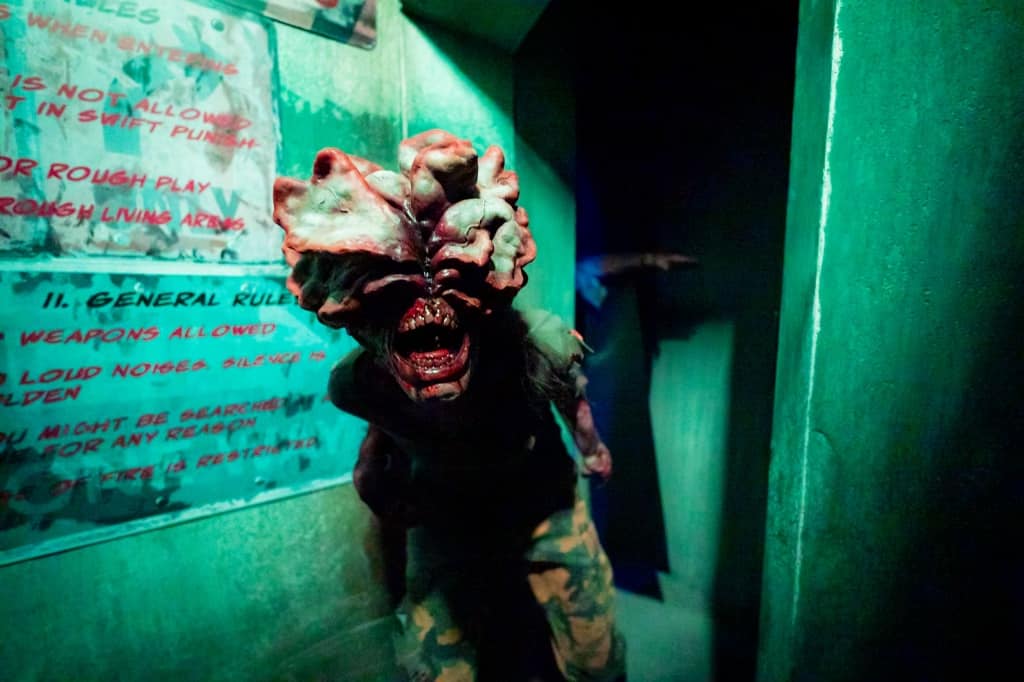 The Last of Us
Fright fans will become part of a specific chapter in The Last of Us and The Last of Us Part I, an action-adventure video game based on a post-apocalyptic United States where a fungus has spread, infecting human hosts and transforming them into mutant, flesh-hungry creatures. Our main characters, Ellie and Joel, have made their way to Pittsburgh and are met by bandits and clickers. Clickers are pure nightmare fuel as they will relentlessly hunt for their next victim and won't stop until they have had a bite. These infected monsters are adorned with massive fungal growths and mold, which renders them blind and reliant on sound to navigate their surroundings.
Read our announcement here.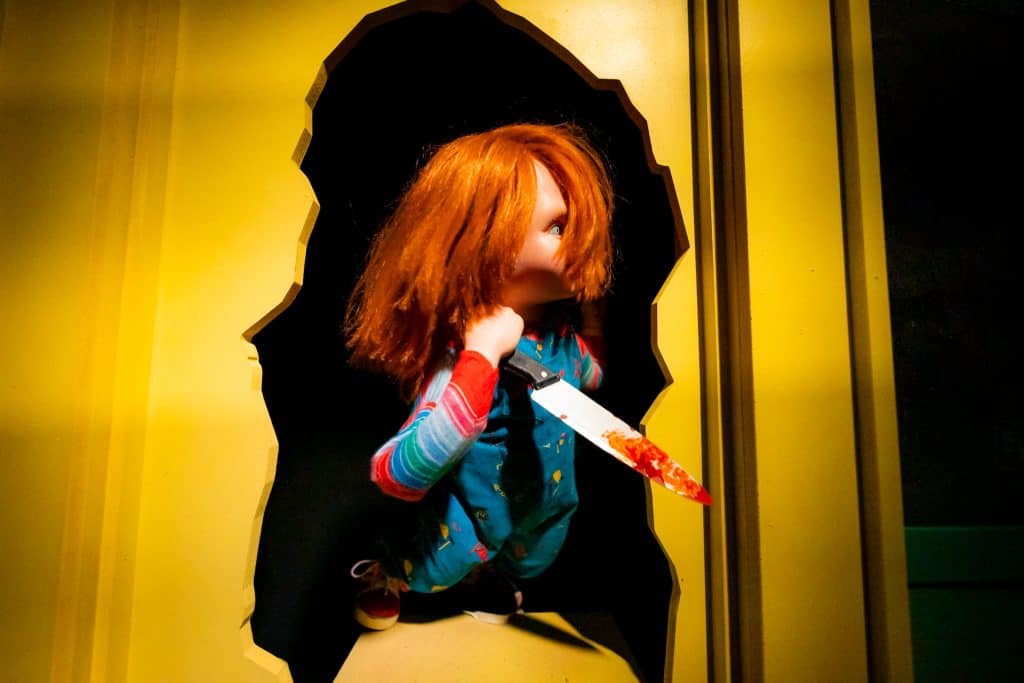 Chucky: Ultimate Kill Count
On the final night of Halloween Horror Nights 2022, the famous killer doll announced that he would be haunting his own dedicated house during Halloween Horror Nights 2023.
Read our announcement here.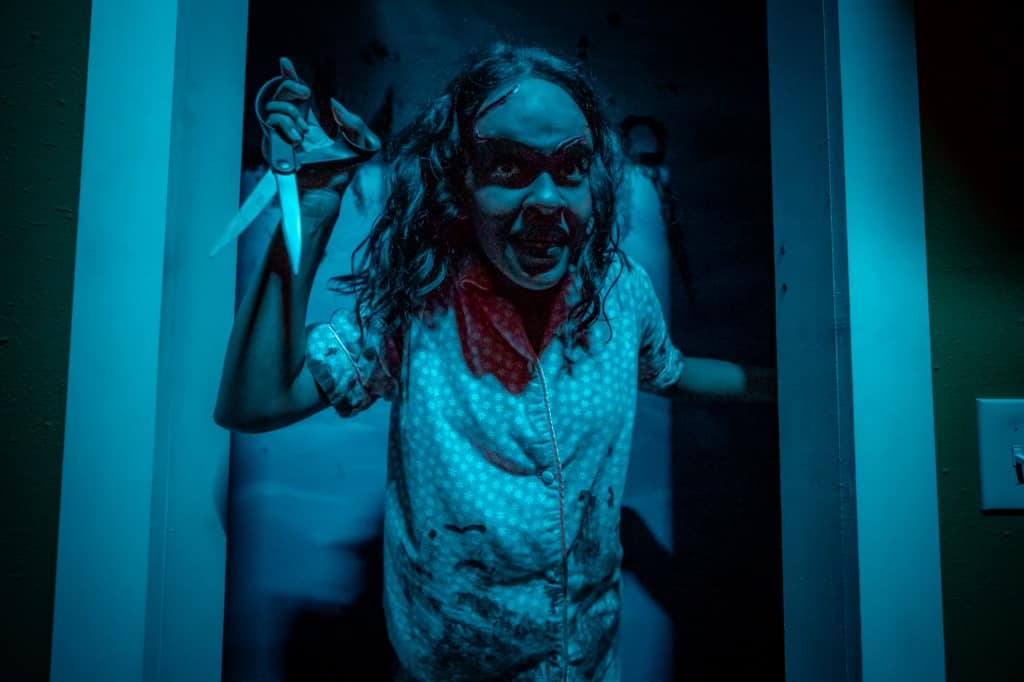 The Exorcist: Believer
Two girls who had previously been missing mysteriously turn up with no recollection of their whereabouts, but they aren't alone. This house will show scenes from The Exorcist: Believer, the newest installment in this franchise.
Read our announcement here.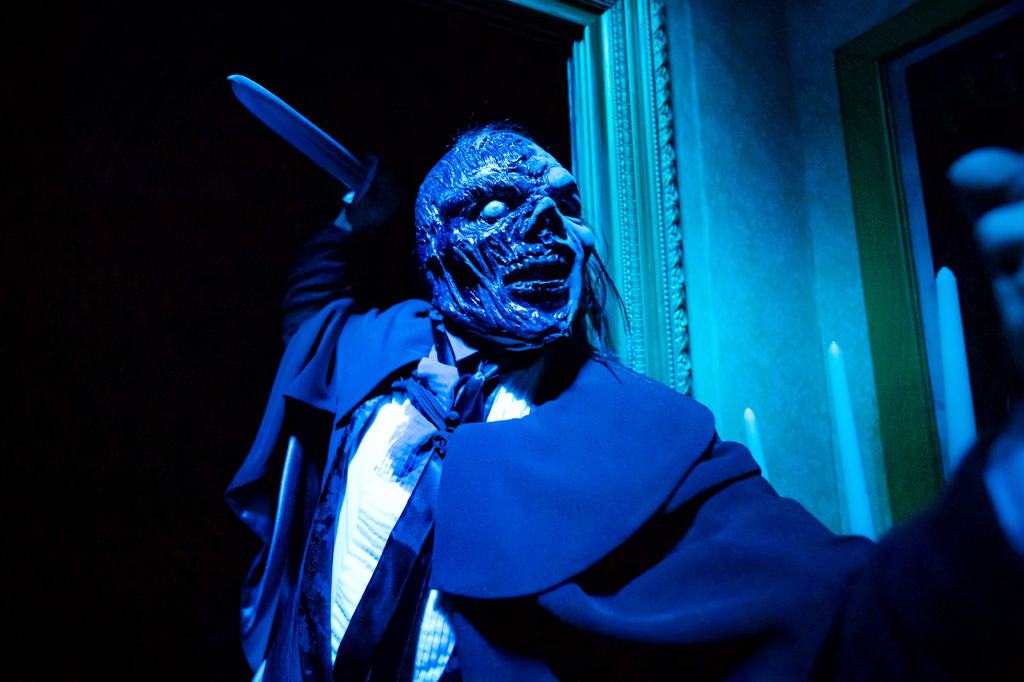 Universal Monsters: Unmasked
Terror lurks beneath the city of love within the Paris catacombs. Try to escape the grasp of famous foes like The Phantom, The Invisible Man, The Hunchback of Notre Dame, and Dr. Jekyll and Mr. Hyde as they chase you in your wake.
Read our announcement here.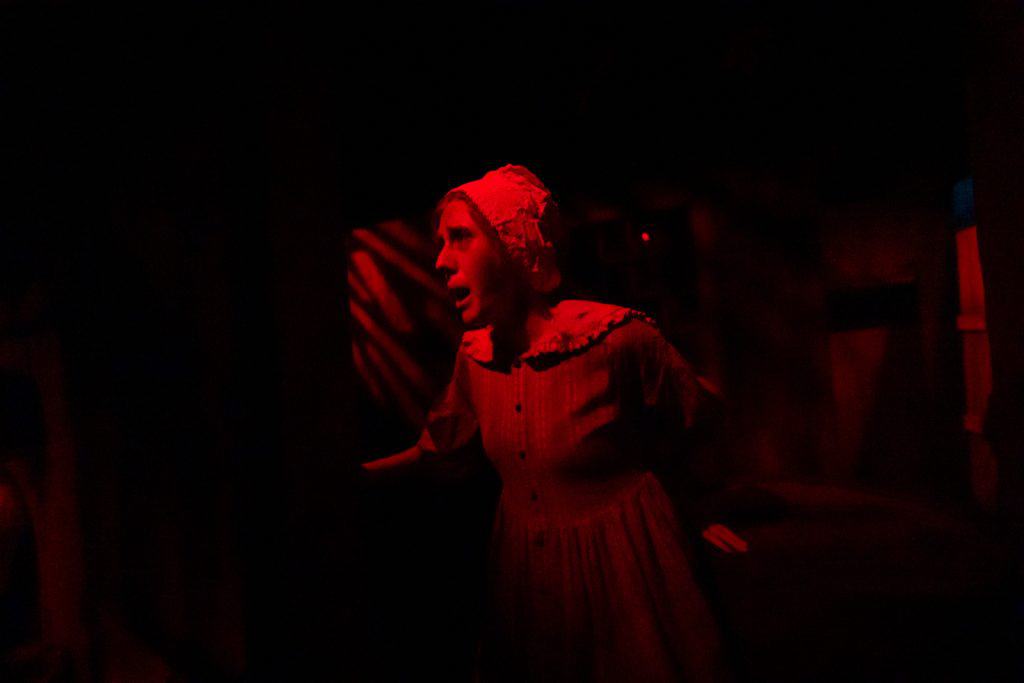 Bloodmoon: Dark Offerings
Enter a Colonial-era village where the blood moon rises, and moon-worshippers have begun their hunt. Can you escape the village before you fall into its grasp?
Read our announcement here.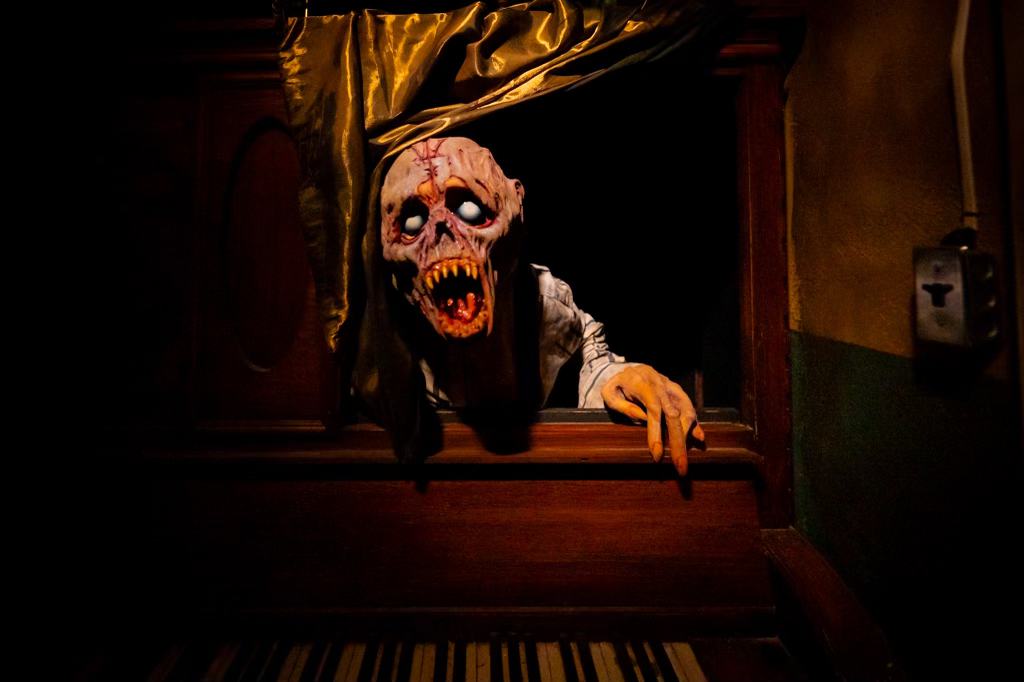 The Darkest Deal
Blues singer Pinestraw Spruce craves fame, so when The Collector names the price of celebrity for the soul of this singer, the dark side of stardom begins to unravel in front of fright fans' eyes.
Read our announcement here.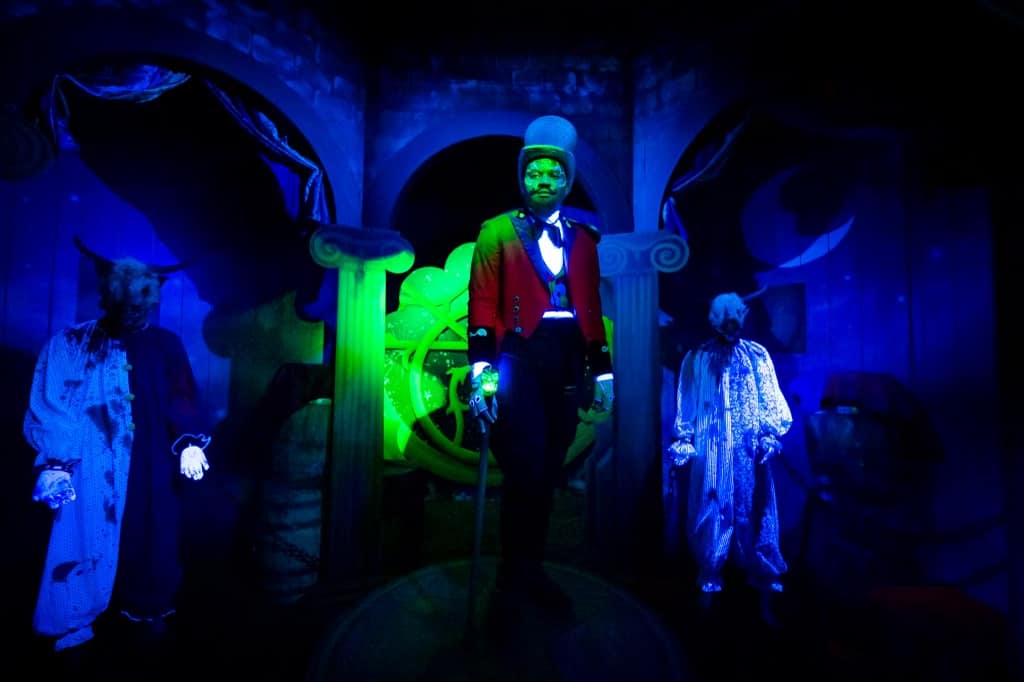 Dr. Oddfellow's Twisted Origins
Step into this big top where the twisted Dr. Oddfellow has a full lineup of sideshow horror.
The last we saw of Dr. Oddfellow was Halloween Horror Nights X inside The Fearhouse haunted maze. For those unacquainted with this petrifying practitioner, it is crucial to understand his perilous relationship with a renowned figure of HHN fame – Jack the Clown. According to the legend, Dr. Oddfellow once served as the ringmaster in his infamous "Carnival of Thrills," and Jack was among his troupe. However, Dr. Oddfellow discovered Jack's murderous inclinations, ultimately orchestrating his demise.
Read our announcement here.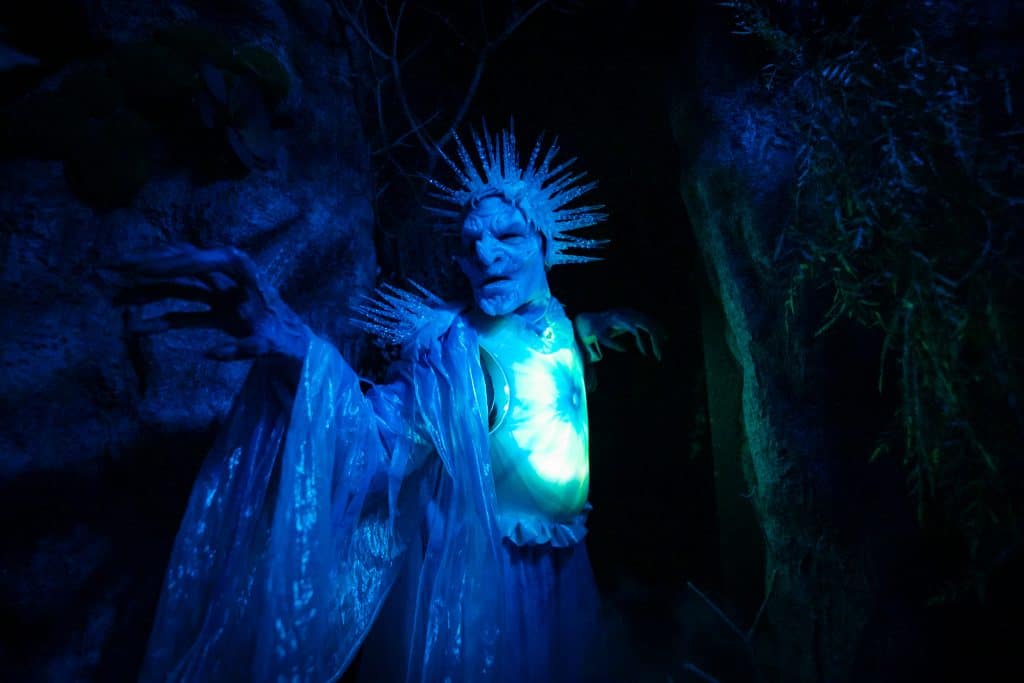 Dueling Dragons: Choose Thy Fate
Beware as you are caught in the skirmish of two warlocks turned dragons after they attempted to steal Merlyn's spellbook. What's interesting about this dragon-filled house is that it is not only a nod to an archived attraction but appears to have four different endings in somewhat of a "choose your own adventure" style.
Read our announcement here.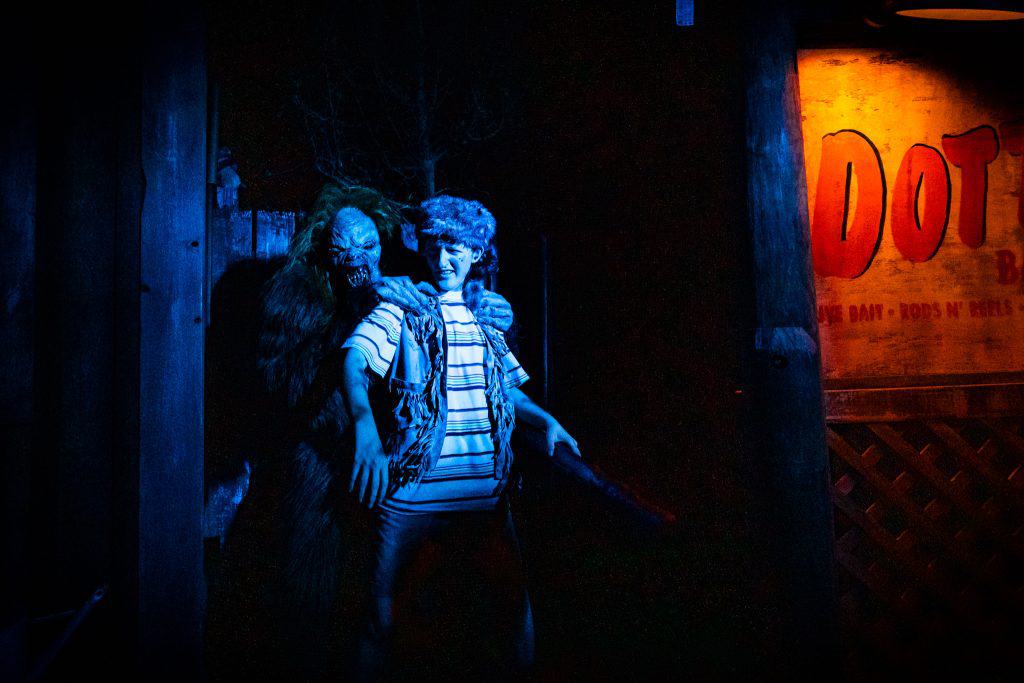 YETI: Campground Kills
A familiar, mythical legend is making its return to HHN! The fabled Yeti comes to life as your campground is infested with these abominable monsters. The only way to escape is by reaching the ranger tower, but these creatures are chasing you in your wake.
Read our announcement here.
What are Halloween Horror Nights 2023's scare zones?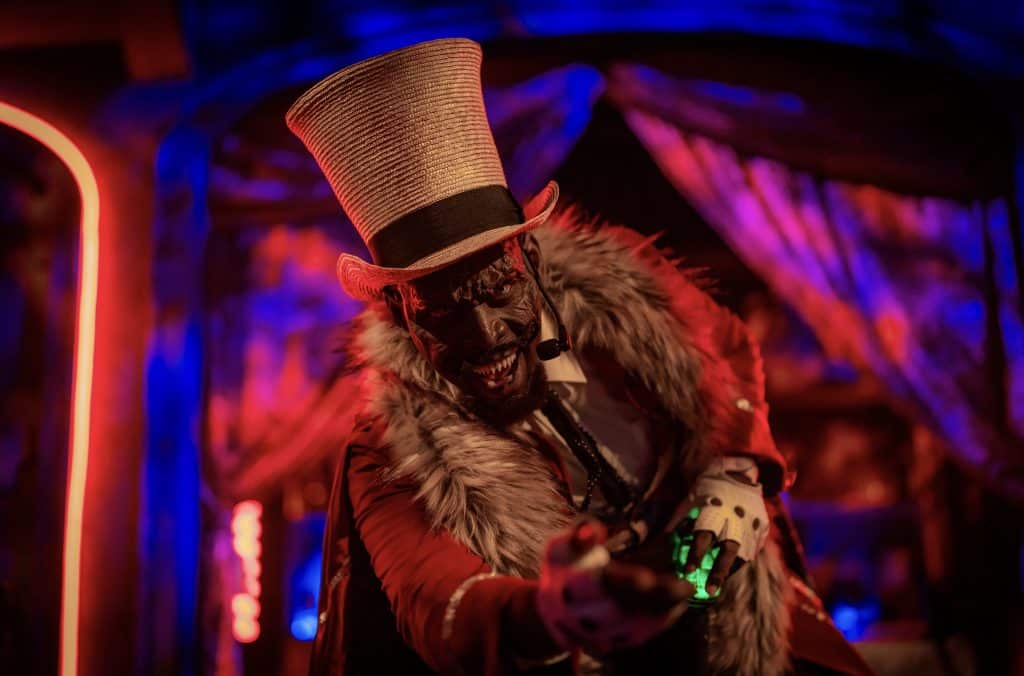 Stopping you mid-breath as you walk between attractions, scare zones are essentially outdoor haunted houses set up in open areas around Universal Studios Florida (for example, in the street area of New York, right in front of Revenge of the Mummy). The decorations and effects are usually not quite as elaborate as the houses. However, there are still many tricks employed to get screams out of guests – and the "oversized" aspects of some zones, allowed by their position outdoors, often make them as thrilling as the average haunt. This is particularly true for the ghastly part of you that likes to watch other people scream their heads off!
Doctor Oddfellow's Collection of Horror (Production Central) – Dr. Oddfellow marks his return to this fright fest with his menagerie of terror, a shriek peak into what's to come for your night of haunts.
Dark Zodiac (Hollywood) – What lies in the stars for you? Your horoscope says a trip into Dark Zodiac is in your future. Here, Dr. Oddfellow has harnessed the power of the Zodiac and unleashed malicious entities in a zone of doom.
Jungle of Doom: Expedition Horror (Central Park)– During his jungle expeditions in the 1920s, Dr. Oddfellow decided to play with the laws of nature. Now, his creations are ravenous and seeking revenge.
Vamp '69: Summer of Blood (New York)– It's time to rock out at the music festival of the century – but is it just you, or are the attendees a little bloodthirstier than usual? Dr. Oddfellow has unleashed a fleet of vampires, and it looks like you're next on the lethal lineup.
Shipyard 32: Horrors Unhinged (San Francisco) – Travel through time and enter a 1940s shipyard where Dr. Oddflellow's crated collections of oddities have arrived and broken free, making nightmares come to life.
What are Halloween Horror Nights 2023's live stage shows?
Halloween Horror Nights features unique and outrageous shows each year, typically the only time that attendees are allowed to sit back and relax. The headlining attraction here used to be Bill & Ted's Excellent Halloween Adventure, but after an unbelievable 27-year run, Universal pulled the plug on the production in 2017 (you can read our full accounting of the reasons why, as well as a full-on retrospective of the show, in our in-depth feature).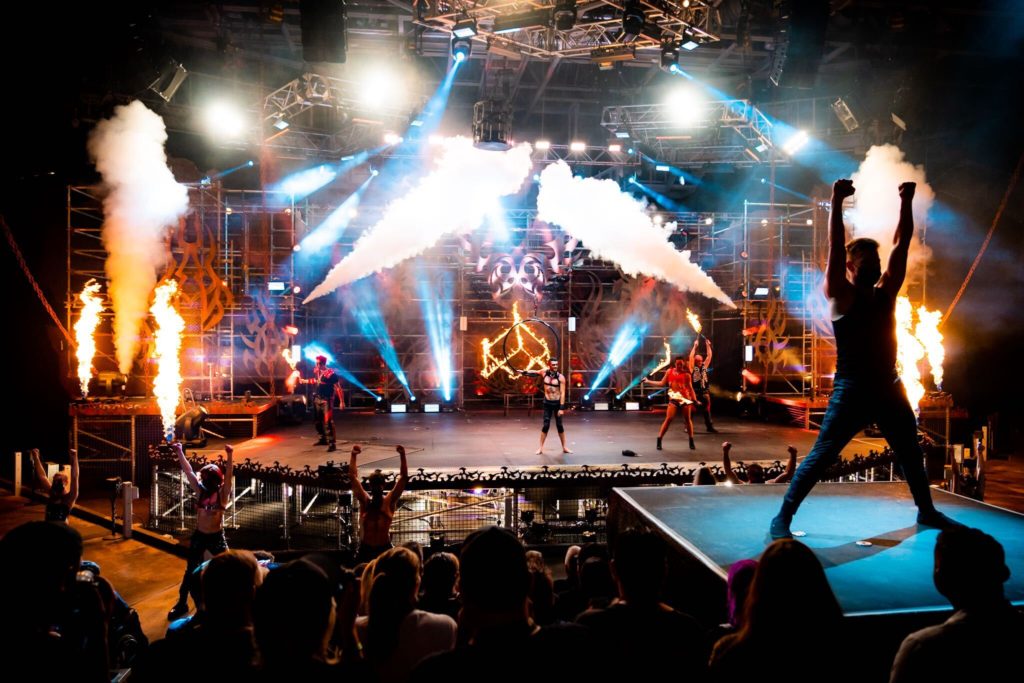 Nightmare Fuel Revenge Dream
The Fuel Girls have returned to continue the Nightmare Fuel tale, a show that has taken over the Fear Factor Live stage for the last two years with a storyline twisting and evolving over time. Set to upbeat electronic music, a new nightmare is set to debut.
What are Halloween Horror Nights 2023's bonus experiences at the hotels?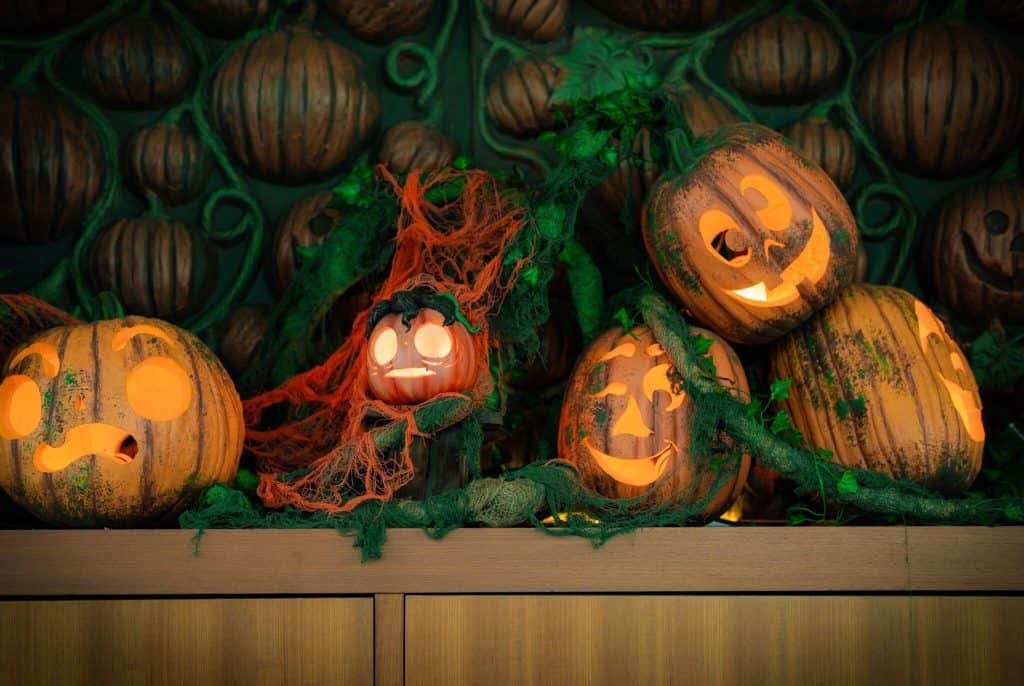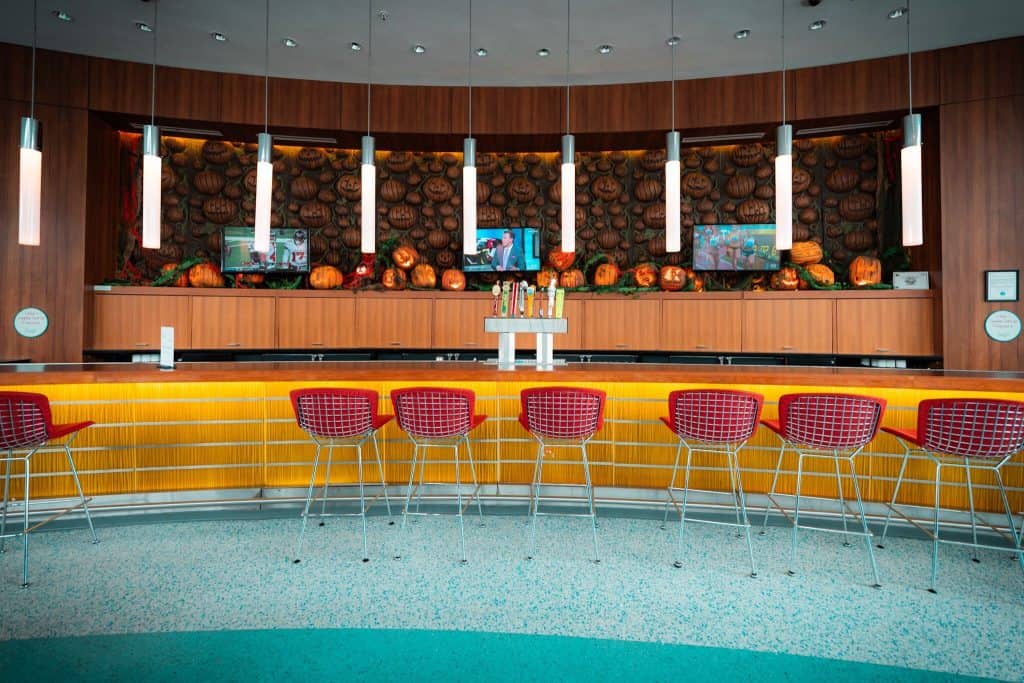 Over the past few years, Universal has been experimenting more and more with inserting exclusive tie-in experiences into its various hotels, and 2023 is no different.
Cabana Bay Beach Resort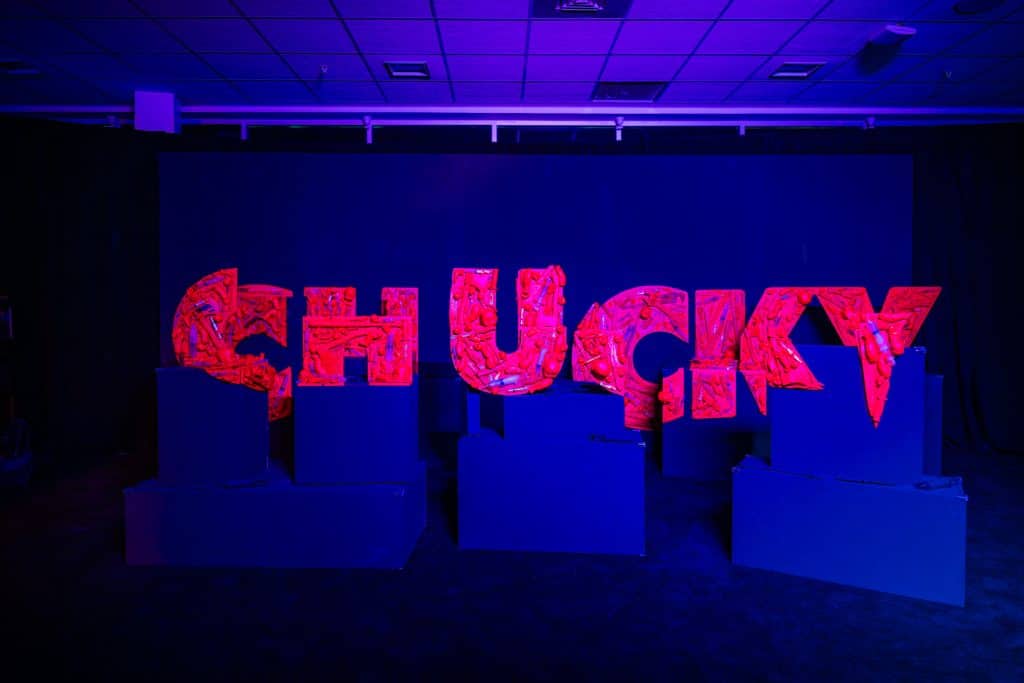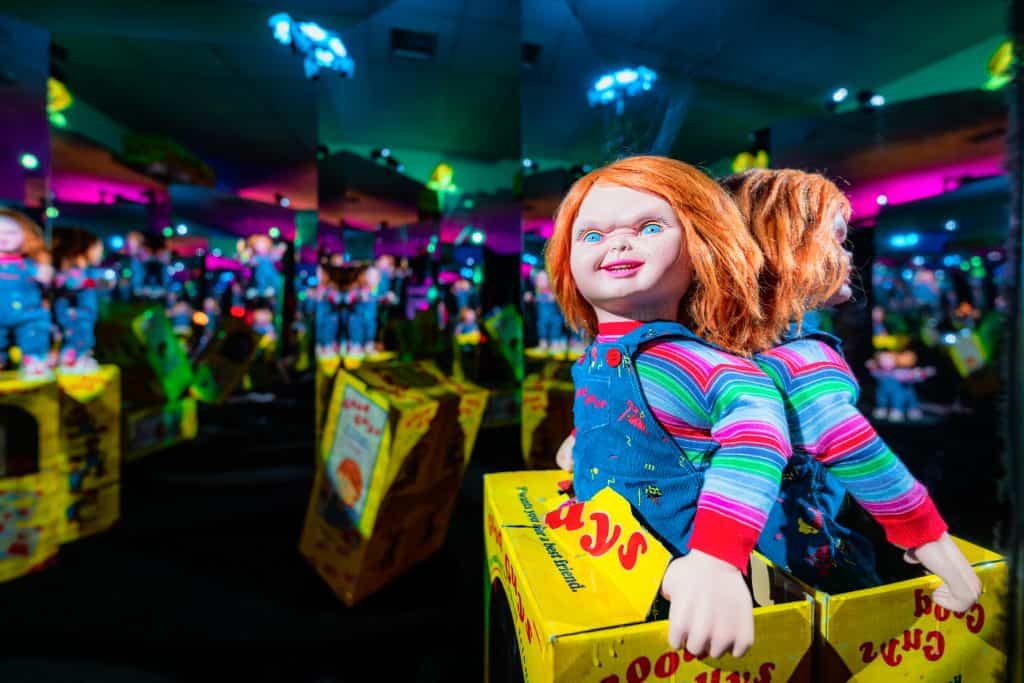 Just as before, most of the action can be found at Cabana Bay Beach Resort, where two different elements will be at play:
Chucky's Twisted Playground – While you enjoy your stay at Universal's Cabana Bay Beach Resort, capture some photo illusions based on the USA and SYFY series. Please note that this experience is exclusive to guests staying at a Universal Orlando Resort hotel.
Spooky Swizzle Lounge – This will be the special Halloween makeover for Swizzle Lounge (the hotel's lobby bar), which in the past has included exclusive Horror Nights-themed libations and snacks, along with a collection of costumes and props from throughout the event's run.
What about the other Universal Orlando hotels?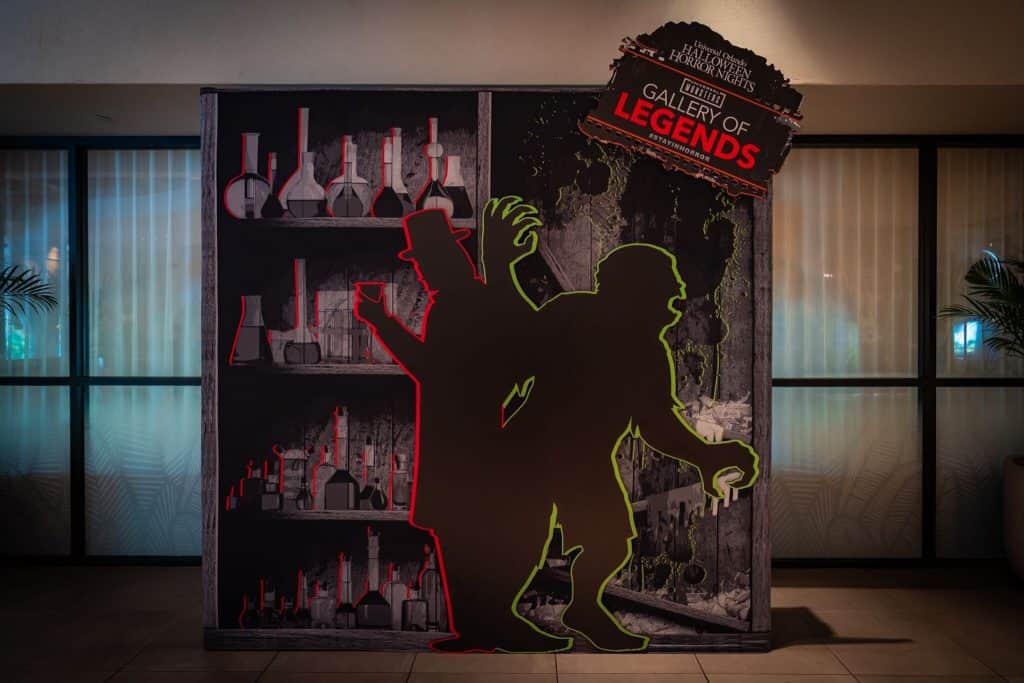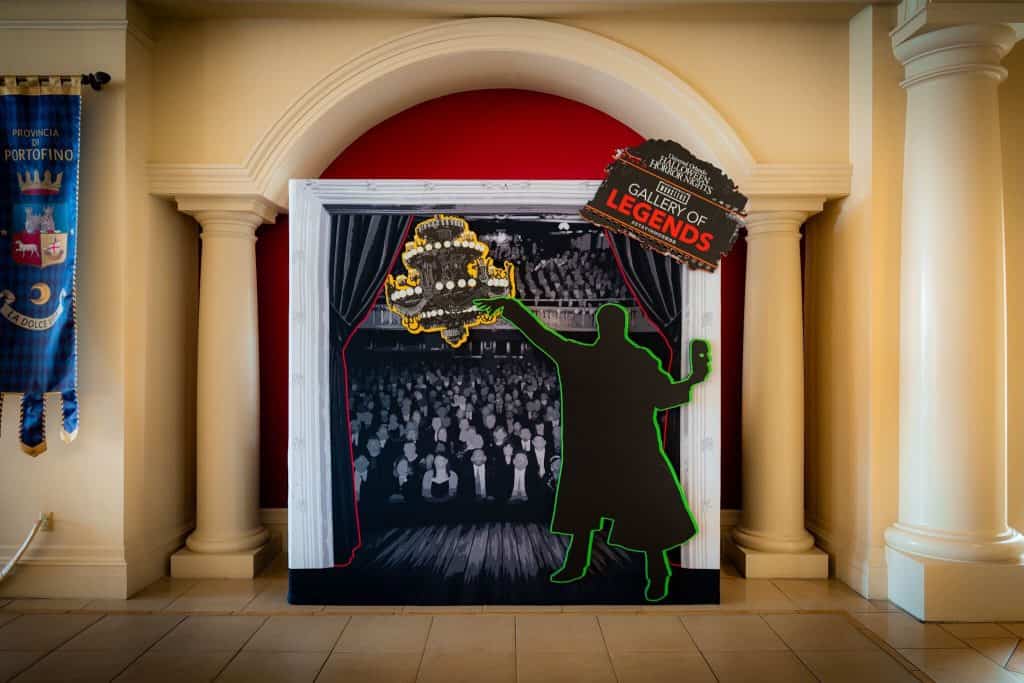 If you're staying at one of the other seven Universal Orlando resorts, worry not! For the first time, all eight Universal Orlando Resort hotels will join in the Halloween hijinks with Universal Monsters Gallery of Legends lobby photo opportunities in all hotel lobbies (excluding Universal's Cabana Bay Beach Resort) and more.
BONUS: Regular daytime attractions
During Halloween Horror Nights, there are quite a few of the regular attractions running – and since they take a backseat to the horror thrills and chills, they are often walk-ons.
(And, even better still, if you purchase an HHN Express Pass, it works on the rides in addition to the haunted houses.)
Halloween Horror Nights 2023 – Tribute Store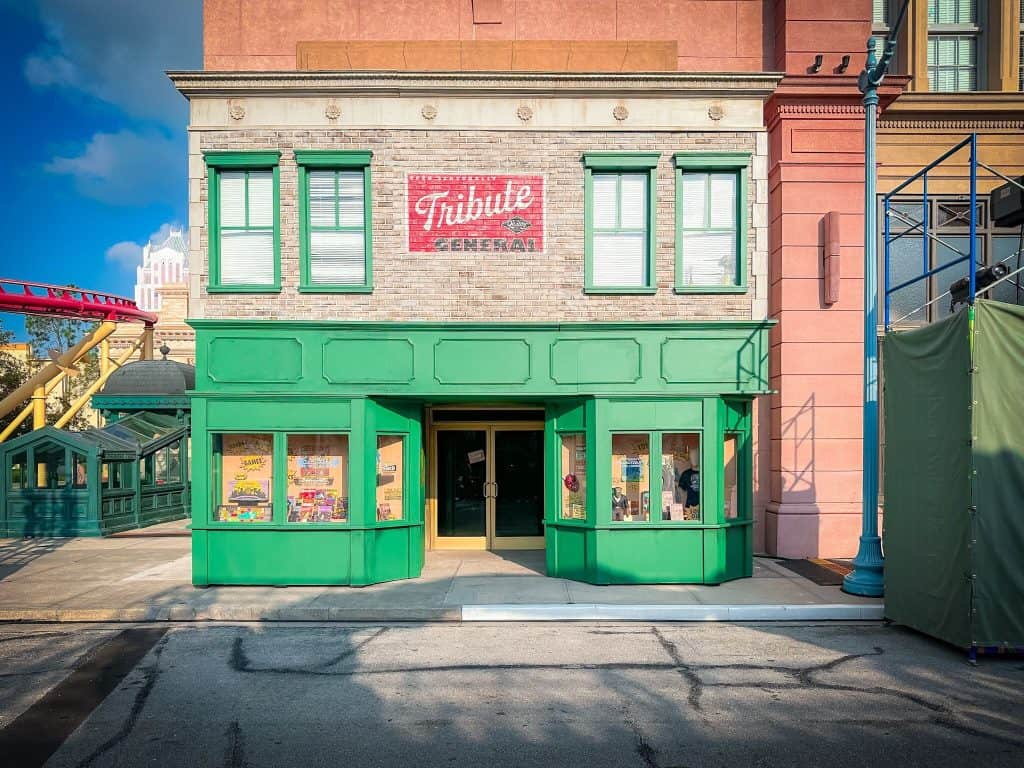 This is the ninth year of the fan-favorite Tribute Store. It's hard to imagine Halloween Horror Nights without it, as the Tribute Store now essentially serves as its own experience and attraction. This year's shop is a dedication to the graphic novels of the 1960s and 1970s as it transports you into a new horror comic. The exterior of the 2023 Tribute Store resembles a comic book shop, with various nods to HHN through figurines, games, collectibles, and more. Step inside to journey through each featured story within the book: "Grave Consequences," "False Idols: Part 1 A Boris Shuster Mystery," "Pay Up!," and "Eyes of the Ripper." Each room has its own art style to correlate with the tale it is sharing with those who enter, with The Curator acting as the storyteller and weaving these tales.
On August 30, the Tribute Store opened to Team Members and Annual Passholders, and the lines and crowds were a testament to just how eager HHN fans were for this iconic element to return. It started off back in 2015 (comparatively modestly), originally taking up residence in Aftermath, the gift shop attached to the now-retired Twister… Ride It Out attraction (which is today Race Through New York Starring Jimmy Fallon). It was from its very first day a collection of all Halloween Horror Nights merch, but this original iteration was limited by the retail space it was temporarily borrowing; it came across as a Twister-dedicated store that was momentarily possessed by the spirit of Halloween. Even still, Tribute more than earned its name by also collecting a fairly large swath of props, both big and small, from events past, ranging from pieces that were mounted on the wall (say, Resident Evil's dog puppets from just two years earlier) to larger items that took up space out on the floor (like the Terra Queen's chopper from 2005).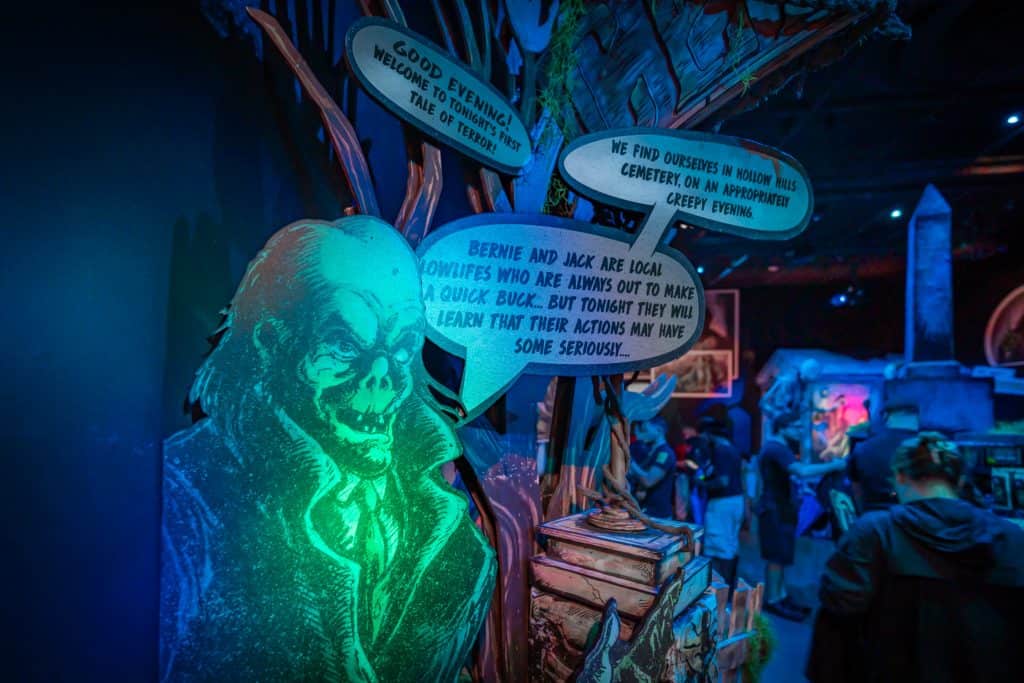 It didn't take long for the Tribute Store to evolve. Starting the very next year, in 2016, it took up residence in its now-customary home, in the Macy's façade right next to Revenge of the Mummy, occupying two rooms that were designed specifically for the purpose. Initially, Universal would take its roster of various intellectual properties that formed most of that year's haunted houses and divide them more-or-less evenly among these two rooms, but the arrival of Stranger Things in 2018 changed things up (just as the franchise did with practically everything else HHN). For the next couple of years, at least one room would be specifically dedicated to just one IP, with 2019 adding another variation to the mix by introducing a third themed area (the Tribute Store that year consisted of Ghostbusters-, Stranger Things-, and Universal Monsters-themed spaces). Now in its established four-room layout, the 2021, 2022, and 2023 iterations have broken this tradition with all the rooms in the Tribute Store designed in original theming, therefore excluding IPs.
HHN Tribute Store 2023 – photo gallery
Halloween Horror Nights 2023 – merchandise
Lil' Boo Pillow – $30.00
Lil' Boo Wall Art – $45.00
Hellfire Club Shirt – $37.00
Hellfire Club Hat – $30.00
Hellfire Club Socks – $20.00
Hellfire Club Backpack – $65.00
Hellfire Club Shooter Glass – $10.0
Hellfire Club Jacket – $90.00
Hellfire Club Dog Tag – $18.00
Hellfire Club Patches – $15.00
Vecna Mug – $25.00
Stranger Things House Tee – $30.00
Stranger Things Shooter Glass Set – $32.00
Stranger Things Glass – $12.00
Stranger Things Magnet Set – $14.00
Stranger Things Candle – $20.00
Stranger Things Badge Reel – $14.00
Stranger Things Youth Shirt – $18.00
Stranger Things Poster – $25.00
Stranger Things Mystery Pin Box – $16.00
Vecna Keychain – $15.00
The Last of Us Tee – $30.00
The Last of Us Long Sleeved Tee – $55.00
Vecna Backpack – $28.00
HHN Monsters Tee – $30.00
Scary Halloween Lil' Boo Tee – $33.00
HHN Tis the Season Tee – $30.00
Halloween Horror Nights Never Go Alone Tee – $30.00
Lil' Boo Tank Top – $33.00
Lil'Boo Pin 3 Pack – $19.00
HHN 32 Logo Pin – $12.00
Dr. Oddfellow Tee – $30.00
Studio Screamers Long Sleeved Tee – $40.00
Lil' Boo Fleece – $60.00
Creepy Curiosities Socks – $20.00
Halloween Horror Nights Jogger – $45.00
HHN Skirt – $40.00
Lil' Boo Bow – $20.00
Halloween Horror Nights Tray – $24.00
Halloween Horror Nights Ornament – $25.00
Lil' Boo Mug – $18.00
Universal Monsters Glass – $17.00
Never Go Alone Shotglass – $10.00
Dr. Oddfellow Cinch Bag – $28.00
Creepy Curiosities Sign – $45.00
Creepy Curiosities Decal Set – $12.00
Scare Zone Beer Can Glass – $15.00
Scare Zone Hoodie – $65.00
Scare Zone Tee – $30.00
Chucky Crop Top – $37.00
Chucky Wall Art – $45.00
Chucky Tumbler – $29.00
Chucky Keychain – $15.00
Chucky Pin – $18.00
Chucky Overalls – $65.00
Studio Screamers Magnet Set – $20.00
Studio Screamers Pins – $45.00
Lil' Boo
He's back, and he's everywhere. After fans found the loveable pumpkin and named him in 2021, Lil' Boo has returned with his own collection of merchandise. Options include hats, apparel, stickers, pillows, and more. You can learn more about the origins of everyone's favorite gourd here.
Halloween Horror Nights 2023 – FAQ
We've collected the most-talked-about topics and questions related to Universal's popular annual event and deposited them all here for your horror education.
If, for whatever reason, you still can't find the answers you're looking for, we strongly recommend that you ask all of your questions in our OI Community Facebook group – with over 150,000 members, you're going to find all sorts of expertise floating around in there.
Can kids attend Halloween Horror Nights?
This event is not Mickey's Not-So-Scary Halloween Party, Walt Disney World Resort's annual kid-friendly Halloween bash, set at Universal Orlando; there is no trick-or-treating, and there are no characters dressed up in approachable outfits.
The single purpose of Halloween Horror Nights is to scare you – and, as such, Universal strongly advises that children under the age of 13 do not attend. We tell people that HHN is like a horror movie brought to life – if you like horror movies, you will love Horror Nights; if you don't like them, you may not like this event.
Just for clarification, the "children under the age of 13″ statement is a guideline, not a policy, so you can bring your kids to HHN, and Universal will not ask for proof of age. However, be aware that if anyone in your party does not like the event and needs to leave early, Universal has the right not to refund used tickets or change the valid date. Since at least one adult will need to leave with an unhappy child, this could prove to be an expensive gamble.
Universal Orlando Halloween Events for Kids
The section above usually leads parents directly to this question: so what can I do with my kids during Halloween at Universal Orlando?
For better or for worse, Universal really puts all of its energy into Halloween Horror Nights. The "for worse" part means the resort isn't organizing anything for kids this year – at least, not in the size and scope of Horror Nights.
If you have young kids who want to celebrate the holiday, plan on taking them to Mickey's Not-So-Scary Halloween Party or SeaWorld's Spooktacular. Personally, we recommend SeaWorld – its Halloween event is included with regular admission, and it's a great experience, too.
Is Halloween Horror Nights too scary?
Are you not a horror fan, generally, but are still maybe, possibly interested in heading to the event? It turns out you should be – there's more than enough to do here to warrant at least a one-night visit. We explore this possibility in-depth in our HHN guide for non-horror fans.
Will my kids get scared visiting Universal Studios Florida during the day?
This is the other popular question asked by parents with young kids. Because many of the decorations for Halloween Horror Nights are elaborate and large, it's not possible for Universal to remove everything HHN-related during the regular daytime hours. This means, when touring Universal Studios Florida in September and October, you'll occasionally come across stuff that looks like this: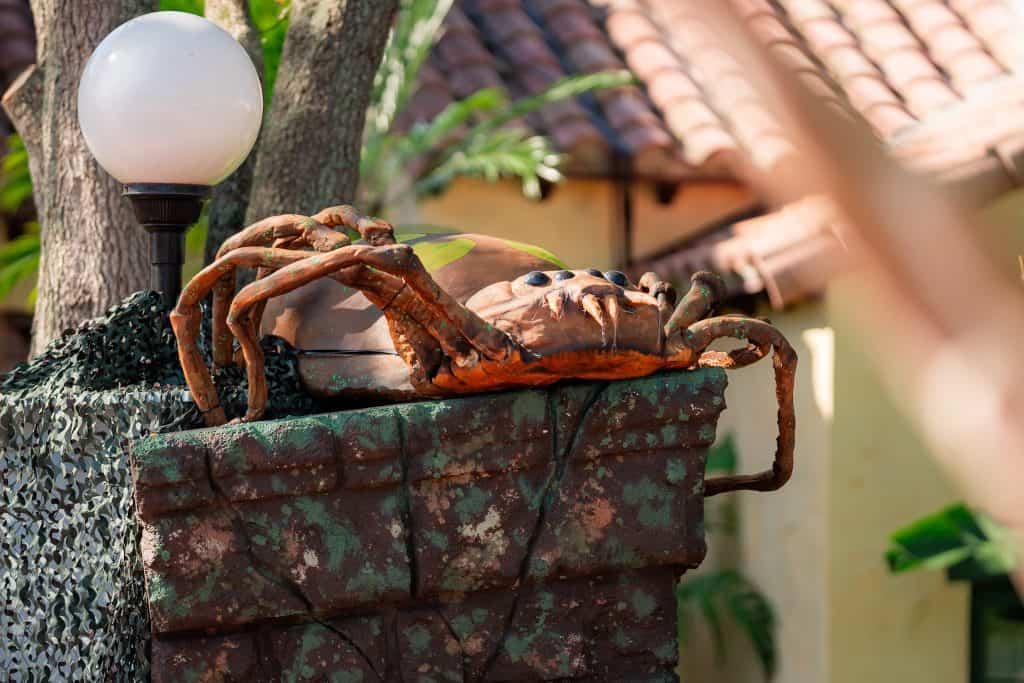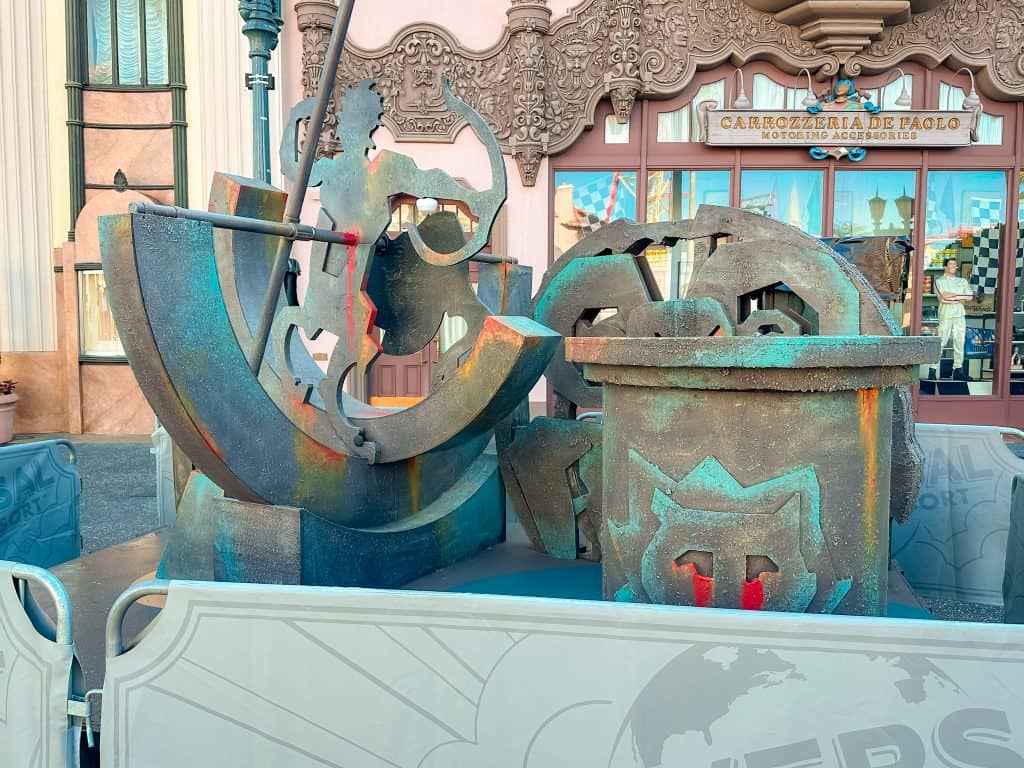 The good news is that Universal doesn't do a single thing during the day like it does during Halloween Horror Nights – not one scareactor, not one siren effect blaring, no sudden air bursts, nothing. So, aside from the oversized props spaced out in a few spots around the park, there is absolutely nothing to fear visiting Universal Studios Florida during the day. Honestly, most of the HHN props look more silly than scary in the bright sunlight.
Think the props will be distracting? Remind your friends that you're visiting a working movie production studio, so everyone should expect to see miscellaneous props set out around the park!
Do I have to pay for parking at Halloween Horror Nights?
Throughout most of the year, Universal usually offers free parking after 6:00 pm. However, during Halloween Horror Nights, plan on paying full price – $30 for regular self-parking and $60 for preferred self-parking – until at least 12:00 am. Also, for Premier passholders, remember that the complimentary valet parking benefit is not available during HHN (you can read more in our complete insider's guide to annual passes).
This is a good place to remind our readers that overnight parking is not allowed at Universal's main parking garages. If you think you might need to do this, just plan a budget and get a room with Universal at either Cabana Bay Beach Resort or Endless Summer Resort for the night.
What if it rains during Halloween Horror Nights?
While Florida is called "The Sunshine State," we see still see plenty of rain during the events duration in September and October. Definitely check the forecast before arriving at Halloween Horror Nights and consider bringing extra layers of clothing, as well as rain ponchos. Not only will this help you stay warm and dry, extra layers can also provide a psychological barrier between you and the roaming demon hordes.
Should you attend on a sunny evening, we suggest bringing a pair of sunglasses to wear while waiting in line to make the transition from the outdoor light to the haunts' lack-of-light easier to adjust to.
Additionally, lockers are available for rent – see our complete guide to rental and ride lockers for more information.
If you happen to forget a light jacket or sweatshirt, don't worry – Universal has plenty of Horror Nights apparel they can't wait for you to buy. Just be ready to pay around $60 for heavier clothing items, like hoodies.
Does Halloween Horror Nights take place at Universal's Islands of Adventure?
For the most part, no, Islands of Adventure doesn't have much, if anything, to do with Halloween – in fact, in most respects, you'd be hard-pressed to tell that the holiday was even going on.
There's one key exception, however, and it's a doozy: starting in 2019, a new seasonal projection-mapping show came to The Wizarding World of Harry Potter – Hogsmeade. Called Dark Arts at Hogwarts Castle, it's a celebration of all things dark and dangerous in Harry's wondrous world, but the best part for Harry Potter and Halloween fans alike is the occasional preshow, which revolves around Death Eaters prowling the streets of Hogsmeade Village. While still not technically holiday-related, it's nonetheless fun and just a tad on the spooky side.
All Hallows Eve Boutique is a Halloween-themed, seasonal gift shop in Lost Continent. You'll be able to find Halloween Horror Nights merchandise and other seasonal goodies.
Want to learn more about Halloween Horror Nights?
That's good because we have so much more to share. Follow the links at the bottom of this page to view our expert advice regarding admission, Express Passes, first-time visitor planning, and more.
Do you have a question about the information on this page or would you like to provide feedback? Please let us know by posting in our
Orlando Informer Community
on Facebook.