It's never too early to start panicking for the nation's premier Halloween event: Halloween Horror Nights 2021 – especially considering that 2020's outing was cancelled due to the COVID-19 pandemic. On these pages, you will find all the information and insider secrets you need to survive the terror – as well as our very best expert advice on how to save time and money as you face your worst fears.
Orlando Informer is proud to provide our fans with the world's most popular unofficial guide to this year's Halloween Horror Nights event. Just like the entire OI Universal Center, our information is comprehensive, obsessively updated, and completely free. We hope you will use all the wisdom we've gained over the years to make sure your family's HHN trip is one night you will never want to forget!
Once you've read through our complete overview of Horror Nights, use the navigation links at the top or bottom of the page to learn so, so much more.
Skip to: Overview | Haunted houses | Jack Attacks | Scare zones | Shows | Hotel experiences | Rides | Map | Annual passholder exclusives | Tribute Store | Merch | FAQ
Halloween Horror Nights 2021 – overview and explanation
Think you have what it takes to survive the biggest names in horror and venture through original, twisted nightmares?
Now in its landmark 30th terrifying event year, Universal Orlando Resort's Halloween Horror Nights, the nation's premier annual Halloween event, puts you right into some of the most pulse-pounding moments in horror history. (Note: 2020 was originally supposed to be the big anniversary celebration, but this was pushed back to 2021 when that year's event was cut.) During the day, you can experience the fun and excitement of Universal Orlando's two amazing theme parks (and water park!). But on select nights from September 3 through October 31, 2021, the streets of Universal Studios Florida come alive with hordes of horrifying mutants, monsters, and maniacs. That's right – all throughout the night, you'll be completely immersed in the worlds of the biggest names in horror.
With 29 years of experience to draw from, nobody creates a more nightmarish Halloween event than Universal, filled with truly original scares and authentic horror-movie moments. You can explore terrifying haunted houses, each remarkably themed and detailed by Universal's designers and special-effects wizards. You'll make your way through multiple scare zones, where gory and grotesque creatures lurk around every turn. You'll roar with laughter at outrageous live shows. And you can experience many of the park's most exciting rides and attractions, to boot.
Halloween Horror Nights is an 11-time winner of Amusement Today's "Best Halloween Event" Golden Ticket award. Tony Timpone, editor of Fangoria magazine, said, "After visiting scream parks all across the US for the last 20 years, I can easily say that Universal's is the best in the business… Halloween Horror Nights is the ultimate Halloween experience." And the 30th edition of this must-see event promises to bring to life the ultimate in scares past, present, and future.
What are the dates of this year's event?
Halloween Horror Nights 2021 runs from Friday, September 3 to Saturday, October 31. That's a grand total of 42 event nights, which ties it with 2019 for the most ever – and there's always the possibility that Universal tacks on even more dates, which it's done in both '18 and '19.
Here's what the full breakdown of the dates looks like:
Sept. 3, 4, 9, 10, 11, 12, 15, 16, 17, 18, 19, 22, 23, 24, 25, 26, 29, 30
Oct. 1, 2, 3, 6, 7, 8, 9, 10, 13, 14, 15, 16, 17, 20, 21, 22, 23, 24, 26, 27, 28, 29, 30, 31
Although we don't have this year's hours just yet, here is 2019's info, just to give you an idea of what to expect:
Sept. 6, 7, 8, 12, 13, 14, 15, 18, 19, 20, 21, 22, 25, Oct. 2, 21, 29, 2019 – 6:30 pm-1:00 am
Sept. 26, 27, 28, 29, Oct. 3, 4, 5, 6, 9, 10, 11, 12, 13, 17, 18, 19, 20, 23, 24, 25, 26, 27, 30, 31, Nov. 1, 2, 2019 – 6:30 pm-2:00 am
So, how busy will Halloween Horror Nights 2021 be on ____ night?
Since this is the most common question we receive, we wanted to answer it right away (again, using 2019's info as a placeholder):
Least crowded: Sept. 6, 7, 8, 12, 13, 15, 18, 19, 25, 26, Oct. 2, 21, 29, 30, Nov. 1, 2, 2019
Medium crowded: Sept. 14, 21, 22, 27, 29, Oct. 3, 4, 9, 10, 17, 23, 24, 31, 2019
Most crowded: Sept. 28, Oct. 5, 6, 11, 12, 13, 18, 19, 20, 25, 26, 27, 2019
To put it more generally, always expect Saturdays to be busy throughout the entire run of the event, while, on the other hand, Tuesdays, Wednesdays, and the first two weeks tend to be some of the least-crowded nights.
What about COVID-19 safety precautions?
Universal has, so far, acknowledged that there will be some kind of health precautions put into place for Horror Nights this year, but the company hasn't revealed just what, exactly, those will be – it will "continue to monitor the environment," it says, and that "specific details […] will be revealed closer to the event's debut."
You can see what the current safety regulations are at Universal Orlando Resort in our pandemic guide.
What about 2020's proceedings?
Although Halloween Horror Nights 2020 was cancelled, Universal still managed to put on a smaller, streamlined, daytime-only mini-event that included (ultimately) three haunted houses that were originally designed for that year's intended HHN. In addition, it featured a few brand-new elements that many might like to see return for 2021, such as trick-or-treating for the kids and a Scarecrow Stalk treasure trail for the whole family.
While we simply don't know just yet whether any of these will show up once again, we can point you in the direction of our archived 2020 page to get the full rundown on what transpired during Universal's most unusual Halloween yet.
Will Diagon Alley be open during Halloween Horror Nights 2021 event nights?
We think it will, yes, although we always need to wait on official confirmation from Universal, of course. But for the past five events, The Wizarding World of Harry Potter – Diagon Alley has been accessible to guests during the scare fest, allowing visitors to ride Harry Potter and the Escape from Gringotts and check out all of the various wizarding shops. Just don't expect the area to have any decorations – or seasonal alterations of any kind – up, whether it's open or not.
What is the Halloween Horror Nights 2021 theme?
For this giant anniversary year, Universal is going with the theme of, "Never go alone."
And though not a theme, how about something of a visual motif? Jack the Clown, the event's first original icon (that means, essentially, headlining character), is coming back for the first time in six years to help celebrate the big Horror Nights birthday.
How many haunted houses and scare zones will there be?
For the third time in a row, there is going to be an absolutely mammoth 10 haunted houses – the biggest lineup in Horror Nights's entire existence. Universal had also confirmed a grand total of five scare zones and two live stage shows, which has been the standard number of each for the past few years.
I want to read the review of Halloween Horror Nights 2021!
Well, you'll have to wait until September 2021 for that. In the meantime, though, you can enjoy our review of the last HHN here.
What if I'm not a horror fan?
Are you not a horror fan, generally, but are still maybe, possibly interested in heading to the event? It turns out you should be – there's more than enough to do here to warrant at least a one-night visit. We explore this possibility in-depth in our HHN guide for non-horror fans.
What are Halloween Horror Nights 2021's haunted houses?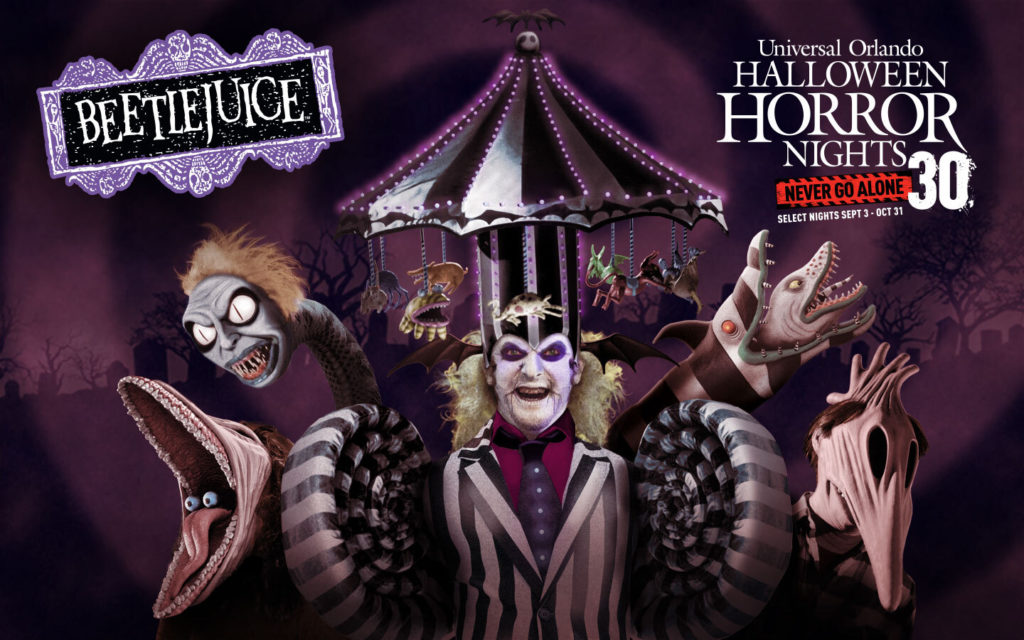 Although there are shows, scare zones, and plenty of terrifying activities as part of Halloween Horror Nights, the haunted houses are the primary attractions for the event.
HHN haunts are best described as "movie-set quality" recreations of fantastic and fearsome locations. Sometimes referred to as mazes, each house is indoors, often set up in the unused queue area of a daytime attraction or one of the Universal soundstages. These haunts rely on every effect you can imagine to scare the pants off you, including hideous creatures, blood-curdling sound effects, loud music, tight passages, strobe lights, air bursts, mirror effects, and, of course, very elaborate – and, in many cases, very gruesome – props and set decoration. In general, guests are sent through the houses in a steady flow (sort of like a conga line, versus being "pulsed" through in small groups), and, once inside, each maze is typically a three- to four-minute experience.
Throughout much of the event's history, the haunted houses' themes have been original creations. However, in more recent years, Universal has started basing more and more of its Halloween mazes on third-party licenses (often referred to by fans as intellectual properties, or IPs), such as AMC's The Walking Dead or, more recently, Netflix's Stranger Things. Although we don't yet know (obviously) what this year's breakdown is going to be between the two camps, 2019 saw a split of six IPs and four originals.
Puppet Theatre: Captive Audience
Built for the cancelled event in 2020 but never utilized, Puppet Theatre: Captive Audience returns for this year, ushering guests into the Grandeur Theater, which has been sealed off from the outside world thanks to a massive earthquake that has struck turn-of-the-20th-century San Francisco. The inhabitants that have been trapped inside have gone crazy, turning on their would-be audience members and butchering and mutilating them – even going so far as to transform them into puppets themselves. Universal's designers have used the words "creepy" and "gory" to describe this one, and it fully sounds like it'll fit the part.
Read our full analysis here.
Beetlejuice
Universal is remaking the cult 1988 film into haunted-house form, hitting all the classic scenes along the way – the model graveyard, the zany corridors of the afterlife, Beetlejuice's wedding to Lydia Deetz, and, of course, that infamous dinner-party scene. If all this sounds familiar, that's because most of the same material was realized at 2020's Tribute Store – and as a maze for that year, which was only open for just one weekend and which looks to be more-or-less returning in full for this fall.
Read our full analysis here.
What are Halloween Horror Nights 2021's Jack Attacks?

For the first time ever, Universal has added a whole new category to its roster of attractions, right alongside the likes of haunted houses and scare zones: Jack Attacks, which are meant to highlight Jack the Clown's grand re-introduction on the annual-event stage. Here's how the company itself describes it:
Jack's return to Halloween Horror Nights 2021 will be fraught with terror and fear as the grisly circus clown invades every corner of this year's event with unsuspecting "Jack Attacks" that will send guests running for their lives.
And it really does seem like Universal means "every corner," with promised appearances in at least one maze and, it would seem, at least one scare zone. And with a barrage of references to his emerging from "the shadows when you least expect" and from "places guests would least expect," there may even be the possibility of the dreaded clown having a wandering-around-Universal Studios Florida aspect (or, at least, the usage of pre-recorded appearances, which could explain how his "maniacal laughter and infamous quips echo everywhere"). There are several more confirmations and/or revelations to be made in this regard, and we're excited to see what, exactly, they will be.
Here's one last thing that we know for certain right now, however – all of Jack's many appearances across HHN 2021 will incorporate all of his various looks from throughout his two-decade run at the event. This includes his three different incarnations: clown (which dates back to 2000, of course), ringmaster (2007), and rock star (2015).
What are Halloween Horror Nights 2021's scare zones?
Stopping you mid-breath as you walk between attractions, scare zones are essentially outdoor haunted houses set up in open areas around Universal Studios Florida (for example, in the street area of New York, right in front of Revenge of the Mummy). The decorations and effects are usually not quite as elaborate as the mazes', but there are still many tricks employed to get screams out of guests – and the "oversized" aspects of some zones, allowed by their position outdoors, often make them as thrilling as the average haunt. This is particularly true for the ghastly part of you that likes to watch other people scream their heads off!
For 2021, we're getting a total of five scare zones, but we don't yet know what the ratio will be between intellectual-property and original ones (in the past few years, it was two and three, respectively).
What are Halloween Horror Nights 2021's live stage shows?
Halloween Horror Nights features unique and outrageous shows each year, typically the only time that attendees are allowed to sit back, relax, and laugh 'til their bellies hurt.The headlining attraction here used to be Bill & Ted's Excellent Halloween Adventure, but after an unbelievable 27-year run, Universal pulled the plug on the production in 2017 (you can read our full accounting of the reasons why, as well as a full-on retrospective of the show, in our in-depth feature). The HHN torch was seemingly passed on to professional dance group Academy of Villains, which took up residence at the event for four straight years, but we'll need to see whether the troupe will be returning for 2021.NOTE: since the 2020 event has been cancelled, there will be no live shows this year.
What are Halloween Horror Nights 2021's bonus experiences at the hotels?
Over the past few years, Universal has been experimenting more and more with inserting exclusive tie-in experiences into its various hotels, and 2021 is no different – in fact, if anything, it seems like the company is doubling down on this expanded approach for Halloween Horror Nights's 30th anniversary year.
Cabana Bay Beach Resort
Just as before, most of the action can be found at Cabana Bay Beach Resort, where two different elements will be at play:
Jack'd Up – this experience will celebrate all things Jack the Clown by allowing you to "take a mind-trip through the chaotic Carnival of Carnage," the traveling circus that Jack has claimed as his own. You can pose for photos in environments borrowed from the icon's past (mis)adventures at HHN, including a human-sized blender – but, perhaps, the most tantalizing part of Jack'd Up is the chance to "undergo a maniacal transformation."
Horror Icons Bar – this will be the special Halloween makeover for Swizzle Lounge (the hotel's lobby bar), which will include exclusive Horror Nights icon-themed libations and snacks, along with a collection of costumes and props from throughout the event's run.
(Please note that only those guests staying at a Universal Orlando hotel are eligible to enter Jack'd Up, and that its hours are from 2:00 pm to 10:00 pm, September 3 to October 31.)
What about the other Universal Orlando hotels?
If you're staying at one of the other seven Universal Orlando resorts, worry not! You will have special access to a dedicated entry gate for Halloween Horror Nights over at Universal Studios Florida.
BONUS: Regular daytime attractions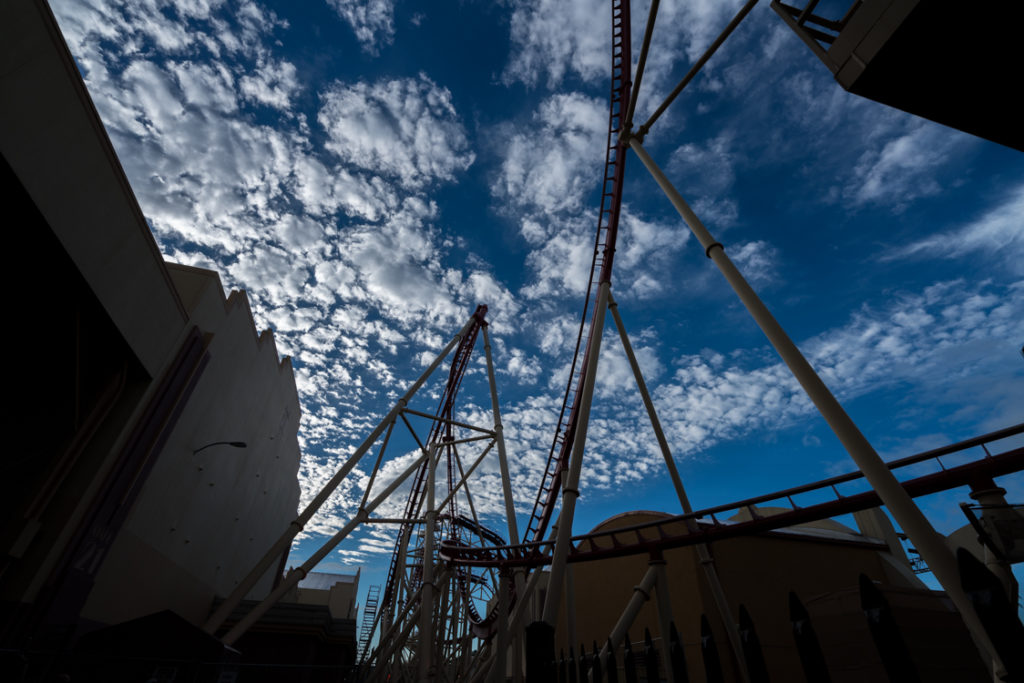 During Halloween Horror Nights, there are quite a few of the regular attractions running – and since they take a backseat to the horror thrills and chills, they are often walk-ons:
(And, even better still, if you purchase an HHN Express Pass, it works on the rides in addition to the haunted houses.)
Halloween Horror Nights 2021 – park map
Once we know what all the attractions are, we'll post what they look like laid out in Universal Studios Florida here.
What are Halloween Horror Nights 2021's annual passholder benefits?
We don't yet know what the annual passholder benefits will look like for 2021, but here's 2019's info, just to give you an idea of what to expect:
Exclusive entrance (2019)
Annual passholders will have the ability to utilize entrances to Universal Studios Florida that are reserved exclusively for them – look for the "UOAP" sign and have both your AP and photo ID ready.
Just keep in mind this really important fine print: the exclusive entrance will only be up from 2:00 to 5:00 pm – making it a nice perk for those doing Stay and Scream – and only on certain dates throughout the month of September.
Exclusive Q&A event (2019)
For only the second time, Universal is getting some of the personnel behind Horror Nights (we don't know who beyond the fact that they're "select show directors") together for an exclusive question-and-answer session just for its APs.
Unlike last year, however, Universal is only putting on one of these sessions, on Sunday, September 8 (in 2018, there were three events across three consecutive days). Guests will need to check in next to the HHN Tribute Store (located in the Revenge of the Mummy extended queue) starting at 4:00 pm; the Q&A panel runs from 4:30 to 6:00 pm.
The slots were filled on a first-come, first-serve basis and ran out within just a few hours, with the heads-up that the reservation process had started only occurring in Universal Orlando's annual passholder Facebook group (no, no social-media posts were made about it, unlike last year). However, interested individuals should keep their eyes peeled on the company's sign-up form here – should there be any cancellations, those seats would be made available once again.
Exclusive merchandise (2019)
Universal Orlando annual passholders have access to a special themed magnet and collectible button (featuring an in-joke that only diehard fans and/or APs would get) and, in addition, an exclusive pin and t-shirt.
Both the magnet and the button (the latest in Universal's passholder series) are free and can be picked up during a limited window: just the month of September for the latter and until October 31 for the former (while supplies last, of course). The pin and shirt, meanwhile, cost $14 and $27, respectively, before tax. All these items can be found at the UOAP Lounge and the Cyber Image store at Universal Studios Florida and Toon Extra at Islands of Adventure.
(Speaking of merchandise, APs also get early access to the Tribute Store the day it opens, starting at 9:00 am.)
Annual passholder discounts (2019)
Annual passholders are entitled to discounted rates on everything from Horror Nights tickets and tours to merchandise. You can see our complete guide to Halloween Horror Nights admission for more on most of these.
Halloween Horror Nights 2021 – Tribute Store
We don't know what 2021 will have in store for us in terms of the Tribute Store, so, until we do, here's 2020's info, just to whet your appetite:
Although Halloween Horror Nights 2020 has been cancelled, that hasn't stopped Universal from throwing some Halloween love our way: the Tribute Store was opened on Tuesday, July 28, 2020, consoling us with a bunch of general and retro Horror Nights merchandise.
This may only be the sixth year that the store has been a part of the event, but it's quickly become an iconic element, making it a fan-favorite and must-hit aspect of the whole HHN experience. It started off life, back in 2015, comparatively modestly, originally taking up residence in Aftermath, the gift shop attached to the now-retired Twister… Ride It Out attraction (which is today Race Through New York Starring Jimmy Fallon). It was from its very first day a collection of all Halloween Horror Nights merch, but this original iteration was limited by the retail space it was temporarily borrowing; it came across as a Twister-dedicated store that was momentarily possessed by the spirit of Halloween. Even still, Tribute more than earned its name by also collecting a fairly large swath of props, both big and small, from events past, ranging from pieces that were mounted on the wall (say, Resident Evil's dog puppets from just two years earlier) to larger items that took up space out on the floor (like the Terra Queen's chopper from 2005).
It didn't take long for the Tribute Store to evolve. Starting the very next year, in 2016, it took up residence in its now-customary home, in the Macy's façade right next to Revenge of the Mummy, occupying two rooms that were designed specifically for the purpose. Initially, Universal would take its roster of various intellectual properties that formed most of that year's haunted houses and divide them more-or-less evenly among these two rooms, but the arrival of Stranger Things in 2018 changed things up (just as the franchise did with practically everything else HHN). From here on out, at least one room would be specifically dedicated to just one IP, with 2019 adding another variation to the mix by introducing a third themed area (the Tribute Store that year consisted of Ghostbusters-, Stranger Things-, and Universal Monsters-themed spaces).
2020 has only seen Tribute grow in importance. First up, another one of Universal Orlando's venerable annual events, Mardi Gras, received a commemorative store of its very own for the first time, with theming that was near-impeccable – its three rooms recreated three archetypal parts of Louisiana: a French Quarter flat, Lafayette Cemetery No. 1, and the bayou. And swinging back to Halloween Horror Nights, its Tribute Store not only opened up earlier than ever before (44 days before the planned start of the event, instead of the usual two or three), it also became the sole surviving element of that year's intended experience.
What does the HHN Tribute Store look like for this strangest of outings? First up, there is an anteroom, depicting a ruined Frankenstein's castle (a nod, perhaps, to 1935's The Bride of Frankenstein, which ends with the good doctor's home being destroyed). This, of course, leads to the first main themed space: Frankenstein's lab, which is filled with turning gears and other iconic equipment from the classic '31 film, all arrayed around the central Monster, who is hidden under his sheet on his infamous slab (awaiting to be resurrected, it would seem). There is a ton of merchandise available here, starting with the Universal Classic Monsters and moving on to "30 Years, 30 Fears" retro wares, such as t-shirts, pins, and shot glasses.
The second room is devoted to Jack the Clown, the original Horror Nights icon, who appears to preside over Oddfellow's Dark Carnival and Emporium. This area is dominated by classic Halloween colors and HHN iconography, including a preponderance of jack-o-lanterns and loving portraits of the other event icons. A huge selection of masks is also at hand here, representing a wide swath of IPs from years past – Stranger Things, Halloween, Saw, and, our personal favorite, Ghostbusters (in the form of the Stay Puft Marshmallow Man, naturally).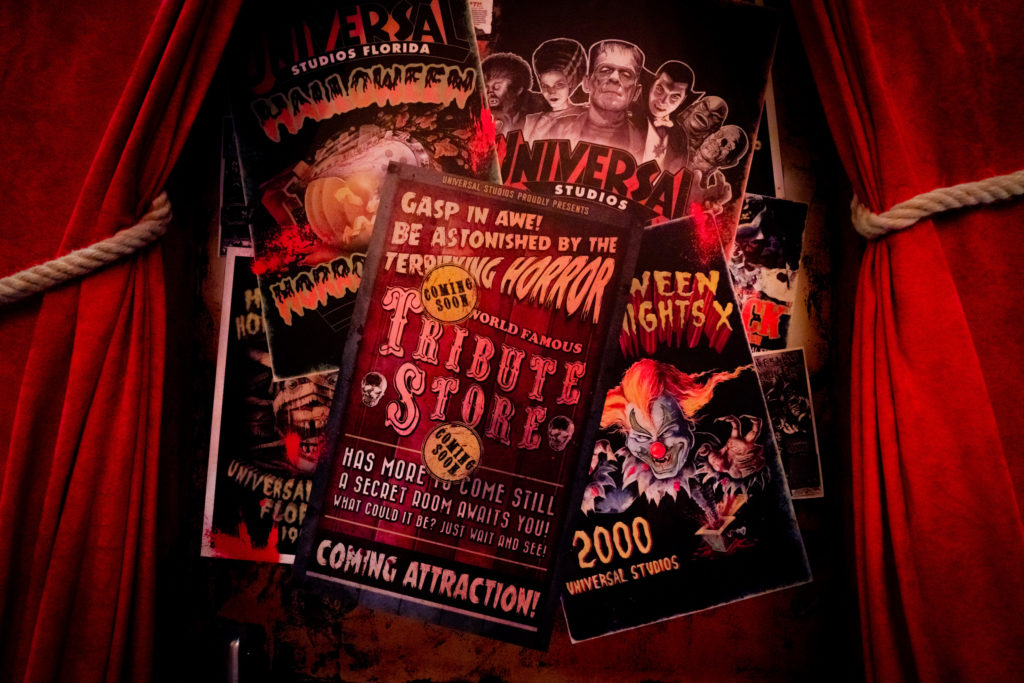 But the most intriguing detail when Tribute first opened was also, at the time, its most mysterious: one of the myriad event posters scattered about the store promised a "coming attraction" in the form of a third, secret room. This wouldn't materialize until three weeks later, on Friday, August 21, when an area devoted to the classic film property (and long-lived Universal Studios Florida presence) Beetlejuice finally debuted, offering more in the way of theming and merch both – and in another, even bigger surprise, Universal also added on a fourth room, this time dedicated to selling some baked food options. We have a full walkthrough of both in our big article, and we also track all of the treats (and their prices) in our food and drink guide.
The 2020 HHN Tribute Store is open daily during parks hours from now "through the fall."
HHN Tribute Store 2020 – photo gallery
Halloween Horror Nights 2021 – merchandise
Once we have an idea of what this year's all-important and ever-popular merchandise will consist of, we'll be sure to share it with you here.
Halloween Horror Nights 2021 – FAQ
We've collected the most-talked-about topics and questions related to Universal's popular annual event and deposited them all here for your horror education.
If, for whatever reason, you still can't find the answers you're looking for, we strongly recommend that you ask all of your questions in our OI Community Facebook group – with over 100,000 members, you're going to find all sorts of expertise floating around in there.
What Halloween Horror Nights is not
This event is not Mickey's Not-So-Scary Halloween Party, Walt Disney World Resort's annual kid-friendly Halloween bash, set at Universal Orlando; there is no trick-or-treating, and there are no characters dressed up in cutsey outfits.
The single purpose of Halloween Horror Nights is to scare you – and, as such, Universal strongly advises that children under the age of 13 do not attend. We tell people that HHN is like a horror movie brought to life – if you like horror movies, you will love Horror Nights; if you don't like them, you'll probably hate the event. It's that simple.
Just for clarification, the "children under the age of 13″ statement is a guideline, not a policy, so you can bring your kids to HHN, and Universal will not ask for proof of age. However, be aware that if anyone in your party does not like the event and needs to leave early, Universal has the right not to refund used tickets or change the valid date. Since at least one adult will need to leave with an unhappy child, this could prove to be an expensive gamble.
Universal Orlando Halloween events for kids
The section above usually leads parents directly to this question: so what can I do with my kids during Halloween at Universal Orlando?
For better or for worse, Universal really puts all of its energy into Halloween Horror Nights. The "for worse" part means the resort isn't organizing anything for kids this year – at least, not in the size and scope of Horror Nights.
If you have young kids who want to celebrate the holiday, plan on taking them to Mickey's Not-So-Scary Halloween Party or SeaWorld's Spooktacular. Personally, we recommend SeaWorld – its Halloween event is included with regular admission, and it's a great experience, too.
Will my kids get scared visiting Universal Studios Florida during the day?
This is the other popular question asked by parents with young kids. Because many of the decorations for Halloween Horror Nights are elaborate and large, it's not possible for Universal to remove everything HHN-related during the regular daytime hours. This means, when touring Universal Studios Florida in September and October (and the first weekend of November), you'll occasionally come across stuff that looks like this: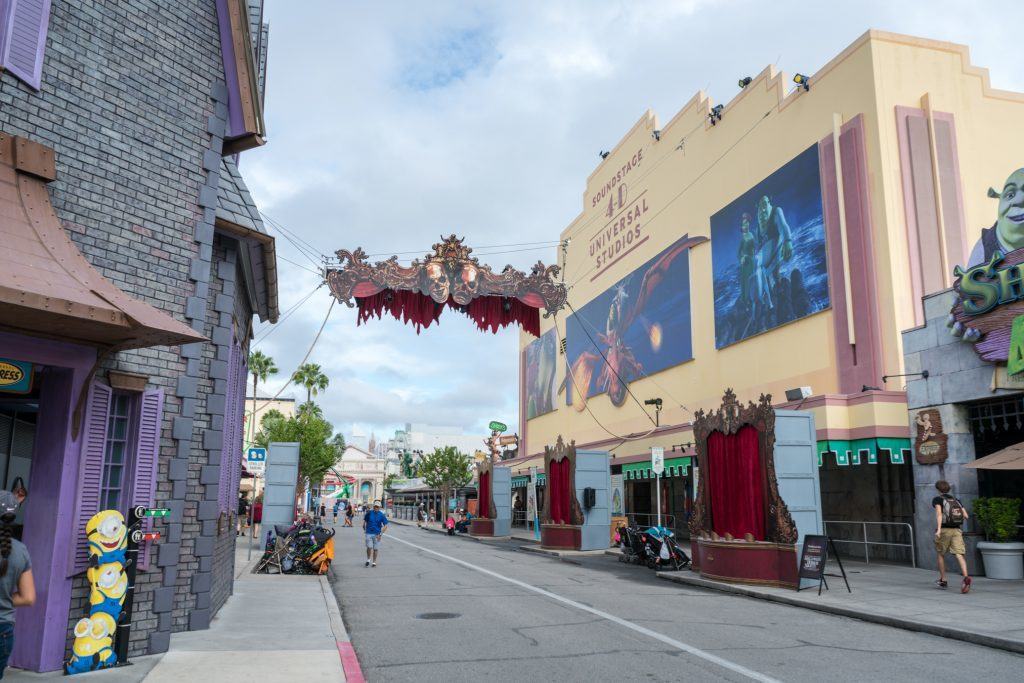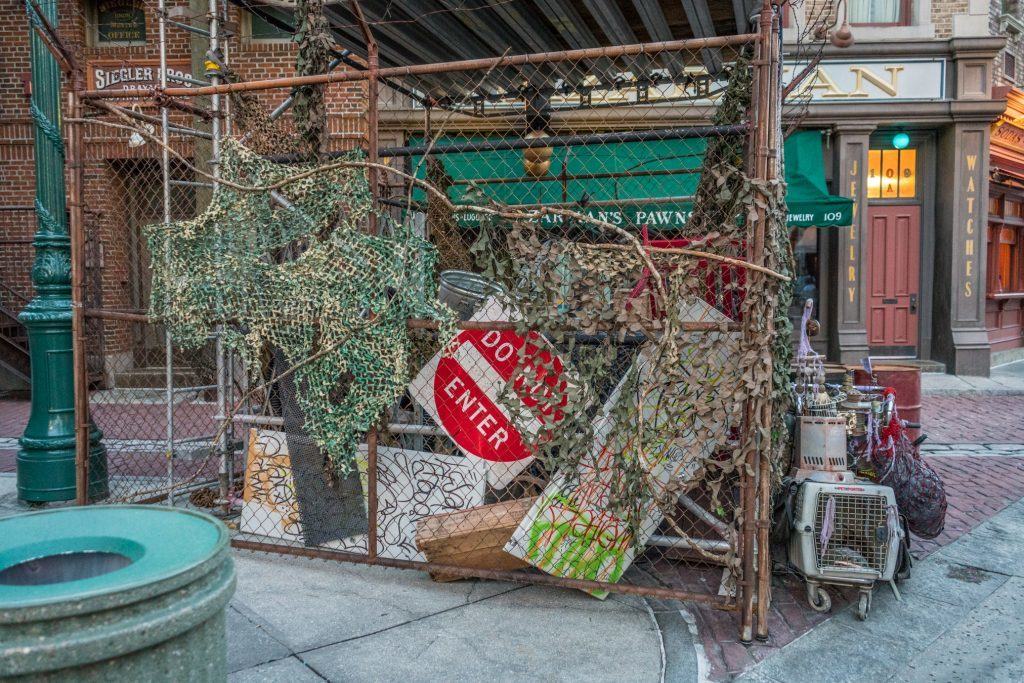 The good news is that Universal doesn't do a single thing during the day, like it does during Halloween Horror Nights – not one scareactor, not one siren effect blaring, no sudden air bursts, nothing. So, aside from the oversized props spaced out in a few spots around the park, there is absolutely nothing to fear visiting Universal Studios Florida during the day. Honestly, most of the HHN props look more silly than scary in the bright sunlight.
Think the props will be distracting? Remind your friends that you're visiting a working movie production studio, so everyone should expect to see miscellaneous props set out around the park!
Does anything happen at Islands of Adventure?
For the most part, no, Islands of Adventure doesn't have much, if anything, to do with Halloween – in fact, in most respects, you'd be hard-pressed to tell that the holiday was even going on.
There's one key exception, however, and it's a doozy: starting in 2019, a new seasonal projection-mapping show came to The Wizarding World of Harry Potter – Hogsmeade. Called Dark Arts at Hogwarts Castle, it's a celebration of all things dark and dangerous in Harry's wondrous world, but the best part for Harry Potter and Halloween fans alike is the occasional preshow, which revolves around Death Eaters prowling the streets of Hogsmeade Village. While still not technically holiday-related, it's nonetheless fun and just a tad on the spooky side.
I wanna learn more about Halloween Horror Nights!
That's good, because we have so much more to share. Follow the links at the bottom of this page to view our expert advice regarding admission, Express Passes, first-time visitor planning, and more.
If you just want to get more of a "feel" for the event, check out our HHN 2013 video playlist on YouTube – you can experience the atmosphere of the event and see exactly what the scare zones looked like from that year.
Do you have a question about the information on this page, would like to provide feedback, or did you spot an inaccuracy? Please let us know by posting in our
Orlando Informer Community
on Facebook.