It's never too early to start panicking for the nation's premier Halloween event: Halloween Horror Nights 2018. On these pages, you will find all the information and insider secrets you need to survive the terror – as well as our very best expert advice on how to save time and money as you face your worst fears.
Orlando Informer is proud to provide our fans with the world's most popular unofficial guide to this year's Halloween Horror Nights event. Just like the entire OI Universal Center, our information is comprehensive, obsessively updated, and completely free. We hope you will use all the wisdom we've gained over the years to make sure your family's HHN trip is one night you will never want to forget!
Once you've read through our complete overview of HHN, use the navigation links at the top or bottom of the page to learn so, so much more.
Last update
August 9, 2018
Skip to: Overview | Haunted houses | Scare zones | Shows | Rides | Map | Passholder Nights | Merch | FAQ
Halloween Horror Nights 2018 – overview and explanation
Think you have what it takes to survive the biggest names in horror and venture through original, twisted nightmares?
Now in its 28th terrifying year, Universal Orlando Resort's Halloween Horror Nights, the nation's premier annual Halloween event, puts you right into some of the most pulse-pounding moments in horror history. During the day, you can experience the fun and excitement of Universal Orlando's two amazing theme parks (and new water park!). But on select nights from September 14 through November 3, 2018, the streets of Universal Studios Florida come alive with hordes of horrifying mutants, monsters, and maniacs – all throughout the night, you'll be completely immersed in the worlds of the biggest names in horror.
With 27 years of experience to draw from, nobody creates a more nightmarish Halloween event than Universal, filled with truly original scares and authentic horror-movie moments. You can explore terrifying haunted houses, each remarkably themed and detailed by Universal's designers and special-effects wizards. You'll make your way through multiple scare zones, where gory and grotesque creatures lurk around every turn. You'll roar with laughter at outrageous live shows. And you can experience many of the park's most exciting rides and attractions, to boot.
Halloween Horror Nights is a 10-time winner of Amusement Today's "Best Halloween Event" Golden Ticket award. Tony Timpone, editor of Fangoria magazine, said, "After visiting scream parks all across the US for the last 20 years, I can easily say that Universal's is the best in the business… Halloween Horror Nights is the ultimate Halloween experience." And the 28th edition of this must-see event promises to bring to life the ultimate in scares past, present, and future.
What, exactly, can we expect for this year? According to Universal, a whole bunch of good stuff:
This year's event will be the most intense yet, bringing some of the most terrifying names in horror – both from the past and the present – to life in nine all-new haunted houses and five sinister scare zones throughout the park. Guests brave enough to enter the event will encounter everything from iconic horror films to cult classics to terrifying hit TV shows to disturbing original stories that only the twisted minds of Universal's award-winning Entertainment team could imagine. And when they need a break from the screams, guests can enjoy Universal Studios's exciting rides and attractions.
If you notice that the above press release references nine haunted houses, well, it turns out that's not quite right – a few weeks later, Universal surprised all of us by revealing that a 10th house had been added to the roster, making HHN 2018 the biggest event yet!
What are the dates of this year's event?
Halloween Horror Nights 2018 will last for a whopping 34 nights, from Friday, September 14 to Saturday, November 3 (that makes it tied for the longest run in its history).
Here's the full breakdown of the dates:
Sept. 14-16, 20-23, 28-30
Oct. 3-7, 10-14, 17-21, 24-28, 31
Nov. 1-3
So, how busy will Halloween Horror Nights 2018 be on ____ night?
Since this is the most common question we receive, we want to answer it right away. Here's our crowd calendar for HHN 2018:
Least crowded: Sept. 16, 20, 23, Oct. 3, 4, 17, 31, Nov. 1 – 3
Medium crowded: Sept. 14, 15, 21, 22, 28-30, Oct. 5, 7, 10, 11, 18, 24, 28
Most crowded: Oct. 6, 12-14, 19-21, 25-27
To put it more generally, always expect Saturdays to be busy throughout the entire run of the event, while, on the other hand, Wednesdays and the first two weeks tend to be some of the least-crowded nights.
Will Diagon Alley be open during Halloween Horror Nights 2018 event nights?
We don't know just yet. However, since The Wizarding World of Harry Potter – Diagon Alley was open for the past two years, we imagine this will be the case for 2018, as well.
What is the Halloween Horror Nights 2018 theme?
"Horrors inspired by the '80s will invade this year's Halloween Horror Nights," Universal has proudly declared. This means that every haunted house and scare zone – and, just possibly, the new Academy of Villains stage show – will be taken from, take place in, or otherwise be touched by that suddenly-in-demand decade.
What if I'm not a horror fan?
Are you not a horror fan, generally, but are still maybe, possibly interested in heading to the event? It turns out you should be – there's more than enough to do here to warrant at least a one-night visit. We explore this possibility in-depth in our HHN guide for non-horror fans.
Halloween Horror Nights 2018 – haunted houses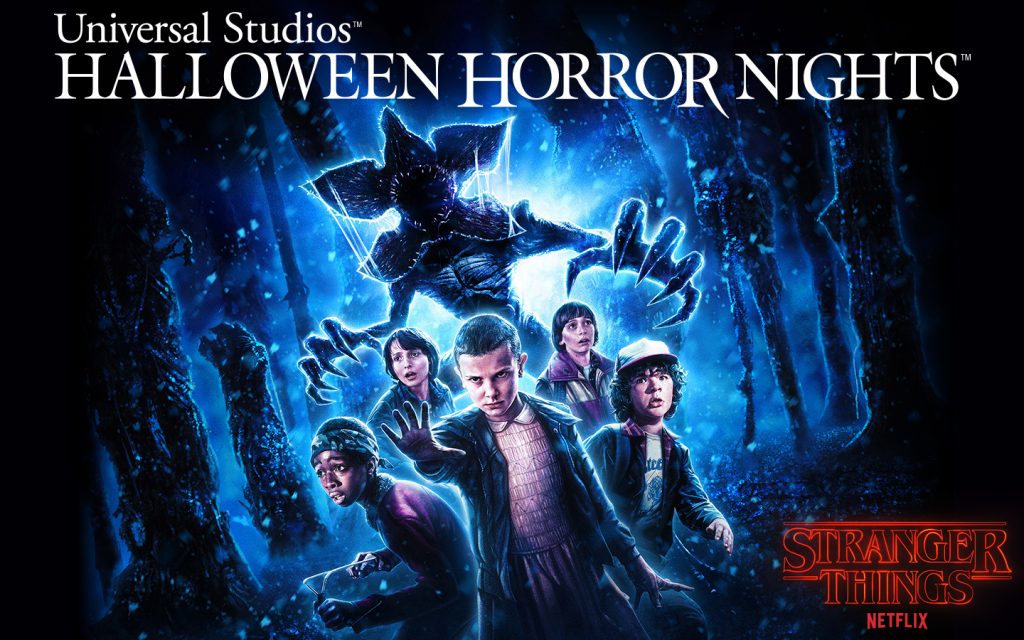 Although there are shows, scare zones, and plenty of terrifying activities as part of Halloween Horror Nights, the haunted houses are the primary attractions for the event.
HHN haunts are best described as "movie-set quality" recreations of fantastic and fearsome locations. Sometimes referred to as mazes, each house is indoors, often set up in the unused queue area of a daytime attraction or one of the Universal soundstages. These haunts rely on every effect you can imagine to scare the pants off you, including hideous creatures, blood-curdling sound effects, loud music, tight passages, strobe lights, air bursts, mirror effects, and, of course, very elaborate – and, in many cases, very gruesome – props and set decoration. In general, guests are sent through the houses in a steady flow (sort of like a conga line, versus being "pulsed" through in small groups), and, once inside, each maze is typically a three- to four-minute experience.
Throughout much of the event's history, the haunted houses' themes have been original creations. However, in more recent years, Universal has started basing more and more of its Halloween locations on third-party licenses (often referred to by fans as intellectual properties, or IPs), such as AMC's The Walking Dead. For this year, it seems like Universal will split them evenly down the middle, five IPs and five originals.
Stranger Things
One of the biggest names in horror is making its inaugural debut at Halloween Horror Nights: Netflix's Stranger Things. The first season, which originally landed on the streamer in July 2016, will be the basis of the house, taking guests step by step through all eight of its episodes – starting with Will Byers's abduction at the hands of the Demogorgon in Mirkwood and going all the way through to the climactic showdown in Hawkins Middle School. Along the way, expect to see flashing Christmas lights, explore the Hawkins National Laboratory, and, of course, make some excursions to the Upside Down.
Read our full analysis here.
Read why Stranger Things is a perfect fit for HHN here.
Dead Exposure: Patient Zero
Upsetting years of tradition, Universal announced the first original haunt of the event well before all of the licensed mazes were fully revealed. Dead Exposure: Patient Zero is the follow-up – well, prequel, if we're being technical – to the fan-favorite Dead Exposure from Halloween Horror Nights 2008, and both heavily rely on plunging guests in total darkness while a zombie horde descends upon them. This could easily be one of the more intriguing houses of the year, especially given Patient Zero's continued utilization of blacklight strobes to punctuate the blackness.
Read our full analysis here.
Read Patient Zero's full backstory here.
Trick 'r Treat
The 2009 anthology film Trick 'r Treat is making an encore appearance at Halloween Horror Nights, this time landing as a haunted house instead of the head-turning and photogenic scare zone from last year. Guests will be plunged into each of the movie's various storylines, from creeping through Mr. Kreeg's "infamous" house to watching the seemingly-normal-looking costumed girls transform into bloodthirsty werewolves – even the rock quarry where a school bus full of children met their untimely demise on Halloween night will be recreated in all of its glory.
For a brief breakdown of the cult-favorite Trick 'r Treat's surprisingly-rich history – including a rare but must-see Easter short film – read our full analysis here.
Slaughter Sinema
The next original offering from Universal, Slaughter Sinema goes all-out on the '80s theme: guests enter an old drive-in that is in the midst of holding a marathon of vintage B-flicks. The best part? Each of these wonderfully campy – and bloody – movies is fictitious but still inspired by that dubious decade; attendees, thus, will face off against alien cannibals, swamp yetis, werewolf bikers, and deadly barbers. If that doesn't produce glee in horror fans, we don't know what will.
Read our full analysis here.
Carnival Graveyard: Rust in Pieces
Universal is taking you to where all carnivals go to die. Abandoned rides and games will furnish your path, while vicious, violent carnies stalk you through the debris, eager to get their revenge.
Although the announcement was short on specifics, Universal's promises of ride parts being transformed into instruments of torture, the walls being "painted in the blood of those foolish enough to enter," and guests being forced to go through a dilapidated Tunnel of Love (called the "Luv Shak"!) has us more than excited for this original haunt.
Read the original announcement here.
Seeds of Exctinction
Halloween Horror Nights 2018's fourth original concept paints a nightmare scenario for humanity: a cataclysmic meteor strikes the planet, eradicating the human population and unleashing a monstrous, alien off-shoot that transforms normal vegetation into carnivorous humanoid creatures. With a strong Lovecraftian vibe – in fact, we're pretty sure Seeds of Extinction is directly influenced by The Color out of Space, one of the author's most famous works – this maze promises to ooze with atmosphere… among other things.
Read our full analysis here.
Poltergeist
The 1982 Steven Spielberg classic will arrive at HHN featuring a smorgasbord of iconic scenes and moments, including the light vortex in Carol Anne's room, the unfinished swimming pool full of floating corpses, appearances from the Beast himself (itself?), and, of course, the static-filled TV set. The highlight would already seem to be the section of the haunted house that will be set on the other side, once guests go into the light – vanishing walls and floating furniture will be the name of the game here, making for some potentially surreal (and scary!) moments.
Read our full analysis here.
Halloween Horror Nights 2018 – scare zones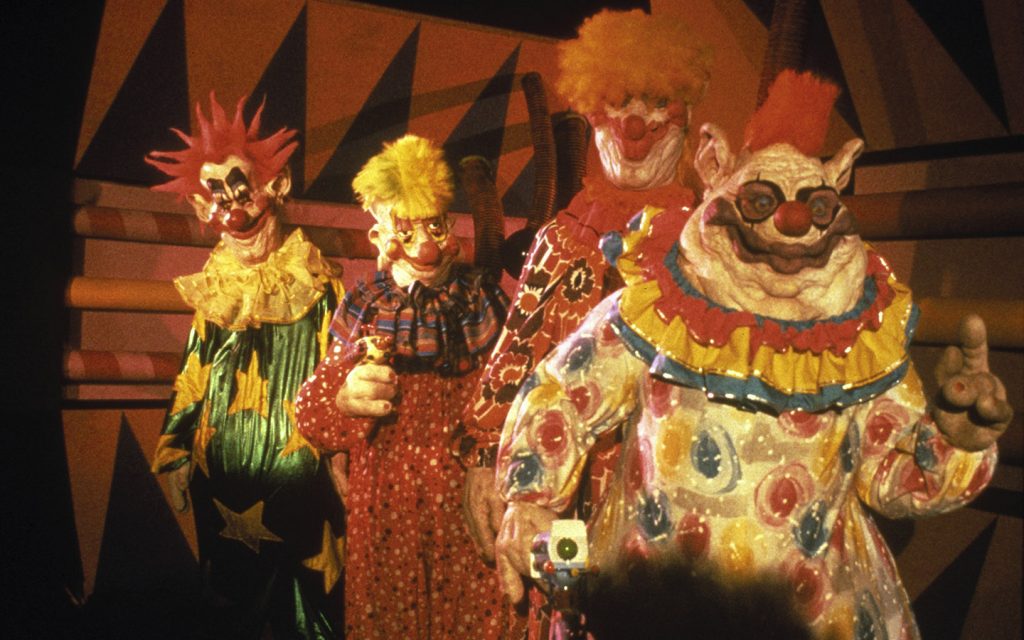 Stopping you mid-breath as you walk between attractions, scare zones are essentially outdoor haunted houses set up in open areas around Universal Studios Florida (for example, in the street area of New York, right in front of Revenge of the Mummy). The decorations and effects are usually not quite as elaborate as the mazes, but there are still many tricks employed to get screams out of guests – and the "oversized" aspects of some scare zones, allowed by their position outdoors, often make them as thrilling as the average haunt. This is particularly true for the ghastly part of you that likes to watch other people scream their heads off!
For 2018, we will be getting three original zones and two based off of IPs, the same ratio that we received last year.
The Harvest
Guests will make their way into a sinister barn, which will be outfitted with props and images from each of the 10 haunted houses and which will be populated with "foul and decreipt creatures" that are looking to reap a harvest of – what else? – flesh and screams. (Yum!)
Vamp '85: New Year's Eve
A sequel, in more ways than one, to HHN 2016's Vamp '55 scare zone, Vamp '85: New Year's Eve continues the fun, nostalgic take on vampires and moves the action to a New Year's Eve party; as the ball drops, Universal promises, a whole slew of different blood-suckers will descend upon you, including ravenous punks, big-haired material girls, and metal heads.
Twisted Tradition (location: Central Park)
Universal's now-obligatory Jack-o-lantern-infused scare zone, Twisted Tradition puts a – well – twist on the tradition by first fusing the pumpkins with human flesh and then making them all be in the midst of decomposing. Most interestingly, the company promises that the only light in the area will come from these rotting, mutated Jack-o-lanterns. Sounds fun!
Revenge of Chucky
Chucky returns yet again to Halloween Horror Nights, this time as the conductor of a toy fair-turned-bloodbath. A nostalgic assortment of possessed toys will stalk guests down the streets of Universal Studios Florida as the diminutive serial killer looks to finally get his revenge.
Read more about Chucky in our in-depth write-up.
Killer Klowns from Outer Space
The 1980s cult classic arrives in scare-zone form, as the Killer Klowns welcome you into their big-top tent and attempt to transform you into tasty blood-soaked cotton candy (hey – what else are interstellar carnival clowns supposed to eat?).
Read more about Killer Klowns from Outer Space in our in-depth write-up.
Halloween Horror Nights 2018 – live stage shows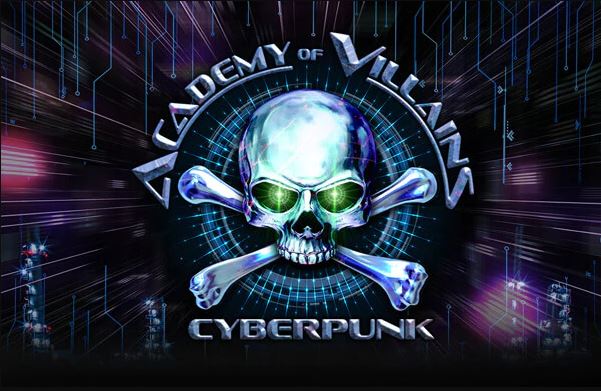 Halloween Horror Nights features unique and outrageous shows each year, typically the only time that attendees are allowed to sit back, relax, and laugh 'til their bellies hurt.
The headlining attraction here used to be Bill & Ted's Excellent Halloween Adventure, but after an unbelievable 27-year run, Universal pulled the plug on the production in 2017 (you can read our full accounting of the reasons why, as well as a full-on retrospective of the show, in our in-depth feature). The HHN torch has seemingly been passed on to professional dance group Academy of Villains, which puts on a different mind-bending performance each and every year that combines acrobatics, detailed visuals, stunt work, multimedia elements, and "intense" choreography.
Academy of Villains: Cyberpunk
For Academy of Villains's third consecutive year at Horror Nights, the dance troupe is taking us back to the '80s in style, delivering a show that contains a "wicked" mix of "pounding synths and neon lights."
While that's all that we have on Cyberpunk thus far, you can always take a nostalgic look back at AOV's previous production, Afterlife, from Halloween Horror Nights 2017.
BONUS: Regular daytime attractions

During Halloween Horror Nights, there are quite a few of the regular attractions running – and since they take a backseat to the HHN thrills and chills, they are often walk-ons. Here's the ride lineup for 2017:
Race through New York Starring Jimmy Fallon will not be included in this year's ride lineup.
Please note: if you purchase an HHN Express Pass, it works on the rides in addition to the haunted houses.
Halloween Horror Nights – park map

Below is the map for Halloween Horror Nights 27. Keep in mind that it does not feature the rides that are open during the event.
Universal provides free event guide maps at the front of Universal Studios Florida for all guests, so you don't have to worry about bringing your own. We simply provide this example to help you plan and get a sense of the Horror Nights layout.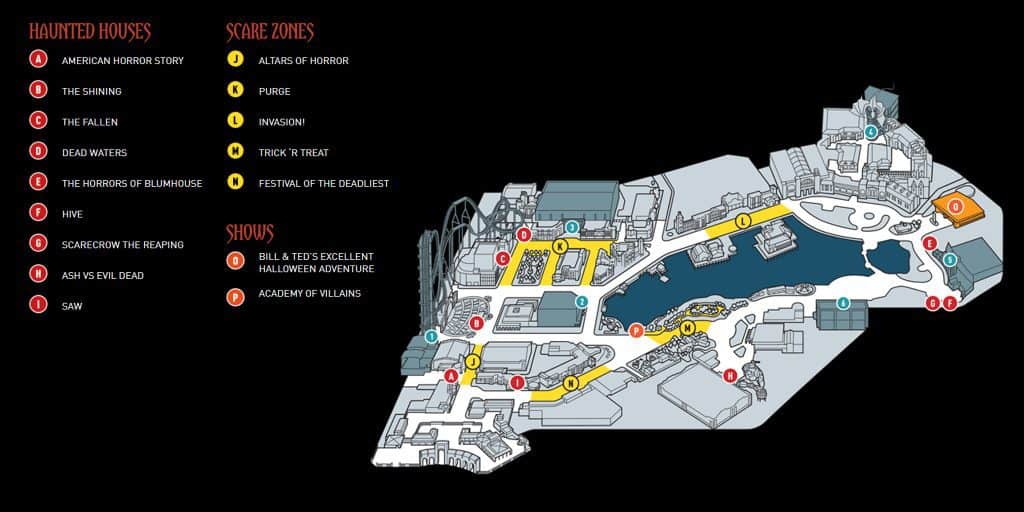 Halloween Horror Nights 2018 – Passholder Nights

NOTE: no info for 2018 has been unveiled yet.
Not unlike the numerous previous years, Universal will continue the tradition of offering passholder nights the first two Fridays and Saturdays of the event. Learn more on this page.
RSVP is always required for Annual Passholder Nights, and dates fill up quickly. We'll share the RSVP form on our Twitter handle and update this page as soon as it's released.
Update (09.07.17 12:20 pm): reservations for Passholder Nights are now live! You can find the form here.
Halloween Horror Nights 2018 – merchandise

The merchandise for Halloween Horror Nights 28 has yet to be released, but you can take a look at what was offered in 2016 below.
What Halloween Horror Nights is not

This event is not Mickey's Not-So-Scary Halloween Party set at Universal Orlando; there is no trick-or-treating, and there are no characters dressed up in cutsie outfits.
The single purpose of Halloween Horror Nights is to scare you. As such, Universal strongly advises that children under the age of 13 do not attend. We tell people that HHN is like a horror movie brought to life. If you like horror movies, you will love HHN; if you don't like them, you'll probably hate the event. It's that simple.
Just for clarification, the "children under the age of 13″ statement is a guideline, not a policy, so you can bring your kids to HHN, and Universal will not ask for proof of age. However, be aware that if anyone in your party does not like the event and needs to leave early, Universal has the right not to refund used tickets or change the valid date. Since at least one adult will need to leave with an unhappy child, this could prove to be an expensive gamble.
Universal Orlando Halloween events for kids
The section above usually leads parents directly to this question: so what can I do with my kids during Halloween at Universal?
For better or for worse, Universal really puts all of its energy into Halloween Horror Nights. The "for worse" part means the resort likely won't be organizing anything for kids this year – at least, not in the size and scope of Horror Nights.
If you have young kids who want to celebrate the holiday, plan on taking them to Mickey's Not-So-Scary Halloween Party or SeaWorld's Spooktacular. Personally, we recommend SeaWorld because its Halloween event is included with regular admission, and it's a great experience, too.
Will my kids get scared visiting Universal Studios during the day?
This is the other popular question asked by parents with young kids. Because many of the decorations for Halloween Horror Nights are elaborate and large, it's not possible for Universal to remove everything HHN-related during the regular daytime hours. This means, when touring Universal Studios Florida in September and October, you'll occasionally come across stuff that looks like this: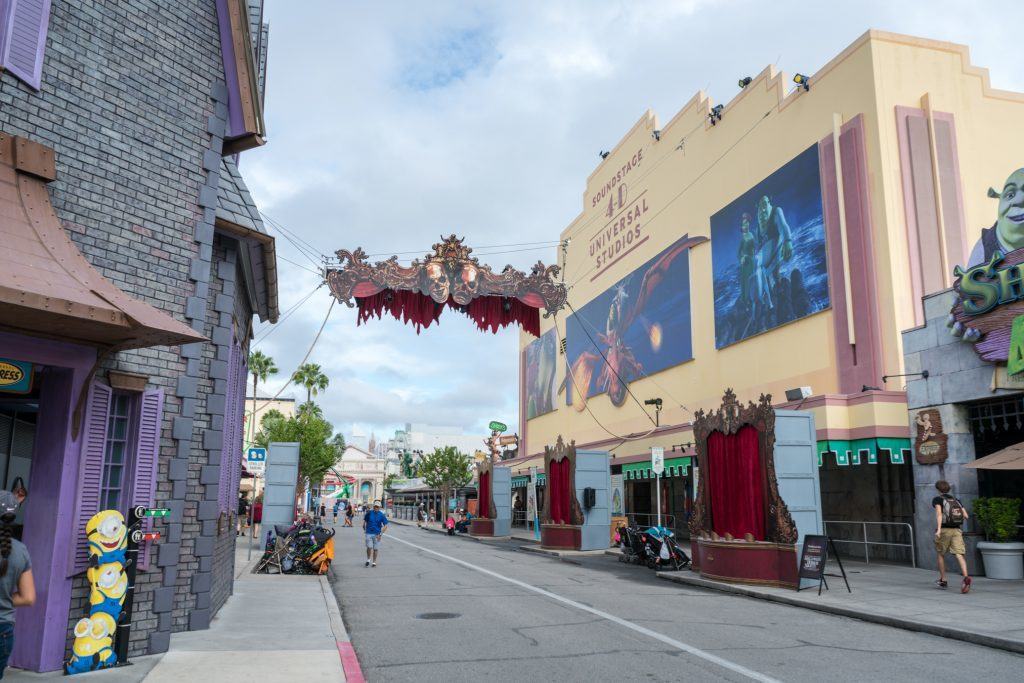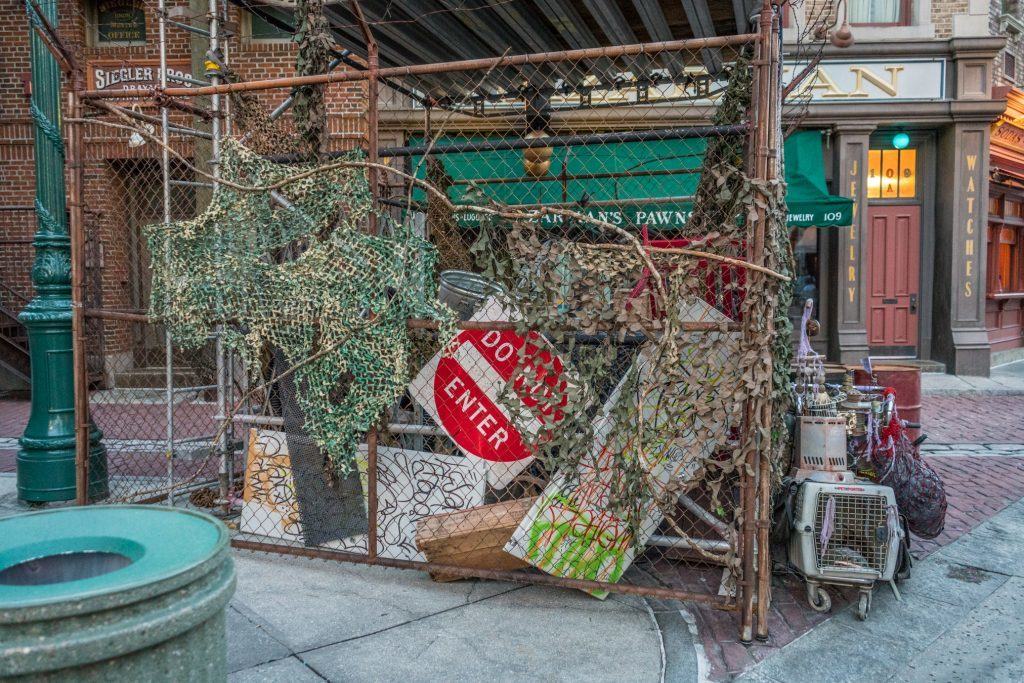 The good news is that Universal doesn't do a single thing during the day, like it does during Halloween Horror Nights – not one scareactor, not one siren effect blaring, no sudden air bursts, nothing. So, aside from the oversized props spaced out in a few spots around the park, there is absolutely nothing to fear visiting Universal Studios Florida during the day. Honestly, most of the HHN props look more silly than scary in the bright sunlight.
Think the props will be distracting? Remind your friends that you're visiting a working movie production studio, so everyone should expect to see miscellaneous props set out around the park!
Does anything happen at Islands of Adventure?
Unfortunately, no. Other than perhaps some very minor decorating, there is nothing Halloween-related at Islands of Adventure. In fact, when you're inside the park in the fall, you'll be hard pressed to even know it's the Halloween season; like we explained earlier, Universal really does put every ounce of its seasonal effort into Halloween Horror Nights.
I wanna learn more about Halloween Horror Nights!
That's good, because we have so much more to share. Follow the links at the bottom of this page to view our expert advice regarding admission, Express Passes, first-time visitor planning, and more.
If you just want to get more of a "feel" for the event, check out our HHN 2013 video playlist on YouTube – you can experience the atmosphere of the event and see exactly what the scare zones looked like from that year.
Last but not least…
We have an entire community of Universal and HHN fans discussing the event right now! When you're done here, join us for vacation planning and more in our Facebook community.