Skip to: Overview | Location | Hours | Fun fact | Menu | Guest reviews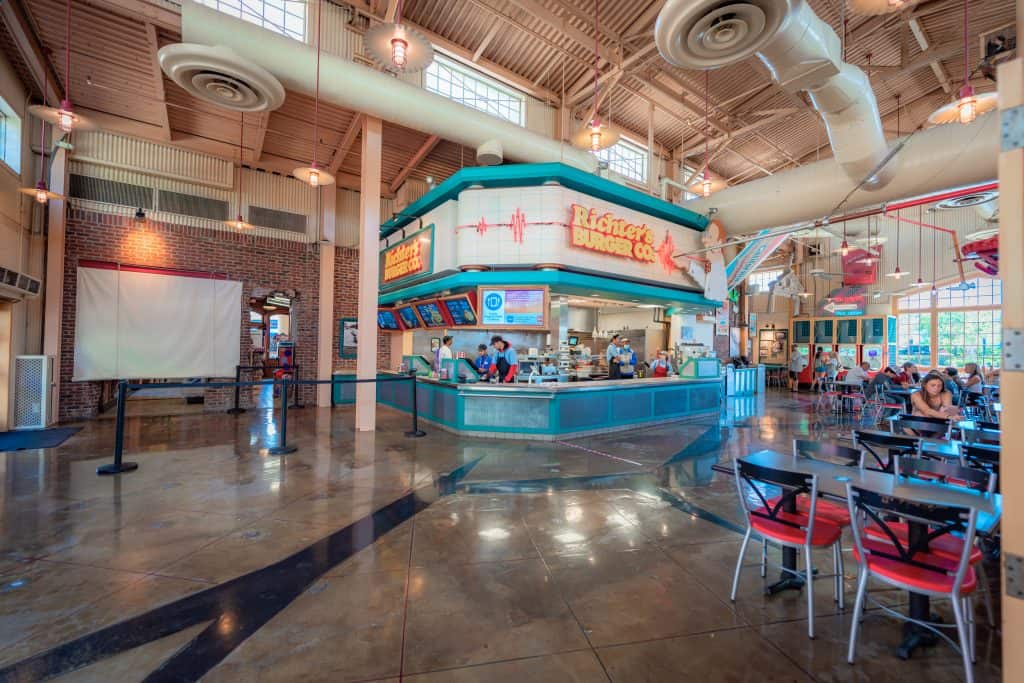 What is Richter's Burger Co.?
Richter's Burger Co. is filled with earthquake memorabilia matching the San Francisco theme of the area. The venue is striking in its industrial interior, disaster-themed props, and its available seating on the two floors inside and the area outside along the Universal Studios Florida lagoon. The burger-centric restaurant is an enjoyable quick-service stop if you're craving something simple.
Where is Richter's Burger Co. located?
In San Francisco, which is in Universal Studios Florida.
Richter's Burger Co. – hours and reservations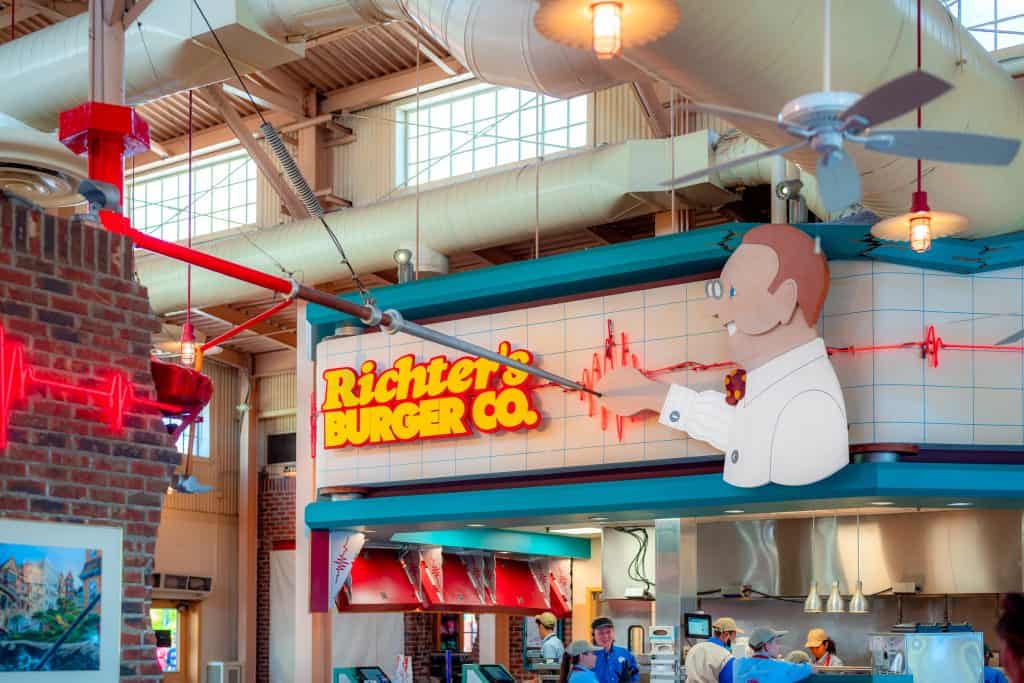 Opening and closing times are subject to change, but you can typically find Richter's open during daily park hours.
Richter's Burger Co. – OI fun fact
Across from the order counter, there is a surprisingly large statue, upside down, with its head buried in the ground. This is a replica of the fallen statue of geologist Louis Agassiz, which tumbled down outside the Stanton University Zoology building during the infamous 1906 San Francisco earthquake. It has since become an iconic image of the event (there are two photographs of the actually fallen statue in the restaurant).
What's on the menu at Richter's Burger Co.?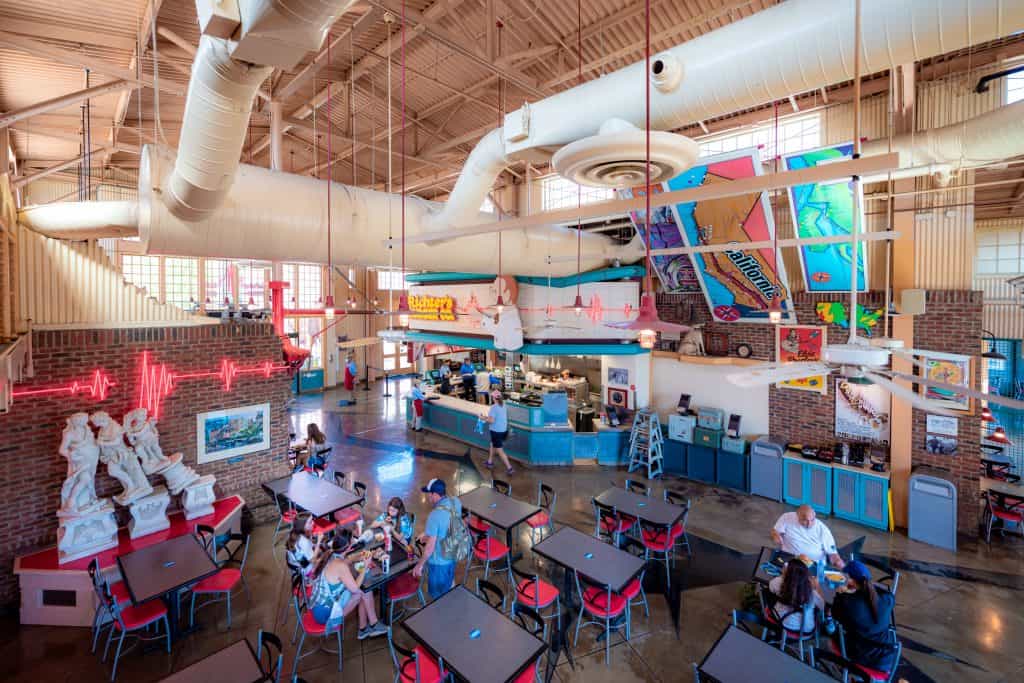 Burgers
Mushroom Swiss Truffle Burger Platter – $16.99
Premium Fresh Angus Beef Patty, Swiss Cheese, Mushrooms, Truffle Aioli, and a side of fries
The Big One – $15.49
Our Juciest Burger with Bacon and Cheddar Cheese with a side of fries
Fries
French Fries – $4.49
Chili Cheese Fries – $6.99
Truffle Parmesan Fries – $6.99
Cheese Sauce – $1.99
Healthier Options
The Richter Scale – $12.49
Grilled chicken breast served on a bed of fresh greens with choice of dressing
The San Andreas Platter – $12.99
Grilled chicken sandwich served with fries
Plant-Based Beyond Burger™ Platter – $13.99
Plant-based burger served with a side of fries
Beverages
Coca-Cola Freestyle Souvenir Cup – $17.99
Extra day of refills for Freestyle Cup – $10.99
Single-serve Coca-Cola Freestyle Cup – $4.49
H20+ Premium Water – $5.50
Minute Maid Juice – $3.29
Apple, orange
Milk – $3.69
2%
Hot beverages – $3.49
Coffee, hot tea
Alcoholic Beverages
Anchor Steam – $11.50
Heineken, White Claw – $10.50
Cigar City Maduro Brown, Miller Lite – $9.50
Desserts & Shakes
The Frisco Shake
Available in chocolate, vanilla, or swirl
Add chocolate, caramel, or strawberry topping for +$1.49
Regular – $4.49
Large – $6.49
Mile High Apple Pie – $4.49
Seasonal Fresh Fruit Cup – $4.79
Dig It Sundae – $6.39
Brownie Sundae – $5.69
Freshly Baked Giant Chocolate Chip Cookie – $3.79
Richter's Burger Co. – photo gallery
Richter's Burger Co. – real guest reviews
Ritcher's Burger Co.
Average rating:
11 reviews
May 26, 2014
Richter's and Freestyle
Date Of Last Visit:
06/13
After a long enjoyable morning in Universal Studios, we had to find somewhere to sit relax and with air con!! We ended up at Richter's mainly due to there being something for everyone in our party. The decor of the restaurant fits in with the style of San Francisco, with a large attention to the little details.



The line was very short with many staff ready to take your order and ensuring that you are having a pleasant day. There was plenty of seating available for us, including outside and upstairs.



I enjoyed the chicken burger (I cannot remember its name) along with my first ever coke freestyle. The food was good and a normal portion size which filled me up! The chicken was cooked well and the burger was well assembled! I think we all spent more time looking through the different flavours than we did worrying about what we were going to order! I wish they would have coke freestyle in all of the eateries!! We enjoyed the atmosphere of the restaurant along with the large salad bar which you can enjoy with your meal.



We also enjoyed the location of the restaurant. After re-hydrating we went outside to look across the lagoon. This was a nice view and gave us a few minutes to enjoy the park without running around!! Also was a perfect picture opportunity for the family.
May 24, 2014
Rockin Burgers
Date Of Last Visit:
14 June 2013
We enjoyed our Richter's Burger experience. I love the earthquake theme and it made it fun to eat there. Of course we got burgers and loaded them up at the Fixins Bar. This is the best part of the restaurant, has all the lettuce, tomatoes, pickles, onions and condiments you could want. The burgers were just ok but I still would recommend Richter's for a meal.
May 24, 2014
Earthquake!
Date Of Last Visit:
November 10th 2013
Upon every trip to Universal Studios from England, we always have to visit the Richter Burger Company. This is for 2 main reasons, reason number 1 is that my mum is completely addicted to the chilli cheese fries they sell here, she says they are the most delicious thing ever (this I cannot comment on as I do not like chilli, however we cannot get them in the UK so every trip she drags me to this precise location to scoff them!) Reason number 2 is that I absolutely adore the theming in there. It is meant to be based on the fact that it had been hit by an earthquake, the room is filled with photographs of actual earthquake scenes. I just think it is a real eye opener to someone like me who lives in the UK, where we are not prone to earthquakes, at just how much damage there can be. They used to have the quirkiest little extra where an alarm would go off and the staff would shout "EARTHQUAKE", then a minute or so later they'd shout "AFTERSHOCK!" I loved joining in with this and it made the restaurant fun, however the last 2 times I have been they haven't done it, hence the one deducted star. I also love the burgers here and the fact they have an "add as much as you like" salad bar to enhance your purchase. Also, the 100+ drinks machine is a real plus! Overall, we love this place!
Aug 12, 2013
everything I needed in lunch. Good food, quick and easy.
Date Of Last Visit:
10/22/12
I don't like taking a long time to eat while I'm in the parks so I typically do counter service places. This was great. They had burgers, fries and I got a drink. Loaded my burger with some veggie fixings so I could lie to myself I was semi eating healthy on my vacation and grabbed a seat to eat. It's not gourmet cuisine, but its a good burger place and doesn't feel like fast food. I will definitely eat here again.
Jul 19, 2013
Pickle Chips and Penguins!
Date Of Last Visit:
03/5/2013
I like this place for the Speed and the seating!...Lines are very quick..Staff was very friendly. We chit chatted with the drink girl while we waited for our food ( less than 10 minutes) Love the topping bar! The pickle chips are the best! if you sit in the furthest corner of the restaurant, there is some nice Japanese artwork...THe day we went was warm and all doors were open....When this happens the Universal pigeons can come to visit some areas...it can make some amusing bird watching moments....A member of the staff would then escort them out....and they would follow him right back in....Fun, quick and food is really good!
Do you have a question about the information on this page or would you like to provide feedback? Please let us know by posting in our
Orlando Informer Community
on Facebook.
OI Universal Center » San Francisco