Location
Hollywood
Style
Quick-service restaurant serving burgers, fries, and root beer floats.
Two-sentence insider summary
Where were you in '62? This local hot spot is pulled from the silver-screen legend American Graffiti and serves up classic burger joint chow with jukeboxes at each table (and sometimes an entire rock 'n roll band playing outside).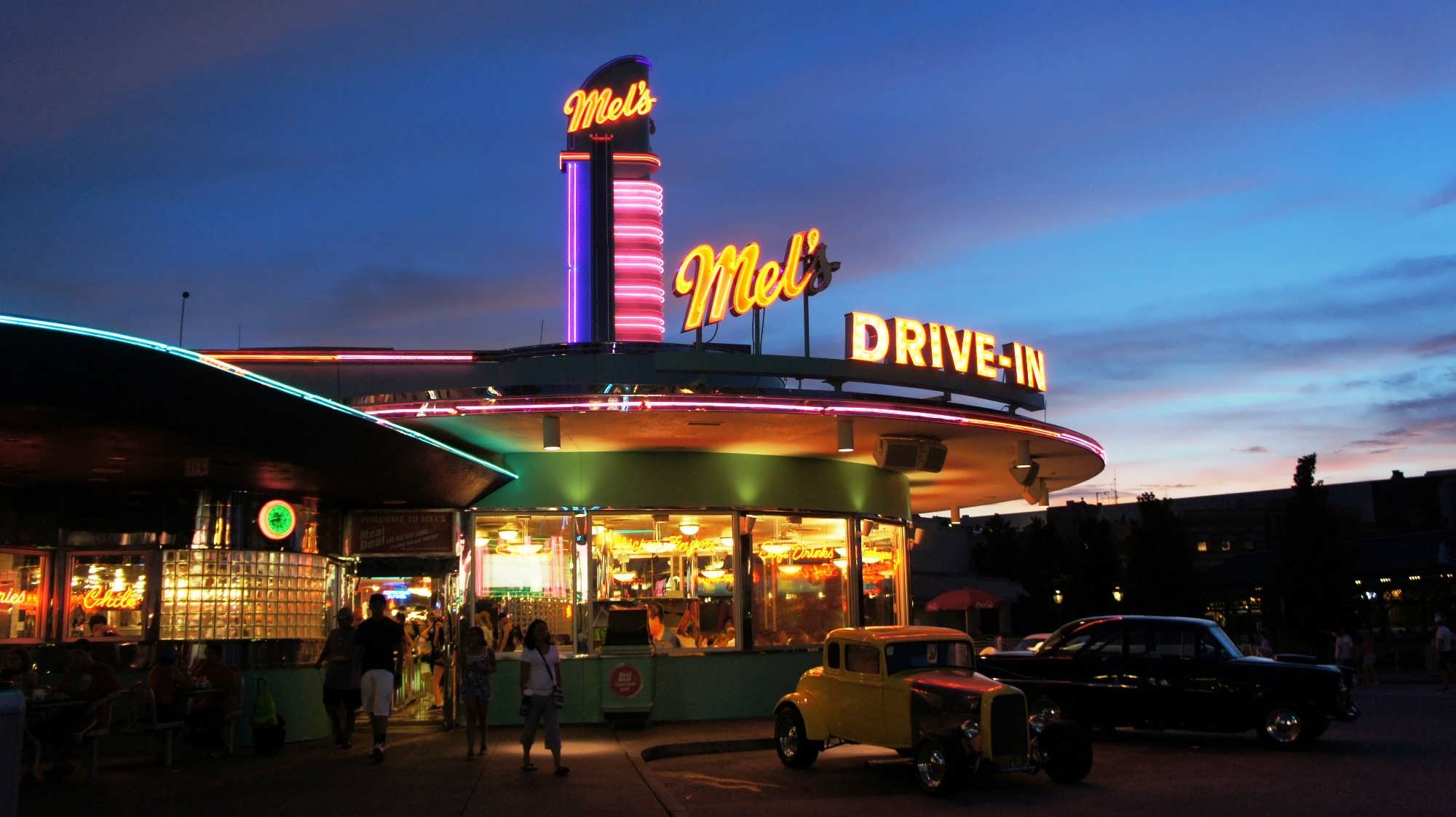 Mel's Drive-In at Universal Studios Florida
Universal Mobile Order
Guests can now place their orders at Mel's Drive-In on their smart phones, using the Universal Orlando app. You can read all about the ins and outs of the process in our write-up.
Prices
Entrees are $6 to $10 per person if paying a la carte.
Sample menu
Bacon Double Cheeseburger with Fries $9.89
Double Cheeseburger with Fries $9.19
Bacon Cheeseburger with Fries $7.09
Cheeseburger with Fries $6.29
Large Root Beer Float $3.99
Mel's Drive-In – photo gallery
Mel's Drive-In – photo gallery
Click any marker to display the attraction or venue name. To scroll or zoom, use the controls on the top-left of the map. You may also switch to different map views by using the buttons on the top-right of the map.
View OI's map to Universal Studios Florida.
Average rating:
18 reviews
Jul 20, 2014
Mels Drive-In Universal / Orlando
Date Of Last Visit:
November 8, 10, 12, 2014
We went to the diner on numerous occasions whilst visiting the Universal Park in Orlando on a recent family holiday -- we all thought the food and service was second to none and would not hesitate to recommend Mel's to anyone visiting there in fact whilst there we did recommend it to a number of people we met looking for "a good place to eat"
May 27, 2014
Fantastic
Date Of Last Visit:
02/22/2014
The burgers/fries/ambiance were fantastic! Absolutely nothing bad to say about this place!
May 26, 2014
Mel's
Date Of Last Visit:
03/08/2014
I love this place to eat, really. It has such a good menu!

The only disappointment about this was that I went on March 8,2014 and it was super crowded. It was like a madhouse. I went during some lunch hour and the lines were longggg! Universal Team Members should've been around to control people just standing anywhere they wanted, some people were just weaving in and out of the lines pushing and stuff...

Other than that, I really enjoyed the food served! And the little jukebox's make it so 50's-like!
May 26, 2014
Marvellous Mel's Drive In
Date Of Last Visit:
June 2012
This is definitely my fave quick service at Uni Studios, eat here every time we visit. The whole theme of restaurant is great, it's especially nice at quiet times when you can enjoy the music, and who doesn't love a bit of cheese!. Food is always good, cheap and easy. The old cars are great in front but don't sit on them, they get REALLY hot!
May 26, 2014
Chilli Cheese Fries 'n' Root Beer Floats
Date Of Last Visit:
06/13
At first the vintage cars were what drew us to Mel's, but after seeing the menu we were straight inside mainly due to the Root Beer Float's!. Living the in the UK means that Root Beer is often very hard to come by so getting a chance to grab some at Mel's is perfect for having a few minutes rest in the park.

We had the Chilli Cheese Fries and Root Beer Floats as a little happy snack in the afternoon. The food is a reasonable price considering you are in a theme park and the theme of the restaurant is great. The air-con is a life saver incase the parks are getting a little too hot! and you can also refill your drinks.

Whilst at Mel's we saw a few burgers, they all looked of a good proportion served with fries. The staff were all very welcoming and were able to help us with our order! Also Mel's looks fantastic at night, so make sure you get a picture!!