Please know that this location is temporarily closed.
Skip to: Overview | Location | Hours | Theming | Menu | Guest reviews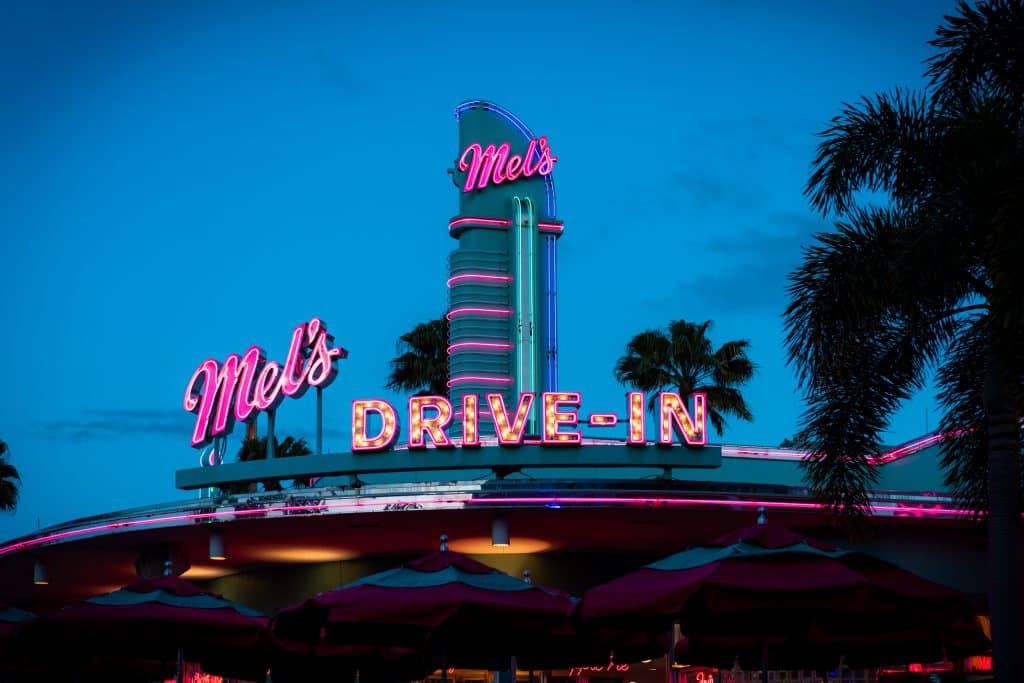 What is Mel's Drive-In?
Located in the Hollywood section of Universal Studios Florida, Mel's Drive-In is a retro burger joint pulled from the iconic 1973 film American Graffiti. With vintage cars parked out front and a jukebox at every table, the ambiance of this quick-service restaurant makes it a popular destination among regular guests and first-time visitors alike.
Along with the classic vibes, Mel's serves a wide variety of diner fare that never goes out of style, including burgers, onion rings, and milkshakes. Guests can choose from indoor seating in retro vinyl booths or outdoor seating under the glow of the neon lights. Reasonably priced and with a wide range of options, Mel's Drive-In is a tried-and-true quick-service staple, with something for everyone to enjoy.
Where is Mel's Drive-In located?
In Hollywood, which is in Universal Studios Florida.
Mel's Drive-In – hours and reservations
Mel's is typically open during park hours, but this is, of course, subject to change.
Mel's Drive-In – theming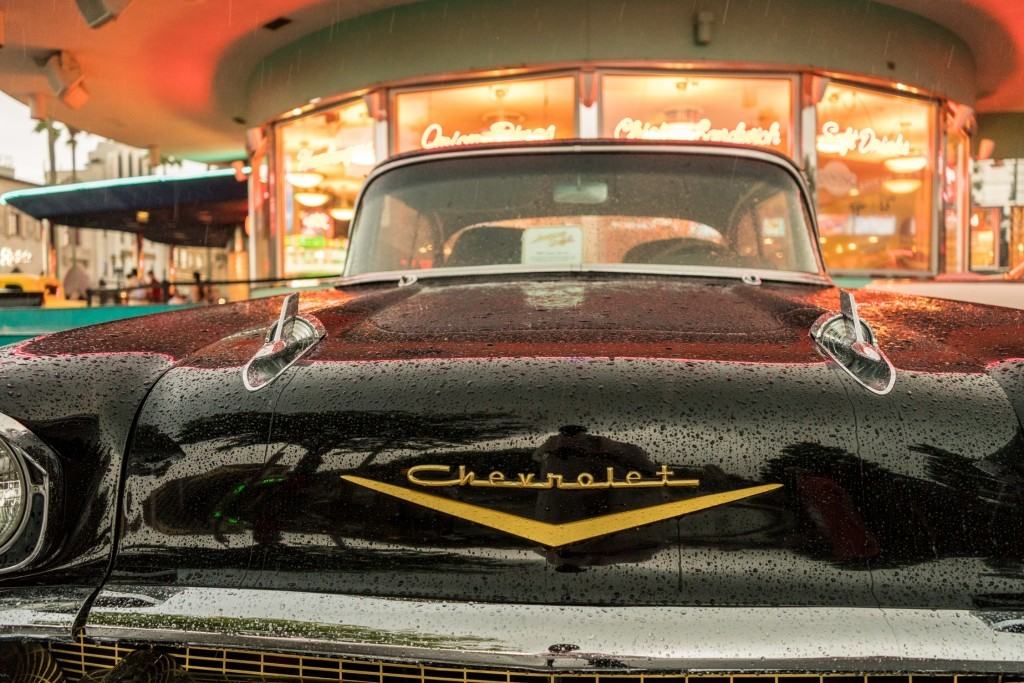 Mel's Drive-In is best known for its retro aesthetic. The vintage cars parked out front make for a great photo-op, and the inside of the location is just as visually appealing. Classic oldies tunes play throughout the location, fully immersing you in the ambiance.
From the records framed on the walls to the checkerboard floors, Mel's will transport you back to the '50s from the moment you step through the door. (Check out the photo gallery below for a closer look.)
Mel's Drive-In – fun fact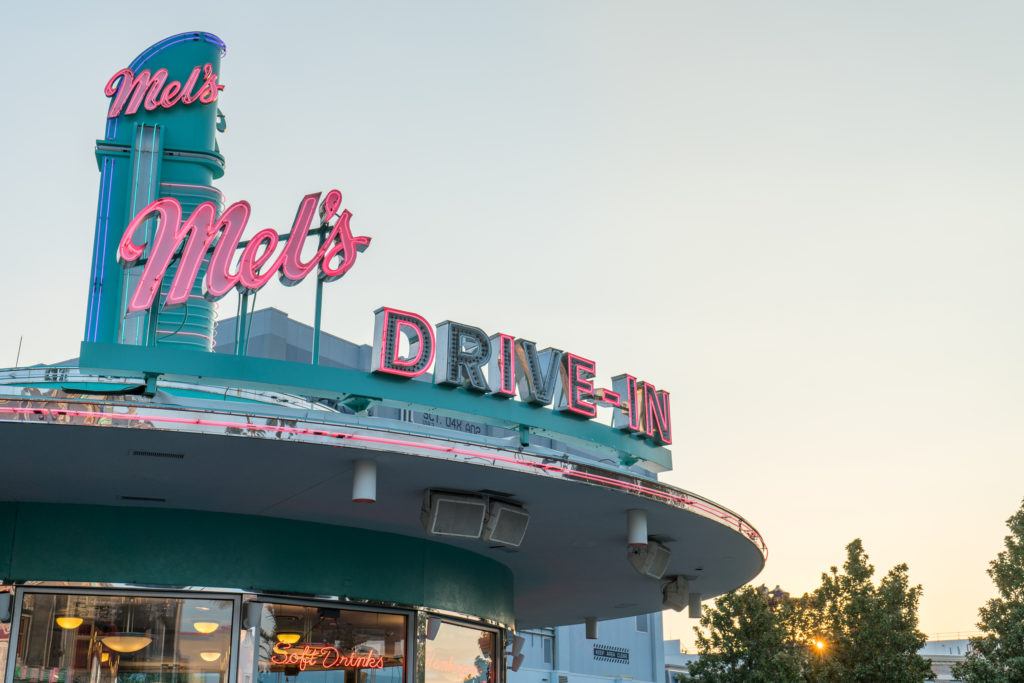 During Halloween Horror Nights, Mel's – or, at least, its sign – gets a loving transformation into a season-appropriate dining establishment. It's a small touch but a fun one, nonetheless.
What's on the menu at Mel's Drive-In?
Platters & combos
BBQ Brisket Burger Platter – $16.99
Golden BBQ, onion ring, smoked gouda and brisket burger with fries
BBQ Brisket Burger Combo – $21.49
Golden BBQ, onion ring, smoked gouda and brisket burger with fries and regular shake
Bacon Cheeseburger Platter – $14.49
Served with fries
Bacon Cheeseburger Combo – $18.99
Served with fries and a regular shake
Chicken Fingers Platter – $12.49
Served with fries
Chicken Fingers Combo – $16.99
Served with fries and a regular shake
Grilled Chicken Sandwich Platter – $12.99
Served with fries
Grilled Chicken Sandwich Combo – $17.49
Served with fries and a regular shake
Healthier Choices
Beyond Burger Platter – $13.99
Plant-based burger served with a side of fries
Plant-Based Chick'n & Avacado Sandwich Platter – $13.99
Plant-based Gardein Chick'n and Follow Your Heart American Cheese
Grilled Chicken Salad – $12.99
Grilled chicken breast served on a bed of fresh greens with choice of dressing
Sensational Sides
Onion Rings – $5.49
Chili Cheese Fries – $6.99
French Fries – $4.49
Cheese Sauce – $1.99
Beverages
Coca-Cola Freestyle Souvenir Cup – $17.99
Extra day of refills – $10.99
Single-serve Coca-Cola Freestyle Cup – $4.49
H20+ Premium Water – $6.00
Minute Maid Juice – $3.29
Apple, orange
Powerade – $5.50
Fruit Punch, Mountain Berry Blast
Milk – $3.69
Hot Drinks – $3.49
Coffee, Decaf, Hot Cocoa, Hot Tea
Desserts
Milkshakes
Regular – $4.99
Large – $6.99
Add sprinkles, strawberries, or Oreo topping for $1.49
Old-Fashioned Root Beer Float
Regular – $4.99
Large – $5.99
Apple Pie – $5.49
a la mode
Beer
Bottle Beer – $9.50
Bud Light, Miller Light
High Noon Hard Seltzer – $11.25
Peach, Pineapple, Watermelon
Mel's Drive-In – photo gallery
Mel's Drive-In – real guest reviews
Mel's Drive-In
Average rating:
18 reviews
Jul 20, 2014
Mels Drive-In Universal / Orlando
Date Of Last Visit:
November 8, 10, 12, 2014
We went to the diner on numerous occasions whilst visiting the Universal Park in Orlando on a recent family holiday -- we all thought the food and service was second to none and would not hesitate to recommend Mel's to anyone visiting there in fact whilst there we did recommend it to a number of people we met looking for "a good place to eat"
May 27, 2014
Fantastic
Date Of Last Visit:
02/22/2014
The burgers/fries/ambiance were fantastic! Absolutely nothing bad to say about this place!
May 26, 2014
Mel's
Date Of Last Visit:
03/08/2014
I love this place to eat, really. It has such a good menu!



The only disappointment about this was that I went on March 8,2014 and it was super crowded. It was like a madhouse. I went during some lunch hour and the lines were longggg! Universal Team Members should've been around to control people just standing anywhere they wanted, some people were just weaving in and out of the lines pushing and stuff...



Other than that, I really enjoyed the food served! And the little jukebox's make it so 50's-like!
May 26, 2014
Marvellous Mel's Drive In
Date Of Last Visit:
June 2012
This is definitely my fave quick service at Uni Studios, eat here every time we visit. The whole theme of restaurant is great, it's especially nice at quiet times when you can enjoy the music, and who doesn't love a bit of cheese!. Food is always good, cheap and easy. The old cars are great in front but don't sit on them, they get REALLY hot!
May 26, 2014
Chilli Cheese Fries 'n' Root Beer Floats
Date Of Last Visit:
06/13
At first the vintage cars were what drew us to Mel's, but after seeing the menu we were straight inside mainly due to the Root Beer Float's!. Living the in the UK means that Root Beer is often very hard to come by so getting a chance to grab some at Mel's is perfect for having a few minutes rest in the park.



We had the Chilli Cheese Fries and Root Beer Floats as a little happy snack in the afternoon. The food is a reasonable price considering you are in a theme park and the theme of the restaurant is great. The air-con is a life saver incase the parks are getting a little too hot! and you can also refill your drinks.



Whilst at Mel's we saw a few burgers, they all looked of a good proportion served with fries. The staff were all very welcoming and were able to help us with our order! Also Mel's looks fantastic at night, so make sure you get a picture!!
Do you have a question about the information on this page or would you like to provide feedback? Please let us know by posting in our
Orlando Informer Community
on Facebook.