Skip to: Overview | Location | Parking | Dining | Things to do | Shopping | History | Tips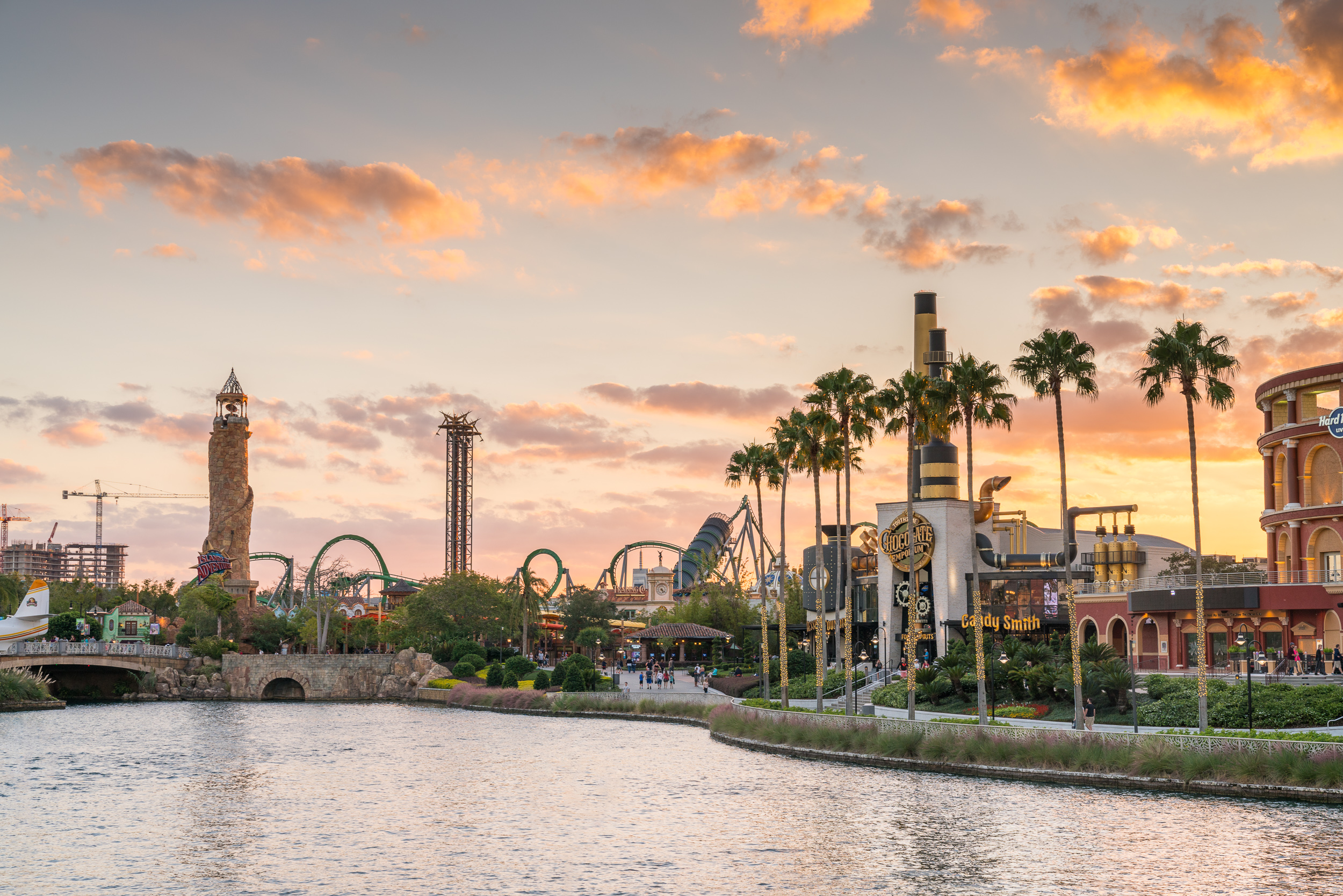 What is Universal CityWalk Orlando?
At the heart of Universal Orlando Resort is CityWalk – a complex of dining, shopping, and entertainment sprawled around a gorgeous lagoon, with sweeping views of coaster skylines. It serves as the central hub of Universal Studios and Islands of Adventure, and with an impressive and varied collection of shops and bites, many visitors find CityWalk to be a great place to spend a relaxing day playing miniature golf, seeing a show, or even getting a tattoo. After dark, CityWalk has a handful of vibrant nightlife options as well. Even if it's not your final destination, CityWalk is definitely worth budgeting a bit of extra time for when passing through on the way to or from the parks.
Where is CityWalk?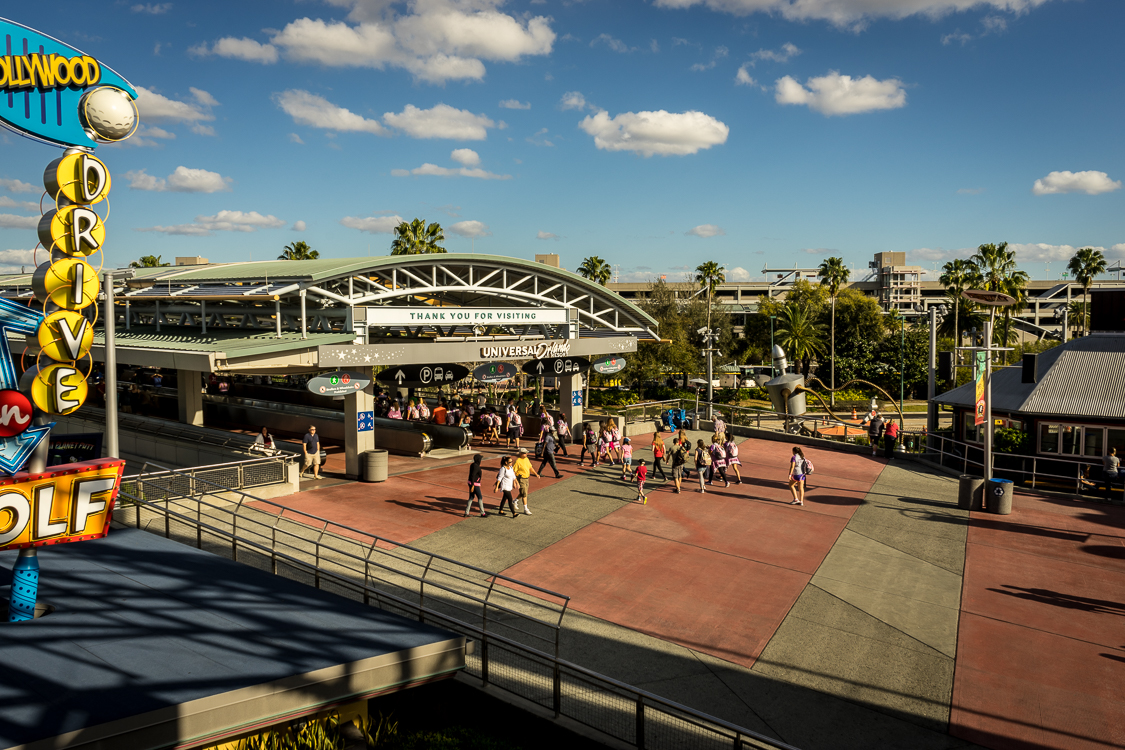 If you've been to Universal in the last couple of decades, you've more than likely strolled through CityWalk. The shopping, dining, and entertainment complex is located directly between Universal's security hub and its two main theme parks: Universal Studios Florida and Universal's Islands of Adventure. Even if you are staying on-site at one of the resorts, making your way through CityWalk in some capacity is required for entrance into the parks.
Plug this address into your GPS to get to parking for all of the above:
6000 Universal Boulevard
Orlando, FL 32819
Parking at CityWalk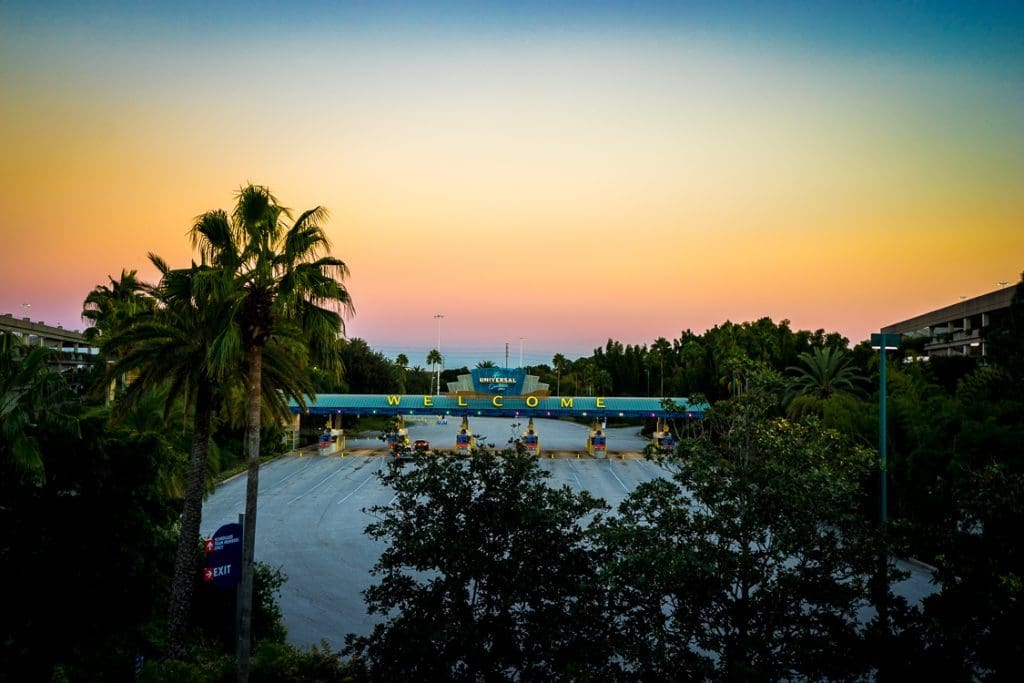 Those of us more accustomed to bussing from park to park at Disney may be surprised to find that Universal is more of a one-stop shop. You can reach CityWalk, Universal Studios Florida, Islands of Adventure, and Volcano Bay all from one centrally located parking and security hub. This does, however, mean you have to pay for parking even if you're just visiting CityWalk.
Parking pricing
Prime parking: $50
Prime upgrade: $23
RV/bus parking: $32
Regular parking: $27
Valet pricing
Before 6:00 pm
$27.00 for 2 hours
$75.00 for over 2 hours
After 6:00 pm
$26.00 for 2 hours
$75.00 for over 2 hours
For Preferred Annual Passholders:
$20.00* (after first visit; subject to availability)
For Premier Annual Passholders:
Free; Vehicles must be picked up before 7:00 PM during Halloween Horror Nights
Now, there are a couple of ways to save yourself the cost of parking. With the exception of days Halloween Horror Nights takes place, parking is free for all guests beginning at 6:00 pm. Alternatively, regular parking fees are reimbursed when you purchase two matinee movie tickets at Cinemark.
Whether you're from out of town or a local ready to party the night away, using Uber, Lyft, or a local taxi company to get to and from CityWalk is an option as well. (Note that Uber has a bit of a premium surcharge for Universal.) There is a designated pick-up and drop-off section within the parking area for guests who use these services.
What is there to eat at Universal CityWalk?
The food is one of CityWalk's top selling points. Whether you want something quick, a full sit-down meal, or just a cocktail, there are truly tons of awesome, unique options that will keep you coming back visit after visit.
Quick options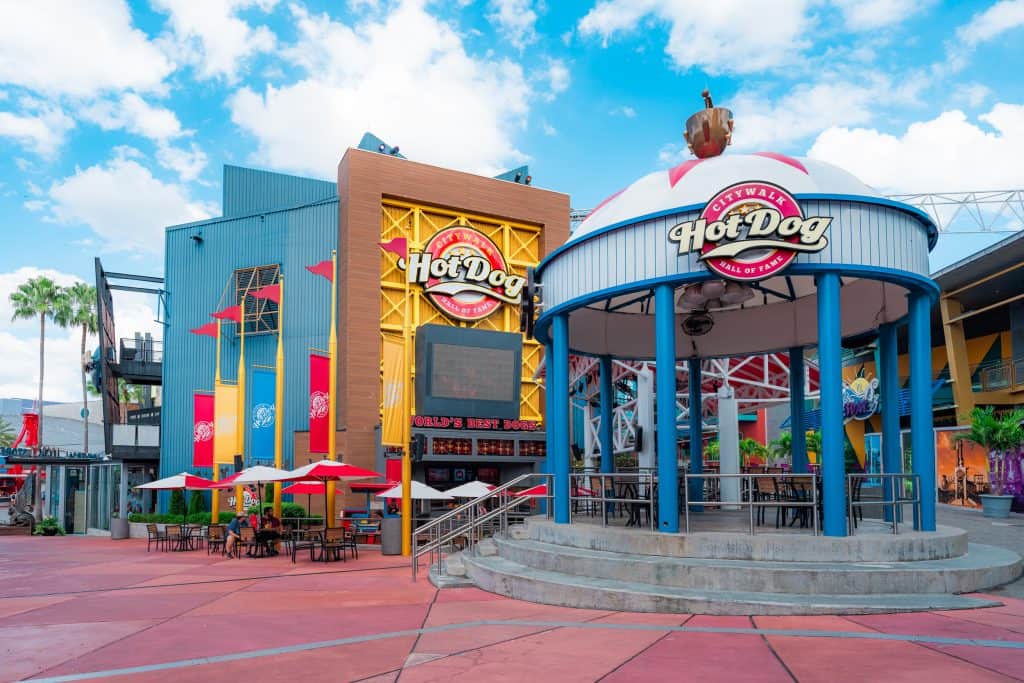 Hot Dog Hall of Fame
A surprise home run for CityWalk, Hot Dog Hall of Fame has been praised for the quality and authenticity of its classic hot dog selection. Here, you can enjoy a taste from the "Starting Line-Up 9," a series of nine different specialty hot dogs that hail from different ballparks all over the country. Rounding out the immersive experience is the authentic stadium seating (featuring seats from various baseball stadiums across the nation), artificial turf, field lights, and more.
Starbucks
The worldwide coffee chain serves up a full menu of java and other treats (and souvenirs) at its location at the entrance of CityWalk. If you're passing by on your way to a day in the parks, this is the perfect place to stop for a caffeinated treat. (Trust us, having a fun-filled day takes more energy than you would expect!)
Bend the Bao
Tucked away on the second level of CityWalk, Bend the Bao is the new kid on the block. Having just opened its doors this summer, this new spot offers a delicious selection of quick and affordable bao buns (2 bao for $11.99, and yes – there's a veggie option!) If you're feeling extra festive, they also have a couple of kinds of sake to choose from that pair wonderfully with your bao.
Panda Express
Panda Express is one of three chain selections located in the CityWalk food court. This fast-food Asian eatery serves up an assortment of familiar dishes including orange chicken, honey walnut shrimp, and veggie spring rolls.
Burger King Whopper Bar
Also located in the CityWalk food court, the first-ever BK Whopper Bar to open in the country offers up a unique menu of bold burgers, complete with a loaded bar of condiments and toppings. If you're looking for a vegetarian option, you can't go wrong with an Impossible Whopper and fries!
Moe's Southwest Grill
The last stop in the CityWalk food court, Moe's is an easy and delicious option for families on the fly. The location serves up burritos, quesadillas, and more. Complimentary chips and salsa are included with every meal. Be sure to give famous options like the Homewrecker Burrito or Close Talker Salad a try!
Bread Box Handcrafted Sandwiches
Bread Box is located on the landing between the first and second levels of CityWalk. With more than 15 food options and serving up gourmet sandwiches great for the whole family, this venue also boasts quirky decor and mobile ordering via the Universal Orlando app.
Voodoo Doughnut
This Portland-bred doughnut shop dream needs no introduction. The CityWalk location marks the first-ever Voodoo Doughnut excursion east of the Mississippi, and it's quickly become a guest favorite. Have you ever wanted to try a doughnut covered in Tang? How about a wooden coffin filled with doughnuts? Peanut butter and jelly? You can find all of that (with vegan options as well) and more deliciously (and interestingly flavored) doughnuts at Voodoo. My personal favorite? The ODB. You're welcome.
Cold Stone Creamery
The CityWalk Cold Stone serves up all of its sinfully sweet ice cream mash-ups loaded with toppings. You can also enjoy smoothies, milkshakes, or even cakes if you're really craving something sweet. The only downside is the minimal seating available, but you can always enjoy your ice cream concoction on the go.
Red Oven Pizza Bakery
Choose from menu offerings or create your own individual Neapolitan-style pizza with a delicious array of toppings. The standout aspect of the Red Oven Pizza is watching your pie be cooked before your eyes in a 900-degree stone-lined oven, which takes about 90 seconds to do the job. There's a fairly sizable wine menu, too.
Menchie's Frozen Yogurt
Known for its self-serve froyo and a gigantic bar of toppings, the weigh-by-the-ounce dessert spot is a fun stop for kids and adults alike. It's a great on-the-go option, and a tasty way to cap off a fun day in the parks, too.
Cinnabon
This Cinnabon might serve the same icing-drenched cinnamon treats as the one in your local mall, but somehow, they taste even better at CityWalk. Plus, being located across from Starbucks makes for the best-smelling stretch of CityWalk.
Full-service restaurants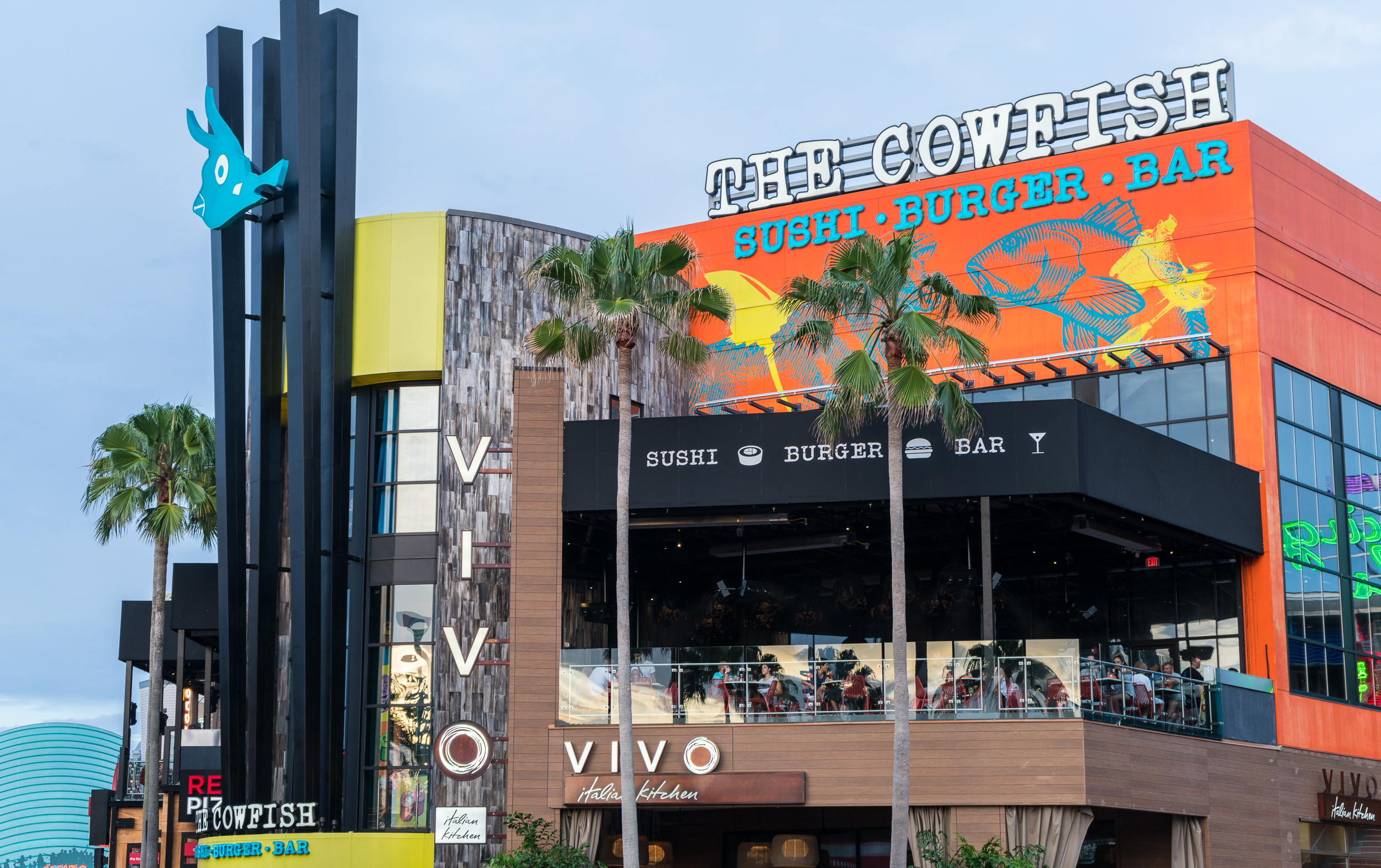 The Cowfish Sushi Burger Bar
Who would've thought that sushi and burgers go together so well? Cowfish does it right with impressive dishes throughout its interesting menu. The atmosphere is just as quirky, with virtual aquariums and plenty of off-kilter decor to delight the eyes. If you're looking for something on the sweeter side, be sure to try one of their delicious hand-spun milkshakes, too.
VIVO Italian Kitchen
There's a reason locals swear by VIVO, an authentic Italian spot. This chic restaurant has pasta, pizzas, and tons of other entrees that will satisfy your cravings for all things Italy. Don't be afraid to try the Squid Ink Seafood – it's deliziosa! There's also a bar located near the front of the restaurant offering a wide selection of wine and Italian-inspired cocktails.
Antojitos Authentic Mexican Food
Known for its tableside guac, live music, and colorful building, Antojitos serves up Mexican flair in style. The tableside guacamole is a must-order, made to your specifications right before your eyes. Live entertainment, including music and face painting, is also sometimes offered. If you're looking for a sip, be sure to stop by the gigantic, four-sided bar on the ground floor for an expansive range of drinks.
Hard Rock Cafe Orlando
As the largest Hard Rock Cafe in the world, this iconic venue offers the biggest collection of musical artifacts (including entire Elvis, Beatles, and John Lennon rooms) and Hard Rock Live next-door, which is a 3,000-person concert venue. If the rock 'n roll memorabilia isn't enough for you, you can also enjoy classic American cuisine here, such as chicken and waffles.
Jimmy Buffet's Margaritaville
You know what they say: it's five o'clock somewhere! At Jimmy Buffet's Margaritaville, you can embrace the island state of mind with signature margaritas and a full food menu of tropical flavor. Every night at 10:00 pm, the restaurant turns into a nightclub with live entertainment inside and a guitarist on the outdoor porch.
NBC Sports Grill & Brew
This gigantic, heavily television-adorned establishment has a vast menu that makes it one of our top recommendations for big groups. Be sure to check out the house 862 Orlando brew, which is a draft brewed exclusively for the restaurant by the Florida Beer Company (the people responsible for the Duff beer found in Springfield, USA).
Bob Marley – A Tribute to Freedom
This bar is decorated to match the appearance of Bob Marley's home while serving major reggae vibes and excellent Jamaican-inspired cuisine. Special artifacts, black-and-white photos, and video monitors will take you through the journey of this legend, showcasing his life and career. You can enjoy live reggae nightly at 8:00 pm, or have a drink on the balcony overlooking the courtyard.
Bigfire
One of CityWalk's newer restaurants, Bigfire is known for its tableside s'mores and menu of bold, artisan flavors. One of the big draws here is the special type of wood, whether that be Cherrywood or Pecanwood, that is used to complement each dish on the menu so that the smoked flavor is always just right.
Toothsome Chocolate Emporium & Savory Feast Kitchen
The steampunk aesthetics and milkshakes will bring you in, but Toothsome's huge, delicious menu of unique flavors will keep you coming back. Don't let the "chocolate" in the name fool you – there are plenty of cocoa-inspired desserts to choose from, but there's also an expansive menu with options for everybody, including all-day brunch. If you're lucky, you may even meet Penelope Tibeaux-Tinker Toothsome, the creator of the restaurant, and Jacques, her robot friend.
Bubba Gump Shrimp Co. Restaurant & Market
Outside of Bubba Gump, you'll find a dancing shrimp. Inside, you'll find a delish seafood menu and fun, kitschy flare. Don't worry if you're not a big shrimp fan – they have a little bit of something to offer for everyone, including salads, soup, sandwiches, seafood, and fried chicken, to name a few.
Cocktails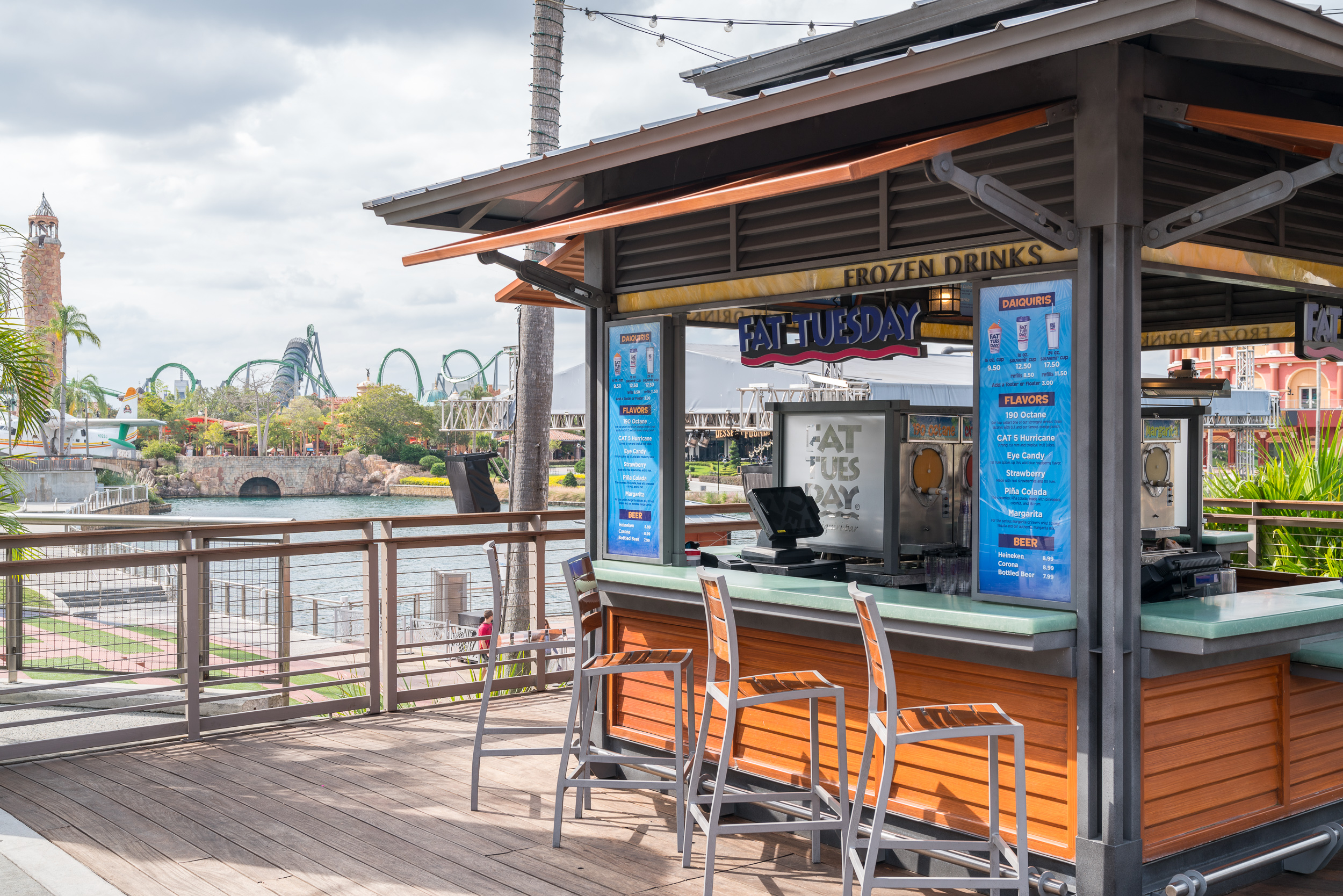 Fat Tuesday
With a walk-up location on the second floor of CityWalk and a kiosk on the water, Fat Tuesday is your best bet for strong, fruity, frozen cocktails. The walk-up location offers more flavors, and the opportunity to mix flavors together to create your own frozen concoction. The kiosk, however, boasts a lovely, relaxed atmosphere right next to the lagoon.
Lone Palm Airport
Sit alongside a seaplane from Jimmy Buffet's personal seaplane while sipping on margs and enjoying appetizers. The island ambiance is perfect for any Parrothead looking to kick back and relax.
Red Coconut Club
The two-story club has a tiki-chic, intimate atmosphere perfect for dinner and drinks. On select nights, a live band performs covers of Top 40 hits, 80s favorites, dance, and Latin music from 8:00 pm to midnight, followed by a DJ from midnight to 2:00 am. Keep in mind, though, that this venue is 21+ and has a casual-chic dress code.
What is there to do at Universal CityWalk?
In addition to all of the dining and drink options above, CityWalk also boasts an exciting array of entertainment options, from something as simple as catching a movie to seeing a full show.
CityWalk's Rising Star
Grab a couple of cocktails and let your karaoke skills shine! Just add your name to the list; Rising Star will back you up with a live band and backup singers. If you'd rather take in the performances, you can relax with a specialty "Karaoke Cocktail," too.
Cinemark
Need some rest and air conditioning? Go catch the latest (and sometimes, a throwback!) flick at this 20-screen movie theater featuring Luxury Loungers complete with extendable footrests, cup holders, and plush seating. If you're up for the ultimate experience, you can try the Cinemark XD auditorium, with a wall-to-wall screen, custom-engineered surround sound system, and a state-of-the-art projector that's capable of displaying 35 trillion colors. And don't forget – a couple matinee tickets here earn you compensation for parking!
Hollywood Drive-In Golf
Located on the street-level floor of CityWalk, Hollywood Drive-In Golf is is an awesome place to have fun outside of the parks. The venue boasts two themed 18-hole courses: the Haunting of Ghostly Greens (themed to B-grade horror films) and Invaders from Planet Putt (B-grade sci-fi).
Universal's Great Movie Escape
Nestled between Fat Tuesday and Antojitos Authentic Mexican Food lies an escape adventure like no other. Immerse yourself in the worlds of Back to the Future or Jurassic World like never before. Get a team together and rise to the challenge!
Is there shopping at CityWalk?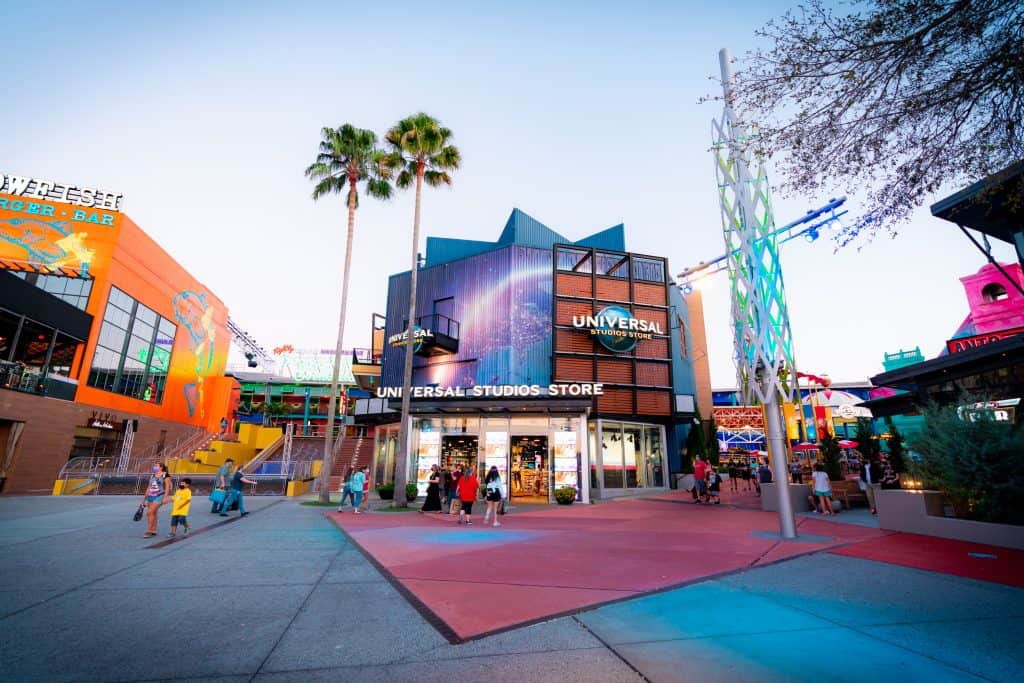 Don't feel like hauling your souvenirs across the parks, or want something a bit more permanent? There's an exciting selection of merchandise available across CityWalk. Don't have time to browse for a bit? Just stop by one of the kiosks along the lagoon to snag what you need.
Universal Studios Store
If you missed the souvenir you wanted in the park, stop by the beautiful flagship Universal Studios Store on your way out. This 8,000+ square foot space boasts an assortment of merchandise from franchises found in the parks, including Harry Potter, Minions, The Simpsons, and more. You can also find family shirts to coordinate your visit!
Universal Legacy Store
The Legacy Store provides guests with the unique experience of seeing some retro memorabilia while shopping the new stuff. Universal converted the former flagship store location into a nostalgic shopping experience where guests can browse their favorite new franchises while listening to classic soundtracks and stopping to look at props and equipment from favorite rides and attractions. There's also an entire section of the store dedicated to personalizing your mementos before you head back home.
Hart & Huntington Tattoo Company
Yep, you can take home the ultimate souvenir. This world-famous tattoo shop, founded by Carey Hart, has professional artists and a welcoming atmosphere. (Just be aware that you may not be getting your permanent souvenir for cheap.)
Quiet Flight Surf Shop
The famous wave photo op right out front is a must-do, but take home a little piece of Florida while you're at it. Ladies, gents, and kiddos alike can find surf fashion and accessories here, with brands like Billabong, Oakley, Quicksilver, and more. You can also jot in to grab a handy SunBum Sunscreen stick for $10 and stay safe at the parks!
Rock Shop
Located near the Hard Rock Care lobby, this store sells logo and music-themed apparel. You can also take in the decor, featuring instruments used by famous musicians, framed platinum records, and embedded guitar picks in the floor.
A brief history behind Universal CityWalk Orlando
CityWalk was first introduced in 1995 as part of Universal Orlando's expansion that would also bring Islands of Adventure and on-site hotels to what was then just Universal Studios Florida. Originally dubbed the Entertainment Zone or "E Zone," the entertainment complex would offer shopping, dining, and clubbing opportunities for tourists and locals alike. In 1997, while still in construction, it was renamed CityWalk. This name change brought uniformity to the Universal Studios theme park offerings in the United States, as a Los Angeles-themed version of CityWalk had opened in California in 1993.
When it opened in the winter of 1998, CityWalk Orlando exceeded initial expectations, offering guests 30 acres of entertainment featuring themed dining, entertainment, nightclubs, and shops. Original dining opportunities included the Hard Rock Cafe, Jimmy Buffett's Margaritaville, Emeril's Restaurant Orlando, and the NASCAR Cafe. Live entertainment was also plentiful; venues such as Hard Rock Live, Jimmy Buffett's Margaritaville, and Bob Marley – A Tribute to Freedom drew large crowds to the attraction. Clubs offering opportunities for adults to unwind included Motown Cafe, and CityJazz, and retailers included Cigarz at CityWalk, Fossil, Tabasco Country Store, Endangered Species, Glow! and Quiet Flight.
Over the years, CityWalk has seen a number of changes. The Motown Cafe was replaced by the now-popular "swank but casual" Red Coconut Club in 2006, becoming the complex's first club without an overbearing theme, intended to attract a laid-back happy hour crowd. In 2008, the CityJazz venue was replaced by what many have called CityWalk's crowning achievement, The Rising Star karaoke-style bar that provides singers with a live band and backup singers. Yet another form of entertainment was added to CityWalk when Hollywood Drive-In Mini Golf, featuring science-fiction and horror-movie-themed courses, opened in 2012.
Now marketed under the moniker "The Entertainment Capital of Orlando," Universal Orlando's CityWalk is touted as being as popular with locals as it is with visitors.
What you wish you knew about Universal CityWalk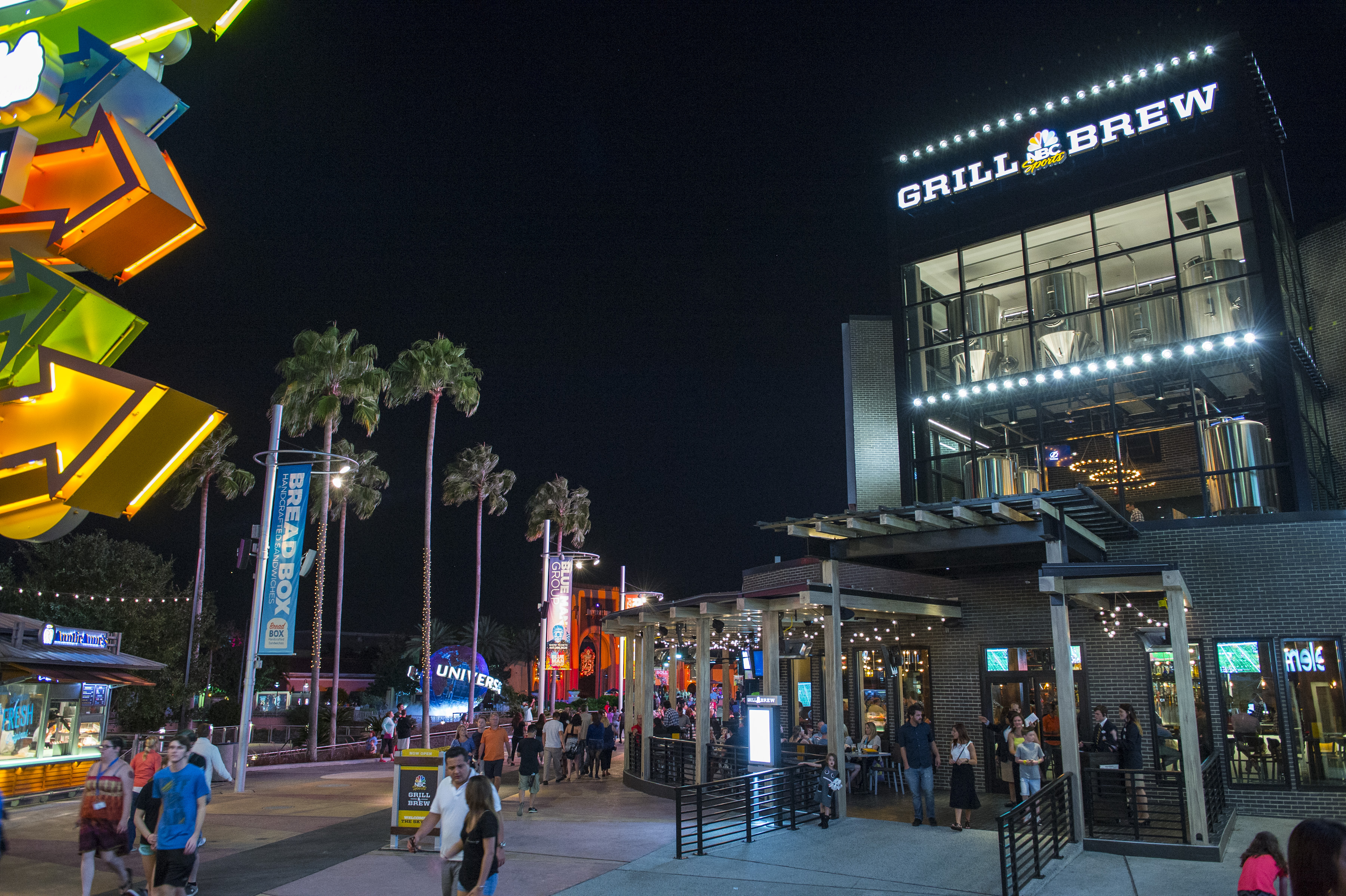 There are three sections to Universal CityWalk. The first section, which is the ground level you walk into from the parking garages, holds Universal's 20-screen movie theater, several restaurants, and most of the CityWalk shops. It is also on this ground level that you will find the CityWalk stage, where Universal has complimentary live music and DJs during busier times. The second section is the "upstairs" or "second floor" of CityWalk. This is the more adult-oriented section, featuring the CityWalk nightclubs and the restaurants that also double as clubs in the later hours of each evening. The third section of CityWalk is located on the other side of the lagoon, and it's home to two more restaurants and a theater space.
Because the complex shares parking and security with Universal's theme parks, it's a common misconception that CityWalk requires paid admission. While some venues (like Rising Star) have a cover charge, exploring CityWalk itself is free. Just be prepared for parking fees, or avoid them with one of the exceptions we listed above.
---
Do you have a question about the information on this page or would you like to provide feedback? Please let us know by posting in our
Orlando Informer Community
on Facebook.