Skip to: Overview | Location | Hours | Menu | Guest reviews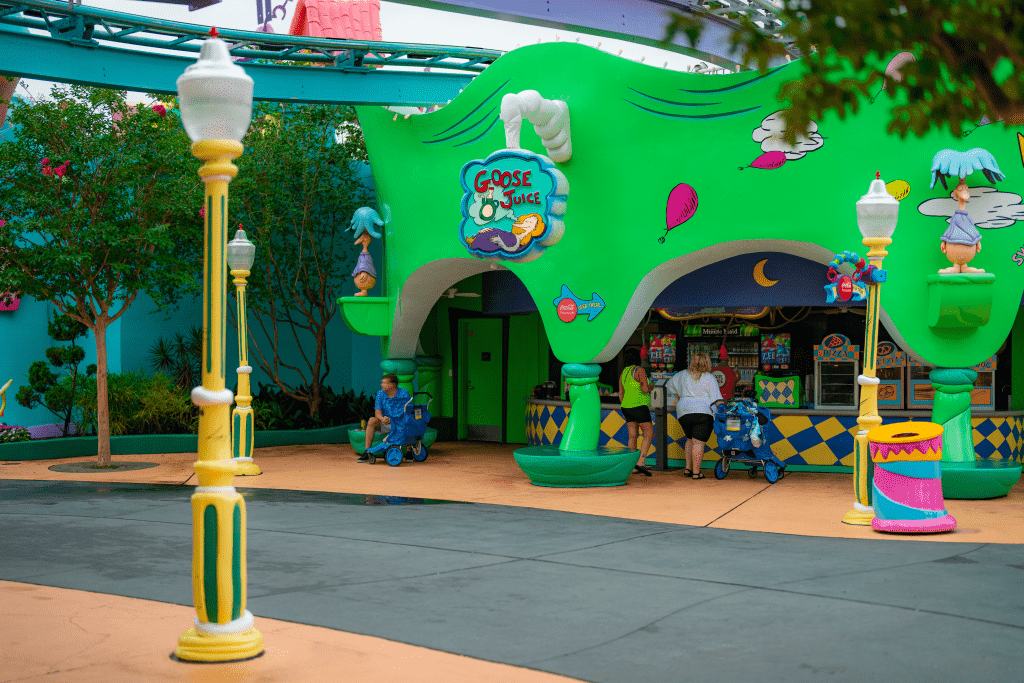 What is Moose Juice, Goose Juice?
Moose Juice, Goose Juice is a food joint inspired by Dr. Seuss's Sleep Book that serves typical theme-park snacks and a few specialty non-alcoholic beverages. This venue is one of the few that offers fresh fruit, so this may be a good choice for families looking for healthier snack options.
Where is Moose Juice, Goose Juice located?
In Seuss Landing, which is in Islands of Adventure.
Moose Juice, Goose Juice – hours and reservations
Moose Juice, Goose Juice is typically open during park hours, but times may vary. And as a quick-service location, there are no reservations.
What's on the menu at Moose Juice, Goose Juice?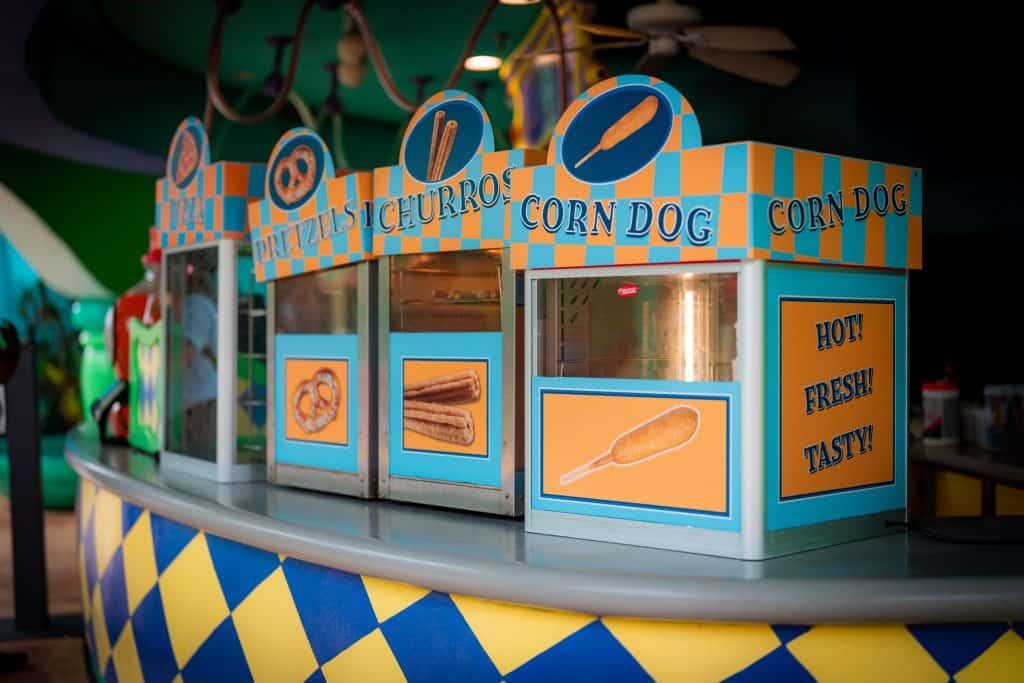 Horace P. Snacks
Jumbo Chocolate Chip Cookie – $3.29
Oatmeal Cookie – $2.59
Cinnamon Churro with Chocolate Sauce – $6.49
Soft Pretzel with Cheese Sauce – $7.19
Foot-long Corn Dog with Chips Combo – $10.99
Whole Fruit – $2.29
Grapes – $3.99
Chips – $3.49
Fruit Cup – $4.29
Moose Juice
Frozen Orange – $5.50
Goose Juice
Frozen Sour Green Apple – $5.50
Bubbulous Beverages
Fountain Soda – $4.19
Coca Cola, Coca Cola Zero Sugar, Diet Coke, Sprite, Coca Cola Cherry, Fanta Orange, Hi-C Pink Lemonade
Coca-Cola Freestyle Souvenir Cup – $16.99
Extra day of refills for Freestyle Cup – $9.99
ICEE – $6.00
Powerade – $5.50
Mountain Berry Blast, Fruit Punch
Minute Maid Bottled Lemonade– $4.49
Fuze Tea Bottled – $4.49
Monster Energy – $5.25
Water – $3.75
Coffee or Hot Chocolate – $3.49
Moose Juice, Goose Juice – photo gallery
Moose Juice, Goose Juice – real guest reviews
Orlando Informer
Average rating:
0 reviews
Do you have a question about the information on this page or would like to provide feedback? Please let us know by posting in our
Orlando Informer Community
on Facebook.