Skip to: Overview | Location | Restrictions | Shops | Fun fact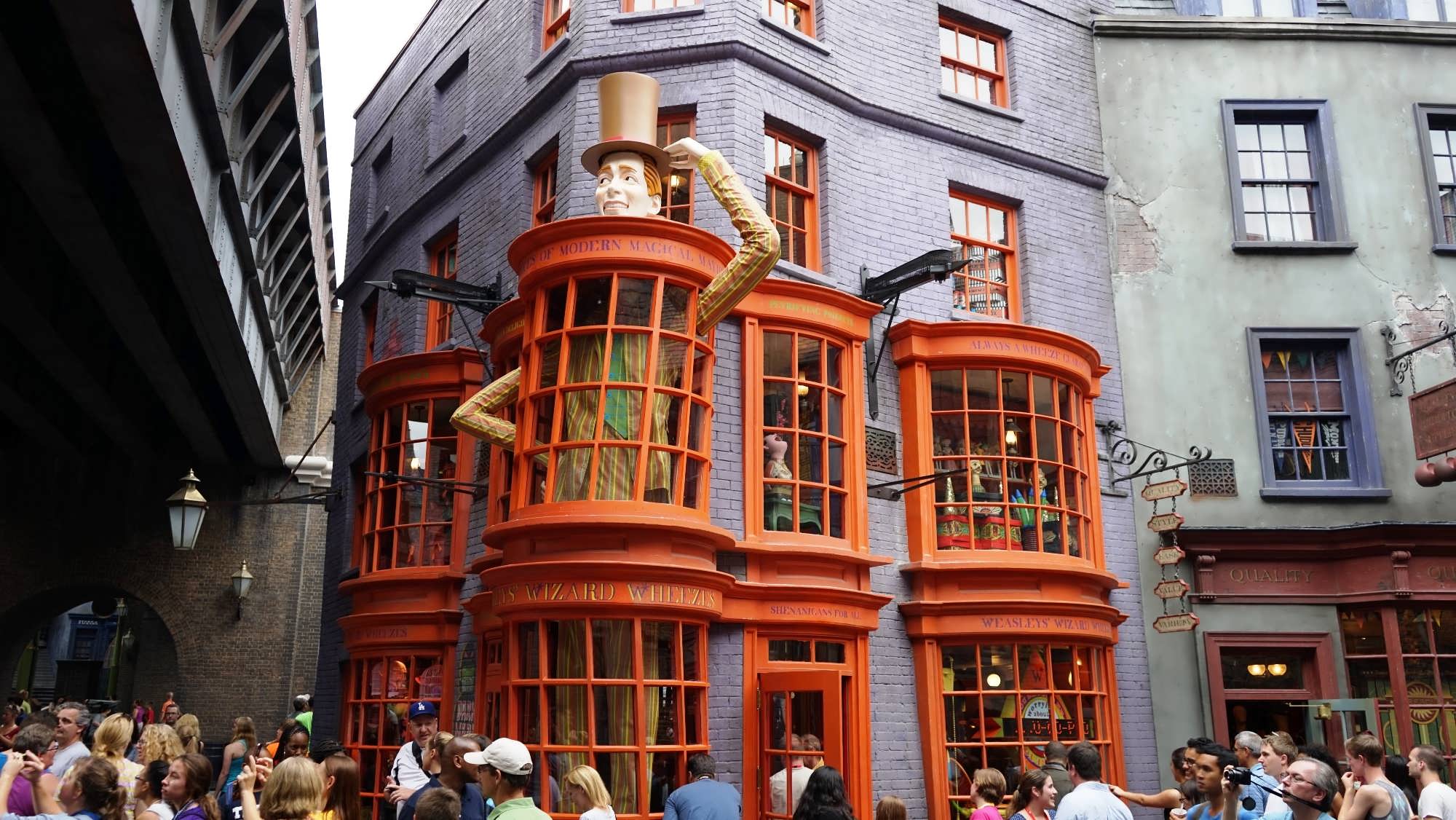 What is Diagon Alley (the street)?
No, we're not talking about Diagon Alley the theme-park land – we're discussing just the first street you enter once making your way past the London waterfront, which also just so happens to be named Diagon Alley. This avenue has the biggest concentration of stores not only in The Wizarding World of Harry Potter, but also in the entire resort – or, just possibly, in any theme park across the globe.
A really good percentage of your time in The Wizarding World of Harry Potter – Diagon Alley will probably be spent here in this main drag. Just as Harry does in Harry Potter and the Prisoner of Azkaban, you can spend great amounts of time checking out the shops, grabbing a bite to eat (both The Leaky Cauldron and Florean Fortescue's Ice-Cream Parlour are located here), or perusing Madam Malkin's Robes for all Occasions. If you're an upcoming first year, head over to Ollivanders Wand Shop to have a wand choose you.
Where is Diagon Alley (the street) located?
In The Wizarding World of Harry Potter – Diagon Alley, which is in Universal Studios Florida.
Diagon Alley (the street) – height restrictions and other factors
Since this is just a walk-through area of the park, and not an actual attraction, there are absolutely no restrictions of any kind.
Diagon Alley (the street) – list of shops
Quality Quidditch Supplies – offers sweaters, brooms, and all the Quidditch props from the films. A number of in-world teams are represented, including the Chudley Cannons and the Holyhead Harpies.
Weasleys' Wizard Wheezes – an exact replica of the set from Harry Potter and the Half-Blood Prince, this three-story shop offers most of the items that were originally on sale at the former Zonko's at The Wizarding World of Harry Potter – Hogsmeade, plus a few new items, such as Decoy Detonators, Umbridge on Unicycles, and Nose-biting Teacups. (Be sure to check out the fireworks that go off through the ceiling's skylight!)
Madam Malkin's Robes for All Occasions – features a full array of wizard wear, from Hogwarts school uniforms to cardigans and character costumes – and, even, hats.
Shutterbutton's – this photography studio will create a DVD album of "moving photos" of you and your family against 12 different "iconic" backgrounds from both Diagon Alley and Hogsmeade.
Ollivanders Wand Shop – not unlike Dervish and Banges over in Hogsmeade, Ollivanders carries wands in a variety of options, just with a lot more space and theming. (You can find our full guide to the wand shop here.)
What was Diagon Alley (the street)'s opening date?
July 8, 2014
Diagon Alley (the street) – OI fun fact
What is today Shutterbutton's started out life, in July 2014, as the overflow queue for Madam Malkin's Robes for All Occasions; Universal had overcorrected from the long lines that used to habitually plague Hogsmeade's various shops. In October 2015, the company opted to transform the never-used space into the photography studio, which was tragically overlooked at its original, out-of-the-way location over in Carkitt Market.
Do you have a question about the information on this page, would like to provide feedback, or did you spot an inaccuracy? Please let us know by posting in our
Orlando Informer Community
on Facebook.