Skip to: Overview | Location | Atmosphere | Merchandise | Fun facts | Guest reviews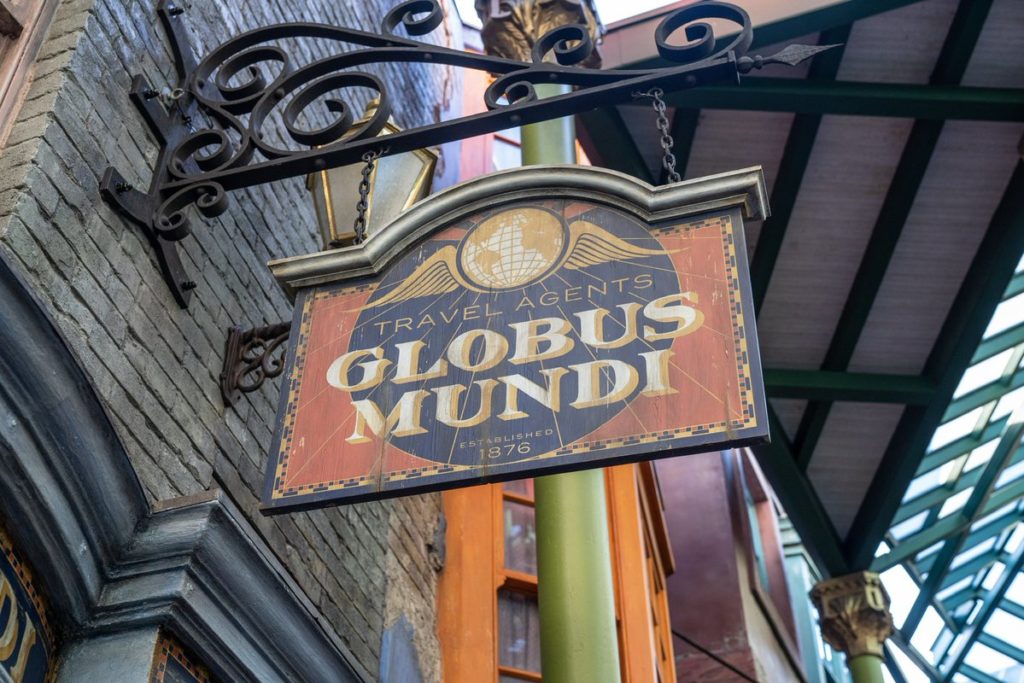 What is Globus Mundi?
An original creation by Universal, Globus Mundi is the travel agency of the Wizarding World. As such, all of its wares are themed to traveling, from its sweatshirts and mugs to its key chains and Hogwarts Express tickets.
Where is Globus Mundi located?
In The Wizarding World of Harry Potter – Diagon Alley, which is in Universal Studios Florida.
What is the atmosphere of Globus Mundi like?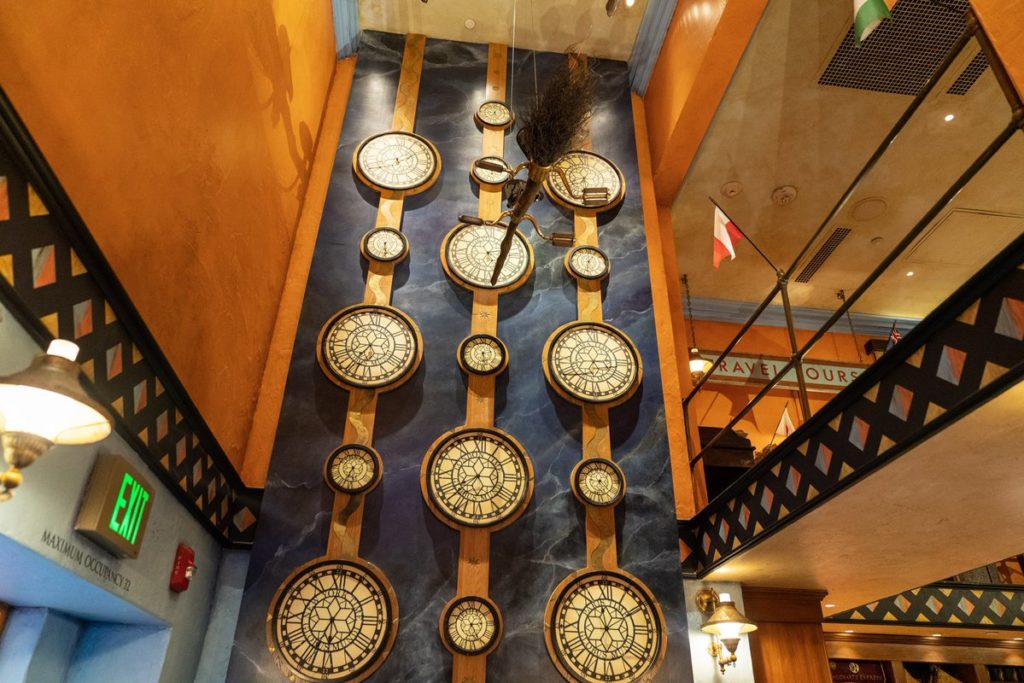 Expect to find tons of travel posters (including some that nod towards the Fantastic Beasts spinoff film series) and clocks keeping track of the various time zones all across the planet. And as if that weren't enough to make you feel as if you had stepped into a travel agent's (magical) office, then keep your eyes peeled for the various signs indicating "travel tours," "package deals," and the "ticket office." You'll be ready to hop into the Floo Network before you know it!
What merchandise is sold at Globus Mundi?
Anything and everything having to do with wizarding travel is represented in Globus Mundi, which means you'll also see some items from the other wizarding shops relocated here, most notably Platform 9 3/4 merchandise. "Globus Mundi Travel Agents" specifically can be found emblazoned across t-shirts, hoodies, luggage tags, tumblers, and key chains.
What was Globus Mundi's opening date?
October 30, 2018
Globus Mundi – OI fun facts
The physical space which houses Globus Mundi was originally one of three show rooms for the next-door Ollivanders Wand Shop. Once demand for the interactive wand experience decreased, the space was repurposed into the new shopping venue.
Globus Mundi was not featured in the Harry Potter films or books but had previously existed in Universal's Diagon Alley prior to the actual shop's opening – "Globus Mundi" existed as a piece of faux signage that was added to fill The Wizarding World of Harry Potter with life. You could've found it in the opposite corner of Carkitt Market, over by The Hopping Pot. (Three-and-a-half years later, in December 2017, Globus Mundi-branded items started to make their way into various stores throughout the Wizarding World.)
Carkitt Market has seen the most changes since The Wizarding World of Harry Potter – Diagon Alley opened in 2014. Shutterbutton's Photography Studio moved locations, Sugarplum's Sweets Shop was added, Globus Mundi came to be, and Owl Post has been fleshed out from being another fake storefront into an actual retail offering.
Globus Mundi – photo gallery
Real guest reviews of Globus Mundi
Orlando Informer
Average rating:
0 reviews
Do you have a question about the information on this page, would like to provide feedback, or did you spot an inaccuracy? Please let us know by posting in our
Orlando Informer Community
on Facebook.