Skip to: Overview | Location | Atmosphere | Merchandise | Fun facts | Guest reviews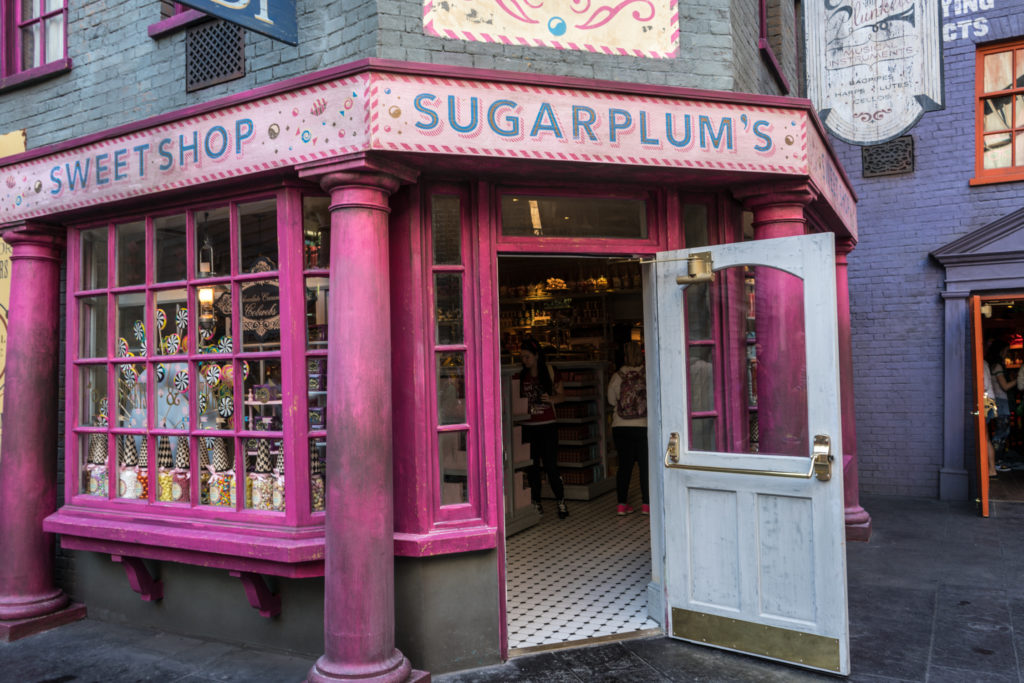 What is Sugarplum's Sweet Shop?
Get ready to step into a whimsical world of sweets! Sugarplum's Sweet Shop offers some of the Wizarding World's most irresistible (and unusual) candy assortments. Here, you will find such popular confections as Bertie Bott's Every-Flavour Beans and Chocolate Frogs, or even stumble upon some of the more unusual variety of candies, including Acid Pops and Jelly Slugs. If you're looking for something fresh, bakery-style goodies can be found here as well.
Where is Sugarplum's Sweet Shop located?
In The Wizarding World of Harry Potter – Diagon Alley, which is in Universal Studios Florida.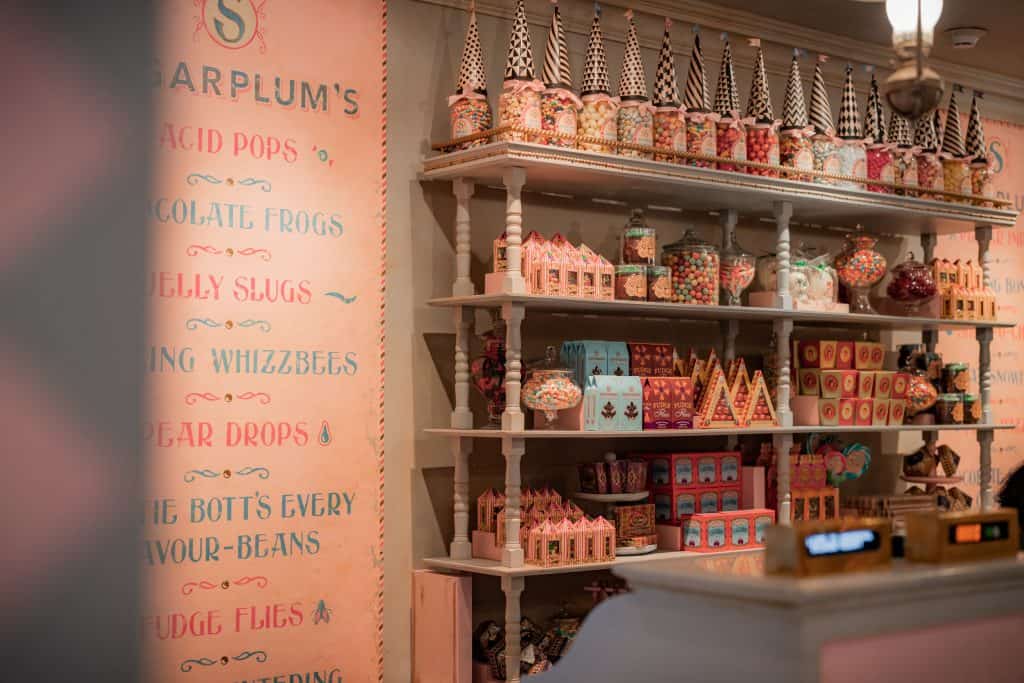 What is the atmosphere of Sugarplum's Sweet Shop like?
Boasting a bright pink exterior and sweet treasures within, Sugarplum's attracts guests with a warm welcome and the wafting scent of something sugary. Inside, mouthwatering treats dress the walls from head to toe, and charming pastel accents create a dainty and delightful ambience. With so many yummy options to choose from, this boutique-esque confectionary will have you feeling like a kid in a (magical) candy store.
What merchandise is sold at Sugarplum's Sweet Shop?
This shop carries a huge variety of Wizarding World confections, including Fudge Flies, Pepper Imps, Pink Coconut Ice, Fizzing Whizzbees, Exploding Bonbons, and Love Potions, to name a few. Near the register, you can choose from a number of bakery treats such as Cauldron Cakes, Pumpkin Pasties, Butterbeer Fudge, No-Melt Ice Cream, and caramel apples. Additionally, bulk candy – gummy worms, peach rings, licorice, etc. – is also available for purchase here. The following specialty bakery treats can be found close to the register:
Cauldron Cake
Chocolate-dipped Pretzel Wand
Vanilla Bean Caramel
Coffee Caramel
Pumpkin Caramel
English Lavender Caramel
Chocolate Orange Caramel
Coffee Apple Caramel
Coconut Caramel
No Melt Ice Cream
Witch Hat Cupcake
Chocolate Skeletons
Ginger Nerve Cookie
Pumpkin Pasty
Rocky Road Fudge
Cookies 'n' Cream Fudge
Cookie Dough Fudge
Butterbeer Flavored Fudge
Dark Chocolate Caramel Sea Salt Fudge
Chocolate Fudge
Chocolate Mint Swirl Fudge
Caramel Apple
Caramel Apple with Nuts
Pumpkin Cake
Sugar Plum Apple
Gourmet Apple
What was Sugarplum's Sweet Shop's opening date?
January 23, 2016
Sugarplum's Sweet Shop – OI fun facts
Sugarplum's Sweet Shop has nearly identical offerings to Honeydukes, which is the other Wizarding World candy store (located in Islands of Adventure).
Sugarplum's Sweet Shop debuted over a year after the grand opening of Diagon Alley – its doors finally opened in January 2016, when it replaced the original location of Shutterbutton's.
Each box of Chocolate Frogs sold here comes with a collectible wizard card! The original cards featured all four founders of the Hogwarts houses (Gryffindor, Ravenclaw, Slytherin, and Hufflepuff), but new wizard cards are added into the mix every few years (or so).
Sugarplum's Sweet Shop– photo gallery
Real guest reviews of Sugarplum's Sweet Shop
Orlando Informer
Average rating:
0 reviews
Do you have a question about the information on this page or would you like to provide feedback? Please let us know by posting in our
Orlando Informer Community
on Facebook.