Skip to: Overview | Location | Hours | Fun fact | Menu | Guest reviews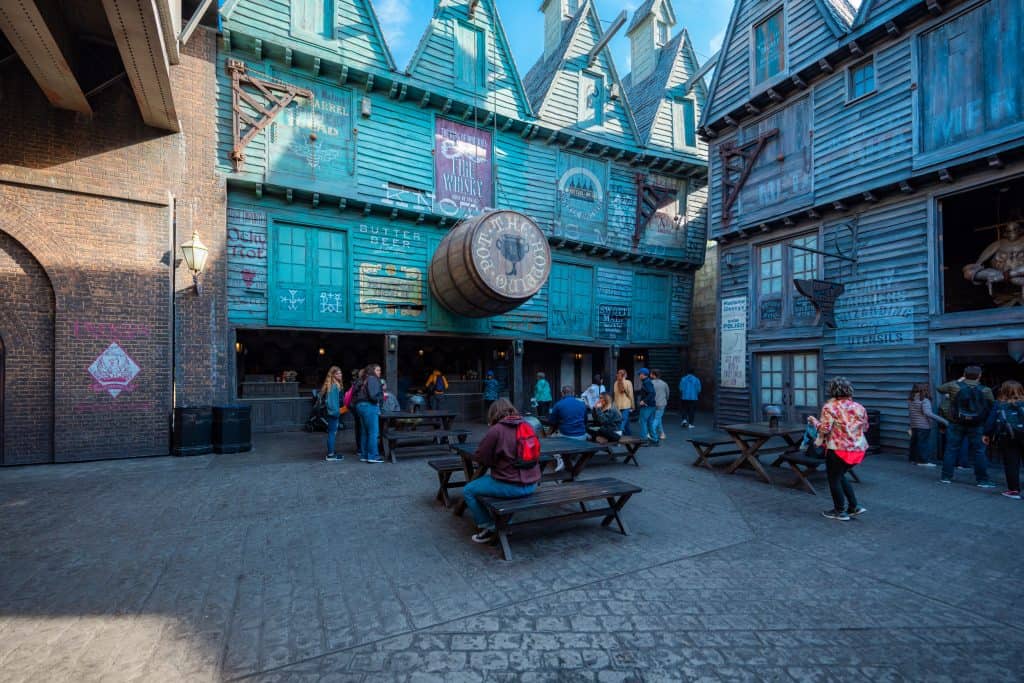 What is The Hopping Pot?
One of the best-kept secrets in The Wizarding World of Harry Potter is Diagon Alley's The Hopping Pot – the perfect place to grab a hot or cold Butterbeer (depending on the season), or one of the land's other specialty drinks. This quick-service location tends to have a shorter line than some of the other spots (though The Fountain of Fair Fortune takes the crown in this regard), and the picnic-table seating provides a wonderful opportunity to watch young witches and wizards perform some magic with their interactive wands – as well as providing a partial view of the stage where Celestina Warbeck performs.
Where is The Hopping Pot located?
In The Wizarding World of Harry Potter – Diagon Alley, which is in Universal Studios Florida.
The Hopping Pot – hours and reservations
Opening and closing times are subject to change, but you can typically find The Hopping Pot open during daily park hours. Reservations are not required, and mobile ordering is available.
The Hopping Pot – OI fun fact
While known for its fizzy drinks (both alcoholic and virgin), The Hopping Pot also serves Butterbeer ice cream, chips, and beef pasties – a traditional British pastry with a meat filling.
What's on the menu at The Hopping Pot?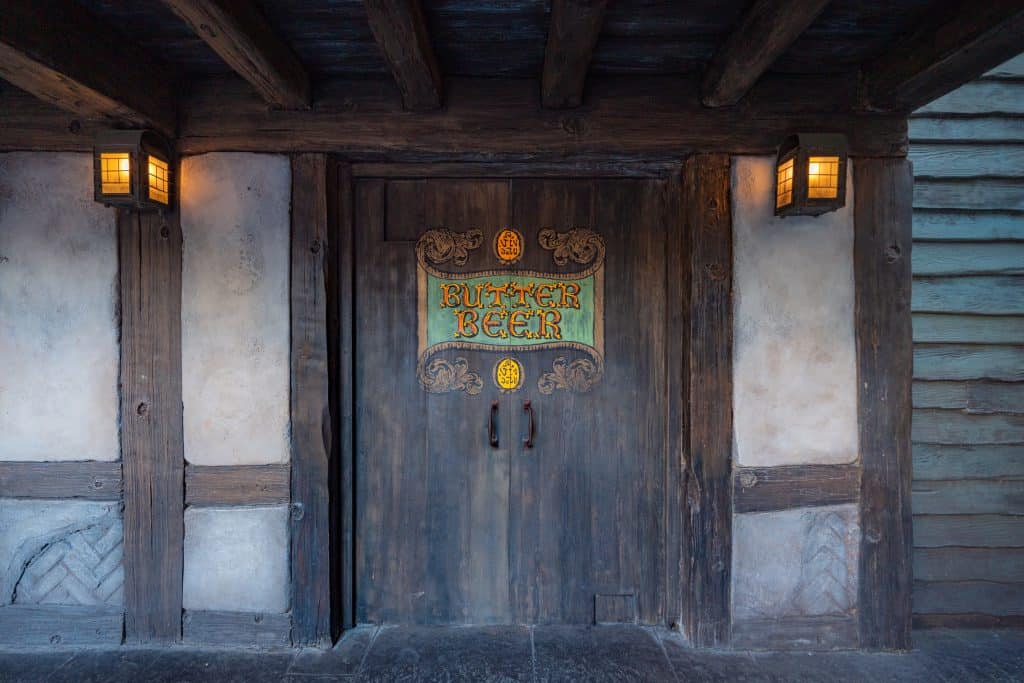 Non-alcoholic Drinks
Butterbeer  – $8.49
A non-alcoholic sweet drink reminiscent of shortbread and butterscotch
Butterbeer Refill – $8.49
Frozen Butterbeer – $8.49
Frozen Butterbeer Refill – $8.49
Hot Butterbeer – $8.49
Tongue-Tying Lemon Squash – $5.99
Sweet and tart lemon-flavored beverage served with squashed lemon
Otter's Fizzy Orange Juice – $5.99
Effervescent fresh orange beverage with notes of vanilla and cinnamon
Fishy Green Ale – $5.99
Smooth and creamy with notes of mint and cinnamon and popping blueberry fish eggs
Peachtree Fizzing Tea – $5.99
Fizzy but smooth with flavors of fresh peach nectar and ginger
Pumpkin Juice – $4.99
Gillywater – $5.50
Alcoholic Drinks
Wizard's Brew, Dragon Scale, Stella Artois – $12.00
Yuengling – $10.50
Amstel Light, Heineken, Newcastle Brown Ale, Strongbow – $11.50
Fire Whisky – $11.50
Wine – $9.00
Choice of Chardonnay or Cabernet Sauvignon
Food
Beef Pasties – $10.99
Butterbeer Ice Cream – $5.49
Chips – $3.49
The Hopping Pot – real guest reviews
Orlando Informer
Average rating:
0 reviews
Do you have a question about the information on this page or would you like to provide feedback? Please let us know by posting in our
Orlando Informer Community
on Facebook.