Skip to: Overview | Location | Restrictions | Shops | Fun fact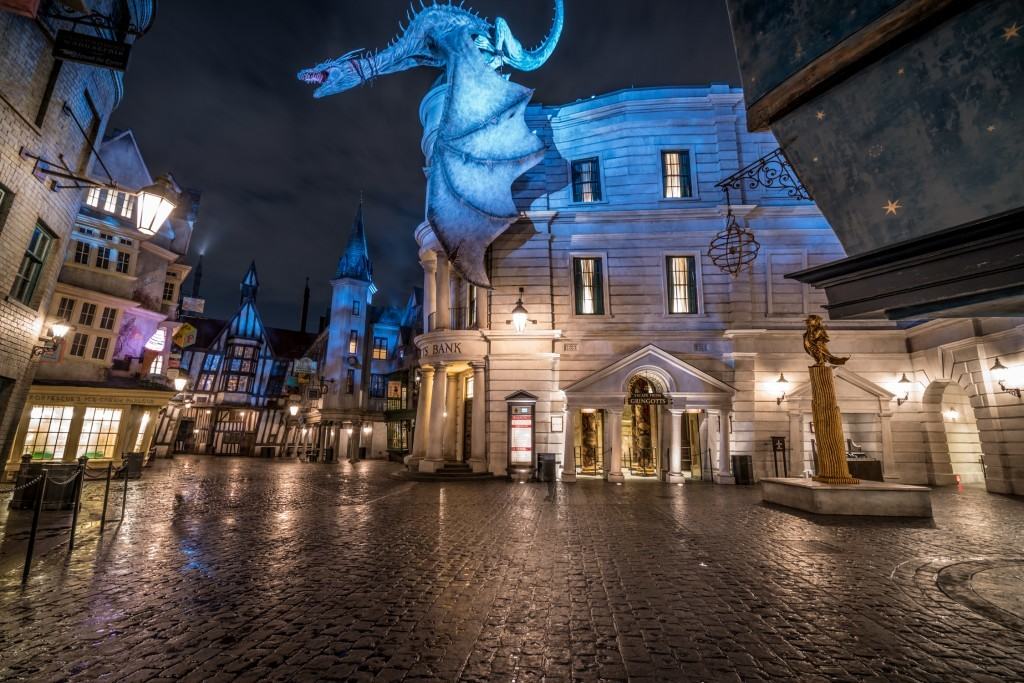 What is Horizont Alley?
Horizont Alley may have only half of the stops that Diagon Alley proper contains, but its locations are some of the most wonderful in all of the Wizarding World – particularly Gringotts Wizarding Bank, home to both Harry Potter and the Escape from Gringotts and Wiseacre's Wizarding Equipment. And some of the most intriguing merchandise available at any theme park in the world just so happens to reside here…
Where is Horizont Alley located?
In The Wizarding World of Harry Potter – Diagon Alley, which is in Universal Studios Florida.
Horizont Alley – height restrictions and other factors
Since this is just a walk-through area of the park, and not an actual attraction, there are absolutely no restrictions of any kind.
Horizont Alley – what you wish you knew before you experienced it
All of Horizont's shops carry items both well-known and obscure – so make sure you carefully re-read all those books and re-watch all those movies in order to ensure you get all the references and in-jokes.
Horizont Alley – list of shops
The Fountain of Fair Fortune – a little bar tucked in the corner off Horizont Alley, The Fountain of Fair Fortune offers a wide selection of drinks that can also be found in The Leaky Cauldron, including Butterbeer (Cold, Hot, Frozen, and ice cream), Fishy Green Ale, and Fire Whisky.
Magical Menagerie – one of the coolest-looking stores in Diagon Alley, Magical Menagerie offers a plush version of nearly every single creature ever seen in the novels/films, including "fat white rabbits that transform to and from a silk top hat." (See what we mean about unique wares?)
Wiseacre's Wizarding Equipment – the gift shop for Escape from Gringotts, Wiseacre's carries such "wizarding necessities" as crystal balls, telescopes, and hourglasses, as well as house-specific accessories.
Eternelle's Elixir of Refreshment – a small (but gorgeous) drink stand, Eternelle's offers four "elixirs" that get poured in bottles of water for different flavors and "magical effects." Note that you have to pay for both.
Scribbulus Writing Implements – on tap here are feather quills, parchment paper, and journals, as well as what is our favorite piece of theme-park merchandise ever conceived: a Howler which allows you to record your own 15-second message.
What was Horizont Alley's opening date?
July 8, 2014
Horizont Alley – OI fun fact
Wiseacre's used to be one of the many fake storefronts over in The Wizarding World of Harry Potter – Hogsmeade before Diagon Alley opened. That facade has since been remade into the geographically appropriate Madam Puddifoot's Tea Shop.
Do you have a question about the information on this page, would like to provide feedback, or did you spot an inaccuracy? Please let us know by posting in our
Orlando Informer Community
on Facebook.