Skip to: Overview | Location | Atmosphere | Merchandise | Fun facts | Guest reviews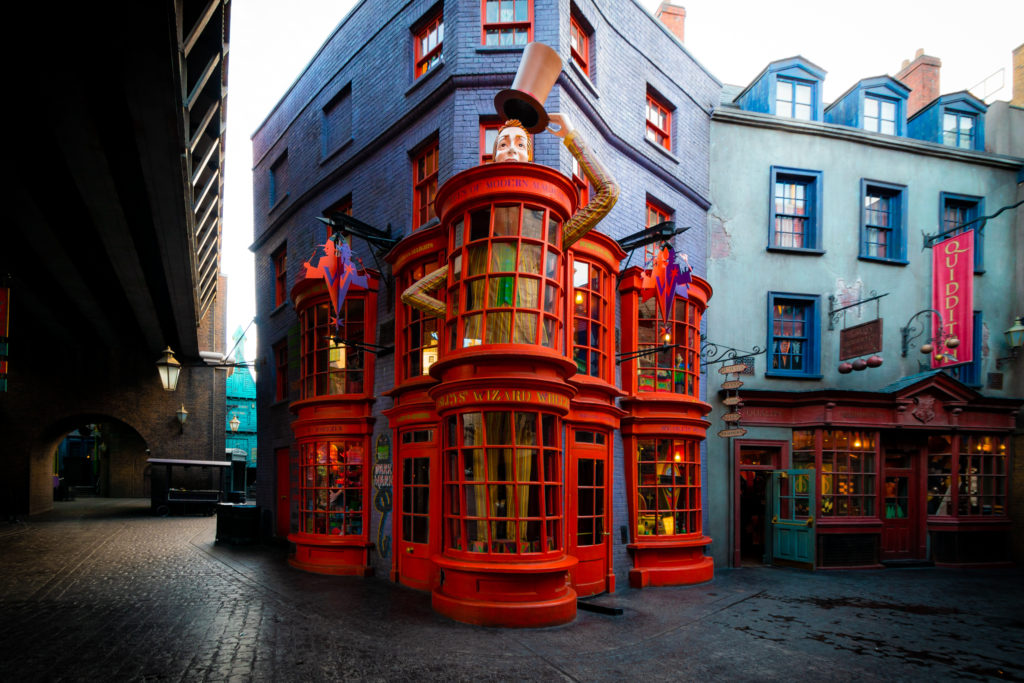 What is Weasleys' Wizard Wheezes?
Straight out of the Harry Potter books and films, Weasleys' Wizard Wheezes is a vibrant emporium full of magical gags, gifts, and gadgets for all ages to enjoy. This enchanting joke shop is the creation of Fred and George Weasley – a rebellious and lovable pair of twins who live for elaborate pranks. Here, you can find an odd assortment of Wizarding World novelties, along with more traditional souvenirs.
Where is Weasleys' Wizard Wheezes located?
In The Wizarding World of Harry Potter – Diagon Alley, which is in Universal Studios Florida.
What is the atmosphere of Weasleys' Wizard Wheezes like?
This venue is lively and bright, filled to the brim with unusual trinkets of all sorts. There's an energy of fun and mischief here, and whimsical stirrings can be found in every last nook and cranny. Whether you're looking to appease your inner trickster or simply strolling through to enjoy the scenery, you'll appreciate the wonderful weirdness that surrounds you.
What merchandise is sold at Weasleys' Wizard Wheezes?
An ample selection of unique toys and games can be found here, including the Extendable Ear, Love Potions, Pygmy Puffs, Screaming Yo-yos, Chattering Teeth, and more. You can also discover a variety of unconventional candies, such as Puking Pastilles, Fever Fudge, and Fainting Fancies. If you're looking for a more standard set of gifts, there are a few t-shirts and pins to choose from, as well.
What was Weasleys' Wizard Wheezes opening date?
July 8, 2014
Weasleys' Wizard Wheezes – OI fun facts
If you look past the upper levels of the shop and up to the ceiling, you'll catch an animated fireworks display.
When you adopt a Pygmy Puff here, the shopkeepers perform an adorable adoption ceremony!
This venue is directly connected to Sugarplum's Sweet Shop via an interior passage.
Weasleys' Wizard Wheezes– photo gallery
Real guest reviews of Weasleys' Wizard Wheezes
Orlando Informer
Average rating:
0 reviews
Do you have a question about the information on this page, would like to provide feedback, or did you spot an inaccuracy? Please let us know by posting in our
Orlando Informer Community
on Facebook.