Skip to: Overview | Hours | Reservations | How dining works | Theming | Menus | Real guest reviews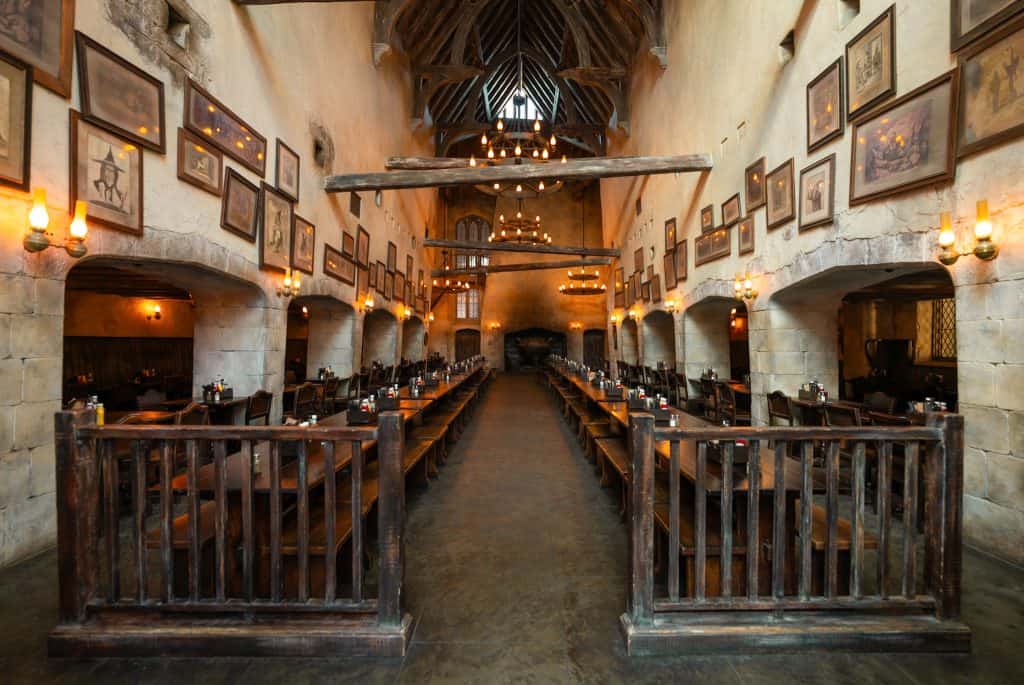 What is The Leaky Cauldron?
The Leaky Cauldron is the only restaurant inside The Wizarding World of Harry Potter – Diagon Alley, located at Universal Studios Florida. It is quick-service; open for breakfast, lunch, and dinner; and serves traditional British fare. You can find it on the left-hand side of Diagon Alley (the street, not the theme-park land) immediately upon entering the hidden, wizarding area, across the way from Weasleys' Wizard Wheezes.
All of this would make one think that Leaky Cauldron is essentially an extension of its predecessor, The Three Broomsticks, which can be found over in The Wizarding World of Harry Potter – Hogsmeade. And, in one sense, that would be a correct assessment; this new eatery is a beautifully-themed dining hall full of whimsical wizarding decor, nearly as faithful to the Potter source material as is Three Broomsticks. On the other hand, however, Leaky is a noticeable step up, thanks both to its increased gastronomical game (it features hearty, satisfying food that is several notches above typical quick-service staples and offers the largest variety of special beverages ever assembled) and its streamlined ordering system, which makes eating here a complete joy.
But the new restaurant doesn't receive superior marks across the board, as there is one category in which Broomsticks still comes out ahead – theming. Yes, Leaky Cauldron is beautiful and just as atmospheric as is the rest of the Wizarding World, but it is a bit plainer than its predecessor, saving the details and little touches that are so commonplace throughout Three Broomsticks for just a few specific areas. If you find yourself a bit torn, preferring The Leaky Cauldron's food but The Three Broomsticks's immersiveness, we're right there with you.
Then again, that's precisely the benefit of having two theme-park lands devoted to the same property, right? The benefit of complementary choices.
Where is The Leaky Cauldron located?
In The Wizarding World of Harry Potter – Diagon Alley, which is in Universal Studios Florida.
What are The Leaky Cauldron's hours?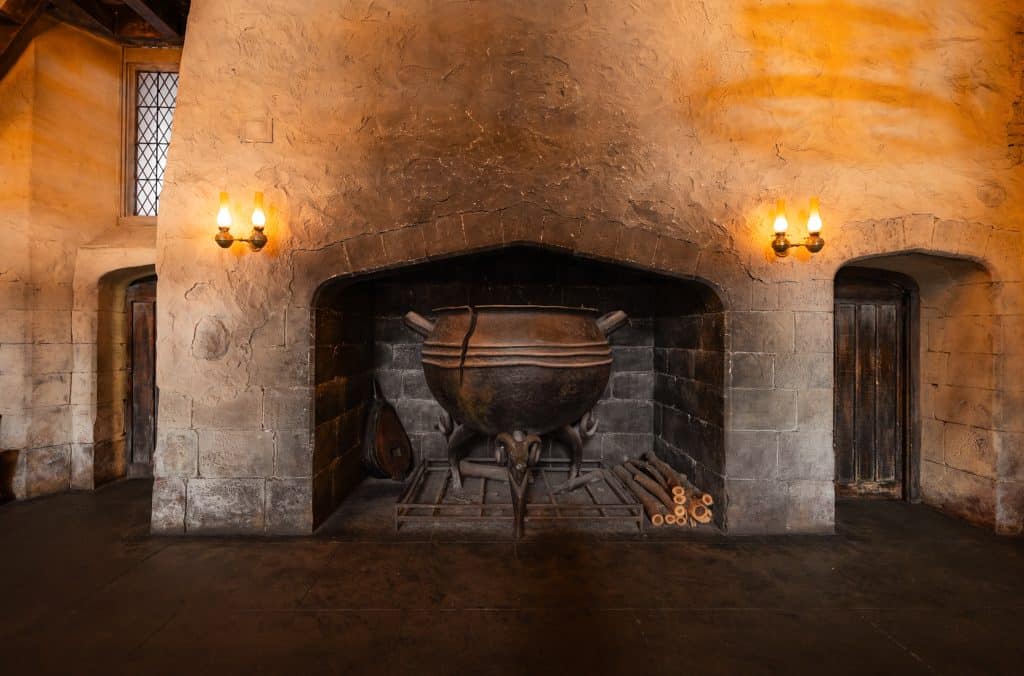 The Leaky Cauldron opens and closes with Universal Studios Florida itself. However, there are two caveats to this: firstly, the restaurant may not immediately open its doors when Early Park Admission is at The Wizarding World of Harry Potter – Diagon Alley (for more on EPA, including a full description of what it is and how it works, please see our complete guide). And, secondly, it may stop serving shortly before closing time, just to ensure that all patrons can be cycled out in time for the theme park to shut down.
Note that breakfast is served until 10:30 am.
(You can see Universal Studios Florida's hours in our FREE 12-month crowd calendar.)
The Leaky Cauldron – reservations
To answer a very common question up front: no, there are no reservations for lunch and dinner – it's first come, first serve.
Breakfasts, however, are something of an exception: Universal sells vacation packages, a feature of which is a breakfast at both Diagon Alley's Leaky Cauldron and Hogsmeade's Three Broomsticks. While this isn't always a necessity in order to enjoy a morning meal at the venue, it can come in handy during the busier times of the year.
(Need help determining how busy the theme park – and, thus, The Leaky Cauldron – will be during your stay? Please see our FREE 12-month crowd calendar.)
How does dining work at The Leaky Cauldron?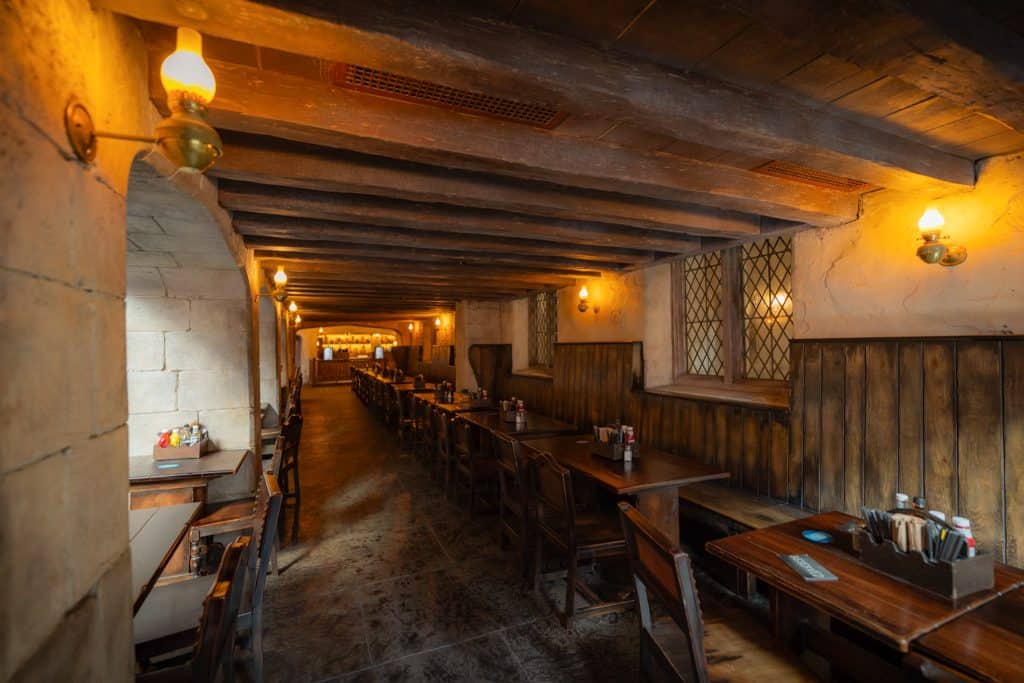 Upon entering the restaurant, you are guided through two lobbies of queues before either being escorted to your table to mobile order or place your order at a register. For mobile ordering, simply scan the QR code on your table and make your selections on your phone. If you decide to use the register, your helpful Leaky Cauldron Team Member will assist in placing your order and provide a card to place on your table for easy identification. Once your food is ready, it will be delivered directly to your table.
You should note that, on busy days, when The Leaky Cauldron's queues are pretty full, you can anticipate waiting 45 to 60 minutes before making it to the front of the line.
What was The Leaky Cauldron's opening date?
July 8, 2014
The Leaky Cauldron – theming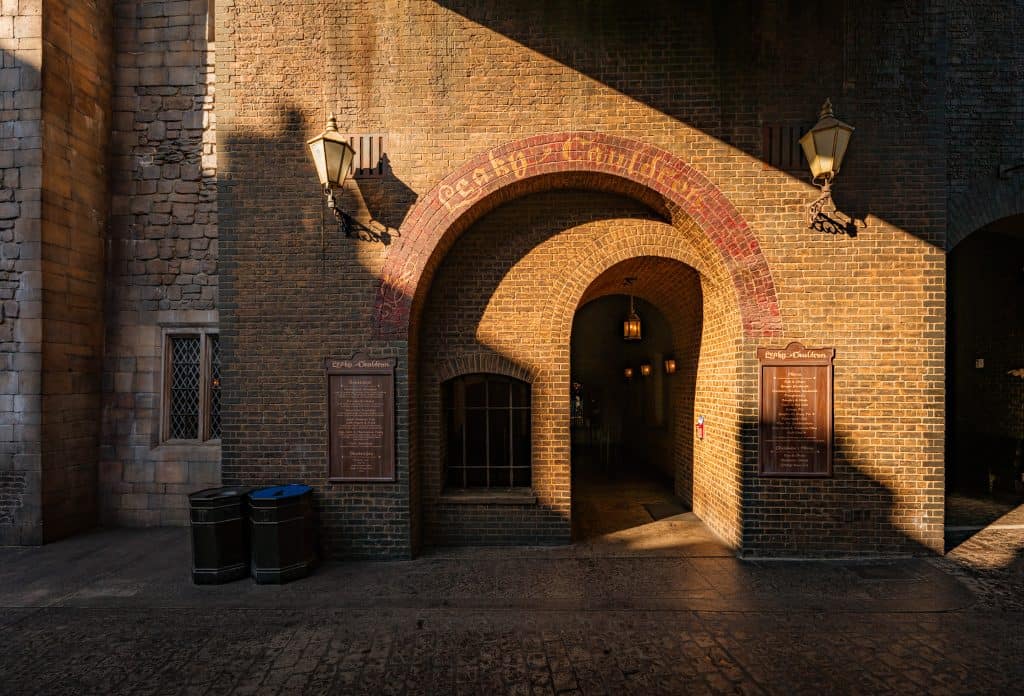 In the fictional world of Harry Potter, The Leaky Cauldron represents a beloved pub and inn that Harry and his friends visited annually. The start of every school year meant a visit to Diagon Alley to gather all the school supplies needed – and, as many of us know, the way to access Diagon Alley is through an enchanted brick wall behind Leaky Cauldron. In order to stay consistent with the design of the London waterfront area, however (and to maximize guest flow in and around the entire theme-park land), Universal's version of Leaky is tucked away behind that magical brick wall – but that doesn't mean that the restaurant still isn't the perfect way to either start or cap off an enthralling visit to Diagon.
(In a nod to the source material, Universal has placed a replica of Leaky's door from the films in the muggle London section, in between the bookstore and record shop. While you can't open it, it does make for a nice photo-op.)
The pub is one massive dining hall with a high ceiling, flanked by two darker alcoves. This maximizes space and patron occupancy, but it prevents the little themed nooks and crannies that one can seemingly get lost in The Three Broomsticks. There are still some pretty gorgeous details, however (such as the stunning wooden beams, each of which is capped off with the bust of a magical creature), and some pretty nifty Easter eggs (the massive, iconic, cracked, titular cauldron at the head of the dining room, for instance, or the infamous wanted poster for Sirius Black that comes straight from Harry Potter and the Prisoner of Azkaban). And just as with The Three Broomsticks, there is a faux second floor, where the various wayfaring wizards and witches stay for the night; your best bet at spotting this bit of theming gold is while waiting for your turn at the cash registers in the lobby, where you feel like you can almost see around that tantalizing corner upstairs.
OI fun fact:
As you make your way for the exit, don't miss the silly sign that indicates the proper way to leave The Leaky Cauldron!
What's on the menu at The Leaky Cauldron?
Breakfast menu
All breakfast entries are $17.99 for adults and $12.99 for kids
Traditional Breakfast
Farm-fresh eggs, sausage links, black pudding, English bacon, baked beans, grilled tomato, sauteed mushrooms, and breakfast potatoes
Pancake Breakfast
Three fluffy buttermilk pancakes, crisp bacon, link sausage, and butter croissant
American Breakfast
Fresh scrambled eggs, breakfast potatoes, crisp bacon, link sausage, and butter croissant
Apple Oatmeal Flan with Yogurt and Fruit
Freshly-baked flan of apples and oatmeal served with yogurt and fresh seasonal fruit
Egg, Leek, and Mushroom Pastry
Pastry-wrapped scrambled eggs, mushrooms, and leeks, served with breakfast potatoes and fresh fruit
Kid's Breakfast
Choose traditional, pancake, or American
Lunch/dinner menu
Entrées
Fish and Chips – $16.99
Fresh North Atlantic cod, battered and fried, with chips and tartar sauce
Ploughman's Platter – $21.99
A feast of English cheeses, crusty bread, field-green salad, oven-roasted tomatoes, cornichon pickles, apple and beet salad, Branston pickle, and scotch eggs
Bangers and Mash – $14.99
Roasted English sausage, creamy mashed potatoes, oven-roasted tomatoes, sauteed onions and cabbage, minted peas, and onion gravy
Beef, Lamb, and Guinness Stew – $16.99
A combination of beef and lamb with chunky root vegetables, served in a warm, crusty bread bowl
Toad in the Hole – $13.99
A popular dish of English sausage baked into a Yorkshire pudding and served with onion gravy, minted peas, and roasted tomato
Cottage Pie – $16.99
A savory combination of beef and vegetables in a potato crust, served with a garden salad
Fisherman's Pie – $17.99
Salmon, shrimp, and cod baked together under a potato crust, served with a garden salad
Mini Pie Combination – $17.99
Mini-Cottage Pie and mini-Fisherman's Pie, served with a salad
Scotch Eggs – $11.99
Hard-boiled eggs wrapped in pork sausage, dusted with bread crumbs, and fried. Served warm with apple beet salad and mustard sauce.
Soup and Salad – $11.99
Split pea soup served with a side salad and choice of dressing
Banger Pub-Style Sandwich – $13.49
Roasted English sausage, mustard aioli, roasted tomatoes, sauteed cabbage, and onions on a crusty baguette. Served with wedge fries
Specialty Chicken Sandwich – $14.99
Grilled chicken breast, apple butter mayo, Colby cheese, smoky apple bacon, roasted tomatoes on a house-made specialty bun, served with wedge fries
Vegan Irish Stew – $16.99
Vegan beef tip and potato stew; served with crusty bread and a cucumber, radish and tomato side salad
Vegan Shepherd's Pasty Pie – $16.99
Meatless beef crumbles and vegetable stew hand pie; served with creamy stone ground mustard dipping sauce, apple beet salad, and wedge fries
Sides
Wedge Fries – $4.49
Scotch Egg – $5.49
Hard-boiled egg wrapped in pork sausage, dusted with bread crumbs and fried
Mashed Potatoes with Gravy – $3.49
Add Banger – $5.49
Side Garden Salad – $6.99
Kids' Entrées
Macaroni Cheese – $7.49
Served with grapes and applesauce
Fish & Chips – $7.49
Served with chips and tartar sauce
Mini Pie – $7.49
Served with grapes and applesauce
Drink menu
Butterbeer – $8.49
Frozen Butterbeer – $8.49
Hot Butterbeer – $8.49
Pumpkin Juice – $4.99
Tongue-Tying Lemon Squash – $5.99
Otter's Fizzy Orange Juice – $5.99
Fishy Green Ale – $5.99
Bubble tea
Peachtree Fizzing Tea – $5.99
Gillywater – $6.00
Specialty Draught Beer – $12.00
Wizard's Brew, Dragon Scale, Dark Forest Ale
Draught Beer – $10.50
Heineken, Newcastle Brown Ale, Stella Artois, Strongbow, Yuengling
Fire Whisky – $11.50
Alcoholic
Wine by the Glass – $9.00
Chardonnay, Cabernet Sauvignon
Dessert menu
Sticky Toffee Pudding – $7.99
Cranachan – $6.99
Butterbeer Potted Cream – $6.49
Chocolate Potted Cream – $5.29
Butterbeer Ice Cream – $6.49
Cup of Ice Cream – $6.49
Strawberry and Peanut Butter, Vanilla or Chocolate
The Leaky Cauldron – photo gallery
The Leaky Cauldron – real guest reviews
The Leaky Cauldron
Average rating:
8 reviews
Jun 5, 2016
Fish & Chips!!
Date Of Last Visit:
June 2015
My Husband, two sons & I stopped in to grab lunch before getting back on the train. I ordered the fish & chips. It was the best & I mean BEST cod fish perfecly cooked that I've ever eaten & I eat a whole lot of fish.....We are coming back!!
5/30-6/3 2016' & the "LEAKY CAULDRON" is all i talk about , so i'll be visiting for the beautiful ambiance as well as great lunch. OH! I'll be leaving with a extra platter of fish! maybe two..SOOO DELIISSSSH! :()
Dec 13, 2015
Yum!
Date Of Last Visit:
Oct 2015
My boy friend and I went for lunch. The ambiance is amazing and all the people working there were really friendly, especially the cashier Mike. The food was also really great! Overall a good experience. We can't wait to go back!
Nov 24, 2014
Delicious and interesting
Date Of Last Visit:
11/23/14
The decor is absolutely amazing. Universal has done such a phenomenal job with all the shops in both Diagon Alley and Hogsmeade it's just unreal.



We shared the Ploughman's Platter for 2 near the end of the day. There was no wait to order, food took a few minutes, but that was ok. The server taking my order was very, very helpful and even confirmed I wanted the platter for 2 instead of just one, for half the price. He also explained what the novelty drinks were while I waited, but I settled on sweet tea, which was perfect if you are from the South and love really, really sweet tea.



The platter itself was very tasty. We were unsure about the Scotch eggs, but after trying them they were great, I plan on making them at home. They serve a spicy mustard which tastes great on the greens as well as the eggs. The apple/beet salad is good, as well as this red jelly stuff we couldn't figure out but ate anyways. Overall delicious, the bread was yummy, the cheese tasty, and the pickles also good.



There were a lot of delicious options on the menu and they have mock-ups of the food so you can see what they actually are.

I'm not sure why the person who ordered bacon and eggs here is fussing, if you went to Ruth's Criss and ordered a hamburger, I'd bet you wouldn't be impressed either. Try something different and be amazed.
Oct 1, 2014
Magical experience
Date Of Last Visit:
09/30/2014
After touring Diagon Alley my friend and I enjoyed lunch at the Leaky Cauldron. She had the fish and chips which were delivered hot, was a nice portion size and tasted delicious. I tried something new, toad in the hole. It was very tasty and the vegetables served with it were cooked perfectly. Our Peachtree Fizzing Tea was awesome! I only wish we could visit again soon!
Sep 30, 2014
Amazing venue with horrific food
Date Of Last Visit:
09/29/2014
My nephew and I were in the Wizarding World early and were excited have breakfast in the Leaky Cauldron. The restaurant itself is absolutely wonderful to behold, and I highly recommend peeking in and checking it out. The food, on the other hand, is abysmal. The potatoes were undercooked. The eggs were definitely not "farm fresh"; I would venture that they were powered. The beans were unlike any baked beans I'd ever seen and were certainly nothing like Heinz. Long story short: the food is absolutely disgusting. If I'd had my wits about me, I would have asked for my money back.
Do you have a question about the information on this page or would you like to provide feedback? Please let us know by posting in our
Orlando Informer Community
on Facebook.