Orlando Informer readers can now share their experiences at Universal Orlando on this page!
Below our information you'll find real guest reviews & your chance to submit your opinion.
Location
The Wizarding World of Harry Potter – Diagon Alley
Restrictions and access
None; Express Pass access. This is the first attraction in history to literally allow everyone to ride. Please note it does require a park-to-park theme-park ticket.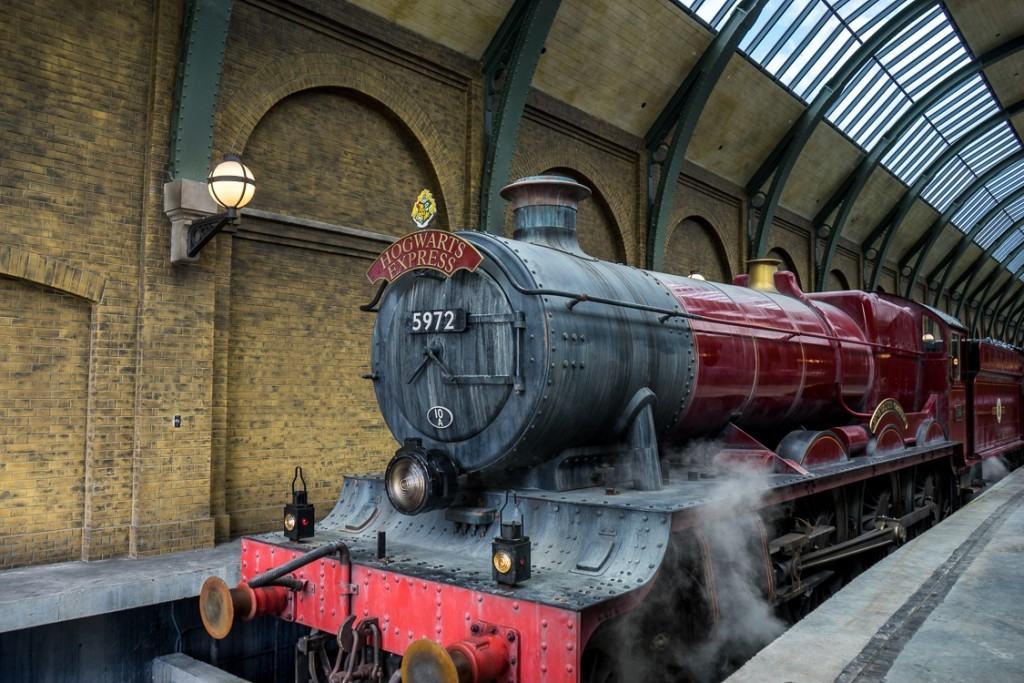 Two-sentence insider summary
A first-of-its-kind ride that links multiple geographical locations in one themed experience, the Hogwarts Express provides two different "stories" for passengers to enjoy: from King's Cross Station (in Universal Studios Florida) to the brand-new Hogsmeade Station (in Islands of Adventure), as seen in the books and movies, and from Hogsmeade to King's Cross. Thanks to video monitors that double as the train's windows, a number of Harry Potter characters make appearances, including the fabled trio of Harry, Ron, and Hermione and a sneak attack by the chilling Dementors.
Fear factor
1 out of 5. With a smooth ride and a mostly passive experience, the Hogwarts Express really is designed for the whole family. The only potential hang-up here is for small children, who will probably be frightened by the boarding Dementors – which is a creepy-but-very-brief encounter.
What you wish you knew before you experienced it
The only negative part of the entire attraction is the lack of voices and likenesses from Daniel Radcliffe (Harry Potter) and Emma Watson (Hermione Granger). Unfortunately, Universal didn't do the very best of jobs in finding a suitable replacement for the latter – and if you didn't expect Hermione to sound so different beforehand, it might take you (momentarily) out of the experience.
OI fun facts
There are going to be more Easter eggs in this attraction's queue and ride than practically any other on the planet. Discussing what you managed to see with your friends and family afterwards will become a major part of the experience.
Wheelchair, ECV, and pram (stroller) accessibility
The Hogwarts Express is a unique attraction in that it is also a mode of transportation between Universal Studios Florida and Islands of Adventure. As such, it has greater accessibility for wheelchairs, ECVs (electric convenience vehicles), and prams (please note that, in the United Kingdom, strollers are referred to as prams and will be referred to as such in King's Cross Station).
Guests may bring wheelchairs, ECVs, and guest-owned strollers on the train.
Guests may not bring rented Universal Orlando strollers on the train. They can drop off the rental stroller upon entering the Hogwarts Express queue and then pick up another rental upon exiting the train at the other station.
The Hogwarts Express – photo gallery
Click any image to view it full-screen. When the full-screen image is open, click to the right or use the right arrow on your keyboard to advance through the gallery.
The Hogwarts Express – real guest reviews
We provide this space for real guests to share their opinions about the topic on this page. Please note that guest comments may contain spoilers.
If you have already experienced this attraction, we invite you to tell the world what you thought! All reviews are moderated. Once you submit your review, it will appear soon.
Instead of writing a review, are you looking for a place to ask questions about this attraction? Join our vacation planning community on Facebook.
Average rating:
7 reviews
Jun 6, 2016
Very well done
Date Of Last Visit:
12/11/2015
Universal has done an amazing job with this ride, and making it different for each direction. The attention to detail in both of the stations at each end was extremely well done. There were items we missed the first few times, that we were finding ourselves catching.Even better was our first time on the ride. We were going from Kings Cross to Hogsmeade and one of the Station staff members made the comment about my wife's "wine bottle". We were puzzled for a bit until we realized they were referring to the box with the wand we had picked up at Olivanders prior to the ride. Later, another Station staff commented on our odd looking school uniforms.
Aug 9, 2014
Pure Magic!
Date Of Last Visit:
08/09/2014
I have a bit of a biased opinion because I do not do thrill rides so Hogwarts Express is the first HP themed ride I can do. I have probably been on this ride about 10 times (both ways) and it has only been open a month. I don't think I can get tired of it.

The King's Cross queue is ten times better than the Hogsmeade station queue. It is massive though and has more queue space than it could ever need.

I love that you can bring food and drink on board and my husband and I have been known to grab a UK beer from Kings Cross station and take it on the train and enjoy in Hogsmeade, and doing the same with a Hog's Tea from Hogsmeade and going to Diagon Alley with it (so awesome the first time I did it).

I love the beautiful themed details on the exterior of the train, the steam effect when the train is in the station, and the interior of the train is picture perfect. The cabin is so much like the movies it is remarkable.

The only two downfalls, in my opinion, is the terrible not Hermione voice, it sounds nothing like her and the other is the pacing of some of the scenes is a little rushed, i.e. the Demeantor scene and Harry's patronus seems super fast to me.

All in all, this is one of the my top attractions in all of UOR.
Jul 24, 2014
HE and Safe Home of the Order (Sirius' home)
Date Of Last Visit:
July 14-19th, 2014
Hogwarts Express hands down gets five stars from me it was amazing. Since there are so many reviews about it already I wont dwindle on it.

A major thing I wanted to review, but there was no space on here was the London Front but really just Sirius' home the Order used, where you will see Kreacher. The reason I wanted to comment is that Kreacher peers out the window but not a lot and not very long each time, this made it very difficult for pictures and lead to a line build up but otherwise this was such an authentic replica it was astounding!
Jul 20, 2014
Favorite Part of WWofHP
Date Of Last Visit:
July 18, 2014
The Hogwarts Express was easily my favorite part of the whole Wizarding World experience. We rode it 6 times during our 3 day visit, but every time I told my husband that I would be happy to just ride it back and forth all day. I was worried the effects through the windows would take me out of the authenticity of the experience, but it didn't. The only things I could possibly complain about are Hermione's voice, and the long hike through each queue. The good news about the long hike, though, is that it always meant very short wait times. 🙂
Jul 19, 2014
Hidden gem of Diagon Alley
Date Of Last Visit:
July 14th
I really love everything about the Hogwarts Express! King's Cross station is beautiful and it really makes it seem like you're boarding a train in London. Once you enter platform 9 3/4 everything seems so authentic. The way the steam rises out of the train, and the way the whistle blows when it's getting ready to leave. It sounds just like the movie. I also really like the films that are played on each trip. Sure Hermione's voice is bad but it doesn't ruin the whole experience. It's also a Much needed and great way to quickly get between both Potter lands. Overall, a fun addition to the Wizarding World!
The Hogwarts Express and King's Cross Station – map
Click any marker to display the attraction or venue name. To scroll or zoom, use the controls on the top-left of the map. You may also switch to different map views by using the buttons on the top-right of the map.