Skip to: Overview | Location | Atmosphere | Merchandise | Fun facts | Guest reviews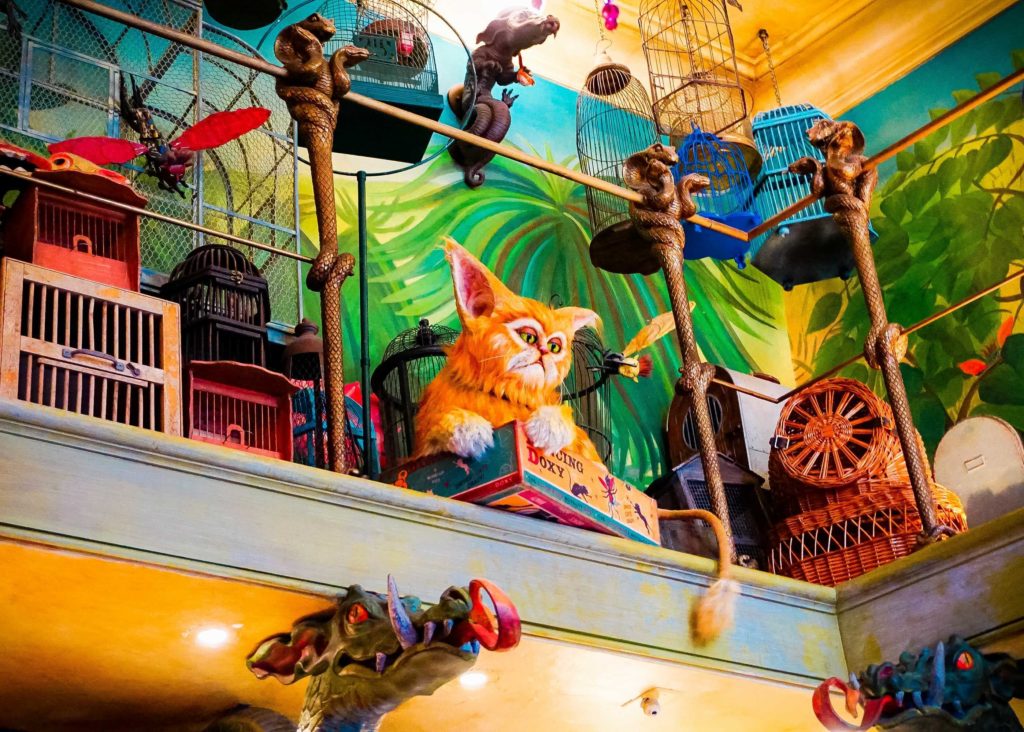 What is Magical Menagerie?
Looking for a furry, feathered, or fanged companion to take home from The Wizarding World of Harry Potter? Magical Menagerie is where you can find one! This venue serves as the resident pet shop of Diagon Alley, offering an ample variety of plush toys. Here, you can purchase your favorite magical creatures from Harry Potter's universe, including unicorns, Pygmy Puffs, owls, Cornish pixies, and lots more.
Where is Magical Menagerie located?
In The Wizarding World of Harry Potter – Diagon Alley, which is in Universal Studios Florida.
What is the atmosphere of Magical Menagerie like?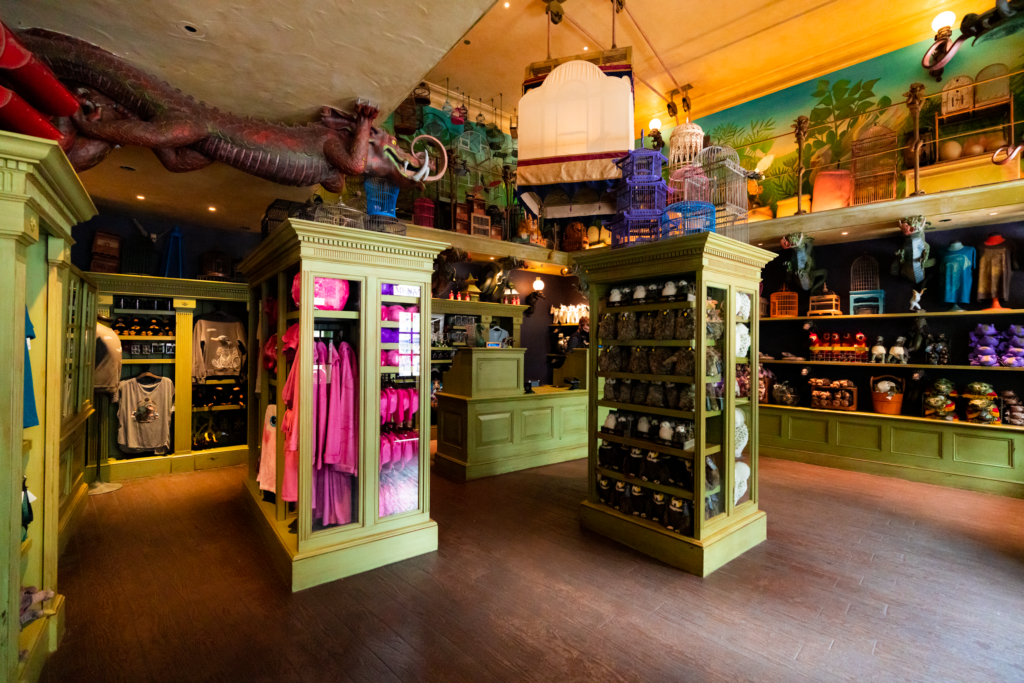 Magical Menagerie is themed as a slightly chaotic, whimsical pet store. The shop windows display colorful creatures that move and make noises – one of them even sings! Inside, fantastic beast plushes and wizarding attire line the walls, and chirping (among other animal noises) can be heard. If you look up, you can see a variety of cages and other artifacts stacked upon each other, as well as a particularly large-eared feline.
What merchandise is sold at Magical Menagerie?
This shop specializes in magical creatures – any merchandise related to them can be found here, such as Pygmy Puff slippers, owl puppets, Niffler t-shirts, and plush ferrets. You can also find toy versions of popular creatures from the Harry Potter books and films (like Buckbeak, Crookshanks, Aragog, Fawkes, Hedwig, Scabbers, Fang, and, even, Sirius Black in his dog form), along with a selection of unique novelty items (dog leashes, candles, magnets, mugs, and bathrobes).
What was Magical Menagerie's opening date?
July 8, 2014
Magical Menagerie – OI fun facts
If you look up at the loft, you can spot an artistic sculpture of a Crumple-Horned Snorkack, Luna Lovegood's favorite magical creature. The elusive, hippo-like beast is said to don purple coloration and a long, curved horn atop its head.
One of the animated creatures in the shop windows is actually an interactive wand location – the large songbird, known as a Fwooper, will whistle a lovely tune if you cast the correct spell upon it.
A dark alley runs along the left side of Magical Menagerie; here, you can find an enormous, moving snake behind glass. If you are patient, you will eventually hear him speak in Parseltongue, the language of serpents.
Magical Menagerie – photo gallery
Real guest reviews of Magical Menagerie
Orlando Informer
Average rating:
0 reviews
Do you have a question about the information on this page, would like to provide feedback, or did you spot an inaccuracy? Please let us know by posting in our
Orlando Informer Community
on Facebook.