Too often we've heard from guests who arrived at The Wizarding World of Harry Potter with no plan, waited in long lines for two rides, wandered around, and didn't make it into any of the shops. At the end of their trip, they were overwhelmed, exhausted, and actually saw very little of what Universal has to offer. Don't let this be you!
While Hogsmeade and Diagon Alley aren't always packed with wall-to-wall people, there are many times when they are, and our motto is always be prepared for crowds. The logic behind the advice on this page is simple: the Wizarding World, during busy times, can be extremely crowded from mid-morning until around the last three hours before the park closes. There is nothing stopping you from hanging out in the area all day long, and getting into any lines you want, but you will be doing so with thousands of other Harry Potter fans.
So review the tips, tricks, and guidelines on this page, and you will be well on your way to the best wizarding trip ever.
Skip to: Crowd levels | Hagrid's Motorbike Adventure | Know before you go | The ideal plan | FAQs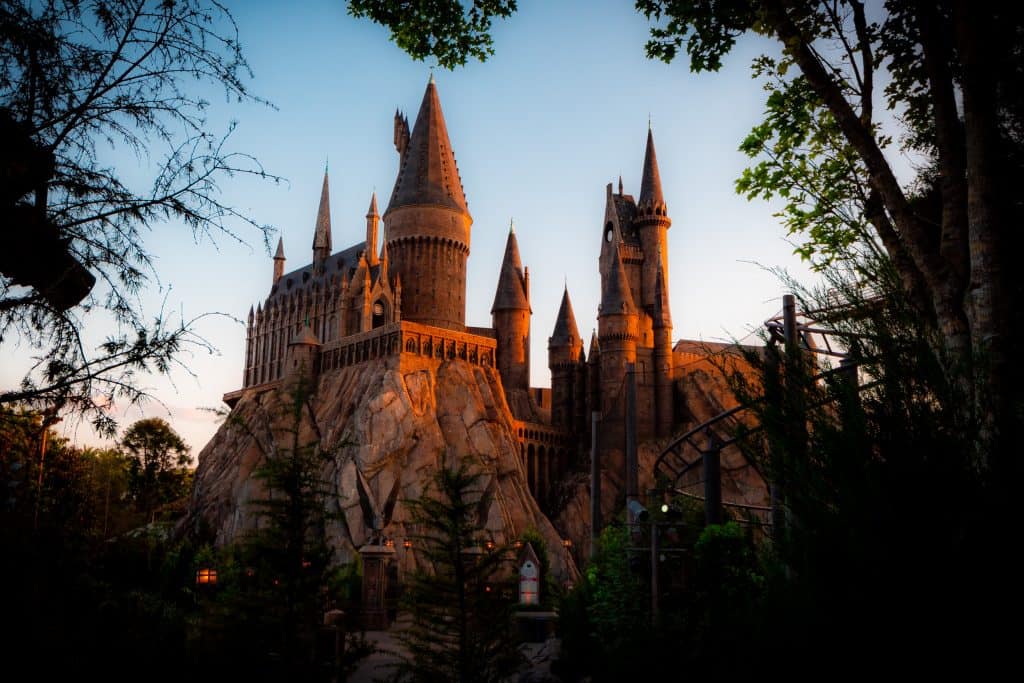 How crowded will The Wizarding World of Harry Potter be?
The first step to successfully planning your vacation to Universal Orlando Resort is to be aware of the "season" in which you are visiting. If you haven't already, check out our free 12-month Universal crowd calendar to learn how crowded we expect the theme parks to be during your visit. Make a note of what time the parks will open and close, bearing in mind that Islands of Adventure and Universal Studios Florida may shutter at different times and may have different special events taking place.
Below, we will discuss the ideal setup for your visit to Universal and The Wizarding World of Harry Potter. Please be aware that the advice given on this page is based on two fundamental assumptions: that fully experiencing Hogsmeade and Diagon Alley is your primary objective at the resort, and that you are going to Universal when crowd levels are expected to be busy or very busy – when the headline attractions, Harry Potter and the Forbidden Journey, Harry Potter and the Escape from Gringotts, and the newest ride, Hagrid's Magical Creatures Motorbike Adventure have wait times over two hours. In addition, during high crowd levels and due to the lands' replicating the cozy feel of the wizarding world's boutique shops, the stores can get very packed and may even develop their own queues and wait times.
What about Hagrid's Magical Creatures Motorbike Adventure?
The best way to find out what is happening with Hagrid on the day of your visit is to use the official Universal Orlando app for your smartphone, which will list the current wait time. You can even set a wait time alert to be notified when the queue reaches a more desirable wait time for your party!
If you are intent on riding Hagrid's Motorbike Adventure, our best advice is to try to keep an eye on what is happening every day via the app for a few days before your trip. If the attraction is opening with the park, go straight there on your Islands of Adventure morning; conversely, if you are okay with skipping Hagrid, proceed through our plan as follows.
What do I need to know before I plan my Wizarding World of Harry Potter trip?
To conquer the crowds and experience the best of The Wizarding World of Harry Potter, we've outlined the ideal itinerary for a busy day at Universal Orlando Resort. Our goal is to have you be prepared for the worst crowds with a solid plan on how to make your way through Diagon Alley and Hogsmeade by understanding crowd-flows and peak crowd times – when planning your vacation, these two points will help you decide how to arrange your days.
First, study up on Early Park Admission, which is available to any guest staying at one of Universal Orlando's hotels or who books a vacation package at a partner hotel that also offers Early Park Admission.
Second, plan on entering the Wizarding World at least four times, either at the very beginning of the day or in the last three hours before the park closes. The basic strategy is to have a morning and evening in Hogsmeade, and a morning and evening in Diagon Alley. This is what you will do during your visits:
Ride Harry Potter and the Escape from Gringotts
Visit the shops, shows, and dining of Diagon Alley
Ride Harry Potter and the Forbidden Journey and Flight of the Hippogriff
Visit the shops, shows, and dining of Hogsmeade
Ride the Hogwarts Express
What is the ideal plan for visiting The Wizarding World of Harry Potter?
If you've booked a one-night stay at one of the Universal hotels, such as Royal Pacific Resort, you will have access to Early Park Admission for two mornings. On your first morning, arrive at the hotel at least an hour before Early Park Admission begins and check in. Leave your bags with bell services, get your park tickets and room keys, and speak to a team member or consult the Universal Orlando app to confirm which park is hosting EPA. For our example, we will have an 8:00 am early admission to Universal Studios Florida.
Consider bringing a breakfast that you can eat on the go, or grab something from the quick-service restaurant at your hotel. Make sure you are at the Universal Studios Florida turnstiles 30 minutes before Early Park Admission begins, and enter the park whenever they open the gates (up to 20 minutes or so before the official opening time). The goal is to be one of the first through the turnstiles, going directly to Harry Potter and the Escape from Gringotts – even if the wait time says 30 minutes, this is probably the shortest wait you will get.
Exit Gringotts and go straight over to Ollivander's to experience the wand show. Use the rest of this time to cast some spells with your interactive wand, sneak around in Knockturn Alley, and visit the goblin at the Gringotts Money Exchange in Carkitt Market. By late morning, you will notice that the area is really starting to fill up. Grab a late breakfast or early lunch at The Leaky Cauldron, which shouldn't be too busy during the 10:30-11:00 am off-peak time. Rather than battling the growing crowds, exit Diagon Alley and explore the other experiences available at Universal Studios Florida.
If you have park-to-park tickets, you could also ride the Hogwarts Express over to Hogsmeade. However, we don't recommend going into Hogsmeade at this time, as the crowds will have similarly grown as the morning goes on. Instead, when you exit the train, head right and take the Hogsmeade bypass bridge into Jurassic Park and make your way around Islands of Adventure.
During the busy season, the parks are typically open until 9:00 or 10:00 pm, so plan to return to Diagon Alley around 7:00 that same evening, after an early dinner somewhere in the park, at CityWalk, or at your hotel. Step back inside Diagon Alley as the sun starts to set and spend the evening enjoying the atmosphere and magic. Have a treat at Florean Fortescue's Ice-Cream Parlour and then grab a drink at The Hopping Pot to watch an evening show of Celestina Warbeck and the Banshees or The Tales of Beedle the Bard (or to visit the other spell locations you might have missed). Consider riding Gringotts again if the line gets shorter towards the end of the evening, or take a ride on the Hogwarts Express if Universal Studios is closing before Islands of Adventure does. Of our four recommended visits to the Wizarding World, you've now completed two.
The next day, arrive at Islands of Adventure 30 minutes before the opening time, whether it is early or regular admission. Go straight to Hogsmeade via Seuss Landing, and consider jumping in line for Hagrid's Magical Creatures Motorbike Adventure. If the wait is already too long for your liking, press on towards Hogwarts Castle and ride Harry Potter and the Forbidden Journey, which you should be able to hop on in less than 20 minutes.
After doing Forbidden Journey, have a look in Filch's Emporium of Confiscated Goods in Hogwarts, then walk across to ride Flight of the Hippogriff. Explore the other shops of Hogsmeade, including the Owl Post and Dervish and Banges. Pop over to the Hogsmeade stage to catch a showing of the Triwizard Spirit Rally or the Frog Choir, which begins around 10:00 am and alternates showings every half-hour (consult your times guide or ask a friendly wizard employee). Try to visit The Three Broomsticks for lunch at the off-peak time around 11:30 am; if the weather is nice, grab a seat on the back patio for a great view of Hogwarts and the lagoon. Once Hogsmeade starts to get too crowded, exit and tour the rest of Islands of Adventure or anything you missed at Universal Studios Florida.
Finally, return to Hogsmeade around 7:00 pm to behold the spectacle and wonder of the theme-park land in the evening. The introduction of The Nighttime Lights at Hogwarts Castle has encouraged guests to linger after dark, but you'll find that as the evening goes on, the land will start to empty out. Grab something sweet from Honeydukes and find a spot for the intermittent showings of Nighttime Lights taking place between dusk and park close. Return to any shops you may have missed, and pop into the Hog's Head Pub (connected to Three Broomsticks) to order a Butterbeer from this infamous establishment. Keep an eye on the wait times at Forbidden Journey, and if they get low enough, you might brave another jaunt on a charmed flying bench.
The ideal Wizarding World of Harry Potter itinerary – FAQs
You may still have some questions after going through our ideal way to ensure your trip to The Wizarding World of Harry Potter is a success. Well, we have some answers!
Can I switch around the days?
The key to this plan is making four visits to the Wizarding World, either first thing in the morning or in the evening before the park closes. You could certainly do this itinerary with four morning visits only, but you would be missing the ambiance of evening time in Diagon Alley and The Nighttime Lights at Hogsmeade.
Do I need a park-to-park ticket?
You do not need park-to-park tickets to see most of the Wizarding World with this plan. However, if you have one-park-only tickets, you will not be able to ride the Hogwarts Express, and you will want to make sure that you plan your morning and evening in the same park each day; for example, you won't be able to do the morning in Diagon Alley and the evening in Hogsmeade on the same day with a one-park ticket, so don't mix and match!
What if I don't have Early Park Admission?
Not everyone can stay at a hotel that offers Early Park Admission. If this is your situation, we are confident that this plan will still work for you, but you will be at a disadvantage at the theme park that features early admission for that day. One option, for those on a longer trip, is to stick to the plan of one morning and one evening at the park with no early admission, as you won't be at a disadvantage there – but you'll need to do two evenings at the park that does have EPA, in order to avoid the morning crowds of on-site guests.
If you are on a short trip and only have two days, then just know that you will have a longer wait for the rides in the early admission park. Plan to be at the turnstiles an hour before the parks' regular opening time, as Universal may let off-site guests enter up to 20 minutes before the published time. If the wait times are unbearably long, consider purchasing an Express Pass in the park to shorten your waits both in the Wizarding World and around Universal.
What if I have Express Passes?
Beginning July 2017, Universal added Express access to most attractions in Diagon Alley and Hogsmeade, including the Hogwarts Express (but not – at this time, at least – Hagrid's Magical Creatures Motorbike Adventure). By using our plan, you will encounter the shortest possible wait times, so you can be strategic in your use of Express, especially if you have the basic pass, which only allows one usage per attraction. Consider using the standby queue while the lines are short, and use your Express Pass when lines get longer. Express Passes, of course, won't allow you to skip the lines for shops or avoid the general crowds, so early mornings and late evenings are still the way to go.
If you have Unlimited Express Passes, rejoice! You may visit the attractions at any time and re-ride as much as you want with significantly reduced wait times.
What if a ride is closed or delayed for weather?
Unfortunately, attractions do sometimes close for repairs or seasonal maintenance. On top of that, Florida weather is unpredictable, and outdoor shows and rides, such as Flight of the Hippogriff or, more especially, Hagrid's Motorbike Adventure, must close during inclement weather. Should you arrive at an attraction to find that it's closed, simply proceed with the other activities on your checklist and keep an eye on your app or the sign boards posted around Universal to see if the ride comes back online.
While we hope you will be able to see and do everything on offer at Universal, remember that if you miss something on this trip, it will be something you can "save" for your next one!
Is it always busy inside the Wizarding World of Harry Potter?
No, it certainly is not. Again, use our crowd calendar to help guide your planning.
Do you have a question about the information on this page or would you like to provide feedback? Please let us know by posting in our
Universal Community
Facebook group.