The Wizarding World of Harry Potter at Universal Orlando Resort has been wildly successful, but with great success comes two very populated theme-park lands.
Consistently attracting record crowds, both Hogsmeade at Islands of Adventure and the newer Diagon Alley at Universal Studios Florida can be challenging to navigate for everyday guests. With this in mind, here are our best tips for beating the crowds at Harry's wondrous world.
Skip to: Stay at Universal Orlando | Book a package | Go early and stay late | Go during a special event
1) Stay at a Universal Orlando hotel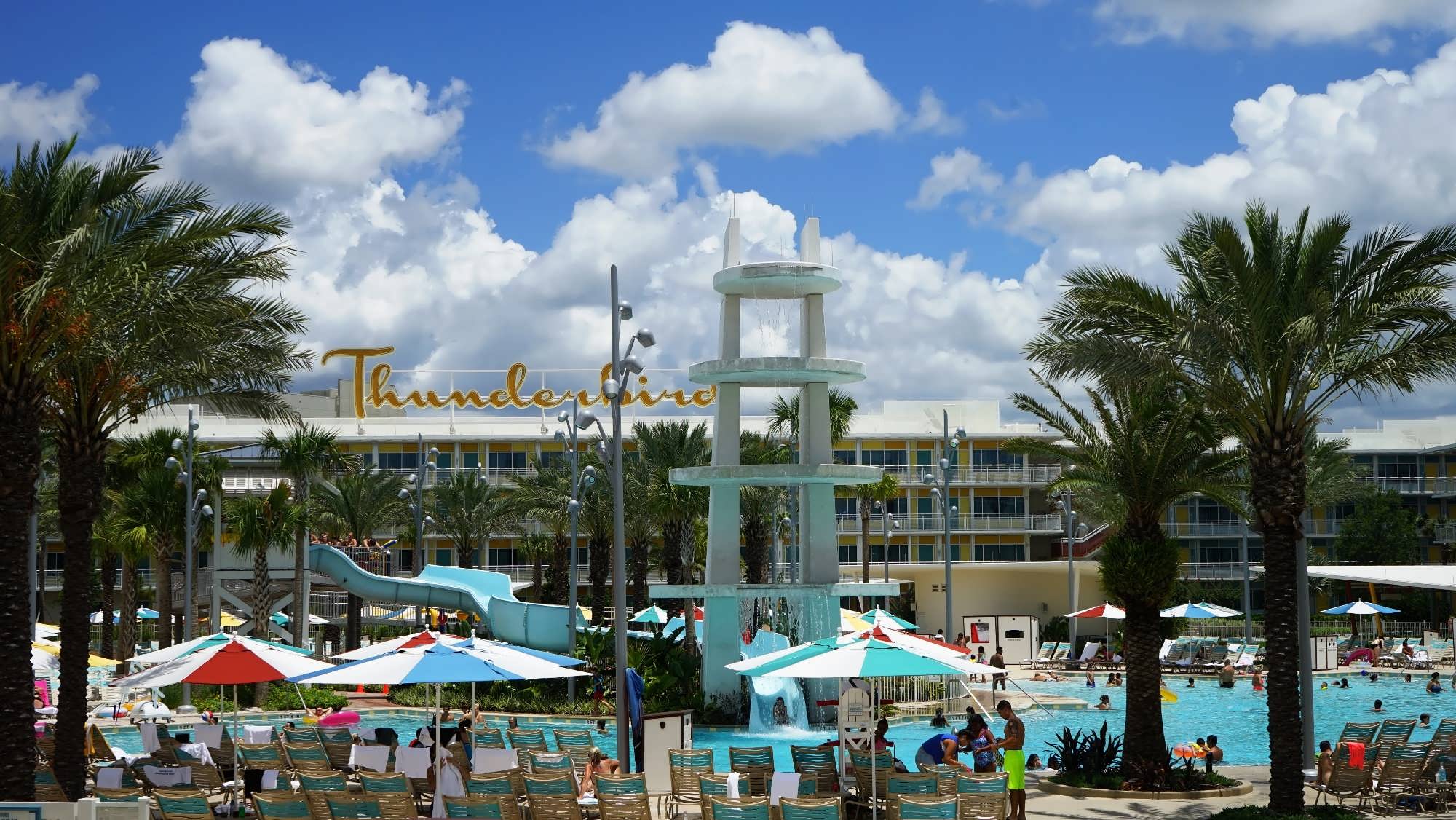 If at all possible, stay at one of Universal Orlando's hotels when you come to visit, as an on-site room will give you the dual advantages of access and proximity. All resorts offer guests Early Park Admission, and, since you're staying just a short walk, boat ride, or shuttle bus away (depending on your hotel), you can be one of the first in line to get into the parks.
Keep in mind that Early Park Admission is available to you on both your check-in and check-out days, as well as every day in between (though paid admission to the parks is required) – so even if you get a hotel room for just one night, you can get into the Wizarding World an hour early on both your arrival and departure days.
(Need help figuring out which Universal hotel is the best fit for you? Our helpful guide can help you decide!)
2) Book a Universal vacation package
If you can't stay at a Universal resort, book a partner hotel vacation package to gain Early Park Admission without the on-site price tag.
A basic package will bundle your hotel room and tickets, with the option to add on enhancements, such as dining plans and My Universal Photos. Now that Universal has more than 20 off-site partner hotels, they're bound to have something that will fit your budget – and as with the Universal Orlando hotels, you will get Early Park Admission on your check-in and check-out days (and, yes, paid admission to the parks is still required, but it's likely already included with your package).
For some guidance on picking a hotel, see our list of partner hotels within walking distance of the parks, and for more about Universal vacation packages, view our complete insider's guide.
3) Go early and stay late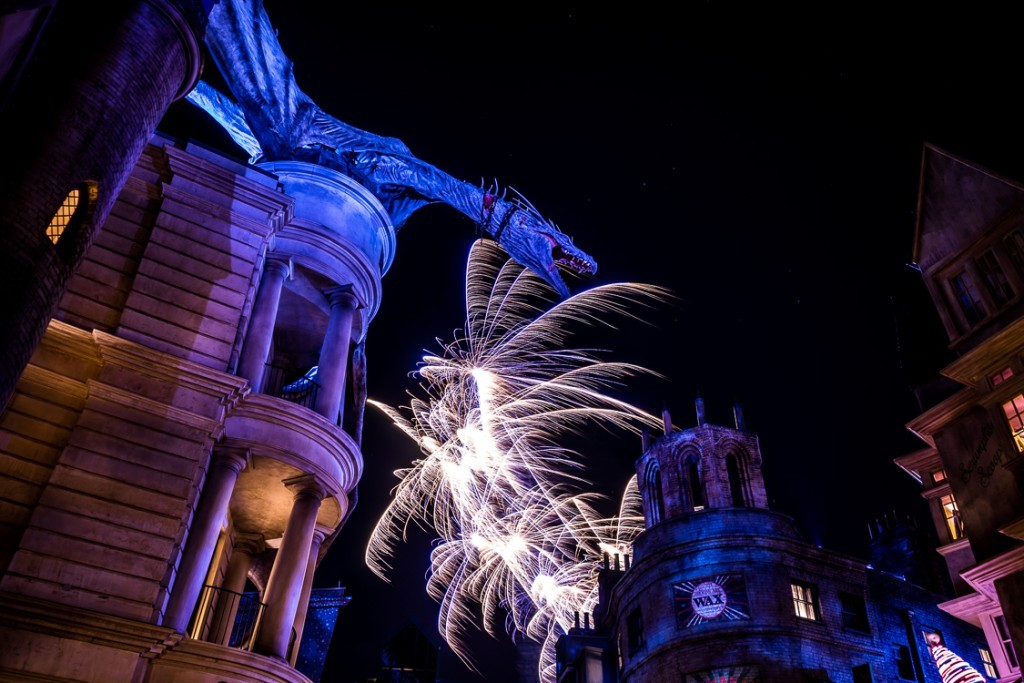 If you can't stay at a Universal property or book a partner hotel vacation package, plan on getting to Universal Orlando early and staying late. Given the cozy nature of its shops and attractions, it doesn't take very many people for Hogsmeade or Diagon Alley to start to feel pretty packed. To beat the crowds, it's best to go to the parks during the non-peak times, which are first thing in the morning and just before closing (most guests visit theme parks between 10:00 am and 3:00 pm).
It's possible that, on a very busy day, both morning and evening will still be crowded, but these remain the optimal times – on a day like this, midday would be very crowded, and the lands might even close for capacity.
Keep in mind that we strongly recommend to plan on going first thing in the morning and again late in the evening; The Wizarding World of Harry Potter lights up at night, and it's spectacular.
(If you'd like to see more pictures of the Wizarding World at night, check out the photo gallery below!)
4) Go during a special event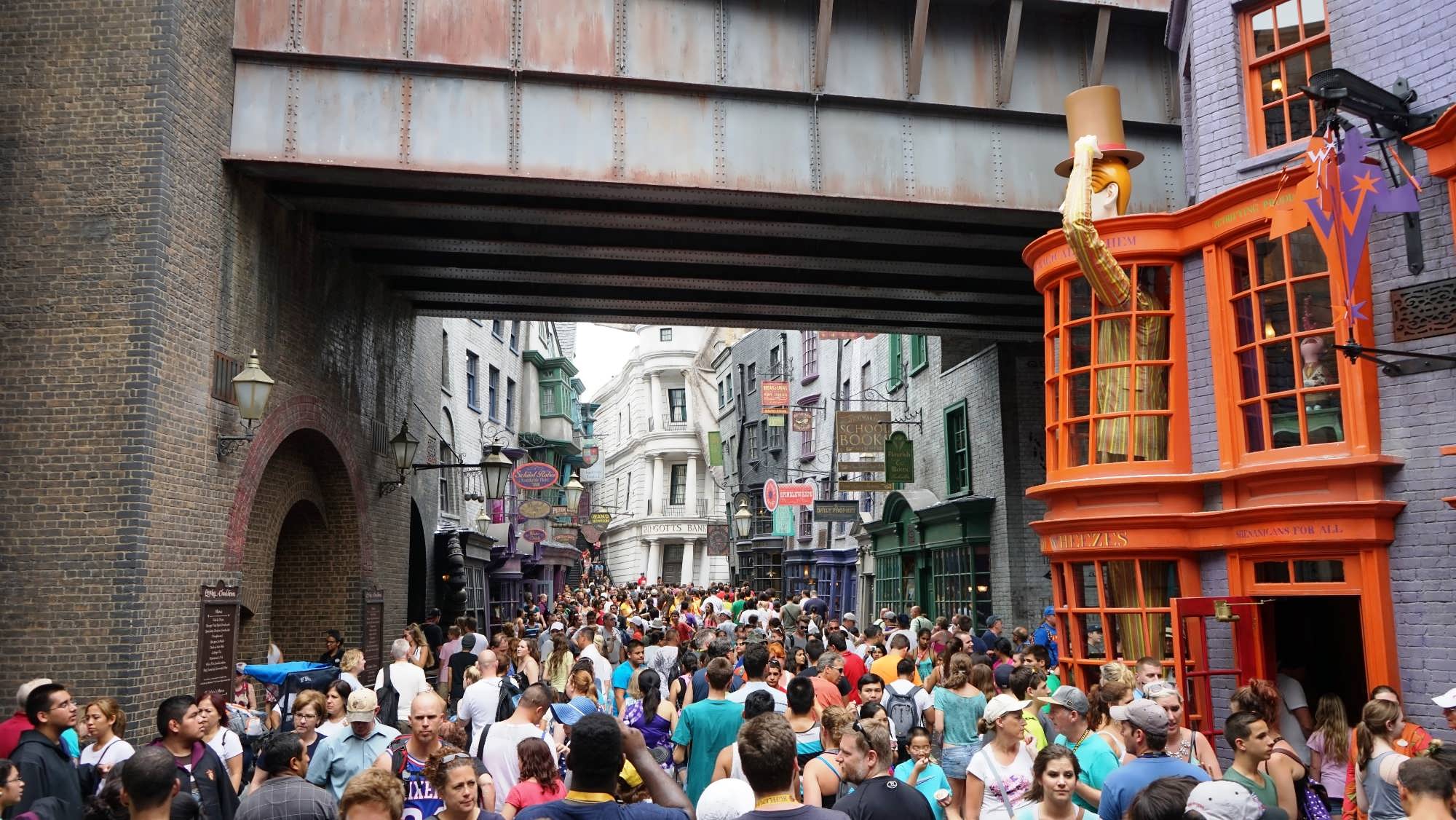 Throughout the year, Universal hosts special events, such as Mardi Gras and Halloween Horror Nights (and we should note that some of these annual events are separately ticketed affairs, such as Horror Nights, while others are included with park admission, such as Mardi Gras [though some annual passes are blocked out on concert nights]). When Universal hosts its Mardi Gras concerts at the Music Plaza at Universal Studios Florida, they tend to draw crowds with well-known, popular acts – and, happily for us, these showings lure guests to the front of the theme park and away from Diagon Alley!
Just like those who go for the Mardi Gras entertainment, guests at Halloween Horror Nights are mostly there for the scares – but if you need a break from the fright, Diagon Alley remains open, albeit without scareactors. Sneak behind the London facade to find a nearly empty land and a short line for Harry Potter and the Escape from Gringotts.
To identify Mardi Gras or HHN nights, visit our crowd calendar. You can plan on beating the crowds by heading to Hogsmeade or Diagon Alley those evenings (depending on park hours and your ticket entitlements).
If you love these tips and want to read more, check out our advice to ensure your trip to the Wizarding World is a success!
The Wizarding World of Harry Potter at night – photo gallery
Do you have a question about the information on this page, would like to provide feedback, or did you spot an inaccuracy? Please let us know by posting in our
Orlando Informer Community
on Facebook.