Now that both Diagon Alley at Universal Studios Florida and Hogsmeade at Islands of Adventure have been open for several years, the Wizarding World of Harry Potter only reaches capacity on the very busiest days or during some special events. However, if you are planning a trip over one of the peak periods, this guide will prepare you for the possibility that you might encounter a closed-to-capacity land and help you to navigate the return-ticket system.
Skip to: Return ticket overview | Return tickets at Diagon Alley | Return tickets at Hogsmeade
What is the return-ticket system?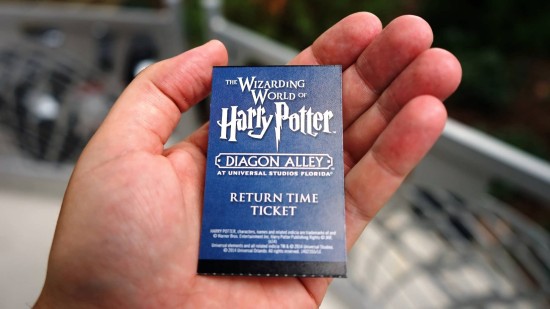 Once Universal has determined that the size of the crowd in either Hogsmeade or Diagon Alley has the potential to exceed the limits of safe occupancy, it will close the entrance to the land and begin crowd-control procedures, which may include issuing return-time tickets that designate a specific time for you to enter the land.
The good news is that these tickets are completely free, and you don't even have to show your admission pass, so one member of your party can get in line and grab tickets for everyone at the designated kiosks. Return tickets are only valid on the day they are issued, and for the park at which they were issued – in other words, you can't use a Hogsmeade return ticket to get into Diagon Alley.
You may be offered multiple return-time options at the ticket kiosk, so just pick the time slot that works best for you. Once you enter the land, you may stay as long as you wish, but after you exit, you can't return without obtaining a new ticket for a new time.
How will I know if I need a return ticket?
Universal does not publicize this return-ticket system for The Wizarding World of Harry Potter, so not only is there no easy way to get information about it from the company, you also cannot find out in advance whether the system will be used or what the current return times are. Although we can make our best predictions about crowd levels, it's impossible to know for certain if a land will reach capacity.
To see how busy Universal will be during your trip, visit our crowd calendar. On "very busy" days, there is a good chance the system will be used; on "busy" days, there is only a small chance; on "moderate" and "slow" days, there is very little chance. If you must come when it's going to be busy, then be sure to follow our ideal plan to ensure your trip to the Wizarding World is a success.
Should either the return-ticket system or a standby line be in use during your visit, it generally kicks in around 10:00 am and is used until around 5:00 pm, with wait times of approximately two hours to get in. Of course, these numbers will fluctuate depending on exactly how busy the parks are.
Do I still need a return ticket if I have an Express Pass?
While Express Passes will be useful to get on the rides once you've entered the Wizarding World, they won't allow you to skip the queue to enter the lands if the return-ticket process is in effect. The only way to gain entry is with your timed ticket.
Can I skip the return-ticket system by taking the Hogwarts Express?
Because the stations for the Hogwarts Express in both Diagon Alley and Hogsmeade are located just outside the entrance to each land, you will still have to obtain a return ticket once you exit the train station.
Can I get a return ticket even if Diagon Alley or Hogsmeade has not reached capacity?
No, you cannot – Universal only runs the return-ticket kiosks if the areas they serve have reached capacity.
Will I need a return ticket if I am at the turnstiles when the parks open?
In general, early-morning crowds are asked to use the standby queues instead of getting return tickets, as this is just a simpler way to handle the initial rush of guests. If the parks stay busy, the return-ticket system will usually begin later in the morning.
What happens if they run out of return tickets?
This is not likely to happen, but, if it does, you would be asked to use the standby line or return the next day.
What happens on a busy day at Diagon Alley?
Although Diagon Alley has a larger capacity than Hogsmeade, on the days when it does reach maximum occupancy, Universal has several tools to employ in order to control crowds: it may opt to implement a standby line, a return-ticket system, or, on some very busy days, both.
To find out what is being offered when you arrive, we highly recommend you speak to any team members who are helping guests to queue. Look for these bright, blue, easy-to-spot signs: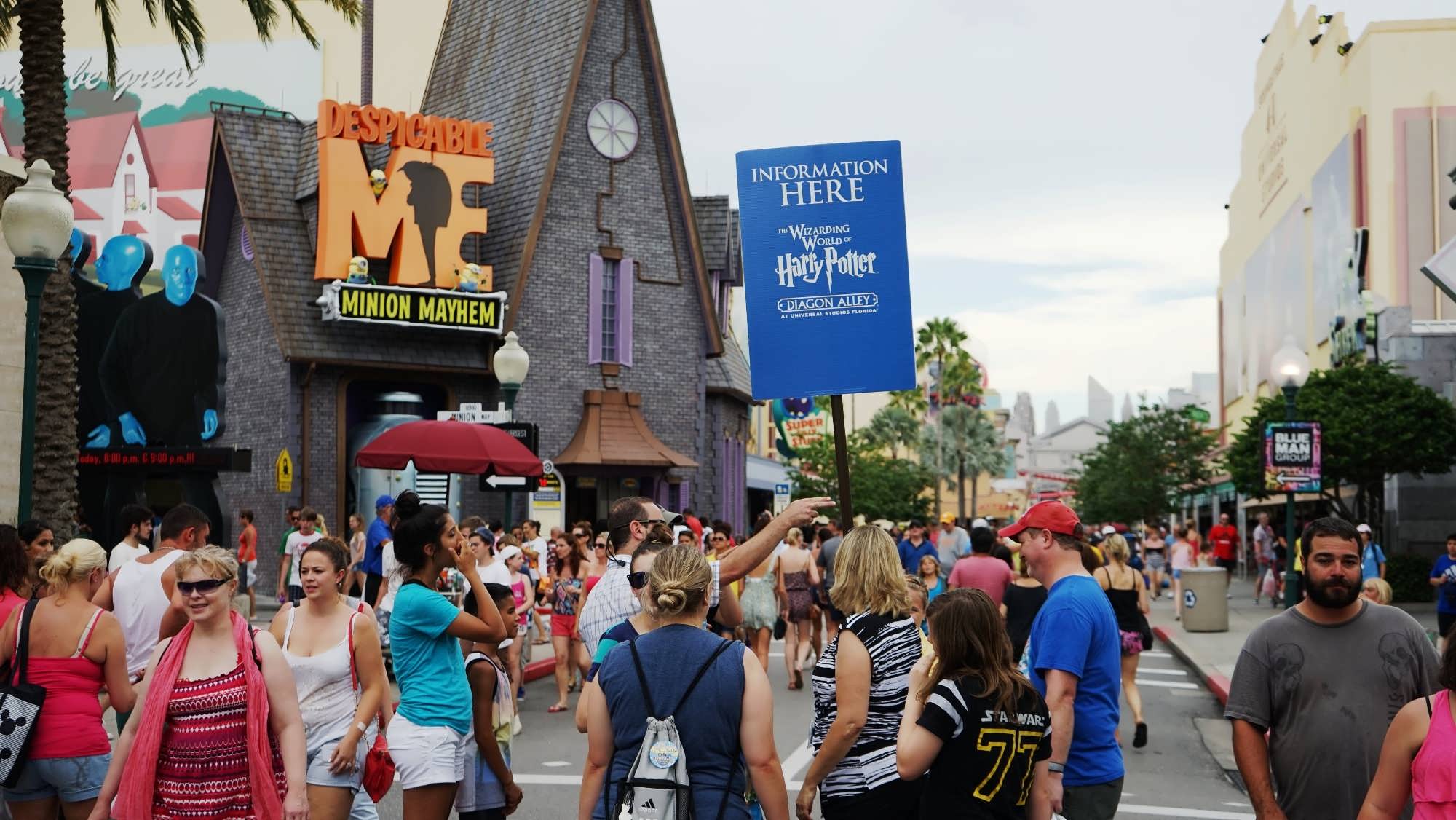 If the queuing system is in operation, you could be given any of the following directions:
1. You may be told you have to get a return ticket, in which case you can follow the blue line on our custom map through Hollywood and Springfield: Home of the Simpsons, past Men in Black Alien Attack, and on to the kiosks located next to Fear Factor Live to get your return tickets.
2. You may be told to use the standby line, in which case you can follow the same blue line on our custom map – however, between Springfield and Men in Black, you may see a sign stating that "The Diagon Alley standby line starts here." This is the extended queue for the Wizarding World land, and if this is in use, it means the park is expected to be very busy.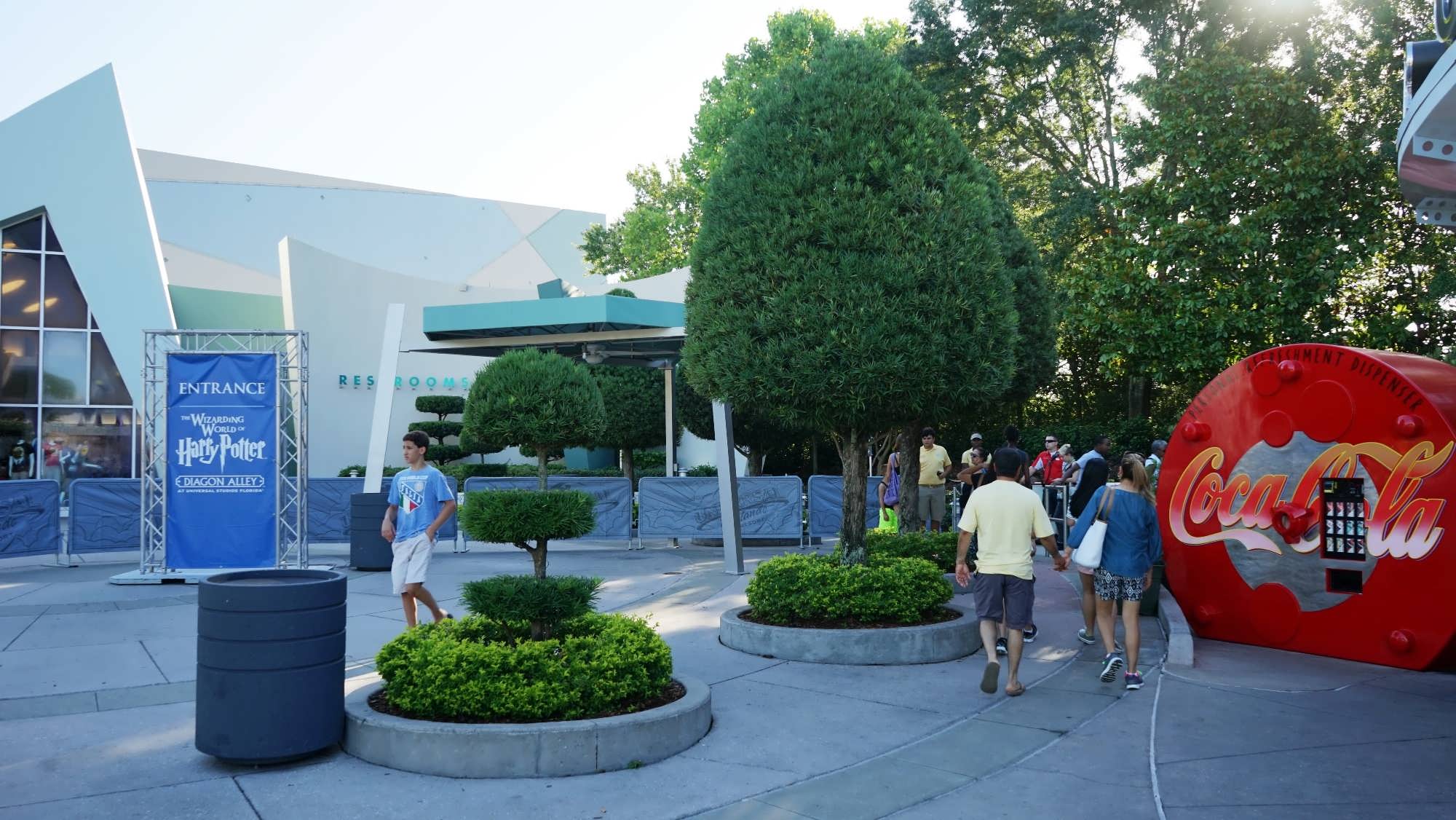 Follow employee directions to the "backstage" areas, and – although the exact route may change – you'll likely be brought on a path similar to the red line seen on our custom map.
If the extended queue for Diagon Alley is not in use, there may still be a smaller line set up in the London waterfront – just proceed past Men in Black Alien Attack and look for the signs.
3. Finally, you may be given a choice between taking a return-time ticket or using the Diagon standby line. We always recommend that you get a return ticket, even before considering the queue – the ticket kiosks only take a few minutes, and, often, the return time is not much further out than the standby wait time. For example, if it is 9:00 am when you arrive, the standby wait might be 75 minutes, while the return-ticket time could be as early as 10:30 am. You wouldn't gain much time by waiting in line, and it is much preferable to walk around and enjoy the park for an hour-and-a-half instead of standing in a queue like this one: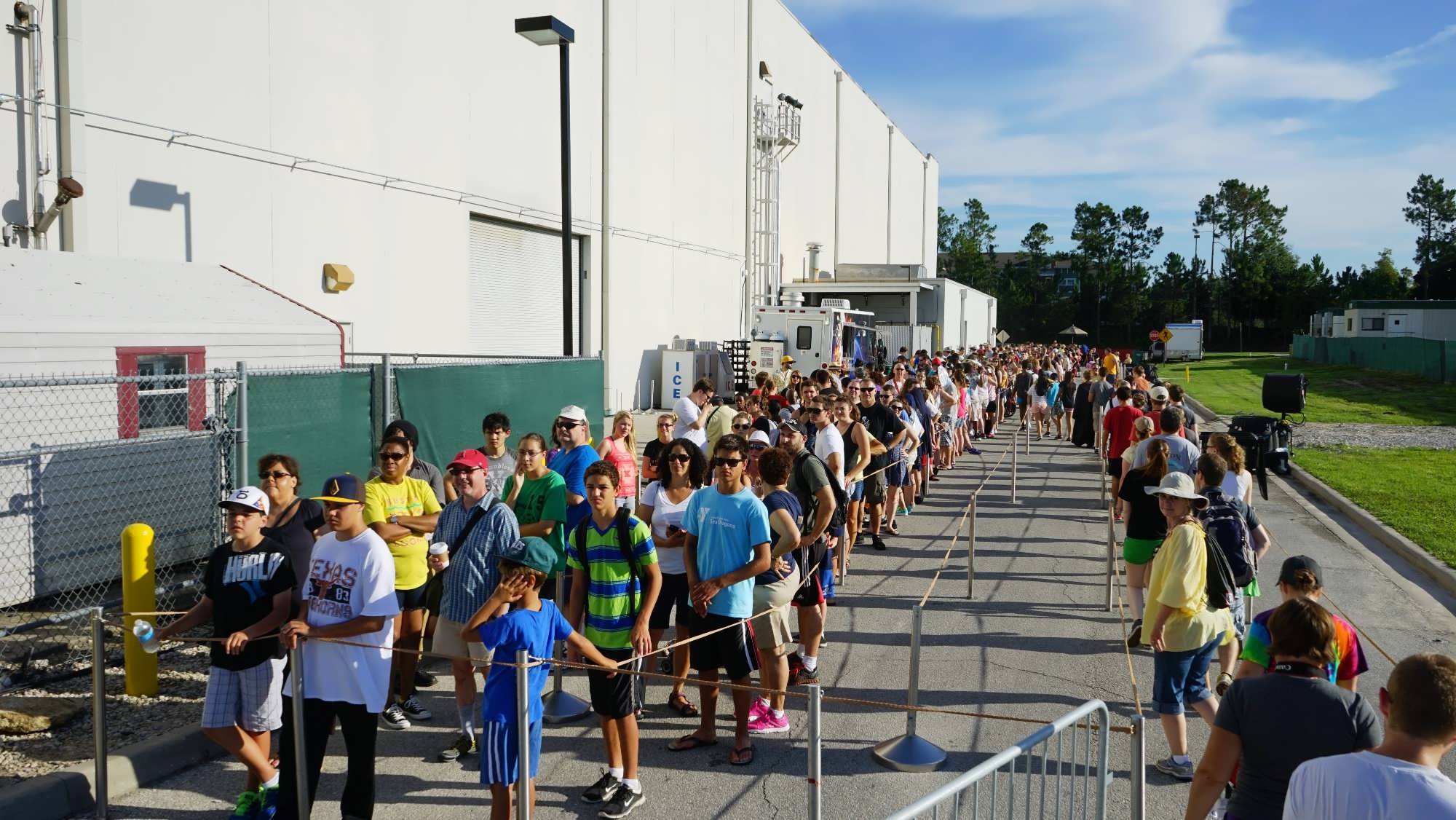 Fortunately, on most days, none of these systems will be required, and guests will be able to freely enter Diagon Alley. Should this be the case, you're welcome to follow the purple route on our map for the shortest route to The Wizarding World of Harry Potter from the park turnstiles.
How do I get my return ticket for Diagon Alley?
If you find yourself on a day where return tickets are in use, the good news is that their kiosks are very easy to use – all you have to do is send one person to them, who will be able to obtain tickets for your entire party. Once you have your pass, you're free to roam the park until the time listed. Here is a look at the machines and the sequence to obtain your ticket: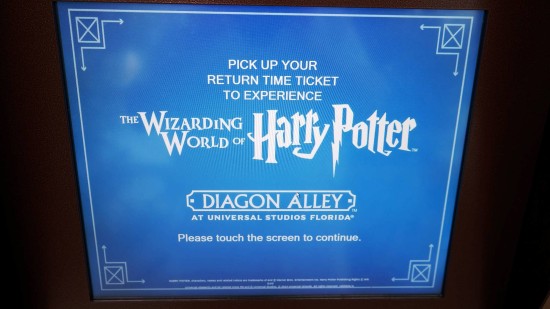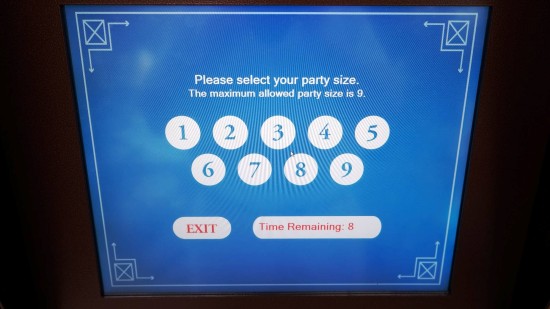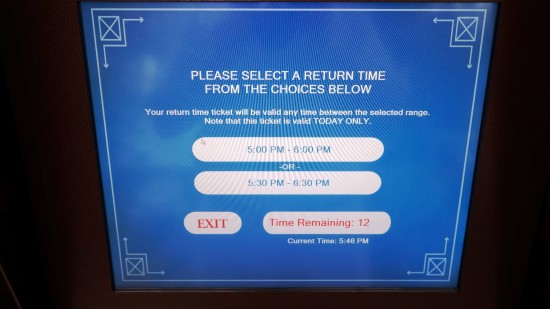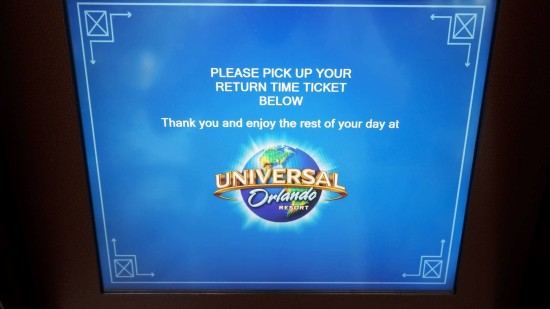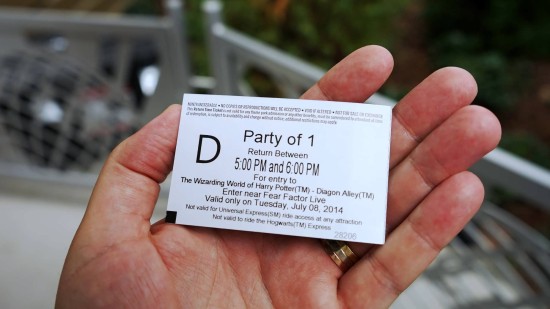 Finally, if either return tickets or the standby line is implemented, you will have to proceed to the far end of the London waterfront, near Fear Factor Live, to enter Diagon Alley – see the red marker on our custom map. You will not be able to enter Diagon Alley from the main entrance next to King's Cross Station.
And here is a friendly reminder: as we've already said, we always recommend grabbing a return ticket rather than waiting in the standby line.
What happens on a busy day in Hogsmeade?
The instructions for Hogsmeade are essentially the same as Diagon Alley: you won't know if the Hogsmeade queuing system is in place until you're in the park, and you may be offered the chance to get return tickets, wait in a standby line, or both (or, of course, neither, if it's not that busy).
How do I get a return ticket for Hogsmeade?
When seeking a return ticket for Hogsmeade, you will be directed to Jurassic Park. It doesn't matter which route you take to get there – left or right around the lagoon – as neither is faster nor better. Just be aware that, if you take the route that goes by Hogsmeade, you'll be sent over the bridge connecting Jurassic Park to The Lost Continent, as indicated by the yellow marker.
When you arrive at Jurassic Park, it may look like this: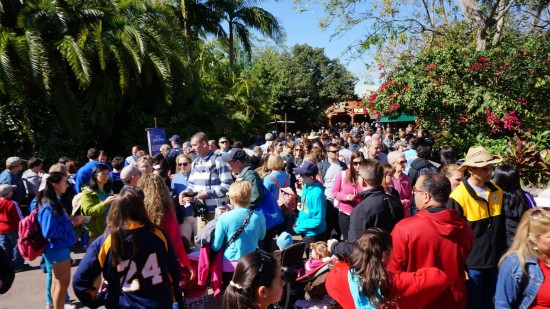 Although it's crowded, don't panic! Just keep your group together, be patient, and make your way to the team member holding the return-ticket sign. See the orange line on our custom map for an idea of where this will be located.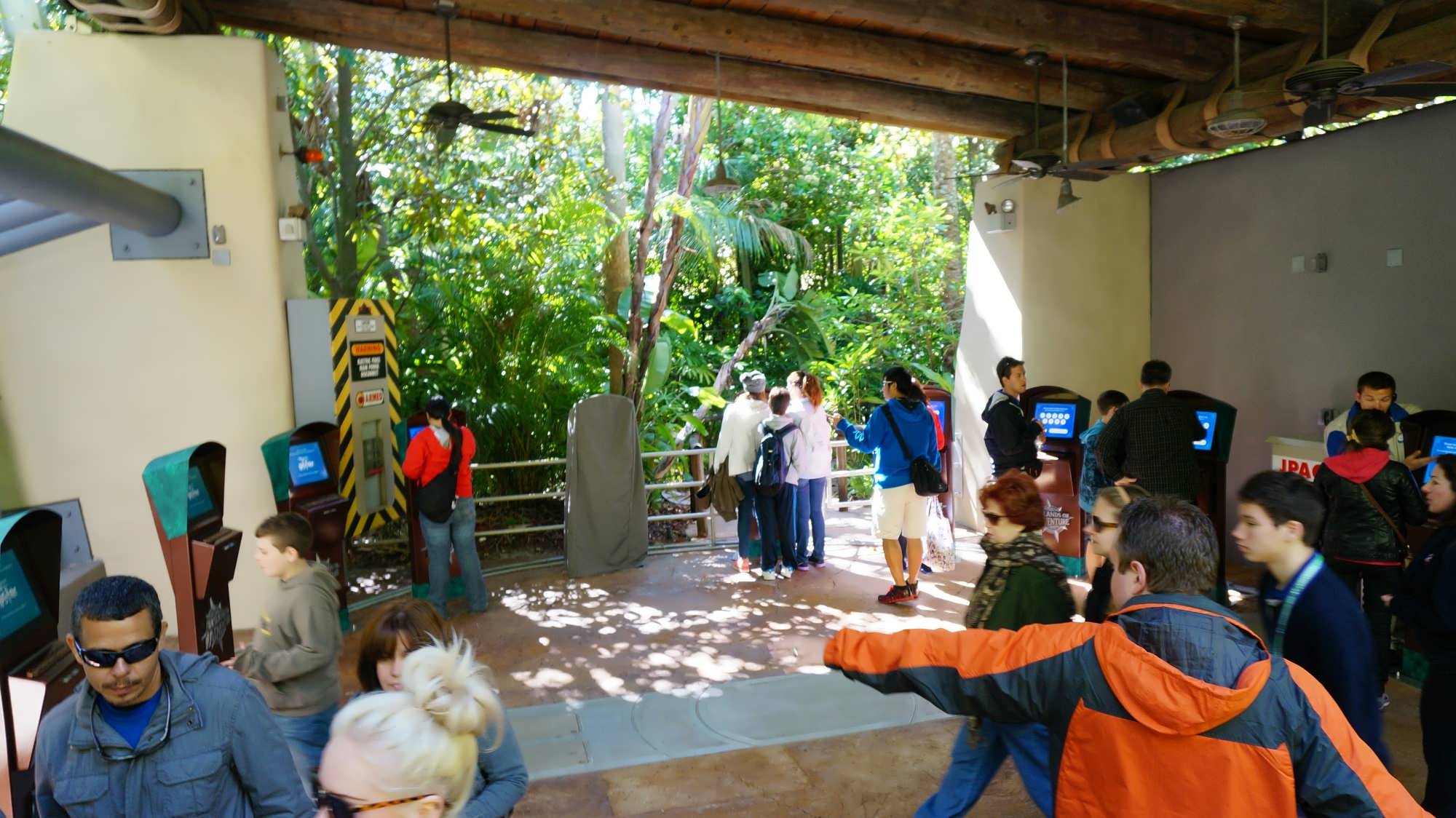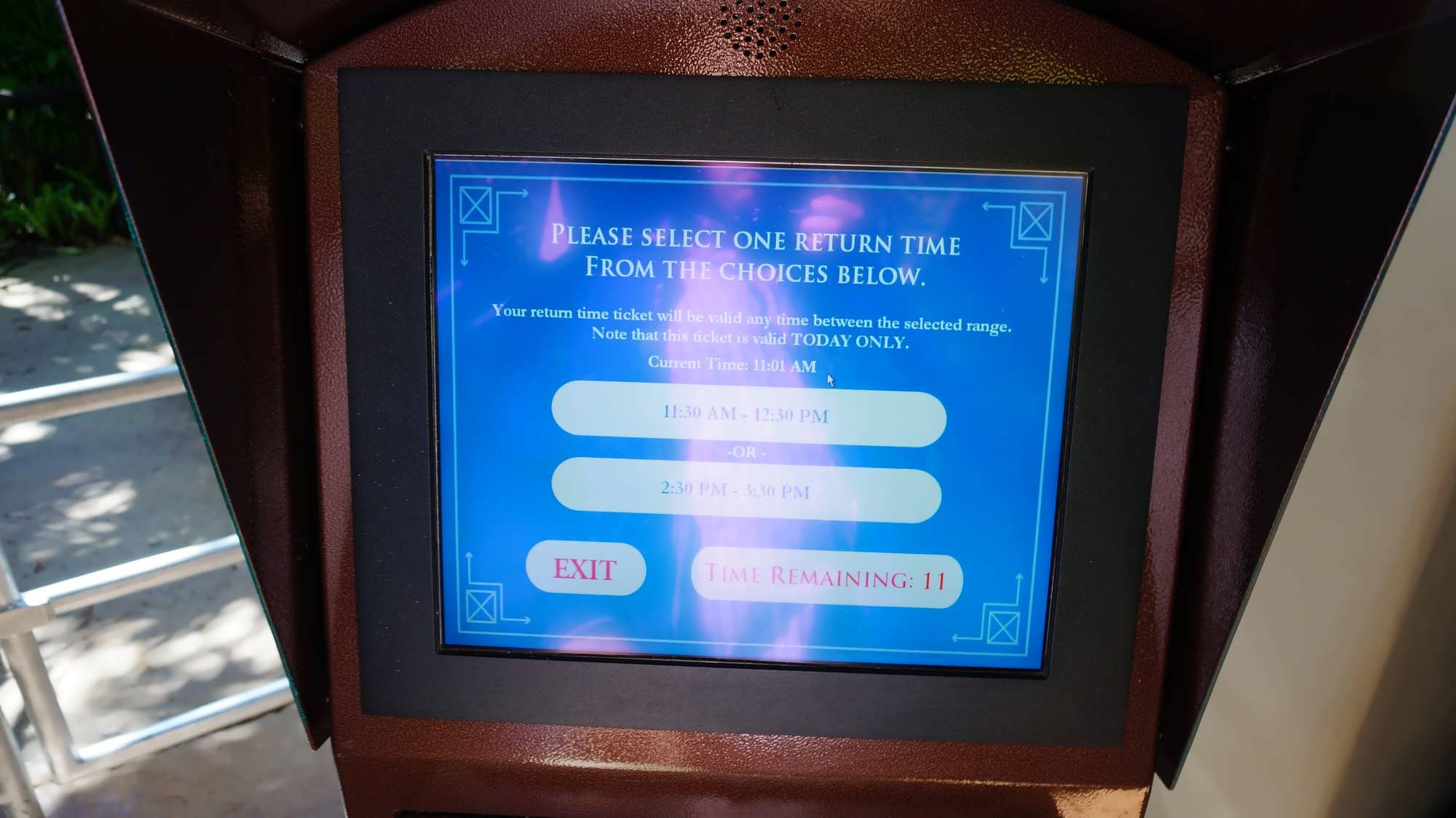 Once you have your ticket, you can explore Islands of Adventure as you please. Ask an employee where you should enter Hogsmeade, as Universal can opt to allow guests to enter at either the Jurassic Park or the Lost Continent side.
Now that you have reviewed the Hogsmeade procedures, check out this video to see the process in action:
As in Diagon Alley, it's possible that Universal will have a standby line open for Hogsmeade. While not ideal, it's important to be prepared for this possibility.
Proceed to Jurassic Park and find the employee with the Hogsmeade standby sign. It used to be that you would be directed to the area behind Jurassic Park Discovery Center, near the lagoon, but seeing as how this area is currently under widescale construction (and will continue to be so for the near future), we're not yet certain where the standby queue will be located.
This is what the area used to look like when it was filled with lots of eagerly waiting people: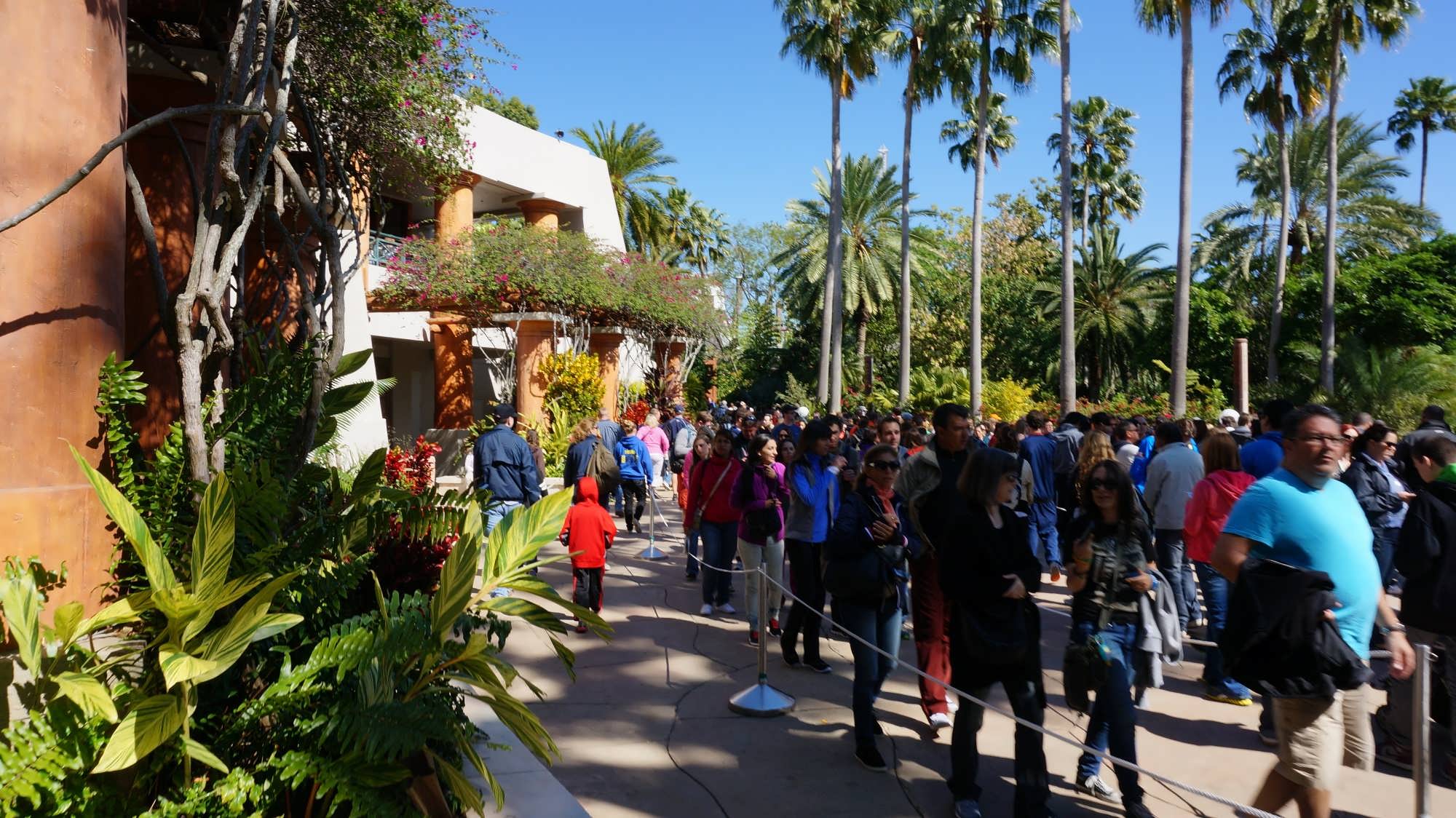 Do you have a question about the information on this page, would like to provide feedback, or did you spot an inaccuracy? Please let us know by posting in our
Universal Community Facebook group
.