Location
The Wizarding World of Harry Potter – Hogsmeade
Opening date
June 13, 2019
Restrictions and access
48 inches; no Express Pass access; has a single-rider line
Two-sentence insider summary
This state-of-the-art, family-friendly roller coaster – which Universal brags is the most themed one it's ever done – takes you deep into the Forbidden Forest, joining Professor Rubeus Hagrid's Care of Magical Creatures class as he introduces you to the various rare fantastic beasts that call the woods home (with the star of the show being the never-before-seen Blast-Ended Skrewt). It replaces the former (and beloved) Dragon Challenge coaster, which was open for Hogsmeade's first seven years.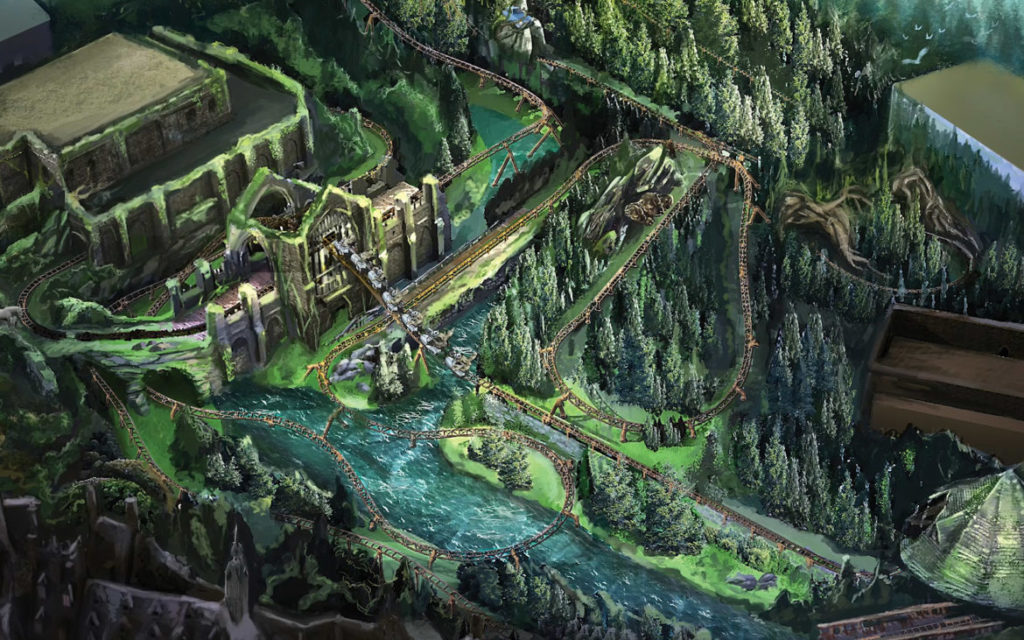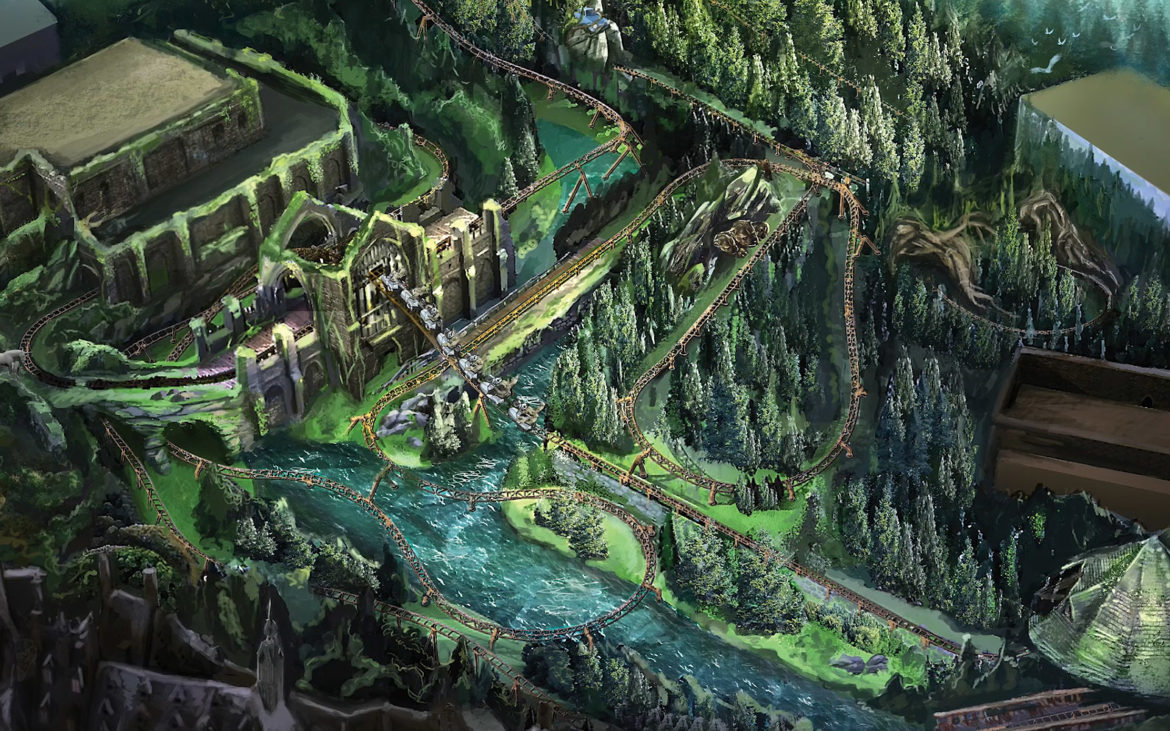 Fear factor
We expect Hagrid to be thrilling (much more than, say, the kiddie Flight of the Hippogriff), but not anywhere near as intense as Dragon Challenge was (which was riddled with inversions and massive hills).
Wait times
Check back soon!
What you wish you knew before you experienced it
Check back soon!
OI fun fact
This is the very first Harry Potter ride to not feature the Boy Wizard himself, a trend which started with Harry Potter and the Escape from Gringotts, when Harry just pops up for a moment or two in both the queue and ride experience proper. We wouldn't be surprised to see this continue in the years ahead – all the child actors have aged considerably over the course of the last decade, after all.
Hagrid's Magical Creatures Motorbike Adventure – setting
Although the Forbidden Forest is quickly experienced in the whirlwind Harry Potter and the Forbidden Journey, Hagrid's Magical Creatures Motorbike Adventure will be the first attraction to be exclusively set in this environment, replete with its mysterious beasties, new-to-the-mythology abandoned ruins, and myriad trees (there's over 1,200 of them!). We explore why this is such a great location for adventure and why it's such a perfect complement to everything else in Hogsmeade in our detailed write-up.
Hagrid's Magical Creatures Motorbike Adventure – protagonist
As we've already mentioned, Rubeus Hagrid takes the leading role away from Harry Potter himself in the first Wizarding World ride in five years. And in order to bring the Care of Magical Creatures professor to life, Universal has created its most detailed and lifelike audio-animatronic figure yet, working with actor Robbie Coltrane in order to capture his appearance and essence – his face (and, even, his teeth!) were digitally scanned, and his performance provided the basis for the robot's 24 different body actions. And just in case that weren't enough, the animated figure's face was "meticulously" hand-sculpted, all of its individual hair strands were carefully placed (including the eyebrows and lashes), its costume was designed by the same team that furnished Coltrane's attire in the various Harry Potter movies, and its now-iconic pink umbrella is an exact replica of the film prop.
It's no wonder Universal is calling the seven-foot-six-inch Hagrid "hyper realistic."
There's still more to sink our (digitally scanned) teeth into, though. To understand just why the passing of the narrative torch from Harry to another Wizarding World hero is such a massive, potentially game-changing deal, please see our in-depth feature.
Hagrid's Magical Creatures Motorbike Adventure – queue
Walk down paths that take you past the Black Lake (the first time the body of water has been present in Orlando!), into ancient ruins, and past a smorgasbord of Easter eggs – and that's even before you meet Rubeus Hagrid and his good friend, Arthur Weasley! We explore the grounds with you in our guided tour.
Hagrid's Magical Creatures Motorbike Adventure – ride experience
Each roller coaster "car" features two different seats, the motorbike and its side car, which Universal promises will result in two different ride experiences. While in these unusual seats, guests will surge through multiple launches and hills, going as fast as 50 mph – including backwards!
Along the way, riders will encounter a whole manner of different magical creatures, including centaurs, Cornish pixies, and the iconic Fluffy, the three-headed dog. But what should get Harry Potter fans positively giddy with anticipation is the chance to come across a never-before-seen-in-the-movies beast: the Blast-Ended Skrewt, which will shoot "actual" fire and smell a little something like rotting fish. (Oh, yeah – there's also going to be other "challenging obstacles" lying in wait in the Forbidden Forest, as well, including Devil's Snare, the entangling plant.)
Hagrid's Magical Creatures Motorbike Adventure – magical creatures
Universal has been, slowly but surely, releasing photos of all the audio-animatronic creatures that you'll encounter during your Motorbike Adventure with Hagrid. First up: Fluffy, the giant three-headed dog, who weighs 8,000 pounds in his robotic form.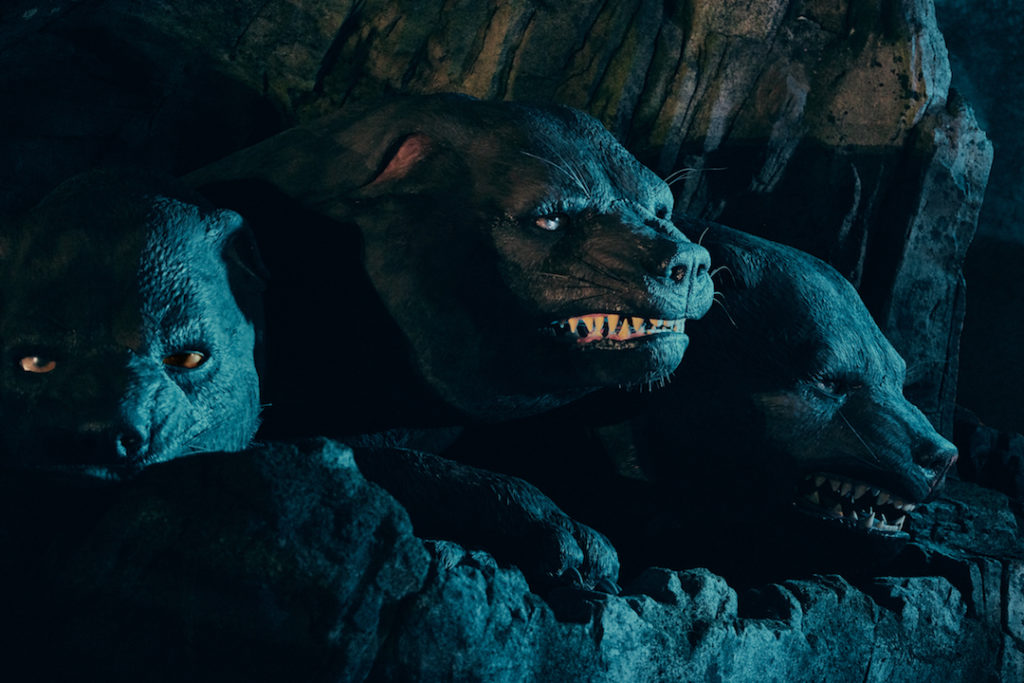 Then there are those mischievous little Cornish pixies, 20 of which will appear throughout the ride – mostly clustered around the Weasleys' flying Ford Anglia, which has been lost in the Forbidden Forest for the past few years (and which was originally spotted in the former Dragon Challenge attraction).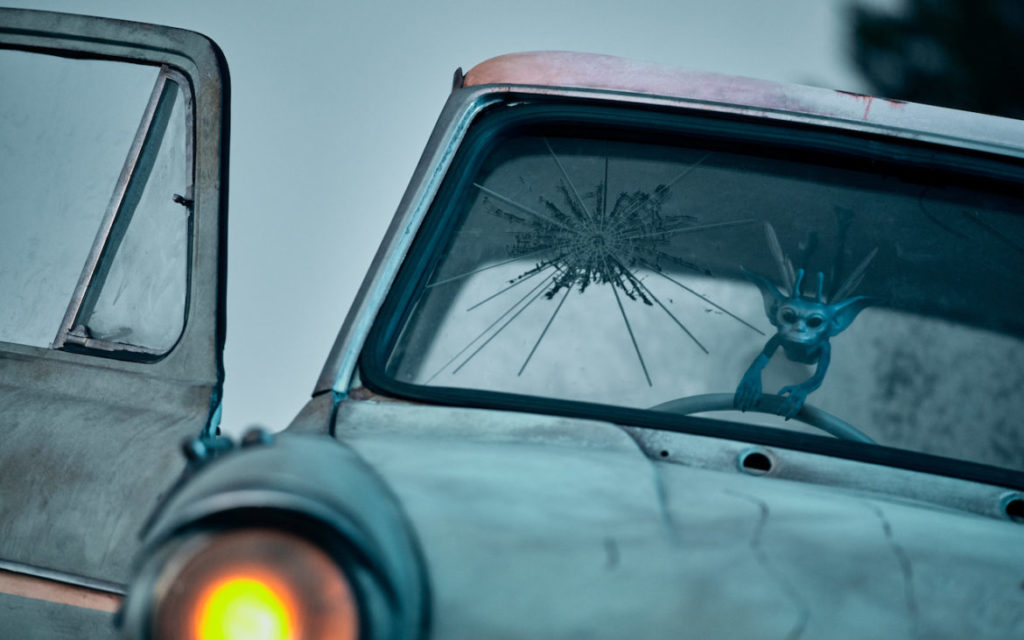 Devil's Snare, that treacherous plant, will – well – ensnare you at some point during your journey through the Forbidden Forest with Hagrid.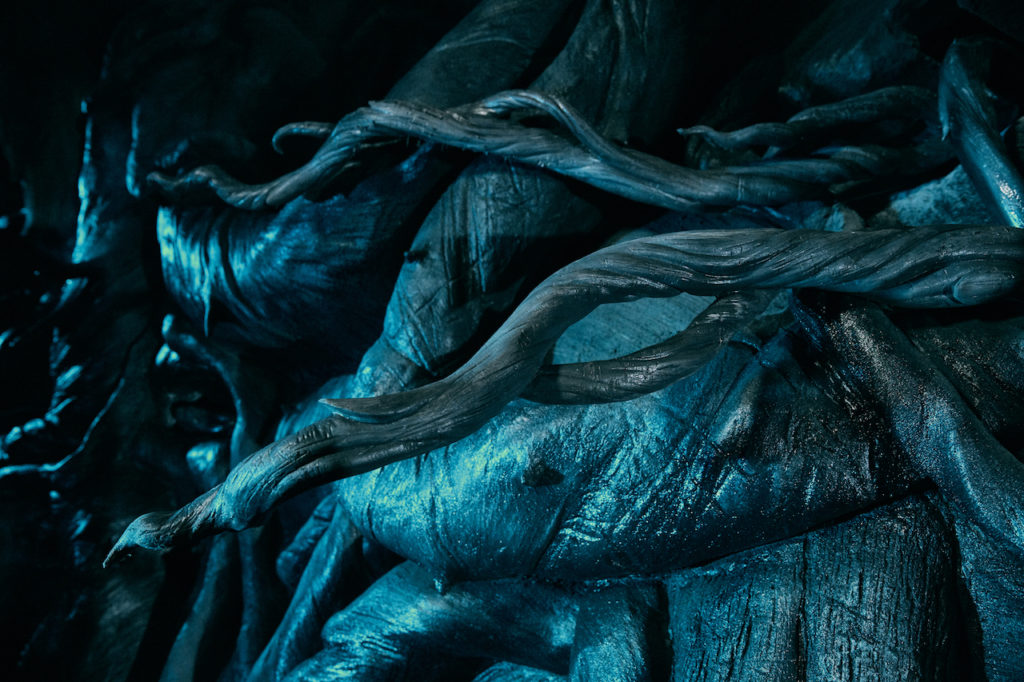 A lone centaur will encounter you on the ride, as well, and though he keeps his distance, that doesn't make him any less (potentially) dangerous.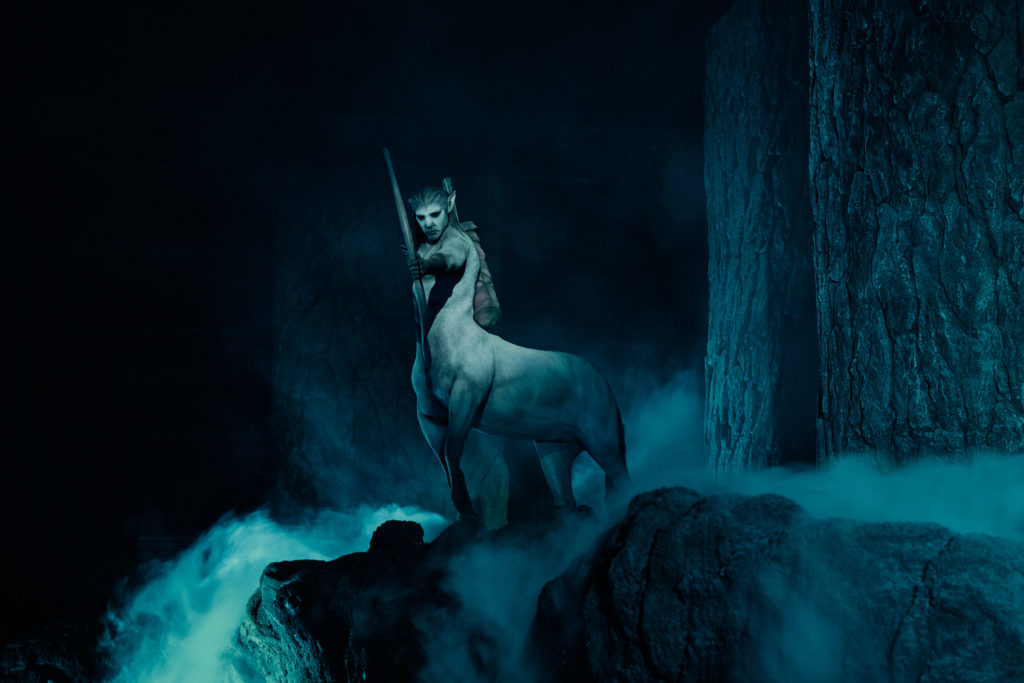 And, finally, we have the Blast-Ended Skrewt, which stands up to 10-feet-tall (with his tail) and eight-feet-long. That's a big 'un!

Hagrid's Magical Creatures Motorbike Adventure – photo gallery
OI Universal Center » Islands of Adventure » The Wizarding World of Harry Potter – Hogsmeade