From the largest fire-breathing dragon to the smallest coin in Gringotts Wizarding Bank, The Wizarding World of Harry Potter – Diagon Alley is known for its incredible detail and immersion. We're happy to report that the souvenirs and merchandise in the area are no exception!
Below, you'll find an overview of the wide variety of merchandise available in Diagon Alley, followed by a breakdown of all the shopping locations. Keep in mind that each venue is unique and carries products that you may not be able to find anywhere else, so it's worth checking them all out!
Skip to: What's available | Merchandise locations | Best souvenirs | Special services | OI Tips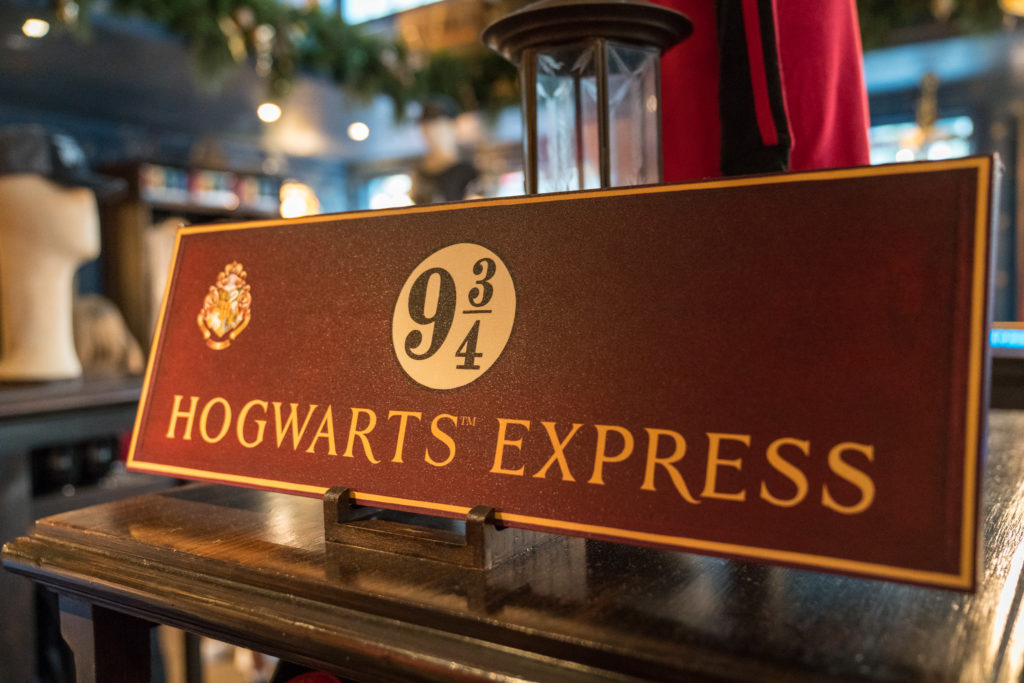 What's available at Diagon Alley?
A wide variety of merchandise is available in Diagon Alley, much of it unique to the area. As such, the prices all vary wildly depending on the shop you're in and the souvenirs you're looking to snag. You can find apparel such as robes, scarves, Hogwarts uniforms, hats, and jewelry at a number of stores, with prices ranging from $30 for a t-shirt to $110 for a Quidditch sweater. A Time-Turner necklace will run you $50, while a Deathly Hallows ring is priced at $33. Collectible souvenirs offered in Diagon Alley include everything from Death Eater masks to plush owls and pygmy puffs, with many more unique options available depending on the particular shop you choose to visit.
One of the most popular items you can buy in Diagon Alley is your very own wand, either from Ollivanders or Wands by Gregorovitch. A character-replica wand costs $55, while an interactive wand costs $59. What's the difference, you ask? Well, the character ones are collectibles, but the interactive ones can be used to "cast spells" in various spots around Hogsmeade and Diagon Alley. (You can also pick up maps of both Wizarding World locations that note all of the interactive spots for your convenience.)
Where to purchase merchandise in Diagon Alley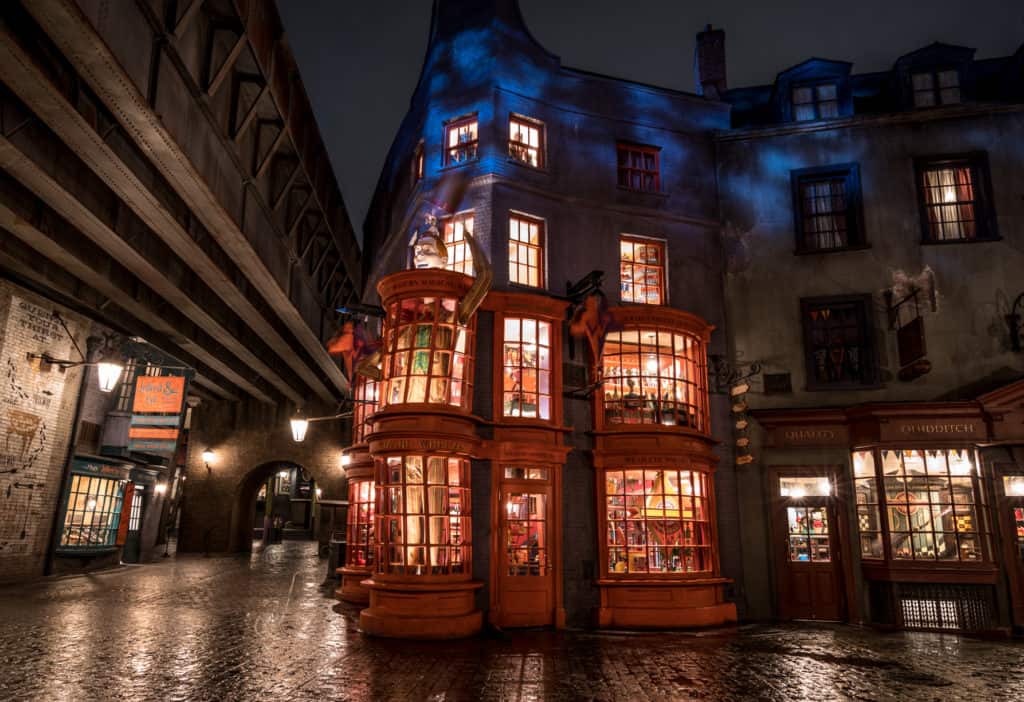 Borgin and Burkes
Located in the eerie Knockturn Alley, Borgin and Burkes carries malevolent relics, including Death Eater masks, skulls, collectibles, and apparel. Here, you can see the Vanishing Cabinet that Draco Malfoy used to sneak Death Eaters into Hogwarts Castle in Harry Potter and the Half-Blood Prince. You can also test out your interactive wand and cast a spell on the skeleton in the lighted window of the store.
For witches and wizards looking to book a trip abroad, the first stop must be Globus Mundi, the wizarding travel agency. Unfortunately, muggles can't yet book a trip to all the destinations featured on the walls of the shop, but they can buy plenty of travel-themed souvenirs, including luggage tags, magnets, shirts, and keychains, all with the Globus Mundi logo. There's also a wide variety of Hogwarts Express merchandise, featuring the logo for Platform 9 & 3/4.
Featuring an animatronic goblin behind the counter, Gringotts Money Exchange is a unique shop located near Diagon Alley's signature attraction. Along with perusing a variety of Gringotts Wizarding Bank souvenirs, you can trade your US currency for Gringotts banknotes, which can then be used to purchase items in both Diagon Alley and Hogsmeade. (If you decide to later on, you can trade any unused wizarding money back in for American dollars.)
Blending right in with the muggle attractions of the London waterfront, the London taxi hut store has all the souvenirs a tourist in the Big Smoke could desire. T-shirts, mugs, keychains, stationery, and more featuring the British flag are for sale here, along with cuddly teddy bears dressed as royal guards, and posters urging citizens to "keep calm and carry on."
Looking to spruce up your wizarding wardrobe? Madam Malkin's Robes for All Occasions carries a wide variety of apparel, including Hogwarts uniforms, scarves, cardigans, hats, and jewelry. You can also purchase authentic replicas of famous Wizarding World outfits, like Hermione's Yule Ball gown and Dumbledore's robes.
What would Hermione be without Crookshanks, or Harry without Hedwig? Magical Menagerie carries all kinds of wizarding plush toys, from ferrets and pygmy puffs to more recognizable creatures like Buckbeak and Scabbers. If you're looking to put your Parseltongue to the test, be sure to chat up the snake in the window!
Perhaps the most famous shop in Diagon Alley, Ollivanders is where wizards come to find their wands. Here, you can purchase your own unique wand, a set of wands, character wand replicas, or interactive wands (which lets you cast spells around Diagon Alley and Hogsmeade Village). Beyond shopping, Ollivanders also houses a unique, interactive show in which a wand will choose its wizard right before your eyes.
At the bottom of Carkitt Market, you can't miss the towering roost of the owls that deliver letters and small parcels to wizards and witches around the world. Guests can stop by the shop window to have their Diagon Alley purchases gift wrapped in Potter-themed trappings and shipped to friends back at home (within the US only).
Quality Quidditch Supplies is pretty much exactly what it sounds like: your go-to stop for everything you need to play the most famous sport in the Wizarding World. This shop carries Quidditch brooms, Golden Snitches, Bludgers, Quaffles, and a variety of apparel. If you have a favorite Quidditch team, like the Holyhead Harpies or Chudley Cannons, you can show your team spirit with apparel and accessories.
If you're looking to revive the lost magic of letter-writing, look no further than Scribbulus. Here, you can pick up authentic Harry Potter writing supplies like inkwells, feather quills, and parchment paper, as well as a good selection of merchandise themed around the four Hogwarts houses: Gryffindor, Hufflepuff, Slytherin, and Ravenclaw. If you're looking for a lesser-known Diagon Alley activity, consider picking up a postcard from Scribbulus and mailing it from the Owl Post window.
From Bertie Bott's Every-Flavour Beans to Pink Coconut Ice, there are enough treats to satisfy any sweet tooth at Sugarplum's Sweet Shop. Confections including Cauldron Cakes and Butterbeer fudge are also available, along with exclusive themed merchandise and apparel.
The long-time rival to Ollivanders, Wands by Gregorovitch carries a much smaller selection of wands to choose from. However, you can still find character-replica wands and interactive wands here – and avoid the sometimes-stifling crowds of Ollivanders.
One of the most popular shopping locations in Diagon Alley, Weasleys' Wizard Wheezes is a novelty joke shop that carries numerous tricks and toys – these include U-No-Poo pills, Skiving Snackboxes, Puking Pastilles, and Extendable Ears. Make sure you look up at the ceiling and take in the never-ending indoor fireworks show!
Wiseacre's Wizarding Equipment
Wiseacre's Wizarding Equipment is the gift shop for Harry Potter and the Escape from Gringotts. Many different wizarding supplies and collectibles can be found here, from crystal balls and moon charts to all of the Hogwarts house apparel you could dream of.
Our picks for the best souvenirs in Diagon Alley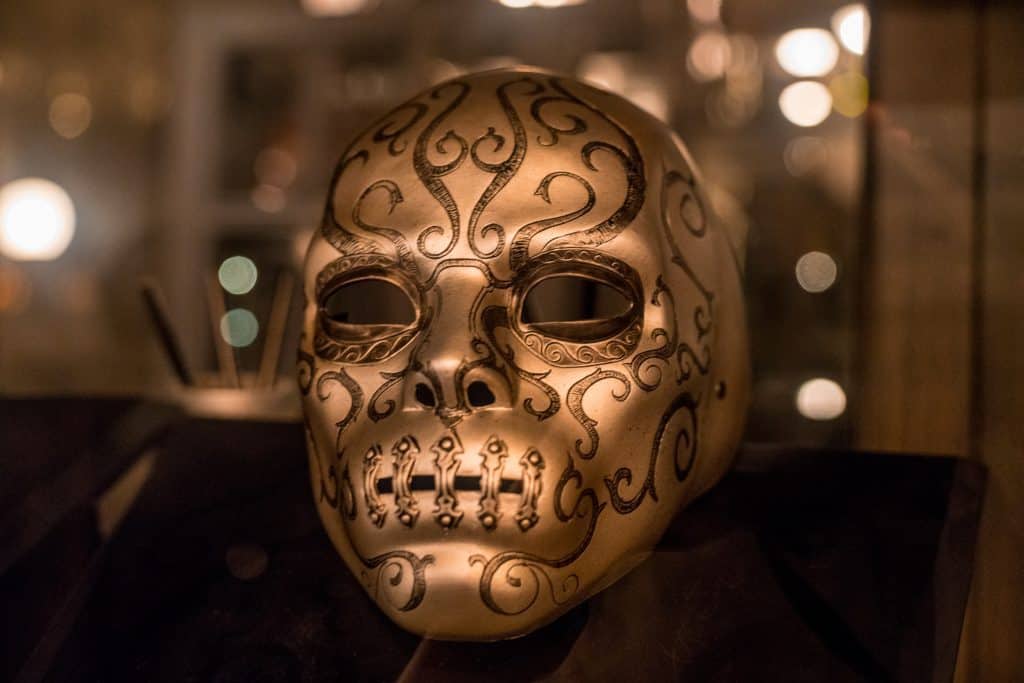 The enormous variety of merchandise is seemingly endless in this wizarding-shop Mecca, and it can be overwhelming to decide what to take home. To get you started, we've compiled a list of our top selections for gifts and souvenirs that are unique to The Wizarding World of Harry Potter:
Skiving Snackbox (Weasleys' Wizard Wheezes) – enjoy a box of treats with four flavors invented by the legendary Weasley twins: Fainting Fancies, Nosebleed Nougat, Puking Pastilles, and Fever Fudge.
Wizarding World of Harry Potter post cards (Owl Post, Scribbulus) – pick up your quill and send a postcard to your friends back home directly from Diagon Alley's Owl Post, or save them to hang on your wall and remind you of your magical vacation!
Gringotts bank notes (Gringotts Money Exchange) – a truly unique and travel-friendly souvenir, the banknotes of Gringotts Money Exchange can be kept in your wallet, given away to friends, or used to purchase more gifts within Hogsmeade and Diagon Alley.
Death Eater mask (Borgin and Burkes) – if you're drawn to the darker powers of magic, you will revel in the spooky collection of Death Eater masks which can be found in Knockturn Alley.
Interactive wand (Ollivanders, Wands by Gregorovitch) – we'd be remiss if we didn't recommend the top collectible of the Wizarding World, a unique and interactive wand that can be used to cast spells around both Diagon Alley and Hogsmeade.
Package delivery from Diagon Alley
Several shops in Diagon Alley offer a package delivery service for guests who would like their purchases to be sent to the front of the park for pick up later in the day. Your package should be ready for pick-up within three hours from the time of purchase and drop-off. The participating shops are Borgin and Burkes, Madam Malkin's Robes for All Occasions, Magical Menagerie, Ollivanders, Quality Quidditch Supplies, Scribbulus, Wands by Gregorovitch, Weasleys' Wizard Wheezes, and Wiseacre's Wizarding Equipment. Guests can pick up their package at It's A Wrap, located next to the main entrance turnstiles.
Guests who are staying at one of Universal Orlando's hotels can also choose to have their purchases sent to their rooms for free. In-room package delivery occurs between 9:00 am and 4:00 pm the next day, so this service is not available on the day of check-out; however, guests can still have purchases sent to the front of the parks for pick-up on those days. Home delivery is also an option for an additional fee.
Tips for saving money at Diagon Alley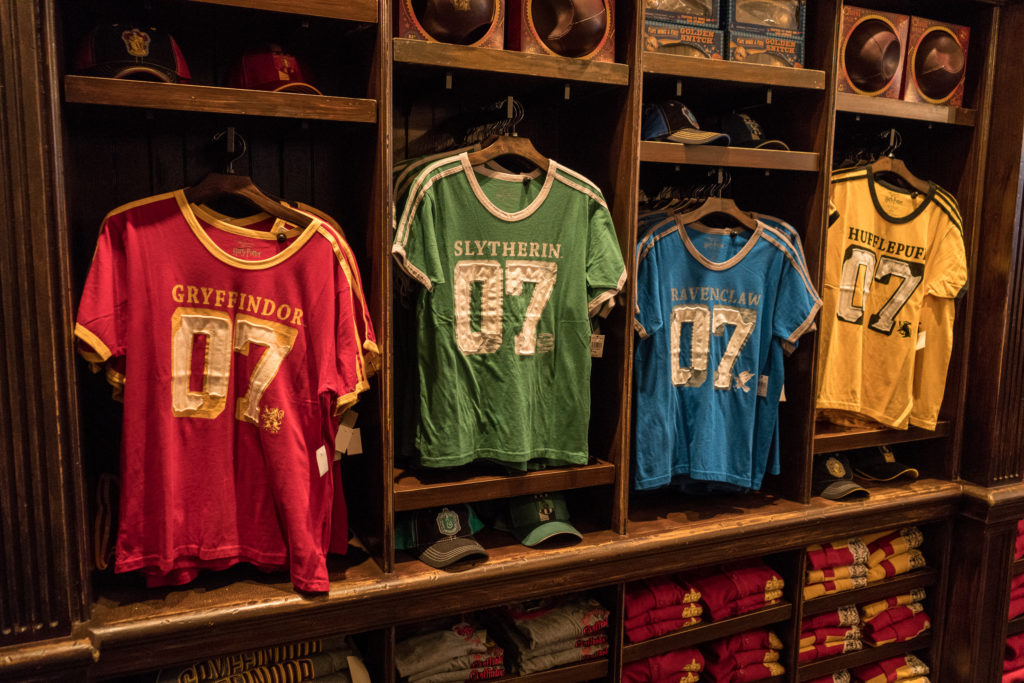 When it comes to Wizarding World souvenirs, we recommend having a budget ahead of time and doing your best to stick to it. Many of the items in Diagon Alley are unique, and it can be hard to choose which ones you want to take home with you. An easy way to help the whole family budget their souvenir money is with Universal gift cards! You can purchase each family member a card with the amount of money that you want them to spend, and once they've gone through it all, they're done. Getting a card ahead of time is a great way to build enthusiasm for the trip, and you can always add more cash on later if you so choose. In addition to online, gift cards can be purchased at many locations throughout the parks. (Oh, and the credit on the cards never expires, so no worries there!)
Before and after your trip to The Wizarding World of Harry Potter
If you have a difficult time during your vacation deciding what you want, don't sweat it! Many of the popular items found in Diagon Alley are available on Universal's online merchandise store.
Shopping and merchandise in Diagon Alley – photo gallery
Do you have a question about the information on this page, would like to provide feedback, or did you spot an inaccuracy? Please let us know by posting in our
Orlando Informer Community
on Facebook.