In the Harry Potter books and movies, Diagon Alley is where young wizards and witches attending Hogwarts School of Witchcraft and Wizardry go shopping for their supplies before the start of the new school year. Many of these stores and merchandise have come to life in the incredible, immersive experience that is the Wizarding World of Harry Potter – Diagon Alley, which provides a voluminous amount of one-of-a-kind items faithful to the Harry Potter series.
To start our discussion, we'll look at some of the items and location where you can buy Wizarding World merchandise outside of Diagon Alley, then we'll head to the London waterfront. And you don't want to miss our photo gallery at the bottom of the page, which features over 100 full-screen images.
Please note that our prices are rounded to the nearest dollar and do not include sales tax.
Merchandise outside of the Wizarding World – Diagon Alley
The first place you will find Wizarding World merchandise is in the Universal Studios Store at CityWalk and in the big, front entrance gift shops at Universal Studios Florida and Islands of Adventure. Although these three locations have similar items, the biggest selection is available at IOA's Islands Trading Company. It has a large selection of Wizarding World merchandise including hats for $20 and t-shirts for $25, Hogwarts Express beer steins for $40, and a framed print of the Wizarding World of Harry Potter for $150. You can find a feather quill pen for $10 and a box set of all seven of the Harry Potter series books in hardback for $87. Character wands are also available for $37, and Hedwig backpacks go for $35.
Merchandise in London waterfront
Before entering the Diagon Alley, guests experience the London waterfront, featuring the Knight Bus, Grimmauld Place, and Wyndham's Theater.
A merchandise kiosk sits near King's Cross Station and offers a variety of tourist items specific to Muggle London. Some of these include the United Kingdom flag, called the Union Jack, adorning baseball caps $22, t-shirts $22 to $27, and various sweatshirts $41 to $46. This artwork continues on infant onesies $22, totes $20, pens $4, and pencils $5. "Keep Calm and Carry On" slogans can be found on mugs for $13. Cute plush bears in different outfits, like London Bobbies and Palace Guards, sell for $20. London's transportation icons are highlighted with a plush double-decker bus $15 and London Underground map merchandise, including tea towels at $22 and aprons for $25.
Harry Potter Merchandise from Quality Quidditch Supplies
Transitioning from London to Diagon Alley, Quality Quidditch Supplies is the first shop you encounter (on your right). It sells clothing and other items related to the wizarding world's most popular sport, Quidditch!
A variety of Quidditch shirts highlighting each of the Hogwarts house colors ranges from $24 to $29, and house shorts are $39. T-shirts and tank tops promoting Gryffindor and Hogwarts Quidditch are $27 to $29, and baseball hats in house colors range from $22 to $25.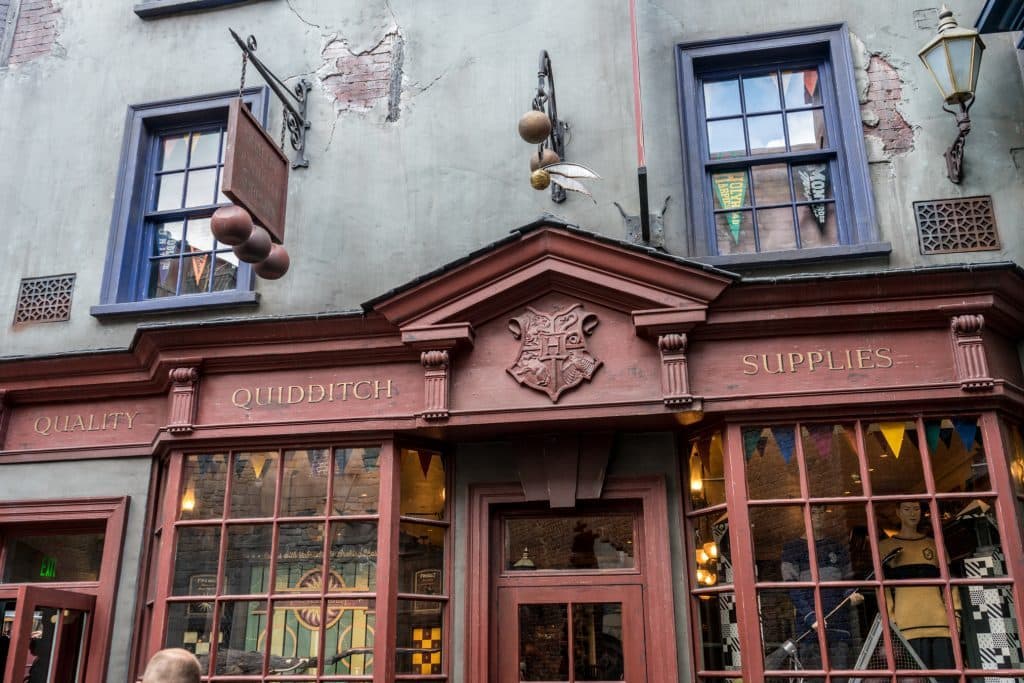 Professional Quidditch team shirts featuring the Chudley Cannons, Ireland, and Bulgaria are $33. Higher-end apparel is available to promote your favorite house, including polo shirts ($43), house rugby shirts ($53), and sweaters with an embroidered house emblem $109. Non-apparel items for sale include house water bottles $16, pins $13 to $20, a Gryffindor house duffel bag $53, and a Gryffindor golf umbrella $20. Desktop models of the Firebolt and Nimbus 2000 brooms are $65 each, and a stunning Quidditch chess set is $300.
Harry Potter Merchandise from Weasleys' Wizard Wheezes
Weasleys' Wizard Wheezes novelty joke shop is a very prominent store in Diagon Alley, with a 20-foot-high Weasley tipping his hat as a white rabbit appears and disappears on his head.
A multitude of jokes, gags, and fun food are available for purchase in this small-yet-wonderfully-decorated shop run by the Weasley brothers. Items include a Sneakoscope $15, Decoy Detonator $19, Bing Bong ginger snaps $14, chattering teeth $7, Extendable Ears $23, Elephant on a Bike $25, and Fanged Flyer Handler's Glove $25. Skiving Snackboxes are $40, while Puking Pastilles and Fainting Fancies candies are $7 each. Chinese Fortune Sticks can be purchased for $12.95. The very popular Pygmy Puffs are $15, and a Pygmy Puff t-shirt is $33. You can also find a Weasleys' Wizard Wheezes t-shirt for $27 and unique pins for $13.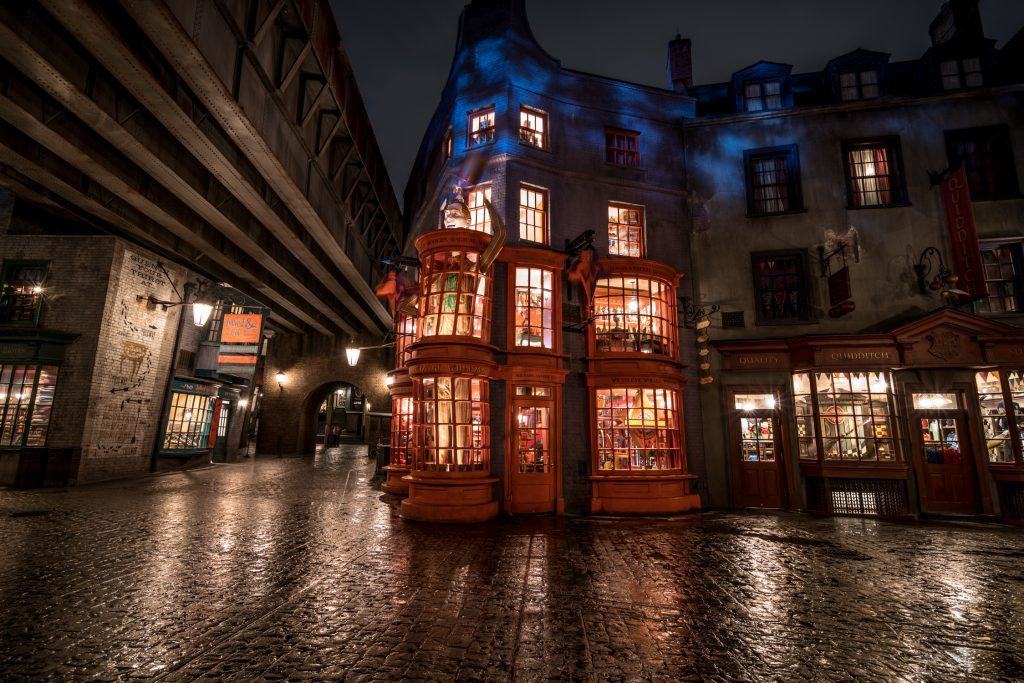 Harry Potter Merchandise from Sugarplum's Sweetshop
The only shop to be added after Diagon Alley's opening is Sugarplum's Sweetshop. This is the candyshop of Diagon Alley and offers wizarding treats like chocolate frogs, exploding bonbons, and  Butterbeer Fudge. Many treats, such as the aforementioned fudge and Cauldron Cakes, are baked fresh.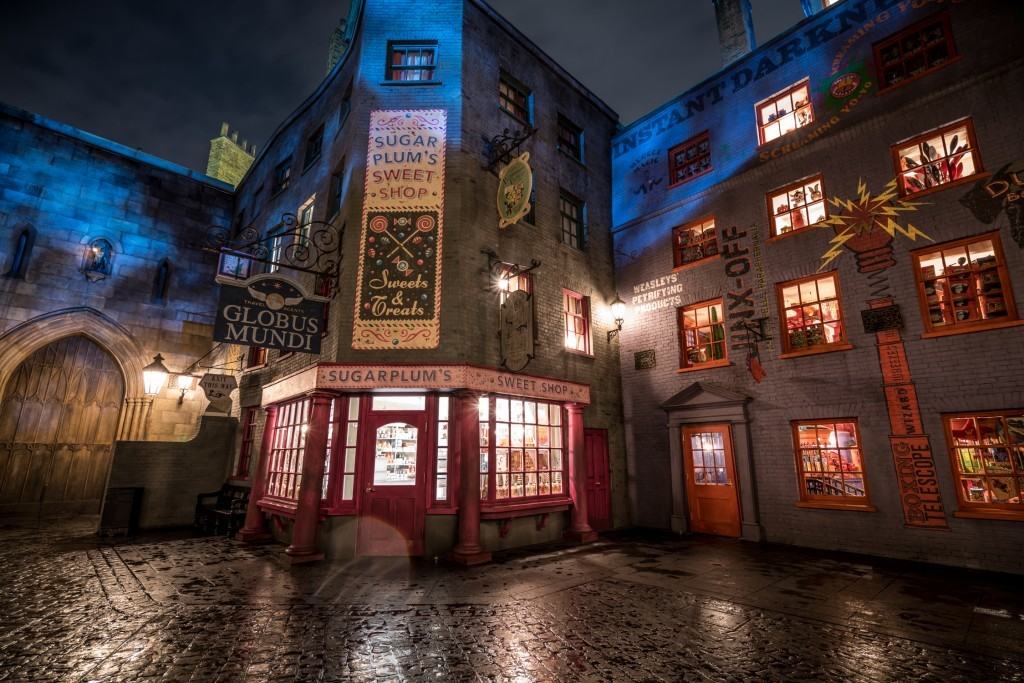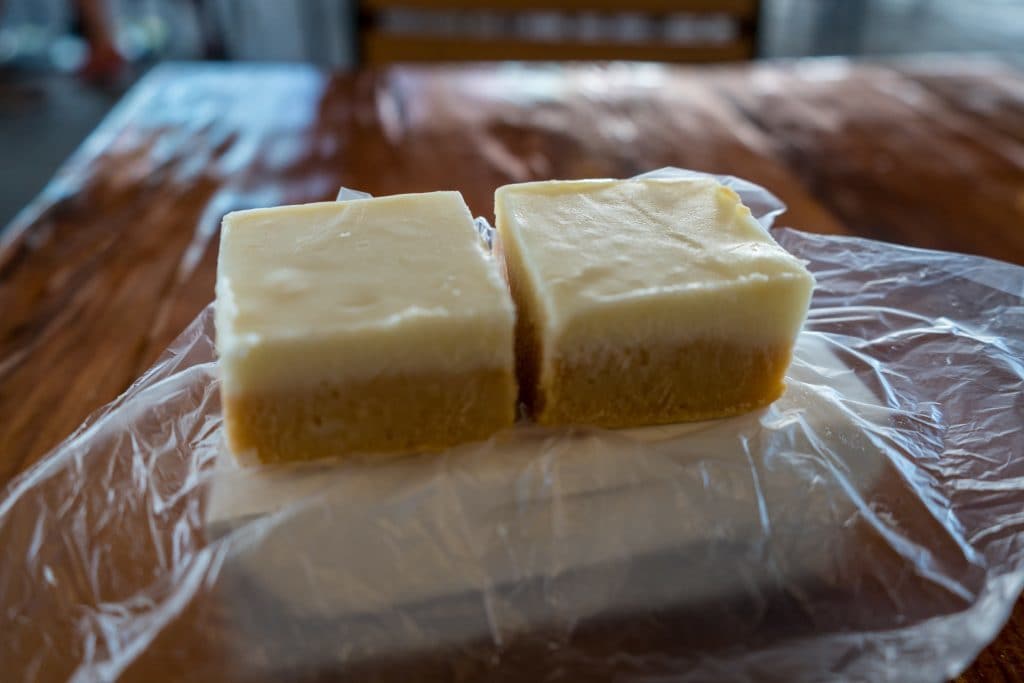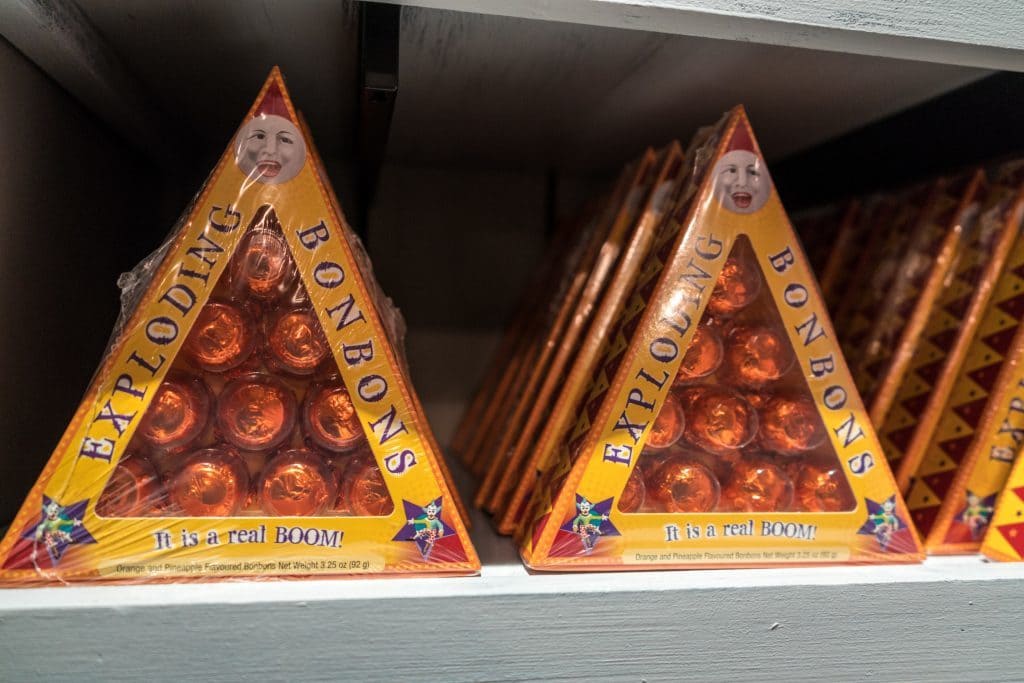 Harry Potter Merchandise from Madam Malkin's Robes for All Occasions
This shop provides robes for all Hogwarts students. On display are dress robes, including a stunning magical dress. House robes are $110. Also found here are Gryffindor polo shirts $49, a Gryffindor maroon shirt $29, house cardigan sweaters $85, and house backpacks $50. A Hogwarts jewel t-shirt is $36.95. Molly Weasley-knitted sweaters with the letter R or H on them retail for $85.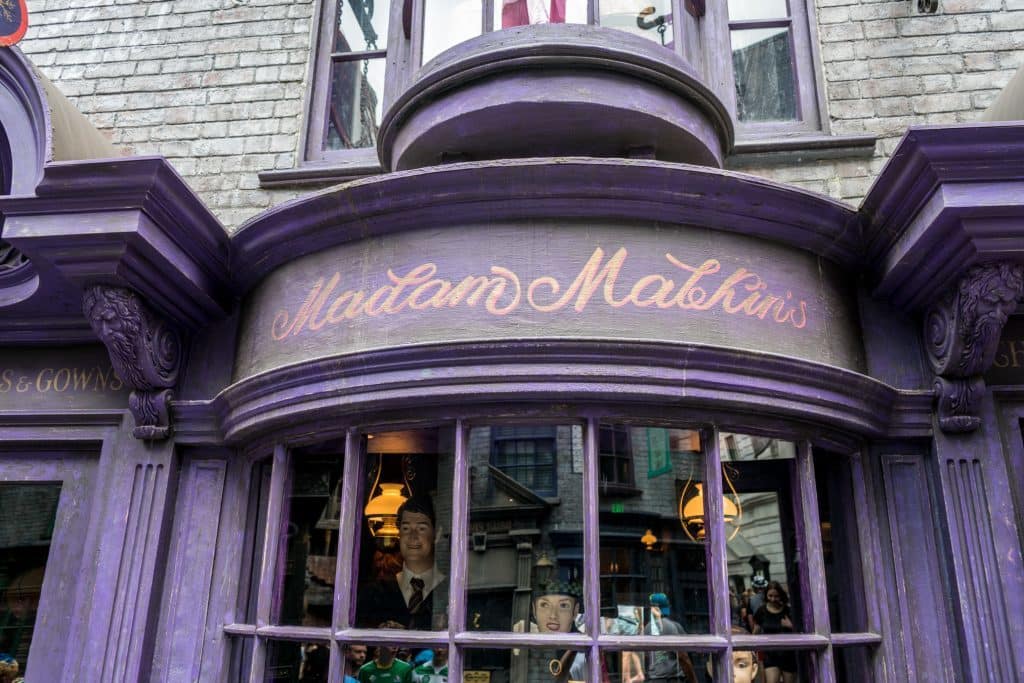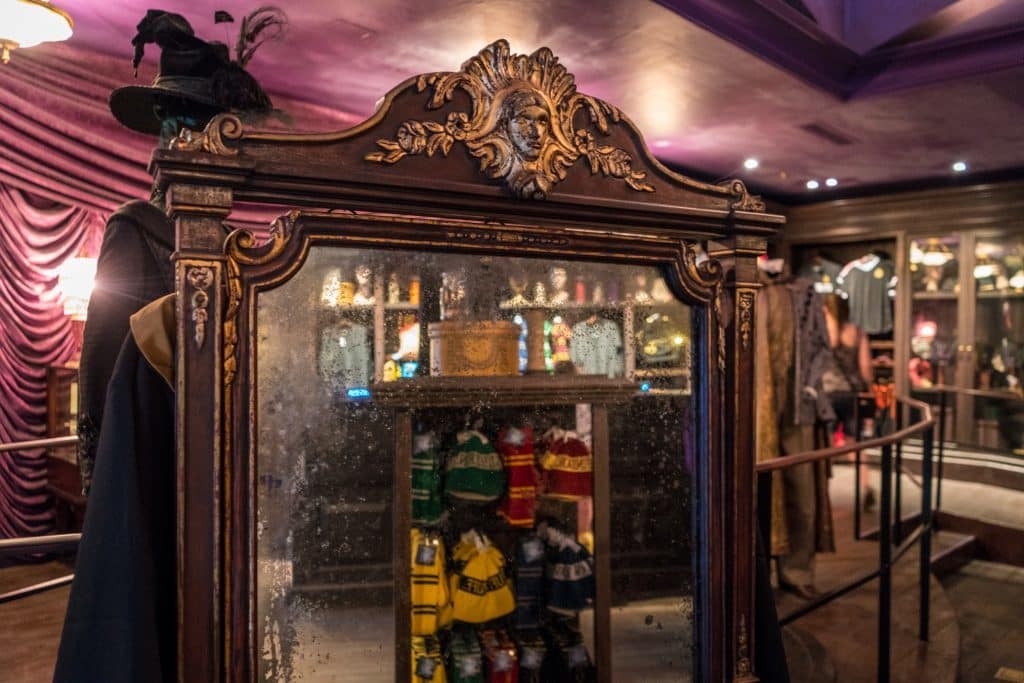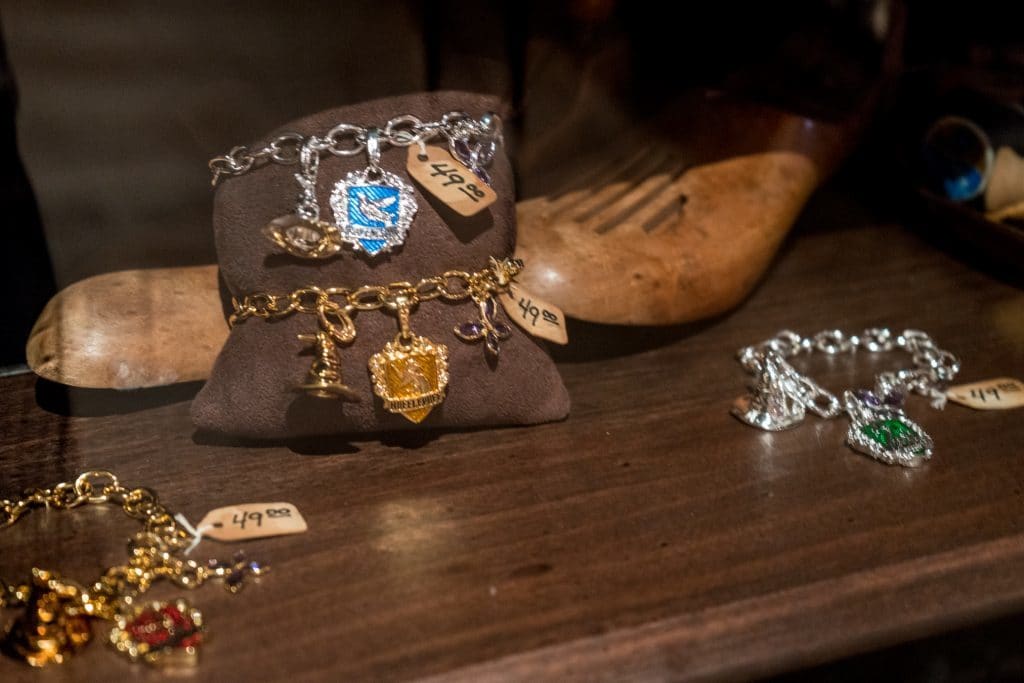 Harry Potter Merchandise from Ollivander's Wand Shop and Wands by Gregorovitch
Ollivander's Wand Shop (located on Diagon Alley) and Wands by Gregorovitch (located in Carkitt Market) each sell non-interactive wands for $37 and interactive wands for $45.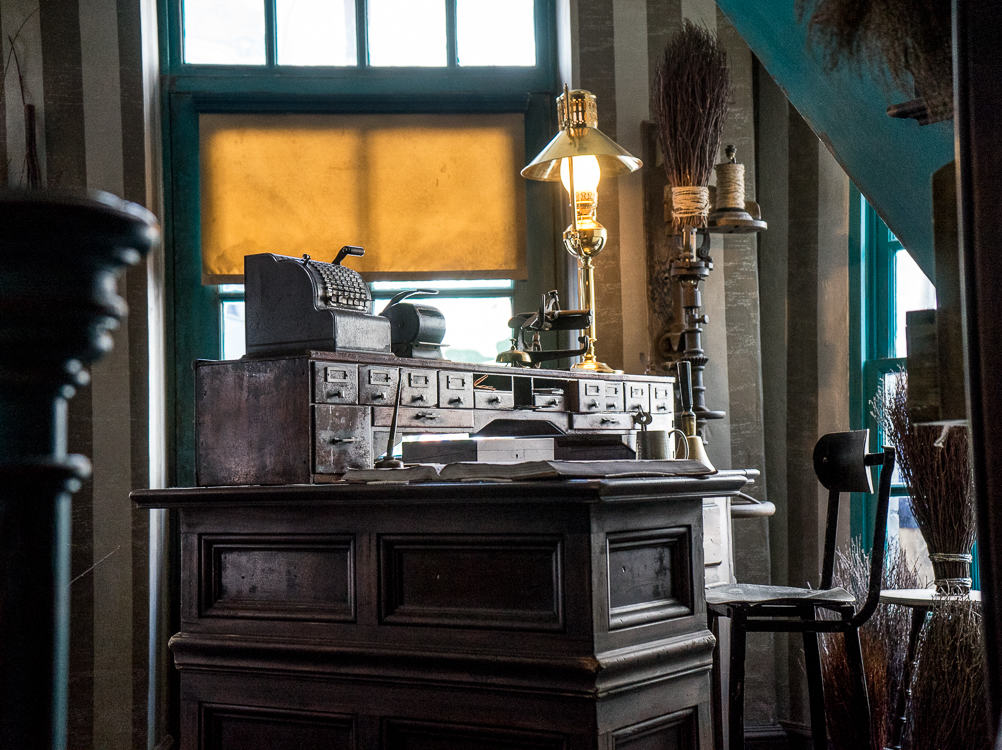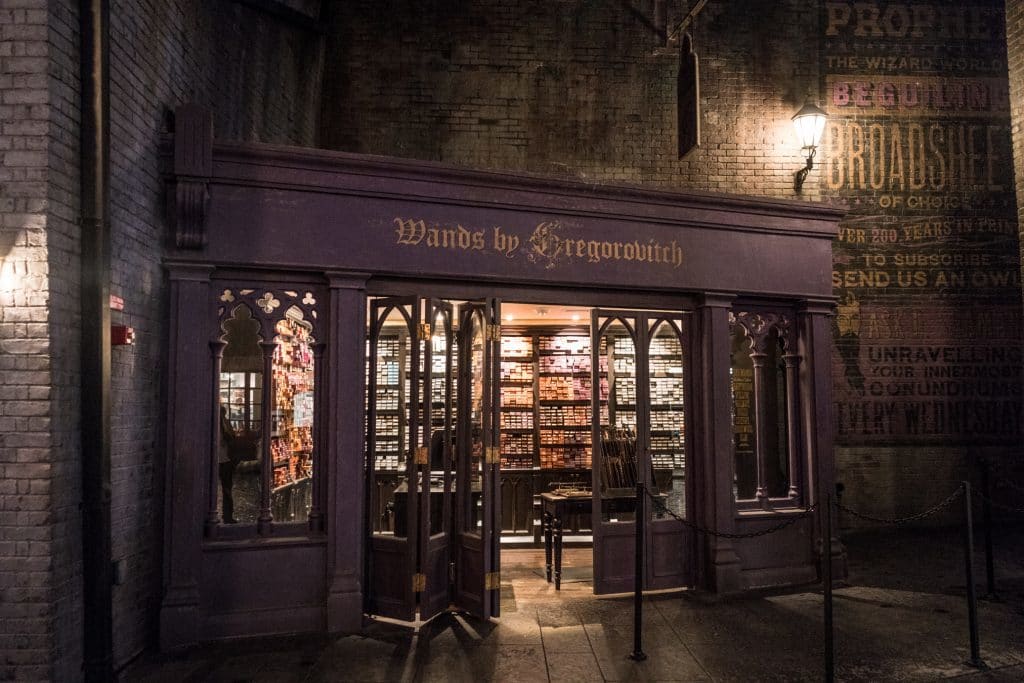 There is no difference between the merchandise sold at Ollivander's and Gregorovich; the latter is offered simply as an alternative in Carkitt Market should Ollivander's have a long queue for its show.
Harry Potter Merchandise from Magical Menagerie
Located in Horizont Alley to the left of Gringotts Bank, Magical Menagerie is a shop full of plush fantastic beasts from the Harry Potter books and films. Well-known creatures like Buckbeak, Fang, Fluffy, Scabbers, and Crookshanks sell for $22 to $33. Those pesky pixies are $13. A variety of owls are $17 to $32, and an owl backpack sells for $37. Select t-shirts featuring magical creatures like Fawkes and Buckbeak are $25 to $29.
Harry Potter Merchandise from Wiseacre's Wizarding Equipment
Wiseacre's Wizarding Equipment is the gift shop for Diagon Alley's signature attraction, Harry Potter and the Escape from Gringotts. This wonderfully decorated store features Butterbeer-related t-shirts for $23.95 to $28.95; hats, $24.95; and glass mugs, $16.95. Deathly Hallows and Hogwarts smartphone cases are $35. Merchandise related to each house includes t-shirts $27 and one-of-a-kind house crest keychains $19. Cauldron mugs can be purchased for $19.
For the Hogwarts Express fan, Hogwarts Express and Platform 9 3/4 shirts range from $22 to $25. Hogwarts Express model train engines, t-shirts, and pillows are also available. And, finally, unique Diagon Alley opening commemorative pins can be purchased for $15.
Harry Potter Merchandise from Scribbulus Writing Instruments
Also located in Horizont Alley, to the right of Gringotts Bank, is Scribbulus Writing Instruments. It's actually connected to Wiseacre's, and it features all the Hogwarts stationery supplies a student requires, including quill pens $10 to $40, journals, house book magnets $8, and glass ink wells $23.
Harry Potter Merchandise from Gringotts Money Exchange
At the Gringotts Money Exchange, guests can exchange Muggle money for Gringotts Notes in $10 and $20 denominations. An amazingly realistic audio-animatronic goblin oversees this process and can be somewhat intimidating. The Gringotts Notes can be used throughout Universal Orlando Resort. Other Gringotts-related items available include wallets ($24.95), mugs ($14.95), pins ($6.95), and coin purses ($16.95).
Harry Potter Merchandise from Shutterbutton's Photography Studio
Back in the main stretch of Diagon Alley, we find Shutterbutton's Photography Studio, offering a "moving pictures" scrapbook DVD for $50. Guests stand in front of a green screen, where different scenes from Diagon Alley and Hogsmeade are added to create various moving photographs. The images are incorporated into a "moving pictures" scrapbook and burned on a DVD for the guest to take home.
The sample DVD movie on display begins with an image of a leather scrapbook titled "Harry Potter." The scrapbook then opens and its pages turn, showing all the magical photographs inside.
Harry Potter Merchandise from Borgin and Burkes
In the cold, dark, and foreboding Knockturn Alley, guests can shop in Borgin and Burkes, a remarkable venue for those who may be fascinated with the dark arts. As guests shop, they will hear the canary in the vanishing cabinet and a Boggart trying to escape its locked chest, adding to the unique and eerie shopping excursion.
Numerous items highlight the dark magic aspect of the wizarding world, including Death Eater shirts at $27 to $29, Death Eater robes at $295, and a Death Eater mask at $106. Dementor shirts are $29, with Deathly Hallow mugs selling for $19 and shirts for $27. A variety of Azkaban shirts, including images of Bellatrix Lestrange and Sirius Black wanted posters, are $25 to $29. A walking stick, including a removable wand, can be bought for $106.
The best Harry Potter Merchandise in Diagon Alley
With so many souvenir choices available at Diagon Alley, it can be tough to know where to start. In an effort to help you kick off your spending, we've compiled a shortlist of what we feel are the best items in terms of their novelty, collectability, and value for first-time visitors.
1. Interactive wands (Ollivander's and Gregorovitch wand shops) – can be used every time you visit Hogsmeade and Diagon Alley; variety of wand styles to choose from. $45
2. Pygmy Puffs (Weasleys' Wizard Wheezes) – available in purple and pink, and the ceremony when you purchase your Pygmy Puff is a fun experience. $15
3. Skiving Snack Boxes (Weasleys' Wizard Wheezes) – collection of four different snacks in a display box. $40
4. Gringotts Bank notes (Gringotts Money Exchange) – available in denominations that can be used as real currency throughout Universal Orlando or can make excellent holiday gifts/stocking stuffers. $10 or $20 denominations
5. Collector's pin (Wiseacre's Wizarding Equipment) – start or add to your pin collection with a Diagon Alley pin. $15
6. House robe (Madam Malkin's Robes for All Occasions) – all four Hogwarts Houses are represented; available in youth and adult sizes. $110
7. Quills (Scribbulus Writing Implements) – choose from variety of different quills; some require ink. $10 to $40
Word of caution – shop size
The most important thing you need to know about shopping inside the Wizarding World of Harry Potter is that the shops are small in every sense of the word. The purpose of their intimate size is to reflect the "boutique" nature and stay true to the stories you've read. While this sounds great on paper, we're sorry to say that it can be extremely uncomfortable in practice, particularly for guests requiring special assistance. It literally takes no more than a dozen people to fill up any one of these shops, and with thousands of Potter fans visiting the area each day – well, you can do the math. That's why, if browsing through the merchandise inside Diagon Alley and Hogsmeade is something you're greatly looking forward to, it's absolutely essential that you read our How to ensure your trip to the Wizarding World is a success! page.
If you do find that the shops inside Diagon Alley and Hogsmeade are simply too packed for you to navigate them comfortably, remember that you can buy Wizarding World merchandise at the front entrance gift shops and at the Universal Studios Store in CityWalk. In addition, you can purchase select items in the Universal stores at the on-site hotels and at the Orlando International Airport. Last but not least, a decent selection is also available for purchase from Universal's official online merchandise store.
Thanks for reading our page covering WWoHP – Diagon Alley merchandise. We also have a page dedicated to Hogsmeade merchandise, and if you'd like to learn even more, be sure to check out our general Shopping & merchandise at Universal Orlando page for more information and tips on how to save money.
Do you have a question about the information on this page, would like to provide feedback, or did you spot an inaccuracy? Please let us know by posting in our
Universal Community Facebook group
.
Diagon Alley merchandise – Photo Gallery
Click any image to view it full-screen. When the full-screen image is open, click to the right or use the right arrow on your keyboard to advance through the gallery.