Skip to: Overview | Location | Attractions | Entertainment | Dining | Shopping | Fun facts | Additional services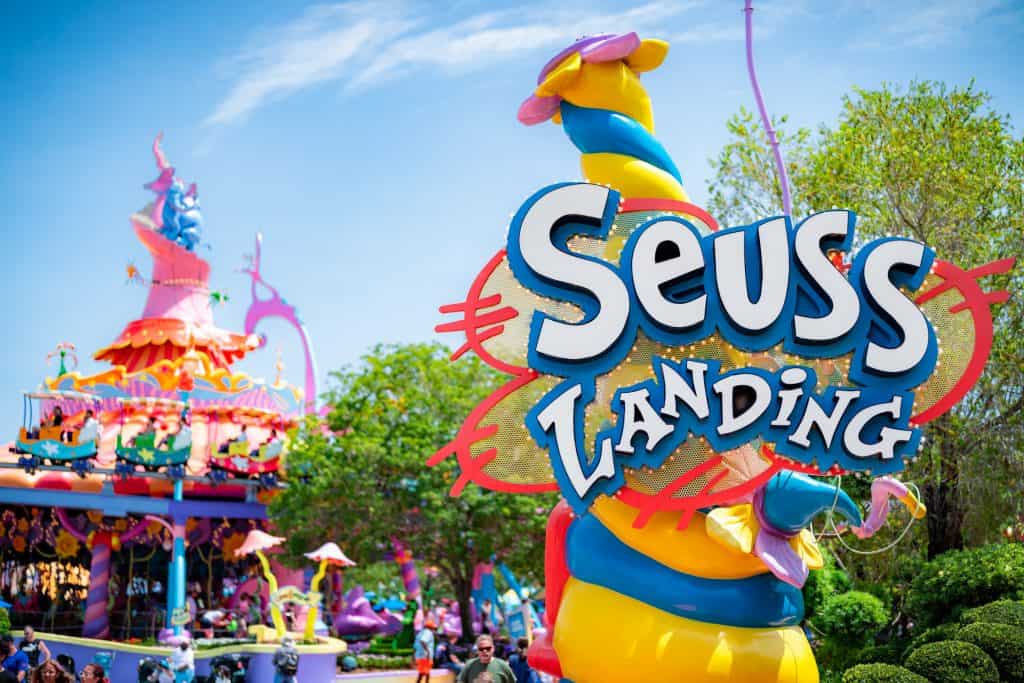 What is Seuss Landing?
As Island of Adventure's version of a children's area, Seuss Landing offers attractions and merchandise designed especially for young ones, but it will definitely be appreciated by Dr. Seuss fans of all ages. Whether you've read the stories to your children or remember them from your own childhood, you'll find plenty of familiar characters, as well as the comforting familiar shapes and color schemes of Theodor Geisel's most famous works (which include The Cat in the Hat; If I Ran the Zoo; Green Eggs and Ham; One Fish, Two Fish, Red Fish, Blue Fish; and others). And visitors to this whimsical island will soon discover that, true to the Dr. Seuss books, there are few, if any, straight lines in the area, right down to the misshapen trees.
Where is Seuss Landing located?
Seuss Landing – attractions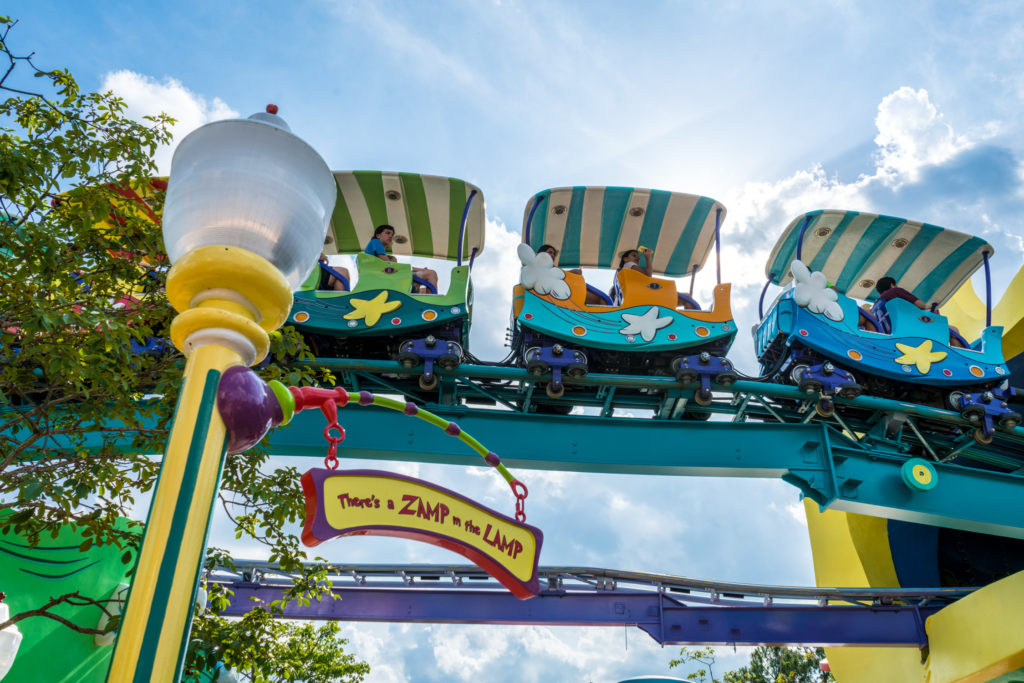 On this aerial carousel ride (similar to Disney's Dumbo the Flying Elephant), guests can choose a red, blue, green, or, even, a yellow fish to ride as they circle around a pond to a cute rhyming song that directs them up and down to evade (or enjoy!) the water-shooting jets.
Board The High in the Sky Seuss Trolley Train Ride! to take a jaunt on one of two tracks that wander through the story of "The Sneetches" or, alternatively, a Seussian alphabet of storybook characters. This ride is a great opportunity to get a bird's-eye-view of Seuss Landing, as well as the Islands of Adventure lagoon. Be sure to look down on the building rooftops, as well as the shores of the lagoon, to find a variety of familiar Seuss figures.
Unlike a typical carousel where the riders mount horses, the Caro-Seuss-el has an imaginary menagerie from the mind of Dr. Seuss. Ride on an Elephant Bird, a Scraggle-foot Mulligatawny, or a Cow Fish. Even better, each character is interactive, too, so pull the reins or tweak the levers of your creature to make it move.
This indoor dark ride takes guests through the famous story of two children stuck at home on a rainy day (supervised by only a fish) who receive unexpected visitors in the form of the Cat in the Hat and his buddies, Thing One and Thing Two (who wreak havoc in their home). Theme-park aficionados will appreciate the practical animatronics and old-school feel of this attraction, while kids will enjoy the familiar story.
Based on the colorful creatures from If I Ran the Zoo, this interactive play area has multiple sections for kids to explore, including tube slides, caves, and a water play area. See how many familiar characters you can find as you discover Gerald McGrew's fantastic creatures who populate his zoo.
Seuss Landing – entertainment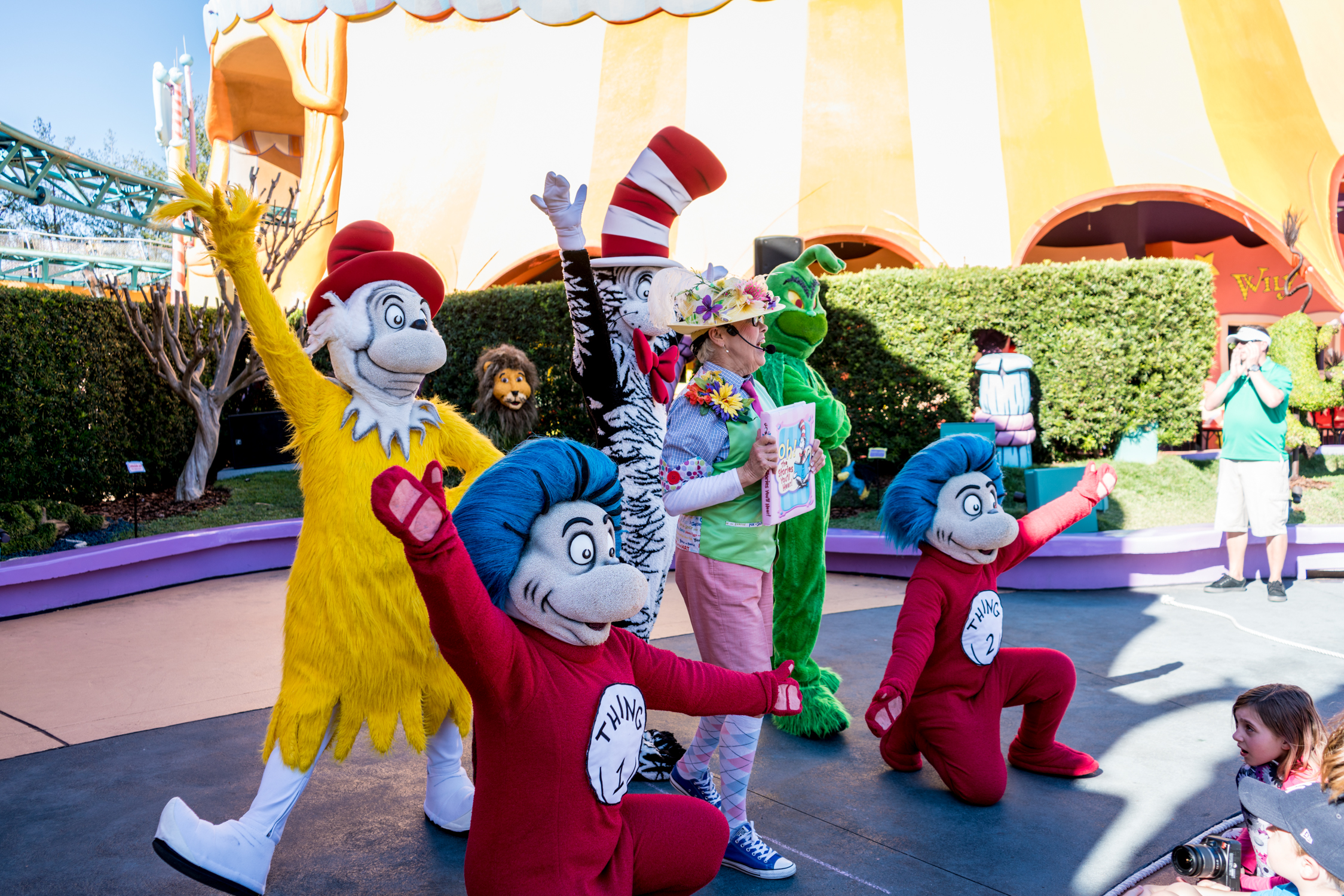 Join the most popular Dr. Seuss characters – like the Cat in the Hat, Thing One and Thing Two, Sam I Am, the Grinch, and the Lorax – as they sing and dance through one of several stories, with the opportunity to meet them after the show.
Meet Seuss characters
Throughout the day in Seuss Landing, you may encounter some of the most well-known Seuss characters – such as all those listed above – at various points throughout the whimsical land. Be sure to check your park map for greeting times during your visit.
Seuss Landing is home to the annual Grinchmas celebration, which brings seasonal decorations, Whos from Whoville out doing holiday shopping, a Grinchmas Who-liday Spectacular show, and a character dining opportunity, The Grinch & Friends Character Breakfast.
Seuss Landing – dining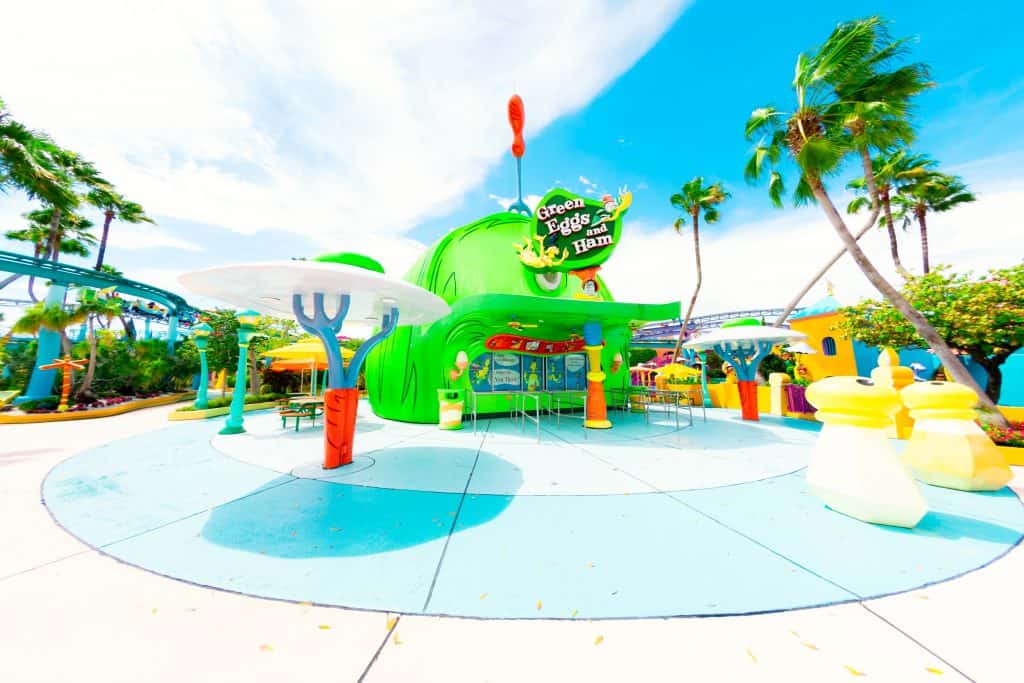 If you're feeling hungry while exploring Seuss Landing, Circus McGurkus Cafe Stoo-pendous is the main eatery for this land, with quick-service favorites (pasta, pizza, fried chicken, salads) in a fun circus-themed tent. Look up while dining to see the trains from The High in the Sky Seuss Trolley Train Ride! occasionally circle the restaurant.
Open seasonally, Green Eggs and Ham Cafe has unique food items designed especially for Seuss Landing, with a variety of potato tots with assorted toppings, a S'mores Nutella plate to sate your sweet tooth, and Who Hash – corned beef, onions, white-cheese sauce, scallions, and potato tots served in a special can.
Stop by Moose Juice, Goose Juice for a refreshing frozen beverage with frozen orange (Moose Juice) or frozen sour apple (Goose Juice) flavors. In addition to the frosty drinks, this food stand also sells corn dogs, churros, soft pretzels, and cookies.
Definitely stop at Hop on Pop for unique ice cream treats, like a sundae on a stick or the brownie sundae in a waffle bowl. For something more traditional, choose from vanilla, chocolate, strawberry, or cookies-and-cream ice cream in a waffle cone, or a root beer float.
Seuss Landing – shopping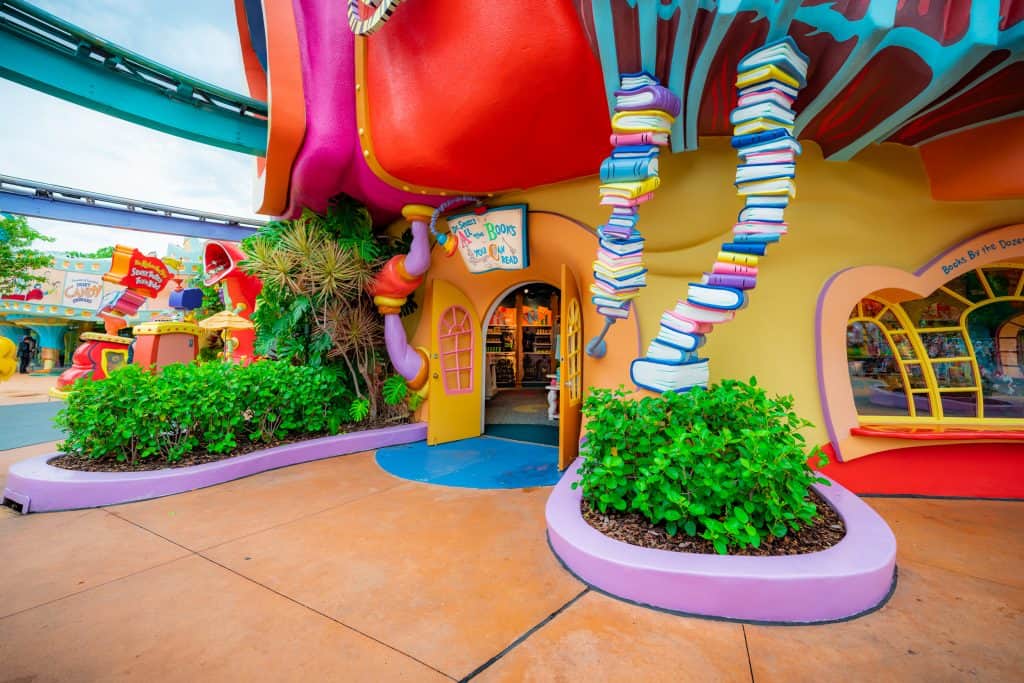 Mulberry Street Store
Named for one of Dr. Seuss's first published books, the Mulberry Street Store has two entrances – one of the usual size, and one just for kids. Inside, you'll find a showcase for all Seuss-themed merchandise and a whole section of personalized gifts at the Personal-Who-Zation station.
Cats, Hats, and Things
As the gift shop for the Cat in the Hat attraction, this shop carries mostly souvenirs and gifts themed to that particular book, with a special focus on Thing One and Thing Two. Snap a pic with the statues of the Cat as he juggles household items, or the Things as they make up the displays.
All the Books You Can Read
Choose a new book for your home library from a wide selection of Dr. Seuss titles, or browse the collection of DVDs, toys, and clothes. Go ahead – take a moment to curl up in a window seat as you decide between The Grinch Who Stole Christmas or Hop on Pop.
Snookers & Snookers Sweet Candy Cookers
Let your nose follow the delicious sugary scent, which will lead you right to Snookers & Snookers, where treats abound with a huge assortment – cupcakes, rice cereal treats, candied apples, cotton candy, homemade fudge, and bulk candy selections.
Seuss Landing – OI fun facts
Many Seuss characters can be found throughout Seuss Landing – keep your eyes peeled as you walk through this area and see if you can spot:
Sneetches playing in the water by Sneetch Beach
the Lorax standing outside the house of the Once-ler
a lonely egg from Horton Hatches the Egg, ready for someone to sit for a spell
the Zax ByPass, where two Zax are determined to never move out of each other's way
multicolored fish in McElligot's Pool
Dr. Seuss himself, near the police officer's vehicle that's close to the Mulberry Street Store (fans will recognize his white beard and black spectacles)
Are there guest services available in Seuss Landing?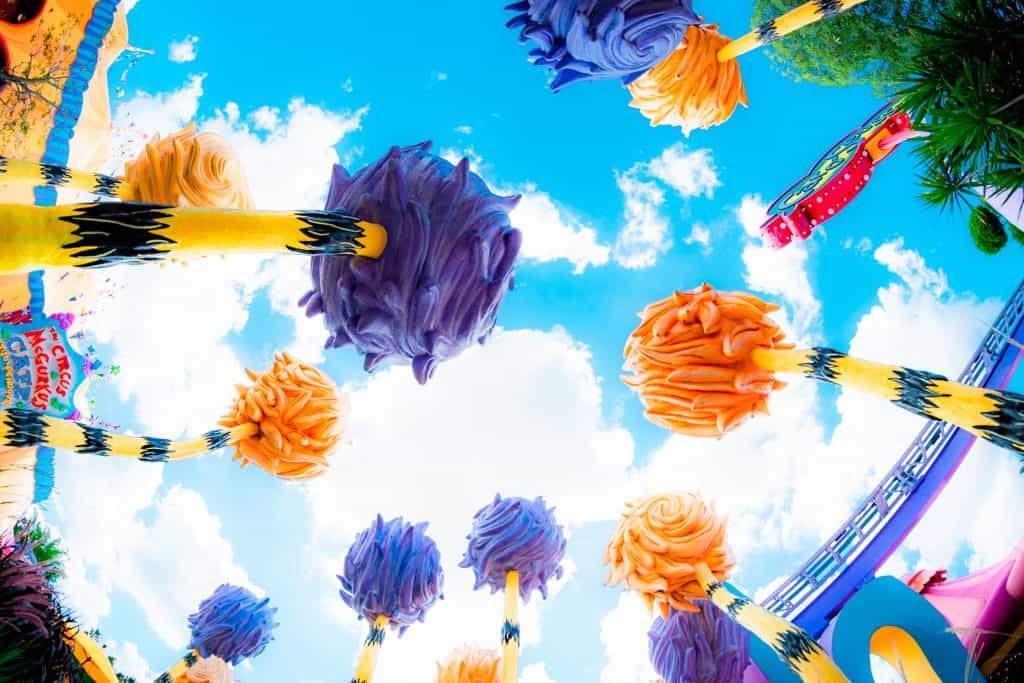 Restrooms
There are two restroom areas within Seuss Landing: in Circus McGurkus and by Moose Juice, Goose Juice.
Lockers
There are no lockers available to guests in the land.
First Aid
Although Seuss Landing does not have its own first aid station, you'll find one in each neighboring land: inside The Lost Continent or back in Port of Entry.
ATMs
The closest ATM is in Lost Continent, across from Mythos.
Seuss Landing – photo gallery
Do you have a question about the information on this page, would like to provide feedback, or did you spot an inaccuracy? Please let us know by posting in our
Orlando Informer Community
on Facebook.